Introducing TL Strategy
Previously, there did not exist a particularly good hub of information about Starcraft II Strategy on the internet. Your best bet was probably the Teamliquid strategy forums, but the guides written were often poorly organized and the quality wasn't easily verified. Liquipedia had the opposite problem; its guides were organized, but they were often out-of-date and incomplete. Some strategy content producers like Day[9] and d.Apollo produce great content, but they are but just single individuals. There are also a lot of smaller sites that try to cater to strategy, such as various coaching sites, reddit strategy, and small "guide" sites, but none of these have really taken the initiative to be more.
After the release of the Protoss versus Zerg guide, I received a flood of replies from volunteers wishing to donate their free time in order to help out with updates to this guide and even future guides. It was then that I realized that with some organization, Teamliquid had the potential and the resources to hold a dominant position as the premier place for StarCraft II strategy on the web. Our strategy section already contains many high quality guides written and researched by high level players. And for the first time, we had a readily available, organized group of motivated volunteers willing to cooperate in order to churn out projects for the strategy section..
I believe the timing for this transition is perfect. The release of
the ultimate PvZ guide
shows that we are serious about producing high quality content. In addition, the upcoming release of HotS will certainly drive up the demand for guides with the brand new strategies it's sure to bring along with it. So without further ado, here is what a revamped TeamLiquid Strategy section means.
The Key Threads
The first step is to build on and showcase what we currently have, a supply of quality guides gathered over the years. As such, we've recently updated
The Recommended Guides Thread
with all the quality guides that are still mostly relevant to this day. In it, you'll find the best guides ever written on Teamliquid about a variety of topics including overviews on most of the match-ups.
Next, one of the biggest problems in the strategy section we've attempted to solve was the abundance of repeat questions. Questions get repeated all the time, even though there usually is one clear and correct answer. Our answer to this was to create a hub of frequently asked questions. As such, we've refitted all the race-specific help me threads so that they contain all of the best and most recent answers given by verified "blue" posters to the most pressing questions of each race.
The Terran Help Me Thread
and
The Protoss Help Me Thread
are both ready to go and are full of great answers given in the past few months. They're both extremely in-depth, full of excellent top tier advice, and should be the first stop for all your Terran and Protoss questions. Special credit goes to TheDwf who has answered almost every question asked in the Terran Help Me Thread in extreme depth.
Unfortunately, Zergs have typically had fewer and less active blue posters and as such, there wasn't as big a pool of high quality answers we can draw from. As such,
The Zerg Help Me Thread
is currently less complete than the others. But let's see what we can do about that.
The Pro Zerg Strategy Q/A
Inspired by the widely successful
Pro Terran Strategy Q/A
, in which top Terrans such as Ver, TheDwf, KawaiiRice, and Pokebunny helped out struggling Terrans, we present to you,
The Pro Zerg Strategy Q/A
. This thread brings together some of the best Zergs in the foreigner scene to help Zerg players with their most vexing concerns. With these players' help, we can populate the Zerg Help Me Thread and help a few struggling Zergs along the way. The Zergs who have graciously volunteered some of their time include:
Spotlighted Peer-Reviewed Guides
Now that we have a solid base of key threads we can build from, we can begin to expand on what TL Strategy currently provides. The next step to the expansion of TL Strategy will be the introduction of Spotlighted Peer-Reviewed Guides. This is how it's going to work:
Guide writers will submit their guides for consideration to be spotlighted. These guides will first be heavily peer-reviewed by a panel of high level players. Then they'll be organized, edited, and formatted by our internal strategy team that we've set up specifically for this process. In addition, all accepted guides will be immediately converted to Liquipedia (more on this later.) Finally, all approved guides that have gone through this vigorous process will received a special tag and then be spotlighted on the front page of Teamliquid, one of the, if not THE most heavily trafficked webpage in the Starcraft community. The multitude of benefits this process provides include:
Proper promotion of quality content: We actually have many wonderful guides in the strategy forums currently that are very well-written, but they don't get much exposure because many TL users don't frequent the strategy section.

Visibility for writers/high level players: It's difficult to convince the average high level, semi-professional, or professional player to write a guide. We understand that writing a guide takes a lot of time commitment and it can expose strategies that their potential opponents can use against them. In the past, it was also rather difficult to get a return on your investment when you wrote a guide. But now that guides will have a place to be displayed more prominently, guide writers can expect to see more of a return in the form of fans, students interested in coaching, or stream viewers.

Writers can focus on writing: High level players may have the knowledge but perhaps not the organizational skills nor the time required to write a guide. But when other people are reviewing, editing, adding VODs, and making graphics for them, this time commitment is greatly reduced and guide writers will be able to focus on what they do best: putting their ideas to paper.

Standardized, professional-looking guides: In the future, guides will be more standardized guides in terms of formatting and organization. This will allow guides to be much more readable and professional.

The TL Strategy Seal of Approval: You can be sure that all guides featured on our front page have gone through our vigorous process and have had a great deal of value added to them. You can be sure that they are all quality guides are the best of what the internet has to offer about Stracraft II strategy.

A more complete Liquipedia: Again, more on this later.
Our first example of a spotlighted guide is
here
. Written by QuanticGlon, this guide attempts to give a brief introduction on all the basic aspects of the Zerg match-ups in Wings of Liberty. Of course, you can also read a
liquipedia version
should you choose. We hope this guide conveys a good idea of what you can expect from us in the future. As HotS comes out, you'll be sure to see a lot more guides fairly soon.
Liquipedia Cooperation
by salle, Head of Liquipedia
One of the things I've always felt that Liquipedia for StarCraft II has been lacking was quality strategy guides and build orders, which were the foundation when Liquipedia was first made for Brood War. We also have thousands of people coming to our wiki every day looking for guides and build orders and I felt really bad when they were faced with a rather outdated set of builds.
Liquipedia is a wiki, and a wiki is a content resource management tool. As such, it's more adept (and adaptable) than a forum at handling large chunks of information distribution. It is easier, for example, to make multiple guides internally link to each other as alternative builds after they are written or completely restructure three similar guides into one or split one guide into multiple guides. This is because anyone, and not just the authors of the other guides, is able to add these links or do these changes. For reasons like this, in my humble opinion, a wiki is better than a forum to handle content such as strategy guides.
What we have needed to be able to get quality guides onto the wiki is a set of trusted experts, people who know and understand the builds used in competitive play, to review guides-if not to write them themselves. The Protoss Portal and the people behind it started to take us down this road slowly, and it was a great first step. But what would be even more awesome would be getting to collaborate with the creators of the original content. We would then have a group that includes both talented writers and reviewers working in unison to create high quality content. Then we could copy these guides onto the wiki where we can connect together all the different guides into a larger whole, creating links between related builds and providing more exposure for the guides. I believe Liquipedia's collaboration with the newly formed TeamLiquid Strategy Team can accomplish just that.
They are a group of experts who produce and verify high quality content. In addition, their contribution to Liquipedia would give them even more exposure through our portal pages. With their help, we can make Liquipedia an even better, more complete resource for strategy. We look forward to working together with them and we will be striving to find more ways we can collaborate and help each other in the future.
Protoss versus Zerg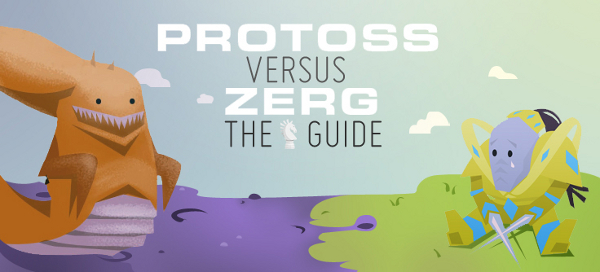 Of course, we can't forget the guide that started this all, the
all encompassing PvZ guide
that caught everyone's eye just three months ago. Not only did it help us recruit a dedicated group of volunteers, it became the basis of our entire featured guide process. Since then, this 100+ page guide has seen a lot of action within the Starcraft community.
First of all, we've had the honor of seeing the guide spotlighted by Blizzard on the
North American
,
European
, and even
SEA
servers. With Blizzard's support, we've exposed our guide to many more players, even those who don't usually frequent TL or may not even have heard of esports before.
Another surprise is the reaction from the international community. Since the release, numerous independent attempts by the international community have been made to translate this ginormous 100+ page document. I'm pleased to announce that the first translation was completed a few weeks ago and I know present to you
Protoss versus Zerg: The Guide in Chinese(Traditional)
. If you don't read Traditional Chinese, don't worry. We hear that translations projects in various languages including Chinese(Simplified), Korean, Spanish, and French are still in the works.
And of course, as we've promised, we're going to keep updating the Protoss vs Zerg guide to make it even better, more up-to-date, and more complete than it was before. We've been working hard uploading VODs, fixing minuscule typos and errors, and even further improving and detailing our builds.
Updated Immortal all-in build order, courtesy of RemarK

Updated VOD list and replay pack with games from GSL Season 5, IEM Singapore, Dreamhack Winter, Asus GD Invitational, Iron Squid Chapter 2, IPL5, 2012 Blizzard cup

Fixed miscellaneous typos

Updated history section with the latest balance patches
Finally, in addition to being able to read the guide on the TL forums, in its PDF form, or in Chinese in PDF form, you can now choose to browse through it on
Liquipedia
! The guide has now been fully transferred to Liquipedia with beautiful wiki formatting. This adds yet another way to browse through the guide.
After reading or skimming this guide, many have asked us, "Are you going to do guides of the other match-ups in the future?" Now, we're not promising anything, but let's just say that for now, it sure looks a lot more likely.
Strategy Reviews
In addition to quality guides, we will also be focusing on regular strategy analysis of professional games played in leagues such as the GSL or Proleague. Some of you may remember great strategy analyses on Teamliquid such as
Morrow's analysis of MC vs Leenock
or those contained in
Ver's God of the Battlefield Part 1
. Well, we're trying to bring these back and as some of you may have noticed, we've been trying to make it a more regular occurrence. Have you seen our recent analyses?
So far we've been mostly using guest strategy writers for these analytic pieces, but it's time we recruited some more regular contributors. Again, I'd like to highlight the
recruitment call we issued over a month ago
. We're still looking for people to write, so feel free to apply by
PMing us
even if you only wish to write some guest articles.
---
Of course, we're always in need of help. With the upcoming release of HotS, we'll be sure to see a flux of new strategies and correspondingly, guides that will attempt to explain these strategies. If this sounds like an interesting initiative to you and you want to contribute, please feel free to
PM us
. Whether you have strategy expertise, other expertise, or no expertise, there's always something you can help with! Also, if you feel like you have a good idea for a guide or have an already finished guide you'd like for us to review and consider for spotlighting, please
contact us
for that as well.
Thank you for reading. We hope you enjoy what we have for you today and look forward to what we'll continue to produce in the future.