Liquipedia Weekly #8



This week's Weekly concludes our strategic adventures. Since we have covered Terran and Zerg before, we are now taking Protoss matter into hand!

In the matchup against Terran, Protoss players had to face unforseen inconveniences. Brood War had them accustomed to easily out-expanding the Terran, throwing up a bazzilion Gates and crushing every Terran uprising within the blink of an eye. In StarCraft II, this changed. Too many brethren from Aiur fell victim to uncalled-for violence by weak Marines and their fiery bear companions. Over time, the answer became painfully obvious: It's the economy, stupid! Regaining the economic lead would shut down the Terran menace once and for all.

One challenger stood up to the task. Possibly one of the most successful strategy threads for SC2 has been [G] kcdc's PvT FE. 44 Pages and not closed down due to imba rages, unconstructive banter, and flaming? Still being maintained by the thread starter? Something must be going on! Of course, all good stuff must end up on the wiki one day. And so has the




Build Order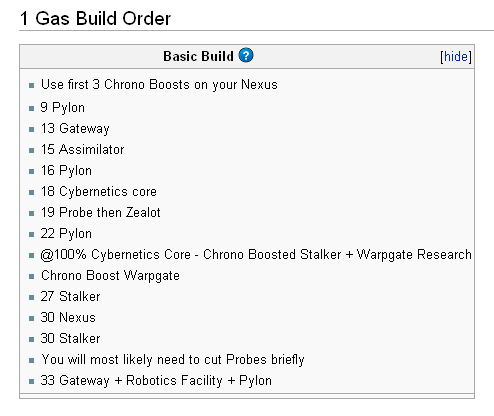 Must ... make ... more ... Probes


The build order is very basic and leaves you with a small force, 2 Nexus, 2 Warpgates, and a Robotics. Pretty decent, eh?


Adaptation
Adapting a general build such as 1 Gate FE is a most complicated task. Our authors have tried to list your main options concisely, as well as predicting what Terran could possibly throw at you. As the TOC illustrates, that task is being taken very seriously.
Help needed!

Fleshing out the implications of a build as general and complex as this one is hard. Every time something gets patched, there will be some leftovers and rough edges that need to be worked on again.



Old as a Hydralisk-fossil



So, kind, average TL user, with your IQ of 130 and perfectly toned body, direct your browser to that page, unload the treasuries of your knowledge, and add some of your 2200+ Diamond replays to give it the finishing touch.

- Liquipedia staff out!


---
Useful Liquipedia Links:
Liquipedia Feedback Thread
PM a Liquipedia Staff Member: Aesop, Pholon, Imperator, Mystlord, Steeeeve, TheFallofTroy