Foreword:
Having already done exhaustive rankings of the Greatest Players of All Time and the Greatest Foreigners of All Time, it seemed natural to me to that I'd wrap up HotS with a list of the Greatest HotS players. None of my criteria have changed from previous iterations, but here is a quick summary for those who hadn't read the previous editions. You can read all of my criteria here.

Because there is a large overlap with this list and the previous Greatest Players of All Time, there will not be an exhaustive analysis on their stories, playstyles or an extensive explanation describing how I balanced the various factors. Just a brief summary of their place in the history of HotS and what they did to make the list.

If you wish to read the previous list of Greatest players of All Time, you can start here:
Greatest SC2 Player of All Time, Bonus Edition
Greatest Players of All Time, Part 1
Greatest Players of All Time, Part 2
Greatest Players of All Time, Part 3
Greatest Players of All Time, Finale
#5 | soO
Achievements

Tier 1

GSL 2013 Season 3 - 2nd

GSL 2014 Season 1- 2nd

GSL Global Championship - Top 4

GSL 2014 Season 2- 2nd

GSL 2014 Season 3 - 2nd

KeSPA Cup S2 2015 - 1st




There are moments in a pro gamer's life when you think to yourself, this is it, there is absolutely no way he is coming out of this hole. It happened once to me when I watched Mvp in the first season of GSL in 2012 and heard about his injuries. At the time I thought it was over and a new age would dawn. In 2014, after soO consecutively lost to Solar at DreamHack, INnoVation at Gamescom, and then TaeJa at BlizzCon, I thought to myself soO has broken. The five consecutive second places are too much, he isn't coming back from this.
I was wrong on both accounts. In the first place, who could have predicted the genius and pure grit Mvp had going into 2012 anyway? In soO's case it was because we had large amounts of historical data on a bunch of second placers who just eventually break after a period of time and even more second placers who just break after losing 1 finals. soO had lost 5. I was wrong and in one of the biggest redemption runs of the year, soO proved that he wasn't done, that he hadn't broken and that he could win. And for one night, soO won his first ever Korean LAN; for one night, Sisyphus rolled the boulder up the hill and it did not fall.
Difference between soO and Maru:
The same reasons that I gave for soO > Maru in the GOAT
here
. Nothing has changed except Maru has added another Top 4 to his list whereas soO added a KeSPA Cup win, which was stronger.
#4 | Zest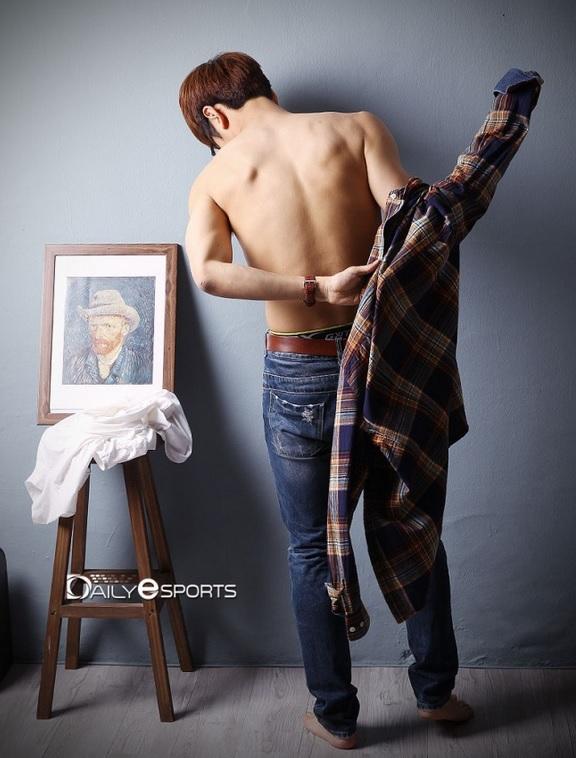 Achievements:

Tier 1

GSL Season 1 2014 - 1st

GSL Global Championship 2014 - 1st

GSL Season 3 2014 - Top 4

IEM Toronto - 2nd

KeSPA Cup - 1st

Hot6ix CUp - Top 4

IEM WC 2015 - 1st
When Zest came into the scene, you could hear the wails of thousands of SKT fans screaming in pain (mixed in with the cries of fangirls clamoring to touch his biceps). He gave them more to scream about in the coming year as he systematically destroyed SKT nearly every time they met. Possibly worse, he did it in a completely skilled way that lacked any kind of gimmicks. Not only did he destroy SKT, but for one year against the other 5 dragons of Protoss, he destroyed them too and in the blood of his Protoss and SKT rivals he crowned himself the best. Zest dominated one of the hardest years of competition and though he never reached those heights again in 2015, it was an incredible feat and in terms of pure domination was only passed by Life's peak from late 2014-early 2015.
Difference between Zest and soO:
While soO closed the gap with his KeSPA Cup victory, it wasn't enough.
#3 | INnoVation
Achievements:

Tier 1

MLG Winter Championship 2013: 3rd

GSL 2013 Season 1: 2nd

GSL Season 1 Finals 2013: 1st

OSL 2013: Top 4

DH Bucharest 2013: 2nd

DH Winter 2013: Top 4

GSL 2014 Season 3: 1st

GSL 2015 Season 3: 1st




Tier 2

ASUS Northcon: Top 4

DH Bucharest 2014: Top 4




If Rain was the chosen Protoss, the one we all expected to lead the race into the future, then INnoVation was the chosen Terran. And in many ways he was that Terran. His builds are the standard that nearly all other Terrans copy. His builds are the safest and the best. He understands the most streamlined ways to play, the ones that try to preempt and avoid pitfalls that would force a player to make a decision and instead allow them to focus on their mechanics and execution.
Yet perfection seems to have come at a price. When faced with imbalance, INnoVation falters because there is no longer a clear answer. When Zerg was dominating Terran post mine nerf and into the mass mutalisk phase of 2014, INnoVation collapsed like a house of cards. Against the Blink era, he was helpless against the onslaught of stalkers. However when the meta works in his favor, when there is a clear path to victory, INnoVation shines. He was the strongest Terran during both the Hellbat drop era and the early 2013 4M parade pushes. He came back again to win a GSL after the widow mine/thor were rebuffed/buffed. He won his 2015 GSL after mech gained a boost of strength against Zerg after the Swarmhost nerf. Give INnoVation a clear path to the victory and he will march on it until the end. Throw him into a place of adversity and he falters.
Difference between INnoVation and Zest:
They were already close in the GOAT list, but INnoVation's victory in GSL 2015 put him above Zest.
#2 | TaeJa
Achievements:

Tier 1

WCS NA Season 2 2013 - Top 4

WCS Season 2 Finals 2013 - Top 4

DH Bucharest 2013 - 1st

DH Winter 2013 - 1st

IEM WC 2014 - Top 4

IEM Shenzhen 2014 - 1st

IEM Toronto 2014 - Top 4

Blizzcon 2014 - Top 4

DH Winter 2014 - 3rd




Tier 2

DH Summer Open 2013 - Top 4

HSC VIII - 1st

HSC IX - 1st

DH Summer Open 2014 - 1st

HSC X - Top 4




Tier 3

HSC VII - 1st

ASUS ROG Summer 2013 - 1st

Red Bull Detroit - 2nd

DH Valencia 2012 - 1st
TaeJa continues to be and will probably forever be one of SC2's biggest anomalies. He is one of SC2's greatest players, yet he has never had a big title in Korea, which many people rightfully call the hardest tournaments in the world. Yet at the same time TaeJa has won the most LANs of anyone. Of course, the argument is that he had played a lot of easy ones. Yet he also had numerous hard LANs against the best players at the peak of their strength. Not only did he do that, but he did it consistently for three year in three of the hardest years of SC2 from 2012 to the end of 2014. In 2012, Terran was in its weakest state ever and the only other Terrans to have won a Premier were Mvp and Sting (And Sting's was one of the weaker IEM's). 2013-2014 had the most competitive players during that time before the mass retirements and the KeSPA players had completely transferred by that point, yet the player who won the most was TaeJa. In terms of pure numbers he has the best records against the best players of all time.
TaeJa's game record vs everyone else from the GOAT:

TaeJa 8-7 Leenock

TaeJa 10-8 DRG

TaeJa 3-0 Maru

TaeJa 3-1 soO

TaeJa 9-10 MarineKing

TaeJa 3-6 Rain

TaeJa 20-12 INnoVation

TaeJa 5-1 Zest

TaeJa 4-0 NesTea

TaeJa 13-7 MMA

TaeJa 13-18 Polt

TaeJa 18-10 MC

TaeJa 5-5 Mvp

TaeJa 29-20 Life
Only 3 players on the whole list have a positive record against TaeJa: MarineKing (who actually has a losing record in matches vs TaeJa) Rain and Polt.
TaeJa's match record vs everyone else on the list:

TaeJa 3-3 Leenock

TaeJa 4-3 DRG

TaeJa 2-0 Maru

TaeJa 1-0 soO

TaeJa 5-4 MarineKing

TaeJa 1-4 Rain

TaeJa 9-4 INnoVation

TaeJa 2-0 Zest

TaeJa 3-0 NesTea

TaeJa 7-5 MMA

TaeJa 4-6 Polt

TaeJa 6-5 MC

TaeJa 2-3 Mvp

TaeJa 11-6 Life
Again only 3 people have a positive record against TaeJa on the whole list: Mvp, Rain and Polt.
Earlier I wrote about how Maru's sustained peak consistency was the best of anyone in HotS. Taeja's was second best as he was a Top 3 Terran for all of 2013 and 2014 and proved it against the best players in multiple huge LANs.
Difference between INnoVation and TaeJa:
TaeJa was named both Terran of the year and player of the year in 2013 and Terran of the year in 2014. Both times it was over INnoVation and both times it was because of his spectacular consistency in winning against nearly everyone even without the big Korean titles. That logic still holds true now. In 2015, the only strong title INnoVation added was his GSL, yet even if you include that, the amount of Top 10-Top5 players TaeJa has beaten still dwarfs INnoVation's. Then you measure consistency where TaeJa's peak consistency was better than INnoVation's (though INnoVation had an extra year of being a top Terran in 2015), which is about even. Then you include the intangibles of how TaeJa was able to win against imbalance and INnoVation did not and there are just too many factors that were in TaeJa's favor overall.
#1 | Life
Achievements:

Tier 1

MLG Winter Championship - 1st

DH Bucharest - Top 4

DH Winter - 2nd

GSL Season 1 2014 - Top 4

IEM Toronto - Top 4

Blizzcon 2014 - 1st

DH Winter 2014 - 2nd

SSL - Top 4

GSL Season 1 Code S 2015 - 1st

IEM Taipei - 1st

KeSPA Cup S2 - Top 4

Blizzcon 2015 - 2nd




Tier 2

IEM NY 2013 - 1st

DH Bucharest 2014 - 1st




Tier 3

Asus Northcon - Top 4
Life's career is not too dissimilar from a bear but instead of hibernating in winter, he hibernates during summer. And instead of waking up in the spring to maul everyone, he wakes up in the fall to maul everyone. At this time Life has had three peaks and has had three falls "or slumps". His first peak lasted from the end of 2012 to the beginning of 2013, his second from the end of 2013 to the beginning of 2014, and his third from the end of 2014 to the beginning of 2015. His fourth could have happened after BlizzCon, but now we'll never know. But one thing is clear. Life does not run along the same patterns of other SC2 players. Other SC2 players have a period of domination and then slowly fall down with intermittent peaks before retiring. In Life's case he is either super on or he isn't. But when he is super on, only the greatest in the world have a hope of stopping him. His domination over HotS wasn't consistent but when he was dominating, he dominated harder than anyone else besides peak Zest. He is easily HotS' greatest player and most likely the greatest Zerg SC2 will ever have.
Note about Life:
This list was written after BlizzCon and was finished before the start of the year. On January 31, 2016 Life was arrested for allegedly receiving money for match fixing. Since then, no details have come out as to his guilt or his innocence, and what role he had in the scandal.
So the question was whether or not we should acknowledge Life's achievements as a player. Is match fixing wrong? Yes. Does it hurt the scene? Yes. Is Life one of the greatest players to have played SC2? Yes. While we acknowledge his skills and achievements as a player, we do not condone any possible match fixing that was done by Life. Until more details are released regarding his role in the match fixing and the benefits he received, and until the tournament organizers and KeSPA strip him of his titles, he is still the greatest player in Heart of the Swarm.