Last Update: 03/10/2010



http://www.youtube.com/watch?v=-KHFA6ZuFTE



There is a fair number of "Will it X" type shows around these days, but really nothing for SC2 at the moment. We all know that the game is young and that anything could be viable (as seen by AugustWerra's BC rush against Iron) so the question naturally arises - what strategies work, and what strategies do not work.

The idea is simple, pick a counter intuitive strategy, get 5 games of it in action and determine whether or not the build, strategy, unit composition - whatever - is viable in a competitive setting.

My credentials? I'm a Protoss player. I've watched over 600 replays since the start of retail (no joke). I'm #41 on the SEA server (although I've been laddering on euro recently). I regularly play practice games against Jimdiddy (Zerg on SEA, #30 at the moment but was top 10 last week), Camlito (Zerg on SEA, #43), Youngminii (#52 on SEA, Protoss, has been top 30), Pachi (terrible Zerg on SEA

adorable staff member though), Saracen (Zerg on NA, top 100) infinity21 (top 100 Terran on NA) and Corinthos (another good Terran on NA). Occasionally I get games with better players like Naruto (who is awesome) and I bounce ideas off of Nazgul and Jinro occasionally.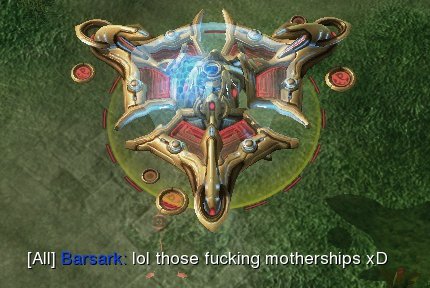 Is it viable? - Motherships in PvP


The Mothership, as we all know, is one of the most useless units in the game. It lacks any game breaking ability, it is really expensive, hard to tech to and takes forever to build. Indeed, the ONLY good thing about this unit is its ability to cloak a lot of stuff - and even then against Terran and Zerg this is largely nullified by either Infestor use, Scan, Ravens, Overseers, Ghosts etc. There is no reason why anyone would legitimately want to build this unit other than the coolness factor.

I was searching for an interview where Dustin made some remarks about taking community maps and updating them to meet blizzard standards (lol) and during my hunt, I misread an answer to one of his questions, namely:


Guest-82: Hello, do you plan any new changes with the mothership? Alot of people feel that its price is not worth it. Also, how about the ultralisk? I think the ultralisk should be able to at least walk over the zerglings. Thoughts?
DustinB:: We are not going to any changes on the Mothership in the near future. Internal debate rages about this unit, I have been told by several people both inside and outside of blizzard that the unit is far too powerful. I have heard complaints both ways on this unit, that he is way too powerful (mostly against Protoss) and way too weak (mostly against Terrans).

When it actually read something like people think Ultralisks are are too powerful against Protoss and way too weak against Terrans, not the Mothership.

Nevertheless, the interview got me thinking. If Dustin thinks Motherships are broken in PvP (which he didn't really...) then why don't we see it more often? I then recalled a game where White-Ra went Mothership against some Korean, and won and thought to myself - well, perhaps, just maybe, the Mothership is viable PvP.

The logic was simple. Making one Mothership, including the tech costs, is approximately the same as making 2 Colossus and researching Thermal Lance. So instead of building Colossus I would make a Mothership. Assuming the other guy was still one base, and waiting for Lances to finish, my Mothership should be out in time and then either
- I get crushed horribly because the Mothership is bad (expected outcome)
- Colossus are rendered useless, he has too many Zealots, Mothership makes my army amazing
- He has obs and he rapes me silly
- He has lots of stalkers and lols at my Mothership

The possibilities were numerous! So when I got bored ranking up my brand new account on NA (thanks to SEA finally getting access - 23-3 btw) and the opportunity presented itself for me to transition into a midgame Mothership, I took it.

Game 1 - vs Barsark ~1100 pts on NA (from memory)

So after an uneventful earlygame, Barsark took a hidden expansion at 6 on Lost Temple (I was at 12, he was at 3). Not knowing that this expansion existed, and seeing him mass in his main with my observer, I decided to take the plunge and go for a Mothership. Eventually I scouted his hidden base where he had built two robotics and was massing Colossus - this would be a true test of whether the Mothership was any good or not.

The first engagement resulted in a modest victory for me - but it allowed me to clear out his main forcing him to relocate entirely to 6. The Mothership had passed its first test. The second major engagement was another modest victory for the Mothership, although if I recall correctly I lost my first (of four) Motherships. The game progressed, and I was surviving and actually winning battles.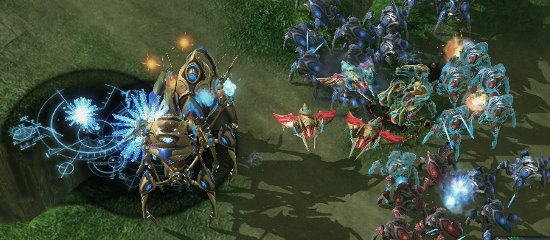 Well, that's one way to deal with Colossus


I wasn't able to kill Colossus as I had hoped, the Mothership was too slow for that so I couldn't effectively chase him. Thus, I took a leaf out of Tyler's book and added Phoenix - and then something magical happened. The Phoenix amplified my victories tenfold. I couldn't explain it at the time, but I figured it out later - and I'll tell you about why in a moment! Anyway, the Phoenix killed off the Colossus and from there the game was all down hill for Barsark.

So what did I learn this game? Well, Motherships *might* be viable in this matchup. Not to brag, but I was clearly the better player here, and he was hungover. So really, this test was wildly inclusive outside of a few battle demonstrations. But, it wasn't an outright rejection like I had expected.

However, there was something special about my army when Phoenix were added - after thinking about it for a while, it dawned on me.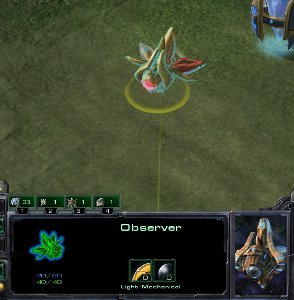 A key unit in fighting the Mothership


The observer is obviously something that you must have to fight the Mothership - fighting without it would be suicide for obvious reasons. Notice how the observer is a "Light-Mechanical" unit? i.e. Phoenix deal 20 damage to them instead of the usual 10?!

The moment you engage in battle, the Phoenix doesn't have any natural targets - except Colossus. Now Colossus tend to be at the back, while the Observer tends to be at the front so the units can fight the Mothership. So, if I have observers around to detect, the Phoenix naturally automatically targets the observer, kills it almost instantly thanks to it dealing full damage to it, and allows my fully cloaked army to destroy. Oh, and then my Phoenix can destroy the Colossus as well - since they're flying and invisible.

It's brilliant really.

People theory crafted that Phoenix+DT+observer snipe would be a good strategy. Unfortunately, DT tech is really expensive (more than a fleet beacon, which is the only additional structure you would need if you were building Phoenix already) and DTs die really quick. Phoenix+DT may not work, but Phoenix+Mothership uses the same principles, is more accessible, and actually works O_O AND you get bonus points for using a Mothership in the most boring matchup in Starcraft 2.

On many bus rides home from University, I sat pondering how I could make this combination work. My thoughts were this - if you are able to get into the midgame after going for the standard immo/phoenix strategy then once you have an expansion up add a fleet beacon and build a Mothership. This make a lot of sense really, since Phoenix start to become less effective after about 6-8 in my opinion, so if you sacrifice building 2 phoenix for the beacon, add the mothership, then you have a pretty damn scary army thats about x10 stronger than what it would have been if you had added those Phoenix.

It sounded like it might just work. Obviously there would be some massive timing windows where I would be vulnerable, but given how passive PvP can be in the midgame (since no one wants to attack into an army with more Colossus) and given that I kill off any observers so he doesn't see it coming (and doesn't know the timing window is there) - it might just work.

Game 2 - vs Mantra ~1300 I think?

Mantra played well, he managed to trick me into thinking he was warpgate pushing me while in fact he took an early expansion. Behind economically, there wasn't much I could do since I skipped Colossus tech. What else could I do but go Mothership and see what happened?

Miraculously, I was able to defend his first push with some decent forcefields. Then, moments before my Mothership popped, he attacks again and I micro poorly. I lose all my units THEN the Mothership comes into action. To top it all off, his Charge-lots are able to get to my Probes before my Mothership can cloak them - meaning I lose all my probes.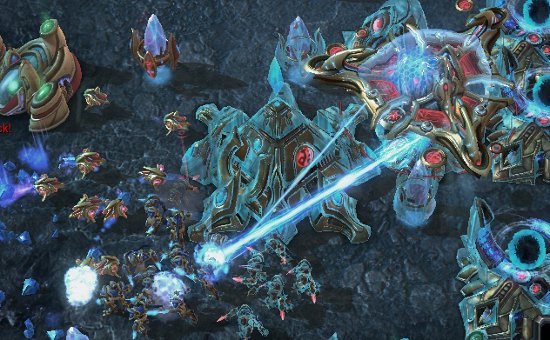 Move faster dammit!


Close, but no cigar.

I did learn a few things about the Mothership in this game, from a control perspective. The Mothership has painfully slow acceleration - I could have saved a lot of my probes by making it move a significant distance, since for some reason it doesn't like to move fast when moving short distances - hence why it was inching towards my probes in the screenshot above. Further, if I had fully Chronoboosted the Mothership (I assume I missed a boost somewhere) I probably would have had it out in time, and maybe I would have defended just fine.

Since I was behind economically and playing catchup, I don't think this game conclusively says that the Mothership isn't viable - a few seconds either way on that last attack could have made all the difference. I was not prepared to give up on the Mothership just yet.

Game 3 - vs Bamboo ~1350, but plays a lot better than that

Not sure if this was nrg.bamboo (i.e. a good player), I wasn't prepared to screw around - I was here to win, I had no intention of playing Motherships this game. When I entered the midgame and was able to get an expansion up, however, I knew that this was the Mothership's way of telling me that this would be a real test of it's capabilities.

The Mothership arrived, and I feel that I came from a disadvantageous position into a position with a real fighting chance to win the game. The first major test was a battle outside of the gold expansion at 12 on Blistering Sands - where he had just had his Nexus finish warping in. Just as I had planned, the Phoenix sniped his observer instantly - and the battle gained me significant ground.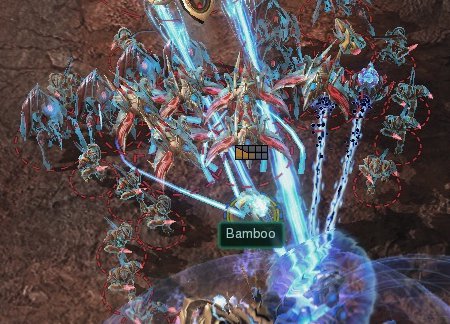 That obs went down very fast


But then I wasted my Phoenix chasing after an injured Colossus which set me right back to "disadvatnage". Nevertheless, Mothership #2 was on its way and I was feeling good about the game. At this stage we were both trying to take our thirds, when he went to attack mine he forgot to bring his new obs - so had to retreat since my army was cloaked! I gave chase, and his observer fell once again. However, he had brought Templars to the party: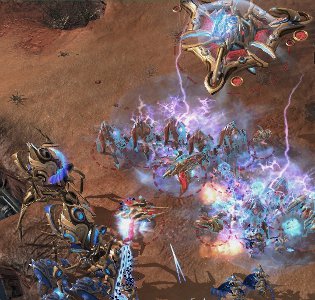 I think this is how Blizzard intended PvP to turn out


Despite storm/feedback, the battle was a massive victory for me - and the game was now tilted in my favour. The one thing that sucked about that exchange, however, was that he was able to snipe my Mothership, which meant Mothership #3 needed to be produced. With the remainder of my army, I cleared out his expansion attempts and once Mothership #3 arrived - it was game over.

While Bamboo did play fairly passive, I can't say I blame him. Firstly he didn't know I was building Motherships so he didn't know about the timing window, secondly good forcefields can completely turn a battle around and his advantage could very easily turn into a disadvantage if he pressed the attack. It's a balancing act, and PvP is pretty tricky to get right.

The effectiveness of the Phoenix-Mothership combo really helped me claw this game back, and thus, it's plausible that this unit combination is viable in the midgame for PvP. The game against Bamboo is arguably the most fun PvP I've ever played, and at the end of that game I was left feeling ecstatic - I think thats a direct consequence of using Motherships to great effect in the worst matchup in Starcraft II!

I will need to run some more trials, and since PvP doesn't always get to the midgame due to 4gateing and whatnot, that may take a while. But for now, all I can say is:

Motherships in PvP: Is it Viable?
meh, it's plausible!

So if you're tired of Colossus wars in PvP, maybe you should try building a Mothership a try; it might just surprise you! If you are a Phoenix player, then I definitely encourage you to test out building this awesome unit when you get to the midgame, even if you lose, you'll look awesome for building one



UPDATE:
Played another game today
vs Tamajka ~1300 pts, but has a high mmr judging from his matchlist

Basically, we enter the midgame and I would say we are about even. We've both transferred to our naturals, he's gone Colossus tech and I survived his first push with colossus. So then I tech Mothership and get one of those badboys out. Then when I move out I make a series of stupid blunders;
- forget to macro
- don't notice he has just expanded to the gold expand
- attack into his main, trapping my units
Indeed, attacking into his main was a very stupid idea since what I should have done is used vortex to snipe half his army (like I did) then pull back - but of course my vortex was right on the escape path so I couldn't run away. Nevertheless, I killed 2k worth of units before the Vortex wore off. So while I lost the game, I wouldn't blame the mothership for my loss, rather my idiotic play. Although once again, his two observers get sniped really quickly by my phoenix



I dno, I still feel like Motherships have a place, just gotta work on it some more until it become natural.

---

Update: 1/10/2010
Played another game
vs Banana Split I forget his rating! But he posts on TL so that makes him better than more bnetters
So basically, we enter a Colossus massing war. I decide that I want no part in this shenanigans so instead of adding a 2nd robo, like he does, I add a stargate/beacon. He keeps massing Colossus, I get a Mothership out while still pumping Colossus - the result is a massive victory for me. I definitely feel that Mothership midgames will become the norm in PvP - they're so fucking good.

---

Update: 3/10/2010
Played another one! (funny how rare these are)
vs Tenpointfive - 1500~ protoss on euro.
I open dual 10 gate since the game before he tried to 4warpgate rush me (and died) so I thought I'd cheese him back this game. Turns out that he doesn't die, and some miracle stalkers keep him in the game. Then we're at a deadlock, as is usual in PvP, since neither one of us can break each others ramp since we have FF. Thus, War of the Worlds commences and we start making Colossus. Then I fuck up something terrible and lose my first Colossus and fall behind in army. With nothing to lose, I go "fuck it" and strive for mothership. In the decisive battle, phoenix do their job sniping the observer amongst all the madness and the game is mine.

Funny how it doesn't matter if your 1000minerals behind in army when you have a mothership.


---
If you have something you think would be good for "Is it Viable?" please shoot me a PM! Please try to stay civil in this thread, keep it imbalance free (i.e. dont bitch about anything being OP) and try to remain open minded. I'm not claiming this is the be all and end all of PvP, I'm simply trying to point out alternatives that are viable - the matchup is so dull at the moment that anything that breathes life into it is a good thing