Alot of people complain about how to stop zealots in TvP when walling is not an option. Most people would say "Make rines and micro them with scv". There is also a little trick which many should consider. Certain building placements will allow a marine to go through the gap between 2 buildings, but not a zealot.

The theory
I did the research on placing buildings that you would have in early game TvP, and here are the placements that work and don't: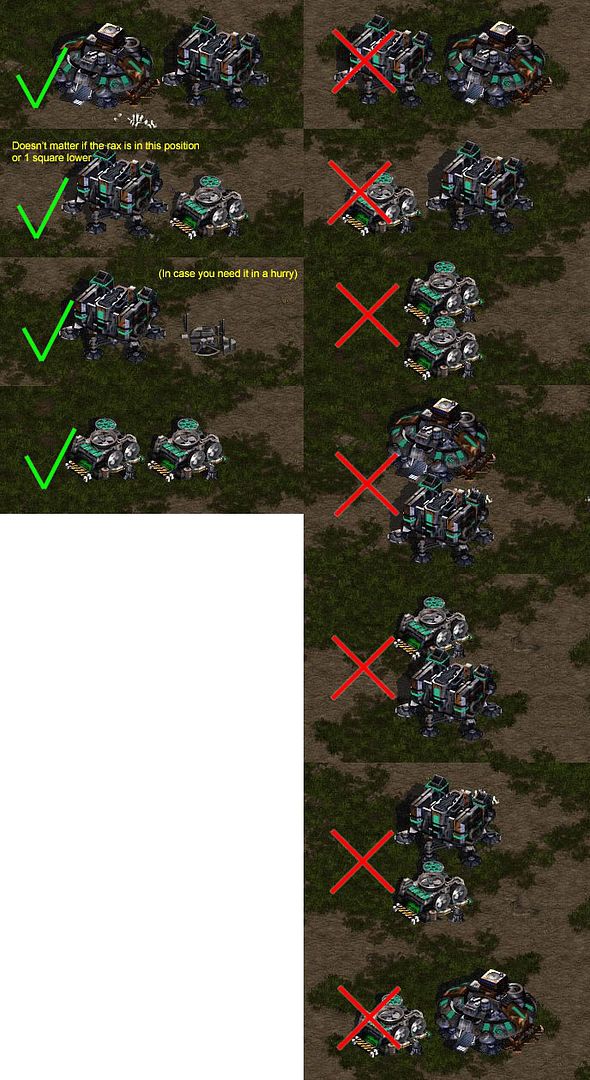 Extending the theory
Now that you know which combinations and positions of buildings work, you can experiment in putting these together to make a really solid setup, or you can just go with the supply+rax combo on any map. Here are some examples to start you thinking about what makes a good setup: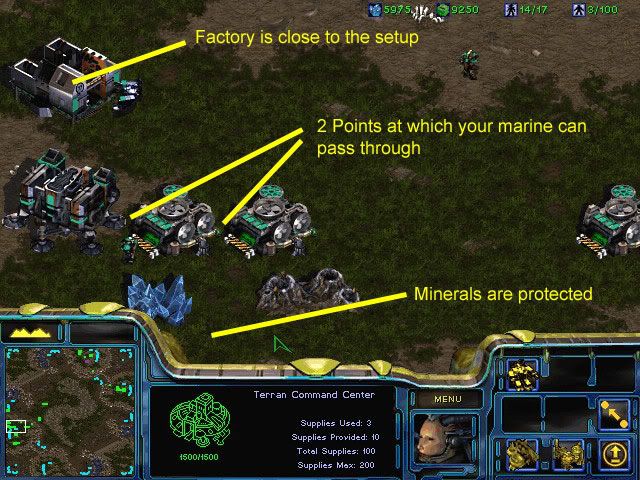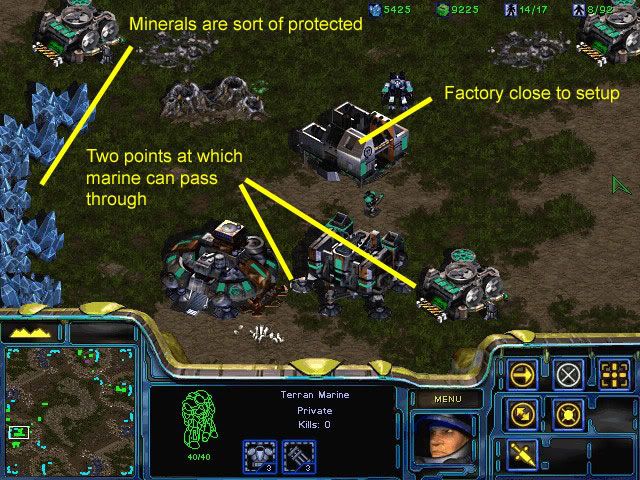 And from regarding this thread:
[Q] 1st supply placement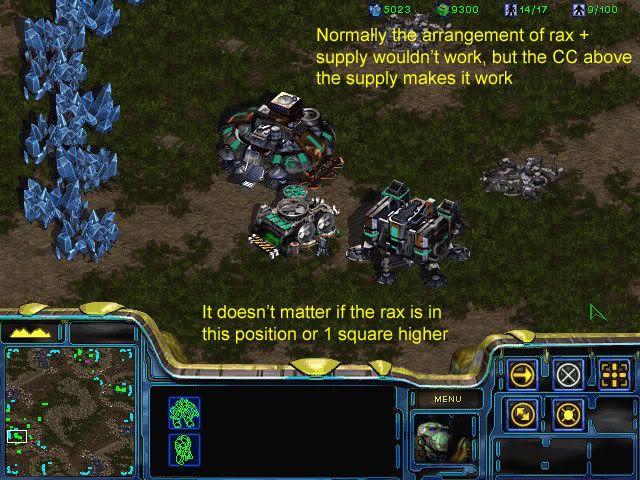 [Edit]!!! I'm very hesistant to recommend this special setup. I tried it in an ICCup game, but the zealot manage to fit through. It seems if the zealot is going after your rine, it will go through the gap, but not if you use a move command to try and get it through. Stay with rax+supply or rax+cc in the normal configurations because it is safer.

Applying the theory to real games
Once you have this special gap, what do you do with it? Basically, zealots will have to walk around the buildings the long way, while your rine can walk straight through the gap. If he does take the long way around, just walk through the gap and continue shooting. If he goes for an scv, don't be afraid to attack him, and when he heads for your rine again, just dive towards the gap. Similarly, if he heads for your mineral line, attack him with the rine and retreat to the gap when needed. Also retreat scvs that getting attacked.

Something that is quite important to note is that when you have 2 or more marines to control, to get them all through the gap, you have to spam move or else they'll get confused. Do not attack until you have all the rines safe on the other side of the buildings. I have lost a couple of rines because when 1 rine walks through, the gap is blocked for a moment, so the other rines try and go the long way around and get confused. Spamming move will avoid this.

Also, I tend to place my next supplies adjacent to the existing ones without thinking. This sometimes leads to really awkward groups of supplies that clog my base up. Think carefully about where the supplies go and how you can place it so that the next supplies you make will be in a neat place.

Pros and Cons
If you use this technique properly, you are perfectly safe with 1 marine vs the first zealot if you have good micro. It also saves mining time compared to building a wall because your scvs do not have to travel so far away and back (and you won't get annoying tosses building a pylon at your wall or anything).

When 2 or more zealots come, you start to get into trouble. Obviously he can trap your rines by simply attacking from both sides of the gap. By then however, you should have a vult building if you took good care of your scv that's building your factory (and this is why you need the factory close to your setup, so it can build as fast as possible without being held up). If he sends goons after that, they will be a problem without a wall too, but some scvs to hold your ramp should be enough.

This idea is not mine, and I read it when someone said "nada puts his rax beside his cc so he can run his rine through and make a maze". Also, please don't try and say things like "lol youre a retard" etc without trying it yourself in a game.

niteReloaded's work
All credit goes to him of course, and he covers all the different possible positions with each combination of buildings, plus some examples of setups on RLT and RH3:


CC+Baracks combos:
+ Show Spoiler +


Barracks + Supply combos
+ Show Spoiler +


CC + supply combos:
No matter how you put them next to each other, not a marine nor a zealot can go in between.
(Had a picture of it, but apparently I dont have it anymore. This one shouldnt be too hard to understand )



Practical use:
I made all starting positions for the RLT and RHIII so that you get the idea of how to use this in a real game.



Summary of all this information

1. A rax, with a supply on the right of it is good in any arrangement as long as they are adjacent.
2. A CC, with a rax to the right of it is good in any arrangement as long as they are adjacent.
3. 2 supplies right beside each other is good.
4. All other arrangements are basically useless.

Just like how people experiment with FE setups in PvZ, do a bit of research yourself on the maps you like to play and memorize the setups for each position. If you're playing on a map where you haven't done the experimenting, then you can stick with your simple CC+Rax or Supply+Rax combos.

Note: To test out quickly on a map, pick toss against a terran computer, then mc the scv that builds the first rax. The computer will sit there and do nothing from then on.