Banner by KizZBG



General Information
It's Proleague season again! What is the Proleague? Where the OSL and the MSL are individual tournaments, with individual players playing for personal glory, the Proleague is a league in which players play together for a team to win the Proleague for their teams.

With 12 teams consisting of 10 to 15 players each, 132 matches with 3 to 5 games in them, 8 maps, including two teamplay maps, and over 16 weeks of play, the Shinhan Bank Proleague is not just a big event, it's a massive event!

+ Show Spoiler [History of previous Proleagues] +

Sky Proleague 2005 Round 1 Final: SK Telecom T1 4 - 1 KTF MagicNs
Sky Proleague 2005 Round 2 Final: SK Telecom T1 4 - 3 Samsung KHAN
Sky Proleague 2005 Grand Final: SK Telecom T1 4 - 2 KTF MagicNs
Sky Proleague 2006 Round 1 Final: SK Telecom T1 4 - 1 MBCGame HERO
Sky Proleague 2006 Round 2 Final: MBCGame HERO 4 - 2 CJ Entus
Sky Proleague 2006 Grand Final: SK Telecom T1 3 - 4 MBCGame HERO
ShinHan Proleague 2007 Round 1 Final: Samsung Khan 4-0 Lecaf OZ



Broadcasting and Sponsorship
To broadcast this event OnGameNet and MBCGame each broadcast half the matches played. Two matches are always played at the same time, with one match being broadcasted on each channel.

The league is sponsored by none other than ShinHan Bank, sponsors of many major leagues and tournaments in Starcraft. This powerful sponsor adds stability to the massive affair, making sure that fans can enjoy their daily dose of Starcraft without a hitch.


Format
We are now at the second round of the ShinHan Proleague 2007. Each round is a double round robin, which means that each team has to play two matches against every other team. A link ot the results of the first round can be found in the external links section.

Each match consists of up to five games: two 1v1s, one 2v2, another 1v1, and the Ace game. The first team to win three games takes the match.

Line-ups for the first 4 games of each match are announced long before the match takes place, and can be found on the TeamLiquid schedule. A player may only be used for one 1v1 game or one 2v2 game per match. Should a match go to the fifth game (called the Ace match), both teams' coaches have to decide who will play in the game. They may use a player that has already played in the match again! This game determines the winner of the match, and the coaches' decisions are often the source of much dispute in the teamliquid community.

Once the round robin stage of the league is over, the top four teams go into the play-offs. The play-offs consist of three matches, which can be seen as a quarter-final, semi-final, and grand-final. In the quarter-final, the teams that ended third and fourth in the round robin stage, play off for a position in the semi-final. In the semi-final, the winner from the quarter-final plays against the team that came second in the round robin stage. In the grand finals, the team that won the semi-final plays against the team that won the round robin stage. The winner of this match is considered the grand champion.

The play-offs matches consist of a best of seven match that has two 1v1s, a 2v2, two more 1v1s, a 2v2, and finally an Ace match.


Schedule
Proleague will be played on five days a week this season, which amounts to ten matches played each week, and up to 50 games per week! This is more than the OSL and the MSL put together! You can find links to the schedule for the proleague in the external links section.


Maps
1v1: Baekmagoji, Blue Storm, Katrina, Monty Hall SE, Python 1.2, Un'Goro Crater
2v2: Seongangil, Hwangsanbul
+ Show Spoiler [Map Pictures] +

1v1Baekmagoji
Blue Storm
Katrina
Monty Hall SE
Python
Un'goro Crater
Seongangil
Hwangsanbul

Original info by SonuvBob and a link to the map pack can be found in the external links section at the bottom of this post.


Teams




The teams have mostly stayed the same except for Pantech EX which has changed into WeMade Fox.

Air Force ACE
CJ Entus
eSTRO
Hanbitstars
KTF MagicNs
Lecaf OZ
MBCGame HERO
OnGameNet SPARKYZ
Samsung Khan
SK Telecom T1
STX SouL
WeMade Fox

Full team rosters can be found in the TLPD.

-----

Team Standings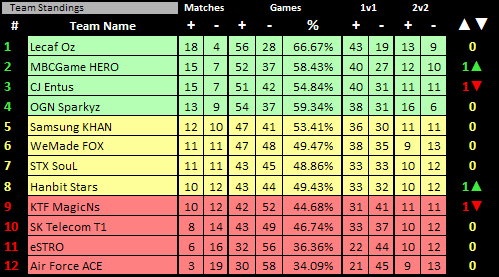 Map Statistics

Player Standings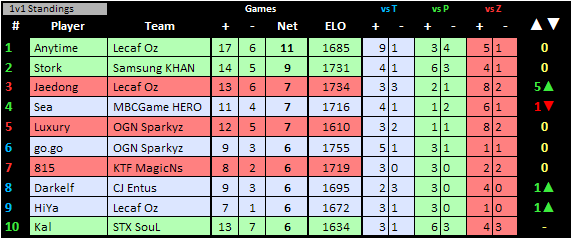 Player and Team Statistics
+ Show Spoiler [Show All Teams] +
Detailed Match Statistics
+ Show Spoiler [ Show Match Statistics] +
Play-off Stage Results
+ Show Spoiler [Show Playoff Results] +
+ Show Spoiler [Quarter final, 2008/01/12] +
CJ Entus
4 vs 3
OnGameNet SPARKYZ
DarkElf
<
Katrina
>
HoGiL
Iris
<
Blue Storm
>
go.go
Orion
/
XellOs
<
Seongangil
>
Flower/
Justin
Much
<
Python
>
Luxury
sAviOr
<
Baekmagoji
>
Chalrenge
Jy/
Memory
<
Hwangsanbul
>
besga[Kal]
/
Zeus
sAviOr
<
Un'Goro Crater
>
YellOw[ArnC]
+ Show Spoiler [Semi final, 2008/01/19] +
+ Show Spoiler [Grand final, 2008/01/27] +
Lecaf Oz
4 vs 2
CJ Entus
Jaedong
<
Python
>
Iris
HiyA
<
Baekmagoji
>
Much
Bright[z-zone]
/
Dongrae
<
Seongangil
>
sAviOr/
XellOs
Anytime
<
Monty Hall SE
>
DarkElf
fOrGG
<
Un'Goro Crater
>
Kwanro
Lomo/
ShinHwA
<
Hwangsanbul
>
Jy
/
MemoryLecaf Oz are the 2007 Shinhan Bank Proleague Round 2 champions!


-----



External Links
Shinhan Bank Proleague R1 Results

Proleague Schedule

Liquid Notify

Map Info

Map Pack Download

Team Liquid Progamer Database: Team Rosters

-----

Thanks to SonuvBob and thedeadhaji for the general help they have provided. A big thanks also goes out to Pachi for his help with the player stats!