List of my keyboards: Ducky OCN Edition 9008 G2 (ABS, browns), Thermaltake Meka G1 (ABS, blacks), PFU Happy Hacking Professional 2 (PBT, Topre 45g uniform, "Otaku"), Rosewill RK9000 (ABS, blues), Unicomp Classic Model M (USB, Buckling Spring)

+ Show Spoiler +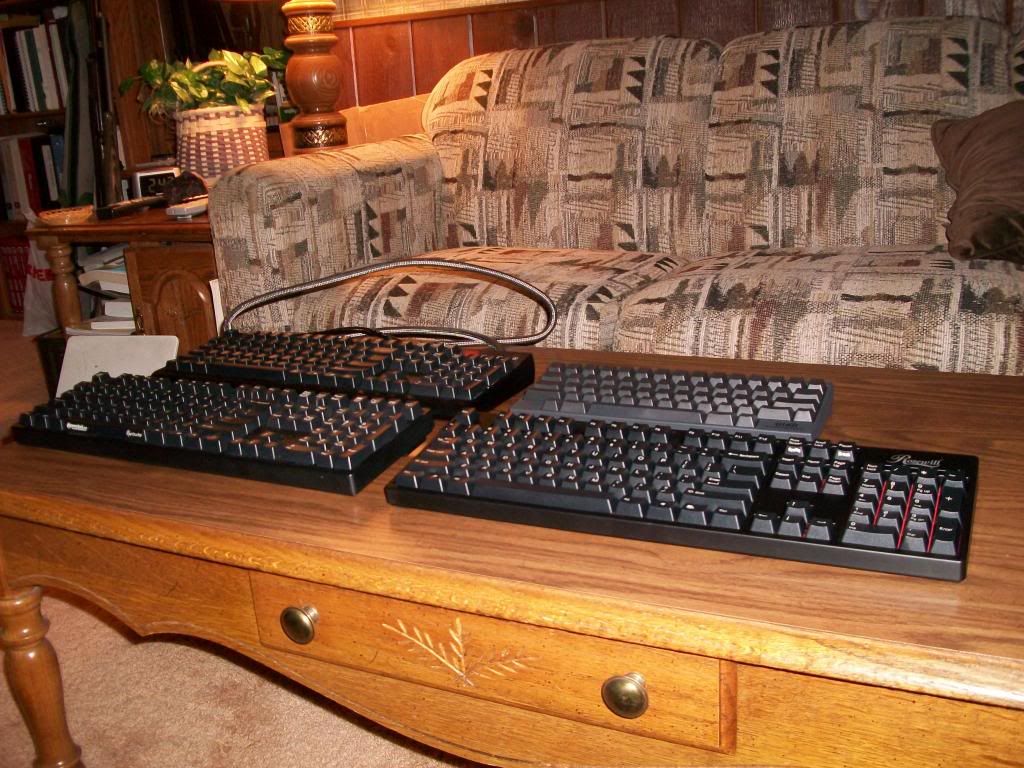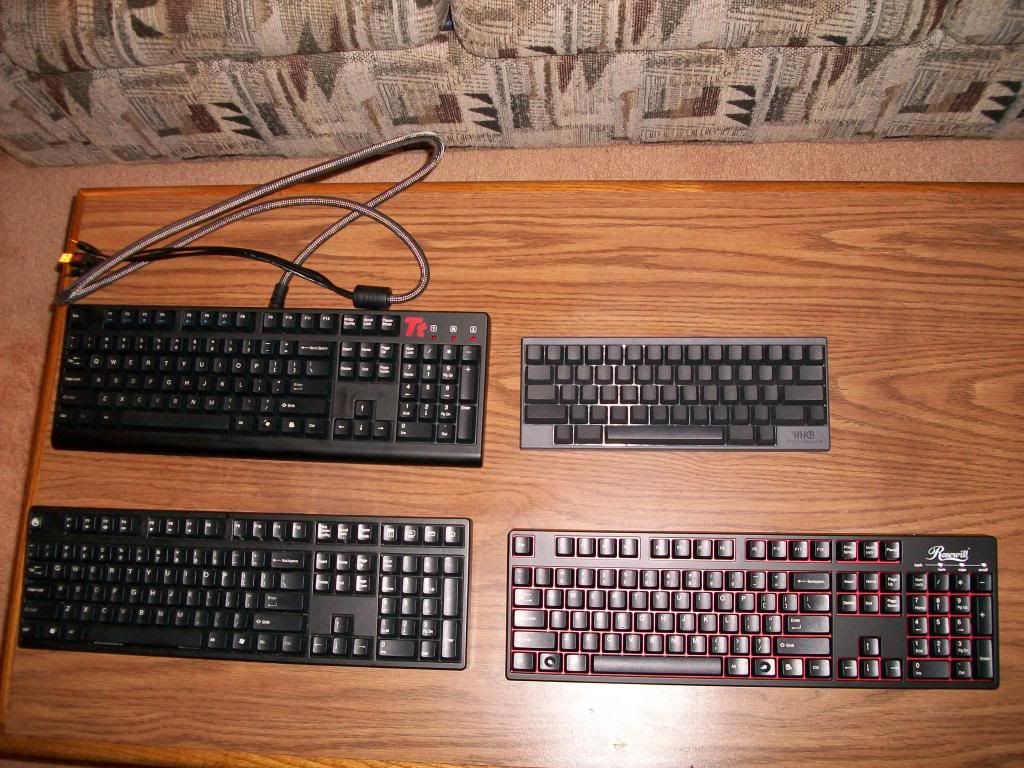 Guides:

*All source material is courtesy of the Overclock.net thread and corresponding mechanical keyboard sellers.

Overclock.net Mechanical Keyboard Guide: Link

Most information is provided in the link. Manyak and Tator Tot did a fantastic job explaining the different types of switches but some more can be added regarding RTS. Other sites have even copy-pasted Manyak's page. I will not do that out of respect for the work he put in.

A fellow TLer named Kronen is offering his O-ring pack from WASDkeyboards.com and dampeners via Elitekeyboards.com for people to test out. Here's his profile page; Feel free. Kronen's profile.

poeticEnnui's mod to his IBM F/AT (a restoration of a classic Model M) Link

Also consider the Deskthority.wiki Link, Reddit's mechanical keyboard page Link, and Ripster's Reddit page Link

Niche Stores:

+ Show Spoiler +

DeckKeyboards.com LED Backlit boards (Deck Legend and Deck 82)

Link

EliteKeyboards.com (Leopold, Realforce, and PFU)

Link

ClickyKeyboards.com (IBM Model Ms)

Link

Codekeyboards.com (CODE brand, very small company)

Link

DuckyChannelInternationalCo. (Ducky)

Link

Feenix.com (Autore)

Link

MechanicalKeyboards.com (Lots: from Ducky to Adesso to Das)

Link

TheKeyboardCompany.com (Filco and Realforce)

Link

PCHome.com.tw keyboards (Ducky, Taiwanese site w/ geekhack english guide)

Link

PCkeyboard.com (Unicomp buckling spring keyboards)

Link

qtan5370's E-Bay Market (Ducky, Filco, KBC, Keycool, Noppoo, Pulu, and HPE + custom keycaps to buy)

Link

Tankguys.com (OCN Edition Duckys)

Link

TechKeys.com (custom and artisan keycaps)

Link

TigerImports.com (Ducky)

Link

WASD fully customized keyboards and keycaps.

Link



Common Questions:

+ Show Spoiler +

1. Which switch is best for RTS? A: It depends. Most experts will b-line you to MX Browns. They are fairly prevalent and give you good maneuverability, much like the MX Blues. MX Reds and MX Blacks are considered "gaming" switches; They double tap much easier since they are linear, sort of like a typewriter. MX Black switches are pretty stiff, but with a week or so of use, they become much easier to press. In the end, it all comes down to preference, but what MX Browns lack in double-tapping feel they make up for in typing pleasure.

2. How expensive are they and are they worth it? A: Mechanical keyboards come in a variety of styles, from tenkeyless to LED backlit to generic. Prices can range from $60 US to $400 US. The median price is around $100 US.

3. Are there other switches besides Cherry? A: Yes. There are several types of mechanical switches but the Cherry brand are the most prevalent.

4. Will a mechanical keyboard make me a better Starcraft player? A: No. I don't think you can say a mechanical keyboard will get you into GM, but it will make typing/gaming more pleasurable.

5. Why do people swear by mechanical switches? A: The feel. Choosing any mechanical switch over a rubber dome keyboard will most definitely make any typing experience better. It has to do with the way they activate and how much pressure is required. Rubber domes require you to bottom out, no matter what, which causes fatigue. Mechanical switches register before you hit the board with the key, taking the pressure off of your fingers and joints. Not everyone takes advantage of this ability and instead favor the double-tapping ability, click, etc. of mechanical switches, not to mention mechanical keyboards tend to be sturdier and built to last. Ask anyone who owns a mechanical keyboard whether they would go back to rubber domes and 99.9% will say NO.



Best value/quality boards:

+ Show Spoiler +

Value/Quality: MX Blue: Das Model S (Professional or Ultimate)

- NATEROB009 places the Das keyboards at the top of the heap. Also, Destiny swears by this keyboard. As far as Razer's Blackwidow goes, it's known to have some faulty construction.

Link Value/Quality: MX Brown: Ducky 9008G2 ABS Keycaps

- I have to say these are very well made and for $110 have the best value/quality of the MX Brown boards out there. Das also makes a MX brown version (Silent), but if you don't like the glossy finish, Ducky is a great way to go.

LinkValue/Quality: MX Black: Thermaltake Meka G1

- Now available on Newegg and for a great price.

LinkValue/Quality: MX Red: Leopold Linear Touch

- Good quality and a great price for the well sought after Reds.

LinkValue/Quality, Backlit: Deck (MX Black or MX Clear) Link

or

Ducky Shine (MX Red, Black, Blue, Brown) LinkValue over all: Coolermaster Quickfire Rapid TKL, MX Brown

- Great board for RTS and AVAILABLE ON NEWEGG.

LinkQuality over all: Ducky 9008G2 PBT Keycaps, MX Brown

- You pay $30 more for one of the best built boards on the market.

Link





Please make suggestions as to how this thread could be improved and I will gladly update it. Big thanks to Manyak, Tator Tot and Overclock.net for their support of Mechanical keyboards.