Last edit: 1/20/12

Hello all. Cheese is not really my style, but I figured I'd mix it up a bit and show you all a nice little PvT all in that revolves around the warp prism. It's not only effective, but also very fun to execute. I've seen White-Ra do this a while back when a lot of tournaments used Scrap Station, and storm drops were much more reliable and viable in the mid game and served as a relatively smooth transition.

But since Scrap is used less in tournaments and the storm drop style is not as potent nor reliable as it once was, I've made a few changes to make it a stronger all-in but less flexible if a follow-up is needed.

Intro
+ Show Spoiler +

Essentially, you are 1-gas 4gating, but doing so from inside your enemy's base. Sounds baller enough. This build will be most effective on Scrap Station and Metal/Temple in close air spawns. While this build does involve 4gateways, you also have a robotics facility in case you infiltrate your enemy's base to find he is trying to squeeze out a super fast cloak and you can't kill the tech lab without losing a significant amount of units. No problem; you can have an observer in his base by the time it finishes if you see it quickly enough.



Build
+ Show Spoiler +

9 Pylon
12 Gateway
14 Gas
16 Pylon
17 Core
18 Zealot
21 Stalker
23 Zealot
26 Robo

26/26 - 16 probes on minerals, 3 on gas, 1 holding tower to check for a push/reaper

26 3xGateway
26 2xPylon
26 Warp prism
4 Zealots warped at 3rd pylon
4 Zealots warped into terran mineral line

Note- Your first 100 gas goes to WG + Stalker. Your next 100 goes to the robo.



Chrono Boost Usage
+ Show Spoiler +

Your attention to detail here can make or break your timing. Your CB appropriation should be as follows:

2 on nexus (11, 13)
1 on your initial stalker
3 on WG research
1 on warp prism

This will ensure that your gateways and WG research finish at the same time, and that your warp prism will arrive at the edge of your base the instant your 4 zealots finish warping in. Be wary; if you miss a CB on anything, your attack will be slightly delayed. Practice this against the AI a couple of times and it'll become very easy and intuitive to you.



A word on Building Placement
+ Show Spoiler +

The locations of your structures can come into play, be it because of a scan, a floating factory, or a reaper that you weren't able to catch. I prefer to place my 2nd pylon slightly away from where a scan would be centered and far from where a floating building would hover over.

If you spawn towards the west, this means you would place your 2nd pylon off to the left of your nexus; if you spawn towards the east, you'd place it southeast of your nexus. Here, you would want to place 1 or 2 of your gateways so that the terran won't see 4 gateways and a robo the instant he places that scan or hovers a factory. I prefer to keep the robo at the first pylon, as this is not much of a tell and gives the impression of standard play

I've tried proxying the 2nd pylon to hide additional gateways, but this doesn't seem to be a viable option. You sacrifice either your scouting probe's time at the watch tower or the mining time of a precious additional probe. Your robo shouldn't be right at the edge of your base, as this is kind of a tell and the timing works out so your warp prism is allowed a bit of flight time to reach the pick-up location.

Your 3rd pylon should be right at the edge of your base towards your opponent. This will be where you warp in your zealots. Your 4th pylon can be anywhere. You can even lay this pylon outside the front of your enemy's base in case you need to apply 2-prong pressure later on.



Denying scouting
+ Show Spoiler +

For the greatest chance of success, you're not going to want your opponent to know exactly what your up to. He can scout you

4 different ways

.

He can

scan

you. This is why you want your additional 1 or 2 gates off to the side spaced just far from your other infrastructure so that your pseudoproxy pylon doesn't raise any suspicion and will not fall under where you think he is most likely to scan.

He can

poke

with 3 bio units. Sentries cut into your gas way too hard and the ramp is pretty big, so you won't be getting any of those. They're imba anyway

Your zealot-stalker-zealot should fare well against 2 marauders and a marine, but you might want to pull a few probes just to be safe.
He can
reaper scout
you. You'll end up losing your scouting probe if it's at the tower, but you'll at least know it's coming. You'll want to have your stalker in a good position to catch it at the top of your cliff where you'd have your 2nd pylon, with your zealot below the ramp to see if he chooses that route.
He can
float a building
. See the section on building placement. He might ignore your stalker and continue floating but the time it takes him to scout your 2nd set of gateways is sufficient.
He will, however, most likely see the prism and your warpins
depending on the route he takes which means you'll have to get crafty with the angle you fly your warp prism and
utilize a proxy pylon
at the front of his base (he won't have a reaper if he floats a building so your scouting probe should be alive).
Unit Selection
+ Show Spoiler +
Obviously, zealots will be extremely strong in your initial bust. You can whack on scvs and they'll be stronger against marine-scv attack-move than stalkers because you won't be guaranteed much space to micro.

In the case your opponent opened 1-1-1, you'll want at least a round of stalkers to deal with the banshee while your zealots work on the repairing scvs (in the meantime chronoboosting out an observer if you see that the tech lab on the starport is active).

Against a bio expand, you'll want a mix of zealot stalker with heavy emphasis on zealots. If your opponent was trying to siege expand, you can warp in sentries for all I care; you pretty much get a build order win so to say.

Against a 1base bio play, your best off warping in almost exclusively zealots and trying to kill as many scv's as possible since you have the lowest chance of success against this kind of opening. Killing off lots of scvs will at least grant you a chance of breaking even if your attack doesn't deliver a killing blow.
Transitions
+ Show Spoiler +
The only time you are going to want to transition is if your opponent is massing bio off of one base. You got in, killed a bunch of SCV's and now you have 20 probes to your name. You're going to want to start your 2nd gas and get an observer in his base to check if he is going to expand afterwards or just power off of his barracks and try to kill you.

If he is expanding, go ahead and take your own. Just be wary of being greedy on chronoboosted probes, as you'll most likely only have gateway units and an immortal or 2 if he tries for an early 2 base timing.

If he is not expanding (make sure you check the gold with a probe and the isles with an observer just to be safe), get that 2nd gas and get jiggy with sentries. You're going to have to buy a lot of time with double forcefields and wear his medivac-less bio down with additional forcefields in order to win your inevitable last stand at the ramp.
The Engagement
+ Show Spoiler +
You have your stalker and 2 zealots below his ramp outside of bunker range but perhaps threatening to creep up the ramp. Your warp prism is full of zealots and on its way towards the mineral line. Fly it across the mineral line and drop on top of the prism so it drops while moving. Begin phase mode after you have dropped a zealot or 2 and immediately warp in 4 zealots. Target scvs while your opponent is trying to figure out what in the hell just happened and put your prism in transport mode once the 4 zealots have COMPLETELY FINISHED WARPRING IN. If you ship your zealots to Auir prematurely because you were too jumpy on the trigger finger, you'll be forced to surrender red-cheeked with your tail betwixt your legs.

You may then reposition the prism so it is less susceptible to attack; I prefer to have it straddling the mineral line so that I may warp in stalkers behind the mineral line and zealots directly into the fray. You'll only be able to warp in 3 units on the second warp in if you manage to keep every single one of your inital units alive because of a supply cap, but this is negligible because losses are inevitable.

He's probably going to have a bunker and will try to bounce his bio between the mineral line and the bunker. Pick off what marines you can without having your forces in the main take too much damage from the bunker. In the meantime, poke up with your stalker and 2 zealots below the ramp and apply pressure there, as well. This forces him to keep more units at the front, which essentially shuts down his mining as he can't cover both places at once unless he is 3raxing (in which case he might not even have a bunker, which is good news). Your primary goal is to halt his mining. If he tries to engage you with scv-marine, your zealots will do extremely well by themselves. If he pulls his scvs and only engages with marines to kite your zealots, add stalkers to prevent this; Just don't let them get surrounded by scvs.

You're essentially denying him mules this whole time by preventing uninterrupted mining while killing as many scvs as possible. Believe it or not, this engagement might last a few minutes but your mining is perfect while his will eventually dry up. If it looks like he is fine with halting mining and camping by his bunker, start adding pylons for more stalkers to prevent him from kiting your zealots to the bunker over and over
Tid Bits
+ Show Spoiler +
You only have 16 mining probes so make the most of them! The more attention you pay to mineral pairing in the beginning, the tighter your timings will be. This applies not only to this build in particular, but any style you'll ever use. Try to make sure you can take your gas on 14 without cutting probes after 2 chronoboosts. Start practicing! Also, once you have all 16 probes on minerals, make sure they aren't tripling up on ineficient mineral patches, as this will severely impair your mineral income.

Chances are, you don't use prisms too often. I know I don't use them enough. By using this build here and there, you'll grow more comfortable with the warp prism's mechanics and you will see how strong zealots can be when warped away from the "death ball;" see Plexa's guide on warp prisms for additional applications.
Pics
+ Show Spoiler +
This is hopefully
what a scan would see
. The 2nd pylon could afford to be slightly farther to the left. Shoutout to Artosis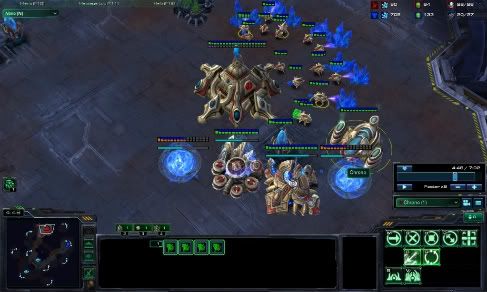 This is what you
don't want the scan to see
. The gates could be on the left of the pylon and further from the nexus.
This is your 3rd pylon, where you will be warping in. Your prism should be rallied here and your warping in zealots should be rallied into the prism. Make sure you get all 4 in one sweep.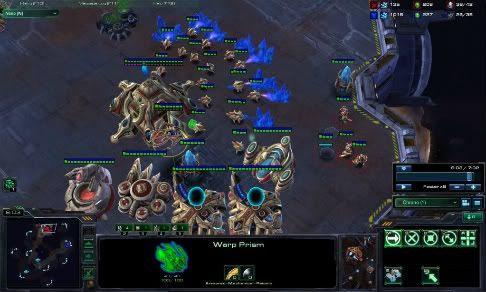 This is what happens when you face a 1;1;1 into 3;1;1 all in timing, a pretty common opener on this map. I draw the forces from the bunker to the mineral line then force him to engage at the front by pushing with my 3 initial units. He can no longer mine and I can wear his unit count down.
Replays
+ Show Spoiler +
http://drop.sc/95531
Here is a replay of the build, cut and dry. It is against the AI and serves only to demonstrate the timings and building positioning.
http://replayfu.com/download/bF7KPk
http://sc2rep.com/replays/download?id=16317
http://sc2rep.com/replays/download?id=16318
This is a replay of me doing the build on ladder. It was kind of sloppy so I figured I'd refine it a bit and write this up for you guys.
http://replayfu.com/download/N8LxQg
Here I kinda screwed up the timing because of the unexpected reaper scout. The 4th gate should have gone down with the other 2 but I didn't want to give it away to seriously. Somehow my 2 additional pylons were late as well
http://replayfu.com/download/sVf0Gd
Vs. 2 port + raven. Against this just do as much econ damage as you can and take down the tech labs if at all possible. You'll wear him down eventually

http://replayfu.com/download/x3zMPf

Vs reaper expand into 2 more rax

http://replayfu.com/download/xdZq0



aLeJ