Blizzcon Finals: MVP vs Nestea
by: WaxAngel
After a largely predictable tournament where Nestea and MVP chewed up the opposition, the two players from Incredible Miracle met in the grand finals. Nestea had defeated MVP 2-0 in the winner's bracket final, forcing the Terran master down to the Loser's bracket where he swiftly 2-0'd GamaniaSen to reach the grand finals. MVP quickly regained lost ground, taking the first best of three series 2-0 and evening the terms. The two teammates traded the first two games in the next best of three series, bringing everything down to one final game...
Grand Finals, Game Three – Shakuras Plateau
The two players spawned across from each other on Shakuras Plateau, MVP at 10:00 and Nestea at 2:00. The first twenty odd minutes of the game were spent doing pretty much nothing, as MVP decided to go for the standard "turtle the hell up" triple orbital build. Now, Zerg has almost zero options to attack into a defensive Terran off lair tech – Even Justin Browder admitted as much at the panel on the preceding day. So Nestea simply did some largely ineffectual mutalisk harass and expanded freely, while keeping up a large enough force to stop MVP in case he forgot his identity as the world's
most boring
safest player and decided to attack before 200/200.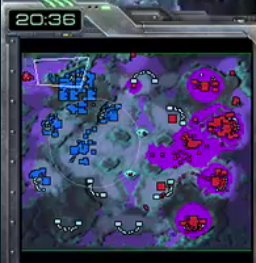 The situation, twenty minutes in.
MVP looked pretty thoroughly entrenched, but Nestea had a go at him nonetheless once he reached Hive tech. He was starting to bank considerable amounts of money, with a powerful economy making any option seem feasible. His first choice was Greater Spire tech, attacking MVP's top-left-center expansion with Brood Lords supported by Mutalisks.
Aerial assault.
Though MVP had predicted this move, he wasn't quite ready at the time of the attack. His Viking numbers weren't up to snuff, and he was forced to temporarily lift off his Orbital Command. Following this success, Nestea attempted to continue into MVP's with his air units.
However, by this time, MVP had finished his preparations...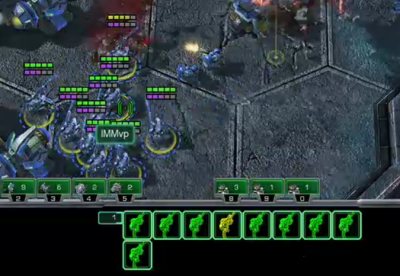 Counter ALL THE THINGS.
Alongside some Vikings and Marines, MVP had nine Ghosts awaiting in his main. And as we all know, Ghosts counter pretty much everything Zerg, especially slow, gas-heavy, low HP, end-game biological units.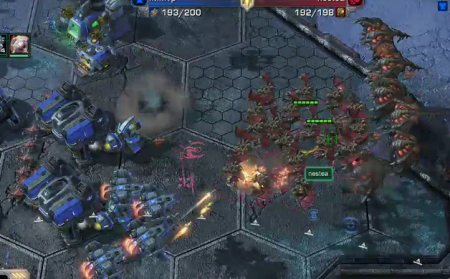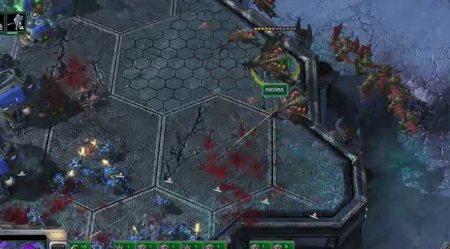 Oh, you didn't know before Saturday? Then allow me this tangent.
Snipe
Energy Cost:
25
Range:
10
Effect:
The ghost snipes a single, biological target for 45 damage. This ability can be queued for multiple instant snipes.
If you think about it, Snipe really is a bit overpowered. Basically, it converts a mostly free resource (energy) into damage, and it does it instantly. Sure, Psi Storm and Fungal Growth have better damage per mana potential, but they deal their damage over time, and can be dodged as well. With snipe, the DPS is only limited by how fast you can shift queue up new targets.
I'm sure Blizzard thought it would be a pretty nifty ability for getting rid of low-hp, high value targets such as High Templar, and they're right about that much. It's just that they didn't give enough thought to large scale scenarios where dozens of Ghosts would be dumping thousands of mana within seconds to instantly erase Ultralisks and Broodlords from the field.
The first widely publicized demonstration of mass Ghosts as practical strategy and not pure theorycraft happened during MVP's second game against July at the
Code S August Semi-Finals
(sorry, the VOD is paywalled

). Before I go into that game in detail, let's go through the next few important moments in Nestea vs MVP.
With Vikings and Ghosts preventing any aerial bombardment from Brood Lords, Nestea was forced to go for another option. This time, he decided he would try a fifty Baneling Nydus attack into MVP's newly mining 8:00 base. Unfortunately for Nestea, his Nydus placement was lacked guile. He maneuvered a flock of Mutalisks into the 8:00 base to gain sight for the Nydus worm, but mistakenly flew his Mutalisks in further to harass the base as well. This caused MVP to pull some of his marines to 5:00 in defense, where they quite accidentally discovered and destroyed the morphing Nydus Canal.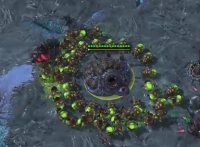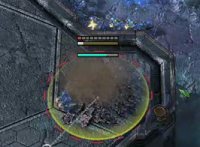 Loading fifty banelings one by one takes quite a while.
Having another route of attack thwarted, Nestea moved onto his third plan: Baneling and Ultralisk drops. Unfortunately, this attack also suffered from a lack of crisp execution. Though Nestea safely entered MVP's main, he had
only
Ultralisks and Banelings. He was forced to choose between blowing up buildings with his banelings, or waiting for MVP to come defend his main so he could drop them on his head. He chose the latter option, which ended up being a poor one indeed. Baneling bombs are essentially an airborne melee attack, which does not fair well against hypermobile Marines or range ten sniper Ghosts.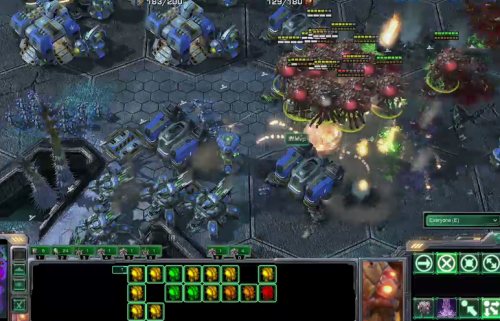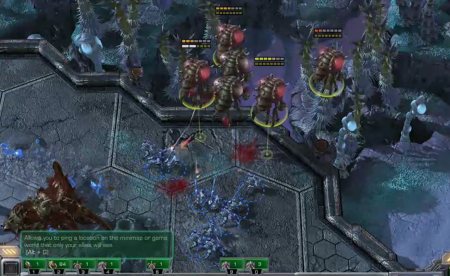 Owch.
***
From these three failed attacks, we can discern a pattern. Nestea wanted
NOTHING
to do with MVP's defensive line in the middle.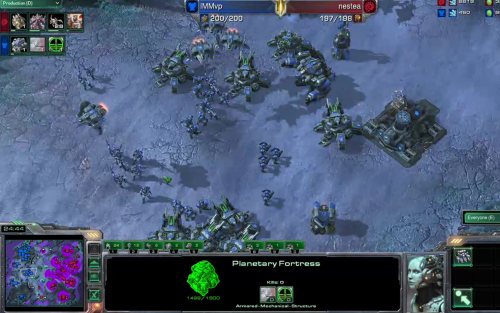 In consideration of those with heart problems and pregnant women, I took this screenshot before it got REALLY scary.
"But he had 15,000 minerals banked! Couldn't he have just swarmed the middle?" Yes, he could have tried.

Ballin'!
The thing is, Nestea knew better. As a player who had played a hundreds of games against high level Terrans on Shakuras Plateau, and certainly dozens against MVP himself, Nestea would have known precisely what kind of position he was in, with all of its advantages and disadvantages. The fact that he did not in fact, try an all-out ground attack showed that he knew it would have been the wrong decision. And that brings us back to that other game.
At the time of
MVP vs July
, people were complaining about Zerg being too powerful in the end-game. If Zerg could only get a strong enough economy to produce only high value units such as Brood Lords, Infestors, and Ultralisks, there was no way Terran could compete.
Game two of the semi-finals was a furious macro game on Metalopolis. July combined his reckless aggression with a powerful economy as well, keeping MVP at bay with attacks while he quickly expanded to every spot on his side of the map.
Despite his furious attacks, July found his opponent not just holding his ground every time, but slowly pushing out and taking each base, one by one on his side of the map. Having reached the limitations of Mutas and Doublelings, he went up to Hive tech to add Ultralisks and Broodlords to his attack...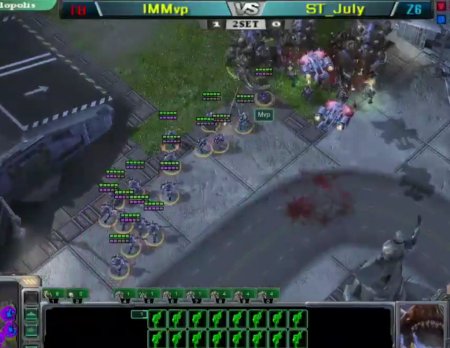 Suck it, Ultras!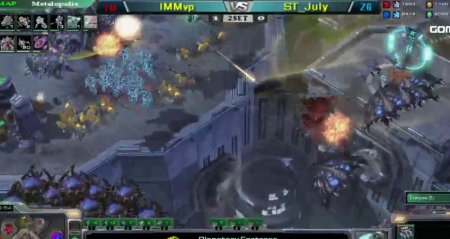 Suck it, Brood Lords!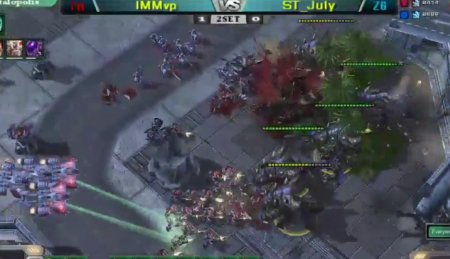 Er, suck it again, Ultras!
July may as well have stuck to the Lair unit combination he excells at. Whatever he tried, he found his expensive Hive units getting quickly erased by MVP's mass ghosts. Wave after wave was sent, yet nothing yielded results. In many cases MVP showed an utter disregard for Ultralisks, just walking his ghosts straight up to the behemoths and sniping them down.
Inevitably, after repeated losing engagements, JulyZerg ran out of steam and was forced to GG out. And with that, the Terran vs Hive situation was resolved (Well, it's more complicated than that. Making a mass Ghost transition isn't the easiest thing in the world, especially if you've taken damage and are heading into the late-game stage on unequal terms. However, the important point is that if Terran can play well enough and get to the mass Ghost late game phase on roughly even ground, they can be practically impenetrable on maps that allow half/half splitting).
It's entirely possible that Nestea would have managed an all-out late game attack better than JulyZerg. In fact, it's also entirely possible that he could have won. The point is, that Nestea knew all these things, and chose not to go for a full frontal attack because his chances of success were astronomically low against a turtling Terran on Shakuras Plateau.
It's disappointing that the alternatives Nestea came up with were so poorly executed and rather uninspired given the high standards we have for him. But if the supposedly smartest player in the world is semi-giving up on a situation, then I'm willing to give him the benefit of the doubt and agree: Ghost-turtling is just too strong on certain maps.
***
It's not like MVP was just sitting back all this time, teaching himself the banjo while he staved off the occasional Zerg attack in between. Though his main defensive tank line was going to maintain stationary at all costs, MVP had more than enough money to finance constant guerrilla attacks on Nestea.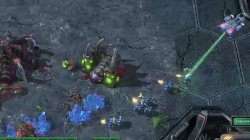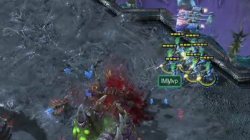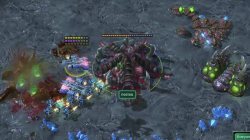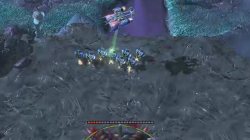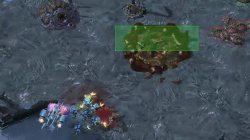 Financing small guerrilla armies in the far corners of the world. CIA Terran?
Though it started off as minor nuisances, MVP's drops actually started to do real damage. While Nestea had a considerable amount of money banked, he was limited in how fast he could spend it by his hatcheries and queens. Nestea made a critical mistake in not making many macro hatcheries (perhaps because he never planned to do the attack-instant remax strategy), and MVP actually hurt his production capacities heavily in that regard.
Also, even the biggest surpluses run dry if expenditures stay higher than income. Even though Nestea was bathing in minerals for a while, MVP made sure to put the hurt on his future income by taking out his mining bases.
As an added bonus, MVP even managed to fit in several
nukes
against Nestea, who was looking obviously flustered from his own failed attacks, and MVP's constant drop harassment.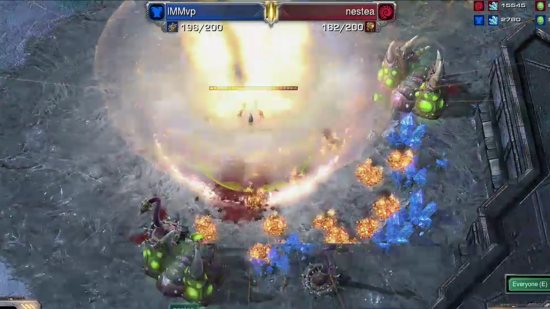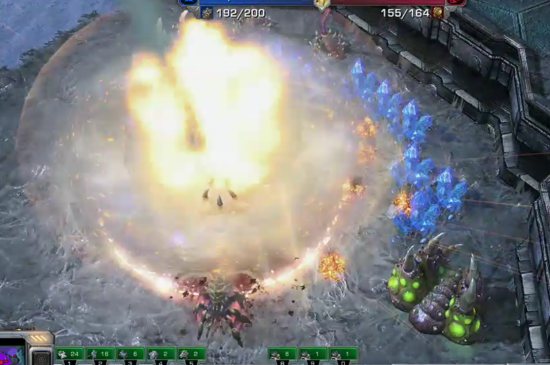 The funny thing is, the earlier nukes weren't actually super damaging at the time. Arguably, Nestea could have afforded to have sacrificed twenty to thirty of his drones for a bigger army.
***
By the time of Nestea's failed drop, MVP's harassment had actually begun to take a toll. Nestea's still had over 10k minerals, but he had very little additional income while his infrastructure had been effectively reduced to a three base level. On the other hand, MVP had taken all six bases on his side of the map in a safe and steady manner, repelling all of Nestea's attacks in the process. When Nestea had controlled seven bases, it had looked like time was still on his side in spite of impenetrable nature of the Terran position. Now, there was a sense of urgency to return parity to the game.
Surprisingly – and this is the only move I
really
fault Nestea for – he didn't decide to gather himself, retake the central, top and bottom bases, and rebuild his infrastructure so he could play a late-game war of attrition (I mean, for even longer than they already had at this point).
Instead, he decided to gather all of his strength for what looked very much like a desperation attack – Twenty seven Brood Lords supported by a motley of Zerg troops. It was inexplicable and poor for reasons that should be self-evident. Nestea had a smaller Brood Lord attack easily thwarted by Ghosts earlier, so was he just hoping that MVP forgot to make enough ghosts? Perhaps it was because in Nestea's mind, every permutation of the scenario he had worked out ended in inevitable defeat, and it was just one last gesture to finalize the result.
In any case, Nestea's last ditch attack (funny to say that bout a guy who still had 6k in the bank) went exactly as expected. Ghosts EMP'd the infestors, sniped the Brood Lords, while siege tanks and Planetary Fortresses pummeled the few ground troops that tagged along.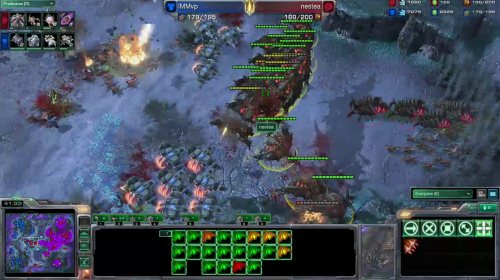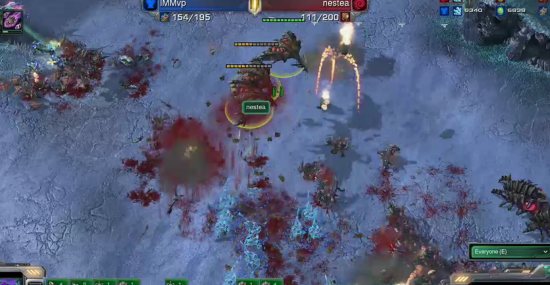 Sad Brood Lords

Out of an army, income, or the infrastructure to rebuild either, Nestea GG'd out, surrendering the Blizzcon Invitational Championship to MVP.
And that was that.
...okay, I'll bite. Kind of.
Let's pretend that MVP and Nestea did indeed decide to split the 1st and 2nd place prize money equally, as many people have speculated. Well, why does that matter then?

On one hand, you can't say that prize splitting will definitely reduce match quality (whatever that term even means). The only thing we can be certain of is that it DOES affect the players and the match, but the effect could be of any kind.

A player could just as easily play better because he is feeling less pressure and is not suffering from jitters, as it could be the case that he plays more sloppily because there is less on the line. Who knows? Different players, different strokes.

No matter how tournament organizers try to hype it to the fans, grand finals are NOT an indication of who is a better overall player. They only tell you who is a better player under very specific and volatile circumstances, among which prize money plays a definite, but not overly consequential part. Let's put it this way. When MVP was playing MMA for $2,000 more at the grand finals of MLG Anaheim, do you really think it was those two thousand greenbacks that put MVP over the top and inspired him to victory?

That's not to say the $25,000 that was on line for MVP and Nestea at Blizzcon was insignificant. We just need to understand that it's not just the allure of money (or lack thereof) that's the driving force behind people's play.

On the other hand, prize splitting does create a discrepancy between what is advertised by the organizers and expected by the fans, and what is actually delivered by the tournament. At a fundamental level, I don't know if Blizzcon (or any other tournament organizer for that matter) is guaranteeing that "two players will play in the finals with $50,000 on the line." Maybe they're merely guaranteeing that a first place prize for $50,000 will exist, and any other complications are out of their hands.

It's disingenuous, though it's debatable as to what degree. For example, when GomTV very strongly sold the idea of players fighting it out for a $100,000 first place prize purse in order to get viewers, then I would consider it quite a serious breach of trust if they didn't take measures to prevent and punish any prize splitting (and there lies another folly of top-loading and promoting your first place prize, instead of beefing up and advertising your total prize pool).

Even knowing that prize splitting would play a mostly indeterminable and unpredictable role in how the finals would play out, I would still feel cheated if it happened because I wouldn't be getting exactly what I paid for.

Of course, all of this talk is pretty much pointless. Prize splitting is not just inevitable, but it's also pretty much unprovable unless one of the parties involved straight out admits it. We may talk about the rights and wrongs of this morally complex issue all we like – it's still going to happen.

So, Nestea and MVP, whatever actually went on: Thanks for the games.
Blizzard: Helping ESPORTS by Making Other Tournaments Look Good
by: Heyoka
I want to love you Blizzcon, I really do. I like Starcraft and I enjoy tournaments. I have fun watching MVP wreck lesser players, picking them apart piece by piece. The components are there, I should be able to sit down and enjoy some Starcraft action when players have a $50,000 prize to fight over.
Why do you make it so hard?
Streaming Experience
In an age where MLG has four streams simultaneously showing games, and Dreamhack has eight, why would an organizer of a large event only show a single game? Especially at an event that is already running four streams. Blizzcon, I want be closer to you. I want to know what you're really like.
With only a single stream you might think
well at least that means they can pack it with content
. Averaging about an hour in between games shut down that theory. You might also hope that showing only a few games means quality over quantity, but given the number of ZvZs chained together this sadly was not the case either.
Do you know how frustrating it is to hear that NaNiwa is playing NesTea, only to find out you're going to be watching Jazbas against TooDming? "Very" doesn't accurately capture the sentiment. It seems clear that at certain point they were attempting to show variety of players over more popular, which is at times fine. We need up and coming stars, we need to see fresh blood here and there. Showing endless Zerg mirrors seems far from the optimal way of accomplishing that however.
The Maps
Abyssal Caverns? Slow down there, now you're going a little fast. We don't know each other well enough yet Blizzard, let's save that one for later.
Close positions?
Now we're way over the line. Blizzard, the collective community has worked hard for the last year to figure out the best ways to utilize the maps we have, and you just ignored that progress entirely. Why? Make me understand you.
At least now the versions on the ladder have close positions removed. But why would it take your own invitational to learn this? Maybe this is the kind of conflict that makes us all stronger.
Don't do this to me Blizzcon. Let's be friends. Let's chill out and watch some fun games. Let's get nice interviews with players, and see some nice matches without close spawn Shattered Temple. Let's fall in love next year.
I want us to be good together.
GSL Finals: Battle Reports and Analysis
by: Pokebunny
VODs are available at http://us.battle.net/blizzcon/en/live-stream/ until November 20th, under the link for "Starcraft II GSL Finals."
Hi! Welcome to my summaries/analysis of the GSL Finals games. If you have any additional questions about the strategies or my thoughts on any particular game or anything about the series, feel free to post in the thread, and I'll happily respond. However, I don't have a ton of background on watching Korean players, so I can't really identify trends in Korean gameplay or anything like that. But I will be able to answer most general questions on these games. Enjoy :D
Game 1 – Daybreak
Mvp @ 7, MMA @ 1
Summary
Mvp opens with a no-gas expand off one Barracks, and MMA opens up with a unique 2-proxy Barracks siege push, using the second Barracks to scout and spot for the tanks. Some nice control allows MMA to take control of Mvp's natural with two sieged tanks, killing many SCVs and Marines in the process and putting him up ten supply in the early stages of the game. MMA proceeds to use his sieged tanks to push up the ramp and starts a Starport in his main, sensing blood and choosing not to expand. MMA continues to siege the production facilities of Mvp, and eventually moves in for the kill when he is double the supply of Mvp.
Analysis
This game was primarily decided by MMA's clearly prepared build on Daybreak. Mvp would be confident going into this series, and therefore would be quite comfortable in opening up with standard play to get a quick lead. MMA completely predicted his opponent's opening, and played an opening that would defeat the 1 rax expand regardless of how safe Mvp played (bunkers) or which followup he used (fast tech, extra rax). Mvp's only chance was to take out the initial force of one tank and Marines before a second tank and siege were finished by using the power of multiple SCVs in small-scale fights, but MMA carefully controlled his units to avoid a surround and pushed in slowly. At that point there was really nothing Mvp could do, even with decently fast siege tech.
MMA's build was carefully designed and thought out, and the architecture of the map gave MMA a really solid proxy location that wouldn't be scouted on Mvp's normal scout path, as well as making it likely Mvp would fast expand. This game was extremely important in giving MMA some momentum – taking even single game off of Mvp is extremely difficult, and Mvp is not used to playing catchup. It was an excellently planned strategy for this map, but past that, this game wasn't too telling of the players' condition for the match – the importance of this game is definitely the confidence and momentum factor in such a tense series on a big stage.
Game 2 – Dual Sight
Mvp @ 2, MMA @ 8
Summary
Both players open with some standard builds, Mvp again with the 1 rax no-gas expand and MMA with the Reaper expand. MMA does play it a bit uniquely with a three-Reaper followup, quickly going up to three Barracks and upgrading combat shields. Mvp transitions into double-gas mech play with blue flame Hellions and a Starport. MMA chooses to take an extremely fast third at the top left gold base while Mvp adds blue flame Hellions and cloaked Banshees.
Mvp spots the gold base with blue flame Hellions, and begins to harass the main and natural with the first Banshee and sends the second over to the gold. Mvp's Banshee falls at the gold, but blue flame Hellions police the area and prevent MMA from mining too much there. Mvp continues to build up mech while MMA chooses to stay on bio, and armies engage in the middle of the map with players trading Marines and Hellions, in MMA's favor. MMA now has a solid advantage, having established the gold base with an even SCV count to Mvp.
MMA continues to upgrade and begins dropping, and Mvp attempts to establish his third base. MMA begins to produce tanks while establishing his fourth base at his gold and trying to pressure the PF third of Mvp. MMA sends his first tanks to pressure the third while countering the main with a drop. Mvp chooses to deny the gold base on MMA's side with his main army instead of retreating, and is able to force a lift on the gold while defending his main and natural. Mvp seems to be in good shape with a 20 supply advantage and large tank count, but he gets caught unsieged and loses more than half his tanks. He retains his supply advantage, but now has a much lower tank count. MMA manages to establish the 9 o'clock base as well as the bottom right gold base, giving himself a decisive economy advantage while both players rebuild their armies.
Mvp attempts to push the gold, but a counter at his third forces him to pull his entire army all the way across the map. MMA then drops Mvp's main with three Medivacs full of units, keeping Mvp back even longer. He then attacks the third and kills a large number of tanks, leaving Mvp extremely far back in map control, economy, and army. MMA continues to poke at the edges of Mvp's bases, and Mvp pulls a lot of SCVs to accompany his meager 10 tank count and push across the map. Both players push into the naturals of their opponents, but MMA has a larger army and more of the map, so he is unable to take down MMA before losing all of his production and bases and is forced to GG as MMA whittles down Mvp's forces while continuing to destroy his bases.
Analysis
Mvp seemed to have a stable mindset going into this game, trusting his standard play versus MMA even after the fiasco of game 1. It is important for a player to maintain faith in their skills and preparation even if they are nervous or worried during the match, as on-the-spot decisions very often are clouded in judgment. However, Mvp again played into the hands of MMA, who was completely prepared for every one of Mvp's tactics and kept himself in the lead. The early-midgame looked solid for MMA, with him managing to hold on to the gold base, but a mech player grows more dangerous every second his army is allowed to mass without the bio player doing some kind of damage. Things looked a bit dangerous for MMA as Mvp grew his tank count and established a third, but MMA kept his cool and just waited for Mvp to make one mistake. The one mistake cost Mvp the game, as MMA was completely on top of everything all over the map, never leaving Mvp a chance to rethink his plan, staying one step ahead in tactics and strategy.
With game two, MMA had proven he could defeat Mvp's standard play both with a unique prepared build and a calm, calculating style. Had Mvp been more careful with his one big tank push, the game may have turned out differently, but MMA certainly played his part in delaying and harassing Mvp into making mistakes. Mvp was in a very dangerous place going into game 3, as MMA had outclassed him in both games in a unique fashion.
Game 3 – Tal'darim Altar
Mvp @ 2, MMA @ 5
Summary
MMA opens with a command center first, while Mvp opens with something similar to MMA's game 1 build, making two Barracks (one with reactor) and tanks with siege out of one Factory. MMA goes up to four Barracks with combat shields right away after his command center, scouting Mvp's early tank and lack of an expansion. Mvp moves out, pulling five SCVs, while MMA creates bunkers to buy time to build up Marines. Mvp pushes into the natural with two tanks, forcing a lift as MMA waits for combat shields to finish. MMA blunders a bit and lets the command center fall, pulls many SCVs but fails to break the contain of Mvp, and is forced to tap out of a quick third game.
Analysis
Mvp used a nearly identical strategy to MMA's game one strategy, and it worked out in almost the same fashion. Also like the first game, there was very little MMA could do, even though he had slightly less of a build order disadvantage than Mvp did in game 1. This build is specifically designed as a counter to the popular fast expand builds, and it seems like both players were well aware of that and picked good games to use this potent build in. Other than that there honestly isn't much to say; the game doesn't say too much about the condition or mindset of the players.
Game four would likely be the most important game in the series. Mvp got a win similar to MMA's game 1 win, and now it was up to him to match the standard game win of MMA. Mvp still might have been feeling a bit uncomfortable even with this win, as MMA seemed confident in his abilities and his builds after the initial two games. Mvp really needed to take a solid win in game four in order to bring momentum back to his side in the macro game, and if he could do that, his experience and solid mechanics could definitely pull him through.
Game 4 – Xel'Naga Fortress
Mvp @ 3, MMA @ 7
Summary
MMA opens with a 1 rax Command Center into a fast three Barracks before adding gas, and Mvp opens with cloak Banshee. MMA gets an early lead, destroying the two supply depots at Mvp's wall while warding off two Banshees with fairly minimal losses, getting a 15 supply advantage. Mvp expands, beginning tank production and adding factories for mech play. MMA attempts to drop a bit but is denied, and both players stabilize and head into the midgame, with MMA starting up a third base.
MMA begins tank production and establishes a light contain, preventing Mvp from putting down a third base. Mvp gets some SCV kills at the third with Hellions, but MMA meanwhile takes out a Factory and a pair of tech labs with a drop in the main supported by tanks from the low ground. Mvp seems to have the more optimal composition with Hellion/tank/Viking/Banshee, but MMA has complete map control and is beginning his fourth base before the third of Mvp is even complete.
Mvp finally takes his third, but it is immediately spotted by MMA, who promptly harasses the main from low ground while delaying the third. Mvp attempts to bust the contain with SCVs and tanks, trading a lot of SCVs and a few tanks for a lot of MMA's tank/bio. However, MMA's reinforcements are enough to hold Mvp from pushing farther out on the map. Mvp slowly uses his tank count to push forward and attempting to land his orbital at his central expansion, while eventually beginning to push MMA's central expand as well. MMA counters the third of Mvp, taking out a few tanks, but is warded off. Mvp then sweeps around the back for a push into MMA's natural, using cloaked Banshees to cover his tanks to great effect. However, Mvp leaves his center base completely undefended during this attack, and it goes down to a counter-attack as both players push into the each other's naturals.
MMA resumes mining at his fourth while a base race ensues, with Mvp having the stronger but less mobile army. Hellions clean up some SCVs, but Mvp has lost all mining and production and sacrifices vital units to push deeper into MMA's main. Using his single mining base, MMA gets a few Barracks out on the map and continues to produce while delaying Mvp from killing off all of his structures. MMA eventually catches a late siege from Mvp with stimmed bio and cleans up his forces, ending the game.
Analysis
This game was surely a big confidence booster for MMA, as he again won a fairly standard game (although the outcome was a bit weird) and swung the series back in his favor. MMA continued to take advantage of Mvp's positional mistakes, using all sorts of angles and units to pressure Mvp into making mistakes and getting advantages everywhere he could. MMA was never really in grave danger of losing map control even when Mvp pushed out, and he always had the mobility and positioning advantage he needed to take advantage of Mvp's lacking tank count.
At this point, Mvp was entering dangerous territory. He tried to begin his comeback, but was unable to keep any momentum. His standard game had been shut down twice, so he probably didn't have too much chance at outplaying MMA three times in a row, even though he would have traditionally been considered the superior overall player.
So going into game five, Mvp's best chance to take the series was to use an unusual strategy to take game five, hopefully shaking MMA up a bit, and then proceeding to use macro play in games six and seven. However, momentum and mindset were too far on MMA's side for Mvp to straight up outplay him the rest of the series, so some cleverness would definitely be needed to take him down. Mvp did have the finals experience to not be too badly shaken, but it was clear at this point that MMA was in better shape at that point in the series, and not simply for the number of games that he had won.
When you are defeated multiple times using your best strategies, it really damages your confidence – you feel as if there is nothing you can do to beat this player, no matter how experienced you are. Mvp really needed to find a clever way to take the next game and throw MMA off balance going into the tail end of the series.
Game 5 – Terminus
Mvp @ 12, MMA @ 3
Summary
Both players go for a fast expand, with Mvp opting for the greedier Command Center first and MMA putting up a Barracks followed by a Command Center as well. Interestingly, MMA puts up two gas immediately after his command center, but Mvp only takes one gas after his Barracks. However, both players do go for a similar followup, adding tech labs on their Factories and getting Starports.
Mvp chooses to upgrade blue flame and begin producing Hellions, while MMA begins tank production while getting siege mode. MMA moves out with a couple tanks with siege and some Marines to do some pressure, and finds Mvp is completely lacking tanks at that point. MMA pushes far into the natural, forcing a lift on the command center and a retreat of Mvp's forces. Multiple SCVs die before they can retreat into the main, and MMA secures a 15 supply advantage and a contain on Mvp's ramp. MMA begins his third base and gets air control with a Viking advantage, but Mvp's superior tank count with Hellion support eventually allows him to push out to his natural and evens up the supply. Mvp also begins his third base, but MMA leads 60 to 40 in SCV count.
Both players kill a few SCVs/units with drops and Hellion runbys, but MMA is able to use his SCV advantage and bringing himself to a 20 supply lead. Mvp attempts to hide a fourth base on the bottom edge of the map, and MMA drops the third base, delaying mining significantly. MMA finishes his fourth base and attempts to create a 5th and 6th, while dropping also in the main of MVP. MMA then tries to bust the front with marauders, but reinforcements quickly arrive after a few tanks fall.
At about 150 supply, Mvp begins to gather his forces and attempt to push across the map, using Vikings to kill off many medivacs and get positioning. However, Mvp has again failed to prepare defenses for drop counter-attacks, and a large drop kills off a lot of buildings and delays Mvp from moving further on the map. Mvp pulls many SCVs and begins pushing back MMA, but he is taking heavier losses than MMA with less bases up. Drops continue to do minor damage and distract Mvp, who attempts to take his fourth base in the center.
The game gets a bit more interesting as we see multiple ghost academies planted for MMA and a fusion core down for Mvp. Mvp still has not really established a fourth base, and is down 40 supply and lacking map control while running out of money. However, his strong army composition still keeps him in the game, as MMA has no way to engage the well positioned mech army. Mvp uses Battlecruisers to push his way across the map, while MMA prepares nukes at home. More drops in the main continue to damage Mvp, as he still has not placed any turrets and his main orbital falls.
Yet another base trade ensues with Mvp pushing across the map with the superior army, and MMA using drops and map control to delay MMA. Nukes go down to delay Mvp from pushing, but both main bases fall while MMA continues mining with minimal production on the south part of the map. However, MMA manages to put up some Starports and delay Mvp with nukes, eventually taking the Viking advantage. After some massing, he is able to defeat MVP's BC-Viking in a straight air engagement, becoming the first player to defeat Mvp in the GSL Code S finals.
Analysis
This game was another byproduct of Mvp's sloppy play and inability to cover his back. While Mvp tried to use mech every game, the weakness of such a composition has always been its mobility and its need to be in one spot to dominate opposing armies. Even knowing this, Mvp allowed his base to get destroyed repeatedly by drops nonetheless. Simple Viking/turret coverage could have won Mvp this game, but instead his stubbornness to just push across the map haphazardly earned him another base race loss against an opponent who had used his map control to expand multiple times. MMA was very clever with his units delaying Mvp across the map, and it ended up being the most interesting base race of the three, but honestly all three loses were pretty similar for Mvp.
The key point in this game was when Mvp left his base with Tank/Viking/BC and never came back. Prior to that the drops were primarily used to harass and delay Mvp's advance, but when Mvp left his base with his full army to slow push, it became clear that these drops were more than just a Thorn in his side. They were now an infected wound, seeping over his buildings and eventually sapping enough strength from Mvp for his army to be crushed.
Overall, MMA was just a step ahead all series long. He was prepared to react to every part of Mvp's play, while Mvp always seemed to struggle to adapt to MMA's tactics. It was a well deserved win over the best player in StarCraft 2, and MMA can go home satisfied with his performance.
Mvp's play was certainly disappointing. His builds and mechanics were solid as always, but in many games his decision making was suspect and he seemed a bit lost once he had macroed a large mech army of optimal composition. He constantly was making sub-optimal reactions to MMA's somewhat unique plays, and he just never seemed to be in control of any of the games.
Well played by MMA!
We have allowed the following plug: Keep up with GoSuPokebunny at http://www.twitter.com/Pokebunny and http://www.itsgosu.com
The Slayer of Kings
by: Fionn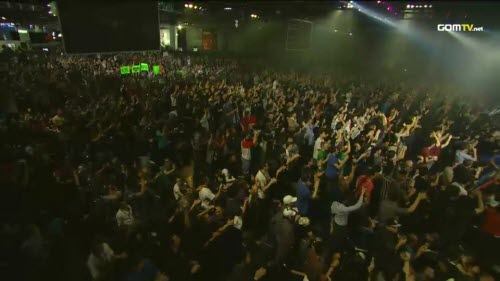 "M-M-A! M-M-A! M-M-A!

M-M-A! M-M-A! M-M-A!

M-M-A! M-M-A! M-M-A!"
Wearing his Detroit Tigers baseball cap and clad in his blue Slayers uniform, MMA exited from his booth and was crowned GSL champion after a hard fought five game victory over previously undefeated in finals, three time champion, MVP. With the crowd chanting his name, pure happiness and exhilaration poured from MMA's face, taking in every cheer from the crowd like it was his last match of his career. With the spotlight directly on him, in front of thousands upon thousands of die hard foreigner fans, MMA finally completed his journey to the top of the mountain by placing his lips on the trophy that eluded him four months earlier.
Was it the closest final that we've even seen? No, it ended in a four to one victory for MMA; the only win MVP was able to secure was an all-in in game three. In terms of game quality, did it blow away every single GSL final before it? In all honesty, I thought the first game between TOP and MVP in the last GSL final was better than anything I saw on Friday night in the final.
So, the question is, why is this the best final of all-time? It's simple. The fans. The emotion. The storybook ending. Did it matter that the finals started twenty minutes late due to headphone issues? No, the crowd soaked up every second of the Tasteless documentary they put up on the screen. Did it matter that the first game wasn't an all-time classic with MMA outsmarting MVP with a quick timing attack? Of course not, the pro-MMA crowd jumped out of their seats and went crazy for the underdog.
In short, the final was great not because it was the closest series or the games blew anyone away, but because the pure emotion that was on display at Blizzcon on that night. From the time MMA and MVP walked down the long aisle of fans and they entered, high-fiving everyone like they were pro fighters entering the ring for a heavyweight title fight, to the moment Tastosis asked which fans were rooting for MMA and everyone went insane with applause, you could feel that something special was going to happen.
MMA, even as a Korean who hasn't spoken a word of English to any of the crowds he has entertained in the past five months, is beloved by the American crowd as if he was one of their own. When polled by Tastosis on which side they were taking in the finals, the crowd went ballistic when he said MMA's name.
It might be the connection to Boxer, his entertaining drop play style, or the fact that he destroyed his own Commander Center against Idra and still won, but whatever the reason, MMA has truly taken one step forward in his goal of connecting the Korean and foreign Starcraft communities into one. Even without speaking the native language of the audience or being able to interact with them fully, MMA has made a direct connection with the American crowds that no other Korean has been able to make except for maybe the Emperor himself.
Now, in the preview article, I said that MMA had to do three things to defeat MVP:
1. Polt was head and shoulders above MMA in terms of planning. Polt had the better builds planned out and was able to use his strategies to the best of his ability. MMA didn't have terrible builds or use the same one four straight times (I'm looking at you, Inca), but Polt was three many steps ahead of MMA at every turn in the four games they played
MMA cleared up this point in the first game. He showed that he had builds specifically to play against MVP and used them to perfection. If MMA and MVP played ten straight macro games, at both their peak conditions, do I think MMA would win the majority? No, more than likely, MVP would win seven or eight of the games and show dominance in his play.
MMA didn't let this happen. He came out of the gates with a tricky build to catch MVP by surprise, using a proxy marine-tank push to destroy MVP before he even knew what hit him. MVP, who was confident he would beat MMA before the final, was now down one game and had the entire crowd against him.
This continued onto the second game where MMA showed another specific build he planned. Again, it caught MVP off guard, and MMA capitalized on the advantage and took the second game. In a matter of twenty minutes, MVP went from being on top of the world to being two games away from losing his title.
MMA had perfect builds to tip MVP off balance, and he executed them perfectly. Compared to his builds against Polt, it was like night and day how much MMA prepared more for this match than the Super Tournament final.
2. MMA was worn out. While Polt didn't have GSTL or any foreigner tournaments to prepare for, MMA was flying to Columbus, carrying his team to a team league title, and making his run through the Super Tournament. When it came down to the final moments, Polt was more well rested and had the advantage in having had more time to prepare extensively for MMA.
MMA was physically rested as much as he was mentally rested. MVP, on the other hand, had to play in the Blizzcon Invitational all day and had to play three series, two of them going to a third game. I don't care how good MVP is or how much better he was than his opponents, having to play three series throughout the entire day and then switch your entire mindset to a best-of-seven series is going to be hard for anyone.
In the meanwhile, MMA was able to focus completely on preparing for MVP, watching MVP play his games and preparing for the finals with his team and taking practice and rest as he pleased. In the meanwhile, his opponent was battling to stay alive in the Blizzcon Invitational. This time, MMA was the one who was able to prey on the player who had the hard workload and took advantage of it. I think not going to Orlando was a great decision by him and it really paid off in the long run.
3. Even though MMA had won at Columbus and was able to win a final on a big stage with loads of fans in attendance, he showed lots of nerves. While his opponent played with confidence of a champion and went for attacks that could have spelled death if they didn't go perfect, MMA had shaky control of his units and couldn't keep up with the micro of Polt in key situations.
This might be the biggest point of them all. In the Super Tournament final, MMA did not play like a champion. He played tentatively, let Polt dictate the play, and took almost no chances until the last game when he was already down three games. Polt showed that he believed in his talent and tried moves that could have easily lost him games if he failed. but because he was able to pull them off, he gained a commanding victory over MMA.
MMA did not only show that he had the spirit of a champion, but he also showed everyone that he had the balls of a champion. The first two games showed how much MMA believed in himself and the builds that his team helped him prepare. Both games could have gone horribly wrong and led to MMA being down 0-2 with almost zero chance of coming back, but he went for the kill, didn't let the pressure get to him, and executed his builds to the best of his ability.
At the end of the day, I still believe MVP is the better player overall, but that doesn't matter. On that night, MMA would not be defeated. He planned better. He got into MVP's head and was able to dictate how the games went. MVP, for the first time, wasn't the player in control and had to react to everything his opponent was doing. MMA stood up to the bully and didn't back down like the rest. Before MVP could even start attacking, MMA had already knocked MVP off his feet and onto the canvas.
With this victory, MMA has stricken his name from ever being mentioned next to the
Kong Line
again and has begun his quest to protect his newly won throne. MVP won't be happy with this defeat and will come back better than ever; Nestea still has his sights on his fourth title and will not rest until it his; MMA's rival, DongRaeGu will be waiting in the wings to tear him down from the mountain; MarineKing, seeing MMA avoid the Kong Line, will do anything he can to get back into another final and put the name of Kong to rest for good; and finally, Polt, the only person to eliminate MMA in the three main GSL tournaments he has entered into, and will be ready to show that he really is in MMA's head.
With these challengers and more converging on MMA in November, remember this, TeamLiquid. The boy in the blue shirt and baseball cap might not look the strongest or scariest, and he might have gotten his Code S spot from MLG, but he is the champion. He has proven not only he is worthy of the championship and the title of Son of Boxer, but that he also has things Boxer has carried throughout his career.
The confidence of a champion.The pride of a champion.The heart of a champion.

Art by fishuu
---
Writers: fionn, Pokebunny, Heyoka, and Waxangel.
Graphics and Art: fishuu and SilverskY
Editor: WaxAngel

Special Thanks to: Probe1