Banner by pachi, photos by skAnarky, screenshots from GSL Open Season 1




"Hivemind"
Finals Preview


It is not surprising that Rainbow is a top SC2 player. A top-flight Starcraft: Brood War progamer, Rainbow was known for his immaculate reaver micro and interesting strategies. He was also known for his macro management deficiencies, a weakness masked greatly by Starcraft 2's improved UI. This was a player who beat Bisu in the Proleague Grand Finals. Rainbow was Boxer's teammate on SK Telecom, and played Protoss like Boxer would have.

Rainbow even chose Terran at the beginning of the SC2 Beta because he felt they were the most difficult, never knowing that they would become what many regarded as the strongest Starcraft 2 race. His play is creative, aggressive, and full of style. If things went a little differently, he'd be the most popular player in the SC2 scene right now.

But he's not, and for good reason.

Cool, also known as "Fruit Dealer," represents as the last hope for Zerg players and fans everywhere. As we watched more and more Zerg players crumble in each round of the GSL, Cool stood alone, a pillar of high level Zerg play. He is just so much better than the rest of his race. The lack of qualifying Zergs and the troubles they've had in this tournament has been well documented on our forums. Is Cool's success a reason for Blizzard to hold off on "fixing" the Zerg issue? Or is Fruit Dealer simply an anomaly among a mass of dwindling Zerg players all swimming upstream?


Credit to the Cool Fan Club.


Everywhere you can see fans pulling for him. After all, he fights for everyone, against the "evil overpowered Terrans" and GSL's nightmare TvT Finals. Even Artosis and Tasteless could not help but smile giddily as he 6-pooled poor Inca. The sentiment among fans after Cool's all-in rush was not outrage, but relief. Cool the Brood War eStro progamer never achieved glory. But Cool the Starcraft 2 player, a Zerg player, could go all the way. In one Best-of-7, he can out earn his entire Brood War career and give hope to an entire race of players.

Our apologies, Rainbow. In any other situation you'd be the stylish hero that fangirls swoon over and fanboys marvel at. But everyone, save for a few die-hard Terran fans, are in the other camp. They cheer on a Zerg who became a symbol that game balance can be overcome by skill and style.


---
Links and Resources:
---
GSL: The Numbers
By Heyoka
As some of you from the pre-Starcraft 2 days will remember, I am a big fan of
looking at numbers
. Unfortunately there isn't enough of that these days, and what is around is merely forum threads with incredibly lackluster presentation. With GSL running, now we have a
real league
to bring back that style of verbose stat-based prose.
With the finals coming soon, of course the most obvious statistic anyone wants to see is overall race matchup numbers. Here at TL we are dedicated to giving the people
what they want
. We even did one better and broke everything up by map, thanks to
TLPD
.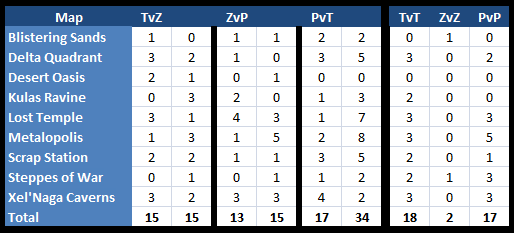 A picture is worth a thousand words. Although this one has about that many already included.
A few things are going on here. You can see that the tournament has been mostly PvT, followed by TvZ and ZvP (not shocking to anyone). You can tell that Zerg on the whole isn't doing great by ZvZ being a nearly non-existent matchup. However, its intriguing that TvZ has shaken down to even footing, ZvP shows the Zerg at a slight disadvantage.
I thought it would be interesting to take it a step further and look at how much a race is winning across both of its non-mirror matchups combined.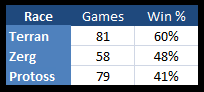 Shocking revelation: Terran is winning.
Now now,
what do we have here
? Looking at it this way, it seems like its not Zerg that is in trouble as a race, but Protoss. This probably isn't a fair representation of total racial strength though, Fruit Dealer has been tearing it up (11-1 going into the finals) despite all his overmind brethren being weeded out several stages earlier.
The natural question here is "What does it look like without Fruit Dealer?" Without him ZvT is 4-14 and ZvP is 9-15, a certainly noticeable difference. It seems unfair to exclude solely him if we're going to play that game though, as Rainbow (I'm refusing to aknowledge the existence of the ID HopeTorture) is doing just as well at 11-1. What about if we decide they're
both
outliers?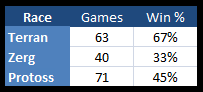 Ahhh, now that is an image more in line with popular opinion.
Interestingly, without those two Terran is somehow winning
more
. Intuitively, I feel like this is a lot more representative of the "true" winrates for each race across the tournament playing population, but one event really isn't enough to tell.
This certainly helps the "Terran too strong" bandwagon keep momentum, but overall its not significant enough to be evidence on its own. The PvT or TvZ numbers on their own look like a disaster, but I can't help but feel like while watching many of those games the Terrans playing were simply stronger players than their Zerg or Protoss opponents (this is particularly true with TvP). Even not including Rainbow or FruitD (FDealer? FD?) it could still be a case of Terran player quality simply being higher than Zergs or Protosses.
On the flip side, LiveForever making it as far as he did is perhaps evidence of a lesser player riding on the back of his race. We'll know better once Zergs start to emulate Fruit Dealer's style. It should make GSL Season 2 qualifiers very interesting in terms of race qualifying statistics.
Enjoy the finals!
---
Semifinals Recap
"You're the best, Cool. Nobody's ever done what you've done. Three Terrans and two Protoss in twenty-four days, sir, and you beat every one of them, no matter what they did to you."
CoolTSL < 3-0 >
NEXLiveForever -

Game 1 @ Metalopolis + Show Spoiler [Show Recap] +

Cool checks close position with a drone and hatches first. LiveForever goes fast reaper rax and gas before depot, but has to go cross map to harass. LF sends two SCVs to build bunkers, taking out a few drones and lings. One bunker gets up outside of range of the hatchery, and Cool momentarily stops the constructing bunker, but another SCV completes it. Cool's roaches and queen take out the bunker, but LF does take out the hatchery.

LF gets reaper speed and harass with 4 reapers, taking out some drones. He transitions into one hellion harass and then fast banshees with cloak, getting a CC while his cloak is researching. Cool's lair is barely finished when the banshee arrives in Cool's main, cloaking and getting 10 drone kills before an overseer finshes and queens take it out. LF's second banshee gets a few more kills but Cool kills it very quickly. Cool techs to muta and starts taking his third, while LF gets his expansion up and moves out with a multiple rax army. The MM army forces Cool to cancel, but Cool waits for the stim to run out and attacks with muta ling, submitting his pimpest play application by healing several mutas mid battle with queens that walked all the way over.

LF moves out with his second army, this time with thors, but Cool has too many muta ling baneling. Cool takes a fourth, but LF trades two DS of marines to kill it. LF drops Cool's main, but Cool handles it with minimal drone losses. LF takes his third, and pushes out with a huge marine medivac tank thor army. Cool's hive is done and he adds infestors to his army, slowing down the push with fungal.

Once Cool hatches 6 ultras, he attacks, and does a perfect fungal + baneling on LF's marines. The ultras clean up the thors and tanks and LF's huge shiny army is reduced to nothing. Cool finishes it by taking out LF's third with ultralisks while simulatenously nydusing lings into LF's main.
- Great opening harass by LF netted him dozens of drones, but Cool just absorbed the damage, recovering and managing LF's attacks perfectly. LF played well, but Cool played amazingly.

Game 2 @ Scrap Station + Show Spoiler [Show Recap] +

Cool opens roach before taking his expansion, LF opens hellion but has to run back to his main when he sees the roaches. LF bunkers up and runs his hellions past the roaches, getting quite a few drones before they die. LF techs to vikings and starts killing overlords as well, getting a CC in the process. Cool techs to mutas, getting a few SCVs at LF's natural and taking his own third.

LF moves out with marines tanks and a thor, breaking down the destructable rocks, but Cool backstabs with muta ling, forcing the army to come back. Cool adds infestors to his army. LF starts his attack again, but Cool backstabs a second time with roach ling, and when LF turns around to defend, Cool attacks with everything, a giant mass of lings, roaches, infestors, and banelings loaded into overlords. LF's push is badly crushed, and he has to GG.
- No scary moments for Cool like in game 1, but still showed off his excellent management and push-breaking micro. Amazing baneling drops to go with his flank on the Terran army.

Game 3 @ Kulas Ravine + Show Spoiler [Show Recap] +

Cool goes 1 base lair, getting a few roaches before spire. LF opens with a few hellions, but they are deflected easily by roaches. LF adds two more raxes, going 1-base MM. LF is a bit confused, constantly scouting the map for an expansion. Cool takes another main's natural while making mutas. LF moves out, while Cool brings his lings and roaches to the Terran main. The game becomes an elimination race, but LF's force dies to building broodlings and mutas due to the low health count from multiple stimpacks.
- Cool has a perfect record on the most anti-Zerg map out there. Excellent awareness and preparation.

Player Grades + Show Spoiler [Show Player Grades] +
CoolTSL -
A+
What more can be said about this guy? But Rainbow is not LiveForever, so Cool better bring this sort of effort in finals.
NEXLiveForever -
B-
Everyone thought LF was outclassed in this matchup, and he just proved everyone right. Nice effort in game 1, but it just wasn't enough.
Cool vs LiveForever, told through pictures. This is Part 1.
+ Show Spoiler [Part 2] +
+ Show Spoiler [Part 3] +
+ Show Spoiler [Part 4] +
"At last he came to a door, with these words in glowing emeralds: INTO THE RAINBOW. He did not hesitate. He opened the door and stepped through."
Rainbow < 3-1 >
oGsEnsnare -

Game 1 @ Metalopolis + Show Spoiler [Show Recap] +

Rainbow opens 1-rax expand, adding two more rax. Ensnare opens rax factory starport, attacking with his first 4 marines and a hellion, killing Rainbow's bunker before it completes and killing a ton of Rainbow's SCVs. Ensnare moves out with marines, a tank, and a medivac, and Rainbow is forced to pull SCVs again, chasing Ensnare all the way back to Ensnare's base. Rainbow's only infantry army is quickly becoming weaker as Ensnare stays on one base and gets siege mode and banshees. Ensnare leapfrogs his tanks forward, and Rainbow does not have enough to break the push.
- Nice, aggressive attack by Ensnare, with a bit of luck catching the bunker right before it completed.

Game 2 @ Lost Temple + Show Spoiler [Show Recap] +

Rainbow opens 1-rax expand again, and Ensnare opens blue flame hellion drop. Ensnare nets a good number of SCVs, but Rainbow's extra orbital allows him to stay ahead in economy. Rainbow adds more rax and techs to startport, while Ensnare opts for multiple factories. Ensnare attempts to drop Rainbow's cliff, but his medivac flies right over Rainbow's marines that were clearing out his gold base rocks.

Rainbow then puts on a multitasking clinic, simultaneously marine dropping Ensnare's natural and main. Ensnare cleans it up, but Rainbow has taken his third and fourth base. Ensnare takes his gold, but Rainbow attacks with marauders and tanks and kills a lot of tanks and SCVs. Rainbow takes a fifth base as well. Ensnare finally stabilizes, but Rainbow drops another 3 medivacs worth of infantry into Ensnare's natural. Ensnare eventually handles it, but it costs him many SCVs and buildings. By the time Ensnare stabilizes, the supplies are 150 to 90 and Rainbow just plows through Ensnare's front with marauder tank.
- Rainbow looked like the best player of the tournament in this game, as we've never seen a Terran of Ensnare's level get absolutely peeled apart in this way. Amazing multitask, strategy, and management from Rainbow.

Game 3 @ Xel'Naga Caverns + Show Spoiler [Show Recap] +

Rainbow opens 1-rax expansion again. Ensnare opens rax-reactor and proxies a factory to produce a thor right next to Rainbow's natural. Ensnare pokes with marines, but Rainbow retreats to his bunker. Ensnare attacks with his thor, reparing SCVs, and marines, and Rainbow has to pull all his SCVs. Rainbow looks like he might die right here, but stimpack completes and 3 marauders pop out of Rainbow's barracks, and he's able to flank and kill the first thor right before the second thor arrived.

Rainbow kills the second thor and counters with his MM. Ensnare expanded behind this attack, but his bunker does not cover the ramp, and Rainbow stims and runs into Ensnare's main. Ensnare pulls SCVs, but Rainbow just has too many infantry units, and by the end of the attack the worker count is 30 to 10 in favor of Rainbow.

Rainbow low-to-high ground pushes with tanks, but Ensnare does a good job defending. However, Rainbow is very far ahead in income and unit count, and when Ensnare pushes out to take his gold, Rainbow flanks and crushes the army.
- Great defense by Rainbow to hold the thor attack. Also, excellent midgame control and decision making to hold his economic lead as well.

Game 4 @ Delta Quadrant + Show Spoiler [Show Recap] +

Rainbow opens the exact same build, while Ensnare opens rax factory starport as well. Ensnare decides to expand himself, making a banshee to harass as well. Ensnare drops some tanks on Rainbow's back natural ledge, denying one gas and several mineral patches. Both players take their golds. Ensnare catches the units at Rainbow's natural unsieged, and busts Rainbow's front, forcing his natural CC to lift. But Rainbow drops two medivacs worth of infantry in Ensnare's main, killing many SCVs and forcing half of Ensnare's army to come home. This allows Rainbow to engage what's left of Ensnare's army at Rainbow's front, giving him the lead and map control as well. One final double medivac drop by Rainbow ends the game.
- Excellent play by Rainbow, capitalizing on a few of Ensnare's errors. Rainbow's multitasking and dropship harass was just too good for Ensnare to deal with.

Player Grades + Show Spoiler [Show Player Grades] +
Rainbow -
A+
Rainbow stuck to his 1-rax fast expand mass infantry build, a strategy that greatly emphasized his strengths: multitasking and medivac harass. After a brief stumble in game 1, he won the next three games easily.
oGsEnsnare -
B-
Ensnare looked dominant in his earlier round games, dictating play and engagements. But against Rainbow, he often seemed lost and a step behind.
Rainbow flanks Ensnare's thor with infantry and SCVs.
Throughout the series, Ensnare could not handle Rainbow's drops.
---

Next: Finals Recap and GSL Season 1 Awards

In less than a day, the first season of the GSL will officially conclude. We'll recap the Finals games and hand out awards for the best plays, moments, and players in the tournament.

Thanks for reading!