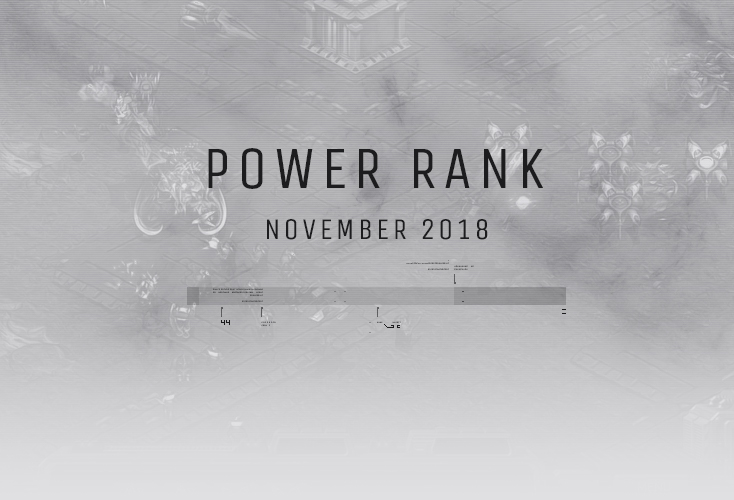 This month's power rank is brought to you by Ty2 and his feelings. These rankings mostly weigh on the players' ASL6 results, and if applicable, their current performance in KSL2.
#1: EffOrt


Effort's performance in the ASL to say the least has been nothing short of exceptional. After breaking his infamous ro16 curse, he was only beginning his march into the battlefield. His first obstacle, Rain, became a stepping stone, defeated 3-1. Then, he was faced by Last, another shining star on the rise hot off of his KSL1 win. In an incredibly close series, Last was the first to burn out as Effort progressed to the final boss. Confronted by his greatest hurdle yet, Effort against all odds denied Flash from claiming his fourth ASL gold to become, if just for a moment, the best player in the ex-pro scene.
Finally, after a long recession from the spotlight, Effort gave one of the most memorable runs to date. His victory is a reminder that the flame of competition may falter, but is never extinguished in StarCraft's long running legacy. In the fierce finals, his mechanics, multitasking, and grizzled competitive spirit shone through to cement himself as one of the best in the annals of StarCraft history. For that, I give him the top spot in the November PR.
#2: FlaSh

Flash reigns, unusually, just short of supreme, recently sporting two clean 3-0's: first against Mini, and then Shuttle, but falling to Effort 2-3. Regardless of the momentous loss, Flash is still undoubtedly the best in terms of mechanics. He won't be relevant for all of November unfortunately due to not participating in KSL, but he still holds a top place as #1 in the online sponsored game rankings.
While his grip on the scene may be loosened, there's still a weight carried by the nickname, God. In that same vein, we can expect Flash to shoot for another championship as the favorite. As always, he'll continue to be the barsetter that other pros will still struggle to reach. His presence as is may be taken for granted like many others, his days numbered by his plans for the military and wrist surgery. Even if he leaves, he'll always hold a special place as one of the most remarkable to have touched the game.
#3: Rain


Much doubt has plagued Rain's standing as a top Protoss as of late since winning ASL 5. He tasted bitter defeat twice by the hands of Zergs in bo5's, first to Jaedong in KSL1, and then to Effort in ASL6. In addition, his PvZ style described as akin to Bisu's falls short in his live performances. They are marked by timidity and lack of the crucical marginal advantages that are blown wide open by Bisu's trademark aggression.
Still, despite his PvZ pitfalls, he's shown his capability in other matchups, notably PvT, displaying his solid mechanics. He's also a shoe-in to advance from his KSL 2 group, already up 1-0 in his group after beating Light. In contrast to the competitive lull, Rain still has the potential to make deeper runs into tournaments as the best Protoss the scene has to offer. Most recently, he beat Last in a flawless 3-1 in the KSL vs. ASL showmatch.
#4: Last

Last up until a week ago was looking to reach his second finals before falling against Effort. A grand performance, his extensive preparation and sharpened form were indicative of his grizzled fighting spirit. However, he still came short of the mentality of a champion, cracking under the pressure of Effort's stealthy aggression and unorthodox plays. Still, his unparalleled mechanics are unquestionable, one-sidedly dispatching Sharp and, recently, Shuttle, 3-0.
Even after his ASL run being cut short, we still have his KSL run to look forward to where he's beaten JyJ 3-0 already. How far will he go? I think Last's momentum and mentality have taken a hit since the ASL knock-out, and his recent 1-3 vs. Rain can't help matters anymore. If he ends up meeting Rain again in the KSL, we could see a swift end to the rise of Last.
#5: Shuttle


Love him or hate him, everyone loves a good underdog. That's the tune that Shuttle has been playing to in some of the most scrappy games of the ASL. True to his straightforward style, he's a boxer who only believes in the straight punch. With that punch, he knocked out top players Snow, Soulkey, and Action, before falling to Flash 0-3. Faced time and time again versus insurmountable opponents, Shuttle eked out every advantage he could get to defy expectations versus his nerve wracked competition.
Conversely, striking doubt is his disastrous 3rd place match vs. Last, cementing that his mechanics have little place in the world of the elite. He may not be the most stylistic, the most flashy, or even the most creative. In spite of that, Shuttle showed the world that neither himself nor his straight up macro style are too outdated in today's world of ex-pros. Tirelessly, he readies his stance, and prepares his next strike. Now that's the spirit of a competitor if I've ever seen one.
#6: Soulkey


Soulkey was noticeably downcast and losing steam as the next premiere Zerg after a long string of early tour exits. That may change as he's finally, but just barely, regained his footing in his recent 3-2 vs. Mini in KSL2. The series was imperfect, marred by some deflating games, but was redeemed by longer games that showcased Soulkey's strategic ability. Furthermore, Soulkey remains the top Zerg in sponsored games. When he can finally let his full ability come out to shine I believe is just a matter of time and KSL2 may be his stage.
#7: Action


Action has always been a man of whimsy, showing a penchant for crafty builds and a formidable macro game in equal magnitude. However, he outwhimsied even himself, shown in his games vs. Shuttle. One daring build too many spun out of pure imagination and wonder cost Action dearly. Conversely, many of his strengths lie in his superb macromanagement which he hasn't showcased often on the live stage. Hopefully he'll strike a balance between crafty and macro and resist the temptation of being another bag of builds. The future may have a lot in store for him, but he needs to prevent himself from flying off into the sun first.
#8: Sharp

I rank Sharp based on his notably improved performance in recent months and streak of minor upsets. He's proved himself as one of the best TvT'ers, third to Last and Flash. His steady improvement is what's most impressive. Just before he was another fleeting Terran, his only achievement his 2nd place finish all the way back to ASL2. Now he's shown incredibly tight games, a better mentality for competition, and an only increasing skill level.
That said, I can't ignore that he did get manner hatched by Larva in the final game of his 2-3 in KSL2. But that shouldn't be the story to Sharp even if that moment is the most memorable. Sharp is one of the most steadily improving and well versed in the 3 matchups. He has one of the best TvTs, a great TvP, and a TvZ that's recovering from its Achille's Heel, showing great promise overall. Just recently in the semifinals of the KCM race wars, he prevented a reverse all-killing Best in a dominant game. And you just can't ignore how good-looking Sharp is after losing all of that weight.
#9: Mini


Mini's standing took a fall after his heart-plummeting 0-3 vs. Flash. In a disheartened three straight games, numerous misplays and errs in decision making were given room to grow from Mini's spiralling mentality playing against the best Terran. His game 2 throw in particular was particularly grim to watch. We saw just about the worst of everything about Mini's polarizing mentality in that series.
He didn't improve his track record either in his series vs.Soulkey where he floundered in some over-ambitious strategies. Hopefully he can again show his great decision making and unit control he displayed in the prior month versus Last in the 2 factory game and Shine's lurker base trade.
#10: Light

Light, an unsung hero amidst the deep talent pool of ex-pros goes largely ignored due to his poor offline results. Yet, he is one of the scene's most profound examples of great mechanics and is one of the most improved in recent times. Almost overnight, Light regained his defining form of his KeSpa days, wielding impressive macro that weeks before would've easily faltered to Larva. Now, he is closer to joining the ranks of Last and Flash as a Zerg slayer, and formidable enemy of the Protoss.
He consistently holds the top five in the sponsored rankings, but for all of his skill, he lacks the accolades to match. During this height of improvement, he's been defeated by fearsome opponents Jaedong, Flash, and most recently in KSL 2, Rain. Like a Last pre-KSL1, he lacks the competitive aptitude for an offline series, but he stands as the most promising of the ex-pros to make a splash.
-- Close But No Cigar (CBNC) ---
Jaedong:
Due to being knocked out of ASL 6 and not participating in KSL 2, Jaedong is little relevant this month. He's a great player by all measure, but we won't be seeing a peep out of him, except maybe the onine KCM Zerg vs. Terran finals.
Larva:
He opted out of both ASL6 and failed to qualify for KSL1, so there's little recent history of him outside of what few games he's played in sponsored games. I still hope to see him make waves in KSL2, but his thin tourney participation and fading presence in the scene prevents him from making the top 10.
Writer:
Ty2
Graphics:
v1
Editors:
Bigfan