When the boy was drafted, like all SKT players, he was inspected.

If he had been slow, or imprecise, or indecisive, or incapable… he would have been discarded.

From the moment he could form a claw and grip the mouse, he was baptised in the fire of combat. Taught never to retreat, never to surrender. Taught that death on the battlefield, in the service of SKT, was the greatest glory he could achieve in his life.

Manufactured by twelve years of Brood War development, to create the finest player the world has ever known, will ever know. Courage, as it's called, forced the boy to fight, the team house starved him, forced him to steal… and, if necessary, to kill.

Lashed by storm and siege, the boy was taught to show no pain, no mercy.

In his dreams, he has seen it already; Flash begins to circle the boy. Fingers like lightning, mind impenetrable, and eyes like two jewels from the pit of hell itself. An inhuman tic as he weighs the player before him.

CJ and KHAN have already fallen under the crush of KT's implacable advance. SKT is all that stands in its way.


-- SirJolt
It is amazing to think we're already at the end of the season. Teams have risen and fallen along the way, and once again the crop has been distilled down to the irrepressible KT and SKT. SKT, having secured their spot in the regular season with their unexpected first place finish, and KT having torn down every obstacle in their way [most recently decimating Khan in the semi finals], despite a weak third round. Khan put up a good fight, but KT's performance in the post season these past few years is something to behold.
The most intriguing part of KT's advance to the finals is the performance of their Zerg lineup. Crazy-Hydra, Hoejja and Action have been the real heart of KT in the past few weeks despite most of them having relatively disappointing regular seasons. The real question is, will they be able to continue their form into the most important match of the season? If KT win yet another title they will undeniably have one of the most legendary teams of all time. Three Proleague titles in a row would denote such incredible consistency that has been so prominent in all the time I have personally followed Brood War.
On the other side of the coin there is the SKT team, dominating the regular season so consistently but always being pipped at the post by KT. SKT houses such amazing players, but on the flip side these players are so easily able to disappoint when things really matter. Luckily for SKT they have support in the form of Team 8, acting as the Arcadians to the SKT Spartans in the quest to defeat the KT empire. In fact on paper their lineup should crush KT, but having not played a game since wrapping up the regular season (and KT coming off their playoff wins), it's really clear to see that KT have all the momentum here.
Whatever happens this coming Sunday, all I know is that this clash will be utterly momentous. With the possibility of Proleague switching to a mixed format, this could potentially be the last pure Brood War proleague ever. That means this final could decide how we remember these great teams. Will KT prove once and for all they have the best lineup ever to set foot in the booths to play this fantastic game? Will SKT come out on top and be remembered as the dominating team who finally got their act together and showed it in a final? Honestly, it's hard to call. As an SKT fan, I want my own team to win, and on paper they should, but with KT's momentum coming into the final it's anyone's game.
In the write-up this week we have another ton of content to show off. Instead of the usual top five games we instead have the
top four games
to give you some games to re-watch to hype yourself up for the finals. Along with that we have the
recaps of the semi finals
that occurred almost two weeks ago between KT and Khan to help jog your memory on what happened, or catch you up if you missed anything. After being busy last week with school, Kiett has produced episode two of her
Playoffs Manga
. (click
here
to read the first episode)
Looking into the past we have Hyde (with statistic collection from Jonvvv) bringing us a piece analysing the
KT vs SKT matchup
as far back as team competitions have existed in Brood War. Speaking of Brood War, this game wouldn't be anywhere as entertaining without passionate fans, and this week we have riptide writing the
SKT hype
, and Antoine writing the
KT hype
to help fire up fans of their respective teams. Finally we have the wordsmith, kjwcj, once again giving us an in-depth
preview of the Grand Final
between KT and SKT, as well as a look at who might win.
Now whether this season really will become our last or not, this is neither the place or time to be worrying about it. What we do need to worry about is how a simple stadium is going to be able to contain the fireworks that will be coming out of this matchup come Sunday, and who is going to come out on top. Will SKT be able to stand and fight against the KT horde barrelling their way out of the playoffs? or will they be crushed in the advance.
-- Kiante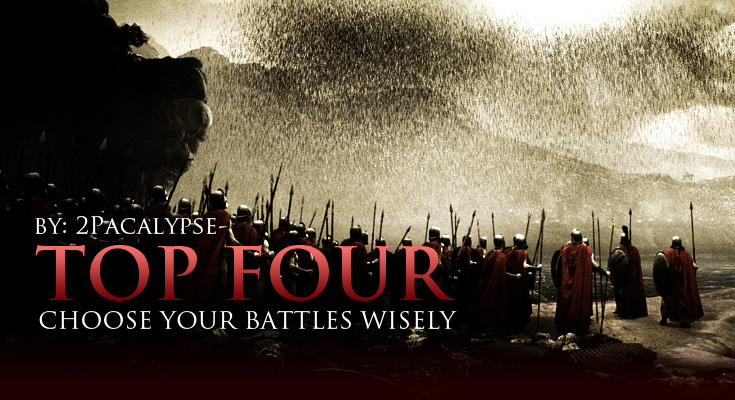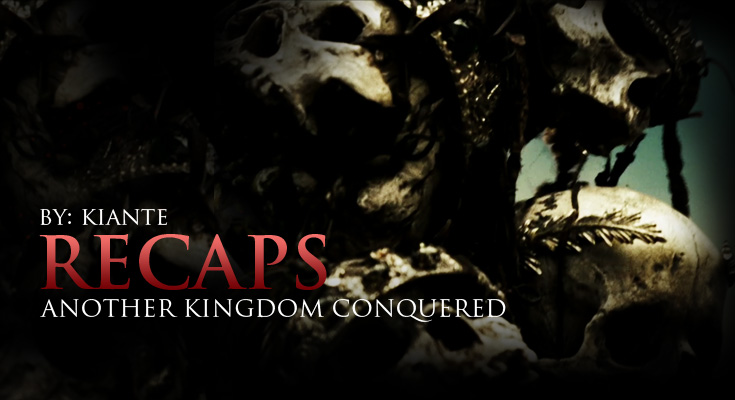 Samsung KHAN
0 - 2
KT Rolster
Day 1

Samsung KHAN
3 - 4
KT Rolster
Stork
«
Neo Outlier
»
Wooki
RorO
«
Sniper Ridge
»
HoeJJa
Shine
«
Neo Chain Reaction
»
Action
Jangbi
«
Ground Zero
»
Flash
Reality
«
Jade
»
Stats
Grape
«
Neo Electric Circuit
»
Crazy-Hydra
Ace Match
Stork
«
Neo Outlier
»
Stats
Live Report Thread
-
Interview
The semi final of the SK Planet Proleague season one opened up with a bang, with KT edging out Khan in a nail-bitingly close series with the ace match finally being used. Stork was sent out first on Outlier, the map Khan chose to be the first and last of the series, as was their advantage being the higher ranked team. KT sent out Wooki, who easily folded after Stork scouted his fast dark templar build. With his observers coming out, Stork decided not to wait, busting into Wooki's mostly undefended base, wrecking his probe count before his DTs could come out to save the day. Wooki was never able to successfully recover, consequently losing his game. Hoejja successfully hit back for his team, taking out Roro, showing once again how clutch he becomes in the post season. After gaining a significant build order advantage, Roro was never really in contention, with Hoejja microing extremely efficiently and simply building his lead until Roro was forced to concede.
The next KT Zerg superstar was sent out next, this time in the form of Action, but he was not able to emulate Hoejja's success. Narrowly edged out by Shine in an extremely tense game. Regardless of Action's fairly significant advantage in the mid game, he was unable to deal with the high scourge count of Shine, who hilariously won the game while having no drones left. The next match featured Jangbi, the current OSL champion, and Flash, who as of late had been struggling in TvP. Instead of attempting to play a standard game, Jangbi proxied a robotics facility directly in vision of Flash's SCV. Surprise, surprise, Flash was having none of it, fending off Jangbi's feeble shuttle harass with ease, and when the initial pressure was over, Flash simply pushed and killed Jangbi in no time.
With the scores now tied up, the next game featured a brutal contest between Stats and Reality. Reality did the normal Terran three-base macro and pushed, killing off two of Stats' bases, but deciding not to take out the main in favour of killing the other mining expansions. Unfortunately this decision meant that his army got caught out and crushed by Stats'. Reality was unable to recover fully, Stats then showed why he was KT's second best player by tearing Reality apart with smart spell usage and army control. With Khan fighting to stay in the series, Grape was sent out against the most consistent Zerg for KT, Crazy-Hydra. After an exciting game where both players put on a clinic of how to multi-task in PvZ, Grape was the one who left victorious, his early reaver harass and drop defense allowed him to scrape through. The final game was unfortunately not what everyone wanted, with KT sending Stats instead of Flash in the ace match because of the unfavourable map, which turned out to be an excellent decision. Stats' three-gate build was able to push in and cancel Stork's nexus. With Stats' unrelenting pressure, Stork never had the opportunity to recover, thus giving KT the final victory.
Day 2

Samsung KHAN
2 - 4
KT Rolster
TurN
«
Ground Zero
»
Action
Stork
«
Neo Outlier
»
Stats
Brave
«
Neo Chain Reaction
»
Crazy-Hydra
JangBi
«
Jade
»
Flash
RorO
«
Sniper Ridge
»
Wooki
Shine
«
Neo Electric Circuit
»
HoeJJa
« Ground Zero »
Live Report Thread
-
Interview
With the semi finals being in a best-of-three format, Khan needed to win to bring the series to a decider, but unfortunately they were unable to do so, once again going down to KT, this time in a more one-sided fashion. The series started off rocky with Action beating Turn in a close game. After Turn was able to wrest a decent advantage from his non-standard quick science vessel build, he attempted to push. Action, however, was having none of it, holding on for dear life until he was able to push Turn back out of his third. With his hive tech up and running, he did his usual thing and finished off the game. Khan won the next game with Stork getting revenge on Stats after his ace match loss in the previous series, expanding early off just one gateway, and then easily busting down Stats' natural expansion with his economic lead. Crazy-Hydra got to make amends for his loss in the first day with a solid win over Brave, who was never able to do enough damage with his pushes to slow down Crazy-Hydra's rampaging economy.
Flash was sent out next for KT, who once again took out Jangbi, this time in a longer macro game with both players simply trying to 'out greed' each other. With Flash coming out on the better end of that situation, his three-base push simply decimated Jangbi's army, and unlike Reality in the previous day of competition, he actually finished off the main base, and therefore the game. Roro managed to keep his team in the series, easily busting down Wooki's natural with a hydra bust that the KT Protoss was woefully underprepared for. Fortunately for Wooki, his failure didn't cost his team as Hoejja won his game against Shine without any trouble, utilising a build order advantage and solid micro to put his team into the grand finals against SKT on Sunday.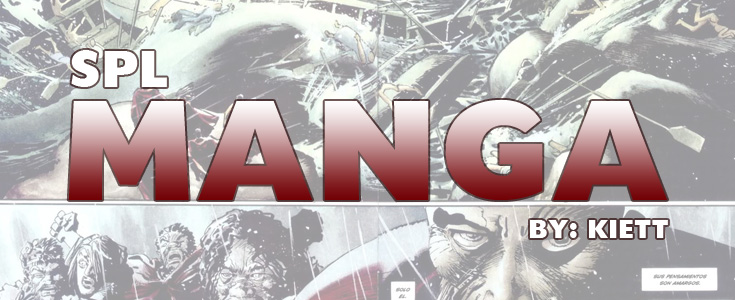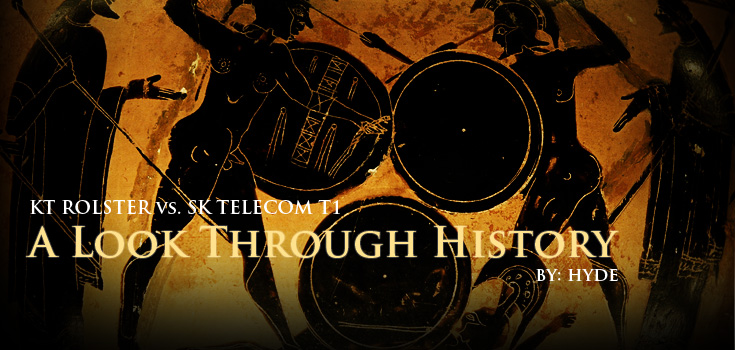 Rivalries have long since been a part of sporting culture. There's nothing quite like two rival teams with a long history battling it out for pride, glory, and supremacy. The emotionally-charged atmosphere that surrounds the stadium as fans cheer, the passion that is poured into supporting the teams in the hopes that if they cheer enough their team will be victorious. The payoff can be euphoric when your team is triumphant, but the other side of the coin is the miasma of disappointment followed by the deep despair that engulfs you when your team falls short.
Then there's the immense pressure felt mostly by players and the coaching staff, pressure from the rivalry itself, pressure from their sponsors, and most of all, pressure from their fans. This year, the pressure is all on SKT as it enters its third consecutive final against KT, who threatens to steal the title for the third time.
As the years go by, the rivalry between the two telecom giants has only deepened. It's renowned and legendary like the rivalry between Boxer and Yellow. With so much history between the two teams, which team is better? Which KT is the best KT?

After looking over much of the data, KT Rolster has bested SKT T1 in many areas. When we look at the overall series won in regular season, KT stands atop of SKT with 24 regular series under its belt, against SKT's 11. That's staggering when you think about it, they're close to a 70% [68.57 if you really must know] win-rate against the supposedly 'Superior' KT.
We can look further into these matches by looking at the number of sets played and won. KT leads with 89 regular wins over SKT's 71. Looking at other events, such as special events and post-season games, the gap closes somewhat, but KT still leads. Something that should be noted is that SKT does lead in the finals department [SKT: 5, KT: 3].
Even looking at the 2v2 games (which I didn't include above) before they were abolished some time in 2008, KT was leading. There were many 2v2 sets played in the early era of Brood War Proleague, and there's no doubt that winning these sets lead to KT winning more matches. KT won 65.38% of their 2v2 matches against SKT, yet another area where KT dominated SKT.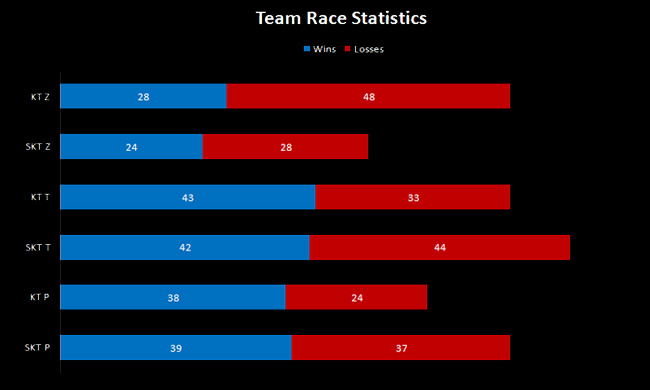 While we're comparing the two teams, let's take a look at their racial statistics. I was a little surprised to find that over the long run, KT's Terran and Protoss line fared better than SKT's. Despite having two bonjwas, SKT's terran line, given all their opportunities, has only won 49% of their games. KT Terrans on the other hand have won 57% of their games. Something that stood out, but shouldn't come as much of a surprise, was Flash's results. The closer we came to present date, the more wins I started ticking off. Overall, Flash's win percentage against SKT is 63%. Far larger than any Terran on SKT, the closest we come is with Oov [58%], followed by Fantasy [55%]. Boxer was a disappointing 42%.
Nal_ra did rather well for KT compared to Kingdom during their prime. In regular season, Nal_ra won 67% of his matches, compared to Kingdom's dismal 29%. But where Kingdom failed in the regular season, he made up for in the finals. Kingdom won 78% of his final appearances, compared to Nal_ra's 33%. Something else to note about KT Protoss is Violet, who probably has the best record against SKT. Of his nine games that he has had the opportunity to play, he has won eight of them, a very impressive record. While not as impressive as Violet's, Stats does boast a high win percentage against SKT, winning 62.5% of his matches.
It's no secret that both teams' Zerg lines are terrible. Despite SKT Zerg being notorious on these forums for being super bad, they've performed better (or failed less) overall. In all the opportunities given, SKT Zerg has won 46% of their matches, a lot better than KT, who have only won 36% of their matches overall.
+ Show Spoiler [Player stats I bothered to calculate] +

Just a quick note, I included all individual results from all areas, not just the regular season.
In no particular order
Flash - 63.41%
Fantasy - 55.55%
Stats - 62.5%
Violet - 88.89%
Bisu - 47.83%
Best - 50%
Boxer - 41.67%
Oov - 57.89%
Kingdom - 28.57%
Nal_ra - 66.67%
Themarine - 71.43%
Sync - 16.23%
Reach - 28.57%
Hyuk - 52.94%
Yellow - 37.5%

So what conclusions can we draw from all this? Well, for one, these statistics should have never seen the light of day, a lot of it is blasphemy. Anyone seeking and compiling this information should also be locked away forever [Editors note: Watch out Jonvvv]. On a more serious note, head to head, KT beats SKT in many areas. Most notably are the regular season matches. Their Protoss and Terran line have also capitalized more on the opportunities presented to them. But in the grander scheme of things, what is more important? Winning regular matches or winning finals? SKT still leads in the head to head finals department, not to mention SKT holds more glittering gold than any other team in PL. So I ask you again, who is the best KT?
+ Show Spoiler [The Answer] +
There's only one answer here, SKT, obviously. Gold is more important, and until KT acquire more of that precious metal, SKT will be the best KT.
A special thank you to Jonvvv, who painstakingly sifted through history and compiled these statistics.

But I am constant as the northern star,
Of whose true-fix'd and resting quality
There is no fellow in the firmament.
The skies are painted with unnumber'd sparks,
They are all fire and every one doth shine,
But there's but one in all doth hold his place:
So in the world; 'tis furnish'd well with men,
And men are flesh and blood, and apprehensive;
Yet in the number I do know but one
That unassailable holds on his rank,
Unshaked of motion: and that I am he
- Julius Caesar, Act III, Scene I
Here we are again, KT, standing face to face on progaming's grandest stage.
Sure, you are reigning back-to-back champions, you have Flash as ace and you have rolled through all competition in the playoffs. You form half of Broodwar's most legendary rivalry and you are without a doubt one of Professional Starcraft's finest teams. You have fielded the likes of Nada, Reach, Yellow and Nal_rA.
You are all of the above, KT, and yet, you are none of this. Your two victories, my friends, are just drops in a vast SKT ocean.
U mad?
If this picture shows anything, it is that you are only a foil to the greatest progaming outfit to ever grace a stage. For ten years we've needed you. Without Yellow, there could not have been a Boxer, and without KT there could not have been a SKT. You are the Joker to our Batman, the Moriarty to our Holmes, the Darth Vader to our Luke Skywalker. You will try and try and yet forever sit in our shadow. This is not your fault, KT, for the same reason it is not anyone's fault that when you think of football you think of Brazil.
We are Starcraft. We made this game.
When progamers still practiced from cyber cafes and teams still ate Ramen, we were there. Before team leagues proper began, we were there. We lifted those trophies. We heard those cheers.
Champions of the KTF EVERCup Proleague at Olympic Park, Seoul - 30th August 2003
We were there when Broodwar was birthed and we will be there when it breathes its last. If this is indeed Broodwar's last team league, then rest assured that it is our name that destiny has carved on that trophy. She has been kind to us, and not without reason. We have produced the finest players the world has ever seen. Our Terrans changed the way the game is played. Our team redefined everything from sponsorships to what being a professional gamer means. We brought Starcraft out from the shadows and into the light and we are proud, KT. We are proud to have shared this journey with you.
You have beat us two years running, and for that you have our respect. Don't for a second, however, think that you have our mercy. You come at us with the momentum of half a dozen playoff wins and the might of a Terran powerhouse behind you. You come at us with strategy and training and two consecutive victories.
And yet we stand.
We stand with ten years of history behind us. This weekend, we stand the stand that Lim Yo Hwan's Orion stood on that rainy evening in Seoul nearly ten years ago. We stand the stand we stood at SKY 2005 and SPL 2008-2009 and a dozen other team league finals. We stand together, with destiny on our side.
Make no mistake, KT. We will stand, and you will fall.
It's time to embrace the inevitable.
The beautiful game is drawing to a close. We brought it to life, and we will see it through.
As always, you are welcome to take a seat and watch. We wouldn't be here without you.

As you might have seen,
there's a lot of animosity between KT fans and SKT fans. Personally, I don't dislike SKT fans.
I pity them.
Year after year, they get their hopes up. Chasing former glory, they somehow expect that their collection of decent-but-not-great players will somehow come together to get that elusive next championship.
Once again this year, there's too much working against them.
The most powerful number in Brood War is three. Three races. Three tech tiers. Three OSL/MSL wins for a Golden Mouse/Badge. But to date, nobody has won three Proleague finals. SKT fans may point to a number of minor and half-season victories, but none of them were the real thing. The truth is that time after time, they've come to the final stage in an effort to secure a third trophy, and time after time, they've fallen short.
This week, KT will not only capture an unprecedented third Proleague championship, they will make it their third in a row.

An exercise in pattern recognition.
In this final, they have the best player at all three races. Flash is the best player in history. Stats was the second-best protoss (after Stork) this Proleague season. And Hoejja has been the best performer of all in the playoffs. SKT can try to choose a map to work against KT, but the truth is it doesn't even matter who's sent out for a prospective ace match: whether it's Flash or not, the KT player will be the favorite.
For the third year in a row, KT is playing for a retiring stalwart of the game. Two years ago, it was Nal_rA, coming off an inspirational Old Boy comeback attempt. Last year, YellOw returned from the military and proved that his Kong Curse couldn't stop KT. This year, it's Reach. The Mantoss is the last of the old guard still remaining, and even if he doesn't play in the finals, his presence will be felt.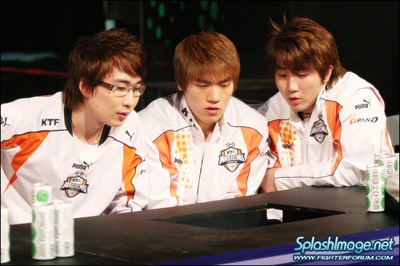 A strong team foundation.
Orion may have been the progenitors of professional StarCraft. Nobody will ever forget their contributions. But to suggest they'll bookend Brood War's legacy is comical. KT has been the preeminent force in recent years. While Boxer and Orion were Brood War in its younger years, Flash and KT represent it at maturity.
Flash won the final MSL. He is the heavy favorite to win this upcoming OSL. And KT will inevitably win what seems to be the last purely Brood War Proleague championship.
To be sure, SKT won't be forgotten. They will be known as the dominant team when Brood War was in its infancy. They will be appreciated for helping to grow it into the game it is today. And finally, they will be remembered for standing aside when the true ascendant team took its rightful place.
KT is that team. Just as Flash has perfected the art of Brood War, KT has perfected the art of team building. Crucially, KT relies on home-grown players, not mercenaries. Flash, Stats, Violet, Hoejja – all these players crucial for KT championships, all made who they were in the KT dorms. Players bought from other teams, too, make their contribution. Of course there's the manager, Coach Lee, who keeps his players hungry for success when there are so many factors that might make them complacent.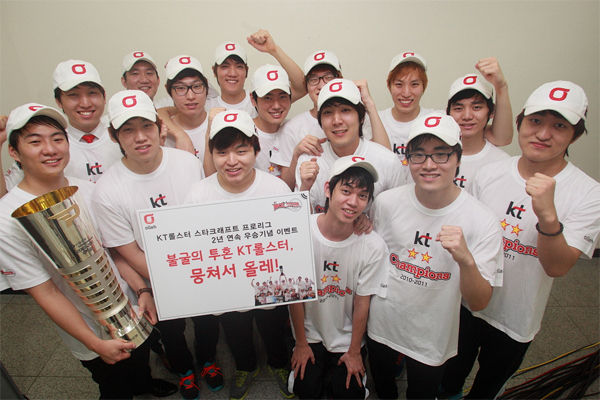 Coming again soon to a gymnasium near you.
KT fans, we will enjoy this final. Sit back, relax, and relish what is inevitably ours.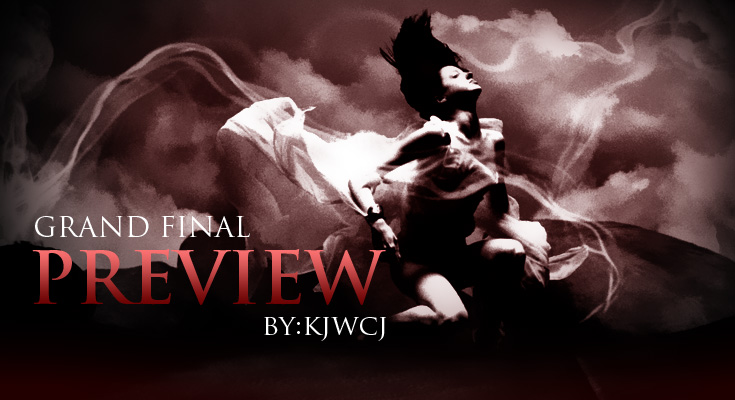 Omne trium perfectum
, everything that comes in threes is perfect. This is the third consecutive final between Brood War's telecom giants. KT has completed their ascent to the final, having dismissed KHAN with the kind of efficiency that Flash's play has come to embody in recent years. Meanwhile SKT has
lain in wait
, preparing diligently for their third shot at taking down their greatest rivals. What defines a perfect final is different for everyone. For KT, the meaning is clear: a victory would make it the first team since the days of Hexatron and PoS to win three finals in a row, matching or perhaps surpassing the Triple Crown SKT team of 2005. SKT will be desperate to break this cycle and ensure that its place in history as Brood War progaming's greatest team cannot be questioned.
One thing often spoken about in player interviews this season was the lack of an individual league which was used in the past by underperforming players as a springboard for Proleague success. Although the closure of MBC Game and sponsorship difficulties for OGN have delayed the commencement of a new individual league, last weekend saw the preliminaries for Starleague 2012 take place and the results have interesting connotations for the upcoming final. The standout result of preliminaries was undoubtedly Bisu's second consecutive failure to qualify, this time coming as a result of a RorO hydra bust in the deciding game of the Group A final. However in the past Bisu's Starleague failures have tended to occur in isolation from his performances in other leagues. In fact, following his failure to qualify for the Jin Air OSL Bisu won five of his remaining six games in the 10-11 Proleague season, his only loss against RorO in a long PvZ on Circuit Breaker.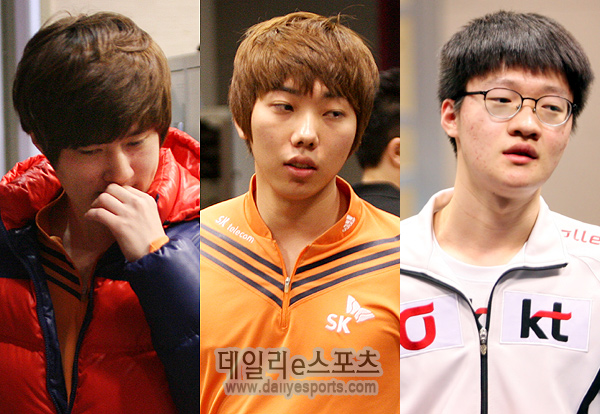 37 wins in Proleague, 0 places in Starleague
Other disappointments include KT's HoeJJa, Stats and Crazy-Hydra and SKT's Best, however none of them are individual league mainstays and as such are unlikely to be too disheartened by their failure to qualify. Good news comes in the form of two Zerg players, Action and Alone. Action continued his resurgence in ZvP with a win over Best in the Group C final, an encouraging result for the KT Zerg after a regular season in which he failed to win a single game against Protoss. Alone's qualification run included a victory over CJ ace Leta, an upset victory which may give him an edge over the likes of Hyuk and s2 for selection in the final. Alone's win over Leta is made all the more confounding by the fact that Alone has almost always been fielded in Zerg/Protoss maps in Proleague, playing only one broadcasted game against Terran in his entire career.
SKT's selection of Neo Chain Reaction as the repeat map is an interesting divergence from KT's previous playoff opponents. As mentioned by VGhost in his recent
map balance analysis
it is still very much an anti-Flash pick but since the mid season revisions PvZ balance has swung heavily in the favour of Zerg. SKT seems most likely to field a Protoss in a potential ace match scenario but the Zerg favor of the map makes this pick feel almost like a dare by SKT for KT to send HoeJJa or Action in the deciding game. SKT's choice is also possibly informed by the amount of preparation done by KT for Outlier ace games in previous playoff rounds. KT only played one ace match on the map in their series versus CJ and KHAN, so it's likely that any strategies devised for it can be carried over to the final.
Previous matches between the two telecom giants have been relatively close run affairs this season. The first two rounds saw SKT take 3-1 victories. Most notable from these series was the utter dominance of SKT's Protoss line with Bisu, Best and By.Sun a collective 5-0 against KT heading into the final regular season game. Their final meeting tells a slightly different story; Wooki's win over Bisu in game five completed a 3-2 victory for KT and a 0-3 rout of the SKT Protoss line. The failure of Action and HoeJJa was what ultimately undid KT in their early round losses to SKT, an inability to win ZvP being one of KT's overall weak points in the 11-12 regular season. In his role as playoff win leader HoeJJa is yet to be tested against Protoss, but in what is historically his strongest matchup he is likely to be a new factor for SKT to consider when deploying their all important Protoss players.
Player
Record
vsT
vsZ
vsP
Best
3 - 2
0 - 0
3 - 1
0 - 1
n.Die_soO
3 - 2
0 - 1
0 - 0
3 - 1
Bisu
2 - 0
0 - 0
0 - 0
2 - 0
By.Sun
1 - 1
0 - 0
1 - 0
0 - 1
Player
Record
vsT
vsZ
vsP
Crazy-Hydra
6 - 1
0 - 0
2 - 0
4 - 1
Wooki
2 - 4
0 - 1
1 - 1
1 - 2
HoeJJa
1 - 1
0 - 0
1 - 0
0 - 1
Stats
1 - 2
0 - 0
0 - 1
1 - 1
Player selection on Chain Reaction provides an interesting dilemma for SKT. Prior to the mid season map changes Chain Reaction was the hunting ground of SKT's two ace Protoss, Best and Bisu. In fact, this was the map that contributed the most to Best's record as this season's PvZ win leader. However, neither Bisu nor Best have played on the latest revision of this map, SKT instead using n.Die_soO and By.Sun, both of whom are yet to lose a game on the 'Neo' version. KT's player selections on Chain Reaction have been slightly more diverse, however only Crazy-Hydra has actually succeeded in winning a game on it in recent months and as such he seems the favorite to be sent in the opening game of the final.
The issue then is whether or not SKT will take a chance by sending one of their two main Protoss players up against a KT Zerg who is 3-0 in ZvP. n.Die_soO's value as a ZvP sniper to be used against the likes of Stats or Wooki means that SKT are unlikely to want to waste him on a ZvZ and the likelihood of him hitting a Protoss on this map are slim to none based on the performances by KT's Protoss on this map in the past. SKT are unlikely to want to take any undue risk so early in the series. By.Sun appears to represent a safe choice; he's solid in PvZ but not so important to SKT that a loss would seriously damage their chances of winning.
Player
Record
vsT
vsZ
vsP
Best
2 - 1
0 - 0
1 - 0
1 - 1
Fantasy
2 - 1
1 - 1
1 - 0
0 - 0
n.Die_soO
1 - 1
1 - 1
0 - 0
0 - 0
Sun
1 - 2
0 - 2
1 - 0
0 - 0
Player
Record
vsT
vsZ
vsP
Flash
4 - 1
0 - 0
2 - 0
2 - 1
Action
3 - 1
2 - 0
1 - 0
0 - 1
Mind
1 - 4
0 - 4
0 - 0
1 - 0
Wooki
0 - 2
0 - 2
0 - 0
0 - 0
Although in their past playoff series KT has chosen Ground Zero as their repeat map to most favor Flash in an ace match, he has been played relatively infrequently on it. KT are likely to want to send Flash early in the series to avoid having to play an ace match on Chain Reaction, and that also may increase the chances of him being sent here. Following his wins versus CJ and KHAN, Ground Zero is now Action's strongest map this season and the chances of facing either Fantasy or Best mean that he represents a decent choice for KT on this map.
SKT's choice will largely be down to whether or not they expect Flash and whether they actually plan on beating him. SKT has alternated mostly between Fantasy and Best on Ground Zero this season, depending on the strengths of the team they are facing. Although it is by no means as weak as it once was, Fantasy's TvZ is still not his greatest strength and Coach Park may be wary when up against the playoff might of the KT Zergs. Best seems like a safer choice in this situation. His PvZ record and his talent for macro PvT mean he is the most prepared of the SKT lineup for any player that KT is likely to send on Ground Zero, even the Ultimate Weapon.
Player
Record
vsT
vsZ
vsP
Best
4 - 1
1 - 1
1 - 0
2 - 0
Fantasy
4 - 1
2 - 1
1 - 0
1 - 0
Bisu
2 - 0
1 - 0
1 - 0
0 - 0
n.Die_soO
1 - 0
0 - 0
0 - 0
1 - 0
Player
Record
vsT
vsZ
vsP
Flash
4 - 0
1 - 0
0 - 0
3 - 0
Stats
3 - 1
2 - 1
0 - 0
1 - 0
Action
2 - 3
1 - 1
0 - 0
1 - 2
BarrackS
1 - 1
1 - 1
0 - 0
0 - 0
Most of KT's success on Jade this season has come from their two strongest players, with Flash and Stats both having played four games on it so far this season. KT has also experimented with using Action in a sniping role on this map, most recently in a win over Snow in the quarter finals. Jade's position as a predominately Terran and Protoss map has made it an ideal map for Stats this season, but there is still potential for a Zerg snipe on this map if SKT is so inclined. While Stats has developed into one of the best PvT players in Proleague, a potential match-up with Fantasy could also pose a problem for Coach Lee when deciding whether or not to use his ace Protoss. Flash's late season losses against Protoss would seem to imply that this is the least likely Terran-viable map for him to be selected on, however he is yet to lose a game on Jade this season and looked assured in defeating Jangbi on this map in the semi final.
SKT is spoiled for choice when it comes to Jade, with FBB a combined 10-2 on it in the regular season. Fantasy's status as the best TvP player not named Flash means this map appears to be an ideal spot for him but he has not been fielded on it since early in the second round. The likelihood of KT sending one of its main two players on Jade gives SKT a good opportunity to deploy the hydra busting skills of n.Die_soO.
Player
Record
vsT
vsZ
vsP
Fantasy
4 - 0
1 - 0
1 - 0
2 - 0
by.Sun
1 - 2
0 - 0
0 - 2
1 - 0
Sacsri
1 - 0
1 - 0
0 - 0
0 - 0
Best
0 - 2
0 - 2
0 - 0
0 - 0
Player
Record
vsT
vsZ
vsP
Flash
4 - 1
1 - 0
1 - 0
2 - 1
Stats
3 - 1
3 - 1
0 - 0
0 - 0
Crazy-Hydra
2 - 1
0 - 1
1 - 0
1 - 0
HoeJJa
1 - 1
0 - 1
1 - 0
0 - 0
The struggles of its Protoss line on Sniper Ridge was a defining feature of SKT's regular season, with only By.Sun managing a single win on the map. The records of other Protoss players would suggest that Sniper Ridge is still a viable map for PvT, but Coach Park is unlikely to wish to use the finals as a venue for his Protoss to break their hoodoo. Fantasy, on the other hand, was undefeated in the four opportunities he was given, culminating in a thrilling win over Jaehoon in round three. There is also the possibility of SKT fielding a member of its Zerg lineup on the map, on the off chance of catching a KT Protoss. n.Die_soO and Hyuk are both well qualified for ZvP sniping duties and also relatively capable in the case of a ZvZ.
For KT, Sniper Ridge represents something of a conundrum. The fact that SKT is unlikely to send a Protoss, coupled with the marauding presence of SKT win leader Fantasy means that KT will probably want to send one of its stronger players if they plan on winning this map. HoeJJa's playoff-exclusive strength in all matchups makes him a well rounded candidate for selection and his recent win against Leta will give him confidence in a potential match up with Fantasy.
Player
Record
vsT
vsZ
vsP
Bisu
3 - 3
0 - 0
1 - 0
2 - 3
n.Die_soO
2 - 1
1 - 0
1 - 0
0 - 1
Hyuk
2 - 1
0 - 0
1 - 1
1 - 0
Alone
1 - 2
0 - 0
1 - 0
0 - 2
Player
Record
vsT
vsZ
vsP
Stats
6 - 3
0 - 0
2 - 1
4 - 2
HoeJJa
4 - 1
1 - 0
2 - 1
1 - 0
Wooki
1 - 1
0 - 0
0 - 0
1 - 1
Crazy-Hydra
1 - 0
1 - 0
0 - 0
0 - 0
Outlier is a map which KT should have figured out by now, having played it in every single one of its post season matches. Last time out against KHAN, KT fielded Protoss in all three instances, having used HoeJJa in every Outlier game against CJ. KT has largely relied on Stats for versus Protoss wins on Outlier this season, something which will be a concern for Coach Lee against a Protoss heavy team like SKT. HoeJJa's ZvZ dominance on this map against CJ is something which doesn't seem likely to repeat itself in the final, although SKT have some wildcards to play.
Before the map revisions Outlier was very much Bisu's map, although his record on it is not particularly impressive. Since Neo Outlier debuted in February, SKT has actually only played three games on it, using a Zerg in all three. The volatility of ZvZ means that Coach Park may choose to send one of his Zergs, even though HoeJJa's ZvZ form is imperious. Although only Bisu has played regularly on it, Outlier is still a decent Protoss map and any three of the SKT Protoss are probably viable picks against any possible KT opposition on this map.
Player
Record
vsT
vsZ
vsP
Bisu
4 - 1
1 - 0
1 - 0
2 - 1
Best
3 - 1
1 - 0
1 - 0
1 - 1
Fantasy
3 - 0
1 - 0
1 - 0
1 - 0
by.Sun
0 - 1
0 - 0
0 - 0
0 - 1
Player
Record
vsT
vsZ
vsP
Flash
7 - 1
2 - 0
4 - 0
1 - 1
Action
2 - 1
1 - 0
1 - 1
1 - 0
Stats
1 - 0
0 - 0
1 - 0
0 - 0
Wooki
1 - 0
0 - 0
0 - 0
1 - 0
Electric Circuit's status as one of the more balanced maps this season means that it is likely to feature a match between the two strongest players that remain on either lineup, regardless of match-up. As with almost every other map in the pool, Flash has dominated it in terms of wins for KT this season while SKT has fielded one of FBB in all but three occasions.
In such a test of depth there's no clear favorite; KT's lower ranked players have played more games than SKT's mostly due to the fact that KT has less 3-0 or 3-1 wins this season and has had to play multiple best of seven series in the playoffs. The worry for SKT will be that the likes of Hyuk and s2 have gone so long without a televised game that rustiness may affect their performance if they were to play in an important game late in the series. On the other hand, rookie Alone may be just the spark SKT need in their lineup, fueled by the confidence of qualifying for his first ever ODT.
Player
Record
vsT
vsZ
vsP
Best
3 - 2
0 - 0
3 - 1
0 - 1
n.Die_soO
3 - 2
0 - 1
0 - 0
3 - 1
Bisu
2 - 0
0 - 0
0 - 0
2 - 0
By.Sun
1 - 1
0 - 0
1 - 0
0 - 1
Player
Record
vsT
vsZ
vsP
Crazy-Hydra
6 - 1
0 - 0
2 - 0
4 - 1
Wooki
2 - 4
0 - 1
1 - 1
1 - 2
HoeJJa
1 - 1
0 - 0
1 - 0
0 - 1
Stats
1 - 2
0 - 0
0 - 1
1 - 1
Although Fantasy was SKT's unchallenged ace player this season, his TvT losses to Leta and Last appear to have undone Coach Park's confidence in him for a straight up ace match against Flash. SKT's ace match pick was clear when the map list was first announced, and although Bisu has not come close to matching his form from 10-11 his PvP this season is on par with that of Stats. The Revolutionist also possesses the advantage of longer preparation and greater experience in high pressure games.
The map statistics for Chain Reaction are damning, ten games in total involving a Terran, four non-mirror wins. These are normally the kind of numbers that one would expect Flash to confound but in such an important game ignoring the fundamental game mechanics that define the racial balance of a map seems like a huge leap of faith, even for the undisputed best player in the world. Ultimately the player selection for this deciding game is down to KT's ability to devise a winning strategy; if there is a way for Terran to win versus Protoss on this map, we can expect Flash to find it.
In the case that such a feat isn't possible, Stats' ace match victory over this season's PvP win leader Stork means he is well qualified to match up with either of the SKT Protoss in a deciding game. Prior to this season's playoffs, if anyone suggested that HoeJJa might be a viable candidate for a Proleague Finals ace match they would have been laughed off the face of the internet. Indeed, there are certain people who would still scoff at the idea of the former paewang playing in the deciding game of a final while Flash watches on from the bench. This is the temptation, or perhaps the fantasy, that SKT have created with their map pick.
<
Crazy-Hydra>
<
Neo Chain Reaction
> <
By.Sun
>
<
Action
> <
Ground Zero
>
<
BeSt>
<
Stats
> <
Jade
>
<
n.Die_soO><
Flash>
<
Sniper Ridge
> <
Fantasy
>
<
HoeJJa
> <
Neo Outlier
>
<
Bisu><
Wooki>
<
Neo Electric Circuit
> <
Hyuk
>
<
Stats>
<
Neo Chain Reaction
> <
Bisu
>
An alternate translation of "Omne trium perfectum" is "all sets of three are complete". This final will complete a set which has encompassed the two oldest and greatest rivals in the history of Broodwar. A set of three best of seven games in which the ego of every coach, every player and every fan was on the line. This third final could also mark the completion of a modern Triple Crown, for a new generation of progamers lead not by an Emperor but by God himself.

Bisu Pylon by fishuu
This edition of the SK Planet Proleague news write-up was brought to you by the amazingly talented SPL Writing Team consisting of riptide, HawaiianPig, Kiante, Mustaju, SirJolt, 2Pacalypse-, Carnivorous Sheep, Simplistik, Hyde and Kiett. Special thanks to guest writers Antoine and kjwcj, Jonvvv for collecting statistics and to Hyde and Pathy for the sick graphics. Enjoy the finals!