Byun Completes Fairy Tale Story - From Missing to Undisputed Best in a Year
Clinches Title with 4-2 Victory over Dark in WCS Grand Final
ByuN entered WCS 2016 as one of the firm favorites to take the title, but after a surprise loss to
ShoWTimE in the group stage doubt began to surface about whether he would go the distance. He put any doubts to rest after his impressive 3-1 victory over
TY and reaffirmed to the world that he was the best Terran player in the world. A clean series against
Stats in the semifinal vaulted him into the final where he would meet
Dark.

Dark was the other player tipped to win the whole thing early on in the tournament. Unlike Byun, there were never any questions as to his form as he breezed through his group and dispatched non-Korean prodigy
Neeb 3-0 in his quarterfinal. A master class of ZvZ prowess was displayed in his semifinal against
Elazer and he easily booked his spot in this years WCS Grand Final.

Dark and Byun wrote a new chapter in the history of great ZvT series in their final and treated SC2 fans to a final that will be remembered for years to come.

Game one opened up on Galatic Process with Byun pressuring early with 2rax reaper. The game mostly stabilized and both players worked their way up to three bases. Byun's plan was to attack with a marine-tank-medivac push off of three bases and hit Dark while he was still trying to get his fourth base saturated. With Byun's trademark micro and excellent utilisation of the terrain around the third-fourth base, Dark took major losses from his he was never able to recover from.


Excellent control paved the way to victory in game 1 for Byun



Game two was on New Gettysburg and after some brief cloaked banshee harass the game started to look similar to game one. Byun moved out again with a marine-tank-medivac push and was able to deny Dark's fourth base. But Dark didn't trade his army this time, and took a fifth while stalling for ultralisks. Byun waited until 2-2 before going for the death push but Dark was in time with ultralisks. With Byun's advance successfully repelled the game was squarely in Dark's favor. Players traded blows for a while before Dark's superior economy overran Byun and levelled the series 1-1.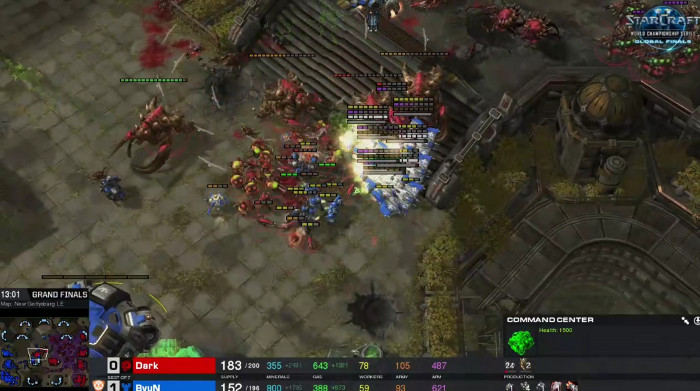 Dark held on long enough for ultras then never looked back



Frozen Temple would be the stage for game 3. Byun opened with three rax reaper pressure and looked to gain an edge early on. Dark pivoted from his earlier macro oriented gameplan and looked to a timing attack to score him a second map win. Dark's keen sense for executing timing attacks had thus far in the tournament been unanswered by his opposition, but Byun is no ordinary opponent. Byun masterfully dealt with Dark's ravager timing attack and scored a quick win putting him ahead 2-1.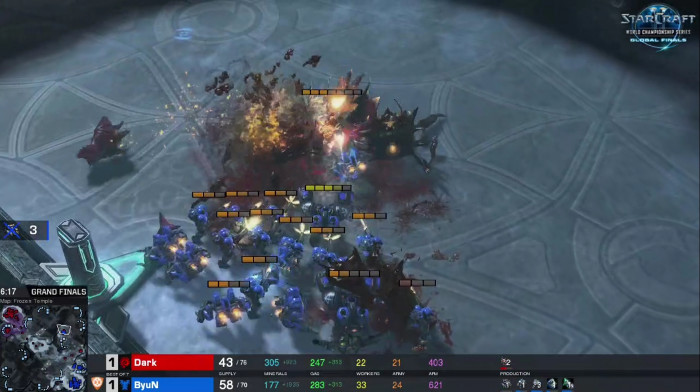 Byun chases down the last remnants of Dark's ravager timing attack



The traditionally Zerg favored Apotheosis would be the map for game 4. This time Byun treated us to a hellion opening which dealt a severe blow to Dark's economy. While Dark tried to hang on using the gold base, he was always one step behind. Byun took the early game advantage and never let it go and went up 3-1. At this point it seemed like Dark would need to pull out something special to win the series. But being a former champion, Dark dug deep and pulled out something spectacular in game 5.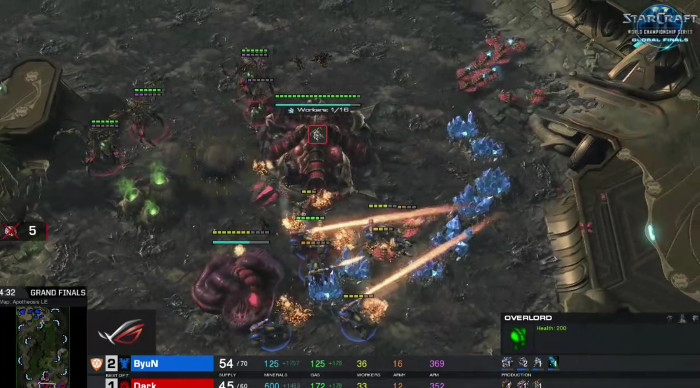 Hellions made a lone appearance in the finals, but paid dividends for Byun when they did



King Sejong Station would be the site of a fantastic game. Byun resorted to the strategy from games 1 and 3; the marine tank push was unable to deal the killing blow but neither Byun or Dark gained an edge after the push was deflected. The game progressed to late game armies and Byun started to get an edge as he placed pressure on Dark's recent expansions. Importantly, Dark never let Byun have uncontested air superiority and was able to keep Byuns medivacs and liberators in check. This meant Dark was able to weather the storm Byun threw at him until Byun ran out of money and was forced to concede. It was an incredible hold by Dark and showed his championship class.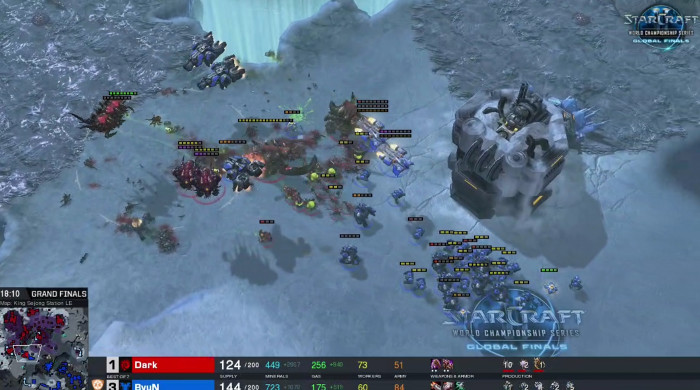 Scrappy engagements characterised the lategame slugfest between Dark and Byun in game 5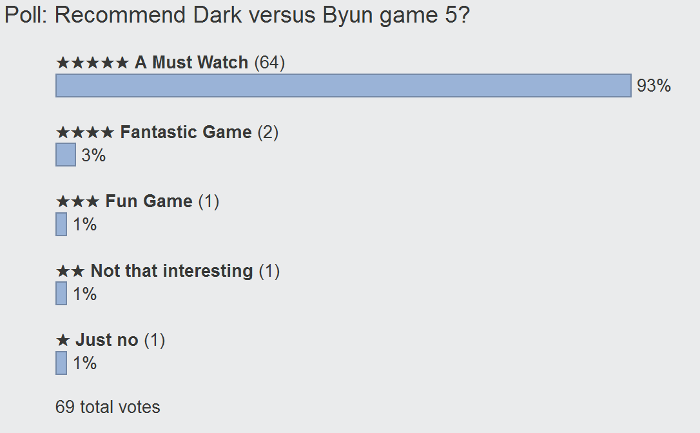 Yes, the game really was that good



Game 6 on Frost would be the last game of the series as Byun dealt a significant early blow with 3rax reaper. It was extremely unlucky for Dark who saw Byun building a barracks on top of his ramp as if it were a fast expansion and assumed that this is what was happening. Actually Byun had built two additional barracks at his natural which were missed by the overlord. Dark did his best to come back in the game, but Byun's marine-tank-medivac push gained him an insurmountable lead. The killing blow was seemingly endless multipronged attacks which Dark never had the units to defend from.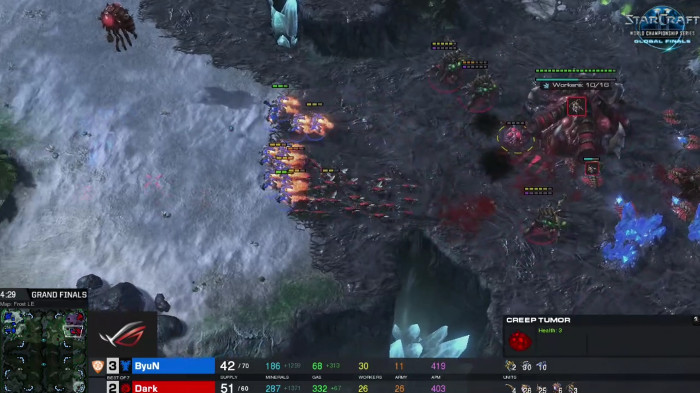 Reapers did a lot of work for Byun this series, so it was fitting that they closed it out



An incredible performance from both players, but Byun emerged as your world champion for 2016.









VODs
Twitch.tv VODs:
Game 1
Game 2
Game 3
Game 4
Game 5
Game 6






Final Bracket







Community Reactions