The New Look of Strategy
by wo1fwood
You may have noticed that TL Strategy looks a little different today. Since our unveiling a few months ago we've spent some time renovating older threads, writing a few guides, featured strategy articles, and throughout this started thinking about using a new platform to feature our work. Today I am excited and happy to present to you our new look.

So, why the change? We decided that we wanted to have a more developed and professional look, but more importantly, as powerful as BBCode can be the benefits of having access to html+css in our layout and what they allow (tables, content blocks, floated elements, etc...) would be a boon to the overall ease of creating, reading, and navigating our write-ups. We hope you find this new layout beneficial, and that it helps contribute to an easier understanding and more enjoyable read of the work we endeavor to create.
Rain versus Flash
by Teoita
From Proleague Season 1 Round 4 - Free Korean VOD - English VOD
In terms of Kespa players, there are perhaps no greater names than Flash and Rain. As Kespa players switched to StarCraft II, no player's arrival was more more anticipated than Flash's. As the undisputed best BW player, many looked to him to dominate, thereby proving the elephant theory true. However, shortly after the big migration commenced, it was not Flash but Rain who took the throne as king elephant. Immediately after the switch, Rain began to dominate Proleague and then took the StarCraft world by storm by simultaneously going far in GSL, OSL, and WCS. To this day, Rain is arguably the most successful Kespa StarCraft II player. Flash, not to be outdone, has been improving at both a quick and steady pace. At the time this game was played, Flash had just placed second at the MLG Winter Championships and was riding on a tidal wave of hype. Flash and Rain would meet in an ace match in the first Proleague match of HotS, possibly one of the most anticipated ace matches of the season. But first a little background.
Player Backgrounds
Flash
, though infamous for his cheese plays in Brood War, is mostly known for his standard macro play in TvP. His trademark style relies on consistent pressure followed up by a
three-base timing attack
, usually one that attempts to hit right as the Protoss player is in the middle of a tech switch. His favorite opening is the 14CC, which he uses to gain an economic advantage, and optimizes his builds to ensure that his timings are always slightly stronger than what his Protoss opponents are normally used to. Unlike his Terran brethren, he
rarely
focuses on drops in the match-up, preferring instead to use them as mere threats while he keeps his army count high for his eventual head on attack.
Rain
's PvT, on the other hand, is perhaps the definition of
solid macro play
. Though Rain doesn't rely on the same builds as much as say, Creator, but a large majority of his openings eventually transition into strong macro mid-games. Rain will almost never all-in an opponent early in the game and you can be sure that all his builds are crisp and perfectly optimized. In short, he is
THE Protoss to copy
. That being said, HotS has thrown many Protoss builds out the window, so he's been busy coming up with a completely new set for the new expansion.
HotS
Perhaps the biggest change to TvP in HotS is the addition of the
medivac boosters
, which allows Terran drops to be much more deadly. If you've been paying attention, you'll have noticed that we've mentioned that Flash is
not
a drop-heavy Terran. Nevertheless, Flash's style appreciates this Terran buff greatly. Because drops are stronger, Protoss must now devote more resources into defending drops and cannot spread themselves too thin too early for fear of being overwhelmed by drops. Thus, Protoss on average will take their thirds about
two minutes later
than in WoL. Conversely, Terrans are able to take their thirds
two minutes earlier
due to the increased defensive nature of Protoss. These two factors combined allow Terran three-base timing pushes to be much stronger than they had been in WoL, as they usually hit before the Protoss three-base economy can kick in. In essense, Flash's normal style in WoL has become more of the norm for all Terrans in HotS.
A Macro Oracle Opening
Both players went for their trademark openings, with Flash going 14CC against Rain's safe mothership-core one-gate FE. While Flash's three-rax bio follow-up was very standard, Rain showed immediately how deeply HotS changed Protoss builds, going for a stargate and then a robo off a single gate, making only one sentry, one stalker and the msc for defense.
Protoss Build Order
9 pylon
13 gate
14 gas (3 probes)
16 pylon
18 core
19 gas (3 probes)
21 warpgate
21 msc, cut probes
23 nexus
23 pylon
23 sentry, resume probes
28 stargate
29 stalker
33 robo
36 oracle
41 pylon

---
Notes:

Warp in a sentry as gas allows
Robo units: obs 3x, colossi
Natural gasses: 6:45, 6:50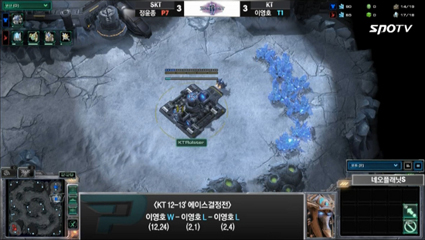 Flash opens with his favorite build
Rain's particular variation on stargate play, specifically oracle usage, was very different from what others players had shown thus far. Oracles are commonly used in PvT as a surprise unit off of one base and often proxied. Protoss players try to catch their opponents off-guard or out of position to gain an insurmountable worker lead in the early game, or use their exceptional dps in all-in busts, killing SCVs and marines. For example,
MC
showed excellent one-base oracle play at the MLG Winter Championships, going further than any other Protoss at this tournament almost solely on the backs of his oracles. Meanwhile,
Feast
and
MaNa
are two Protoss especially fond of one-base proxy oracle play, using this tactic to great success in the Acer Teamstory Cup and other online tournaments.
Rain, on the other hand, built his stargate off of two bases as more of a macro-based strategy. When the stargate finished, Rain made just a single oracle, planning to harass SCVs and scout Flash's build and timings while teching to a standard mid-game composition behind the harassment. He made just a single unit out of this stargate the entire game, planning to get the most out of this one unit as he could throughout the whole game. In the early game, Rain employed the oracle as a light harassment unit while in the mid/late-game, he made great usage of its abilities both for drop defense and map awareness.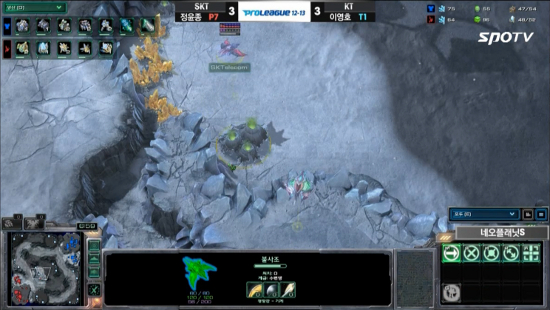 Leading the charge
As soon as the oracle popped out of its stargate, Rain hallucinated a phoenix and used it to lead the expedition to Flash's base. This was an especially clever move because it achieved many goals:
It checks for defense at different locations in the Terran base, allowing Rain to choose the best location to harass.

It sets off any hidden widow mines.

It can potentially draw marines out of position, leaving more openings for the real stargate unit.

An obviously hallucinated phoenix mind games the Terran player into thinking his opponent isn't going stargate tech.
Note that the hallucinated unit was not another oracle, but a less threatening phoenix; using a fake oracle instead would have meant that the Terran would have been more likely to move marines to his mineral lines. Much like a banshee opening, this kind of stargate play still needs to do some damage to put the Protoss ahead, but it's by no means a cheesy or all-in strategy if followed up properly..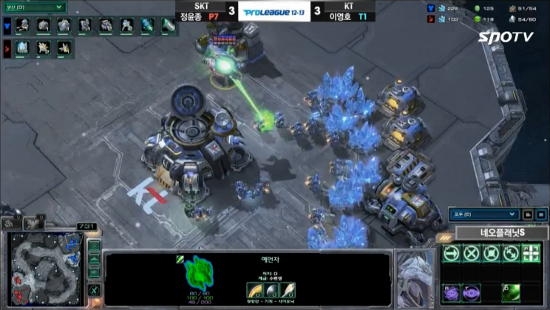 Just like a banshee
Rain's plan worked out very well, and he was able to kill 6 SCVs while going up to three gates, colossus tech and double forge. As is common in HotS early game, Rain cut a very high amount of units to set up his infrastructure, thanks to a combination of inherent safety provided by the msc, a probe scout being always present in front of Flash's base, and familiarity with Flash's style. Indeed, at the eight-minute mark Rain still only had three gateway units.
As Flash moved out with his medivac timing, the oracle immediately went for the mineral line again, killing four marines and even more SCVs. As a result, by the time Flash was across the map, his army was incredibly small compared to Rain's and was in no position to do any damage.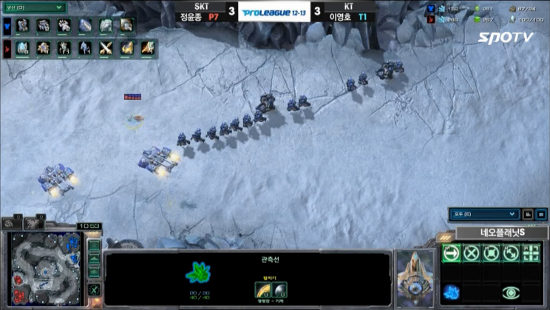 Flash's first timing is severely weakened
Rain attempted to squeeze all he could out of this one oracle, employing it for a completely different purpose in the mid-game. Instead of clumping it in his main army or trying to harass further, he kept it active on its own on the map, using the revelation ability to spot Flash's army. This proved extremely useful, as it prevented a doom drop from landing, spotted a group of vikings and later on allowed him to land a key storm. Also note its positioning: the oracle was kept behind the main along the most common drop route to the main, where it can both spot (in place of an observer) and even contribute to the defense with its ground attack.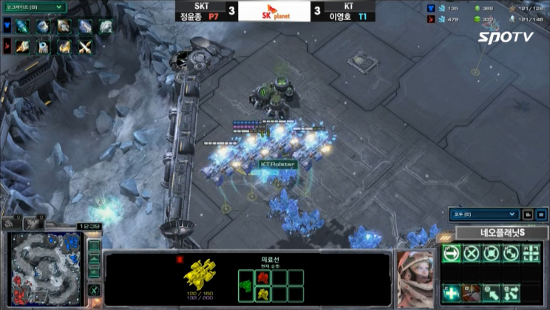 Effective drop defense
The Double Forge Colossi Mid-Game
Build Order Continued

Support Bay: 7:50
2 Extra Gates: 7:55
Double Forge: 8:40
Twilight Council: ~10:00
Blink: ~11:00
3 extra gates: ~11:45
3rd Nexus: ~13:10

Note: All timings are
approximate since
the production tab
was rarely shown
during this period.
An Aside: General Macro Double Forge Colossi Play
As mentioned previously, Rain's transition of choice is a double-forge colossi mid-game. This double-forge style is currently the most popular PvT style thanks to many of the changes in HotS. First, the added defensive capabilities of the mothership core make it easier to defend when doing "greedy" builds. But perhaps more importantly, because Protoss players are forced to delay the third base a lot longer, they usually lack the resources for both colossi and templar off of three bases. Thus, Protoss need to find alternative ways to set up a strong late-game, and investing heavily into upgrades is one of the best ways to do so.
Rain's particular variation on the double forge build in this game was designed to hold Flash's three-base pushes. Instead of trying to tech switch into storm and opening up a timing for the Terran to hit, he constantly made colossi (going up to four before the first engagement) and only got archons when the gas was available, even delaying his 3/3 to maximize his army strength. Anticipating Flash's timing, he played extremely safely, gearing his build to defend the exact timing he predicted Flash to employ. This general plan Rain and his teammates use to defend the Terran timing can be seen in both this game and the following games where Rain uses the same mid-game sans the oracle:
Rain always makes 8-10 stalkers and 4-5 colossi, filling the rest of his army with zealot/archon with which to tank. During the inevitable battle, Rain blinks his stalkers into position to snipe vikings, which usually lack armor upgrades. As long as at least two colossi and some form of meat-shielding survives by the time all the vikings are sniped, Rain will have won the battle. Without an overwhelming amount of bio or a very open battlefield, it's incredibly difficult to push back two colossi with a good number of supporting zealots. If the Protoss wins such a battle especially convincingly, he can sometimes even win right there with a counterattack. If not, he'll be able to head safely into the late game where Protoss is generally considered to be favored. Conversely, if the Terran decides not to opt for this timing push, Protoss then has ample time to finish 3/3 while the Terran is still on 2/2 and he will generally be able to successfully a-move into his opponents' army.
Back to the game
As predicted, Flash went for his first push around 175 supply, and Rain geared up to stop it after using the oracle to spot the move-out. He moved his msc closer to his third and positioned his stalkers to poke the bio army to try to snipe a viking or medivac. More importantly, he started a fifth colossus while warping in exclusively zealot/archon. As the engagement happened, Rain's perfect positioning and all the small adjustments in his build paid off: he was left with one colossus barely alive, and a second colossus joined the battle just in time to finally shut down Flash's push. His choice of using two time warps instead of using a time warp and a nexus cannon was also key; while photon overcharge is very powerful in the early/mid-game, later on time warp is much more effective in a straight up engagement.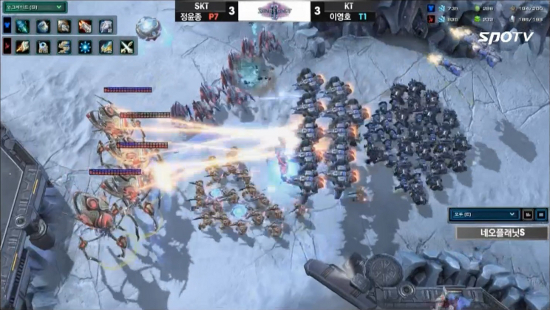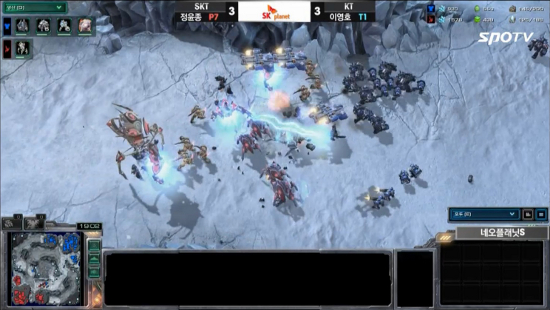 Rain blinks to the side to snipe down vikings. His perfect engagement results in a close hold
Flash traded extremely well but was unable to completely break Rain, who came out only slightly behind despite the loss of his tech units: Rain's 3/3 was done and he had a very developed tech tree, but the Protoss army was too small to mount any attack. Despite the rather large amount of damage Rain dealt with his oracle and the very clean nature of Rain's build, his defense against Flash's timing was still very close.
Cleaning Up
A second push failed, and the Terran's position worsened considerably when a risky double drop was sniped by blink stalkers and his fourth got cancelled by a zealot warp-in. Rain was now finally able to move out and control the map.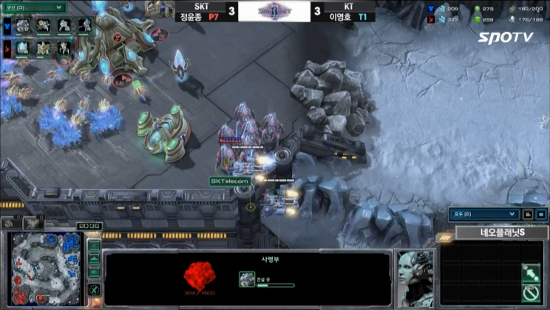 Two medivacs get sniped while Rain kills a building CC
The finals moves of the game are a trademark of Rain's solid play-style, utilizing zealot warp-ins to gain favorable positioning on his opponents, punishing their mistakes. As a group of chargelots moved to Flash's third, Flash's brief moment of indecision allowed the oracle to land a key revelation, which later resulted in a devastating storm landing on the bio army. Once again, the oracle pays off.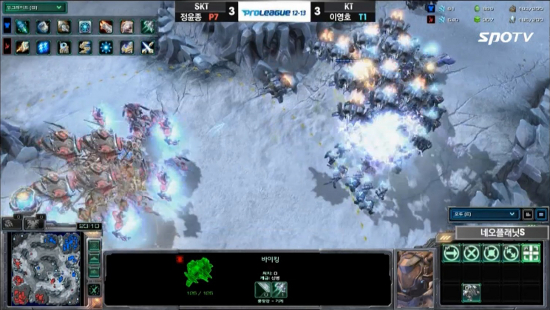 A devastating Storm lands on Flash's revealed army
During the final engagement, Flash's ghost and medivac count wasn't enough to deal with the 5 archons and several templar in the Protoss army, and zealot/archon warp-ins together with a couple of rallied colossi were enough to finally force a gg.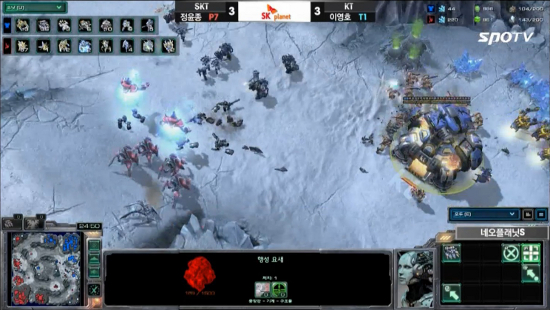 Flash can't stop Rain's gateway army.
In Conclusion
Rain's plan to combat Flash's inevitable push was two-fold. First, he employed a relatively new macro opening designed to throw Flash off. Then, he seamlessly transitioned into a standard mid-game, designed to hold off the expected Terran three-base timing attack. All the while, he showed impeccable oracle use throughout the mid-game, proving that it's not just a gimmicky early game unit to always be proxied. True to his style, Rain showed solid macro play with his own little twist, all tied together with impeccable execution. This time, it was certainly enough to take down even Flash.
It has been over a month since this game was played and since then, macro oracle openings have only been used sparingly. So far, it seems as if the macro oracle opening in the PvT match-up will not reside in the rotation of standard Protoss openings. Rather, its place is akin to that of
the DT drop opening
we analyzed in our last article. It is something to be mixed in every so often and yet another potential threat for the Terran to consider. Moreover, it is a potentially devastating build that seamlessly transitions into standard play. Overall, another great build to add to your repertoire.