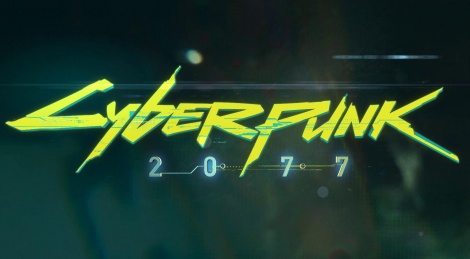 Text from the video:

Welcome to the year 2077. More info: http://www.cyberpunk.net/

The teaser shows how the Psycho Squad might acquire a new member.

The Psycho Squad specializes in combating "psychos" -- individuals who overuse implants and substances that boost or otherwise alter the human body.

There comes a point when they overdose on these innovations, and their bodies start to rebel against their biological body parts as well as all things organic around them. Simply put, they start killing people, who they now derisively call "meatbags."

When a psycho goes on the rampage, strange things can happen. There's carnage, and the psycho might be taken down by regular police, but they're not always able to get the job done.

When things spin out of control, they call in MAX-TAC (Maximum Force Tactical Division), popularly called the Psycho Squad.
Credits:
+ Show Spoiler +
CYBERPUNK 2077 teaser
Director: Tomek Bagiński
Story: Tomek Bagiński
Cg Supervisor: Maciej Jackiewicz
Animation director: Maciej Jackiewicz
Executive producers: Marcin Kobylecki, Jarosław Sawko, Piotr Sikora
Producer: Marta Staniszewska
Senior environment artist: Marcin Stępień
Character artists: Dani Garcia, Paweł Jaruga , Stanisław Marek, Tomasz Stefański , Tomasz Stryjewski
Environment artists: Robert Kudera, Artur Szymczak, Marcin Więch
Concept artists: Damian Bajowski, Jakub Jabłoński, Maciej Kuciara, Maciej Rębisz
Additional concept artists: Jakub Bogaczyński , Adam Trędowski , Rafał Wojtunik
Rendering artist: Szlum Pinkumbaum
Compositing artist: Szlum Pinkumbaum
Layout: Mosze Pietruszka
Animators: Michał Kaleniecki, Damian Nenow, Bartłomiej Kik
FX TD: Łukasz Sobisz
Character TD: Bartosz Opatowiecki, Mateusz Popławski
Additional 3d artists: Jarosław Handrysik, Konrad Kiełczykowski, Bartłomiej Walendziak, Sebastian Ośka, Artur Owśnicki, Kamil Pohl, Piotr Tatar, Hubert Zegardło
Music: "Bullets" written by Darius Keeler, Pollard Berrier
perform by Archive
published by Hangman Records
sub-published by Fintage Publishing B.V.
published in Poland by Warner Music Poland Sp. z o.o.

Sound design and mix: Kuba Pietrzak (Box Postproduction)
3d scanning performers: Katarzyna Danysz-Żelewska, Tomek Bagiński, Maciej Jackiewicz, Piotr Prokop
Casting: Maciej Nawrotkiewicz
Make up: Marta Domagała
Costumes: Magdalena Adamczyk, Anna Szumińska
3d scanning session: IR-Entertainment Ltd.
Special thanks: Arkadiusz Dorynek

JUICE:
Art directing: Michał Dwojak-Hara, Michał Misiński
3d artists: Błażej Kowalski, Łukasz Dziedziński, Jarosław Handrysik, Przemysław Słabiak

CD PROJEKT RED:
Producer: Adam Badowski
Story consulting: Sebastian Stępień
Cncept artist: Robert Adler
Character modeler: Ovidiu Voica
The hidden message (it's on the video]:
Do you like our latest creation? We certainly hope so!

You may remember that we sometimes send you guys secret messages like this. it's a great way for us to speak right to you instead of burying ourselves in corporate mumbo-jump. So let's begin!

First of all—have you noticed all the details in our teaser (yes, it's a teaser, we'll make a proper trailer in the future)? If you know the Cyberpunk setting, there are some things you can spot, like implants—look for the weapon hands and the real skin—corporate emblems that should look familiar, and more happy hunting!

You're probably curious about the release date. It's currently scheduled a way off, in 2015, but in truth, the delivery date is more like, "when it's done." We will release Cyberpunk to you when we're convinced it is nothing but pure, refined, unadulterated awesome. we want it to be the most kick ass futuristic RPG ever—ok, maybe this sounds pretty bully, but it is our actual goal! You judge if we deliver it!

Ok—and you may wonder why we announced our game so early before the release. The reason is that we're still building our dev team. So if you are a talented dude or dudette, willing to work in a really different company (gamers rule & boring corporate stuff drools!) on a super ambitious project, send us your application right now: careers@cdprojektred.com

So, you want to know what kind of game Cyberpunk 2077 will be? The short description is that it will be a story-heavy, nonlinear, open world RPG based on the well known Cyberpunk pen & paper system and setting. Building open world games is something we are mastering right now, and we believe that properly joining nonlinear gameplay with excellent story telling will bring a totally new quality. Hmm. We'll tell some more about it soon!

And that's not all that's new. We are about to reveal our other project, which is much closer to being completed. And yes, it will also be a fully open-world game with an intense story. You can probably guess the game we're talking about. ;-) On the 5th of February it will all be clear.

So stay tuned, as we will have quite a lot to show and tell you soon!

We are waiting for you on our newly created forum called Afterlife—what other name could we have chosen for it?



CD Projekt RED Team

Ok, now we wait. Cyberpunk 2077 is the upcoming new game from CD PROJEKT RED (Witcher, Witcher 2). Its gonna be an open world, sory heavy non linear RPG based on Cyberpunk pen & paper system.

You know what? I cant wait! Sadly, its gonna be not sooner than 2014.