I know there's a very old Roguelike thread that talks about this, but since it deals with roguelikes generally, and since nobody will ever see it, I think (hope) I can make a new thread about DCSS.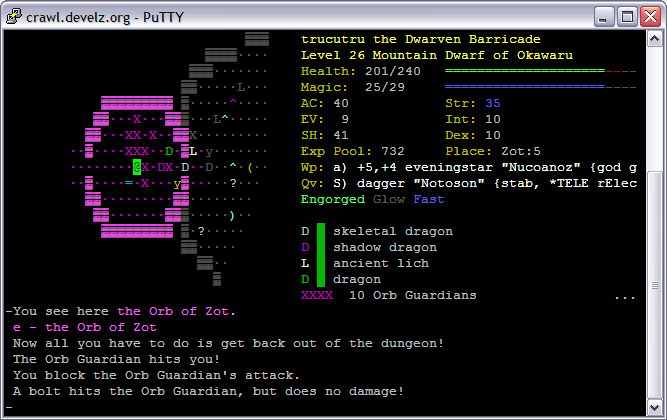 This crawler found the elusive orb...

DCSS is a fork of the ancient and legendary Linley's Dungeon Crawl game. It's under active development, and in my humble opinion the best roguelike available to play today. The object of the game is to dive into a massive dungeon complex and retrieve the Orb of Zot. Along the way, you will face many dangers ranging from gangs of orcs to the wrath of the divine.

Notable (read: awesome) features include:

- A metric buttload of races and backgrounds
- A large pantheon of very different gods to further differentiate your characters
- High difficulty and permadeath (as the genre prescribes)
- A very random dungeon generator
- Some of the coolest magic in any game ever
- Incredibly well-designed interface
- Active development
- Online play
- BLOOD AND SOULS FOR MAKHLEB!

Interested? Visit the fine establishment at CDO to find out more. I can highly recommend playing online by ssh'ing to crawl.develz.org. That way you can play the in-development Trunk version, and get all the updates without having to constantly update your game.

For spoilers, consult the omniscient knowledge bots at either the aforementioned website, or by irc in ##crawl at Freenode.

I hope this thread can coax out a few Crawling TLers, and maybe we can trade war stories, hilarious deaths and more with each other. Even better, I hope to inspire new players to take on this fantastic game.



ProTips



+ Show Spoiler [KoBe] +

Make a kobold berserker. Wield nothing but short blades all game, sabre is best. For your stats take nothing but DEX. But'c'her and 'e'at every single non-green (poisonous) corpse you get. If you are already engorged, 'p'ray instead to sacrifice to Trog, your bloodthirsty beserker god. Before battles, go berserk by pressing 'a' twice. Do this all the time. If berserk isn't enough, Trog will grant you sick as shit summons a little bit later on, also available from the 'a' menu. These summons cost piety so if you spam them too hard Trog will stop giving you access to them, and he'll give you less stuff.

At some point, Trog will start giving you buttloads of weapons of varying quality. You're looking for a sabre of speed. You want to save your Enchant Weapon scrolls for such a sabre.

Remember, Trog hates spell magic (i.e from spellbooks, he doesn't mind wands and scrolls and potions and such), so just ignore that.

crate contributed a really good post going into a little more detail on how he plays his KoBe.

Your weapon skill, Fighting, and Dodging are all you really need to train as a KoBe.

Armour in particular is a bad skill to train since you have bad aptitudes and since you're a small race you get a natural EV bonus that gets multiplied by Dodging--so you want light armour, which means that Armour skill does little other than suck up exp. Shields, Evocations, a ranged skill--either Throwing or Slings--Stealth, and Stabbing are decent skills also depending on what you find. but if you want to keep it simple you can literally just turn off everything but Fighting, Dodging, and your weapon skill on turn 1 and then not touch your skills for the rest of the game unless you max out all three of those skills.

(You get better results from some micromanagement, so if you want the complication:

Turn off Fighting early on since the benefits are very small at low character level since it scales off of your total maxHP; turn it back on in the midgame when the cost per level is small and you have enough HP to notice the gains. Only leave your weapon skill on long enough to get to minimum weapon delay--this is skill 14 for a sabre, skill 8 for a quickblade, you can check the knowledge bots for other weapons and the formula if you're interested; levels past that give you a small but not-really-worth-the-experience damage boost. When you pick up a buckler, which you should at some point, train Shields to level 7 then turn it off; go up to Shields 21 for a normal shield: those are the levels where you cancel out the shield penalty entirely.

A ranged skill--either Throwing or Slings--Evocations, Stealth, and Stabbing can be useful depending on equipment. (Don't over-train Stabbing though--if you get to the point where anything you stab will die very quickly afterward, turn it off.) Traps and Doors is an ok experience sink later on when you get a decent benefit from just a few quick levels of the skill. Nothing else should be important for KoBe.)

Here is the morgue from my KoBe win:

http://crawl.akrasiac.org/rawdata/crate/morgue-crate-20111202-005821.txt

and here is a morgue from a near-win that I frittered away:

http://crawl.akrasiac.org/rawdata/crate/morgue-crate-20111111-052615.txt

You can look at my skills and equipment in those if you're interested. I don't bother with slings or throwing myself, since I just use wands/rods for pegging fleeing enemies and get by without ranged attacks most of the time.



+ Show Spoiler [DDNe] +

Make a deep dwarf necromancer. Wield nothing but axes or short blades (if the latter, train stabbing) all game. DD's don't regenerate naturally so don't take damage if you don't need to. You start with a wand of healing but save the charges on it. Use all scrolls of recharging on it. Don't memorize any spells until you get Vampiric Draining, since you need this to regain life. Ignore all altars until you find Makhleb's. His life-on-kill is crucial for this build.

At first you pain everything to death. A little later you drain everything to death. Pain and draining doesn't work on demons and the undead, so just kill these things with weapons or wands.



+ Show Spoiler [DEWz] +

Make a deep elf wizard. Play extremely cautiously until level 3, (rest after every fight) where you can memorize Mephitic Cloud. Mephitic Cloud confuses enemies that aren't poison resistant. Confused enemies move in a random direction every turn. If they "hit" a monster or the player, they'll attack instead. You will be granted experience if a monster you confuse kills another monster. Wield short blades and maybe get a little in stabbing because you can stab confused monsters. (don't try this on big monsters, they might OHKO you) Concentrate on Spellcasting and Conjuration. Later on, you will worship Sif Muna or Vehumet for their spellbook gifts, and you will pick a magical element to train based on what spellbooks you got.



+ Show Spoiler [SpEn] +

Make a spriggan enchanter. Use short blades all game. Keep both a dagger and a sabre on you. Use the dagger for the sick stabbing bonus against unaware enemies, use sabre for straight fights. In the early game, focus on stabbing to get it to 6-7 or such. Spriggans are naturally fast and stealthy, and this makes up for their early weakness by either granting you OHKO's on monsters, or letting you run away easily.

For nasty monsters in the early game, simply spam them with Ensorcelled Hibernation until it works, then drive your dagger through their skulls (or skull-equivalent). Alternatively, run away and ignore them. Note that even undead creatures can be stabbed, although Hibernation won't work. You can use Confuse on them however.

Train Hexes until Invisibility is on a good cast rate, then turn it off, you won't need anything else from it. This character is pretty well-rounded on his own, and such he has a few choices for gods. Either you can go with Kiku and pick up necromancy, or you can put all those useless items to use and sacrifice them to Nemelex for the decks of summoning. Okawaru can be pretty legit as well, 'cuz he'll give you awesome gear and he's got good granted powers.

This character takes a little more finesse in the early game then the others, but is arguably the most powerful of all the combos.



+ Show Spoiler [srulz on the GhFi] +

hat wait what?? Shit race?? Ghoul Fighter of Makhleb is THE easiest char for a newbie to use. Though it's my first winning char, so I may be a little biased here )

Here, let me share some advantages of it compared to others:
1. Gourmand = no hunger game.
2. Undead = rN+++, rC+, rPois, and torment immunity.
3. High unarmed damage, almost like troll.
4. Full slots + can wear gloves vs hydras, not like troll.
5. No mutations only rotting, almost like mummy.
6. Rotting is easily healed, not like mummy.

Strategy:
1. Focus on Unarmed.
2. Get a Shield for increase in survivability (know the breakpoints: 5/15/25 = Buckler/Shield/Large Shield), especially if you're going spell-less (easier for newbies anyway).
3. Hell, get anything you want, you pretty much could fill up all your resists unlike almost all other races.
4. If you're kinda new, better go heavy Armors though. No need to worry about spells/dodging/int, just max your strength.
4. Go Makhleb for HP on kills + CRAZY OP demons, though get Invocations to about 11 for safety (higher is better, but not worth it IMO).
5. Use Makhleb's Greater Demons as a preparation tool, not as last-minute resort thing. So if one is hostile, either run or kill or summon another or 2.

Oh yeah, and know all the little quirks of the species, like eating rotting meat etc. Wiki is kinda good for that sort of thing, just double-check the facts there with the Knowledge Bot of course.

Also, holy stuff own you. Though you almost never encounter them, except Mennas. For him, summon 3-4 Greater Demon as backup. For Zot room, same.

You'll win in no time!



+ Show Spoiler [crate on the HOHe/Elyvilon] +

Turn off all skills but invocations at the beginning. Pick up a weapon when you find one (anything but shortblades is fine, though axes have the best aptitude) and equip it. Find some heavy armour and equip that as well. Pacify everything you can unless you are hungry or worse, in which case you should try to get chunks from stuff you can eat and that won't kill you.

Note that pacification takes quite a bit of nutrition, so you probably want to eat permafood if you drop to Near Starving; you need your aa online to not die.

Get Invo to 15 before you turn on any other skills. Once Invo is at 15 you can turn on your weapon skill so you can chop up zombies and J's better. You can turn on fighting and armour a bit later. Keep raising invo though, since it's still your most powerful way to deal with enemies. Get to lair ASAP, pacify all the enemies in lair, now you're maxed out on piety. Once you hit 6* you can start meleeing stuff to death instead of just pacifying everything.

With maxed Ely piety you basically cannot lose unless you get into a really bad spot or do something dumb or starve to death. The only enemies that you have to worry about are slime creatures, so just keep them split up in any way you can (stairdancing does this pretty reliably, if nothing else works). If you need to fight, Divine Vigour gives you about 40-50% more maxhp and you're maxed out on piety so go ahead and pop it if you run into anything tough that is undead or demonic or unpacify-able (Boris is probably the main culprit; you're better off using Divine Vigour and a might potion or something instead of trying to pacify). Use purification and the self-healing abilities liberally, you have plenty of piety to spend.

At invo 20 you can head into Shoals/Snake/Swamp and your greater pacification should be strong enough to pacify anything you run into except Boris, so just go get the runes. After the first rune you grab you should be at about 22 invo, 15 weapon skill, 10 fighting, 8 armour. You can turn on evocations at this point if you want (or earlier if you found a rod.)

Go clear out Orc whenever you want, you get a bonus to pacifying orcs so the only orcs that don't go down to aa are Saint Roka or warlords (you'll almost always pacify sorcerers or high priests in one attempt). If you get the ogre ending you should still be able to aa the ogres but you can use ad if you want since you have tons of piety.

You can actually head straight into elf after orc if you want and your invo skill is ~22 or more, since the elves all have low HP so they're easy to pacify. Greater pacification should work reliably on the dangerous elves. With 25+ invo skill you can pacify ancient liches no problem, as well as use lesser pacification on any dragons you run into, so clearing D and Vault 1-7 is super easy.

Vault 8 requires 1 blinking scroll and a way to haste yourself once, as well as full piety. Put on divine vigour, haste yourself, descend the stairs. Use your blink scroll to go either to the top or the bottom so you get the entire vault guard band on one side of you, then back up and pacify as you go (lesser pacification works unreliably, greater pacification works reliably; start with some greater pacification on the nearest vault guards then use whichever you like on the rest). Once the vault guards are cleaned up the rest of V:8 is pretty easy. You'll need greater pacification on titans and tentacled monstrosities. From there you have three runes so just clear out Zot and go win.

Crypt is actually decently hard since to pacify you will generally have to spend piety. You can clear it out if you want since you can probably cut stuff up by this point, but unless you are seriously in need of some item you can skip it and probably do better.

As far as equipment goes--
You want a two-handed weapon. The main purpose of your weapon is to kill zombies, Js, golems, and orbs of fire. None of these have attacks where a shield helps out, so using a shield is a bad idea. Battleaxes and great maces are good and basically guaranteed. Executioner's axes, triple swords, and bardiches are also good but rarer. Greatsword or glaive is ok but not ideal. A brand is nice but not a big deal; if you find freezing aura/fire brand spells you can take off your armour to learn and cast those and then make the brand permanent, otherwise just make your weapon vorpal.

I find that storm dragon armour is generally the best armour to aim for, since it gives nice AC and, most importantly, gives rElec so you can fight electric golems (which cannot be pacified). If you have rElec from some other source then go for gold dragon armour. If you happen across pearl dragon armour then wear it because you can train dodging and get some decent EV to go with your AC, and you can even pick up some spells in it.

Gourmand is really really good since pacification uses a lot of nutrition. Rage is the other good amulet. Stasis is good to put on so you don't get paralyzed. Conservation is decent as always. Nothing else is important (the only thing that mutates you that you can't pacify is orbs of fire, and you can just get mutated by that point since it's the end of the game).

Rings you only really care about see invis (so you can pacify invisible stuff), resistance rings, slaying, +EV, +AC, or regen. CTele is a huge boon for Vault:8 but disabled in Zot:5 so not that big a deal overall. Wizardry is good if you found PDA or are sticking with one of the lighter dragon armours since it'll let you cast spells.

Acquirement should go toward staves or wands in almost every case. You want hasting or teleportation wands (heal wounds not so much since greater self-healing is basically heal wounds, though if you max evo the wand is the most reliable way to pacify stuff), and all the good rods are good. Only take staff acquirement if you've trained Evo skill some.

You want rF++ and rElec possible for Zot (having to swap is fine). You can probably do Zot with just rF+ and no rElec though it'll be harder, though you do have Divine Vigour to let you tank a lot more damage than most characters.



+ Show Spoiler [About identification] +

Always save your rations as much as you can. In the early game, there are plenty of weak monsters that drop clean corpses. When your yellow hungry light flashes on, take it easy. Don't eat a ration. Kill a monster and eat it instead. You can be hungry for quite a while before anything bad happens. Brown chunks are fine too. Sure it's unlucky if you get nausea, but unless you're already very hungry you'll be fine. Ideally one should only ever eat permafood one turn before they enter starvation.

Remember, spells sometimes have hunger costs. Press 'I' (capital i) twice to check. Try not to spam spells with Honeycomb or above hunger cost. If it's really really bad, play kobolds. They're carnivorous so they can eat chunks without being hungry. This lets you stuff yourself on corpses as soon as they drop which makes things a lot simpler.

As for identification. There are a few approaches, but here's the one I generally end up using. Pick up all consumables on D:1-3. Upon arriving on D:4 you should have a healthy collection of scrolls and potions. When use-ID'ing items, always keep in mind "what's the worst that can happen to me?" For a new player, this is a bit harsh because they won't know what all the possible potions and scroll can do. I'll try to help by establishing a few guidelines.

For scrolls, the worst thing that can happen is scroll of curse foo, which will curse your stuff. If you have a large good amount of unidentified scrolls, chances are that if you read all scrolls that you have one extra of, chances are you'll hit remove curse, detect curse and several of the curse foo scrolls along the way. If so, you're in luck. With all scrolls of curse foo's identified, you have nothing more to fear from scrolls and can read indiscriminately.

To not be screwed if your luck is bad, make sure you're only wearing stuff you won't mind being stuck with for a while when you try your scrolls. You have to be wearing something in weapon, armor and jewelry slots for the scrolls to identify at all.

With this out of the way, there are a few rules of thumb. Scrolls that ask for an item target are always Identify, Recharging or Enchant Armour. Always try these on an unidentified armor or wand if possible. Once you have identified Identify and either Recharging or Enchant Armour you can easily deduce the remaining one.

You'll still have some scrolls left that just refuse to identify. They're probably scrolls of fear or holy word, that only identify when read near monsters and undead monsters respectively.

Potions are a lot more dangerous. The real monster here is potion of mutation, which can completely fuck your game with a bad roll. For this reason I never quaff unidentified potions outside of emergencies before mutation is identified. I spend most of my early game's identification scrolls on potions, looking for the dreaded potion of mutation. With mutation is out of the way, the only bad stuff left is stat-drain and poison/paralysis and such. Poison and paralysis are not dangerous if imbibed in a safe enviroment. Stat drain is annoying, but regains over time and is curable with Restore Abilities. If you have a spare Restore Abilities, and Mutation identified then you can quaff in safety.

I'm sure you'll have noticed by now, that when you have a bunch of unidentified potions, that one you have the most of is usually potion of curing. This is because it's the most commonly generated potion. By noticing which potions are more rare, you can guess at which ones are most powerful. That can help you in trying to hit a potion of cure mutation with a scroll of identify.

That being said, there is little harm in quaff-identifying potions once mutation is identified, save the risk of wasting a good and rare potion.

For wands, I follow a simple three-step procedure.

1) Zap it at a diggable (brown) wall. (At an angle so you don't get hit by the rebound if it's Lightning)
2) Zap it at a weak monster (you don't end up with an orb of fire or something if its Polymorph Other)
3) Zap it at yourself

Congratulations, you've identified any wand in the game.

crate uses a different approach:
"Personally I quaff-ID potions even with the risk of mutation early on. Knowing for sure that that potion you're going to quaff is actually the healing potion you think it is is a big deal, and worst-case is you get something super debilitating and quit and lose five minutes or so. I can't remember the last time I drank one !oMut and got something that awful (it'd definitely include at least either teleportitis or berserkitis plus something else bad for me to even consider quitting ... or maybe at that point I just give in and go adopt Xom since he'd find my mutations amusing anyway) ... but I can certainly remember getting rElec from a random quaff-ID mutation, or rCold, or plenty of other good stuff. Mutation is still good on average so I've no qualms with risking it early on."



+ Show Spoiler [crate on stats] +

You can get away with a stat <8 now since statdeath isn't instant. The only thing that should hit you for that much in one go is a very unlucky miscast effect (I think), which means Orange Crystal Statues and Hell effects only as far as I know. Of course there is other stuff that can gradually drain your Int down also. Carry around a Royal Jelly or two and wear Sustain Abilities in Hells if you can and it's not that big a deal.

Int affecting spell hunger is mostly a nonissue unless you're doing stuff like Tornado'ing rats. You want to raise Int for the spell success/power boost anyway, and in most reasonable cases all but the really high level spells will end up taking nearly as much food in time spent regenerating MP as food lost to casting the spell immediately (exceptions for Spriggans and the like who hunger slower). You'll end up reducing spell hunger by raising Int which is nice, but I've never come close to running out of food from casting spells.

Swiftness does absolutely nothing for a Spriggan who is moving at normal Spriggan speed, so you shouldn't really cast it at all and can probably forget it to clear up some spell levels. On other races you should ideally have it active all the time, but reasonably just need to cast it for dangerous situations (lets you escape from stuff like Ogres or Hydras if they close the gap or run for your life in Abyss, especially with Flight also). Regeneration is useful in basically any situation where you might lose more HP, since regenerating HP more quickly is never a bad thing and the extra food cost is negligible (and stops if you're at full HP).

When I won my SpEn I used Invisibility on basically everything that couldn't see invisible because it's really powerful ... just be careful about stabbing something that can one-hit-kill you from range since if said monster does wake up as you approach you might well be dead (on the other hand I stabbed an Orb of Fire to death on that game, which was immensely satisfying). You'll still wake up big groups from time to time since one monster will see you and then shout to wake everyone else up though.

Just be careful to wait off the contamination from one Invisibility casting to re-cast it if you can ... otherwise you might end up glowing, which both kills your invisibility and probably mutates you to boot.



+ Show Spoiler [Xiberia on branch order] +

I don't know if this has been mentioned before but branch order is one of the things that can have greatest effect on your success rate in Crawl once you've learned to survive the first few dungeon levels reliably. I have around 15 wins under my belt with 3 or so being 15-runers and this is the branch order that has been working for me:

D up until lair -> lair 1-8 -> orc 1-4 -> dungeon up until vaults -> snake 1-4 (if you have rpois) -> elf 1-4 if you have decent MR and resists and/or are using cloud spells -> vaults 1-7 -> dungeon until it gets rough (usually around D:20 or so) -> finish up the lair branches (not slime though, you need special equipment for that) -> elf: 5 -> dungeon until it gets rough again, though you should be able to clear all the way down to 27 -> V: 8 (BE VERY CAREFUL DOWN HERE) -> zot 1-5 -> win.

Orc: 4 can be very risky so if it gets rough at all, leave it for a bit later. Vaults 1-7 and elf 1-4 are interchangeable depending on your abilites, vaults mostly features physical damage while elf has lots of magic (wear conservation if you like your scrolls). Elf: 5 can be done immediately if you're using poisonous cloud or freezing cloud assuming you're cautious enough(seriously, don't try this if you're unsure you can be patient and tactical enough). At any point if you find some unique that is too tough or a floor simply features enemies that are too tough for you, turn back and return later. Safety is key. Never take a risk if it can be avoided.

Note that this branch order was written for trunk. If you're playing a version where Hive still exists, do it somewhere post-orc when you have rPois.



+ Show Spoiler [crate on Fedhas] +

Fedhas is the most fun god in the game but not very commonly used, so in the interest of getting more people to try him out here's how I use Fedhas.

First, clearing up a misconception: you do not need a ton of fruit to make Fedhas a good choice. More fruit is always a bonus since oklobs are really strong, but in both of my Fedhas wins I only rarely made oklobs before Zot:5 and finished the game with more than enough fruit left.

Fedhas in my opinion works best with characters who kill stuff with weapons but still cast spells ... you don't benefit from his abilities as much otherwise. He is very strong early--probably the strongest god in the game when you have just reached 1* piety after adopting a god. So if you are dying around Lair-time often, Fedhas is a good god to get you to live longer.

Abilities:

Press P to turn corpses into toadstools and to decompose zombies, necrophages, and ghouls. This is how you gain Fedhas piety, and works on everything in LOS.

Evolution turns a plant into a better plant (and makes it allied): most f turn into wandering mushrooms, ballistomycetes turn into hyperactive ones (more on that later), and P turn into oklobs.

Wandering mushrooms are extremely strong for when you can make them; they deal a lot of damage and confuse when they hit. They'll kill everything through the end of lair easily if you have enough of them, but they fall off in power lategame. They don't move if you have an enemy in vision, so to make them actually hit stuff you probably have to retreat to where your mushrooms stopped, but that's not a problem. The piety cost for either creating or having them die is negligible so don't worry about it.

Hyperactive ballistomycetes are basically immobile giant spores that blow up multiple times. More on that later.

Oklobs are oklobs. They kill anything without acid resistance dead. Not much has acid resistance. Don't stand where a shot that an enemy dodges will hit you.

Sunlight: Irresistable Corona with a cross-shaped AOE. Only costs MP, gives a noticeable to-hit bonus, and reveals invisible stuff to both you and your allied plants. Use it a lot if you kill stuff with weapons.

Reproduction: The most fun god ability in the game. Turns the top corpse in every item stack in LOS into a giant spore. You should be familiar with giant spores by now. These make ballistomycetes just like the wandering ones that spawn randomly do. The confusion works on very nearly everything.

Rain: Makes water in the same radius around you as a giant spore explosion. Use once for shallow water, twice for deep. Does not affect where you are standing (but does make rain clouds that could).

---

Strategy: Mushrooms are pretty straightforward, just make a couple and use them in fights. They will eventually kill themselves with their attacks but the piety cost is small so you don't really need to worry about this. Sunlight is similarly straightfoward and powerful.

Reproduction takes a bit of not-entirely-obvious thinking to use properly. It is really strong against packs, but the trick is figuring out how to use it without blowing yourself up. The simplest way is to kill the leading enemy (in a corridor like usual) then just run backward and create the spore in the middle/back of the pack of enemies. You can also use blink or even just take the hit if you have enough hp/ac and either clarity or a spare curing potion (or just wait out the confusion). This ability does not directly cost piety but do note that you are giving up the piety you could have gained from decomposition and in addition the ballistomycetes dying will also cost you some piety. The cost is not large but it is there.

Those ballistomycetes created can be turned into hyperactive ones to keep exploding.

Here are two nice examples where I take advantage of spores and ballistomycetes to kill uniques (paste the text into ##crawl on Freenode IRC, and then watch on footv. Check the knowledge bots if you don't know what footv is):

!lm crate uniq=wiglaf 17 -tv
!lm crate uniq=erica 19 -tv

(These are console games, but even if you don't normally play the console version you should be able to get a few tricks out of them I'd think.)

Rain is mainly for blocking off places. You rain then you can fly or swim or Sunlight your way off the island you made. Also good for protecting your oklobs. This is still a really powerful ability since it makes you entirely safe from non-reaching melee attacks from most enemies, and you can make spores to confuse enemies into drowning. You can also use it to trap a lich or something on a little island and then run away from it.

Fedhas has obvious synergy with Merfolk because allies and water work well with polearms and being able to swim, but you don't by any means have to be a Merfolk to make good use of Fedhas.