The Ro8 is finally upon us and I'm personally ecstatic as hell! We've had a lot of great BW tournaments in the last couple of years such as SSL. However, the game quality and hype surrounding this tournament has been in a league of its own at times. The viewership peaked at 107k during the flash and movie game in group D just several days ago. Let that sink in for a moment and you'll see the significance.
All of TBLS have made it safely into the Ro8 with most taking their respective groups in 2-0 fashion even when facing tough opponents such as hero, last and Movie. Now that we are at the Ro8, this is where the real fun begins. We have a pretty decent spread across the board: 2T, 2Z and 4P. The map pool will consist of five maps with players able to veto out one map each. Each series is a bo5 as well so we will be treated to at least three games at the minimum.
The first series is between Sea and Bisu, no doubt an uphill battle for the terran against the revolutionist while the second series between hero and BeSt promises to be entertaining as BeSt looks to upset a ZvP specialist. Will these matches go as predictable or will we see upsets all over the place? Check out the
Ro8 thread
to see the remaining two groups. Then continue reading for a recap of the last two Ro16 groups by c3rberUs, a preview of the first two Ro8 groups by FlaShFTW and BLinD-RawR and then staff predictions.
Group A is set to start in so let's get ready to rumble!!!!!
by c3rberUs
by BLinD-RawR & FlaShFTW
by Bigfan
Everything about ASL2
Group C:
Last
<
Demian
>
Rush
Bisu
<
Demian
>
hero
Bisu
<
Benzene
>
Last
hero
<
Benzene
>
Rush
hero
<
Circuit Breaker
>
Last
Bisu
and
hero
advance to the Ro8!
Last vs Rush:
The first game of this very Korean Christmas was a TvT on Demian. It was a TvT that was as standard as you can get with not much in the way of thrills. Starting from a mirror factory-expansion opening, Last went for his preferred vulture game while Rush tried to set the tempo with a hidden starport play. The wraiths only did minor damage before being chased away by goliaths but they were crucial when it finally came time to set siege lines at the center of the map. Now, if the game was purely about making your opponent's tanks go kaboom, Rush would be way ahead. However, Last persevered through the early losses and patiently developed his pieces; splitting the map and capturing bases earlier. He eventually turned the tide and Rush was reduced to picking off stragglers before getting overrun with a final push from all sides.
Hero vs Bisu:
Again on Demian, Hero probably knew what will come from Bisu after playing each other online a lot. Hero made handfuls of zerglings to counter Bisu's drone-hungry zealot aggression. He dealt with it perfectly and then he used the same zerglings to run past a single cannon in Bisu's natural. They picked off probes and generally annoyed Bisu before they all got wiped out. Back in the Zerg base, it became apparent that Hero was assembling hydras for a surprise bust. The surprise play was almost revealed when zealots made a suicide-run to Hero's third but fortunately, Bisu did not notice the hydra rallied there. Against a single cannon and only a bunch of zealots, Hero moved in and it was almost surely the game right there as we've seen in so many PvZs. But instead of dying to the barrage of spines, Bisu's zealot speed kicked in and somehow pushed the hydras back, giving him enough time to reinforce his single cannon. Hero tried a second time but couldn't get close with a DT prowling the entrance. Then in a counterattack, zealots and storm decimated everything in Hero's third and Bisu got the win.
Hydras vs speedlot
Bisu vs Last:
In the Winners' matchup, Bisu made his plan to do a proxy gate no secret with the gateway and pylon blocking about half of Last's natural entrance. Despite the close distance, Last managed to keep his base protected with a quick wall-in and proceeded with his FD push. The push was sent out to eliminate the obvious threat of the proxy gate. However, Bisu was able to turn his defense into offense after sniping Last's tank. Another battle in Last's natural ended horrendously wrong for Last but was saved by his cute factory-float into hidden mines. What was a fake double build was actually a real two-factory push and a questionable starport. Having lost too much already, Last poured everything into a final push but was left totally unprepared for DTs and typed out at the first sound of the warpblade slash.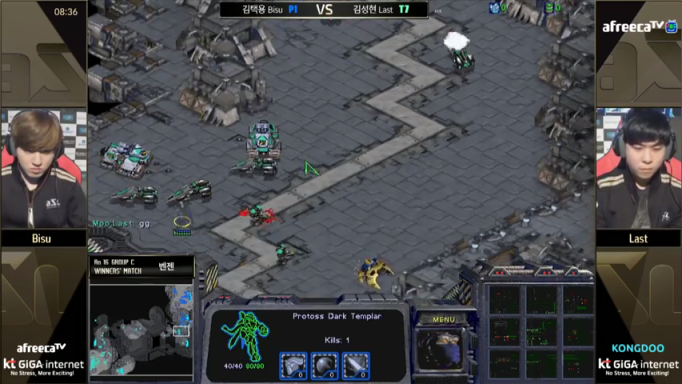 dt drop!
Hero vs Rush:
The Losers' matchup was one of those games on par with the famous 14CC versus 4-pool game. Rush went ahead and played the metagame surrounding Benzene. With it's long rush distance, it was a natural haven for greedy builds. Countering this, he proceeded to get two proxy barracks and surprise hero. hero on the other hand, went ahead and played probably the greediest zerg build - 3-hatchery before spawning pool. This meant he had nothing but drones to combat the oncoming marine onslaught. hero lost his natural quite quickly. The marines then went up to his main base where it should have been game. But bad decisions from Rush and the third hatchery's zerglings kept hero in the game. What was incredible is that hero's build allowed him to counter nicely; sacrificing a hatchery while still keeping two for pumping lings. When hero upgraded speed, Rush was be unable to run back to his base before the lings and that was GG.
Hero vs Last:
For the final match, we had an STX teamkill match on Circuit Breaker. It was a sloppy game on the micromanagement side but the play from both players was pretty solid; especially the victor, hero. In contrast to this season's 3-hatch lurker movement thanks to the Tyrant, hero went for the usual muta route. Despite muta-ling pretty much decimating Last's bio forces, I was convinced back then that it was futile with how broken the mech-switch is. But hero countered every punch and jab from Last. Then on four-bases, hero went and dropped lurkers on three places simultaneously. The effect was devastating on Last's economy, allowing hero to grab the initiative and grip it firmly. Another ground-based and drop attack into a cross map push with ultras sealed the win.
Group D:
Flash
<
Demian
>
Sea
Movie
<
Demian
>
Rain
Flash
<
Benzene
>
Movie
Rain
<
Benzene
>
Sea
Movie
<
Circuit Breaker
>
Sea
Flash
and
Sea
advance to the Ro8!
FlaSh vs Sea:
These two drinking buddies ran into each other again in the group stage like they did last season. Set on Demian, Sea wanted to get a quick win here over the rampaging juggernaut with a hidden 2-factory opening. Meanwhile, FlaSh did not go 14CC, instead he went with a less-greedy barracks expansion. Going starport after factory, it put Sea into a race against time to do at minimal, a crippling blow. Sea's push initially looked scary as he forced a lift of the natural CC and then camped at the bottom of the ramp. But that was as far as he went before FlaSh was able to clean up and reclaim with wraiths. After that, Sea tried some valkyrie-wraiths and finally a last ditch drop that was doomed from the start thanks to the mass of mech guarding only two bases. Powered by an earlier expansion, FlaSh simply outnumbered Sea which led to a rather quick game.
You think you control the sky? cute. -Flash
Movie vs Rain:
On the same map, Movie opened with 3-gateway robotics versus Rain's core-expansion. You know it's really dangerous when you have nothing but probes to defend Movie's three dragoons at your natural. Home turf reinforcements allowed Rain to live but the rout allowed Movie to expand comfortably himself. After some macroing, Movie decided to push the initiative and attacked Rain with full force. They started to face off in the traditional shuttle-reaver dance. But what happened after was a game-ending miscue from Rain; a) engaging through his own chokepoint and b) not bringing his four anti-reaver-drop dragoons to his natural despite the fact that he obviously knew it was on the natural.
FlaSh vs Movie:
Movie wanted an early advantage using a gas steal elevator rush on FlaSh on Benzene. Although it was unknown to FlaSh up to the last second, it was very ineffective with the first drop consisting of one dragoon and two zeals were helplessly outmatched by a tank, marines, vultures and fat SCVs. The second drop with the reaver was even more fruitless, being repelled immediately by a goliath. FlaSh then expanded to get the mineral-only and made his push against Movie. Movie was playing catch up now and succeeded initially in breaking the push to defend his mineral-only third. But then, FlaSh's reinforcements that were on route to the scene made a detour and took to Movie's undefended bottom expansions. By the time Movie was ready to meet the main mech force, FlaSh's eco had already kicked in and no recall was going to save him. When the dust settled and the GG's thrown, FlaSh became the first Terran to enter this ASL's round of eight.
Rain vs Sea:
Rain was put into another test of young talent versus experience in the form of veteran Sea. In this elimination game, Sea was the first to press the action, sending out a force from four factories off of two bases. Rain meanwhile was teching to arbiters and only had dragoons to fend off the rolling mass of Terran metal - which he did rather handsomely. He then tried to catch up on base count and only tried an ineffective zealot drop. All of this played into Sea's plan as he remained undisturbed pumping units and upgrading on double armories. Of course, Rain was not going to remain passive for long and pulled a Nal_rA with hallucination recall (gif). While the recall was relatively solid, Sea cleaned it up, marched across the map and broke the protoss army. Rain simply wasn't able to keep up as Sea cut him off from reinforcing the top side expansions and got trounced from the league.
Hallucination+Recall = Success!
Sea vs Movie:
The battle of the two Afreeca veterans. Things got off to a hot start with Movie proxying at the center of Circuit Breaker. Sea's sim city and the game's border offered really good protection so Movie wasn't able to do much damage. Going with the previous game's pattern, Sea went aggressive on two bases but this time, it was a five tank push. Sea then calmly set his lines on the center of the map where he butted heads with Movie's troops. The battle ended with Sea wiping out all but one dragoon and an arbiter and that meant that the way was open to Movie's fledgeling third. The protoss countered through the bottom passageway forcing a CC lift at the mineral-only. Sea was able to prevent further incursion and suffered a setback when his main assault force got destroyed at the front of Movie's natural. But he remained calm, bringing in more troops seemingly for attrition. Movie sensed this and when he finally scouted Sea's fourth, he knew it was only a matter of time and promptly typed out.
Group A: Bisu vs Sea
See you later
Head to Head: Bisu 7-1 Sea
It has been 11 years since Bisu and Sea have begun their progamer careers, starting off in the same place too. Yet their careers went off in such different directions, but that's a story for another time. For now, their paths have crossed once more and maybe 2017 is the year Bisu actually wins a final or Offline Sea becomes something more than a meme.
The good old days
Bisu got faced with what could be his best possible opponent in Sea as he has always had the upper hand going against him going 7-1 in official tournament games and administering tons of beatdowns in sponmatches and ladder. This has pretty much inflated his already stellar PvT record in the Post-KeSPA Era. This is the first Bo5 that Bisu is playing against sea since the Terror TEMPTS Starleague all the way back in April of 2015 and compared to then, Bisu seems a lot more ready to take on Sea as their rivalry was a bit more back and forth at that time and now it's just Bisu all over him at 70%.
When it comes to Sea, it's 2 things that are keeping him from going into the Ro4 right now. One is obviously the fact that he has to play Bisu, but Bisu aside, he has been playing some really good TvP so far in the tournament against Movie and Rain. Having been seeded into the Ro16 from his performance in ASL1 (Top 4) and bringing the A-game aggression that he has always been good at and pulling it off is just going to give him the mental boos that he needs to go up against Bisu. The other issue that keeps Sea from achieving is the offline match status. It has been touched before, by me even, but it is always going to be brought up with Sea. He needs to be able to get over his mental block in offline tournaments. This affected him even during the heyday of his rivalry with Killer when he could never make it far in an SSL. If 2017 is going to be his year, then it's this series that's really going to tell us all about it.
Map breakdown:
Set 1 & 5- Eye Of The Storm
It's a big map. Expansions are pretty far apart with same ground mains and natural, with a lot of space in front of the natural to setup for either player and hit both bases at once. For Bisu, it would be early gateway aggression or quick shuttle/reaver into wall-hopping (it's not an elevator if it doesn't go up/down) into the main with his forces to hit Sea. Alternatively, Sea can go for a build similar to what he did against Rain on Benzene with 4 factories off 2 bases and get that early tank army onto Bisu's natural ramp area for a solid contain and push.
Set 2- Demian
Being a 3 player map, there are an uneven number of bases for two players to take and usually the third main and natural are the biggest points of contention. Since both players know this, their strategies are going to reflect it. Bisu can't play defensively and take those bases. He will have to come up with a mid game push to make sure he can secure them as Sea is also going to anticipate this. Sea will focus on a tighter defensive opening with some good turret rings to keep recalls while slowly expanding to keep the base count as equal as possible. It's likely going to be a drawn out game but the clock is going to be on Sea's side, not Bisu's.
Set 3- Circuit Breaker
Now, I could say like every other time that the strategy of Sea and Bisu is going to be Sea turtling off of 3 base/3 gas (4 base with 1 mineral only) and ready his 2/1 timing while Bisu takes the rest of the map and delays the push as much as he can. I think Sea is going to throw caution to the wind and proxy rax bunker push on cross spawn and most likely fail in marine control leading him to gg out of the game causing a collective sigh on every viewer.
Set 4- Benzene
I have no clue why this map is supposed to be bad for carriers. It's got some dead areas and some ridges. There's that high ground behind the natural that can be reached but what about the opposite side? Easy to park carriers there without much trouble of getting hit. That said, Bisu won't go carriers and will instead stick with a gateway arbiter army while Sea is probably going to go for a similar build as he has against Rain in the Ro16.
Bisu
<
Eye of the Storm
>
Sea
Bisu
<
Demian
>
Sea
Bisu
<
Circuit Breaker
>
Sea
Bisu
<
Benzene
>
Sea
Bisu <Eye of the Storm>
Sea
Bisu
advances 3-1!
Group B: Hero vs Best
The Hero We Need
Head to Head: Hero 6-4 Best
There's no question that the lack of Zergs in this tournament, or at least notably that advanced to the Round of 16, has had the community's eyes locked on our two Zerg players. Hero is one such player and he was selected to play against Best in the Round of 8. Will one of our remaining Zergs make it to the next stage? Or will he be stopped cold in his tracks by one of the Dragons?
Best
got matched with the worst possible player out of the 2nd place finishers in their groups.
Sea
and
GuemChi
were opponents which I felt Best could defeat. Instead, he got placed against his worst nightmare, a Zerg who knows how to ZvP. And yes,
Jaedong
is by no means a weak ZvPer but let's face it, he's extremely rusty and hasn't been playing up to form so Best beating Jaedong isn't really a secret. A Bo5 series is really going to push Best to the brink against a guy who's ZvP is his saving grace. However, Best has shown a decent ability to macro in his games against Jaedong as well as defend quite well against the hydra busts if hero decides to go for them. However, his high templar control really needs work as shown through his two games vs the dong. Luckily, it didn't matter enough as he still won both those games, but against hero, he'll need to be on top of his game.
Mfw I have to play my worst matchup
Best's PvZ winrate in the KeSPA era was a measly 47.4% and while it has slightly improved in the post-KeSPA era to 53.9%, I'm not convinced Best is geared up to take this matchup on. Granted, maybe he's not in too bad of shape considering he defeated Hero, 2-1, in the

Kim Carry Myeongin
so there's that. But in sponmatches in the month of November, Best has not impressed. He was 3-6 against his opponent, hero, and even scarier was that he was 0-10 against a slumping
EffOrt
. Sure, he was 6-3 against
Larva
but this is also Larva who we're talking about. Like I've said, Best has to go against his worst nightmare matchup and it's not going to look pretty. I think he can take a game off hero but that's about it. We'll see how his preparation is against hero's aggressive hydra style and maybe, just maybe, he can turn this series around.
hero
is probably thanking the stars he didn't have to play
Flash
in the Round of 8, but getting put up against a Protoss definitely made his chances to get to the finals that much higher. The ZvP sniper is rejoicing from this selection (and also probably happy he can't play
Bisu
due to the randomization rules). After a disappointing knockout in the Round of 8 last season to Sea, hero is looking to rebound in this ASL. Also to note, Hero is looking to rebound in the year overall, having not won a single tournament in 2016 compared to his big win in 2015 at the SSL11. His aggressive hydra builds will look to put Best at the edge of his seat and he's also shown great usage of the early lings against the gate-first builds which Best has been favoring as of late. His game against Bisu on Demian showed he also has a killer instinct, getting a 5 ling run-by and dealing considerable economic damage to Bisu's probe line. Best gave Jaedong many windows of opportunities for ling runbys but was never punished. Hero will definitely make use of those opportunities and try to keep Best off of his strong macro game.
My Best impersonation after I'm through with him
Hero back in the KeSPA era had a mediocre 53% ZvP winrate but since the post-KeSPA era started, he's been rocking an amazing 70.6%. In his sponmatches in November, he was also at 70% with amazing records against top Protoss like
Bisu
7-3 and
Movie
8-1. Just another testament to his ZvP ability, hero took Bisu to 5 games in the SSL9 and also dismantled him in the SSL11 3-0 so hero's Bo5 ZvP is definitely one of the strongest in the scene. Hero will go into this Round of 8 with a lot of confidence and will closely review Best's games with Jaedong to find all the weak points in the armor to abuse. The tipping point for hero will be his late game management against arguably one of the strongest macro players in the game. Hero may instead decide to keep the games low-economy to push Best off his comfort game and look for him to mix in lurker drops to harass Best's economy.
Map Breakdown:
Circuit Breaker
will be our repeat map and this map has shown a ton of promise for hero and his aggressive hydra style with the close mineral-only base playing to his advantage. Probably the best map for hero to play on. If it gets to a game 5, I expect him to be able to take that game too so some insurance for hero if he somehow drops 2 games. Best's best opportunity (hehe) will be to get this to a late game split map scenario and abuse the OP Protoss gimmicks like Reavers, Archons, and Storms to push him to a victory. Basically, see Rain vs EffOrt on CB for an example game.
Eye of the Storm
will definitely challenge hero's creativity when it comes to his style since depending on spawn (vertical), the 3rd is going to be extremely far away for him and he'll need to play a much more turtle 4 base style. Hero isn't the worst at the style but I'm sure he'd much prefer to play his bread and butter 4 hatch hydra aggression. Still, in the KeSPA era, EotS had a 59% ZvP winrate so it can't be that bad for hero. Best will most likely be forced to opt for some kind of 8 gate goon all-in on this map since it sucks for longer games as the expansions are pretty difficult to take. Otherwise, cheese and forward gates are his best option.
Benzene
is the one map I think hero will struggle on, which is ironic given the forward close mineral-only that probably caters to his style. However, the mineral-only base is super wide open and not good for simcities later on in the game. So he'll probably have to opt for that far-away 3rd gas base and we've seen how Protoss have been able to abuse it with nice zealot timings followed by a fast 3rd of their own. Best will just look to see which 3rd hero takes and will punish him accordingly and the mineral-only will help him jump start his economy past the mid-game so we can see his macro game shine.
Demian
is another solid map for hero, given that the 3rd is reasonably close and if the game extends, the low ground 4th is pretty close as well. Hero also showed he could go toe-to-toe against Bisu on this map though Bisu eventually overpowered him through brute strength. Still, I think this map is also favored for Zerg. Best did defeat Jaedong on this map so we'll see if he can utilize the same winning formula on hero. Strong map control with a deathball while expanding behind will be the name of the game but he must defend against hero's inevitable lurker drops on this map.
hero
<
Circuit Breaker
>
Best
hero
<
Eye of the Storm
>
Best
hero
<
Benzene
>
Best
hero
<
Demian
>
Best
hero <Circuit Breaker>
Best
hero
advances 3-1!
Bisu vs heroDemian
Flash vs SeaDemian
Jaedong vs SharpBenzene
Shuttle vs LightBenzene
hero vs RushBenzene


There are some games that just wow us whether its due to one player being a macro monster, a micro master, a great decision-maker or for a bunch of other reasons. This was a game that emanated that feeling. Anyone who remembers past Bisu games will recognize what I mean. After losing many probes to a zergling runby into his main, Bisu claws his way back into the match with some stellar micro and decision making, up against the worst unit imaginable for him, hydras and one of his worst opponents, hero.



Patience is a virtue. Flash faced one of the strongest oppositions from close comrade Sea. Up against a strong two fac attack from Sea that caused him to lift his expansion, Flash made some great choices to deflect what could've been a game ending push for any other low level terran player. Decision making at its finest from one of the best terran players in the history of the game!



As the saying goes, context is important. You won't find any amazing macro or micro in this game. However, this game is the epitome of Mind games. On the brink of elimination and having to play two ZvTs in a row, Jaedong chose to go for pool first, instead of the typical hatch opening that most Zergs would go for in an elimination situation. Jaedong's winning record is pretty low when it comes to pool first builds on his stream. His opponent, Sharp, chose to go for a proxy rax, anticipating the hatch opening and was caught completely offguard. The most amazing part is that Jaedong also decided to go for the same build the next game against Mind who also opened with a forward rax and lost the game. Jaedong can't possibly repeat the same build twice, right?



We have come to expect perfection from our BW heroes, however, there are times where sloppiness can be tolerated. Even more so when the winner is none other than Light, a player who can't win TvP to save his life. His opponent? The ASL season 1 champion, Shuttle, who has been nothing short of solid in the PvT matchup. The result of their engagement was a sloppy but fun to watch back and forth scuffle as both players tried their best to starve the other and stave off elimination. This is one game that will keep you on the edge of your seat!

https://www.youtube.com/watch?v=jWbi-GHatw8&t=1h33m17s
Another entertaining and bizzare game played by none other than hero and Rush this time. Realizing that BBS is a reasonable option on Benzene, Rush decided to proxy near the 6 o'clock position. What does hero do? Scouts around for a proxy, misses it by mere pixels and goes for 3 hatch before pool. It looked like hero's elimination from ASL was basically confirmed as his natural went down without much of a fight, however, it seemed that several factors played into his favour. Is 3 hatch before pool really the counter to BBS?

Bisu vs

Sea
BisuDagger (Bisu 3-2)
BigFan (Bisu 3-1)
2Pacalypse- (Bisu 3-1)
FlaShFTW (Bisu 3-2)
c3rberUs (Bisu 3-1)
v1 (Bisu 3-1)
BLinD-RawR (Bisu 3-2)
mustaju (Bisu 3-0)

Best vs

hero
BisuDagger (Best 3-1)
BigFan (hero 3-0)
2Pacalypse- (hero 3-1)
FlaShFTW (hero 3-1)
c3rberUs (hero 3-1)
v1 (hero 3-2)
BLinD-RawR (hero 3-1)
mustaju (hero 3-2)

Writers: c3rberUs, BLinD-RawR, FlaShFTW, BigFan
Graphics: v1
Editors: BigFan
Photo Credits: Liquipedia, DailyEsports, Afreeca and Sinbal Farm