Time marches on and we move ever closer to the end of season one of the SK Planet Proleague. This week was a huge one in terms of how the playoffs might look when we get the them in a weeks time. Unfortunately for fans of both STX and Team 8, they are both out of the running for a playoff spot thanks to Flying cheesing out Jaehoon in the final match of the Team 8 vs Stars series earlier in the week. With Ace already relegated to last place this means that only five teams remain to battle it out for the four spots available in the post season.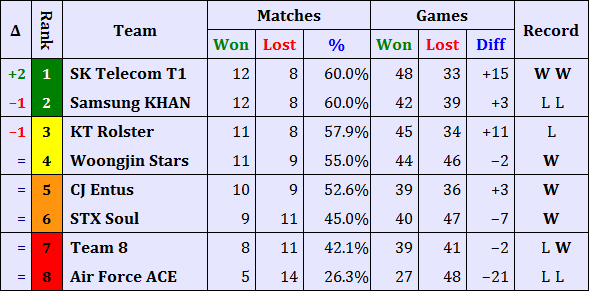 So near to the end now...
Good news for the fans of SKT in the form of a guaranteed playoff spot, and if they can best Team 8 three zero this week they will be ensured the coveted first place that they managed to achieve last season. As for the remaining three slots in the playoffs, we'll just have to wait and see what happens, as even Khan, currently on the same win/loss score at SKT aren't able to take their foot off the pedal, lest they get taken down zero three again and lose their place to CJ, Stars and KT. All in all it is definitely going to be the most exciting week of the season, as by the time it ends we'll find out which four teams remain standing, and which team must fall, relegated to the bottom half of the table and a longer holiday.
But wait, there's more exciting news, this time for all Brood War fans, as it was announced that the playoffs will be BO7 format with an Ace match, instead of the BO5 no ace match format we've had all season. It's nice to see OGN finally paying attention to the viewers, and hopefully we'll finally get to see some deciding matches that really betray their significance with some big name matchups. As nice as it was to get a change in format during the regular season, it was hard to objectively say that a no ace match format was good for the excitement of the matches, so the playoffs should be another step up in intensity from what we've seen over the season. Will we get to see more Stork vs Flash? Bisu vs Soulkey? Will Khan try to snipe the Ace match players with untried Terrans again? Hopefully we get to find out!
Moving on, this week in SPL news we've got a nice package of content for you to enjoy. First up we've got our usual segment of the
Top 5 Games of the week
chosen arbitrarily by 2Pacalypse-. Do all five games deserve their spots in the list? Was a game robbed? Let us know! Following up we have the
recaps of last weeks games
written by yours truly to help you catch up on everything that went on last week if you've forgotten or didn't get to watch the games.
To commemorate Flash's first loss of the season last week we've got a
report on the man who slew god, better known as Dear
. Who is he and when did he get good enough to do something nobody else could manage during this entire season. Finally we have the
previews of this coming week of SPL matches
written by kjwcj, taking mustaju's spot for the moment and attempting to bring the pitiful prediction score up to an acceptable level.
We hope you guys enjoy what we've written this week, and wish you all a happy pre-playoffs week!
--Kiante
Top 5 Games of the Week


The Good, the Bad and the Cheesy.
By 2Pacalypse-
▲ Back to Top ▲
Recaps, Round 3 Week 4

By: Kiante




STX attempted to keep its slim playoff chances alive with a decisive and exciting victory over the whipping boys of SPL this round, Ace. The series opened up with Bogus playing against Orion. Despite Orion managing to get up on five mining bases to Bogus' two, he was unable to get to hive-tech quick enough to stop Bogus's doom push, which promptly ended the game. It was a decent showing from Orion despite the loss, as he demonstrated that he could put himself in winning positions against a player of Bogus' calibre.

Ace struck back in the second game of the series to even the scores, with Peace taking down a struggling Classic in an exciting TvZ on Outlier, a map that hasn't hosted many long TvZ games this season. Classic seemed to be in control of the game, fending off Peace's attempted seven-pool, but Peace utilised some fantastic tactics to delay Classic's push, moving a group of lurkers in between Classic's army and his base to cut off reinforcements. After the push was held, Peace took an economic lead and was able to win the game.

STX then sent out their resident hydra-bust expert, Calm, to take out Kal. This time, Calm utilised a cute lurker drop to distract Kal while he busted the front with (you guessed it) hydras. You have to wonder, when will players start to expect this kind of play from Calm and just blindly make ten or so cannons to ensure an easy victory, as it seems to be the only play he has been able to make successfully this season.

Following up from Calm's cheese, Dear (the godslayer) came out and took down FireBatHero in a tense final game. Dear attempted a two-gate bust of FireBatHero's fast expansion. He was unsuccessful, but able to divert enough resources and time to allow him to double-expand behind it. FireBatHero then did the standard three base timing, and Dear was simply able to macro just enough to whittle down the push before it could threaten his economy or production facilities, eventually forcing the "gg" from FireBatHero.



SKT started its steady climb back to the number one spot with a strong victory over Khan. Jangbi and Bisu were the first off the blocks for their teams and they didn't dissapoint as they proved that PvP doesn't just have to be limited to fifteen-minute games, as it has been so often this season. Bisu managed to develop a reasonable lead and then proceeded to almost choke on it with Jangbi scrapping effectively. In the end, it wasn't enough Bisu's greater economy was able to roll over Jangbi's remaining forces.

Stork was sent out to level the score for his team and was successful against Alone, despite a long pause near the beginning of the game, which was eventually ruled to be nothing.

Brave was sent out next and was comprehensively shut down by Soo, who utilised a non-standard expansion and early hydralisks to gain an advantage. In the end, he rolled over Brave's attempt at a two-base push.

Reality came out in the final game for Khan but was unable to save his team, falling in a relatively standard game to Best. The real story of the game was how the spirit of Much had somehow made its way into Best's reaver scarabs, as he fired them off one after the other only to have them dud and kill literally no SCV's. Despite the scarabs Best's macro was too much for Reality to handle, and his three base push never really got off the ground. SKT looked particularly dominant in the series and it was definitely a good sign for SKT fans, with the coveted first place position up for grabs.





With the potential playoff berth on the line for both STX and Team 8, the scene was set for an exciting series, and that's exactly what it proved to be. The first set featured Baby against the up and coming Protoss, Shy on Sniper Ridge, the map that provided so many great games last week. Shy managed to overwhelm Baby with an ingenious timing attack just as Baby attempted to secure his third. He was soon able to convert his lead into a win for his team, putting Stars ahead.

Both teams then came out with guns blazing, sending their premier players, in the forms of Jaedong and Soulkey, out to do battle. The result was an intense ZvZ, with the lead see-sawing back and forth, until Jaedong won a decisive muta battle over his own natural and was able to snowball his advantage into a victory.

Team 8 then cemented its momentum in the series with Tyson coming out against Light in a hilarious game, which saw Light almost scouting Tyson's two-gate build before turning his scout around instead of continuing into the base. This led to Light almost dying to the two-gate, and, despite some decent drop harass, unable to get back into the game. His three-base push failed to penetrate all of Tyson's defenses, putting Team 8 up two to one. While it seemed like Team 8 might pull of the miracle win and keep itself and STX in with a chance at a playoff spot, it was not to be, as Stars proceeded to take the next two games in quick and dirty fashion.

Zero took down an uninspired looking Killer in a quick ZvZ, with Zero simply controlling his air units far more effectively throughout the game. Finally, Flying came out and proxy-gated Jaehoon in a heart-breaking game for Team 8 and STX fans, with Jaehoon managing to put himself in prime position to hold the rush, then inexplicably running his zealots out of place and losing the game, the hopes of his team's fans, and the series two to three.



With the playoff battle narrowed down to five teams battling for four places, the clash of the fifth-placed CJ and the second-placed KT was a much-anticipated one. Flash was sent out first for his team and won, as is his way, despite his proxy-barracks being scouted and cancelled. Unfortunately for KT, it seemed like the KT Flash Curse was in full effect, and CJ was able to clinch the next three games to win the series. Effort took down action with a quick build-order win, forcing Action to give up his natural hatchery, and, despite his attempts to hang on, he was forced to surrender the game as well.

Perfectman was given his first chance to play for his new team, but proved unable to win. His attempted proxy three-gate goon strategy was thwarted by some smart two-gate aggression from Snow, coupled with excellent crisis management and decision-making. Finally, Horang2 recovered some of his PvP form, going back to his roots with a nine-gateway-off-two-base play and managing to crush Stats' defences, despite the fact that he was mining from three bases for an extended period of time before the attack came.


SKT managed to squeeze past KT in the rankings with a quick win over Ace. Great was the first out for Ace and he attempted to pull off some cute hydra cheese against Sun, who was well prepared for such shenanigans and was having none of it. Sun managed to get a third up relatively quickly, despite the hydras on the map, and then utilised a high corsair count to tear Great apart with harass until he was ready to deal the finishing blow and win the game.

Bisu was the next out for SKT and he was pit against the hapless FireBatHero. Much to the dismay of many fans, Bisu opted for carrier tech, and despite some sloppy play was able to make them work, eventually picking through FireBatHero's defenses and taking the game. Soo sealed the victory for his team with an easy build-order victory over Peace. Much like the Effort/Action game from earlier in the week, Soo managed to bust Peace's expansion with ease and simply out-produced Peace, swamping him with zerglings to take down his main and close the series.


Khan dropped its second series of the week, this time to Team 8. Despite being out of contention for the playoffs, Team 8 put on a good show to take a win for their pride. The loss put Khan behind SKT, relinquishing the number one spot on the ladder to the greatest team ever to grace Brood War with their presence.
The real story of the night was the rookie Ryul2 winning his first ever televised game over a nervous looking Grape. Ryul2 utilized fantastic lurker drops to give him space to set up a lurker contain that is oh-so-tough to break on Sniper Ridge. Grape tried his hardest to get shuttles out, but Ryul2's multitasking was up to snuff and eventually he was able to bust in the natural and force Grape to GG.

Sea came out next and cheesed out Roro with a proxy-barracks play that Roro didn't scout until it was already too late. It was a much-needed win for Sea, who has been having a terrible season of late; hopefully this win will put him back in good spirits.

Finally, Jaehoon got some redemption for his terrible performance earlier in the week, taking out Jangbi in a surprisingly passive PvP. Jaehoon managed always to be one step ahead of Jangbi economically and eventually busting down Jangbi's natural and third base with ease. It was a good performance from Team 8, but far too late in the season for it to matter. Hopefully this is a good omen for the Team 8 players with the next season of SPL and OSL start up later in the year.

▲ Back to Top ▲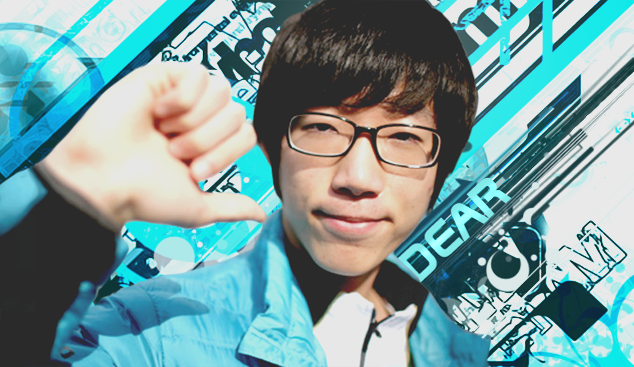 Oh Dear

God is dead
By: Riptide and Harem
There was a time when a young Starcraft progamer would need to make an individual league Ro8 to make headlines. Now, all you have to do is
beat Flash
. We wouldn't blame you if you hadn't heard of Dear before this season. Though he started off at eSTRO, he was drafted to Hwaseung Oz
in the October 2010 draft
and therafter moved to STX when Oz went down at the end of the 2010 – 2011 season. While he played in some MSTs and OSL prelims from 2009 – 2011, Oz only sent him out three times in Proleague last season. He went 1 – 2, losing both of the PvTs he played.
Broodwar insiders, however, knew him for his macro-oriented PvT, a PvT that took out Baby in the Spring 2011 Offline MSTs. One year later, his PvT takes out Flash and, suddenly, everyone knows his name. We're here today to show you that his Protoss vs Terran is more than just a flash in the pan.
Dear's all time PvT is 23 - 26 (46.94%), not a great record by any means. In Proleague this season, he is 7 – 1 (87.50%). This season, he has taken out firebathero, Sea and Light twice each, and, while he did lose to Flash in January, he returned less than a month later to send the Ultimate Weapon's TvP packing. A kid who was once known for playing a good macro-oriented matchup is now looking nearly unstoppable. What happened?
So, we speculate. Dear always had the potential to be a top tier Protoss. His MST prelim and Kespa Dream League 2011 (9-9) runs showed us that much. What he needed was practice and on-air experience and, after a year of that, he has finally come of age. It's not just his macro that makes Dear a solid Protoss, though. The bottom line is that he knows exactly what to do, and when to do it. While the STX Protoss' shuttle usage may be one of the most visual parts of his play, underlying it is flawless decision-making and solid reaction times.
And finesse.
How many Protoss go into a PvT planning to lose their reaver? Normally, when one loses a reaver, it's because of carelessness or bad control, but Dear purposely lost his reaver when
playing Light on Jade
. Without sacking the reaver, Light would have not allowed himself to grow complacent, nor would he have tried to push out onto his ridge like he did, this pushing out enabled Dear's follow-up eight-gate to roll Light into oblivion. This kind of foresight and planning is something rarely seen in modern PvT, which is really a shame.
Another point to consider when watching Dear games is just how he engages the mech ball. Instead of just suiciding and re-macroing like other Protoss, he counters and intelligently buys time. He does this either using recalls or by moving his army into places where T is weak, and then slowly picking the ball apart. You can really see this in action during
his game vs Sea on Electric Circuit
. If any Protoss players out there are having trouble PvT against huge mech balls then, they should watch Dear and study just how he positions his army.
So, what does the future hold for our young PvT prodigy? As always, only the slow progress of Proleague will tell us that. If the season so far is anything to go by however, Dear will be one of the rookies making a splash. Don't know much about the man? These Top Five games will bring you up to
shuttle
speed.
▲ Back to Top ▲
Previews, Round 3 Week 5

By: kjwcj
Current Proleague Prediction Challenge Progress:
Matches
Predicted
Actual
Gain/Loss
Current
3
Air Force Ace v. STX Soul
1 - 3
1 - 3
+3
SK Telecom T1 v. Samsung Khan
2 - 3
3 - 1
-2
Team 8 v. Woongjin Stars
3 - 2
2 - 3
-1
CJ Entus v. KT Rolster
2 - 3
1 - 3
-2
Air Force Ace v. SK Telecom T1
1 - 3
0 - 3
+1
Samsung Khan v. Team 8
3 - 1
0 - 3
-2
Final
0
+ Show Spoiler [The Rules] +
If I predict the winner and the result correctly, 3 points
If I predict the winner correctly, and the result is off by 1, 1 point
If I predict the winner correctly and the result is off by 2, 0 points
If I predict the winner wrong, and the result is off by 1, -1 points
If I predict the winner wrong and the result is off by more than one, -2 points.
Saturday, March 10th


SK Telecom T1 vs Team 8

SKT enters its final match of the season on a table-topping high thanks to Team 8's unlikely 3-0 victory over the previous leader, KHAN. SKT's imperious final round performance has propelled it past both KHAN and KT. In the match against KHAN, Team 8 looked like a team relieved of pressure; Ryul2's debut seemed like a new
expression of confidence
, embodying the sense of freedom that comes with no longer having any chance of qualifying for the playoffs.
The last meeting between these two teams ended with a 3-0 win for Team 8, thanks to some cleverly devised PvP strategies and a Jaedong five-pool. While Sea's victory over RorO showed that Team 8 still isn't afraid to cheese, it's unlikely that we'll see Team 8 deploy anything as devious as Jaehoon's two-gate, one-zealot expand used in a match when all that's left to play for is pride.
Although SKT's +15 game difference leaves it in a commanding position atop the table, only a 3-0 victory in their final match will mathematically guarantee the team a first place finish, and Coach Park's player selections may well be made with an eye to a clean sweep. The map order also favours a possible FBB 1-2-3, and if that line-up were to materialise, it's hard to see who on Team 8 (other than Jaedong) could possibly disrupt the momentum of the SKT war machine.
Every neutral fan will probably be hoping for another good performance from Team 8; if nothing else, it could help attract a sponsor in the off-season, and vindicate KeSPA's decision to form the team in the first place. The feeling of sentimentality-versus-reality is something that defines this match-up. Free from considerations of league table standings, will Team 8's good vibes be enough to combat the ruthless efficiency of an SKT line-up with such a wealth of experience under pressure?
My heart says, "Yes," but my brain says, "No".
My Prediction:
SK Telecom T1 3
- 0 Team 8
KT's intentions for its final two matches of the regular season may be somewhat divided. The game-difference gap between KT and the current leader, SKT, is such that, assuming SKT wins its match against Team 8, KT's only chance of finishing above them is to go 3-0 their remaining two games. With this match following immediately after SKT versus Team 8, KT will have the luxury of choosing its line-up depending on the possibility of snatching first place.
The potential need for a flawless victory runs counter to Coach Lee's apparent desire to test some of KT's less used players before the postseason switch to a best-of-seven format. While Perfectman's debut for KT may not have gone entirely to plan, it gave him a chance to shake off the nerves and rust that accrue during a seven month hiatus from broadcast matches, and KT's coaching staff will be hoping that he can register a win before the playoffs begin.
Another player who may be given an outing before the end of the regular season is HoeJJa; having played only three broadcast games in 2012 he has largely failed to make an impact this season, but proved his value in the later stages of 10-11. His ability to produce important wins could prove invaluable in best-of-seven games in which the depth of KT's line-up will be tested, but he may be hampered by not having played a broadcast match in close to a month.
The early season optimism that carried ACE to its reverse-sweep victory against KT seems like distant memory now. Without a win to its name since January, no one has high expectations for Ace against a KT line-up hungry to prove itself ahead of the playoffs. While the possibility of KT fielding some of its weaker players may allow ACE to improve on its 3-0 drubbing at the hands of SKT, the chances of a repeat of its opening day heroics are slim.
My Prediction:
KT Rolster 3
- 1 Air Force ACE
CJ's emphatic victory against KT has put the team in a position where it can guarantee a postseason appearance by winning its last two games, regardless of the results any other teams post. By contrast, STX no longer has any possibility of qualifying for the playoffs, but will hope to end on a positive note after what has been a somewhat encouraging season, featuring the emergence of the god-slaying PvT monster that is Dear.
Both of the meetings between these teams so far this season have been incredibly one-sided, the most recent ending in a 3-0 victory for STX during a relatively rough run of results for CJ. That win can, in part, be attributed to a weaker than usual line-up selected by CJ's Coach Kim, but it was also indicative of an STX team that has established exactly what its strengths are, and is formidable when given the chance to use them.
As such, since the beginning of the season we've seen Dear and Last shoot to first and second respectively on the versus-Terran leader boards, with Calm and Bogus sitting below only Stork and Bisu on wins versus-Protoss. With all of this taken into account, the key to this match will lie in whether or not STX is able to hit its favourable match-ups, with a recent 3-0 loss to SKT standing as an example of what can happen when STX's main players play outside of their respective comfort zones.
It's difficult to know what to say about CJ after its win over KT; while the team will have taken some heart from the manner of the victory, it's clear that KT did not field its strongest line-up, and there are still question marks over the performances of CJ's main players in some match-ups. Whether or not STX will be able to test these weaknesses is another matter – there are no players in STX's line-up who you would expect to especially challenge the CJ Zergs based on this season's results, and although Last's TvT may be a concern for Leta, CJ's Coach Kim is likely aware of this and planning accordingly.
Overall, CJ should be well able to see off STX. Whether or not the series will be a five-game thriller or another 3-0 blowout will largely come down to mind games between the two coaches, with CJ attempting to avoid playing any of the STX snipers in their preferred match-ups.
My Prediction:
CJ Entus 3
- 0 STX Soul
Remarkably, this is the only match of the final week in which both teams are in contention for a playoff spot. KHAN, having dropped to second place following a crushing defeat at the hands of Team 8, now looks likely to finish the season outside of the top two, but only another 0-3 collapse would put its place in the playoffs at risk. Stars will have a close eye on the CJ match that precedes their own and, in the case of a CJ win, Stars will need to defeat KHAN in order to have any chance of reaching the playoffs.
KHAN's line-up has looked like one of the deepest in Proleague this season, with the likes of TurN, Brave and Reality performing especially well as support for KHAN's two Protoss leaders. However, Jangbi's form will be a concern to Coach January, especially if he is matched up against one of Stars' Zergs. The OSL champion's PvZ performances this season, culminating in his recent loss to Chavi, make his 3-0 semi-final victory against ZvP sniper n.Die_soO seem like the result of good preparation rather than a revitalised understanding of the match-up.
Both of the previous matches between these two teams have been close run affairs, each with one 3-2 victory to their name so far. GosI(Flying) has emerged as a steady hand for Stars in fifth game PvPs, taking the deciding win in their recent matches with CJ and Team 8, and his ability to perform under pressure could be tested again.
As you would expect from a match between two teams with such close positions in the table, this is likely to be a very tight game that could go either way. Ultimately it may be a question of motivation. With KHAN's playoff place all but assured, Stars will be fighting desperately to give itself the best chance of beating out CJ in the hunt for that final postseason berth.
My Prediction:
Samsung KHAN 2 -
3 Woongjin Stars
Tuesday, March 13th



Team 8 vs KT Rolster
Depending on the top three's results over the weekend, this match has the potential to be a dead rubber. While a full strength KT line-up is unlikely to have too many problems dealing with Team 8, Coach Lee's selection could have a pronounced impact on how much trouble KT has overcoming its opponents.
The possibility of a second LeeSsang Rok of the season is something that may add some sense of significance to a match that, otherwise, has the potential to be something of a damp squib. The first time Jaedong and Flash matched up this season was an anti-climax to end all anti-climaxes; a little over six minutes and one control group of bio was all Flash needed to win the latest instalment of the greatest rivalry in modern Brood War. With only personal pride and the entertainment of the fans to consider, Jaedong will hopefully be able to put on a bit more of a show if the two are to meet again, although Flash's flawless 6-0 TvZ record this season implies that The Tyrant will have his work cut out for him.
Also key to this match are the two Team 8 Terrans. KT's supporting cast has struggled against Terran this season, with new recruits Mind and Wooki a combined 0-8 versus-Terran. BaBy's TvZ has looked vulnerable to early aggression with all three of his losses in the match-up occurring against two-hatch builds, but aside from Crazy-Hydra's free win courtesy of Light's barracks lifting blunder, none of the KT Zergs have shown a particular fondness for all-ins versus Terran in the past.
As we've already mentioned, KT will be eager to test the match readiness of some of its less favoured players, but Coach Lee will need to be wary of a Team 8 roster loaded with former Proleague aces, all playing without any burdens. KT's revival and ultimate triumph in 2010-11 Proleague showed the value of momentum, they will want their last step of this regular season to be their first on the road to the final.
My Prediction:
Team 8 1 -
3 KT Rolster
Wednesday, March 14th



CJ Entus vs Air Force ACE

Speculating on the possible significance of this match is incredibly difficult, with the top five places as tight as they are. Suffice it to say that, in the majority of possible scenarios and outcomes, this is a must-win for CJ. ACE has yet to win a single game when these two have met so far this season and there has been little in their recent performances to suggest that this will change in the near future. However, late season upsets have happened before and CJ can't afford to be complacent.
If it is to stand any chance of staving off another 3-0, ACE is going to need to use its strongest players early. Even in the event that they do make it to a fourth and fifth game, they will likely struggle against one of the deepest line-ups in Proleague. That said, ACE does have the potential to produce some match-ups that could unsettle CJ.
Kal's PvP has been one of ACE's best weapons in the second half of the season – although it hasn't been quite enough to secure them a win – and firebathero's recent return from his inexplicable two month disappearance from Proleague action means that ACE has a powerful weapon to wield against one of the CJ Zergs. Canata and PianO have also shown some solid performances this season and have the potential to upset even CJ's best players given the right circumstances.
While CJ's Coach Kim may look at this final match as a chance to give the likes of sKyHigh and Movie a chance to warm their fingers ahead of a potential playoff best-of-seven, CJ must be wary of the dangers of hubris at this stage of the season. A narrow victory against the weakest team at this stage of the season has the potential to be almost as damaging as a loss – CJ will need to crush this game if it wants to build confidence to carry the team into the postseason… and I have a feeling they will.
My Prediction:
CJ Entus 3
- 0 Air Force ACE
▲ Back to Top ▲
Art by fishuu
This edition of the SK Planet Proleague news write-up was brought to you by the amazingly talented SPL Writing Team consisting of riptide, HawaiianPig, Kiante, Mustaju, SirJolt, 2Pacalypse-, Carnivorous Sheep, Simplistik, Hyde, Kiett. Special thanks to guest writers Harem and kjwcj for their contributions. Have a great week!