Public Profile for endy
General Profile:
User name
endy
Photo
Joined TL.net
Monday, 4th of May 2009
Birthday
Country
Switzerland
Quote
ॐ
TL Posts
8963
Average Posts Per Day
1.74
Average Posts Per Week
12.18
Posts made in the last week
0
Liquipedia Contribution
endy's Public Profile: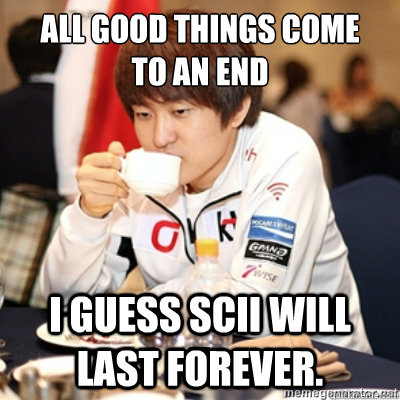 Paul Sams (Blizzard's COO) added, "We've always believed firmly that StarCraft leagues can co-exist with GSL, and we hope that MBCGame can continue broadcasting StarCraft tournaments and events ..."
... as long as they sign over their BW broadcasting schedule.
Nice try hypocrite. You're already lucky that BW superstars Boxer and Nada are bringing you a shitload of viewers for free. If SC2 could gather huge sponsors, it's only thanks to BW legacy. BW progaming in Korea is the most established esport scene in the world. And it's not thanks to your efforts Blizzard. Your job was to make a game, you did good, and you've been well rewarded by selling almost 5 millions copies in Korea only. Because the BW proscene is huge in Korea, it made SC2 the logical successor and that's how you ended up with 500k$ prize pool for the three first GSLs. Do you think Intel gives away hundreds of thousands dollars in every video game newly released ? Moreover in a foreign country ? It's only because the way was paved by the history of a successful progaming scene.
Please show some gratitude.
edit : MBCGame is dead and will be missed. R.I.P.
Fuck you Paul Sams.
*******************************************************
On September 03 2010 08:49 hazelynut wrote:


If I remember her correctly, endy's wife is extremely attractive. and to be honest, i think she's prettier than tossgirl.
*******************************************************
On October 31 2011 16:30 Rekrul wrote:


Yes you are correct that our own personal emotional/time investments into the game, the overall popularity, and the fervent clamor of the scene does make it more special and magical in our hearts.

That being true does not mean it's the only reason why SC is so awesome to us. Infact, it's at the very bottom of the list.

You have to remember, before all of us became obsessed with SC, we were just your average nerd gamers playing all sorts of games like quake, age of empires, diablo, etc. There was no sparkly magical world of pro-gaming, there was no Team Liquid, there was no emotional investment. But we just kept playing and playing and playing. Why? The game is fucking good on all levels. And you could attempt to counter argue saying that Counterstrike or Warcraft3 hardcore players could be saying the exact same thing.

But actually you can't. Why? With a few exceptions, almost every single person that I know that has played SC1 hardcore is an incredible person in one way or another. SC players are just a step above in intelligence from players of other games. SC players have lives and street smarts too. Hell, no one would even guess that most of us are gamer nerds at first glance. The demographic of people in the SC scene are many notches above the demographics of other games by a longshot in life(this is especially true for anyone that has played SC:BW on a high level). This isn't due to random variance, it's because the game is that "magical" to have captured the hearts of so many intelligent people. I can't count the amounts of retarded people I've met who like other games LOL.

Fuck yeah Rekrul !
TL Achievements : 510 points
+ Show Spoiler +