ESL Pro Tour replaces WCS on 3-year deal
by Olli
ESL and DreamHack have officially
announced
the ESL Pro Tour for StarCraft II. The tour will replace the WCS Circuit and has been confirmed as a three-year deal between ESL, DreamHack, and Blizzard. Blizzard are funding the tour with a guaranteed prize-pool of USD 1.8 million across the 2020/21 season. The tour will contain six Masters events per season and one concluding event in Katowice.
The first season of the ESL Pro Tour will feature these seven events:
IEM Katowice 2020 — February 24 - March 1, 2020

DreamHack SC2 Masters Dallas — May 22-24, 2020

DreamHack SC2 Masters Valencia — July 2-4, 2020

DreamHack SC2 Masters Montreal — September 11-13, 2020

TBA — December 2020

DreamHack SC2 Masters TBA — January 2021

IEM Katowice 2021
There will be separate Korean competitions, which confirms that the region-lock system of the WCS Circuit is kept in place, at least for the 2020/21 season. ESL did not confirm whether they would still operate under the GSL brand. Two of the six Masters tournaments will be held as global tournaments, similar to how IEM Katowice operated in the WCS Circuit.
IEM Katowice, starting in 2021, will serve as the "replacement" for the WCS Global Finals, crowning the StarCraft II world champion. IEM Katowice 2020 will also be included in the first season but function as a regular Masters event in the tour as ESL were committed to including it into the 2020/21 season so as not to "devalue" the tournament.
IEM Katowice 2021, the crowning event of the ESL Pro Tour season, will be a 36 player tournament with spots allocated as follows: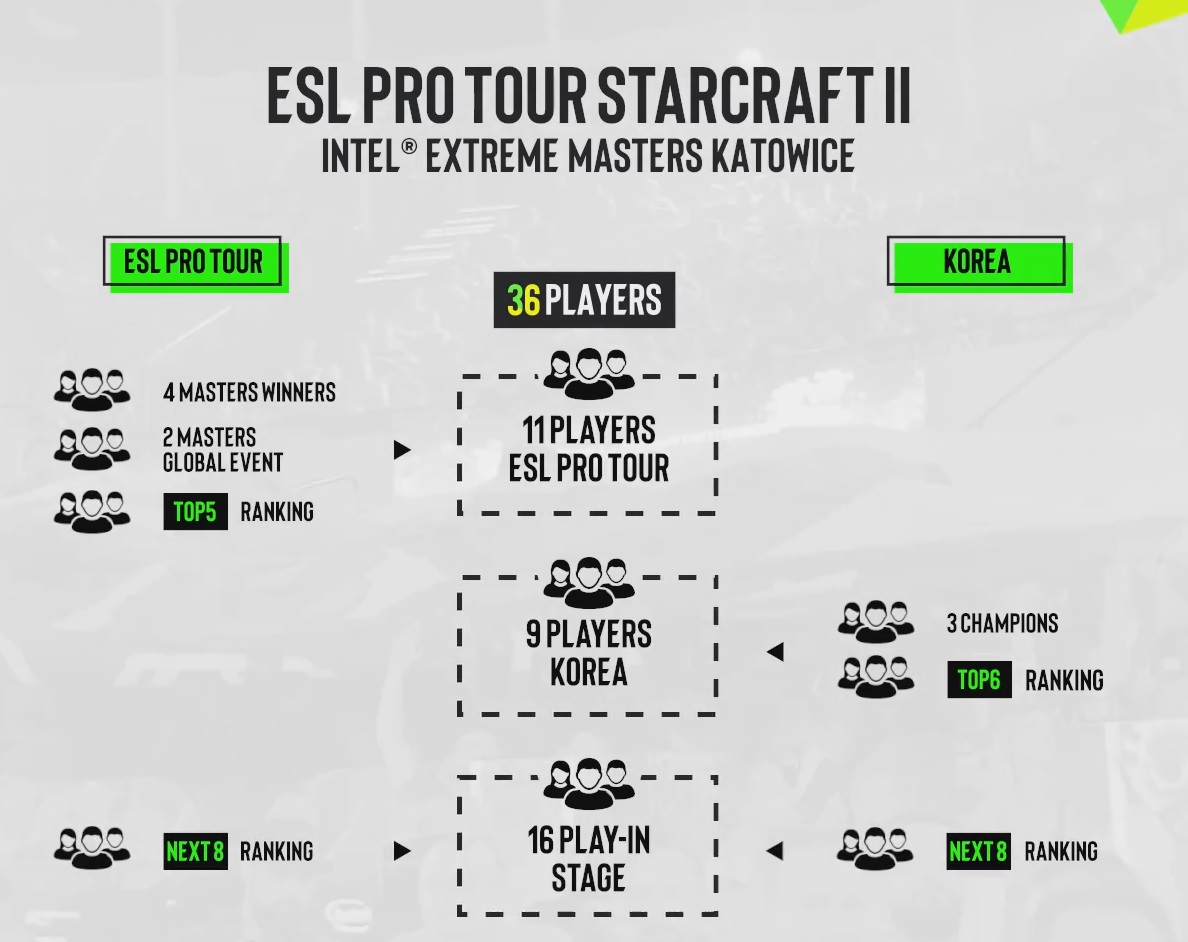 The biggest change from the WCS Circuit is the newly introduced Play-In Stage, made up of the 8 highest ranked, not yet qualified players of each region at the end of the season. Asked about the thought process behind its introduction, Shaun "Apollo" Clark told us that ESL had felt "[BlizzCon] slots were sometimes decided too early" and the Play-In Stage was supposed to prevent scenarios in which only a single (or no) spot was still there to play for in tournaments later in the season. If a Masters champion, already qualified for IEM Katowice 2021, wins a global Masters tournament, an additional spot will be added to the Play-In Stage to avoid complications over allocation.
ESL have confirmed that third party events like HomeStory Cup or ASUS ROG are welcome to join the tour, in which case there is a possibility for their tournaments to award Pro Tour points.
With Blizzard no longer in full control of the brand, Apollo confirmed that ESL and DreamHack would have greater creative freedom, citing IEM Katowice as an example of how talent at Pro Tour events might be given greater license to "mess around and have fun".
Prize Pool Distribution overhauled
Big changes from the WCS Circuit also include a re-distribution of prize money and tour points, a re-allocation of Major qualifier spots in favor of the European region, the integration of online Weekly tournaments into the system. The latter was described by Apollo as a "re-branding of Go4SC2", awarding both prize money and a small amount of Pro Tour points.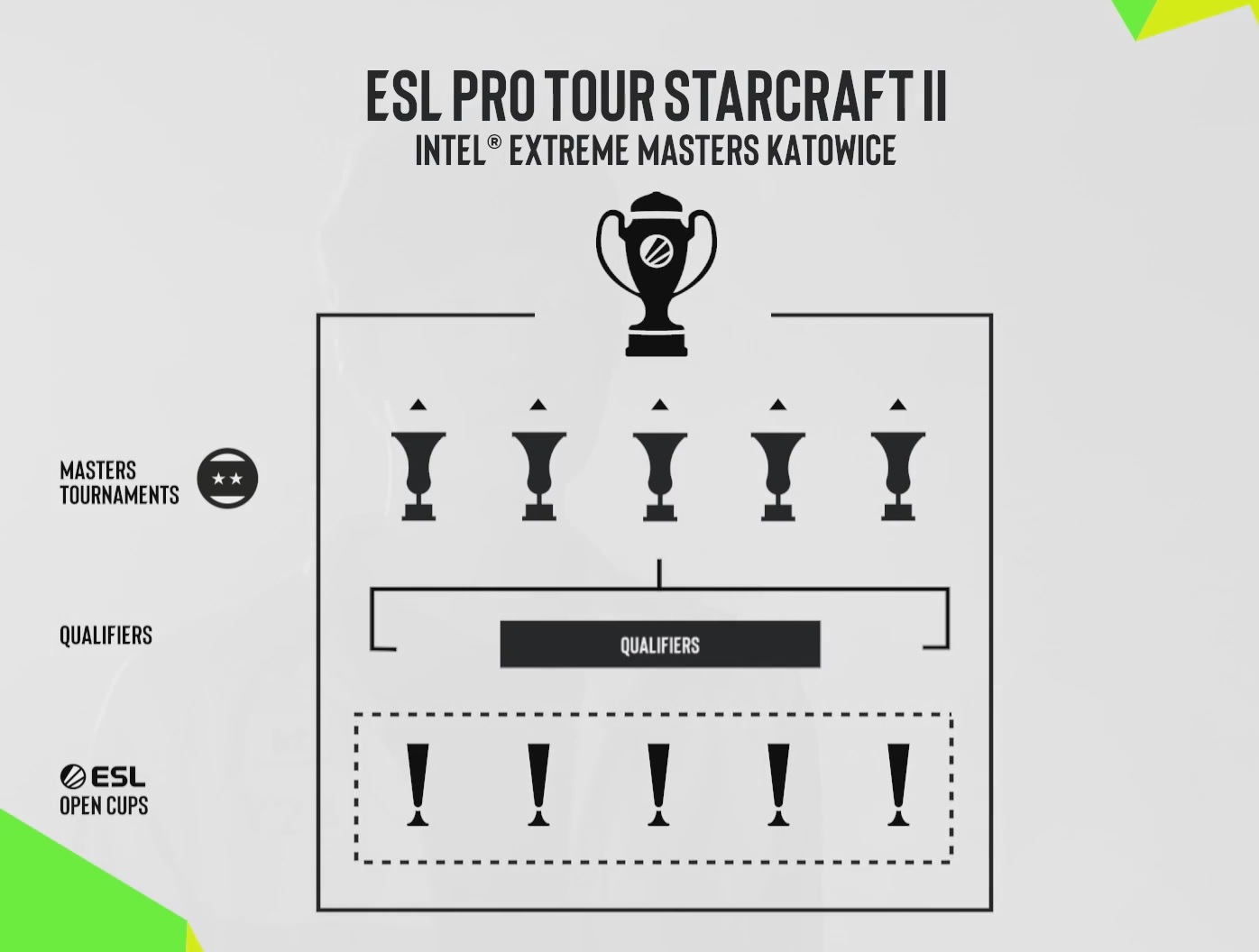 Qualifiers will take over from WCS Challenger, with the EU region now allocated seven spots instead of four. This decision, Apollo says, was made after evaluating previous results of players from all regions in WCS tournaments: "Usually in group Stage 3 it was mainly Europeans. So we felt the re-balanced distribution fits a reality of what the skill level is within these regions." North America (4) and Latin America (2) will retain their spots, but Oceania (1), China (1), and Taiwan, Hong Kong, Macau & Japan (1) each have one spot re-allocated to EU. All spots are fully funded, including travel and accommodation.
On the re-distribution of prize money, Apollo commented:
"We thought it was super top-heavy with points and prize money distribution. So someone like Serral would go through Challenger, get the most amount of money from it, win a fully funded trip to an event, additional money from already seeding highly in the tournament, and it was just 'the rich getting richer'. What we have looked to do is re-balance the entire system according to the distribution we have for Katowice. If you look at Katowice, the prize money distribution usually runs very deep.

In the 2019 WCS Fall Challenger, Serral was first with $1600 — in the new system this is $1000 and the rest is pushed all the way down. So we get much flatter distribution.

In the main event at 2019 WCS Fall, the Top 32 were getting paid — in our new system Top 64 get paid. Top 32 at WCS Fall got $1250, below that you got 0. Now Top 32 get paid $1000 still, but Top 64 still gets you 200."
We will publish a more detailed post breaking down the distribution of prize pool and points on TL.net soon.
On Region-Lock...
The region-lock system may also be subject to an overhaul in the future. Asked about future plans for the region-locking system, Apollo said on behalf of ESL:
"We think that StarCraft II is definitely in a position where a conversation about region-lock should be held. Our agreement and partnership with Blizzard was only completed recently, so it would have been a lot to ask for us to readjust and make any drastic changes to the existing system in such a short time. That means for the first season it will stay the same, but we are going to have an honest discussion about it for later seasons."
Asked for his personal opinion on the region-lock debate, Apollo added:
"It feels to me, when looking at the amount of fresh blood and players coming into the system, there doesn't seem to be a swarm of new players coming in in Korea. But we would hope StarCraft II keeps running well in Korea and, at this point, it might be starting to get suffocated. I don't think the same fears of Koreans flooding tournaments and winning everything are still as relevant. So it's something I would want to have a real look into."
---
ESL have launched an official website detailing the Pro Tour at
https://pro.eslgaming.com/tour
.
An official ESL Pro Tour rulebook is set to be published before IEM Katowice 2020, likely within the next 4-6 weeks.
---
Credits and acknowledgements
Written by:
Olli
Photos: ESL