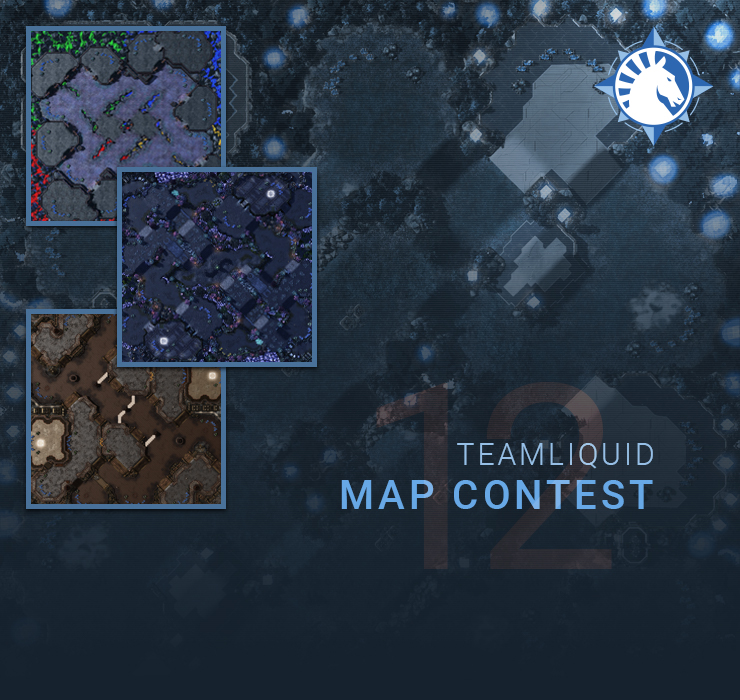 With this announcement, Team Liquid Map Contest #12 has officially come to an end. Below you'll find the most popular maps according to you, our community. The voting this year was as close as ever and the community was split, not a single map went without getting 5 points from at least a few top votes.You'll find the results below but keep in mind that the winner here isn't necessarily guaranteed a spot on the ladder, that is up to Blizzard in the end.
However, the prize pool, although supplied by Blizzard, is something the community fully controls. All of the top 16 entries will net their creators $100 for making it that far but the top 5 will receive a bit extra:
1st - $500
2nd - $250
3rd - $125
4th - $75
5th - $50
Now, without further ado, here are your top 5!
(Click to reveal the winners)
⇓ Fifth place ⇓
⇓ Fourth place ⇓
⇓ Third place ⇓
⇓ Second place ⇓
⇓ First place ⇓
We, the organizers, want to start off by thanking Blizzard for their continuous involvement in the Team Liquid Map Contest. This year we were
featured in the client
for the first time and we believe that's a great step for this competition to take. It attracts newer users and our goal is to make the entire StarCraft 2 community happy, not "just" the TLnet community.
We also want to thank the mapping community for coming back to us every year. The maps this year were all incredible, in their own way, and we saw some of the prettiest maps to date. Moving forward, we want to make sure you're happy with this competition and will therefore host a quick survey for the map making community, so we know what we still need to work on improving. The survey will go live in about a week and we'll make sure it reaches as many eyes as possible.
Last, but definitely not least, we want to thank all the admin staff that has helped out. The pro players and the representatives from the map making community. As I wrote in the Top 16 announcement post: without you none of this would have been possible.
See you all again for TLMC #13!
+ Show Spoiler [Full results] +
Acropolis

Ephemeron

Disco Bloodbath

Triton

Winter's Gate

Heatwave

Black Baroque

World of Sleepers

Operation Lockdown

Bandwidth

Thunderbird

Rest Calm

Neo-Tokyo Turbo Cruise '84

Collision Course

Break Out

Mungyeong Saejae