TargA and
StarDust Advance
by lichter
One of the more bizarre trends in all of WCS continues: We have yet to see a repeat player in the Round of 8 for WCS EU. Not a single one. Both seasons have seen completely different sets of players, and our first two advancees are once again Round of 8 debutants. TargA and StarDust advanced, the latter even playing an extra game in the process, to ensure that this odd pattern continues for now.
Disclaimer: Due to ESL's mysterious lack of VODs today, this recap was brought to you by lichter's vivid imagination, fragments and scraps from the TL LR Thread, and stuchiu's hazy memory
Detailed results from the live report thread by Denar
+ Show Spoiler +
Happy vs TargA
Happy
TargA
Happy
TargA
Happy
TargA
TargA wins 2-0!
Welmu vs StarDust
Welmu
StarDust
Welmu
StarDust
Welmu
StarDust
Welmu wins 2-0!
Winners' Match
TargA
Welmu
TargA
Welmu
TargA
Welmu
TargA wins 2-1!
Losers' Match
Happy
StarDust
Happy
StarDust
Happy
StarDust
StarDust wins 2-1!
Final Match
Welmu
StarDust
Welmu
StarDust
Welmu
StarDust
StarDust wins 2-0!
---
TargA and
StarDust advance to WCS EU Premier Ro8!
Happy vs TargA started the day on Polar Night, and it looked like a fairly standard reaper expand at the onset, but 2 barracks after the cc and a late third expand allowed Happy to quickly get stim, 20 marines and 10 hellions. A two pronged drop and hellion runby caught TargA unprepared, killing 21 drones, but TargA was still able to stay ahead. Both players focused on their economy with some harassment, but Happy's lack of pressure, aside from his drops, allowed TargA to reach his 4 base hive comfortably. Happy did have his own 4 bases, but constant mutalisk harass and ling runbys limited his economy to around 30 SCVs for most of the game, leaving him with a small army unable to overwhelm the Zerg, and gg was called. Game 2 on Whirlwind was a quick one, as TargA duped Happy with a clever queen at the front, making it seems like a 4queen build, while it was actually a roach rush. Happy on his end was busy getting blue flame hellions, and it resulted in disaster. When the attack was done, he had 5 SCVs left and was forced to gg.
The other match featured Grubby's first gig as a WCS EU Caster this season, and it was a good match for him as it was a PvP between StarDust and Welmu. The former opted for an oracle build on Derelict Watcher, but despite Welmu's 2gate expand, the Finn was able to position his army well enough to limit the damage to 3 probes. StarDust was able to stay ahead in supply for most of the game, but Welmu's investment in upgrades and infrastructure proved to be too much in the eventually fight as his reinforcement rate was able to roll over StarDust's army. Welmu completed his 2-0 despite allowing his quick dark shrine to get scouted. StarDust did claw back with a huge number of colossus, but DTs in the main, in the natural, and in the middle of the fight--when do we ever see DTs killing colossus!?--against too few observers led to his doom.
Both players in the Winner's Match looked strong, but TargA's solid defense triumphed over the aggressive Welmu. The Protoss showed one kind of aggression in the first game on Derelict Watcher, with early zealot pressure into DTs overwhelming TargA despite his presence of mind to get well timed spores. Welmu followed that up with more ruthlessness on Bel'shir, employing sOs' famed cannon rush. TargA responded well by simply re-expending and droning heavily, and he was able to take advantage of Welmu's decision of following that up with a lightweight immortal push by cleaning it up with minimal losses. The game did go on longer, but a rare Broodlord cameo was too much for the Protoss to handle. In the final game on Frost, TargA was able to go 3hatch before pool, and was aware enough to stop Welmu's phoenix zealot harassment with speedlings and queens. The investment put Welmu's tech far enough behind that he resorted to mass void rays, but by the time he had enough, TargA had macro'd up an unbeatable Ultra-Infestor-Queen-Hydra army. Welmu's composition faltered in the face of the swarm, and TargA advanced in as the first person in the Round of 8.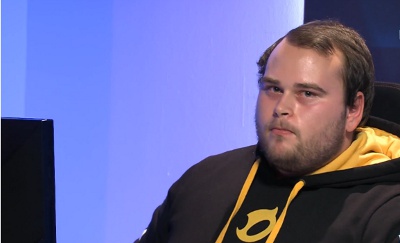 Targa is ready for his next victim in the Ro8
In the loser's match, Happy and StarDust split the first two series with desperate attacks each. StarDust won Game 1 on Whirlwind with an immortal bust, Happy's poor bunker placement and slow SCV pull to repair doing him no favors. The Korean Protoss switched things up completely in the next game with a nexus first, but a rare 2 Part SCV Choo Choo Train inexplicably worked despite 4 colossus, a ramp, and time warp. The split continued on Game 3 as it resulted in a draw. A massive base trade ended up with StarDust probeless, baseless and seemingly hopeless, but his fearsome army was still too much for Happy to kill off. Happy did have mining, but his impatience allowed StarDust to scrape for the draw. His cloaked banshees usage was repeatedly careless, and his inability to sustain prolonged mining let StarDust pick off units little by little. Happy tried to rid StarDust's anti-air with a desperate attack, but the banshee fell in the process, and the players were forced to play another game. This time, StarDust attempted a big gateway timing attack to punish Happy's early expand. Despite spotting it early, poor bunker placement allowed StarDust to do just enough damage to transition with a slight lead. His upgrade advantage proved to be the difference; even though Happy was able to snipe the main Nexus, he could not hold the eventual attack with 1-1 against 2-3. StarDust earned himself a rematch against Welmu after a tiring 4 game series.
It didn't look good for StarDust though, as he faced Welmu, who seemed imperious in PvP after their first series. He was poised to become the first Round of 8 repeat in WCS EU, but it was not to be, as his harass in both games was insufficient. His DTs in Game 1 on Bel'shir were able to inflict significant damage even until the late game, but supply in probes is meaningless when you can't stop the deathball from rolling through you. StarDust's larger army and better big fight control overcame his early disadvantage, giving him his first PvP win of the day. He didn't keep WCS EU's viewers up any longer as he finished off Welmu on Derelict Watcher. Once again, his superior control in engagements coupled with his patented two base aggression won him the day and his first trip to the Round of 8.
It wasn't quite a convincing day for the DreamHack Summer champion, but duckdeok's similar form in Season 2 should show the Korean Protoss that it's better to peak late and survive early than convince in the group stages. TargA meanwhile earned himself his best result since DreamHack Valencia 2012 (Ro4), and he'll be looking to make a splash in the knockout rounds to continue what looks to be his break out season.
Group B Preview: Vortix, Babyknight, MC, Thorzain
by Plexa
Group B goes live in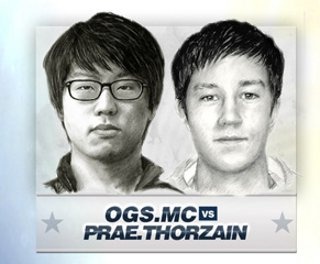 Remember this?
TSL3 fans rejoice! We have a guaranteed MC vs Thorzain match in this group, and there's a gambler's chance that we get to see them play twice. This match should be the big draw of the night, however Vortix and Babyknight will open the entertainment for the evening. But the way I see things, neither of these two opening matches will offer much satisfaction for the fans. After that things should get a little more interesting.
Babyknight has been a WCS regular this year, however both times he's been eliminated it's been at the hands of a Zerg. In S1 he went out 0-3 to Stephano and in S2 he went out 1-2 to Ret in the deciding match of their Ro32 group. But more than that, Babyknight has never been known for his PvZ and hasn't had the best showing in the matchup of late -- including a loss to Vortix in the SC2L. Meanwhile Vortix has been performing well above what was expected from him coming into this tournament. Vortix hasn't had the best time in ZvP either, but his losses have come about to stronger players than those that Babyknight lost to. As such I don't expect this series to be close; Vortix may not look absolutely dominant in the individual games, but I expect him to come away without dropping a map.
Thorzain vs MC is remarkably similar to Babyknight vs Vortix. Thorzain just can't seem to win against Protoss when the stakes are high. You only need to look back to his games in the Ro32 to be reminded of this fact. MC also hasn't looked like the GSL winning monster from his heyday, but that's not to say he isn't playing well. Modern MC appears to lack the ruthless killer instinct that defined his career early on, instead he is able to get small edges early on and carry those through to wins later in the game (often using cute strategies to get there, e.g. proxy oracle). And of course, he's not above doing a 2base or even 3base timing push if deemed the best move to make. The games will probably go to mid game and Thorzain will look like he might be able to take a game, but MC should be in control of this series from start to finish and take the series, also without dropping a map.
Vortix vs MC is a difficult matchup to call without looking at Vortix vs Babyknight. That first series should say a lot about Vortix's form in the matchup. MC hasn't shown dominance in PvZ lately, but if Vortix is not playing to the best of his ability then MC could very well walk away with a win. MC showed in the Ro32 that he's very happy to play against Zerg in the ultra-late game and of course we know MC is capable of playing aggressive early on. That kind of flexibility forces Vortix to be playing his best in order to best take advantage of any mistakes that MCs makes coming into the midgame. With that said, I have confidence in Vortix's current shape that he should be able to edge out a win over MC and take a spot in the Ro8.
Thorzain and Babyknight met in Season 2 where Babyknight walked away the 2-0 victor. This season I expect this series to be much closer. While Babyknight seems relatively about the same level of skill as he did in Season 2, Thorzain looks to be playing a lot better. Yeah, this is still a TvP so Thorzain isn't going to have a great time. But much like his series against Welmu, he should be able to take a game from Babyknight who's PvT looked more than a little shaky in the Ro32. My bet is that Thorzain will continue to be haunted by the matchup, but Thorzain has a habit of proving me wrong and might just be able to take this series after all.
Finally, if things work out as I expect, we'll see a match between Babyknight and MC. I feel the two are very evenly matched in PvP right now. Both players have recently illustrated that they're capable of beating good players and factoring in the fact that it's PvP I feel that the series can really go either way. With that said, MC's list of opponents looks impressive than that of Babyknight's. As such, I'm predicting MC will come away with a narrow win.
PredictionVortix
2-0 Babyknight
MC
2-0 Thorzain
Vortix
2-1 MC
Babyknight
2-1 Thorzain
Babyknight 1-2
MCVortix and MC to AdvanceUpcoming GroupsSept 26:
ForGG
,
ShoWTimE
,
Nerchio
,
Genius
Sept 27:
MMA
,
Starbuck
,
TitaN
,
duckdeok