Genius and
Starbuck Advance
by Plexa
Season 3 claimed two more fan favorites yesterday – both Grubby and Lucifron fell to the rising talent Starbuck. Genius topped the group defeating Grubby 2-1 and Lucifron 2-0. The big surprise of the group was Starbuck rallying back 2-1 against Lucifron after losing to him in their first meeting 0-2 in one sided games.
Detailed results from the live report thread by Lorning
+ Show Spoiler +
Grubby vs Genius
Grubby
<
Akilon Wastes
>
Genius
Grubby
<
Bel'Shir Vestige
>
Genius
Grubby
<
Yeonsu
>
Genius
Genius wins 2-1!
Starbuck vs LucifroN
Starbuck
<
Bel'Shir Vestige
>
LucifroN
Starbuck
<
Yeonsu
>
LucifroN
Starbuck
<>
LucifroN
LucifroN wins 2-0!
Winners' Match
Genius
<
Yeonsu
>
LucifroN
Genius
<
Whirlwind
>
LucifroN
Genius
<>
LucifroN
Genius wins 2-0!
Losers' Match
Grubby
<
Derelict Watcher
>
Starbuck
Grubby
<
Yeonsu
>
Starbuck
Grubby
<>
Starbuck
Starbuck wins 2-0!
Final Match
LucifroN
<
Bel'Shir Vestige
>
Starbuck
LucifroN
<
Akilon Wastes
>
Starbuck
LucifroN
<
Frost
>
Starbuck
Starbuck wins 2-1!
---
Genius and
Starbuck advance to WCS EU Premier RO16!
As predicted in our
Group D preview
, the Genius/Grubby match was an exceptionally close affair. Grubby opened the night with a win against Genius in a long macro game. Both sides jostled for position with maxed armies until Grubby took a gamble by taking a fifth base before Genius. Rather than play catchup, Genius decided to act to shut the base down which allowed Grubby to catch Genius' army out of position and gain a large advantage. With a superior economy and better army Genius could do nothing but concede.
The second game was rather similar in the sense that it ended up as another long macro game, but there was one key difference; Grubby added void rays to his army. Genius was able to catch Grubby's army horribly out of position and annihilate it and cruised to a victory in game 2. To close out the series, Genius used a very well thought out cannon rush on Yeonsu which, to me, tells me he took preparing for this series seriously. Grubby missed the cannons and couldn't do anything to save the situation.
The first set of games between Lucifron and Starbuck were, bluntly, an abysmal showing from Starbuck. Later on we'd learn through his interview that he was nervous and not playing his best. But in two macro games Lucifron was able to assert dominance and cruise to the winners match with no problem.
Lucifron's TvP has been his Achilles heel for some time now, and the winners match vs Genius indicated that this is still the case. The first game of the series was a rather haphazard proxy reaper-proxy mine strategy. Genius did an excellent job not taking damage from the early reapers and completely denied any significant damage from the mines. He also had a pylon across the other side the map which he used to warp in a handful of units into Lucifrons empty main and strolled to an easy victory. The second game had Genius become the aggressor with a gateway timing off of two base. Despite Lucifron scouting it and getting bunkers up in time, Genius was able to walk right past them and into his main. From that point he was able to pick away at stuff until Lucifron rolled over and conceded.
My preview mentioned that Starbuck was exceptionally strong vs Protoss and his series against Grubby was a validation of that. In two monster macro games, Starbuck was able to show the world that he means business. The first game had Starbuck use +1 attack zergling aggression to stall Grubby's third base. The pressure on Grubby's third gave way to a gap in his natural wall, which allowed Starbuck to kill of a handful of workers. The game progressed to where Starbuck was able to soft contain Grubby to the point where Grubby had one big push left in him. Grubby pushed to take out Starbuck's fifth, but Starbuck was able to get an amazing surround and take the win.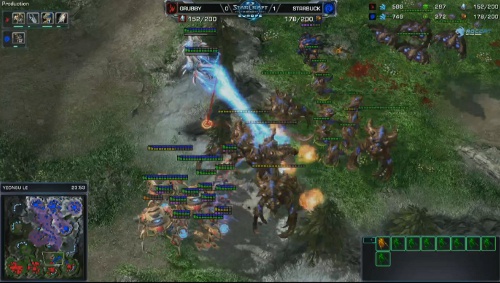 The second game between Grubby and Starbuck was an excellent one
The second game on Yeonsu was an exhilarating match the moment Grubby moved out with a warpgate timing attack. Starbuck and Grubby fought tensely for position over the technical landscape. Grubby conducted some good zealot harass while Starbuck used vipers well to deny Grubby from getting a scary colossus count. Eventually Starbuck won the war of positioning when he was able to secure the space between Grubby's third and fourth (pictured above) with a broodlord/ultra/viper/hydra maxed army. This positional advantage was translated into a series win, and another shot at Lucifron.
Despite being pegged as a cheesy player, it was only in this final set against Lucifron that he turned on the cheese. The first match saw him use a well timed roach/bane attack to gain a significant worker lead. While Lucifron played an exceptional game from this point, he was unable to recover from the severe worker deficit and eventually conceded. The second game had Starbuck attempt to do a one base roach rush – Lucifron scouted it early and crushed it with relative ease.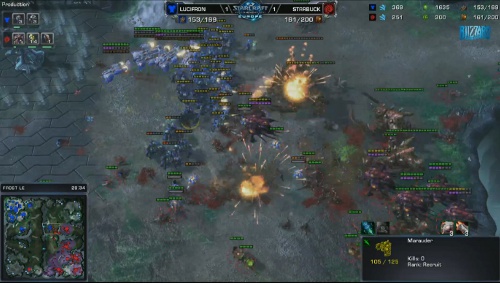 The final game of the night on Frost
The final game of the night was without doubt the best game of the night, and possibly the best game of the tournament so far. Lucifron and Starbuck engaged in an all out macro war on Frost. While both sides made mistakes during the match, it was a superb game of Starcraft. Lucifron did his best Innovation impression with a scary 4M push coupled with tons of harass trying to shut down Starbuck's fourth/fifth bases. Starbuck fought back with muta/ling/bane and eventually moved into ultralisks. He too did a ton of counter attacking and harass which eventually took the wind out of the sails of Lucifron's 4M push. From there he was just able to eek out a memorable win. If Frost continues to create such epic games with back and forth action, I hope it sticks around for a while.
With both Grubby and Lucifron out of contention for a top 16 spot, it seems very unlikely that we'll have any non-Korean representation at the grand finals. I have to admit, this does make me a little bit sad. But it isn't the fault of the lack of a region lock or anything like that that has caused this. Europe failed to hold against itself: Naniwa fell to Targa, Grubby and Lucifron fell to Starbuck while Happy and Showtime were able to successfully defeat their Korean opponents. The problem with the players who have done well in WCS EU is that they have lacked the consistency required to perform for a full year (or build up enough of a buffer in a single season to make it through). Perhaps this speaks to the volatility of Starcraft 2 or perhaps it simply reflects just how competitive Europe is as a region.
Group E Preview: Welmu, Bling, Thorzain, Slivko
by Plexa
Group E goes live in
Group E may not be the most interesting of groups on first appearance, but I wager that this group will produce the closest matches we've seen in the tournament so far.
BlinG
is probably playing the best Starcraft of his career right now, while
Welmu
is arguably the best non-Korean Protoss in Europe (alongside Naniwa).
ThorZaIN
, despite returning to school, could bring out another big tournament run like we know he's capable of doing.
sLivko
is one of the most under rated Zergs in Europe who made it into this tournament with wins over Nerchio and Genius.
To open the night we'll have Bling and Welmu going head to head in what should be another very difficult to predict series. I wouldn't have thought that this series would be close if this was being played last season, but Bling has really stepped up his game recently. Within the last two months he's taken wins over Mana, Babyknight and San which makes me more than a little nervous for Welmu. Welmu is certainly a capable PvP player – you don't take games off of MC and Rain by being bad at the matchup – but I'm not totally sure that he can get past Bling with ease. Still, I feel Welmu is the better player and will narrowly edge out Bling 2-1.
Slivko and Thorzain should also be a close encounter, but for the opposite reason tot he previous series. Both Slivko and Thorzain haven't been playing as well, relative to their skill earlier in the year, and thus it's difficult to predict who's going to show up with better form. I concede that both players did qualify for the tournament and that that counts for something – but for Slivko those games were a month ago and prior to Thorzain's 2-1 2-1 in his challenger group he had a winrate of around 40%. With that in mind, and factoring in the survival rates of fan favorites this season, I'm going to predict a narrow victory for Slivko.
With how Bling and Welmu have been playing recently, I expect them to be able to defeat whoever they come up against in their respective matches. Both players have looked better than the other two recently, hence I expect close but clear victories. I guess the exception to this prediction would be if Thorzin wins his games against Slivko in impressive fashion. That would indicate that an in form Thorzain is around and with PvT being Welmu's statistically worst matchup, I wouldn't be surprised to see Thorzain win in this instance. That said, I don't think that Thorzain is at peak form, and I don't think that this scenario will eventuate.
Prediction:Welmu
2-1 Bling
Thorzain 1-2
SlivkoWelmu
2-0 Slivko
Thorzain 0-2
BlingBling
2-1 Slivko
Welmu and Bling to AdvanceUpcoming GroupsSept 12:
HasuObs
,
Shuttle
,
TitaN
,
Nerchio
Sept 17:
MMA
,
TAiLS
,
BabyKnight
,
KrasS
Sept 18:
MC
,
FireCake
,
StarDust
,
Kas