http://www.youtube.com/watch?v=3OmpnfL5PCw


There is a fair number of "Will it X" type shows around these days, but really nothing for SC2 at the moment. We all know that the game is young and that anything could be viable (as seen by AugustWerra's BC rush against Iron) so the question naturally arises - what strategies work, and what strategies do not work.

The idea is simple, pick a counter intuitive strategy, get 5 games of it in action and determine whether or not the build, strategy, unit composition - whatever - is viable in a competitive setting.

My credentials? I'm a Protoss player. I've watched over 600 replays since the start of retail (no joke). I'm #41 on the SEA server (although I've been laddering on euro recently). I regularly play practice games against Jimdiddy (Zerg on SEA, #30 at the moment but was top 10 last week), Camlito (Zerg on SEA, #43), Youngminii (#52 on SEA, Protoss, has been top 30), Pachi (terrible Zerg on SEA

adorable staff member though), Saracen (Zerg on NA, top 100) infinity21 (top 100 Terran on NA) and Corinthos (another good Terran on NA). Occasionally I get games with better players like Naruto (who is awesome) and I bounce ideas off of Nazgul and Jinro occasionally.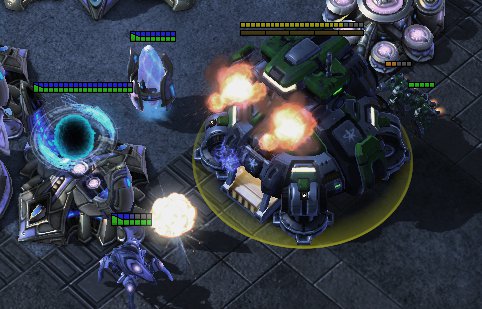 Planetary Fortress Rush - Is it Viable?


So by now we've all seen TLOwnage and we all know that a PF rush is an amazing humiliation strategy. However when you try to pull it off yourself you will quickly realise that no, Planetary Fortress Rushes just do not work. At least not in the same way that TLO made them work in his placement matches.

So as usual, I was on the bus thinking about SC2 strategies contemplating the uses of the Planetary Fortress. What we know is that the PF is ridiculously strong, and with a few SCV repairing they are immortal. So how can we exploit this, and in particular, how can we exploit this against Protoss? I was thinking some kind of PF proxy in the Protoss natural after a Bunker contain - it seemed viable since no Protoss in his right mind would attack into a bunker or two full of maraduers/marines. But then TheStC did the Theorycraft for me:

Replay: TheStC vs Lyn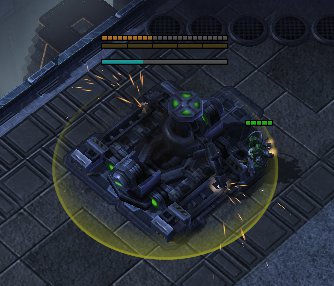 The Proxy CC - an integral part of the strategy


TheStC is well known for his incredibly abusive TvP play, this build lives up to that perfectly. Lyn plays a 1 Gate 1 Robo expand build, not the best fast expand build in the world, but certainly viable against most Terran builds. StC counters with a 2rax/PF rush - and wins beautifully.

The build works because the Protoss needs to work out where to dedicate his forces. If he tries to hold the expansion - he will die, so that's out of the question. Next, he needs to decide whether he wants to defend the Marauder/Marine/SCV push or the Planetary Fortress that is building in his main - he can't split his forces since he has so few troops. It's absolutely brilliant - but is it a one off build? Or is it actually viable even if you know it is coming?

The build theStC used was as follows:
+ Show Spoiler +

- 10 Depo
- 12 Rax
- 13 Scout (don't lose it, you'll need it to proxy a CC)
- 15 Gas
- 15 Rine
- 16 OC
- 16 Depo
- 16 Rine
- 18 Rax
- 19 Tech Lab
- 20 Marauder
So far the build is very standard, but then
- 23 Proxy Command Center
- 23 Reactor
- 23 Marauder
- 25 Depo
- 25 Concussive
- 25 SCV
- 26 E-Bay (hidden, if possible)
- 26 Marauder
- 28 SCV
- 29/30 Rine/Rine
- Move out to clear any scouting Probes
- 31 Maraduer
- 33 Depo
- 33 SCV
- 34/35 Rine/Rine
- Rally both barracks to P natural, move forces into attacking distance
- 36 SCV
- Around now your CC should finish, float it over to the P main
- Send 7 SCV + reinforcements to your troops
- As the CC comes into Protoss view, attack with forces, land the CC and start a PF immediately (it has a shorter build time than a Zealot...)
- As a variation, you can time it so that you load 5 SCV into the CC as it completes so when it pops you can repair it easier (the Corinthos variation!)



Unfortunately, I don't play Terran. But, I have many friends who do. Corinthos, the living streaming legend, agreed to help test out this build. He too was sceptical, until he saw TheStC execute it. So the next few games would be a true test for the build.

Game 1 - PF Rush vs my standard 3gate-Robo/expand

Replay

I don't think Corinthos had the timing exactly down like TheStC did, since I'm pretty sure his CC float was late. But we spawned close positions on Metal which made hiding the CC pretty difficult, nevertheless he manage to keep it hidden from my obs. His attack had more units than TheStC did too - nevertheless the rush came and...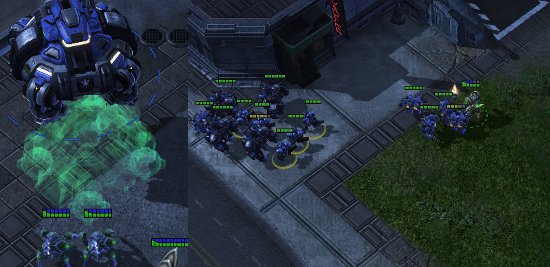 Double Threat


For starters, I had to cancel my expansion - alright. Then I FF'd the ramp while trying to kill the CC and it morphed into a PF. The FF died, the units came up the ramp and I pulled my units off of the CC (probably a bad move, I don't know) and killed the units - but by then the PF had finished and 3 SCV had start repairing it and it was game over.

I was astounded at how quickly the game was over. You'd expect that a PF rush would be a slow agonising death, but no, it was a quick and painful slaughter. Just like Lyn, when you expand quickly you just don't have the units to be able to defend both places at once which ultimately cost me the game. What scary is that this wasn't even as refined as it could be.

Game 2 - PF Rush vs same as before

Replay

Corinthos was still working out the timings here, I went for a later expo (around 55ish) since I scouted some pressure, and his proxy CC was planted at 33. This was never going to work, and it didn't. The rush was easily fended off. Further, his decision to proxy at 7 was bad - the CC needs to be placed closer, like at the gold or the other main (we were cross positions again, hence why he tried to proxy elsewhere). So an experimental game, but nothing against the validity of this build.

Game 3 - PF Rush vs kcdc build

Replay

My theory was that fast expand builds would die to this, seeing as both Lyn's and Mana's FE builds got killed by this (my 3gaterobo expo is mana's build). So, I suspected this build would hard counter the kcdc build. Corinthos decided to put his CC at the close gold, I scouted this, and (as I say in game) I think to myself that he's expanding to the gold to get a better economy - so I'm going to power probes and pressure with units.

Of course, he's going for a PF rush instead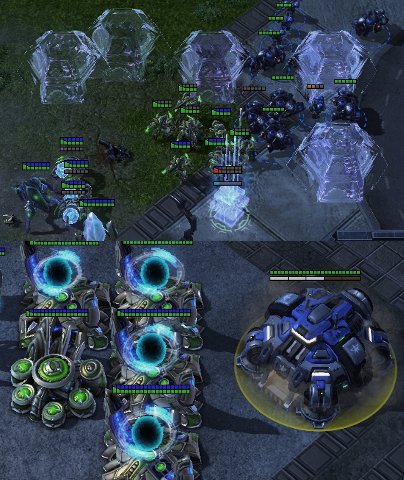 Garhhh


With 3 SCV inside that CC, there is no way I'm going to be taking that down easily. Meanwhile, he's pressuring my front with a mass of units. I manage to cut down his attack, but there isn't anything I can do about the PF building in my main. There isn't anything I can do and once again, game over.

Part of this win was luck, seeing as he built it at the gold and I reacted as if that was an expansion. If I hadn't have scouted it then maybe I would have had more units or more tech or something. Again, I don't think Corinthos had the build refined as it could be, but still, a very scary build to play against. I don't think the kcdc build really has a chance against this thing.

Game 4 - PF Rush vs 3gate VR

Replay

If a Protoss decides to go balls to the walls aggression with the 3gate VR build, I expected that the PF rush would be completely destroyed. So the game unfolds as usual for Corinthos while I start massing up units as a good Protoss does. I'm able to out muscle Corinthos's army and this was the result: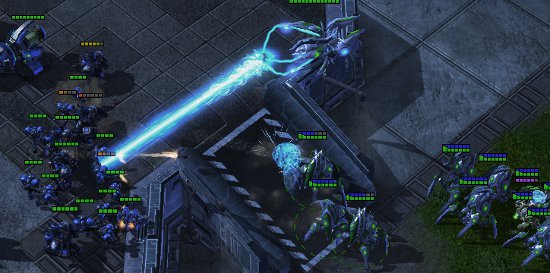 muhahaha


Without the forces to supplement the rush, the PF rush is completely useless and defended with ease. The game is mine without me breaking a sweat.

I don't think this is an instant loss though. I think the best bet is to float the proxied CC to a hidden expansion and try use that as an expansion while defending the VRs with many bunkers at the ramp (and turrets, since you have an e-bay). I think it's playable, not optimal, but playable.

Game 5 - PF Rush vs 3gate VR again

Replay

This was pretty much the same as the game before. Corinthos proxied in a poor position, but it didn't matter - my pressure crushed him mercilessly. Although to be fair, many Terran builds die to this build.

Game 6 - PF Rush in a KoTH match!!

Replay

This was a pretty cool game, he went for Proxy Void Ray (without the 3gate) while Corinthos went for the PF rush. The game turned into a base trade after Corinthos didn't notice the VR's destroying his base - eventually the Protoss won - but the game was Corinthos's to lose really! Fun game to watch.

---

So, what do I think about this build? If the Protoss goes for a sub-45 psi expand against a refined PF rush - the game should be over in favour of the Terran. It's a really difficult rush to hold since you're so low on units. For that reason, other low unit builds like Colossus Rush and Phoenix Rush would also probably die to it. For more standard high units builds and aggressive builds, like 4gate and 3gate VR, I doubt this rush can work. However, the situation is still playable since you essentially have a hidden expansion so with some bunkers, you can probably defend the pressure.

Planetary Fortress Rush - Is it Viable?
Situational

You'll have a really hard time against high pressure builds, but it's almost an automatic win against fast expanding builds. I haven't explored the follow ups from the build after using the Proxy CC as a hidden expansion against a pressure build, but it seems plausible that it would still be playable.


---
If you have something you think would be good for "Is it Viable?" please shoot me a PM! Please try to stay civil in this thread, keep it imbalance free (i.e. dont bitch about anything being OP) and try to remain open minded. I'm not claiming this is the be all and end all of TvP, I'm simply trying to point out alternatives that are viable - while Terrans have it pretty good in the early game at the moment, maybe this build will get a few smiles from your opponents!!