Code S Ro8: Rain vs. HerO Preview

By: Fionn
SK_By.Rain

Strengths
– Improves every time he steps into the booth.
– KeSPA practice regimen and mechanics.
– The SC2 version of Bisu, but with better results in OSL.
– Defeated PartinG soundly in the OSL, 3 - 1.


Weaknesses
– Statistically worst match-up is PvP.
– Little experience in the deep stages of individual tournaments.
– Might get jumped by his crazy fangirl while making his way to the studio.

Ideal winning scenario: Is there really an ideal way to flip a coin?

Craziest winning scenario: Crushes HerO 3 - 0, proves that his weakest match-up is still pretty strong, and continues to walk the Royal Road with an unimaginable amount of hype behind him.
Liquid`HerO

Strengths
– More individual league experience than Rain, especially in the later rounds.
– Undefeated against KeSPA players
– Coming off a very strong PvP performance against Squirtle.
– More colorful hair.

Weaknesses
– PvP has been his Achilles heel for much of his career.
– Might get jumped by his crazy fangirl while making his way to the studio


Ideal winning scenario: Is there really an ideal way to flip a coin?

Craziest winning scenario: He destroys Rain 3 - 0, becomes the official anti-KeSPA hunter, and shows up to the next game with a blinged out ivory mousepad.
Rain: The Legend in the Making
Coming into the Brood War scene in the 2010-2011 season, Rain made a statement that he would be the future of Brood War. Getting a 9-4 record as a rookie, an incredible feat for a total newcomer in the shark infested waters of Proleague, won the coveted Rookie of the Year award. Playing behind arguably one of the greatest Protoss in BW history, Bisu, and another top Protoss in his own right in Best, Rain was destined for greatness from the beginning with two of the elite helping him along the way.
While Rain never made a splash in singles competition like Bisu or Best, he was a key part of SKT when it came to the Proleague playoffs. In his rookie season, even though his team wasn't able to take down Flash in the ace match, Rain was able to defeat KT's top Zerg in Action and give his team a vital ponit. The year following, with the score tied 2 - 2 against KT in another final, Rain stepped up in the clutch again for his team and beat KT's top Protoss, Stats, setting up Bisu to come in the ace match and finally take down Flash to give his team the last Brood War Proleague championship.
With Brood War closing its doors and transitioning into a horrible half-half Frankenstein's monster Proleague, Rain never fully developed in Brood War like he could have with another year of full training. However, as one door of opportunity seemed to close, another one opened up. Transitioning into SC2, the word from SK Telecom was that Rain was the first player to really grasp the game and understand it. This showed throughout the season, with T1 sticking with Rain as their ace during the regular season and letting him take the ace role as well. With Fantasy still focusing on Brood War with his deep run in OSL, and Bisu having considerable trouble transitioning from Brood War Protoss to SC2 Protoss, Rain's stellar SC2 skills helped his team to playoffs.
Breaking into singles competition, Rain qualified for the three major Korean leagues: WCS, OSL and GSL. Getting a top sixth finish in WCS Korea was the first time people saw that not only could Rain dominate his brethren in KeSPA, but kick ass against the rest of the world as well. Losing to Curious in the first round 2-0, he came roaring back in the losers bracket with wins over horror, Leenock, Jaedong and then finally a revenge victory against Curious, showcasing his strong talents against Zerg. He did lose 2-1 to the eventual champion Creator in the Ro6, but he proved with his comeback victory against Curious he could improve by leaps and bounds in just two weeks.
In GSL and OSL, he only continued to confirm that he was KeSPA's best. Getting put in the group of death in OSL, he went 3-0, getting 1st in his group with a win over Jangbi, MarineKing, and DongRaeGu, putting himself in the quarterfinals where he would beat Parting 3-1 to make the semifinals. In the GSL, he did lose to Happy in his Ro32 group, but was able to get out of the group with four wins and zero losses to Byun, the semifinalist from the season before who was heralded for his TvP play.
The biggest wins in his SC2 career came two weeks ago, being put into the group of death in the Ro16 where he went up against two GSL champions in DongRaeGu and Polt, and the newly proclaimed best player in the world, Taeja. He did what people thought was impossible against Taeja, running him over 2-0 and showcasing his self-proclaimed "weak" PvT. With a handy dandy 4-Gate against Polt and another solid macro win, he got through the group of death with a 4-1 record received a spot in the quarter-finals.
Jaedong wasn't able to make it far in GSL, losing three straight games and falling to Code B. Flash, while getting to the second round of Code A, still had to go three maps against Killer, a player in exile on team MVP to regain his deteriorated skills. Bisu, the player that Rain looked up to when first starting out in SKT, is finally starting to do well in SC2 (10-2 currently in MLG's MvP tournament), but still has a way to go before living up to his Brood War reputation. Right now, Rain is in a position to solidify himself as not only the first great KeSPA SC2 player, but put himself in the history books in a very special way.
Winning GSL would make him the first royal roader in the tournament's history, taking the first major championship for a KeSPA player in a SC2 event when people thought it would take far longer for them to overtake Code S. Winning OSL would make him the first champion in hopefully a long line of SC2 OSL tournaments. Winning both? That would make him a legend. Flash winning MSL and OSL in back-to-back weeks was what took him from being a top five player, to the greatest player of all time.
No, winning both competitions wouldn't put him Flash territory, but it would make him a legend just like Mvp with his four GSL titles. When people talk about KeSPA, they talk about how they're catching up or surpassing the rest of the world because of how well Rain is playing. Truthfully, Rain is not just an ordinary player that represents his faction. Just like how every player on the GomTV side isn't Mvp. Rain is something special that is evolving in front of our eyes with good mentors on SKT, natural talent, and determination that made him rookie of the year two years ago.
This rookie is no longer in anyone's shadow. With a few more victories, he'll be the one casting a shadow over the entire Starcraft 2 world.
Hero: The KeSPA Slayer
Three words to describe Hero: Passion, Creativity, Emotions.
You might not find a more creative Protoss in the world, but you also won't find a more emotional one, either. Starting back from when he was first used by oGs in his GSTL debut, Hero has always played games where he shows the talent of a champion, but he has never realized his potential like he is doing now. He did win Dreamhack Winter last year, beating his EG-Korean rival Puma to take the crown, but since then hasn't had much luck when it comes to titles. Getting to the semifinals only two short seasons ago, Hero is ready to get back there and get to his first finals.
The pressure is never off Hero due to his team and popularity, but it has been lightened since Taeja joined the squad. Since Taeja became a member of Liquid, he taken the attention away from everyone else, for better or for worse. He gets all the praise as the team's ace in team league competitions and is being called the best player in the world due to his foreign dominance. It could make one a bit envious to see a new teammate overtake you as the head of a team, but on the other hand, maybe it's good to unload some of the pressure. Whatever the case, HerO's is showing his best games ever in this GSL Season.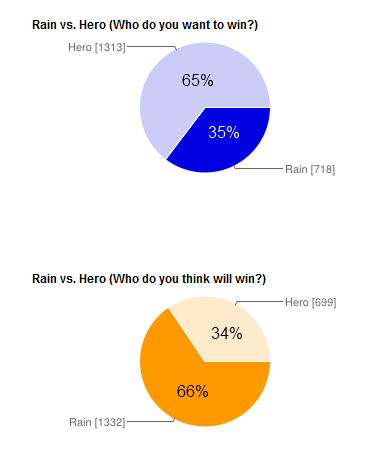 Survey Results
Already having beaten top players like Squirtle and Symbol this season, Hero is showing greater strength in his always reliable PvZ, and has done much better in the match-up that has caused him so much stress over the last year: the coin-flip known as PvP. He did lose to Leenock in a series that sparked a gigantic debate on balance, vortexes and late game compositions in the PvZ match-up, but he is still is one of the deadliest players against Zerg in the world.
People want to believe Hero can win this season, and he got 2nd place in a community survey for who fans want to see win the title, but he got last place in voting for the quarterfinalist with the best realistic shot of winning. The road isn't easy, having to play KeSPA's Rain in the first round, followed by a date with Mvp or Symbol in the semifinals, but it's not impossible. Rain, who might be so humble that it it almost seems like cockiness somehow, thinks his PvP is a weak match-up, but that didn't prove to be too much of a problem when he beat PartinG 3 - 1 in the OSL.
Hero did beat Squirtle 2-0, getting some sweet revenge for the 0-3 loss to him in the Season 2 semifinals, so if he can beat the GSL's statistically best PvP player, no mountain should be too high for HerO to climb. If he can get by Rain, Symbol and Mvp are players that Hero has beaten before and can beat again if he gets a chance.
While Hero's problems with nervousness are well known, and a constant topic every time he plays, he actually hasn't suffered from any of those "vs. KeSPA" nerves that have overcome many a GomTV player. He got put up against Effort and Reality in WCS Korea, beat both quite easily, and advanced through to the Ro8 where he was supposed to take on Rain. Already having committed to an MLG, Hero had to drop out of the tournament after getting his WCS Asia seed, and never got to have his fateful match against the King of Elephants to-be.
Now, they will finally meet on an even grander stage. A win for Hero would not only give him his second semifinal appearance and confirm him as a top five Protoss in the world, but would stomp down on the incredible hype Rain has brewed up for his KeSPA side. He might be prone to nervousness, overly emotional when he loses, and the weakest player in the public eye, but he might be the GomTV HerO that finally puts rain down. This is not the same Hero of two seasons ago that buckled at the knees when getting put up against Squirtle. He's focused, stronger than ever, and will not go down without a fight.
Overall thoughts and prediction:
So we have a fight between the kid who is on the same team as Bisu and probably learned a lot from him, and the guy who was known as Bisu Jr. when he made his debut for oGs a long time ago. Two seasons ago when Squirtle and Hero faced off, I gave no shot to Hero. I thought he was a very good player, but didn't think he had the confidence nor the talent to topple Squirtle at the top of his world-destroying game.
Now, Hero is better, stronger, and is not so much a lost cause when it comes to PvP. Rain has said his PvP and PvT are "weak" by his standards and that he gets lucky in broadcast games, which is scary considering he's played the best games in both those match-ups this Code S season. The vast majority of fans think Rain is going to run away with this one, but Hero deserves a lot more credit than he's getting. He's only lost one series this season against Leenock, and it can certainly be argued that he was the better player in that series.
It's hard to bet against Rain and the flood of KeSPA hype is causing all around the world, but Hero is not a player you can overlook. I expect a Rain victory, but if Hero can bring his A-game like he did against Squirtle, there's no reason why Hero can't keep up his elephant slaying business.
Rain 3 - 2 Hero
Code S Ro8: Mvp. vs Symbol Preview

By: Waxangel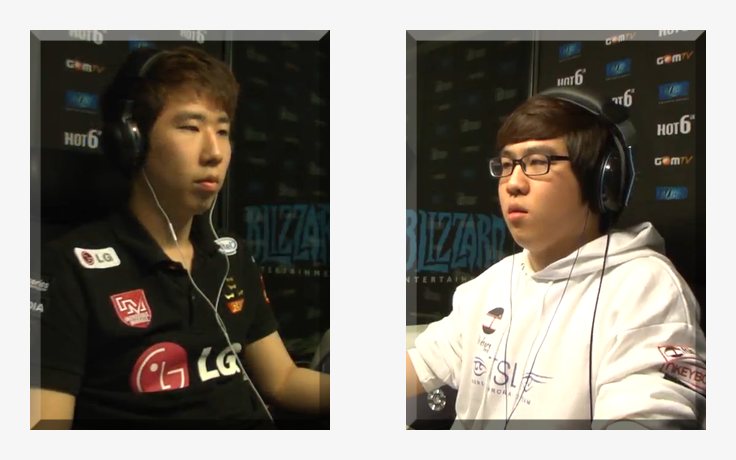 LG-IM_Mvp vs.
TSL_Symbol
Daybreak
-
Ohana
-
Whirlwind
-
Abyssal City
-
Antiga Shipyard
LG-IM_Mvp

Strengths
– Is Mvp.
– Uncanny ability to win games regardless of how his current form appears.
– The most experienced and successful player in high stakes situations.
– Codified the most popular way to play TvZ mech.

Weaknesses
– Occasional shaky games leave room for doubt.
– Neck pain limits his practice time severely.




Ideal winning scenario: Brings out Mvp-mech version 2.0 and crushes a poor Symbol who thought he was actually prepared.

Craziest winning scenario: Overpowers Symbol with straight up marine-tank, showing micro, macro, and multi-tasking that make this entire 'injury' thing seem like a ruse.
TSL_Symbol

Strengths
– Top to bottom, the most complete Zerg player around.
– Skilled at managing super-late game hive armies.
– Playing against LG-IM players brings out the best in him.


Weaknesses
– Yet to redeem himself for his huge choke in last season's Ro8.
– Not as impressive in season four compared to his initial rise in season three.
– Was it really a good idea to get on Mvp's bad side?

Ideal winning scenario: Reads Mvp like a book, dissects his mech style completely, makes him his fourth LG-IM victim of the season.

Craziest winning scenario: Fully dispels his reputation as a choker by going down 0 - 2, and coming back in three straight games to take the series.
The PatchZerg
As with all other PatchZergs, you could argue that Symbol was a rising prospect who would have made it without the queen patch. But with so many other Zergs coincidentally hitting a good patch of form together, after May of 2012, it feels like a pointless exercise to sift through all of them to verify those claims.
Instead, let's just say that when Symbol burst out on the scene in the early summer of 2012, he played so incredibly well that PatchZerg started to lose its negative connotations. He used Zerg's new-found early game strength to give himself enormous economic leads, yet always knew precisely when he was getting too greedy and could fend off attacks with ease. He made mid-game aggression from Terrans look utterly foolish, swarming over his opponents' armies with a glut of lair units. But what else were they supposed to do? If the game went late, they'd only meet a much more grizzly fate. Symbol showed a mastery over the combined hive-stage army that had never been seen before. He used every single component of the Zerg swarm like a separate, precise tool – not slopped all together into a haggard mess supported by ugly fungal growths. If Symbol was what being PatchZerg was about, then who
didn't
want to be a PatchZerg?
While some rushed to welcome in their new Zerg overlords, things ended up going another way. Terran and Protoss buckled and bent, but they did not break. They adjusted their games to the new world, and made sure it was one where all three races had a fighting chance. Symbol himself was defeated in the quarter-finals of Code S Season Three, falling 2 – 3 to eventual champion Seed in one of the most calamitous collapses in recent memory. Suffering a massive mental meltdown, Symbol has only recent collected himself and gotten back on track. It might have been the summer of the PatchZerg, but as we head into autumn, Symbol is in more or less the same spot he was months ago: a great Zerg player who still has a lot to prove.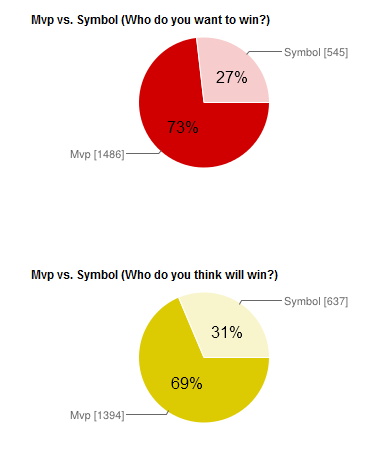 Survey Results
The Greatest
With every new star that arrives on the scene, every new set of jaw-dropping skills that are showcased in the GSL, Mvp looks that much more dated. Even during his prime in 2011, you could see players who multi-tasked more, had better micro, and were just straight up faster. Luckily for Mvp, they weren't ahead by much, and he vastly surpassed them in every other area. By 2012, Mvp had already fallen far from the summit. In Code S Season Two, where Mvp won his record fourth GSL championship, Mvp was the underdog the entire way. Every match seemed to tax him, and he pretty much limped his way to the finish line, taking out Squirtle's knees in the last few meters ensure his own first place finish. With the arrival of TaeJa and Flash in 2012, and god knows who else is behind them, it seems inevitable that we're going to learn what the shelf life on Mvp's relevance is.
Yet, the more Mvp struggles, the harder it becomes for him to win a simple best of three series, there's a part of him that becomes even scarier. He is being eclipsed in all the areas we can analyze and measure; speed, macro, micro, mechanics, multi-tasking. It's what we don't know that's scary.
He's a player who should be losing, but he's winning championships instead. Not even pro-gamers seem to fully understand, which might seem surprising, until you think about how few of them can say they're pro-gamers like Mvp? Whatever it is, whatever you want to call it, this "knowing how to win" – even among pro-gamers only a select few really possess and understand this quality. If it sounds a bit like magic, then you're not mistaken. For the general populace who are not Mvp, there's no real difference. We don't understand it, but it has to exist. What else makes PartinG crumble at the feet of the simplest Terran attacks? What else makes Squirtle stop a 11/11 rax perfectly, then surrender the victory on a silver platter?
Mvp regularly has to go up against the best players in the world, and it's probably tough to find practice opponents of their qualifier. But for all the guys who go up against Mvp, you can guarantee that they've never faced anything like him.
The Breakdown
Let it be known that Symbol probably
should
beat Mvp. Even though Symbol isn't looking as strong as he was during the height of the PatchZerg wave in early summer, he has come back with a vengeance in GSL Season Four. He's 8 - 2 in his last ten ZvT games, and the only real knock on him is that he's not crushing people into as fine a powder as he was before. As Korean Zergs go through an unnatural funk, Symbol has stayed the course and restablished his credentials as an elite Zerg by surviving while others fall around him.
Of course, this is Mvp playing, so what 'should' happen might not matter at all. Seed, a player who shows endless deference and veneration toward Mvp, was able to trigger an epic collapse in Symbol last season. It's frightening to imagine what could happen when Symbol meets the master in Mvp. I wouldn't be surprised at all to see the word "thrown" (and its many variants) scrawled over the live report threads and Twitter after the game.
The other thing you have to mention about Mvp going into this TvZ series is how he recently made every Zerg's life miserable by codifying the ideal way to play mech TvZ at IEM Cologne in August (a tournament with next-day replay releases, no less). People started imitating his build all around the world, and now hellion-banshee into double armory is pretty much a new standard in the TvZ repertoire. It's become so common at this point that it's not a big edge for Mvp, since Symbol will have played against it a few thousand times on the ladder. Still, Mvp is the master, and you have to believe he knows the hidden nuances of this new trend better than anyone. The other thing to consider is that Mvp actually IS smart enough to come up with meta-game shifting ideas when he's bored, if not in the middle of the game (not-mutually exclusive). That, too, is something Symbol won't be able to prepare for.
Prediction
Did you really have to ask?
Mvp 3
- 1 Symbol
---
Writers: Fionn and Waxangel.
Survey and Data Collection: Fionn.
Serfs: Opterown and Salle
Graphics and Art: Meko.
Editors: Waxangel.