The day has finally come. Tonight we will get our first look at how Brood War progamers fare in Starcraft 2. The hybrid league will bring many new challenges to the players and coaches, while also challenging the fans to accept a new game. This season of SPL will also see a bunch of new fans arrive from the SC2 scene, hihi to you guys! Both the old fans and the new need to remember that while you may not enjoy the other game, you should at least respect it. This means no game bashing! If you want to complain, keep it to
Pholon's thread
and not the LR thread.
Indeed, we on the SPL team don't think that there needs to be any hostility between BW and SC2 fans. And with a bit of understanding and knowledge, both groups should be able to coexist peacefully. To that effect, the SPL team has gone to great lengths to ensure that this post is accessible to both BW fans and people who have never seen a proleague match in their life. This post will have a brief overview of each game and how each matchup plays out, analysis of each team both on a basic level and advanced level as well as some other tidbits of information that we hope are interesting to both.
We hope you enjoy this season of SPL!
-- Plexa
This season of the SK Proleague will be broken into three rounds ending at the end of August. The top ranking teams will progress to the playoffs which will be played out in September. This season, as you are all probably aware, will be the first season of Proleague to feature Starcraft 2. KeSPA haven't completely removed Brood War from Proleague, each Proleague match will be split into a Bo3 of Brood War and a Bo3 of Starcraft 2. Should each team win a Bo3 there will be a Starcraft 2 ace match to determine the winner. To ensure that players aren't forced to train only for one game, players will be forced to alternate between Brood War and SC2. By this KeSPA means that if you are sent out for Brood War in a match, then the next time you are sent out you must play Starcraft 2. The ace match is excluded from this, as in if a players last match was Starcraft 2 then they are still eligible to be chosen for the ace match.
It's important to realise that this isn't your standard Bo7 format. This is two Bo3s and an ace match which serves as a tie breaker. If one team goes 2-0 in the Brood War matches but 1-2 in the Starcraft 2 matches, then there
will
be an ace match. The maps for the Brood War portion of the season will be Neo Electric Circuit, Neo Ground Zero, Neo Jade, and Neo Sniper Ridge. The maps for the Starcraft 2 portion will be the WSC versions of Antiga Shipyard, Entombed Valley, Cloud Kingdom and Ohana (as in, neutral supply depos, no golds and locked spawns). In fear of bombarding you with too much information in this post (particularly for the game that you don't follow) we won't break down these maps and analyse them, but the interested reader can use
this thread
to discuss and ask questions about the maps. You can check out the maps for this season below;
Mouse over to view the maps for the upcoming season!
From left to right: Antiga Shipyard, Entombed Valley, Ohana, Cloud Kingdom, Ground Zero, Jade, Sniper Ridge
So far as broadcasting is concerned, OGN will be broadcasting this via the ESportsTV channel on Youtube (will be linked on the sidebar as normal) in 480p. Some of you guys from Starcraft 2 may be a little disappointed with that, but broadcasting Brood War in any higher resolution doesn't improve the quality so it's understandable that OGN has chosen this resolution. In the future this may change. Remember that this is the first week of the first season after all! At this stage OGN will only be broadcasting SPL in Korean but
Pokebunny and Sayle
will be doing a live restream of the event with English commentary! Presumably, they will associate their cast with the event so you will be able to select it from the sidebar as well. OGN have also recently hired
Kim Chul Min
to cast Proleague (probably best known for
this
) which should make this one of the strongest casting line-ups, ever, for Proleague.
To celebrate the start of the new season there will be a massive Proleague day on the 20th (today) starting at 1200 KST and will feature all eight teams playing. It is reasonable to expect that the day will last until 2000 KST. The matches being played will be SKT vs Team 8, CJ vs KT, ACE vs Kahn and Woongjin vs STX. In future, you can expect games to be played on Sat/Sun at 12:00 KST and Mon/Tue at 15:00 KST. Of course the SPL team will be here throughout the season keeping you informed on the progress of the league week to week.
This section is specifically devoted towards outlining the basic ideas underpinning each matchup in Brood War. Assuming you roughly know what the units do, the following section should help to bring you up to speed with the current metagame for each matchup. Admittedly, this isn't a comprehensive guide to understanding each of the matchups and speaks in massive generalities and so I'm sure some Brood War veterans will try and pull me up on one or two things. But this guide isn't about giving you a 100% complete and detailed picture of what is going on. This guide is aimed at giving you enough information so that you can watch a game of Brood War and have an understanding of what each side is trying to achieve at each point in the game.
Please select one of the matchups below to begin learning about the basics of Brood War.
Protoss vs. Zerg
Early Game:
Early game: The early game of PvZ is quite similar to SC2, in that both sides will get a very quick expansion and the zerg player will try to secure another base on top of that very shortly afterwards. From the protoss point of view, he will be looking to scout the zerg and see if the zerg is preparing any kind of all in, if so, he will make a lot of cannons to defend. Normally a probe scout can survive in the zergs base until the zergling speed finishes. To continue scouting the protoss will grab a stargate and build a corsair or two. Meanwhile, the zerg will be keeping an eye on the protoss via zerglings and overlords while trying to deny any further probe scouting with zerglings. A standard zerg would also take a quick third base, similar to how you see zergs taking quick thirds in SC2.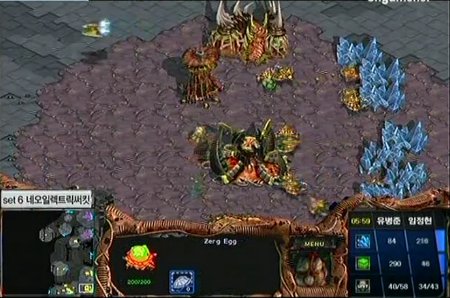 A corsair performs his scouting duties
Mid Game:
Generally a zerg will look to go up to 5 hatches to get a strong economy and getting both a spire and a hydralisk den before really committing to either tech. Usually a corsair scout will be able to see that the zerg has gone up to 5 hatches and see both tech buildings before being chased out by scourges. While aggressive zerg options are viable and see some use, the bread and butter ZvP strategy is to build a simcity wall at their natural and third and defend them with lurkers, sunkens and spores. They will also try and take a fourth base relatively fast to ensure they have a monster economy for the late game.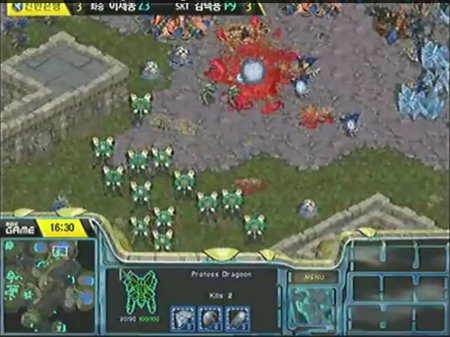 A protoss comes crashing through a zergs sunken/lurker defense
The lurker/spore/sunken defence, coupled with a good wall, can be very difficult for a protoss to crack. Lurkers are adept at shredding zealots which means that the protoss needs to make dragoons, which incidentally suck against everything zerg has except lurkers. Meanwhile, spores will pick off any observer which gets too close, and without detection the protoss will never be able to break through. Lastly, while reavers are theoretically a good counter they are too much of an investment and can leave the protoss vulnerable to a whole host of other things (mutalisks, in particular). It's become increasingly harder for a protoss who grabs three bases to try and match the zergs economy to keep up with the zerg. For this reason protoss players have begun to favour two base 'doom pushes' to simply try and brute force their way through the zergs sim city (or try and do enough damage to expand behind it).
Late game:
Assuming that the 'doom push' doesn't end the game, both sides will try and stabilise their economies and look towards a lategame. Zerg players are usually quite happy to enter the late game on four bases as they get a whole bunch of new tools to use. In particular, they get cracklings, ultralisks (which are really strong, unlike SC2) and defilers. Both plague and dark swarm are good against protoss as plague reduces the protoss HP to near zero (while retaining shields) and dark swarm nullifies the damage from dragoons, cannons and most of the damage from archons. The crackling/defiler combo, in particular, is a particularly cost effective way of dealing with expansions. Protoss will start to create a mostly archon oriented army, as they are the best unit to deal with zerglings and ultralisks. Reavers become a lot more important in the late game as well because they can be useful in defending bases and also deal a ton of damage to ultralisks, which can't be guaranteed by storm since they can just run out of it.
Protoss vs. Terran
Early Game:
Early game: Compared to SC2, the roles of T and P are somewhat reversed in BW. For the most part, terran plays the role of the defender while protoss is the one to attack. The most common TvP opener is the factory expand or 1rax expand, although the exact timing of the CC can vary. Particularly vs 1rax expand builds, protoss players will try and pressure with ranged dragoons. Ranged dragoons outrange bunkers which forces the terran to keep repairing the bunker to stop the dragoons from waltzing in and killing everything. Dragoon pressure usually ends when tanks come out as sieged tanks vastly outrage dragoons. Behind this dragoon pressure the protoss will prepare an expand and begin working towards his midgame of choice.
Mid Game: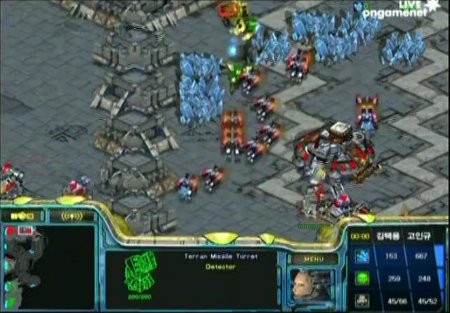 A protoss harasses a terran with a reaver
The terran midgame plan is normally to go up to three bases and aim to push out with a 1-0 or 2-1 upgraded mech ball. Normally these tend to line up to 100 supply and 150~170 supply pushes. The protoss, on the other hand, will try to disrupt this plan as much as possible. The first way this is achieved is using reaver drops, which serve the dual purpose of harass and defence against weird timing pushes. Other times they will try for dark templar drops as they can slow the terran down a ton if they are delaying scan, just like they can be in SC2. Aggressive 'bulldog' type strategies off of 2-3 base design to exploit the weakness of the terran as he takes his third base are also common. And the other common way of approaching the midgame is to simply take a third base and try to tech up quickly, adding arbiters and/or storm to your army.
There is a relatively simple way to see who is ahead in a TvP – if the protoss is 20 supply ahead then the game is even, if the protoss has more than this supply he is ahead and if he has less he is behind. Of course this isn't a definitive guide, but it is a very good indicator in general. Storm and arbiters are a way for the protoss to fight cost efficiently vs a terran by rapidly eliminating supply from the battle (either by destroying it or freezing it). When protoss add these tech units it becomes important for the terran to get science vessels so that they can EMP and prevent the protoss from being as cost effective.
Late Game: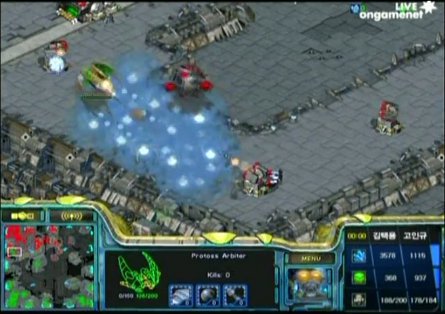 Recall is a powerful late game spell
If the game gets to a 200/200 situation then usually the protoss will try and avoid engaging the terran if possible. Yes, arbiters and storm can somewhat level the playing field in a straight up fight, but there is always the risk of the engagement going wrong (for instance, arbiter being EMPd). Protoss would rather use recall to recall into the terran's main and kill his production facilities and force the terran to move his army out of position. This increases the protoss's chance of winning the game in comparison to a straight up fight. Recall isn't exclusively limited to the late game either, sometimes it is used a method to stall very late pushes from the terran. On the terran side of the coin, he knows that he has the superior army and relies on EMP to shut down recalls, stasis and storms so that he can win the maxed fight and then kill off the protoss base by base as he struggles to rebuild. Both sides will often produce a lot of production facilities at this point so that they are able to rebuild their forces as quickly as possible. Worker sacrifices to make room for supply are also common.
Protoss vs. Protoss
Early Game:
Unlike PvP in SC2, PvP in BW is a well respected matchup where reavers make things go boom. The very early game can have cute things like manner pylons (pylons placed in the mineral line to trap probes/delay mining) but the most important part of this phase of the game is finding a balance between units and tech. For instance, a player going for very quick robotics tech will be vulnerable to various dragoon contains which usually results in the dragoon player gaining a vast economic edge. However, the dragoon player which delays robotics tech in favour of getting this contain off will be susceptible to dark templars (which don't require a separate building, mind you). And of course the player who goes for quick robotics will be able to hold off any dark templar rushes without much difficulty.
Except in cases where one side simply forgoes getting observers and dies out right to dark templar, these 'counters' I listed above are only soft counters. Good play will always be able to overcome any small deficit. For instance, DT players will often follow up their rush by using dark templars to assert map control if their opponent has observers and expanding behind this. Normally this is enough to compensate for the lack of damage done by DTs. Or if a robotics player gets contained then good reaver harass can often kill enough probes to bring the game back to being even. It is normal for a PvP to enter the midgame with one player having a slight edge because of the early game, but we will soon see that this advantage isn't always game ending.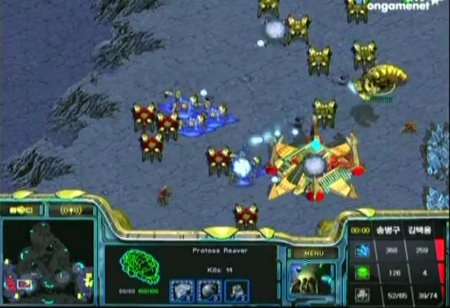 A dragoon/reaver push punishes a greedy expand
Mid Game:
There are two key facets of mid game pvp; the dragoon/reaver war and the transition into storm/archon/zealot. Normally both sides will start to mass dragoons and reavers after the early game. This is because the early game usually sets the players up for this tech path, except when the player goes for DTs – more on this later. The advantage in dragoon/reaver wars is primarily dictated by who has more reavers and secondly by who is able to control their units better. Reavers are exceptionally powerful units so having an extra reaver is a massive advantage over your opponent as it allows a significant increase in damage output. However once you get to 4 reavers adding more doesn't really help as the AI usually causes them to waste scarabs on the same target. This limitation on the damage output of reavers is one reason that eventually players look to transition out of this composition. The micro component of these wars involves two things – targeting reavers with dragoons to quickly eliminate them, and microing your reavers so that they don't die while causing maximum damage output (i.e. targeting clumps of dragoons). Reavers should never be able to kill other reavers because of shuttle micro, however, this sometimes happens and this can quickly swing the advantage to the other player.
Sometimes DT players will rush to storm/zealot/archon because they have the tech available to them immediately, and this is acceptable. Although players doing this need to be very careful about their zealots as reavers are very good at clearing large number of them. Normally players will try to transition out of dragoon/reaver around the time they get their fourth reaver. This gets the maximum benefit from reavers before adding on more splash damage via storm. In the vast majority of non-dt pvps though, the game will be decided by the dragoon/reaver war. However when the game is more or less even, both sides will transition to templars.
Late Game: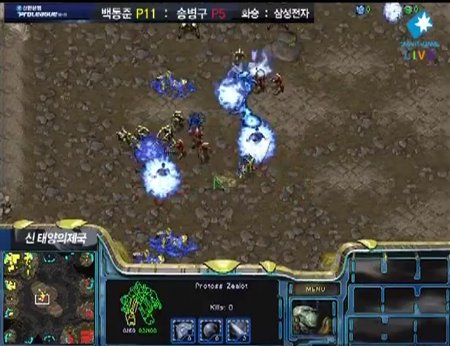 Archons, zealots and templar do battle in the late game
Late game; In a nutshell, late game PvP can be summed up in the following way: dragoons < storm < archons < dragoons. Players will try and tweak their late game armies in accordance with the above chain to counter the opponent while adding in zealots wherever they can. Super late game scenarios can involve dark archons (for feedback) and arbiters (for cloak and stasis) but these are very rare.
Terran vs. Zerg
Early Game:
The bread and butter zerg plan coming into this matchup is to grab a quick expansion, go up to 3 hatches and prepare for mutalisks. Meanwhile the terran will normally go for a one rax expand and prepare to deflect the mutalisks that the zerg is building. Occasionally terrans will try and put some pressure on the zerg right around the time lair finishes up with marines, medics and firebats with tanks rallied. This kind of pressure build usually requires lair tech to kill and so the zerg will stall for time with sunkens and lings while mutalisks are being prepared (or sometimes, lurkers). Regardless of the style that the terran employs, usually the game is able to get to a stable midgame.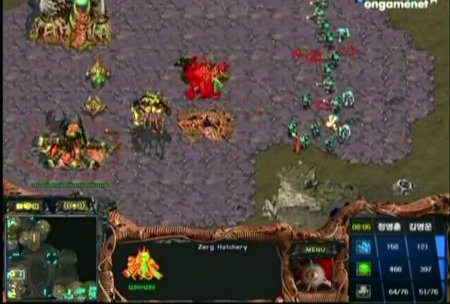 A terran player catches a zerg unprepared
Mid Game:
Mutalisk control in BW has been perfected to an art form. By grouping mutalisks with a unit far away (like an overlord) mutalisks stack significantly better. Using this fact, groups of up to 11 mutalisks move as if they were one and are able to harass extremely effectively. This fact is central to the standard zerg mindset – defend with as little as possible while getting 3 bases and defilers. Using this group of mutalisks the zerg will keep the terran contained as if the terran moves out, he will lose a ton of SCVs and the mutalisks can still get home and defend any attacks due to their mobility. The situation isn't entirely grim for terrans, once terrans are able to get out science vessels it makes mutalisks harassment extremely difficult (casting irradiate on a mutalisk causes splash to nearby mutalisks as well, thus when clumped irradiate can decimate mutalisks) while turrets and marines are often sufficient to stop any major damage.
Once the mutalisk phase has passed, or if they are skipped entirely (which sometimes happens) the game usually becomes a race for the zerg to get defilers before the terran can kill them. An important part of this is securing a third base. This is usually done by taking a main as far away from the terran as possible, which the idea that if the terran attacks the third the zerg can counter the terrans main. The terran will usually push out with a few tanks, a few science vessels and a few squads of marine/medic with an aim to primarily establish map control, but if they can kill a third or kill the zerg outright before hive tech then they will do that. By establishing map control terrans are able to transition out of bionic play and into mech play. More on this in the late game.
Late Game: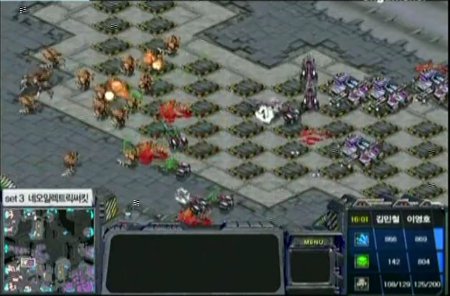 Hydralisks battle a late game mech army
Once defilers are out zerg is finally able to regain some map control and take their fourth. This is because defilers are able to cast a spell called dark swarm which blocks all incoming projectiles (like PDD from SC2). This, together with the fact that defilers can consume units for energy make them a very important unit. A mech army is far better suited to dealing with dark swarm than a bionic army, as mines and tanks cause splash damage which go through dark swarm. Mines also prevent the zerg from blindly massing ultralisks, rather they need to start making hydralisks. Late game battles thus are often between mech and lings, hydra, defiler (for plague) and ultralisks.
Terran vs. Terran
Early Game:
Due to the immense power of tanks while in siege mode which makes attacking cost-inefficient most of the time, TvT is the matchup where comebacks happen the most. It isn't uncommon to see the map split in half with walls of tanks sitting just outside of range of each other.
Early Game:
The primary objective of the early game in TvT is to not die. This may sound kind of silly, but usually any minor deficit can be overcome later. So no matter how much damage you opponent is able to do, if you are still alive there is still a chance that you can come back. A consequence of this is that in TvT giving up can take awhile. Anyway, the basic idea behind early game TvT is to expand reasonably quickly and start making tanks while scouting with you barracks (floated, obviously). Because of the tendency to go for tanks first, some players will try to get very quick wraiths to pick off tanks and SCVs before goliaths come out. Regardless, both players will look to stabilise and begin expanding and zoning out areas of the map.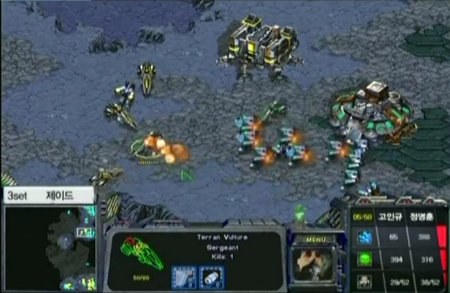 Quick vultures catch this terran by surprise
Mid Game:
Once in the mid game the real chess game can begin. I couldn't do the strategy involved in this part of the game justice if I had 6000 words, so I will outline some of the basic manoeuvres that players try to use during this phase. Firstly, as I alluded to earlier, the player with the advantage will usually create a contain on the other player which eventually evolves into both players creating walls of tanks, turrets, mines and goliaths which can stretch across the map. To draw an analogy to chess, this is similar to the pawn formation on the board in that it dictates how much space each player has on the map and in turn the number of safe expansions available to each player. The next tactic you will often see is one player trying to break the opponent's tank wall. This is done by concentrating the available army and sacrificing some units to draw tank fire while your siege tanks get into position and (hopefully) clear out the opponent's forces. Usually SCVs are used to draw fire but sometimes vultures are used as well. While breaking a tank wall can be inefficient, sometimes giving yourself the extra space is necessary (i.e. to expand).
A more efficient way of breaking tank walls is by making a lot of dropships and dropping on top of the tank wall while advancing with other forces. This is actually a really powerful way of killing tank walls and can often discourage the creation of a wall all together, but requires the investment into 10 or so dropships. This is no small investment as the amount of gas required for 10 dropships is the same for 10 tanks. The last technique also requires a large amount of dropships, and that is a doom drop in your opponents main. This triggers one of two things – either a full scale retreat (resetting the tank wall) or a base trade. Because base trades can be prompted, usually you don't see players who are ahead going for large scale doom drops, rather they will use dropships to break tank walls. So this technique is generally employed by players who are behind and looking to catch up.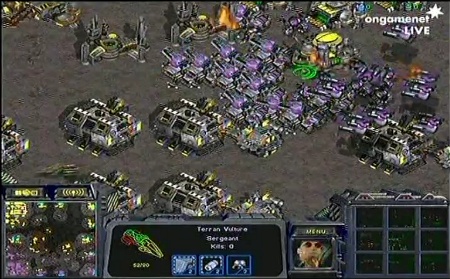 A terran goes for a mass drop in his opponents main
Late game:
Late game TvT will typically look to the sky, in the sense that at least one player will look to mass air units. Usually players will mass either battle cruisers or wraiths, usually depending on style or what is hot in the current metagame (my opinion is that wraiths are in at the moment). The transition from tanks to air can be somewhat tricky, as outright wasting your tanks is a stupid idea. So gradually terrans will trade off portions of their tank forces through drops and whatnot and replace them with their air unit of choice. Air battles in BW TvT are of comparable levels of excitement to air battles in SC2 TvT, so hopefully you get to see a few before the season ends! Players don't have to go air to respond to air though. Sometimes you will see terrans focus on producing goliaths to counter whatever air unit is being made. This can work but is usually done as a reaction to seeing air, rather than a preplanned transition out of the midgame.
Zerg vs. Zerg
The basic mentality behind ZvZ is "the winner of a ZvZ is the person who can build the most mutalisks without dying to zerglings". Of course this is a rather bleak interpretation of the matchup, but it somewhat motivates why things are done the way they are in ZvZ. The matchup is best dealt with by considering whether the builds chosen are the same or different.
Builds are Different:
Conventional wisdom will tell you that in the early game, 9pool < 12pool < 12 hatch < 9pool. This is because traditionally it is thought that the economic advantage will eventually lead to victory, except when you are too greedy as in the case of 9pool beating the 12 hatch. But thanks to Jaedong, this is not as correct as it once was. Jaedong showed the correct way to play when you're on the wrong side of the chain is to exert as much pressure as possible using speedlings while teching as fast as you can to mutalisks.
For instance when playing a 12pool against a 12hatch you will look to force the 12hatch player into defending using speedlings to keep him occupied, not allowing his economic advantage to kick in. Eventually you'll get mutalisks, and that will force him to make spores – further slowing them down – and this will give you the time needed to expand yourself and catch up. While the opponent is by no means necessarily behind now, you have reduced the significance of any advantage dictated by the choice of builds. Basically, if you are on the wrong side of the build order chain then the onus is on you to make something happen through exploiting whatever advantage you have.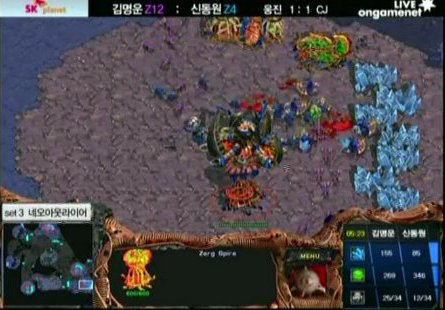 A one base zerg overwhelms a two base zerg with zerglings
Builds are the Same:
When both players go for the same build the comment made in the introduction is as true as it can get. This can be quite tricky to play as there is the temptation to cut corners by squeezing out an extra drone or two, but if the opponent masses a lot of zerglings then those extra drones could end up costing you the game. Thus having an accurate read on what is going on in the game is super important in ZvZ, else it becomes a luckfest like ZvZ in SC2. Hence the person who has their overlord reach his opponent first will have an advantage. The overlord will allow them to cut corners while the other player plays blind. Both players will eventually end up teching to mutalisks which leads to the most fascinating aspect of ZvZ, in my opinion.
Mutalisk wars are a balance of scourges, zerglings and mutalisks. Zerglings obviously can't attack up, but they can be really useful in backstabs to gain an economic edge hence why they are important. However the real focus of the mutalisk war is the relationship between mutalisks and scourges. Mutalisk control has evolved to the point where mutalisks are good enough to beat small groups of scourges without taking a hit. This might suggest that scourges are useless, however they serve an important role in the micro war. Scourges force the opponent to micro against them, else face terrible damage, and while they micro against your scourges you can get a lot of free hits in on their mutalisks. For this reason you'll usually see 4-6 scourges tagged along with any mutalisk flock to force this micro reaction.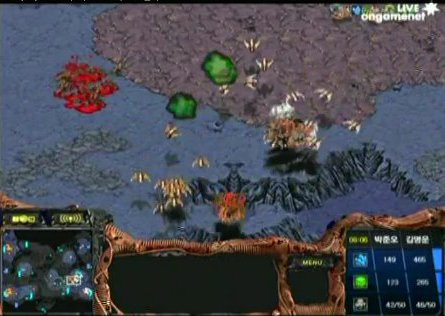 A typical mutalisk fight in the mid game
Hive Tech:
Seeing hive tech in a ZvZ is rare as it's really easy for a small advantage early on to snowball into a game winning scenario midgame. Or, one player will miscontrol their units and the game will be over in an instant. Like PvP in SC2, once you get behind, it's a hard task to come back. Thus hive tech ZvZ is hugely unexplored and almost anything goes. The reason hive tech ZvZ isn't a continuation of the mass mutalisk war is because queens and defilers can effectively reduce the usefulness of mutalisks to near zero by sapping their HP or making them vulnerable through slowing them. It's very unlikely you'll see a scenario like this, but if it does happen then make sure to appreciate it!
This section is specifically devoted towards outlining the basic ideas underpinning each matchup in Starcraft II. Assuming you roughly know what the units do, the following section should help to bring you up to speed with the current metagame for each matchup. Admittedly, this isn't a comprehensive guide to understanding each of the matchups and speaks in massive generalities and so I'm sure some Starcraft 2 experts will try and pull me up on one or two things. But this guide isn't about giving you a 100% complete and detailed picture of what is going on. This guide is aimed at giving you enough information so that you can watch a game of Starcraft 2 and have an understanding of what each side is trying to achieve at each point in the game.
Please select one of the matchups below to begin learning about the basics of Starcraft 2.
Protoss vs. Zerg
Early Game
Much like PvZ in BW, the early game consists of both sides taking quick expansions (forge FE/14 pool expansion) and trying to size up what the other guy is doing. Starcraft 2 has evolved to a point where early game aggression usually isn't seen, for the same reason that 2 hatch hydra busts aren't common – once scouted, it is very easily stopped. Zergs will use their initial zerglings to spot for scouting probes or zealots in an effort to deny scouting, and usually they will sacrifice an overlord between 6-8 minutes to check on what the protoss is doing. Primarily, the protoss is concerned with finding out whether the zerg is going for a fast third base or some two base build; this will tell him whether he needs to be aggressive or defensive respectively in the mid game.
Mid Game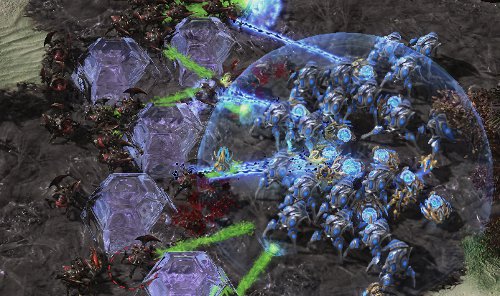 A somewhat typical protoss push pressuring the zerg
The typical mid game scenario will have the zerg on three bases droning up with an aim to make a maxed roach push around 12mins and the protoss trying to execute a timing attack to prevent this from happening. Zergs will try and gauge what attack the protoss is doing in order to have enough roaches to defend in time. The Protoss usually executes one of two types of timing attacks: a gateway timing attack or a robotics timing attack. Gateway timings rely on catching the zerg player unprepared and getting a proxy pylon to warp in units to overwhelm the zerg. These, however, are becoming less popular now that a 7:30 roach warren is more or less standard. Robotics timings are very popular at the moment because they haven't been fully worked out yet. They will involve the protoss getting a lot of sentries (12ish) and 3-4 immortals, then pushing out with 7-8 warpgates as a warp prism completes from the robotics. The sheer number of forcefields makes this push very difficult to deal with. Zergs usually try to slow this push down by forcing smaller engagements which, in turn, make the Protoss waste energy before the big battle.
Occasionally protoss will try fast thirds or stargate play. Fast thirds can work on certain maps, like Antiga Shipyard or Cloud Kingdom, and rely on a lot of accurate forcefields to cut the maxed roach push into smaller chunks so they can be defeated piece by piece. Maps with open thirds, like Ohana, are not suitable for such a build because it is difficult to use forcefields to do this. Stargate play will focus on slowing the Zerg down so that a safe third base can be taken. This is achieved by killing overlords and queens and forcing spore crawlers – thereby reducing the drone count and slowing the zerg down. Zergs will usually try and defend this only with spore crawlers and queens; this is because hydralisks are very slow and vulnerable to colossus and thus are not worth the investment. Hydralisks generally only see use when the protoss invests heavily in stargate units.
Late Game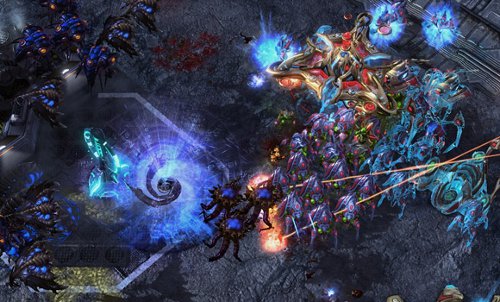 A protoss player casting vortex to try and eliminate a bunch of broodlords
If the zerg survives the protoss pressure and the protoss holds the maxed roach push, then the game will often go to a late game scenario. The zerg will look to secure a 4th and 5th base while teching to infestors and broodlords. The infestor/broodlord combo is considered to be one of the strongest in the game. This is because infestors and broodlords both heavily restrict the movement of the protoss by using fungal growth and having the broodlings get in the way. Protoss late game armies will usually comprise stalkers, colossus, high templar, archons, and a mothership. The mothership is the most important unit in this composition as it gives an effective means to deal with the infestor/brood combination. By casting vortex on the broodlords and then sending in 4-5 archons, the entire broodlord force can be decimated in seconds. Often late game scenarios will come down to whether or not the protoss can utilize vortex well. Zergs will split their broodlords and try and neural parasite the mothership to counteract this.
Protoss vs. Terran
Early Game:
In comparison to BW PvT the roles that P and T play are reversed in SC2. It's the terran who dictates the flow of the game and the protoss who has the stronger maxed army. The early game is essentially the protoss trying to expand as fast as he possibly can without dying. The terran player's build dictates when the protoss can expand safely. For instance, a 1 rax no gas expand build means that the protoss can safely expand upon scouting it (usually around 18-20 psi). However if the protoss is unable to scout this because the Terran walls off, then he will usually try and do a 1 gate expansion, putting down the nexus at around 27 psi. This isn't completely safe, but in the current metagame terran doesn't usually do crazy marauder/marine timing pushes off of one base anymore. The only cheese a terran will do, normally, is what we call a 1-1-1 build. This is when the terran makes a barracks, factory and starport with an aim to do a banshee, tank, marine timing push which hits between 9-11 minutes depending on the build.
Mid Game:
Once both sides have established an expansion the game really begins. The first thing you should be keeping an eye on is the upgrades. These pay a very important role in the matchup and often if one player is 1-1 upgrades ahead of his opponent he will be able to take decisive victories in battles that would otherwise have been a loss. The terran will try and limit the protoss economy by keeping the protoss tied up with drops or by making a lot of units and having strong map presence, preventing the protoss from taking a third. This is kind of like how a protoss will try and keep a terran on two bases in BW PvT using a lot of units.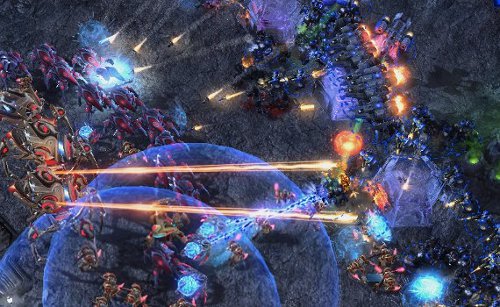 A terran pressuring the protoss with a medivac push
The midgame is where protoss will focus on getting either colossus or templar. It is necessary for a protoss to do this because if the terran has four or more medivacs it becomes very difficult to beat the terran without some form of splash damage (or a significant upgrade advantage). If the terran scouts colossus this will prompt him to begin making vikings to counter them while templar tech will prompt the terran to make ghosts. The timing of the third base varies greatly on the game and is dependent on how active each side is being on the map; it isn't uncommon for two base wars to last well into the 15-16 minute mark of the game.
Late Game: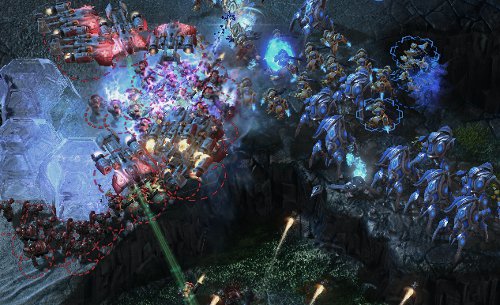 Late game PvT can often end up looking like this
Typically the protoss will stop making colossus/templar after a while (usually after 3 colossus or after taking a third base with templar) and switch towards the other tech path. This change catches a lot ofterrans off guard and often they do not have the right composition to deal with the protoss units. This kind of bait and switch tactic is a large factor in protoss having a 'strong lategame', with the jury still out on whether this is actually imbalanced or not. As you might have guessed from that last section, terran has to be acutely aware of the ratio of colossus to templar that the protoss has and prepare an appropriate ratio of vikings to ghosts.
Protoss vs Protoss
PvP is unlike anything you would have seen in BW, and despite its stigma from the early days of SC2, it probably isn't the worst matchup in SC2 at the moment. With that said, it's impossible to break into early, mid and late game because it's rather misleading. Rather its best broken into how many bases you currently have.
Before Expansion: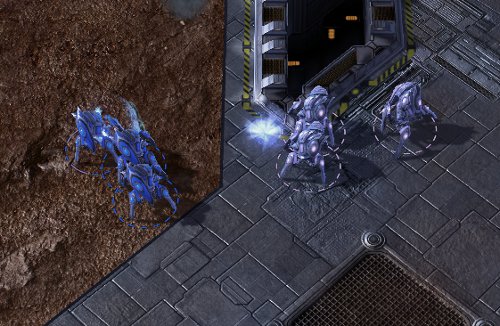 Small stalker skirmishes like this are very common in the early game
When PvP is still on one base the game is all about establishing some kind of tech without dying to warpgate attacks. Two tech paths are normal in the matchup; robotics and blink. Robotics builds will rely on the heavy fire from immortals to defend from any attacks, while a blink player will be trying to poke holes in the opponents defences and pick off stray units with an aim to keep the player contained so they can never expand. Both play styles are valid and players will choose one based off of their stylistic preference. Usually if a player takes an expansion without sufficient tech the opponent will be able to make a timing attack and force a win using their superior unit numbers and tech. This means that, depending on the map, it's normal to see an expansion after 9 minutes and not earlier. There is usually a lot of mind games that go on in this phase of the game. If you are mindful of this then over time you will start seeing the subtleties in the matchup.
With an Expansion:
Okay, so both players have an expansion, now what? The basic goal from here on out is to make as many colossus as possible and maybe take a third if the game allows for it. In transitioning into colossus there is a small timing window between 0-2 colossus where a zealot/archon army is the stronger force, and some players will try and make a timing attack at this point. Typically, if the colossus player can get a third colossus out his army will become superior. For this reason we usually only see zealot/archon pushes after one player has fallen behind and is trying to do something to catch up. Once both sides begin making colossus the game essentially becomes a numbers game about who has more colossus and better positioning in any fights. Its common for the game to become quite passive around this point.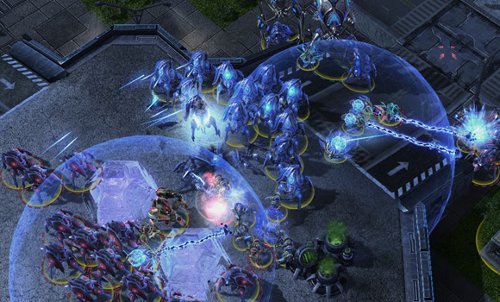 Two midgame armies collide
With Multiple Bases
If by some miracle the game extends to more than two base, the game becomes a question of 'what units complement my colossus the best?'. The answer is archons and a mothership. As before, the game is often quite passive at this point as neither player wants to engage unless they are sure that they have the superior army.
Terran vs. Zerg
Early Game:
TvZ is one of the most entertaining matchups in Starcraft 2, however due to a recent patch which fundamentally changed the early game, it's difficult to tell what is 'normal' anymore. With that said, normally the early game has the zerg trying to figure out what the terran is up to – if he is being really aggressive then the zerg will need sharp defence, and if he is being very greedy with a 3CC off of one rax build then the zerg can either all in or take an expansion himself. Terrans will probably be trying a whole bunch of builds out trying to feel out what works and what doesn't, but expect them to focus mostly on 1rax CC builds with a very fast third CC (for mules) rather than any funny business off of 1 base.
Mid Game:
The midgame is a lot more stable than the early game at the moment. Once both sides have an expansion (or two) the Zerg will decide which tech path they wish to choose. Normally they will either go muta/ling/bane or infestor/ling/roach. Mutalisk play, however, is becoming less and less common because of how powerful marines and turrets are and how good terran is becoming at shutting down mutalisks harass. Terran on the other hand will primarily go for a marine/tank/medivac composition, and will often use heavy drop play if the zerg doesn't get mutalisks.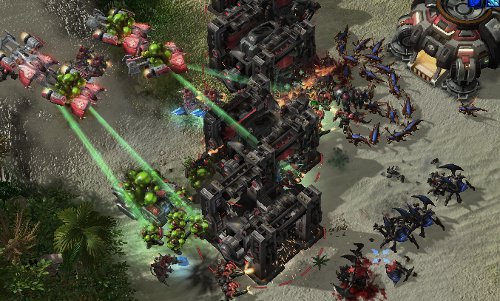 A zerg player pressuring a terran who has just taken his third on Ohana
Players will exchange multiple blows throughout the game. These are primarily dictated by when players take expansions, as taking an expansion leaves a small timing window for the other player to attack. Also, losing one army doesn't necessarily end the game like it sometimes can in the other matchups. This is because there are (comparatively) more ways to outplay your opponent in this matchup at this point in SC2's development. During battles you should be watching to see if the terran is able to focus fire his tanks on banelings well, as well as whether his marine splits are good or not. You should also be watching to see how well the zerg flanks the Terran army and whether or not he can catch groups of units with fungal. Drops are also an important part of the matchup, and poor reactions to drop play (such as funneling units to their doom) can often be game ending.
Late Game: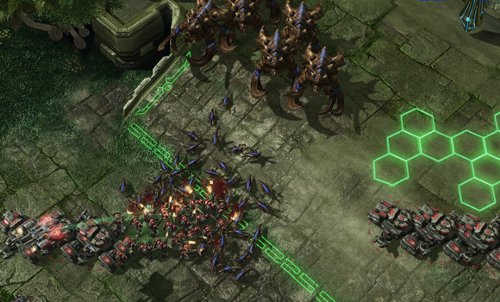 A zerg player catches a terran off guard in the late game
Zerg players will be very happy to reach the late game as both the broodlord and ultralisk are quite useful units. While the ultralisk is often stigmatised as being a game losing unit, with infestor/ling play they can be very useful as a stepping stone between a mid-game army and broodlords. This is because they are able to tank a whole lot of damage, meaning that 170+ supply terran isn't so scary. This gives the zerg player time to get broodlords, which can be quite difficult to deal with because broodlings keep getting in the way. Terrans haven't quite figured out how they should approach the late game yet. Some terrans will try to add thors into their army to beef up their army's durability and have something to shoot at broodlords from a distance. Others will try to anticipate a broodlord switch and make vikings (despite the risk of being chain fungal'd to death) and some more experimental terrans are trying to mass ravens like you would science vessels in SK terran. So at this point, terran late game is heavily influenced by style and you really could see anything!
Terran vs. Terran
Early game:
The general early game plan is to grab an expansion very quickly (usually off of 1rax) and then set yourself up with whatever tech you require for the midgame. Given this norm, sometimes people will try to exploit this and the most common way to do this is through a cloaked banshee opening, some kind of hellion drop or a quick siege tank contain. Regardless of the choice of opening, its fairly normal for both players to stabilise and head to a relatively even midgame.
Mid game:
The standard TvT composition is marine/tank as it offers the best of both worlds. The marine/medivac part of the composition allows for mobility and drop potential whereas the raw power of siege tanks and ability to zone out areas provide the real meat to the army. In marine/tank vs marine/tank scenarios the first important number to look at is who has more siege tanks. That player will tend to have the greater power behind their push, and this can often lead to a win. The number of marines isn't so important past a certain point, as the splash damage from a lot of siege tanks can very quickly reduce their numbers. The next most important number is whether one side has an upgrade advantage. This is fairly important for when marines fight each other, as units with high dps (like marines, hydras, zerglings and so on) are affected more by upgrades than most other units. Thus a 1-1 upgrade advantage to one side will often tip marine fights toward the side with better upgrades. Without marines, there is nothing to absorb the tank fire, making tanks vulnerable.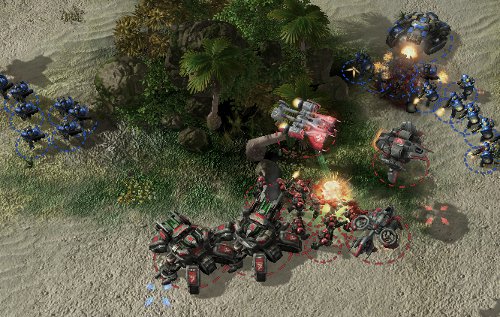 Well controlled marines dealing with sieged tanks
There are, of course, alternatives to marine/tank. Mech terran is the most popular alternative to marine/tank. In a mech vs marine/tank scenario a good marine/tank player will use his extra mobility to keep the mech player tied down to his base and shut down expansions. A mech player, on the other hand, will have the superior army in terms of strength and will try to use this fact to his advantage by forcing engagements and occasionally harassing with hellions. Some player feel that the mobility of marine/tank isn't good enough to defeat mech, and instead turn to a marine/marauder composition. This offers greater mobility and abuses the fact that marauders are particularly good at soaking damage from hellions while dealing damage to tanks. As a result, mech players have to be far more careful not to be caught unsieged when facing a bio player. Bio play is never seen against marine/tank as marauders are terrible vs marines.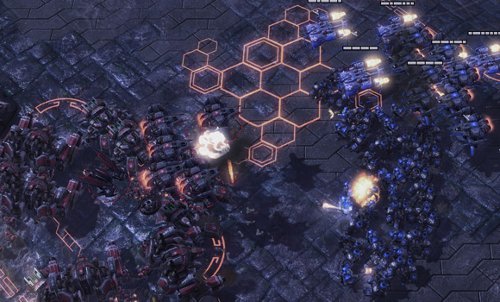 A marine/tank army clashes with a mech army
Late game:
Normally TvT doesn't progress much from the midgame strategies. Occasionally, however, some terran players will incorporate banshees, vikings and/or battlecruisers into their late game composition. Banshees are particularly useful in sniping off tanks while vikings are often used for giving tanks range. Battlecruisers are somewhat the ultimate air to ground weapon, but are rather weak vs air and hence require significant viking support otherwise are vulnerable to mass viking. Sometimes this leads to crazy viking vs viking wars with raven support, and occasionally hunter seeker missiles blowing up huge chunks of vikings.
Zerg vs. Zerg
Early Game:
ZvZ has recently been promoted to 'worst matchup in sc2' because of the extreme volatility in the early game (sound familiar?). The three most common builds are 10pool speed, 14pool and hatch first. These play out very similarly to the relationship between 9pool speed, 12pool, and hatch first in SC1 with one exception: you're not rushing towards Mutas. Even 10pool speed builds will usually try to expand after harassing with lings, rather than rush for tech. With ling pressure being so prominent in the early game, the tech of choice is usually banelings, thus resulting in zergling/baneling wars. These have been described like 'drunken knife fights' because one baneling will kill any zerglings in its splash radius upon death. Thus players will try to kill banelings by having one, and exactly one, zergling kill the baneling with no other zerglings around, thus minimising the damage a baneling can do. The micro dynamic in zergling/baneling wars is therefore interesting to watch, but incredibly difficult and stressful to play.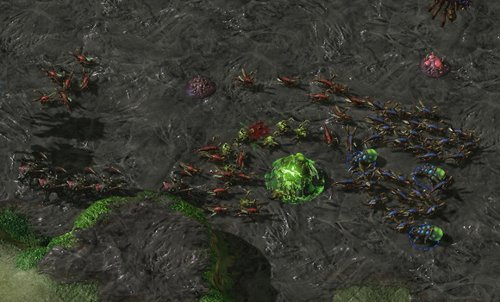 Banelings and the micro focused around them dominate the early phase of play
Mid game:
Assuming neither player dies to a zergling/baneling attack, players will usually opt for roach once they start to tech to lair. Roaches usually aren't seen earlier because they lack mobility before the speed upgrade, which is only available at lair, meaning a skilful zergling player can pick a roach player apart if he is trying to defend two bases. Once the game progresses into roach play, it never ever leaves it. Both sides will start massing up ridiculous numbers of roaches and missing a single larvae inject could mean your roach army becomes inferior. Thirds are not such a pressing issue; since overlords are usually in key positions around the map, thirds are scouted very quickly. This means players have the choice to expand themselves or to pressure then expand. Normally both options are viable.
The other important midgame question is 'what unit is going to complement my roaches?'. The choice is between hydralisks and infestors. Hydralisks offer a significant DPS increase and the high HP of the roach allows them to stay alive for a long time. Infestors, on the other hand, give you the ability to freeze groups of roaches in place, screwing up the opponents roach arc and allowing you to whittle down their army slowly. Usually infestors are preferred as Zergs feel that infestors don't decrease their roach count by very much (as they are high in gas, low in minerals, the opposite of the roach) and that fungals offer more versatility than hydralisks. Incidentally, if one player goes mutalisks, either infestors or hydras accompanied by spores and queens are usually an ample defence.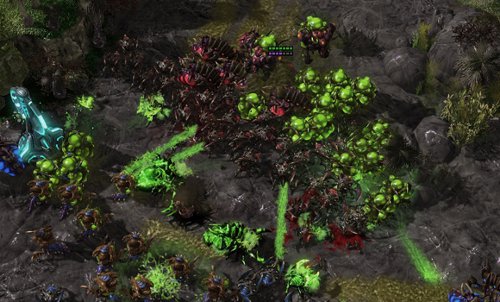 A hydra/roach army does battle with a roach/infestor army
Late game:
Ultralisks are the unit of choice in a late game ZvZ. This is because they deal bonus damage to roaches and are immune to the stun effect of fungal growth. Broodlords, on the other hand, tend to clump up and become prime targets for chain fungals and infested terrans. Thus lategame armies will typically look like ultra/roach/infestor and sometimes with hydralisks. With this said, usually the game will end after midgame as usually after a maxed roach/infestor or roach/hydralisk push one player will be able to cruise to victory.
We realise that are a lot of new people interested in proleauge now and a lot of them don't have the knowledge of the scene that the SPL veterans have. Knowing this we set out to create accessible content for both parts of the community. If you are familiar with the BW scene then please select the BW option below where you will receive the comprehensive team analysis you have come to expect from SPL coverage. If you aren't familiar with BW, then please select SC2. This will give you a good idea about each team and their histories as well as who the major players are.
Looking Forward
by Kiett
As we enter into the second season of the SK Planet Proleague, we find that the task of gauging and predicting team performance in BW has become extremely difficult. Although the offseason has been relatively short, so much has changed during the last month that what each team showed in their last match of the season will not directly correlate, if there is correlation at all, to their abilities in the opening games. Factors such as participation in the OSL, and how much each team has revealed they will concentrate on SC2, will cause performances to vary and deviate wildly from what we would predict.
SK Telecom T1
There is little one can say about the Season 1 champions that hasn't already been said. With a fearsome lineup of 3 powerhouses and a well-rounded supporting cast, T1 dominated Proleague, finishing the regular season in first place with thirteen wins, eight losses, and an overwhelming differential of +18 games. Surprisingly, however, it was not the perennial Proleague workhorse, Bisu, who held the lead as the team's top player, but Fantasy, who held the second best record in the league with a remarkable 13 wins and 2 losses. Fantasy's prowess in all three matchups was proven constantly throughout the season, culminating in a hard fought victory in the finals, against his overshadowing rival Flash.
Relatively speaking, Bisu had a rather lacklustre season. While a 11-7 record is nothing to scoff at, it still fell short of his usual standards. PvP, particularly on Outlier, served Bisu most of his losses. However, both Outlier and Chain Reaction, maps that tended to attract only Protoss and Zergs (forcing countless mirror matchups), have been removed from this season's pool, so this might bode well for The Revolutionist. In the post season, Bisu again disappointed by failing to make the OSL, but showed the very next week by winning both his games in the Proleague finals that he had not lost his touch. Expect to see this momentum carry on to the current season.
Best had possibly the strangest season of all; once known for his laughably weak PvZ, BeSt spontaneously morphed into Bisu 2.0 and managed to end the season with the strongest vZ record in the league, his hit-list including every top performing Zerg from Jaedong to Effort, and then Soulkey. As the season wound down however, he began to lose steam, falling to Action in the OSL preliminaries, and then to Hoejja in the PL finals. Since it seems BeSt can only be good at one matchup at a time, it will be interesting to see if he continues his PvZ dominance or revert back to the PvT macro monster of years before.
Beyond the sheer power of FBB, SKT's strength also lies in its overall team depth. Rookie by.Sun, may perform poorly if you just take a look at the numbers, but consistently dispels doubts about him when it matters the most, i.e. in the finals, where he overcame his status as the overwhelming underdog to take out Stats and swing the match back in SKT's favor.
The T1 Zergs, though they are often disregarded or ridiculed, have been crucial to the team's success. SoO went on a 6-0 rampage in R3 of Proleague, helping SKT reach first place, and is now continuing to prove that his OSL seed was not undeserved. Though Coach Park is a pragmatic man and has stated that he will split focus between SC2 and BW in a 6:3 ratio due to the SC2 ace match, he is also not one who would let the best BW talent in the league go to waste. As such, look forward to seeing SKT dominate in both games with ease.
KT Rolster


Photo credit: dailyesports.com
It is no coincidence that SKT and KT have battled each other in the Proleague finals for three consecutive years. Season after season KT churns out unbelievable results when it matters the most, whether seeded into the finals with a strong regular season or fighting its way through the playoffs from the bottom.
Perhaps unsurprisingly, Flash held the top record in PL, maintaining a monstrous fourteen game streak. He began to falter in the third round and the playoffs, eventually leading to a total of four losses from Protoss players, including the ace match of the finals against Bisu. Throughout the offseason, Flash has admitted to be practicing primarily SC2, and that his BW ability is already suffering for it. As the player with the highest expectations placed on him to dominate in SC2, Flash will have to choose which means more to him, to be the only player in history with 4 OSL wins, or to be the leader heading into a new game.
With Flash potentially compromised it will fall to Stats and the KT zergs to score the necessary wins. Throughout the last season, Stats showed that he was capable of being more than just Flash's sidekick. Meanwhile, the KT Zergs followed the same trend as they had for ages – sheerest mediocrity in the regular season (with Crazy-Hydra as the saving grace that barely allowed for their combined total record to break even at 14-14), invincible beast mode during the playoffs (Hoejja running a perfect six game streak into the finals, despite being the underdog in almost every match).
The vital question to KT's overall capacity is always whether or not the team's Zerg backbone can continue its playoffs rampage into the new season. The OSL has shown glimpses of new weaknesses; both Crazy-Hydra and Hoejja were eliminated in the prelims by far less capable players, while Action still has much to prove in his remaining OSL Ro16 matches.
Samsung Khan


Photo credit: dailyesports.com
Khan spent the majority of the season in prime position to make not only the playoffs, but the finals as well. Comprised of the Protoss twin cannons of Stork and Jangbi, supported by highly capable rookies Brave, Turn, Reality, and new Zerg pickups Shine and Roro, Khan stormed its way through Rounds 2 and 3, usurping KT's position at the top to end the regular season in second place.
In spite of that, their performance in the playoffs was dismal, to say the least. In particular, defending OSL champion Jangbi, after a fairly unremarkable season, showed two rather disastrous games against Flash, causing many to question whether or not he would even be in competing condition for the current Starleague. Roro's ZvZ remained a liability, and the Protoss and Terran rookies took turns to disappoint.
The highlight of Khan's gloomy post season, however, was Grape, who, despite a terrible regular season, defeated Crazy-Hydra with a beautifully executed sair/reaver strategy, then rode his momentum into the OSL, where he qualified for his first Ro16. With Brave's retirement, Grape will have to step up to take over the position of third Protoss in line, a position that almost guarantees a plethora of play time, given how a ridiculous 68% of Khan's games involve Protoss.
Other lights at the end of the dark tunnel include Shine, who is playing quite well and carving his mark in the current OSL's all-zerg group, and of course, the Commander himself, who had a fantastic season, going 13-5, which put him as the third best player in the league. Post season, Stork qualified for his 13th consecutive OSL, where he fights for both his 100th Starleague win and a second gold. With so much on the line, Stork will be unlikely to drop his commitment to BW any time soon, and will only need to continue with last season's momentum to spearhead Khan to the top. On the other hand, Jangbi will certainly need to step it up, as his good form is pivotal to the team's success. As Khan is the team with the most members still in the OSL, we can expect that its players might be focusing more on BW than the other teams.
CJ Entus


Photo credit: dailyesports.com
Having barely scraped into last season's play-offs on set differential, CJ will be hoping for greater consistency from their main players this time out. Leta's trademark late season run was crucial for CJ and, along with Horang2, his contributions against KT in the play-offs were important in saving CJ from being completely dominated. Effort's return from retirement saw him reclaim his place as CJ's main Zerg at the expense of 2010-11 ace Hydra, who struggled outside of ZvZ.
Looking ahead to this season, Effort and Leta are again likely to be the two most important players for CJ. Given the time demands involved in preparing for an entire new game, it may prove difficult for players unfamiliar with certain maps to learn them in time for the start of this season. The changes in the map pool especially favour Leta, having played multiple games last season on all three of the maps that were selected. Effort should be familiar with Sniper Ridge and Ground Zero, having featured regularly on both, and with the changes appearing to be zerg-friendly, we may see him make his debut on Jade as well. Both players are, however, conspicuously missing from the OSL, having been eliminated in the preliminaries.
For Horang2 and Hydra, it's unclear whether their participation in the OSL Round of 16 will help or hinder their Proleague performances. It is possible that the additional practice for their OSL matches could help them maintain their Brood War skill level more effectively than other players who are focusing more heavily on learning SC2. Rush's performances in the OSL so far also may be on the mind of the CJ coaching staff when selecting their line-ups this season, with his value as a TvZ sniper being especially apparent in his ODT wins over Jaedong and Roro.
Woongjin Stars


Photo credit: dailyesports.com
Up until the last week, Woongjin Stars was a serious contender in the playoffs run last season. Carried in large part by their rising star player, Neo.G_Soulkey, Stars finished the season with a respectable 11-10 record. Although Soulkey had stepped up to the plate to become the top Zerg in the league, his teammate ZerO was thoroughly underwhelming for most of the season. Fortunately, it appears that ZerO has managed to pick himself up and recover, winning seven of his last nine games. Both players have fought their way into the OSL Ro16, and are in the running for their very first Starleague win. So far, their performances in the OSL have been among the best, which bodes well for their BW prospects in Proleague.
Woongjin's third hard-hitter, Light, suffered from an absolutely debilitating case of Protoss-weakness, barely winning only one out of the nine TvPs he played with a desperate 2-fact against a rookie opponent in the form of Wooki. It may be the case that Light will focus primarily on SC2, as the prospect of getting to use bio in all three matchups could entice him more than his current situation, in which he essentially loses every game with a P in it by default. This seems all the more likely with the recent news that Woongjin has hired Slayers' former Terran coach.
The rest of Stars, in particular its Protosses, have been shaky, with Free going from slaying Bisu to epitomizing the term "dead dragon," and Shy impressing, but also suffering a six-game loss streak. Flying, on the other hand, aside from his one disastrous game against Jaedong, has proved to be an important player, winning all three of the final fifth sets he was sent out on. Though the two Zerg twins of Stars are foreseen to be the biggest threats coming into the season, Woongjin Terrans and Toss will have to display their mettle as well if they want a shot at the playoffs this time around.
STX Soul


Photo credit: dailyesports.com
STX showed mixed results last season. At several points throughout the months, they were fully in the running for the playoffs, a feat always impressive from teams without an obvious star player. Even though, realistically, STX is considered a team on the lower end of the team league totem poll, quite often they pulled shocking upsets, and ended the season with a 2-1 record over eventual champions SKT.
Although held up overall by a solid Calm and a breakout Last, STX's most notable aspect this last season has been its blooming rookie sector, through Dear, the Protoss responsible for shutting down Flash's seemingly unstoppable streak, and Mini, whose impressive PvZ catapulted him to his very first OSL Ro16.
The team's biggest letdown was the performance of its Terran Ace Bogus, a rising star who had shown himself to be extremely capable in the 2010-11 season. TvT proved to be Bogus's undoing. Although he has managed to make it into the OSL this time around, it will be his next confrontation with Flash that may give us a glimpse of whether or not he has managed to overcome his weakness. With three members still remaining in the OSL, hopefully BW will not be a forgotten relic among this team.
Team 8


Photo credit: dailyesports.com
This is the team that we all had high hopes for. The Dream Team, the team of all-stars. But the dream was crushed, the fans were heartbroken, and situation only got worse with each passing week. Team 8's biggest difficulty was securing the third win, having lost almost all of their matches 2-3. Jaedong had a solid, but uninspiring season, while Baby impressed in the early stages, but began to drop the ball in the new year. The biggest disappointments turned out to be Sea, whose new found weakness to Protoss led to his defeat seven times, and Killer, who had showed such promise, but failed to live up to his potential.
The new season will see a shift in the Team 8 roster, as Killer retires and new pickups Movie and by.hero take his place. Movie's season wasn't spectacular, to say the least, but with a new environment and team, he may experience a revival. Hero will also be looking to reinvent himself, and his success will be desperately needed, thanks to Killer's departure and a lack of a second main Zerg.
Team 8 captain Jaehoon remarked at Media Day that the team had been practicing SC2 longer than any other team, which no doubt had an effect on the players' BW abilities throughout the season. Not a single Team 8 player made it to the OSL Ro16, despite four of them being seeded into the Dual Tournament. In the end, however, we must remember that Team 8's biggest concern is not to win Proleague, but to find a sponsor. Embracing SC2 is their best shot at financial security, and so it shouldn't be any surprise if Team 8 goes all-in for SC2, so to speak.
Airforce ACE


Photo credit: dailyesports.com
Aside from a couple of amazing upsets against KT and Khan, ACE ended up where most people expected them to – the bottom of the ladder. Although the roster was as good as it had been in years, especially with new recruit Kal bolstering the Protoss line, ACE proved to be its own worst enemy. Given the choice between playing Firebathero and Great, 9/10 times, Great would be sent out. He ended the season with a dismal 2-10 record, while FBH spent the majority of his time warming the bench. If ACE wants to have any chance at the playoffs for this season, the lineup choices need to stop being mind-numbingly poor.
That said, ACE has no players in the OSL, due to the coach wanting the team to focus on Proleague. This sounds like a sure-fire sign that the team will focus primarily on SC2, as it has resigned itself to be unable to keep up with the rest of the competition in BW.
An Introduction to Broodwar Progaming
By kjwcj
Brood War progaming teams each have their own
unique culture
, a product of their origins as a team as well as their history of competition. This culture often has an impact on the type of player they produce, the race of their most successful players or even on the success of their players in specific match-ups. All of the remaining eight teams owe a debt of gratitude to those that have come before them, as although progaming has fallen on hard times in recent years, the conditions and salary available to the current generation of players is a result of the passion and the sacrifice of heroes past. The system that has built up around these teams, along with the same passion which sparked their creation, has created a competition featuring some of the best Starcraft players who have ever lived. To watch them play is a privilege, and there's no better place to do so than Proleague.
SK Telecom T1
is the most famous and successful team in the history of Korean eSports. Founded in 2002 as Orion, SKT's history is defined by one man,
SlayerS`BoxeR
. Even today, more than two years after his last televised Brood War match, SKT is Boxer's team. His role in the foundation of SKT and the financial sacrifices he made in order to keep it running in the early years are central to Boxer's legacy. His influence on the growth of professional Starcraft is reflected in the ascent of SKT as a team, from a group of kids in a cramped apartment to a team of professionals in a sleek practice room.
Alongside Boxer in the annals of SKT history stands iloveoov. Beginning his career as Boxer's pupil, oov soon became the Emperor's greatest rival, culminating in an emotionally charged
EVER04 OSL final
. The depth of understanding which so defined oov's career as a player continued to serve SKT long after his retirement, with his influence as a coach always apparent through the innovations of SKT's new generation. Following in the footsteps of his mentor, oov became central to the discovery and development of talent for SKT in his later career.
One player scouted by oov, and then passed on to Boxer following his switch to SC2, was MMA. Known during his Brood War career as 1988, MMA was drafted by SKT in 2008,
hand-picked by oov
who was a player-coach at the time. However, MMA made little impact during his time on SKT, failing to appear in a single broadcast game on OGN or MBC. Regardless of his failure as a Brood War progamer, in SC2 MMA's superlative TvZ continues a long tradition of SKT Terrans.
Over the last ten years, SKT has constantly adapted, both to the changing landscape of professional Starcraft in Korea as well as to their own evolving player roster. Although SKT has seen its fair share of superstar players over the years, it has never been a one man team. From the early glories of Boxer to the unprecedented dominance of iloveoov and even in Bisu's record breaking season, no SKT line-up has ever been completely defined by one player.
At the core of the modern SKT roster are three players,
Fantasy
,
Bisu
and
Best
, often referred to as FBB. In the most recent season of Proleague, these three had a combined record of 39-17, collecting more wins between them than all of Airforce ACE combined. Although in the past he has often struggled to find his best form in Proleague, Fantasy emerged last season as SKT's clear ace player, ending it on a high note with a win over old rival and KT ace Flash in the final.
SKT's ability to prepare for the commencement of SC2 Proleague was delayed by their practice for last season's final. However, recent articles in the Korean press seem to imply they were one of the earliest teams to begin considering SC2, even holding a trial day for some potential SC2 recruits. At a recent conference, multiple head coaches stated that SKT was thought to be the team with the best SC2 players at this point in time.
KT Rolster is Brood War's other telecom giant. Originally formed in 1998, KTF (a subsidiary of now-sponsor KT) came on board as a sponsor in 2001 and wasted little time putting their corporate money to work. The spending spree which ensued is one that is unlikely ever to be seen again in eSports (although EG are doing their best). Over the next three years KT went about acquiring some of the best Brood War progamers on the planet. By the things died down in 2004, KT had assembled a dream team featuring the likes of Yellow, Reach and Nal_rA. Although KT's spending had succeeded in delivering a team with a depth of individual quality that Brood War has never seen since, their money
failed to deliver
them a single major team-league win.
In the modern era, KT's fortunes have been decided by one player-
Flash
. By the time he won his first OSL in 2008, Flash was firmly established as KT's ace player and KT's seeming reliance on Flash for wins lead to the nickname KTFlash. However, further home-grown talent began to appear to support Flash, with KT's rise culminating in the 09-10 Shinhan Bank Proleague in which KT and Flash were utterly dominant. Since that season, Proleague has been defined by the rivalry that is SKT versus KT, with the most recent four finals involving both teams.
Although no player on the KT line-up can truly claim to be
Flash
's equal, an important and talented supporting cast has been built up around him. First is
Stats
, who finished last season one win behind Stork and ahead of the likes of Bisu and Best. Stats is best known for the solidity of his play, making him extremely well suited to the rigorous Proleague schedule which leaves little time for specific preparation. Crucial to KT's run through the play-offs of the most recent Proleague season were two Zerg players,
Action
and
HoeJJa
. Although both players have struggled for consistency during past seasons, both Action and Hoejja have the potential to beat almost anyone when at peak form.
Aside from being the home of Flash, KT is probably best known to SC2 fans as being Nestea's former team. Having joined KT very early in its history Nestea had a slightly unusual career as a progamer, taking a long break to do his military service before returning to the team in the mid 2000s. Featuring for KT mainly as a 2v2 player, Nestea's Brood War gameplay was never enough to distinguish him from his more well-known team-mates. He was, however, a respected veteran, serving as KT's captain and then Zerg coach until his move to SC2.
The main story relating to SC2 that has come out of KT, other than Flash's
recent interviews
and rehabilitation dabbling, is the retirement of a small group of their B-team players in early 2012. At a recent conference KT's Coach Lee mentioned that these players had begun practising SC2 full time in anticipation of KeSPA introducing the new game much sooner and had become disillusioned with the lack of opportunities to play. Also recently departing KT for SC2 is Anyppi, who retired as a Brood War progamer in January of this year to officially join LG-IM, who he was pictured practising with in late 2011.
Samsung was one of the earliest of the big corporations to become involved in running a Brood War team, forming Samsung KHAN from scratch in 2000. The most successful period in KHAN's history came after a long period of irrelevance when it
won the 2008 Shinhan Bank Proleague
, lead by Stork, Jangbi and firebathero. KHAN is also unique in having the only female coach in Korea,
January
. For some time, January was the only former progamer responsible for running a KeSPA team and her experience competing as a member of KHAN in the early 2000s is thought to have informed her more relaxed style of management.
The presence of multiple individual league finalists
Stork
and
JangBi
, and recent MSL quarter-finalist
Grape
, has lead to KHAN being best known for its Protoss line. However, Jangbi's struggle for consistency in recent seasons has left KHAN heavily reliant on Stork to lead the team and collect wins. The emergence of
TurN
and
Reality
in recent seasons has given KHAN two decent, if erratic, Terran options in the absence of firebathero who left do his military service with ACE in 2011. Coach January's preference for rotation means that KHAN often has one of the most diverse line-ups in Proleague, occasionally attracting criticism from fans when her picks don't work out.
KHAN's involvement with SC2 so far has been minimal, indeed at a recent conference for team coaches, January suggested that KHAN were currently the worst of any of the KeSPA teams in SC2. Only two former KHAN progamers have become well-known in SC2 to date, FXO's lucky and recent Fnatic recruit ByuL.
CJ Entus, formed in 2001, started out life as team ProSuma and was known in its early years for developing some of the best and
most innovative
players in the history of Brood War. After a difficult period, during which successful players like Xellos had to use their individual league winnings to help support the team, corporate giant CJ came on board to sponsor the team in 2005 and immediately made it one of the richest in Korea. Also part of the modern CJ team are the remnants of hite SPARKYZ, a team which was merged with CJ after their line-up was devastated by the Match Fixing Scandal.
Historically CJ has been regarded as having one of the deepest line-ups of any team, with an even distribution of strong players across all three races. However, CJ is probably best known for its Zerg line, following in the tradition laid down by the now-disgraced
Savior
. Although CJ's line-up has always consisted of multiple individual league finalists and winners, its sole team league win in the modern era came in the 2009 Winners League.
The core of the current CJ line-up is an odd pairing of two original CJ Zergs-
EffOrt
and
Hydra
, and two former SPARKYZ players-
Leta
and
Horang2
. Effort, having returned at the beginning of last season following a brief retirement from progaming, quickly reclaimed his status as CJ's main Zerg. However, both he and MSL winner Hydra have struggled to establish the same level of consistency that they've shown in the past. Unlike the two CJ Zergs, neither Leta nor Horang2 have an individual league win under their belts. However, both have a unique talent for beating other teams' ace players in important games, most recently when Horang2's upset win over Flash launched a CJ comeback against KT.
CJ also happens to be the former team of now SC2 progamer
IdrA
. Joining in 2008 after beginning his career as a progamer with eSTRO, IdrA was unable to make a real impact on Korean Starcraft but was did use the skill he gained through training with CJ to almost completely dominate the foreign scene in 2009. IdrA began his SC2 career while still a member of CJ and was for a time the only KeSPA progamer publicly active in SC2, however his association with the team ended in late 2010 when he left to join Evil Geniuses.
Recently, CJ's Horang2 was rumoured to have an account with an 80% win-rate in Korean GM league, however no replays have surfaced. Also worth noting is the switch by former rookie of the year Snow from Protoss to Terran. Best known for his harass focused PvT, Snow's career stagnated in 2011 and he may have seen SC2 as an opportunity to resume his in the rankings at CJ. Beyond random whisperings of individual players' prowess, little real information has come from CJ players or coaching staff about their involvement with SC2 so far.
Woongjin Stars was founded in 1999 and first rose to prominence under the banner of Hanbit, the Korean distributors for Starcraft. Woongjin started out as home to some of the
best players
of the early 2000s, including OSL winners GARIMTO, Sync and
Reach
. However, as Brood War began to grow and other teams were taken on by wealthy corporations, Woongjin found itself struggling to compete with the salaries being offered and began to slip towards mediocrity. Although Woongjin has never been able to match the individual league successes of those early years, its continuation as a solid and understated force in Proleague is a tribute to the willpower of
Coach Lee Jae-Kyun
, who has lead the team since its foundation more than a decade ago.
After the strength of its original line-up had faded, Woongjin became known as a team that was always able to hold its own without possessing the wealth individual league superstars available to its competitors. Coach Lee's faith in his players, along with well selected line-ups and diligent preparation has lead to a number of thrilling upset victories for Woongjin down the years, the
best of them
coming from an otherwise unremarkable Protoss player named
Guemchi
. More recently however, Woongjin has formed a core capable of competing on level footing with the best Proleague has to offer.
The most important component of the current Woongjin roster is their Zerg line-up, which is the strongest of any team in Proleague at this moment in time. Consisting of recent MSL finalist
ZerO
and last season's Zerg win leader
Neo.G_Soulkey
, both of whom are best known for their strong management styles. Alongside the two Zergs is Terran player
LighT
, formerly of MBC, who has the distinction of being one of the few Terran progamers that can actually claim to be better at something than Flash. Although Light is far from being the best Terran player in Korea, his bio control is regarded by most as being the best of any progamer and has contributed to his almost 80% TvZ win rate over the last two years. In recent seasons young Protoss player
sHy
has become increasingly important for Woongjin, slowly replacing former Protoss ace
free
.
Although the phrase
"Woongjin Terran"
was for some time synonymous with "terrible player", the contribution of former Woongjin Terrans to SC2 is significant. Most prominent among them is reigning GSL champion Mvp. Mvp had some small individual league successes in his Brood War career and is probably the best Terran Woongjin have produced in the modern era. Other former Woongjin Terrans Ganzi and Supernova were both highly thought of when first starting out as progamers, but were never able to break through to the next level and failed to ever qualify for a major individual league.
Most of the information about Woongjin's hopes for SC2 this season have come from
player interviews
following the early rounds of the TVing OSL. Most recently, Soulkey confirmed that he had an account in Korean GrandMasters but downplayed his own skill level by saying he was fortunate to be placed into the league. Zero also has made reference to the difficulty of learning SC2 but has given no hint as to his own personal skill level.
STX SouL was founded in 2000 as SouL (Starcraft of unbelievable Legend) and was one of the last of the KeSPA teams to find a major corporate sponsor, with STX only coming on board in 2006. Early in its history, STX was known for having a strong Zerg line-up which included now SC2 coach and player, TheWind. STX had a few good showings in the early years of OGN and MBC team-leagues but really began to become a
factor in Proleague
in 2009, lead by MSL winning Zerg Calm and MSL finalist Kal.
Even when at the peak of their strength, STX is often notable for their inconsistency as a team. During their most successful season, 09-10 Shinhan Bank Proleague, STX swung from the sublime to the ridiculous as some of their best players seemingly forgot how to play Starcraft in the season's later rounds. This is a team that had more players than anyone else in the most recent ODT (OSL Ro24) but it is also a team that was all-killed in their own tournament by much-maligned SKT Zerg Hyuk. You never know what you're going to get with STX, but you always know whatever it is will be
damn interesting
.
STX's main line-up has been going through a period of transition in recent times, with several of their strongest players from last season having been seldom used in the past. In
Dear
and
Last
, STX possessed probably the two strongest "new" players last season. Alongside the young-bloods is the Brain Zerg, Calm, a player who has been at the heart of the STX line-up for some time.
Calm
is best known for his heavy reliance on strategy and mind-games and in recent times has been relied upon by STX as a ZvP sniper. Rounding out the STX main line-up is
Bogus
, who emerged as their ace in 10-11 but struggled to make an impact last season. Bogus appears to be making a return to form recently, evidenced by his strong showing in the OGN Dual Tournament. With each of their best players having their own unique strength in a particular match-up, STX has become a team which can beat anyone on their day, when their selection works out.
STX was the team with which current SC2 progamer July won his Golden Mouse and ended his Brood War career. When he joined STX, July was thought of as being on the fast track to retirement and was on his last limbs as a progamer before doing his military service. However, while a member of STX July made an astounding return to form, winning his third OSL trophy and helping STX rise up the rankings in Proleague. Although July began to fade again in 2009 and eventually moved on to SC2 in late 2010, his contribution to STX during his brief return to power was significant.
During the KeSPA coach conference, STX was referred to alongside SKT as the team which had made the most diligent preparations for SC2, with STX's Coach Lee even stating that their early dabblings with SC2 detracted from their results in last season's Brood War Proleague. At the conference, Coach Lee also stated that STX has multiple grandmasters players on the team but was not specific about which players were currently strongest. STX also features one of the more notable Brood War to SC2 race switches, with Calm switching from Zerg to Terran for his SC2 matches.
Team 8 was
formed by KeSPA
in 2011 as an amalgam of three disbanded teams, MBC Game HERO, Hwaseung OZ and WeMade FOX. With the line-up being selected by taking the strongest two players of each race from the available players, Team 8 was expected to be a major force in SK Planet Proleague Season 1. However, many of the former ace players have struggled to adapt to their new surroundings and Team 8 ended last season second last. Having added two new players in the off-season, Team 8 will be hoping for a good showing this season in order to attract a major corporate sponsor.
A newly formed team is something of an oddity in Korean Brood War, with almost every other team being able to trace their roots back to the early 2000s. However, at their head Team 8 has
Coach Ju Hoon
, a man who was responsible for running SKT during their glory days of Boxer and iloveoov. Coach Ju Hoon is familiar with the level of expectation that comes from having some of the best players in Korea in your line-up, as well as the difficulties of operating a team without sponsorship from a large corporation.
Although Team 8 has quite a deep roster of strong players across all three races, their clear ace is
Jaedong
. Although Jaedong's win record last season was one of the best in the league, his ability to carry Team 8 through Proleague, as he had done for Hwaseung OZ, was not as evident. One of the players who struggled to match his performances prior to the formation of Team 8 is
Sea
. Having been expected to be the second strongest player after Jaedong, having served as MBC's ace for several seasons, Sea's TvP proved a massive weakness last season, ending with a 1-7 record in the match-up. Young Terran player
BaBy
and Protoss
Jaehoon
make up the remainder of Team 8's core. Both Baby and Jaehoon ended last season with decent records but were also unable to truly recreate the form that lead to them being picked as founding members of Team 8.
Following their disappointing debut season, Coach Ju Hoon has made reference to Team 8 focusing heavily on SC2 in the off-season. The addition of SC2 to Proleague may aid Team 8 in finding that all important sponsor but their own comparatively shallow line-up means that if any of their existing A Teamers are unable to adapt to SC2 they may be caught short in the new format. In addition to their strong focus on SC2, Team 8 has on their side the fact that none of their line-up are still competing in the current OSL, allowing them to focus solely on preparing for the beginning of this season.
Formed in 2007, Airforce ACE was
Boxer's last significant contribution
to Brood War progaming. The original line-up featured many famous players from the early years of televised Brood War and has seen multiple Starleague winners such as Reach, Yellow and, of course, Boxer himself pass through its ranks. ACE is something of an outsider in Korean Brood War. Although it is technically a professional team, players are not able to fully focus on practice as they're required to perform other normal military duties. As as result of this, ACE is something of a
progamer retirement home
, with few players ever returning to peak form having completed their time in ACE. Even though they're unlikely to ever threaten for a place in the play-offs ACE are occasionally able to produce exciting series and are well loved by Brood War fans in their role as perennial losers.
In the past, the general trend with ACE line-ups was that the players who had most recently transferred from the normal professional teams would be the best performers. As a player continues on ACE, the reduced practice hours and lack of a real coaching staff generally lead to a slow decline in skill until his service is complete. Last season, new additions
Kal
and
great
were the two most used members of the ACE line-up. Kal's strength in PvP was still evident as he took out the likes of Best and Stork but his fellow recruit great had a terrible season, finishing with a 2-10 record. Alongside those two is Terran player and former
Proleague winner
firebathero
. Known for his strong TvZ and
extravagant ceremonies
, fbh was in and out of the ACE line-up last season but when playing well is still one of the strongest players on the team.
Although in recent years SC2 has become something of an alternative to ACE for progamers who are coming to the end of their career, Boxer is the only former ACE player to have any notable achievements in SC2 so far. ACE's coaching staff have not made any comments about their progress in SC2 so far but their line-up is notable for having the largest number of players switching their race in SC2. The already reduced practice time of the ACE team, combined with the added burden of learning a new game mean that ACE's fortunes are unlikely to improve this season.
The creation of the hybrid proleague is probably the most significant change in the proleague's format since its inception in 2003. Indeed, this is the greatest strategic challenge that any coaching staff has ever faced – a title previously held by the formation of the joint proleague in 2005.
The creation of the joint proleague completely changed the format of the previous team leagues; MBCGame had focused primarily on a winners' league type format for their team leagues, while OGN had focused on a best-of-three match between teams, with one of those matches being a 2v2. The joint proleague format was a best-of-five match with sets two and four being 2v2, but it also raised the prominence of team leagues in Korea until, by 2006, it was considered a priority by most teams. For the most part, the successful teams in this new format were the teams who were successful pre-merger, but there was one team in particular which defied the odds through a very effective coaching strategy.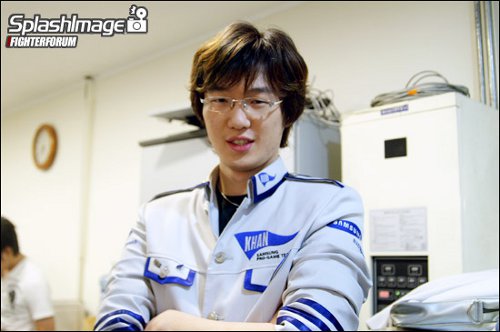 Sigamari was a key component of Khan's approach on the 2005 Proleague
At the end of the 2004 OGN Proleague season, Khan purchased the 2v2 specialist Sigamari (aka Zerglee) from SKT1 for the upcoming joint proleague. Back then, Khan had placed last and second-to-last in the two most recent rounds of the 2004 OGN Proleague. With two sets out of every match in the new joint Proleague being 2v2, team play had suddenly become a large part of the proleague format. If a team could win both 2v2 matches, then it would always be guaranteed at least an ace match. With this in mind, Sigamari and the coaching staff set to work on improving Khan's teamplay skills. Sigamari's incredible understanding of how teamplay games work eventually lead to Khan's rapid rise in the proleague standings. Together with some rising talent, in the form of a young Stork, Khan came from nowhere to place runner up to SKT1 in the second round final of Proleague.
While Khan's story during the 2005 proleague will most likely be remembered as a blip on the radar, it really deserves far more credit. Much like the revolutionary approach to baseball implemented by Billy Beane and the Oakland A's, Khan's strategic decision to focus on teamplays fundamentally changed the way teams approached proleague. Teams began to incorporate 2v2 specialists within their own squads and began to devise one off plays for
snipers to pick off good players
, which led to a huge increase in the strategy involved within team matches. Of course, 2v2s were removed in 2007 (forcing a bunch of retirements) and Khan did win a season of proleague.... eventually.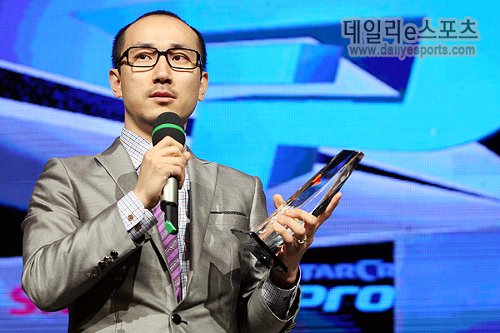 The upcoming season will be the greatest test for award winning coaches like Coach Park (pictured)
The switch to the hybrid league represents another fundamental strategic shift in coaching strategy, and once again teams will have the chance to revolutionise the way they prepare for proleague. Having thought about this myself for a while now, I think that the unique ruleset imposed on this league will promote some very interesting strategic plays. Firstly, let's review the ruleset:
- If a player plays Brood War, he must play Starcraft 2 in the next match
- If the score of either Bo3 is 2-0, the unplayed match still counts towards the requirement above
- Winning either Bo3 will at least force an ace match
- The ace match is played on Starcraft 2
Firstly, the importance of Starcraft 2 in this league is ridiculous. Winning the SC2 Bo3 will force an ace match, also on SC2. Thus, if a team is clearly the best at SC2, then they should win every single match. A team which is awesome at BW, but terrible at SC2, could not win a single match the entire season. Thus every team should be trying to figure out who their ace players are in SC2. With that in mind, the rest of the season should be aimed towards maximising their overall performance in the league.
The next thing I would focus on is training snipers in both SC2 and BW. In particular, these would be players that normally wouldn't see play time during the season. Why? So I could ensure that my line-ups for strong teams are as strong as they could be by playing these players in less important matches so that my A-line-up will be playing in their best game when the difficult match comes around. For instance, let's say my next match is against Ace, which isn't doing so well, and after Ace I have to play KT, which is a really strong team. If Player X's strong game is SC2, and he is due to play SC2 vs Ace (if he plays), I will choose to
not
play him so that he will be able to play SC2 against KT. Training these players as snipers maximises their chance of beating their opponent – particularly if their opponents are trying to train both games simultaneously. Of course, these players would only be used once in the entire season.
After an SC2 specialist plays, the rules demand that he must play BW in the next match. This is a rather tricky rule to get around, and I have two approaches. The first one is to play the SC2 specialist as the third player in the Bo3, thus minimising the chance that he actually has to play. If possible, I would align this so that my SC2 specialist is paired with strong BW players against a weak BW team. The other approach is if I have multiple SC2 specialists forced to play BW then I would have my B-teamers prepare one off builds which my specialists will practice as to minimise the need to practice long macro games in BW while maximising their winning potential.
While I believe the above to be the optimal approach towards the team league, there are some mistakes that I can see some teams falling into. The first that comes to mind is if a team plays their BW and SC2 aces simultaneously. Why is this a mistake? Because in the next match your aces will be playing their off-games and, unless you are against a really weak opponent, this will probably lead to a loss. Generally teams should be strong in either BW or SC2, with a goal of getting to the ace match where any player can play (where you either send your best SC2 player or someone who is prepared to snipe their ace).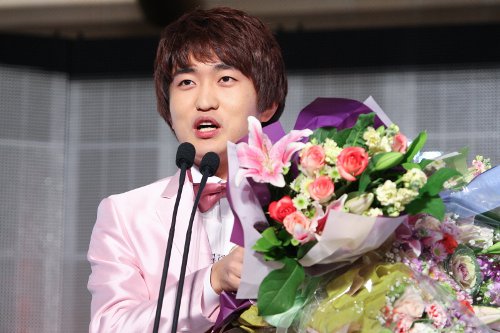 Flash might be God in Brood War but with his OSL commitments, overplaying him could be a mistake
The other mistake that is likely to happen is to rely on the star power of experienced players and not regularly rotate players throughout the season. This is a mistake because there is a huge amount of potential in using lesser players simply to waste a game for a strategic purpose (as I mentioned earlier). Forcing your A-line-up to play every week (even in their off-games) also shows where those players are weak, meaning a good team will be able to pick up on weaknesses and trends in their play and prepare specific all ins to counter them. Practicing both games will be very difficult, thus cracks will appear in their play and there will be holes for snipers to exploit. This also prompts another reason why playing the weaker players in your roster is a good idea – it gives your strong players more time to prepare, refining their play and reducing the number of cracks that your opponents will see (and possibly counter later on).
This is but a quick analysis of some of the strategies that might be employed in the upcoming season, both those I think will be effective, and those that I think will be ineffective. This season will present a huge challenge to the coaching staff in creating efficient practice regimes as well as effective team league strategies. The rise of Khan in 2005 has already illustrated that coaching strategy can play a huge role in how a team performs, and can take a team from the bottom of the rankings right to the top. I am watching with intense interest to see how the masterminds of proleague like Coach Park of SKT1 approach this season of proleague, as this is the season could tell us whether their 'genius' was really genuine, or merely the result of having a big budget for good players.
---
Photo credit: 1, 2 self explanatory, 3 NATE