Latest updates:
-
Hwasin admits his crime and apologizes in his cyworld. More info here.
-
sAviOr forced to retire by KeSPA, CJ releases him. More info here.
-
YellOw[ArnC] admits his crime and apologizes. More info here.
-
Luxury retires. KT terminates his contract. More info here.
-
UpMaGiC admits his crime and apologizes. More info here.
-
go.go admits his crime and apologizes. More info here.
-
type-b admits his crime and apologizes in his cyworld. More info here.
---
Edit: Newsis.com article synopsis.
Source: Newsis

16 people have been implicated in the Starcraft match fixing scandal: eleven current and ex-progamers, three brokers, and two individuals who used inside information on the fixing to place bets.

Korean laws allow for a certain degree of privacy regarding those involved in legal cases, but by allowing last names and details about the crimes to be revealed, some identities can easily be deduced.

Three brokers were indicted, gaming academy owner Mr. Park (under arrest), K3 (3rd division) soccer pro Mr. Jung, and the gangster Mr. Kim (wanted). The brokers used their relationships with the progamer Mr. Ma (obviously savior) to offer other progamers between 2~6.5 million won ($2k~6.5k) to intentionally lose matches. Twelve games are alleged to have been tampered with in this manner.

In December of 2009, Mr. Ma is said to have cooperated with the broker Mr. Jung to pay progamer Mr. Jin (obviously Hwasin) to lose a match, and continued to bribe Mr. Jin and two other progamers. Mr. Ma is said to have skimmed off 2 million won in bribe payments to other progamers for himself.

Mr. Won (obvious Justin) received 3 million won from a broker last September to intentionally lose his match, and went on to cooperate with the brokers to bribe six other gamers a total of eight times. Mr. Won and Mr. Park pooled their money to bribe their gamers, and Mr. Won made 35 million won in gambling winnings.

Mr. Park (possibly luxury or yarnc), and the six other progamers bribed through Mr. Ma and Mr. Won agreed to 1~3 cases of match fixing, and were promised anywhere between 1 million to 6.5 million won, though some of the payments were not fulfilled.


---
Fomos says image has no relation to actual case (after people linked it to sAviOr of course)
---
The results are out, and what all ESPORTS fans have been fearing is now confirmed to be true - the match-fixing scandals are all real.

They are only using the surnames in the article, but so far these "names" are released.



25-year old Mr Park
28-year old Mr Jung (a K3 League soccer player)

Two current progamers who supposedly "introduced" the sites to other gamers:
23-year old Mr Won (supposedly Justin)
23-year old Mr Ma (supposedly sAviOr)

There are a few more names not mentioned, but total count is 11 players, former and current progamers.



6 out of 7 current progamers involved paid between 2.5million to 6million won each for betting. Mr Park and Mr Kim paid 92million won to ESPORTS gambling sites, supposedly earning a total of 140million won in bet winnings.

K3 League soccer player Mr Jung also paid progamers 3million won (through Mr Ma) to fix their matches, earning a total of 12million in bet earnings.

Mr Won, who acted as a broker, was paid 3million won by Mr Park to fix his matches. It was also revealed that Mr Ma pocketed 2million won, which was supposed to be used to pay the progamers involved in the match-fixing bets.

They will all face further investigation without facing arrest at the moment.

Coaches, the teams as a whole and managers were found to be not involved at all, after further investigation.


---
T/N: All the legal terms are kinda confusing to me (sections, penal codes and stuff) so I left them out. Please correct me if you spot any mistake since this is a serious issue.

Source: Fomos

---
+ Show Spoiler [Info from MBC's news program] +

Captured and analyzed by Hypocrite.12414 on pgr21.com

List of last name initials + game dates for fixed matches. Essentially confirms Luxury, Yarnc, Hwasin, and Go.go.


---
Essentially confirmed list:

sAviOr: No other Mr. Ma in progaming.
http://www.teamliquid.net/forum/viewmessage.php?topic_id=125601&currentpage=38#745

Justin: No other Mr. Won in progaming.

Hwasin: One of the two Mr. Jin's in progaming, alongside Movie. But Hwasin's erratic performances alongside his lack of proleague appearances as of late have made him the prime suspect.

DarkElf: One article stated 'Progamer Mr. Kim currently with the military,' which narrows it down to him exactly. Supposedly currently in custody.

Luxury: From the list shown on mbc news. He is now retired and released by KT.

Yarnc: Same as above.
Go.go: Same as above.

type-b:


On May 17 2010 20:01 anyname wrote:
Tybe-B admited his fault and apologized in his cyworld.




On May 17 2010 21:06 konadora wrote: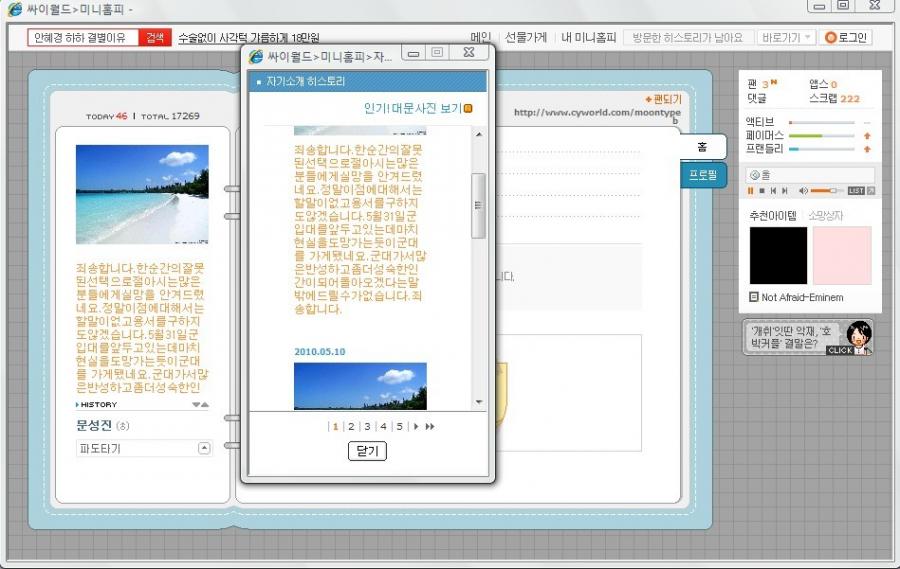 "I am sorry. Due to a hasty mistake, I have disappointed many people. I have nothing to say on this matter, and I do not have any intention of being forgiven. I will be entering military service on the 31st of May, and it seems like I am running away from the truth. I can only say that I will do my best to reflect on my actions and to be discharged as a better, more rationale person. I am truly sorry once again."

- Mun "type-b" Sung Jin
---
Korean netizens' suspected list:

sAviOr
Justin
Movie/
Hwasin (More likely
Hwasin)

DarkElf
go.go
Luxury
SangHo (Artosis confirms that Sangho is not involved)


---
Korean netizens' response:
- Once this investigation is over, go to Boxer, NaDa, oov and YellOw, kneel down and beg for forgiveness from them.
- Where's UpMaGiC?
- How about Bisu??
- Are Luxury and UpMaGiC somehow related?
- Fuck you Hite, just rot and die.
- sAviOr, I am disappoint.
- Isn't 2 million won too little? What the fuck would they earn from the bets then?
- Of all people, you, sAviOr, backstab us like this?
- They said it was a person currently in the Air Force, not specifically an ACE player, so it might not necessarily be DarkElf.
- Didn't they say it was all just a rumor, according to the CJ house?
- Oh, Starcraft.
- The YTN news report used a game that was between go.go and Light.. so it might be gogo.
- We're fucked.
- Why steal the 2million won? lololol
- I checked the YTN footage, it's the game between Hite and MBC on the 22nd of Nov, 2009. It really was go.go vs Light, set 2. He always seemed like a good, fun guy, especially after watching Old Boy. I am so disappointed.


---
T/N: There may be some dispensaries between the Fomos and Newsis article, but Fomos is known to make lots of mistakes, so yeah.