---






By flamewheel, with help from ]343[

Hello Teamliquid! If the title didn't make it obvious enough, this is my 10000th post at this site. Hopefully, with this post my good post count gets upped to 40, which gives me a decent good post : total post ratio... right?

Probably not. Anyway, before I delve into what this post is actually about, let's take a few lines and give out a few plugs/shout-outs.

To ]343[, thanks (and damn you) for showing me this site.
To all staff members, thanks for keeping this site running and amazing.
To disciple in particular, thanks for being amazing. I'll always remember your first PM regarding SPL LR OP graphics.
To the Mafia forum, for being the second-spammiest forum around and for the amazing mindgames.
To the Live Report threads, for upping my post count at near-incomprehensible speeds.
And finally, to any reader who actually manages to finish this post.

Regardless, this isn't going to be some long-winded story about my life, my (nonexistent) Starcraft career, or my love life, though it definitely will be long-winded. It's been in the making for three years, half-completed for two, completely revamped for one, and now finally the completely scrapped and rewritten version is done. With this guide, hopefully it can clear up a lot of questions about how to get a high score in timed Tetris (known to me as Tetris Ultra) through the repeated use of T-Spins.



Preamble

First off, some answers to basic questions that I will not be covering in this guide.

What is Tetris?Tetris

. As the TL Moderators say so often, Google is your friend!

I don't understand some of your terminology, like "Hold" and "Hard Drop".

Check the above link and type the term in question into the search bar!

Okay cool... So what is a T-Spin?

Since I will not actually be covering what a T-Spin is, here's

yet another link

to help you.

Where can I play Tetris?Tetris of JapanBlockBoxTetrisfriends

(Where I play)

Why should I play this game?

It lets you use and abuse your APM, duh? But really, apparently Tetris stimulates mental activity and increases logic/set skill, so why not? Also, does this color hurt your eyes?

Why is your post count so high?

I post a lot. But not as much as konadora.

Why are you so cute?

I'm actually a kitten. It's quite hard typing with these paws you know.

Anyway, as a sort of warning I say that the following strategy works

only on Tetris sites that have a 7-Bag Randomization method for giving pieces.

The grab bag method means that a sets of seven pieces (one of each type) will appear in the queue time after time. In laymen's terms, you will never get three pieces of the same type in a row, and if you play without holding any blocks, after each "bag" of seven, each of the seven types of pieces will have the same number dropped into the matrix. Luckily, I believe the major Tetris sites (the ones listed above) employ this type of randomization. Furthermore, know that ST Stacking requires the utmost precision--you cannot mess up (misdrop) and hope to continue playing. Expect yourself to restart many, many times.

We all good. Read on!




Setup and General Theory

3:02:26 AM rofl
3:02:28 AM i was like
3:02:29 AM ****
3:02:30 AM use red!
3:02:30 AM ****
3:02:31 AM tetris!
3:02:32 AM ****

- ]343[, #2 Tetris Ultra player in the world, on Tetris and swearing.

This is the proper mindset you need for ST stacking. This isn't your calculator Tetris game, where you have an infinite amount of time to score points (provided you don't die). In Tetris Ultra, the mainstay of ST stacking, you have two minutes to score as many points as possible. As such, you better be going as quickly as you can.

What is ST stacking anyway? Well, it's a method that you can use to repeatedly set up T-spin doubles (infinite T-spin recurrence loop) to score more points than you could by using any other method. ST is characterized by its two most important pieces: the red S piece, and the purple T piece (colors from Tetrisfriends).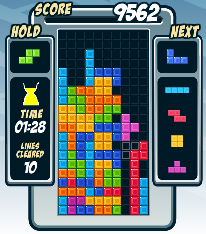 ST Stacking in action.
To the right is a pretty typical game of Tetris Ultra for an ST Stacker. As you can see, the red pieces are lined up on the far right hand side of the matrix, and in the left-hand side every three lines there is a "hole" or a slot, that when looked at together with the red piece create a perfect slot for a T-Spin double. In Tetris Ultra, clearing four lines at once--the eponymous Tetris--gives you 800 or 1200 (for a back-to-back) points, while a T-Spin double gives you 1200 or 1800 (for a back-to-back) points, for only two lines. Simply put, ST Stacking allows you to score more points per piece dropped, though there is the latent slowdown effect that I will talk about later.
Setting up an ST stack certainly looks daunting to the untrained eye, but in reality it's actually much, much easier (and far more "memorizable") than just playing it with straight Tetrises (Tetri?). The reason lies within the 7-Bag Randomization, which will be explained shortly.
First, let's talk about how to divide up the matrix. When you are ST stacking, instead of treating the matrix as one 10-wide block, we are going to divide it into three sections: left, center, and right.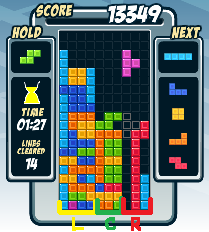 This picture sucks, but it should
provide a decent enough visual.
The right side (the rightmost three columns) is the namesake of the ST stack. There are only three types of pieces that will be placed on the right hand side--the red S, the light blue I piece, and the all-powerful purple T piece. For placing the S and T pieces, the theory is easy. To create the right-hand side of the T-Spin slot, rotate the S piece upright and place it as far right as you can. Clear it with a soft-dropped T piece. Repeat. The long I pieces are a bit more situational in use, and that will be covered in the section
Tetrising
. The left side consists of the four leftmost columns, and this will be your "dump" section. You place pieces here that you cannot place in the center or right, though a good ST Stacker will keep both his center and left at approximately the same height. The center comprises the three leftover columns not included in right and left, and it is used to set up the left side of the T-Spin slot. The guidelines for setting up successful lefts and centers will be covered in
Left Side Stacking
and
Center
.
Anyway, the reason I explained this matrix segregation to you before expounding on the 7-Bag Randomization is that if you think about ST Stacking in terms of these three sections, there is no truly random piece. Played perfectly, every piece can be accounted for and placed in an appropriate area. You already know how to deal with two pieces: except for in very extreme situations (covered later) red and purple pieces are placed in right, as well as long I pieces when the situation permits. For the rest of the pieces, as long as you follow one very important rule (in my eyes, the most important rule for ST Stacking) there will never be a piece that shows up that will make you think "well, no clue on where to place that piece... time to start over."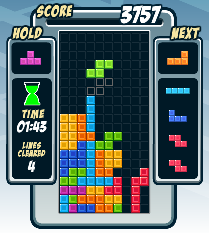 Green leading orange.
For the seven pieces of Tetris in ST stacking, there are three brother pairings, since the I piece stands alone. You already know of one of these pairings: red and purple go hand in hand. The other two brother pairings are green/orange (GO) and yellow/blue (YB). Since in each bag of seven pieces you get one of each of these, after every set of bags you will have a 1:1 correspondence between pairing pieces. Using the hold function, it is possible to generate a semi-stable "pattern" between two complementary pieces. Put simply, if I utilize the hold function well enough I can play GOGOGO (with other pieces in between, of course) so when only greens and oranges are considered, no two greens or oranges are played in a row. This can be done with all the patterns, and it's definitely mandatory when considering the ST pairing, since you need to have an S down before you can use the T to T-Spin. Therefore, let us define the S piece as the "trailing" piece of the pair, and the T-piece as the "leading" piece of the pair. In the same sense, in the GO pairing green is leading while orange is trailing, and in the YB pairing yellow is trailing while blue is leading. The reason that the pieces are designated as such is that even though you generally want to place G before O, S before T, etc., you want to have the other piece (O/T) ready to play in case you need to deal with the brother causing trouble.
The reason for this will be explained in the
Center Stacking
section, but as a general reason for this it's harder to place a green than an orange, so green should be placed first. Now for my dubbed most important rule, the
Rule of Greens
:
Orange should always closely follow green. In other words, orange should lead green.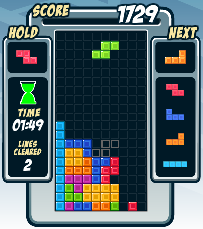 Orange leading green. Notice that
after playing the green, orange
can be played right after. The next
orange after that can be held to
wait for the next green.
Generally speaking, this means that if a green is played in the middle, play the orange in the middle. If the green is played on the left, play the orange on the left. Make sure that whenever possible, you are always leading with orange. What this means is if you are leading with orange, you will always be able to play an orange after a green (since orange will either be in hold or following closely after green in the queue), thus negating the major "threat" the green piece has on the matrix, since the green Z has a very weird shape that's not conducive to many other blocks. However, if you are leading with green there is a possibility that you will get two greens in a row and be unable to place the second one, forcing a restart. For YB, the leading piece is of less importance, though I would generally say play Y in leading, since the block shape has less available options in terms of placement than the useful L-shaped piece. For ST, leading with T gives you more luxury, since the T piece will be in the hold queue till you decide to use it, and you use it when you have no place to play the upcoming piece. Thus, you are able to guarantee a "useful hold" piece since you can use the T to complete a T-Spin. However, if you are leading with S then you sometimes may not be able to switch out the T piece (such as if there is no S piece on the board currently), thus you run the risk of not being able to play any piece.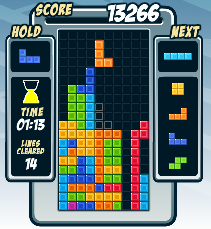 Just played two greens in a row.
Notice how orange is leading again.
Don't panic if you start leading with a green, since if you can find a way to play two greens in a row before resuming your pattern, you'll be leading by an orange. I think at this point it goes without saying that you don't want to be leading by two greens, and even leading by two oranges is suboptimal. It's best to only be leading by one iteration. If you're leading by more than that, play extra pieces of the type you're leading by to either cut down/fully reverse the leader.
This theory will be expanded upon further, and this is definitely the most confusing section. Remember, hold greens sparsely and play them as quickly as you can, following them up quickly with an orange. Really, blues and yellow are harmless and can be used pretty much wherever, but I cannot stress how nasty greens are. If I had to estimate, I'd say at least 70% of my early games were forced to restart because I had two green in a row and nowhere to place the second one. Now, I mostly restart because I'm pretty imprecise. I blame the lag, man.
---

Theory is nice and all, but let's actually move onto the gameplay. However, as a precaution there is simply way too much for me to detail, so I will go over some stuff, yes, but a lot of it will be guidelines. Really, the best you can do is practice, practice, practice. Eventually, your recognition, decision-making ability, and speed will increase. It's just like Starcraft!



Opening

Examples of "standard" openings.
The opening can be one of the most frustrating things for a new ST stacker to deal with, yet also one of the most trivial, seeing as how you can practice your opening whenever you want to. Still though, it's no denying it's very annoying, since when you start out you won't know many builds, invariably you'll be forced to soft drop pieces, or worse, restart. Once again, as said above there are so many moves you can make due to holding, so the number of openings you can create is theoretically limitless! And by limitless, I mean some combinatorially-based finite number that I'm way too tired and lazy to calculate right now. In practice, I really only use about 7 different openings, and they've managed to work effectively for 95% of the games I play.
If you haven't noticed, to the left there are three examples of standard openings. A standard opening consists of five things:
1)
12-14 pieces used before going for first T-Spin, with two (or going to be two) of each color. Thanks to 7-Bag randomization, we can virtually guarantee an opening made of two of every piece.
2)
One red in the normal location on the right, one in the center/right, and two purples in the center/right.
Note: except for very extenuating circumstances, do not put purples or reds anywhere except for on the right.3)
A flat 3-wide matrix in the rightmost three rows of the center, like the shown below. The significance of this shall be explained in the next section.

4)
Two T-spin slots.
5)
A left side with a "hump" of two blocks--that is to say, left side is never flat. There is always a net differential of 2 (plus or minus a multiple of 4) in height between the roles, with the average height having a rescaled height of 0. By creating two T-spin slots, you add in those two extra blocks that were taken away by the T-spin slots onto the left side.
When you start with your opening make sure you take a good look at the queue line. Once you work up several of your starting openings, a quick glance at the queue line will tell you what pieces will be coming up, so you'll know if your opening is currently feasible or not. The best openings are those that are flexible, since they allow account for more "randomness" and thus allow you to restart less.
The theory behind using two purples and a red in your opening is that it immediately makes you lead with red, which is what is ideal for you. However, if you didn't use two purples and only placed one you would be hard-pressed to place something like a square piece. Lastly, placing the two purples and the red raise the stack, allowing for nearly completed lines to be converted into T-Spin doubles. If you tried T-Spinning as quickly as you could with your first red and purple, it's almost no doubt you'd get either a T-Spin null or a T-Spin single. While a T-Spin null is okay (400 points for no lines cleared with a T-Spin), you should still shy away from it since it takes a very long time to drop a T piece for those 400 points. At lower levels, this can be okay, but the faster you get the higher your opportunity cost of time is for dropping those T pieces. As for a T-Spin single, dodge those since you will first have to use a single to clear the remaining line and you won't have your bonus for back-to-back T-Spin doubles.
Now, I'm going to show you a demonstration for an opening, and what mindset you should approach openings with. ]343[ played the opening and played the game, and these are his thoughts (which are very synonymous to what I would say, considering I taught him how to play Ultra).
+ Show Spoiler +
Notice the order of the pieces in the queue: Green, Orange, Purple, Blue, Long, Yellow.
We don't want to softdrop, which dropping a green would force us to do. So we hold and drop an orange piece.
As we continue with our opening, we often need to hold pieces we don't want. Here, we will hold this green in favor of the held purple piece.
The finished opening. Note that two purples and one red are used in the center/left. Also note that we have two more green used than orange, so we need a way to use an extra orange.
To do this, we finish the green/orange in the center and place a lone orange on the left, allowing us to only be leading by one orange. We are now ready to do our first T-Spin.
Success! Note that this is much slower (52 seconds for the first T-Spin) than you should be going once you get the hang of it. Top players average 5-7 seconds in their opening setup before scoring their first T-Spin.
The second T-Spin in action. Tetrisfriends keeps track of line clears; if one executes a string of Tetrises or T-Spin Doubles, Tetrises or T-Spin Doubles after the first ones are worth 1.5x as many points as they would ordinarily be worth. This is called the "back-to-back" bonus, and it is essential in raising your score. This means that clearing singles, doubles, triples, or T-Spin Singles is bad!
---

As we can see, there are many things one must think about during the opening. Don't rush it; take a few seconds if you need to and check out the pieces, then proceed. After you drop your first T-Spin, the game moves into the middle phase, which is dominated by T-Slot and left side thought, and we will go over this in the next section.



Center Stacking

As explained above, T-Slots are created by the red on the right and the center in the middle. This section of the guide will teach you how to create a systematized pattern of T-Slots through careful stacking of the center.

For this section, we have a new term to learn.

Combinations

are the center portions of the T-Slot that comprise of two pieces that leave one open hole for the T-Slot. In the same vein, double combinations use four pieces and create two T-Slots, and so forth and so on. Generally speaking though, any combination above 4 pieces is very rare and is generally considered showy and superfluous (not to mention slower), and even double combinations themselves are rare. Once the opening is complete, the player may begin stacking combination upon combination. There are many different combinations, but they all share similar traits:
Bottom-right corner is open for T-Slot

Each combination covers a 3x3 square and uses two pieces.

And a corollary clause to the above statement is that each combination ends with a 3-wide flat top, allowing another combination to be stacked upon it.

Do you remember above when we were learning about pairings and leading/trailing? Well, it's time to put that knowledge into effect. Let's look at some of the basic combinations.

The basic combinations: Green-Orange,
Yellow-Blue, Orange-Yellow, and Red-Blue.
Out of these four, GO and YB should be your staples for combinations. They are quick to set up, requiring only two taps right and three rotates to set both pieces in place. Furthermore, GO and YB are perfect brother pairs, which means that you can maintain perfect 1:1 correspondence. Another piece of terminology to know is "capping": where you complete a combination by putting the second piece on top of it.
Anyway, why are GO and YB optimal over OY? Simple, because using OY means that there is an extra green floating around. In short, green now leads orange, and by using even one more orange without using a green will most likely cause you to end up with two greens and no place to put both of them, forcing a restart. Luckily though, through extensive luck and playtime I've discovered a few ways to dodge getting killed by double greens with special double combinations. I will go over those at the end of this section.
Red-Blue is a combination that you will only want to do once, maybe twice. The first time should be when you are performing your opening, and you need a red piece on the left/center to bring up your stack. The second red piece is also used in the same manner, since at some point your stack will become too low to support completing T-Spin doubles. That will be covered more in depth in the section
Red Piece Usage
. In short, you don't even have to use RB as a combination. Just know that as an ultimate failsafe, you will have an extra red (red leading purple) in hold at the beginning of the game that gives you a free swap and combination when you have two pieces in a row you simply can't use. Beware though, like I said it's a one-shot thing, and doing that causes you to have a purple leading, which decreases your overall options (lessens your holding ability).
Double combinations are more rare, and more situational. How will you know when to use them? Well, it depends on the double combination in question. I've compiled a list of the "normal" double combinations here, so let's take a look at them.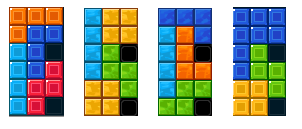 These are all definitely situational. For instance, the
first one is optimal when you need to get rid of an
orange and use your red at the same time. Second one gets
rid of yellows, third gets rid of a blue, last one two blues...
Honestly, there's not much practical use for double combinations, though they definitely look much flashier. They do serve their purposes, yes, but for the most part until you get to the point where the double combination saves you that tenth of a second, you're better off playing it safe (keeping the correct leads) with normal combinations.
And now we get into the truly situational combinations. One requires a four-wide flat top. One more requires the right-most row of the left side to be two blocks up, and another requires that same row to be two blocks down.

Situational to the max.
If there's one thing you can notice though, these combinations all get rid of a leading green, at least. So here's the thing: normally you won't even see these combinations until you're in a situation where you're in trouble. And at that time, this is just pure luck. It all depends on your left side and how many T-Spins you've done... Best not to get caught in these situations. However, if you can pull these off they are the pinnacle of 'flashiness', and people watching your replay will be impressed. Actually, I try to pull these off a lot now, since not moving the piece left/right as much makes it quicker to set up. Still, just like I said for the double combinations: it's faster for people starting out to just get the single combinations ingrained in their minds, so work primarily with those.
---

Center stacking isn't so bad by itself, now is it? The only problem is, when you have to worry about your center and left side at the same time... well, then it starts to get a bit more frustrating. Let's go ahead and take a look at left-side stacking.



Left-Side Stacking

The left side makes or breaks a game, more often than not. The key to being good at ST stacking is to be good at keeping your left side well-managed. This means that you should be careful about how you place things, what you "dump" over there, and how you balance it in terms with your combinations. I talked about it briefly above, but in the four-wide matrix of the left side there are two extra blocks, so the playing field is never flat. This, actually, works out in your favor--many times you'll need to place a green on the left side, and if the playing field were flat the green would not fit well.

Speaking of green pieces and how much we dislike them, the left side is the perfect place to place your leading greens, since then you're able to keep them under control with a combination of blues and long pieces. As a rule of thumb, don't use oranges on the left side unless you're leading with an orange and green has been placed there, since you want to maintain leading with an orange.

First off, let's look at some of the common positions your left side will be in, and we'll discuss the pros and cons (if applicable) of each.

The many faces of the left side.
Now, another little bit of vocabulary. We're going to talk about the left side in terms of grades. No, not like A, B, C type grades, but grades as in levels. For instance, the top left diagram has the right side with two more squares needed in one row to make a flat surface, so we call that -2grade right. In the same sense, its mirror image is -2grade left, while its opposite is 2grade right/2grade left. The top middle diagram would be called 1grade right, while its counterpart is 1grade left. The center dip is -1grade center, and its counterpart with the square in between is 1grade center. Makes sense, right?
Anyway, out of these ten positions positions the six on the right are okay, while the four on the left are not. The reasoning for that is the four on the left have no protection against any errant greens that decide to stroll in. While it is true that the two rightmost also do not have any protection against green, there is a special trick we can utilize that will be talked about at the end of this section. For the middle four, obviously, greens do not post much of a threat. Indeed, I would argue that the main goal of the left side (apart from keeping even with the center stack as to continue clearing lines with T-Spin doubles) is to act as a dumping grounds for leading greens, so that the player can play safely with an orange lead.
The four positions that I talked about above are all pretty good at preventing greens from doing irreparable damage. Let's take a look at how.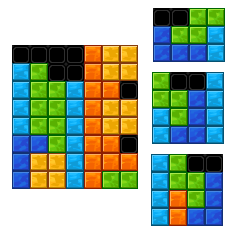 Dumping greens is a useful skill toi have.
As you can tell from the larger diagram on the left, the player in question decided to do two YO combinations in the center, leaving him leading two greens. Therefore, he used his good left side position along with some well-timed long blocks in order to negate the damage done by the two greens. In similar cases, one-grade and some situational two-grades can be used to nullify leading greens, so when you're working with your left side try to stay in 1grade as much as possible.
Ah, one last thing--as I mentioned above, there is a sneaky save that abuses Tetris' rotational system. Since the only degrees that matter in a rotation are the starting and finishing degrees--0 and 90--anything in between doesn't matter. In effect, you can spin pieces into locations where they could not physically go if all degrees of rotation were taken into effect. This is actually how the T-Spin works, but it also applies to other pieces. This used to be one of my favorite ways to get out of a damaging leading green by abusing the reverse-spin on a blue block.

Defying the law of barriers.
The trick is simple. I was stuck in a 2grade right, and had a leading green I couldn't place anywhere else. If you stick it like I did on top of the protruding two blocks, you can soft drop a blue into the location as shown in the second figure, and then hit z (reverse spin) to spin the blue block in. This definitely saves you from restarting, but you do lose precious seconds from having to softdrop the blue block.
Just thought that would be interesting!
---

Now, what would a Tetris game be without Tetrises? Yes, our primary focus in ST Stacking is the T-Spin, but let's not forget about the trusty Tetris.



Tetrising

Let's do the math. When you do a T-Spin double, it clears 2 lines, or twenty blocks. However, in order to get to that position you need more than 21 blocks in place (since you have to have the T-slot covered on top). Therefore, you slowly will build up your stack. As it gets closer to the top of the screen, you should bring it down. Luckily, ST Stacking has a built-in method for attaining Tetrises after a certain number of T-Spins. Namely, four.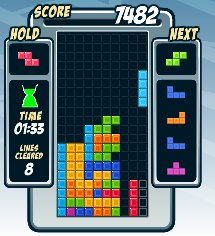 Preparing the Tetris.
If you haven't noticed yet, when you clear lines there's one red Tetromino left as residue. Over time, they build up, and after four have been placed you can put long blocks on either side, and that will clear the resulting four lines. If given a choice though, you should always place the long block in the rightmost column, since if you place it in the left-sided column the next red piece may cover it up, and who knows when you'll want to/need to Tetris?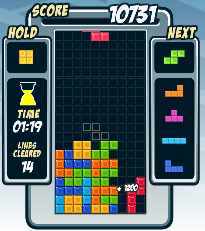 Clearing the lines.
Now, one more thing. Should you Tetris early or late? If you Tetris early, you get more points from dropping pieces, since for each line hard dropped you get two points, and a point per soft drop. In normal Tetris, it's logical to clear Tetrises as low as possible, to make use of the extra points from dropping. However, when ST Stacking you should not care too much about these points. After all, what's an extra 8 points (four lines cleared from a Tetris times two points a line) compared to 1800 from a T-Spin double? As you go along playing and get faster, you realize the limiting factor to your score is how slowly the T block drops. Therefore, when you are ST stacking you want to keep your stack as high as possible, that way when you are T-Spinning it takes less time for the T-Spin to drop, which gives you more potential points. When you get close to the end of the game, then you should use your Tetrises.
---

This is the second-to-last section in this guide, and it's going to be very short. However, it is an instrumental part to the game, so it's worth learning. Let's talk about our second red piece.



Red Piece Usage

Now, earlier I said that you build up your stack even as you clear lines from T-Spin doubles due to the residual pieces. However, once you factor Tetrising in there your net differential is negative now, meaning that after a certain period of time you will no longer be able to do T-Spins with completed lines.

At this point, you should now sacrifice your leading red piece. Doing so gives you an extra full set to a set-and-a-half's worth of pieces to rebuild your left and center, allowing you to continue T-Spin Doubling.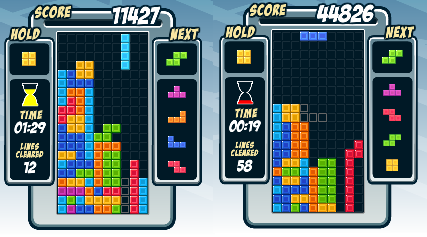 The red piece is a Goldilocks case.
Using your red too early (left picture) causes you to have to Tetris prematurely, which costs you potential points since you're taking longer to T-Spin. However, if you choose to use your red too late (right picture) you may run the risk of forcing a T-Spin single, or even a T-Spin null. Both cases are bad, so let's choose something where we get it just right. As a general rule of thumb, using it between 32-38 lines cleared is pretty optimal.
---

And we come to our final section. Performing well through the first minute and 40 seconds is all fine and dandy, but you get a lot of points in the last twenty seconds, due to last-second Tetrising. Read this last little bit to learn how to maximize your endgame scoring.



Closing

Ideally, when you get to the end your stack will be pretty high. You should hold off Tetrising until probably the last ten seconds, and try to get as many T-Spins in as possible, since they're worth more than Tetrises. However, during those last ten seconds spam if you have to, but get those long pieces out on the field and dropped. High scores are set in the last five seconds, and the way you finish your game really defines you as a player. Ideally, you want to end with a T-Spin or Tetris. Never give up trying to set one up, keep pushing yourself.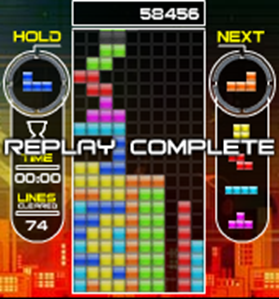 Me almost two years ago. I spammed those last five pieces to get to the long, then dropped that Tetris with half a second to go.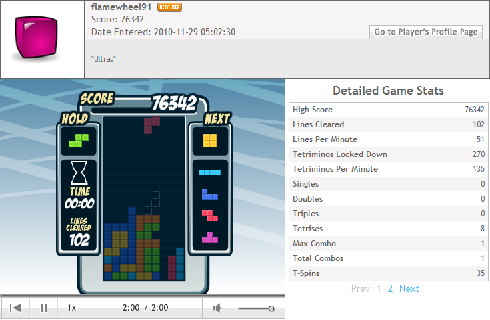 Me now. Should have gone for that last Tetris.
---
Postscript
Well, 10000 posts down. I think I've definitely lost my spammy drive (LRing takes too much effort these days) now, but really, post count doesn't matter. I'd been meaning to do this guide since 5000, but never really got around to it. If you read this all the way through, you're a monster and there's something wrong with you. But, thank you. And to the rest, hey if you opened the page it's good enough.
Teamliquid fighting!