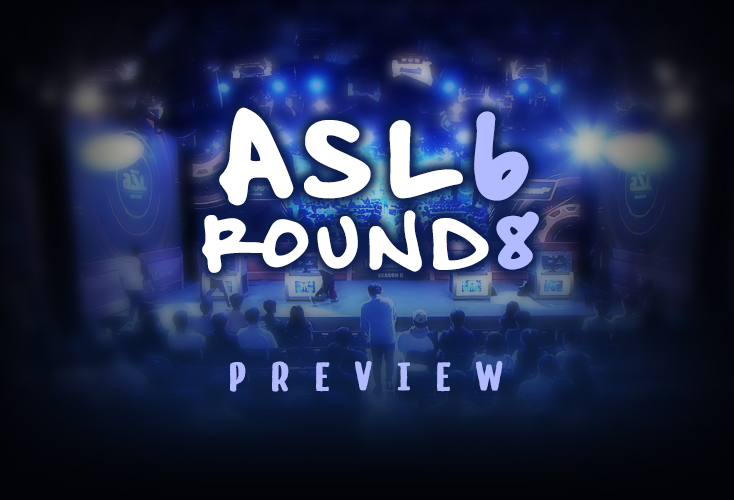 The quarterfinals are finally here and man has this ASL been soooo good. In every group in the Ro16, we've witnessed incredible games, and just when you thought it couldn't get any better, the rest of the Ro16 shattered expectations! Group C was filled with great players such as BeSt, Mini, Shine and Last who put on quite the show, as Mini and Last advanced in first and second place respectively. Please read the recap by BigFan for more details.

Group D was extremely hyped up as Flash and Jaedong clashed offline for the first time in close to 2 years. While their games delivered and were what the fans wanted, Action stole some of the limelight, defeating both Light and Jaedong in some fantastic games that involved a lot of preparation. It was a truly great night, even with Jaedong eliminated as Action and Flash advanced in first and second place respectively. Please read the recap by Ziggy for more details.

After the drawing was done, the quarterfinal groups were determined. Group A has Sharp going up against Last, while group B has EffOrt going up against Rain. Please read our group A and B previews written by Ty2 and BigFan respectively then let's get hyped for more BW as group A is set to start in !

Table of contents

Anyone's Guess
A group consisting of
Shine
,
Mini
,
Best
and
Last
can be extremely unpredictable. Even more so when most of these players can take games off the others on a good day.
Match #1 - Mini vs Shine on Neo Transistor
This was another game that showed Shine's bag of builds as he managed to bust up Mini's base with some lurkers and zerglings, killing the cannons at the ramp. However, Mini persevered, getting an obs out asap, and using corsairs and dark templars to great effort. He was able to kill Shine's expansion, and then later on killed the third base for Shine while he maintained control of his bases. Up against the might of the protoss army, Shine eventually had to gg out.
Match #2 - BeSt vs Last on Neo Transistor
Last played this game fantastically, opting for a similar build to what Flash did against Snow in the last ASL. After expanding, he went up to 3 fac and pushed out with some marines, a single medic, some tanks and a wraith for vision. BeSt scouted the incoming push and tried to delay it, but he was pushed back and up the ramp in his main. Last ended up planting a bunker and survived BeSt's reaver/goon push before he eventually pushed up the ramp to take the game.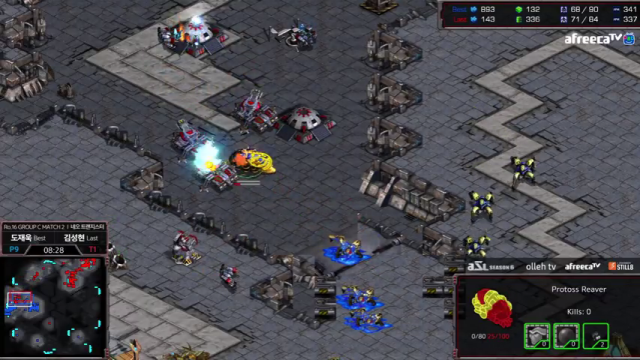 Winners' Match - Mini vs Last on Sylphid
Deciding to switch things up a bit, Last went for a 2 factory while Mini went for 1 gate FE skipping the first zealot. It looked like things would end in Last's favour, however, Mini added 2 more gates soon after and with the combined production, he was able to outmicro Last and stop his push. From there, Mini played well to keep things in his favour, taking another engagement in the center where Last lost most of his tanks. Once his economy and army grew several folds, he eventually busted Last's natural for the win. Mini is the first to advance to the Ro8!
Losers' Match - Shine vs BeSt on Sylphid
On paper, this seemed like a bad matchup for BeSt who's a macro beast, and when Shine managed to run zerglings into BeSt's main, it seemed all but over. Even more so when Shine had already grabbed a fourth and had massed a huge hydra army. However, BeSt knew what he had to do. Realizing his predicament, he added many more gateways, got his upgrades, teched to storm, then defended the incoming hydra busts from Shine like a madman. With his army growing in size, BeSt eventually pushed out to secure the third outside his base, and ended up facing Shine's army. He took the engagement, established his third and rolled Shine over with his macro soon after!
Finals' Match - Last vs BeSt on Circuit Breaker
Last has been slowly regaining his old scary form since the KSL days and this match showed just how well he can play with an advantage. After opening with a cc first and getting scouted last, Last played safe, expanding to a third while BeSt was trying to play catch up after going for 1 gate FE. Instead of getting more expansions, BeSt opted for arbiters. Alas, that was his undoing as Last built up his army and slowly marched across the map, laying siege to BeSt's fourth base before attacking the expansion to win a one-sided game and advance to the Ro8!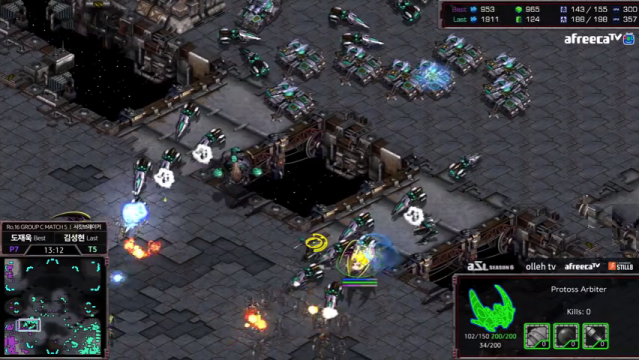 Mini
and
Last
advanced to the quarterfinals!

The End of Tyranny
When both Flash and Jaedong decided to give the second season of the KSL a miss, citing the need to focus solely on the ASL, many started to question the feasibility of two StarLeagues running parallel to one another. Although my personal belief is that by giving lesser players a chance to compete on television the scene will surely benefit in the long run, the majority of casual viewers are more likely to tune in to watch players the caliber of God Young Ho or the Tyrant himself. That notion certainly rang true as the AfreecaTV studio in Gangnam got filled to the brim hours before the start of group D, featuring Flash, Jaedong, Action, and Light.
Match #1 - Flash vs Jaedong on Neo Transistor
Starting the day off on Neo Transistor, Flash spawned in the top right, Jaedong in the bottom on the same side. A hatch first opening for Jaedong was answered by Flash's 1 rax expand on 20 supply, followed up by a second barracks. The Terran managed to find one of Jaedong's overlords out on the map, denying any further scouting, whilst gaining intel with a worker in the Zerg's base.
Flash's scv, although missing the departing flood of lings, stayed in the Zerg's natural long enough for the Ultimate Weapon to realize money must have been spent on things other than economy. Despite that, Flash misread the situation, quickly finding his marines surrounded by speedlings running up from either ramp, significantly reducing the Terran's firepower.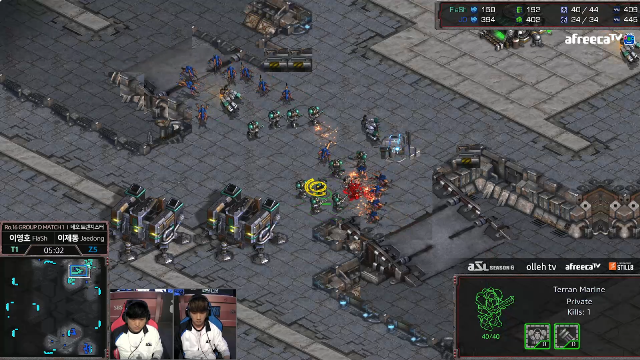 With two hatch mutalisks on the way and insufficient defense in place, Jaedong whittled down the remaining Terran force with ease, knocking Flash down to the losers' match.
Match #2 - Action vs Light on Neo Transistor
When Action proxy hatched Mong on Autobahn in the Round of 24, it became apparent that he's got things planned for this ASL. With an opponent as well-versed in TvZ as Light, Action would have to pull another wonky strategy out of his bag of builds (that he'd most likely nicked from Shine). Spawning in the centre left against Light in the bottom right on Neo Transistor, Action ended up losing an overlord rather early on, which significantly slowed down his early game progression. The 2 hatch muta followup, although not doing any direct damage, kept Light contained in his bottom right corner, allowing Action to go up to an extremely quick hive on 2 bases. Despite a decently timed scan revealing the hive timing, Light never caught wind of the incoming proxy nydus, finding himself beleaguered by lurkers under dark swarm at the 10-minute mark. Without a proper response, Light tapped out.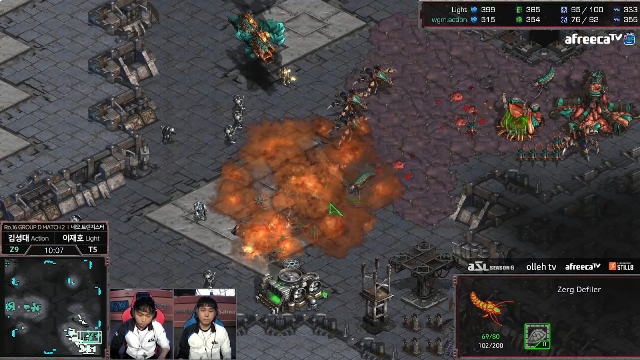 Winners' Match - Jaedong vs Action on Sylphid
With both favourites of the opening matches down in the losers' match and the underdogs facing off in the winners', things were yet to get saucy.
Jaedong's the bogeyman in every Zerg's closet, the Freddy in their nightmares. On paper, facing Action could have just as well been a free pass to the Round of 8. The build order roulette gave Jaedong a decent head start on his opponent, with a 12 pool opening against a 9 pool on the other side of the map. Things kept falling in place as Action's lings got scouted by an overlord turning around once JD realized he'd sent it to the wrong spawning location on Sylphid. Playing a game of cat and mouse, the Tyrant eventually managed to bait Action into committing to the ling pressure, surrounding the attacking force and significantly reducing the latter's map presence.
A momentary lapse of judgment saw JD hesitate, as his counter-attack failed to push through to Action's main, who'd managed to sneak a detachment of lings of his own to take control of JD's natural. Evening things out eco-wise, the former KT Zerg retreated, keeping JD in check with a handful of mutalisks. A miscalculation on Action's part gave Jaedong the leeway he needed, slipping through to the main base, forcing a drone pull, though not finding that much direct eco damage.
The pace of the game eventually slowed down, allowing Jaedong to invest in a muta force of his own. The eco advantage accrued by JD over the course of the game left Action behind in all aspects of the game, with fewer drones, mutas, scourge, and a nasty supply block hitting right as Jaedong moved out. The only thing keeping the Tyrant back were Action's lings, constantly threatening with a counter.
Jaedong eventually decided to pounce. Flying into Action's main with 11 mutas and a bunch of scourge, the defender found himself a single mutalisk behind. Better scourge connections and closer reinforcements suddenly see-sawed the advantage in Action's favour, who, during the attack, also snuck a handful of lings into the enemy drone line.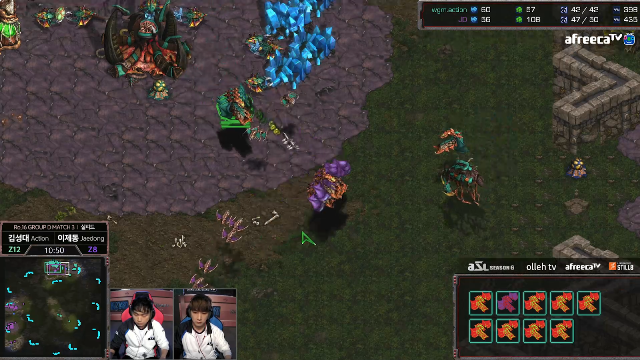 Almost doubling Jaedong's supply, Action chose not to over-commit, catching JD's remaining mutalisks to further his lead. With his eco in tatters and nothing to contest the muta flock, Jaedong tapped out. Action got out of group D in first place!
Losers' Match - Flash vs Light on Sylphid
Facing elimination was not what either Flash or Light had in mind, I reckon, as the TvT on Sylphid got underway. Light, spawning in the bottom right, while Flash, having taken the usual swig of Pocari Sweat, randomized to the top centre location. Light, opting to go for a 1 rax expansion, found himself going up against a factory expand. Adding a second factory, Flash's game plan consisted of applying as much pressure early on as possible. Upon scouting no further production facilities, Flash opted for an academy + armory combo, countering Light's 2 port wraith follow-up. As the goliaths started reinforcing the push, Light, having delayed siege mode in favour of continuous wraith production, found himself unable to thwart Flash's advance.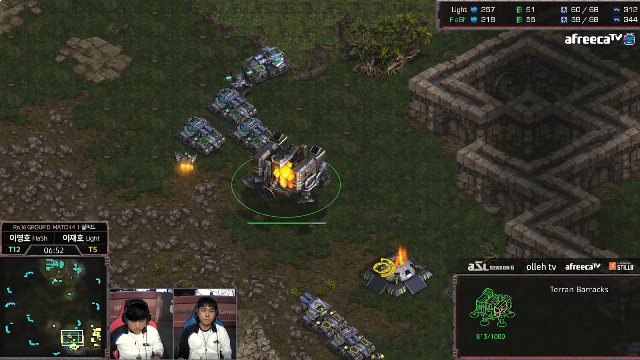 The Ultimate Weapon pushed through, eliminating Light from the ASL.
Finals' Match - Flash vs Jaedong on Circuit Beaker
The rematch to top all rematches - Flash versus Jaedong. The unnerving reality that one of the absolute favourites to take the season would not get past the Round of 16, all in a single game on Circuit Breaker, was witnessed by over 85,000 viewers on AfreecaTV.
Flash, the brown Terran spawned in the top left hand corner while Jaedong, the green Zerg spawned in the top right. Jaedong, having fallen to Last 0:4 in the KSL finals, found himself going up against the very style that had done him in. Flash's 1:1:1 opening quickly ended up on the receiving end of a 3 hatch ling flood, as the first vulture fell to speedlings in the centre of the map. Keeping the Terran occupied with constant ling-based pressure, Jaedong switched into mutalisks. The Tyrant's reliance on aggression became apparent, as JD followed up with a hydralisk den and another batch of lings. Successfully denying Jaedong's multiple attempts to take a third lulled Flash into a false sense of security, as the three-time ASL champion got blindsided by a hydra bust.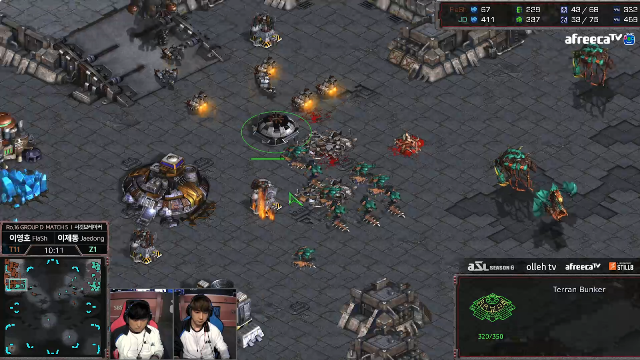 No scv pull from the Terran and things suddenly went topsy-turvy, as Jaedong pushed the defender up his ramp. He had the game under control. Jaedong could have macroed up, could have started researching upgrades, and going further up the tech tree. For some reason, though, JD's insistence on closing the game out became a major issue, as the Zerg kept throwing units away for no return on investment whatsoever. Slowly but surely, Flash's tech advantage allowed him to retake control of his natural, and with siege tanks and irradiates on his side, the Terran pushed across the map, eliminating Jaedong from the ASL. Flash did touch on this in more details on his stream, explaining what Jaedong was doing
here
.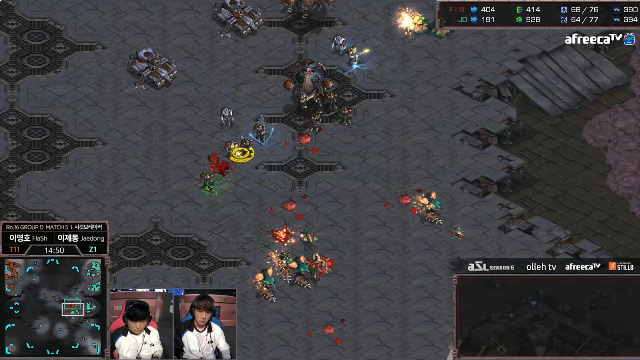 Action
and
Flash
advanced to the quarterfinals!

Burly TvT Prodigy vs. Neo-Flash
Sharp in a surprise performance beat Rain and Sea to advance to the Ro8. That's no small task, and now that he's playing in his best matchup, TvT, his chances of advancing only look up.

That is apparently the case, until you notice Last is on the other side. His storyline in the KSL prior was playing the same old tune. He lost his first few games in the same typical mediocre fashion, but managed to jump back to win the entire tournament. He's riding on that same momentum here in the ASL.

But his results make anyone wonder, how did Last improve so much? There is no secret other than hard work, which people take for granted when thinking of players like Flash, who aren't just talented, but simply work tirelessly. In the KSL finals, he said himself he'd practice from morning until dark. Most notably, Last in the past 2 months has played a shockingly low 37 sponsored games and hasn't streamed nearly as often. He's assumedly practicing in private for focused practice sessions. Compared to other top ex-pros, even the least active have played at least 150 games. Most players only exhibit what Last has done in the week prior to playing in a finals to not sacrifice income from regular streaming.

In doing so, Last has taken meaningful practice to another level by sacrificing the low stakes income of sponsored games and balloon donations. That indicates an almost unprecedented dedication to performing in the offline tournaments over growing his stream. However, Last's TvT is the one matchup that hasn't been tested, and historically it's been known to falter in competition. That may not be the case in the wake of Last's renewed competitive streak. In fact, I'm confident Last can play where Sharp is most confident, and beat him at his own game. The sheer amount of energy Last is putting into his practice cannot be understated, and he is going to steamroll the competition.

When the games do finally go down, I'm expecting big swings to be made in the first game - a BBS, maybe even an 8-rax, or another strong 1 base play. It's exactly the kind of edge either one of the players, especially Sharp, may whip out to take hold of the series. Unless it's on transistor, then the choices are fairly limited. Even for Sharp whose forte is TvT, he'll have to look for every advantage he can possibly get.

The second game is almost as vital as a possible fifth, because climbing back from an 0-2 position is nearly impossible. That is exactly the position I see Last putting Sharp in unless risks are taken. Sharp also isn't known to have an especially formidable nerve for offline matches, so Sharp will be practically knocked out by then.

Last on the other hand will be so numb to the game from playing hours on end in practice. We easily risk a bad show much like Last vs. Best where Last's straight up macro game outdid Best, the macrotoss, on all fronts. In the end, all I can say is Last will dominate Sharp 3-0.
Destiny
This matchup will prove to be very exciting as we see Rain, the ASL5 champion and one of the Top 3 protoss players atm go up against EffOrt, a scrappy Zerg who seems to be his own Achilles' heel at times. Rain is an ASL champion and, it's something that I will reiterate throughout. You don't become a champion by sheer luck. No, what that means is that Rain is able to perform under pressure, and he's stated many times in interviews that he's not nervous in his games. Infact, when things are going his way, he really enjoys playing the game and seems to perform even better.
We've all seen his games first hand in previous ASLs and KSL. His PvZ bares a resemblance to Bisu's with dark templars or storm drops that take place during a frontal attack. Misdirection at its finest, however, unlike Bisu, Rain has not yet fully mastered this otherwise we'll be calling him a PvZ specialist by now. In the previous ASL, he did defeat hero, a ZvP specialist and we've seen other Zergs fall to his PvZ, but let's also keep in mind his mentality which was on full display in KSL. Rain was crushed 4-0 by Jaedong who made him look like a second tier protoss player through a lot of mind games and great plays.
It remains to be seen how much Rain has changed his outlook on the matchup since then, and how he will modify his play to account for EffOrt's playstyle. Adapting, and being extremely cautious will be extremely important against such a formidable foe, and the first game will be a major decider in this series. Rain's overall PvZ winrate sits at 53% with a sample size of 115 games over the course of three months, and against EffOrt, he's 43% over 21 games.
It seems that EffOrt has the advantage in their sponmatches.
EffOrt on the other hand is a great Zerg who seems to get himself eliminated in ZvZs lately, or at least was the case for previous ASLs. This is his first time reaching the quarterfinals in ASL, and there's no doubt that he's excited to finally reach a stage that he's been wanting to be at for a long time. He's a Zerg who has won an OSL, stealing it right from Flash's grasp with a reverse sweep so he's performed under pressure in the past. He's also playing ZvP, a matchup that typically favours Zerg until a certain point, and he's certainly able to mix things up to keep Rain guessing.
His current ZvP winrate sits at a staggering 71% over the course of three months and as mentioned earlier, he's had the upper hand in sponmatches against Rain. In fact, there's not a single Protoss player right now that has a winning record against EffOrt with the closest being Mini who has won 47% of their matches. That speaks volumes to EffOrt's current ZvP form, and how hard it will be for Rain to take this. Much of this series will center on preparation, and scouting. If Rain can deduce what EffOrt is up to, make some solid decisions, and get his macro going, EffOrt will find it rough to contend with him. However, if EffOrt can get inside Rain's mind, and force him to play too safe, faking hydra busts and the like, EffOrt should be able to take this series.
Considering everything, and the fact that EffOrt is the best ZvPer at the moment, I predict him to advance to the semifinals, 3-1.
---