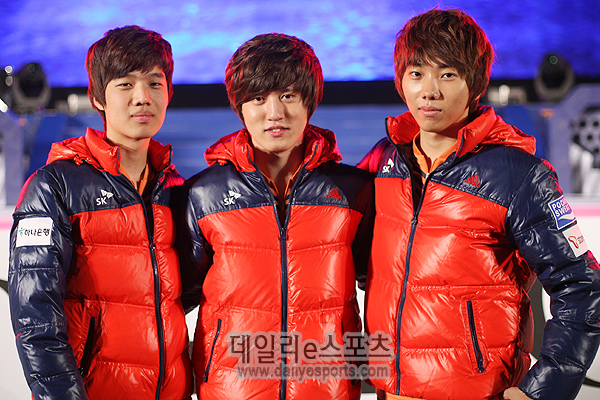 "It's not that protoss is strong against zerg, it's that SKTelecom Protoss are just that good"

This is what happens when get this Protoss Trio together. The SKT Protoss line stood their ground as they faced the KT Zerg line to give their team its 2nd consecutive win. It's not that protoss is strong against zerg, it's that SKTelecom Protoss are just that good and you can expect to see this continue throughout the season.


Q The three of you at 2 wins each and so does your team. Your thoughts?

Bisu - Oddly, the three members that got wins during the last match got the wins during this match. It's surprising. It's a weird feeling. Feels like since the map order was the same and the opponent teams' colours were the same, we couldn't help but win. We felt as the match in Busan was really important so we practiced extra hard and so it feels good to have good results.

Rain - I feel good because I got to come to Busan and perform on such a large stage. I'm also happy because I have no losses (laughes). I want to continue to perform well.

BeSt - I think this is the first time coming to Busan in the middle of a season. It usually feels good to win in a different city. (laughs) I feel like it was more fun because so many fans came to cheer. We'll have to continue to work harder so that you can continue to have faith in the Protoss trio.

Q SKT Protoss line faced the KT Zerg Line

Bisu - It didn't really matter to me. I am very confident in my zerg matchup so when I saw that a zerg came out, I was like "Thank you." [T/N: That's the confident
Bisu I love]

BeSt - Because I practiced that map so much that it didn't matter who came out, I had no thoughts of losing. Although I still have to prove myself, I can say that I am a lot better than last season.

Rain - Didn't matter what race came out. I don't know about my hyungs [
Bisuand
BeStt] but I have confidence no matter what race comes out. (laughs)

Q There has been a lot of praise about this future S-Class player

Rain - Although I enjoy receiving the praise, I focus more on proving myself.

Bisu -
Rain is a practice nut. I don't even need to say it but he has potential to be winning some individual leagues now.

BeSt - In the practice room, we see
Rain as Taek-Myung Class [T/N: Um... Directly translated: Bisantasy-Class?] It would be nice if they started to take out the "Doh" [T/N:
BeSt's part of FBB] It should be "Taek-Myung-Jeong" now (laughs) [T/N: Bisantarain haha] Even when you're not doing your best during games, you can get a lot out of just the experience. Maybe he's good at Starcraft because he played a lot of WoW before becoming a progamer.

Q There's been a lot of cases where players don't play as well after winning the Rookie of the Year award

Rain - To be honest, I heard that so much that I started to worry. It could happen but with the way things are going, isn't it possible that I will get past this Jinx? I went through an 8 game losing streak last season and I don't want to revisit that again.

Q - Did you not come out expecting to snipe
Flash?

BeSt - The coaching staff says I was sent out to snipe a zerg but I think if that were the case, they wouldn't have sent me out. (laughs)

Q - You're team is now tied for most consecutive wins. [T/N: Apparently SKT is on a 12 game winning streak. I'm guessing that that is during proleague regular season and not the grand finals?]

Bisu - Before we came to Busan, talk about most consecutive wins broke out. I'm happy that we tied for most consecutive wins. To be honest, because we haven't been playing too often, I thought we would have lost game sense but that wasn't the case. Now that we don't have anymore breaks between games, we will focus on stacking those consecutive wins.

Q -
Fantasy doesn't seem to be getting any chances to play

BeSt - This is
Fantasy's home town and so his family came out to watch him play so it's quite unfortunate that he wasn't sent out for the 2nd match in a row.
Fantasy says "I hate this more than losing. It feels like I'm being forgotten." [T/N: Tears~] So please, I'm begging you all not to forget about
Fantasy! (laughs)

Q - If you were to pick a rival team

BeSt - None. But Team 8 looks scary. They have that scary pose. Starting with their coach.

Rain - CJ looks like they have the strongest lineup. No other team really comes to mind.

Bisu - Samsung Khan. Something feels different about them. Because I practiced a lot with no rest and because we haven't played many games that I don't think I am fully recharged just yet. [T/N: Way to go away from the question and just start talking about yourself
Bisu]

Fomos interview says something different for Bisu's answer. More along the lines of Samsung practicing harder and preparing more.


Q - Any final words?

BeSt - I'm very happy. (laughs) I would love it if our managers bought us something really delicious and, since we won our 2nd straight game, we would be able to get some vacation time. It's a bit of a fantasy though. (laughs)

Bisu - I get a bit jealous when I watch other sports and see that the teams get to play in different cities. And although we came here for an event it was nice to be able play somewhere different. It was kind of like what it would feel like if eSports had regional teams. Thank you to all the fans who came out to cheer.

Rain - Although right now it is the Protoss Trio, I would like it if we were winning with the other players as well. I want to thank my teammates that helped me practice.

Source: http://esports.dailygame.co.kr/news/read.php?id=53244

I just read Fomos'' interview as well and, although it's generally the same interview, I like their wording better. The translated Fomos interview should be up soon enough so you should read that one as well because it will probably be better.