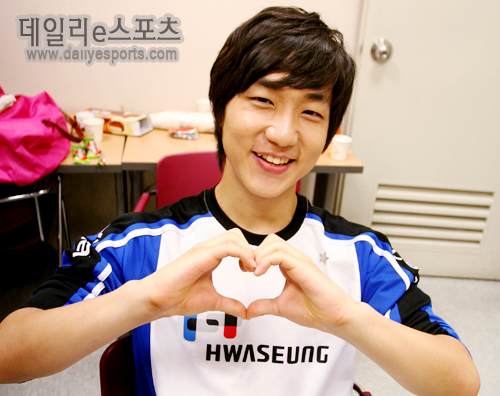 Hwaseung's Jaedong requested help so that he can clear out HiyA's hoax(?).

Recently, Jaedong had to suffer through the terrible reputation of being a cheapskate. In an interview before the Hana Daetoo Securities MSL finals, HiyA said in an interview that "If I help Jaedong in practice, then he needs to repay me in some way but he doesn't even buy me tasty food. There's an idiom that says "the rich people are the scariest" (T/N: as in, you should be surprised by how cheap they are), and it was made for Jaedong", and confessed that Jaedong was a cheapskate.

But Jaedong explained that HiyA's interview was different from reality. He explained that he is the player most known in his dorm for buying the most midnight snacks for everyone, so it's completely unfair that there is such misunderstanding. Jaedong was worried that his fans would think that he is a cheapskate due to HiyA's interview.

Jaedong has produced two witnesses who testified that he was not a cheapskate. First, he had the dormitory cook testify how much midnight snacks he buys. She said that the story was different from what HiyA has told and said "I don't think I've ever seen anyone other than Jaedong buy them".

The other witness was the owner of the chicken restaurant nearby Hwaseung dormitory. The owner is also a fan of Jaedong, and is passionate enough to deliver the chicken himself when Hwaseung makes an order. The owner testified that "Whenever Jaedong buys, I purposely give him a discount. he buys chicken once ever two weeks so I'm happy that I get to see him often".

Jaedong, who proved that the truth was different from what HiyA revealed in his interview, said that "I'm happy because it was revealed that I was not a cheapskate", and said "I will specially buy HiyA something really tasty" while laughing.

Source: http://esports.dailygame.co.kr/news/view.daily?idx=28301

Netizen reactions
+ Show Spoiler +


"Was it that unfair? loooooooooooool"
"Omg so cute >o<"
"I think Jaedong has a different personality from the Tyrant loooooooool"
"HiyA's plan has succeeded looooooool. Jaedong don't buy Magikarp tasty stuff"
"What the heck is this looooool"
"Buy some for us, the fans T_T"
"what is this, lol. When you say something like this, you look dumb but why does Jaedong look even cuter when he says it looooool"