TSL3 on LiquipediaTSL3 Round of 32 Day 3 Recapby Lovedrop & Heyoka



A whole lot of viewers joined Chill and Husky for the third day of TSL3 RO32 as 2011's biggest international tournament carries on. Read on to see quick recaps of each match and what our winners had to say!



Stay tuned for recap and interviews from day 4, they will be here before you know it.


---
Day 3: Battle Reports

Mvp
< 0-2 >

Adelscott
+ Show Spoiler [Show Games] +
P1
MVP
<
Xel'Naga Caverns
>
Adelscott
T7
MVP puts a reactor on his first barracks looking to FE, but Adelscott pokes into his base, trading a zealot for 3 SCVs and a marine. MVP pushes out after stim and combat shield is done, but +1 armor and good force fields at his natural helped Adelscott fend off the attack. Adelscott grabs a third immediately, and maintains about a 10 food lead against MVP. As MVP adds medivacs, Adelscott prioritize armor and twilight council upgrades.
MVP is forced to pull SCVs as Adelscott blinks into the natural, but the buildings are well-placed and really took the best out of chargelots. Adelscott tries his luck every 2-3 warp-ins, but MVP was able to get his gold up. Adelscott's army is zealot-heavy and with colossus, while MVP is mostly churning out marauders and starting blue flame hellion production. Adelscott continues to wither away MVP's army, while taking both bases on the wing. Adelscott finally catches MVP coming out of his fourth and while EMPs landed perfectly, Adelscott simply outnumbered MVP. [25:52]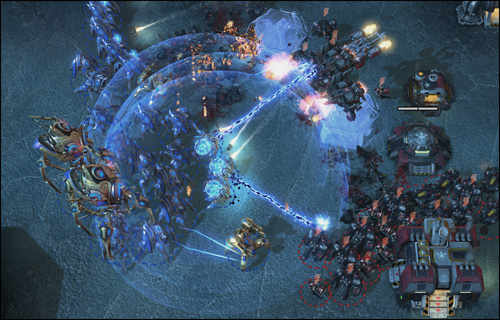 ---
P12
MVP
<
Metalopolis
>
Adelscott
T2
MVP tries 2 rax pressure, seeing Adelscott had 1 gate FE'd. The bunker was too obvious, and seeing that he can no longer do damage, MVP expands himself. Adelscott goes for a 5 gate after FE before adding any additional tech, but thinks twice and pull back to expand and add some colossus to the mix. While landing two crucial EMPs, MVP could not break the natural as Adelscott had preemptively spread out his units, and the colossus played a huge role in the defense.
Adelscott fakes an attack at the front to send a small squad to snipe MVP's third, only to draw all of MVP's forces to the third and march into the front instead. At this very moment, we realize that Adelscott had forgotten to research thermal lance. Disastrous micro mistakes led to all colossi being destroyed, forcing Adelscott to pull back.
MVP looks to ride the momentum, rallying all his units to Adelscott's main. While his units have continuously repel Adelscott's defense, all of his MMM army is deeply injured and is a ticking timebomb on how long MVP can keep this attack going. MVP's army gets cleaned up before he is able to do any real damage to Adelscott's facilities. Clever use of the ramp, force field, and blink helps Adelscott clear out an attack at the 9'o clock expansion as well as a 2nd wave to his main. Rallying behind his better upgrades, Adelscott counterattacks and takes the game in another upset in the RO32. [27:46]

Genius
< 0-2 >

qxc
+ Show Spoiler [Show Games] +
P2

Genius
<
Tal'Darim Altar
>

qxc
T11
QXC puts a reactor on his first barracks and a tech lab on the second to look to do some damage to Genius, but warp gate kicks in just in time for his three gateway to push QXC back. Both players expand behind the skirmish. QXC sneaks a dropship into Genius's main while preoccupying him with a frontal attack. Both attacks deal moderate amount of damage, and Genius looks to stop any sort of future drops by pumping out phoenixes from two stargates.
The phoenixes do a great job at harassing and denying drops, but it is QXC who is first to take a third. A huge engagement happens in the middle and while Genius is clearly the victor, QXC's third and soon-to-be fourth has already kicked into gear, providing him with a clear army reproduction advantage. Genius has not even transferred his probes over to his fourth base before QXC has 5 of his functioning. Nearly 100 food ahead, QXC destroys Genius's third and takes the first game. [28:31]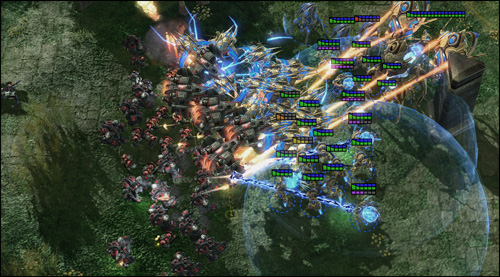 ---
P1

Genius
<
Xel'Naga Caverns
>

qxc
T7
QXC gains ramp vision from his reapers and attacks into Genius's base, but lacks the firepower to successfully break through. Meanwhile, Genius expands behind his three warp gates and a dark shrine. QXC's expansion is extremely late due to his need to slowly construct turrets down the ramp of his base. QXC brings all his units around the left side of the map and snipes down Genius's expansion, losing all but 3 of his units in the process.
Genius tries to break as QXC expands, but bunkers are already in place and a drop in his own main prompts him to swing back. QXC tries his luck with ghosts, looking to do some damage, but force fields and council upgrades decimate his army. Phoenixes rule the sky for Genius, high Templars are added into his army, and the food difference grows larger with every minute. Genius tries a small attack to take down the third, but a planetary fortress is there, doing its planetary fortressing things.
Genius stays on 3 bases while QXC continuously expands, and as Genius denies QXC's gold, both sides trade armies. While Genius's army looks exponentially scarier, the food lead is in QXC's favor and the map is now evenly split. Once again Genius takes down the gold, this time after a session of carpet storming. QXC replies by nuking the 9'o clock expansion! Minimal probe casualties.
The war of attrition begins as QXC is down to one fully functioning base, while Genius is looking healthy with two. QXC carries on with his nukes, effectively halt Genius's resource pool. QXC's army is simply much more cost effective, and while battles have been bitterly close, the end result is a 164-57 food lead, catapulting QXC into the RO16 and making this the longest game of TSL3 thus far. [47:52]

NesTea
< 1-2 >

GoOdy
+ Show Spoiler [Show Games] +
Z2
NesTea
<
Shakuras Plateau
>
GoOdy
T7
Goody delays his gas to make a quick CC, while NesTea goes hatch first. Goody carries on with his traditional mech play off of 2 bases, but NesTea already has four and 96 drones. Goody pushes forward with his mech army, only to get stopped by a huge amount of roaches and banelings. NesTea takes this opportunity to expand all over the map, putting down 3 more hatcheries.
As Goody puts down his fourth base, NesTea attempts to be sneaky and use burrowed roaches to get in range of the siege tanks, but his plan is foiled by a single missile turret. Goody counterpushes, but the brood lords finish just in time to force the mech army to pull back. Without proper air defense, Goody is forced to gg. [25:21]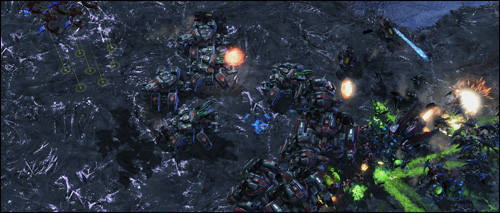 ---
Z1
NesTea
<
Xel'Naga Caverns
>
GoOdy
T7
NesTea steals a gas, knowing Goody's possible playstyle from the first game. While his advanced bunker fails, Goody attacks as soon as his first medivac is out with marines/hellions. This caught NesTea completely off-guard, and he was forced to abandon his natural for a short period of time. Goody follows up with banshees and blue flamed hellions, and without a single roach or spine crawler, NesTea ggs. [13:58]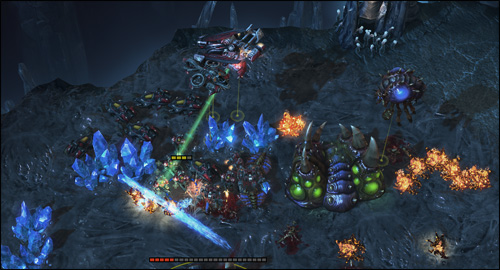 ---
Z2
NesTea
<
Tal'Darim Altar
>
GoOdy
T8
Goody opens two factories, with siege tanks coming out of one and hellions the other. Goody sieges below NesTea's natural, seconds before NesTea could properly place down a spine crawler. NesTea throws a wave of speedlings to counterattack, but they become less and less effective as the number of blue flamed hellions stock up at home. A second wave caught Goody looking away for a second, and reduces Goody's SCV count to 11.
After taking down NesTea's natural, Goody pulls back because a roach threat is coming his way. The attack is suspended for a second as Goody has hellions roasting drones at the top expansion, heeding help from zerglings all the way across the map. Goody tries again, this time his hellions met an immovable roach wall.
Goody once again sieges under the natural, but this time, NesTea goes forward for a counterattack, base trade style. While the number of roaches dwindles down to units popping out at Goody's base, there is simply no resistance at NesTea's, and he proceeds to lose all three expansions and its associated number of drones, with Goody meching it to the RO16. [24:59]

NaNiwa
< 2-1 >

Ret
+ Show Spoiler [Show Games] +
P8
NaNiwa
<
Tal'Darim Altar
>
Ret
Z5
Ret doubles expand as his overlord peaks at Naniwa's forge expansion. Naniwa is forced to destroy his forge to make an opening, and Ret doesn't seem to be stopping drone production anytime soon. As Naniwa grabs his third, Ret makes a total of 30 roaches, researching overlord drop and getting ready to rain down on Naniwa's natural with roaches and lings. Ret harasses all three mining locations at once, but suffers great damage for minimal probe kills.
Ret finally gets zergling speed 16 minutes into the game, while making hydralisks, mutalisks, and grabbing a fourth. With blink and observers, Naniwa fends off all attempts to ruin his economy, and pushes out near max. With a stronger composition and flashy blink micro, Naniwa took the decisive battle with dozens of stalkers to spare, and runs up the ramp to take game 1. [19:52]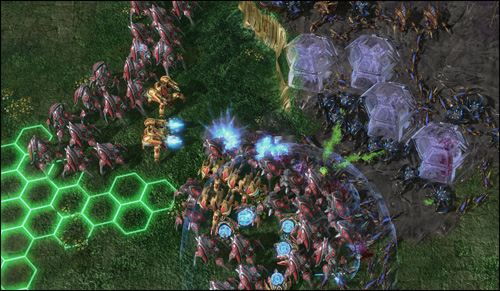 ---
P2
NaNiwa
<
Metalopolis
>
Ret
Z8
With the probe blocking his expansion, Ret makes his hatchery spaces away from its ideal spot, refusing to deviate from his master plan. Naniwa 3 gates expand behind a nice amount of sentries, while Ret is on 4 hatches with 2 mining bases, and a third to come. Naniwa's passivity gives Ret an early 30 food lead, entirely in workers.
Ret takes his half of the map, while loading up for a huge drop in Naniwa's main. The drop gets denied outright, but with hive tech and a huge pool of resources to replenish, all Ret needs is just make room for superior units. Naniwa easily clears out the 12 o' clock expansion, but 10 brood lords and 60 zerglings are on the way. With brood lords/zerglings/infestors, Ret rolls over Naniwa's army, and with a constant stream of zergling to stay max, Ret evens up the game at one apiece. [21:14]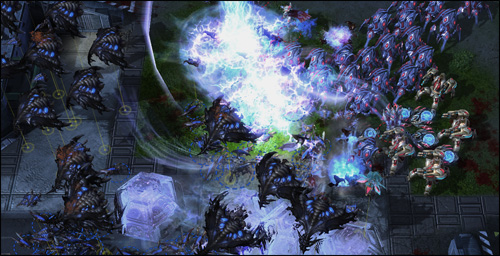 ---
P5
NaNiwa
<
Shakuras Plateau
>
Ret
Z11
Instead of expanding to his natural, Ret sneaks his hatchery at the potential third, confusing Naniwa, who is expanding himself. The natural eventually earns a hatchery for itself, and Ret comfortably sit back and macro. This time around, Naniwa pushes forward with 5 gates, bulldozing down Ret's 8 o'clock expansion.
Ret masses up roaches to take care of the gateway units, and starts breaking down the backdoor rocks towards Naniwa's main base. Naniwa catches the roaches in time to force field, but Ret tunnel-ly claws his way into the base. The roaches cannot handle all the warped in units and immortals and Ret hustles back to his third.
Naniwa counter-pushes, and even with hydras Ret still cannot hold. Ret remakes his third near his base, while Naniwa 6 o'clock base is perfectly safe from any aggression. Naniwa sniffs out the expansion again, and there was just no time for Ret to fully react. Naniwa, confident from his 50 supply lead, storms in and was met with little resistance. Ret's army vanishes in a matter of seconds, and Naniwa pulls an upset on the Dutch maestro. [22:51]

Mill.Adelscott
Post-game Interview
Q: Congratulations, you just beat MVP 2-0. How do you feel?
I am satisfied, especially because I trained really hard to have a chance to beat him.
Q: Rate your play today. Do you think you played good? Average? Excellent?
I think I played very well, safe macro like I know, but it is the training that made the difference I think. He doesn't know me but I've seen many games of him, so I tried to make a strategy to counter him - forge upgrade, and many zealots + blink stalkers. I know he likes to play mass marauder + medivac, and harass with drop or splitting his army to counter an expo, so I played the mobility of stalker/zealot to counter his style.
Q: You won 2-0, but if you had to play game three, would you have gone for the same macro style? Or did you have any surprise rush or cheese strategy prepared?
The third map was Tal'darim, so I think this style was good on this map too, because this big map needs mobility.
Q: Your next opponent will be the winner of qxc vs Genius. Which opponent do you want to face, and why?
I prefer to face qxc because I know his style, and I think I have more of a chance to beat qxc than Genius. But I am pretty fan of Genius and to play him will be an honor

.
Q: A lot of SC II fans thought foreigners had no chance versus the Koreans. Do you have anything to say to them?
I think foreigners have a chance, but they must believe in it.
Q: Any last comments?
Thank to Sarens for the training, thank to my fans for supporting me and enjoy those games.
Thank you and see you in the RO16!

FXOqxc
Post-game Interview
Q: You just won your TSL ro32 match against Genius. Congratulations, and how do you feel?
I've got a big stupid smile on my face. I'm not sure I can really describe it in words. It's a big relief to say the least. Confidence is a slippery thing and after IEM I wasn't feeling too good. A big win like this really helps turn the momentum around. I was pretty scared in the second set on Xel - but I've got a lot of experience playing from behind and ended up taking it anyway. TL DR - I FEEL GREAT LIKE TIGER.
Q: In the pre-tournament interview, you mentioned that you were just focusing on your own game rather than trying to practice based on your opponent. What aspects of your play did you work on leading up to this match?
I had a build worked out for each map that I had practiced pretty extensively (probably 30 or more times each). Beyond that I just played with all the protoss I could - mostly europeans. I didn't really know what I needed to know in order to come out ahead against Genius so I tried to study the matchup as a whole, finding where various pieces fit into my style (spoiler - I used reapers & nukes)
Q: On that note, you used harassment tactics during all stages of the games to great effect. Is this a conscious effort on your part, or is it something that just comes to you naturally?
That's the style that I like playing. I like to get inside my opponent's head and keep them guessing on what I'm doing. In the later stages of TvP it becomes very difficult for either player to actually attack the other head on due to emp + storm + ff/colossus + viking positioning. My solution is mostly about maintaining an economic lead through harrassment and forcing big battles if I'm sufficiently ahead.
Q: During the second game on Xel'Naga Caverns, there were numerous momentum swings. Could you explain what was going through your head as you lost the lead on some occasions, and then recovered to take it back?
In my practice sessions my performances on Xel'Naga were my weakest. There was definitely a part of me that felt like I was going to drop Xel, especially if I played standard which is why I went for the early gambit on his nexus. I hoped to throw him out of his comfort zone by doing something a bit unorthodox and also thought it wasn't a terrible decision in general.
As far as losing the lead goes - I would almost say I'm more comfortable playing from behind than playing while ahead or even. For whatever reason I tend to end up behind quite a lot when I'm laddering and practicing and as I mentioned earlier - I have a lot of experience playing scrappy and crawling my way back into the game. My plan was to give every ounce of energy I had on xnc once I realized I was behind, either I was going to mentally exhaust genius (hopefully) or end up winning the game.
For anyone who watched IEM NYC I used a similar type of play against HuK on Scrap Station. There wasn't really space in my brain to worry - I was just focused on winning by whatever means I could so I focused on that.
Q: Alongside ThorZain, you've pulled off what many people might consider an upset. A lot of people doubted the foreigners' chances in this tournament. Do you have anything to say to them?
There are a lot of factors that determine how well someone is able to perform - one of the most important is the amount of effort and desire they have in the short period before they end up playing as well as during the games themselves. In general, the Koreans are going to be better than the foreigners but that doesn't mean that particular players can't rise above and compete with them directly. Predicting who is going to make upsets is extremely difficult unless you actively talk and interact with the players themselves.
Q: Your opponent in the next round will be the winner of MVP vs Adelscott. Who do you prefer to face?
Both have advantages and disadvantages - MVP has been slumping lately. Also my group at MLG is 2 terran and one zerg so preparing for him would help me in that regard. On the other hand - I've already prepared quite a bit for TvP... although Adel was actually one of my main practice partners to get ready for Genius. I would prefer MVP though so I can focus on just TvT and TvZ in preparation for MLG.
Q: Any last comments, shoutouts, imba complaints?
Thanks to all the protoss that helped me practice in the last few days and weeks. ToD, Adelscott were probably the most helpful. Yesterday I was playing ToD and went on a losing streak against him. After a number of games I asked him what I was doing wrong and he told me to "play better". I felt like he was insulting me at first but after I thought about it more I think it was the best advice I could've gotten. He was right - at the time the main thing I needed was to just raise my general level of play. In addition I'd like to give a shoutout to my new team FXOpen and I wish my old team ROOT the best of luck in the future.
Check me out on
twitter
and
facebook
. Thanks to all my fans for continuing to support me. I hope this series is the first of many on my path to redemption after IEM.
Thank you and see you in the RO16!

ESC.GoOdy
Post-game Interview
Q: Congratulations! How did you feel after the match?
Thank you =). I feel really great and I'm so happy right now, I was smiling the last couple of hours =).
Q: How did you feel you played? Did you feel you played as well as you could?
I guess I played very well, but of course I made some mistakes.
Q:How much did you practice for this series? Did you expect Nestea to play like he did? What did you do to specifically prepare for him?
I didnt really know what playstyle I had to expect, but I play so many cups and ladder so I'm used to just adapt very well to any playstyle. I practiced some, but the biggest part was just thinking about the best builds, my plan was to make a heavy macro build in game one so that he feels safe in game two and then suprise him there with the push.
Q: Many fans did not give you much of a chance. How do you feel about this now that you've won and "upset" a GSL champion?
Yeah, I looked in the bracket contest thread and I found one person who voted for me and like 30 who counted me out, so thanks very much to that one guy =).
Q: In game 1 you decided to go mech but his brood lords won him the game. What went wrong?
After the start I felt quite good because he lost a lot of lings, but after my first push I saw that he had 4 bases already running, but the game was still open as I saw the greater spire. The mistake was that I did not switch the starport to the reactor, I waited too long building vikings from the starport with the techlab.
Q: What was your plan for game 2? You did a 1-base rush that did a lot of damage.
As I said the plan was to surprise him after the macro build in game one and I knew he always likes to drone a lot, so I guess I punished him for that =).
Q: Game 3 was quite close, with both players doing counter attacks. What
was going through your mind during this game?
As I attacked his hatch I felt quite good, but then he killed a lot of SCVs with his lings and after that it switched between "oh fuck thats bad" and "nice, I still have a good chance to win". In the game, I was a little but worried about mutas, but as I watched the rep I saw that his lair was really late.
Your opponent next round is Ret or Naniwa. Who would you like to play?
Oh, I don't know, they are both really good and it won't be easy anyway, but I guess I would like Naniwa, because otherwise I have only zergs and that makes it a lot harder to always prepare new builds.
Do you have anyone to thank? What do you have to say to your fans?
Thanks for all the support and cheers, for the nice pictures and thanks to my team ESC-ICYBOX!
Thank you and see you in the RO16!

Dignitas.NaNiwa
Post-Game Interview
Q: Congratulations. How do you feel?
I feel fucking great. I threw my fists in the air, as I do every time I have difficulty with an opponent

.
Q: You said you were nervous during the series. Did you feel a lot of pressure?
The pressure I feel is always from myself, my goal is to be number one in the world. I know I'm not there yet but every time I lose I disappoint myself so bad and get a bit depressed.. and it's 10 times worse if it's against a player I've lost multiple times before against.
Q: How much did you prepare for this series?
I prepared everyday, at least 20 games with MorroW, LaLush, and cytoplasm.
Q: In game 1 you made many immortals after defending drops from Ret. Did you expect this strategy?
The thing is, immortals are basically x2 stalkers, and they have a lot more hitpoints and hardened shields. The opponent WILL get roaches against stalkers no matter what so it doesn't matter if I know his unit composition. As for his strategy I kind of expected it since Ret basically said my multitask sucked in an interview, so I knew I should be prepared for it.
Q: Game 2 you played much more conservatively, and your opponent defeated you with Brood Lords. What went wrong?
I played the exact same style as in game 1, but the thing is that he didn't. If I would have caught his brood lord timing I would have won but I forgot to send in an observer since I thought I had a sure victory, which cost me the game - not attacking him at the right moment.
Q: In game 3 you killed his third with early units, but his counterattack was very strong. Were you worried at all? What was going through your mind?
I have practiced my counter build a million times basically and I had it EXACTLY as I wanted it, BUT I overextended myself and didn't retreat at the right moment. It made me a little bit worried making me think "I knew I had this game so won with that attack and now I fucked up like a noob".
Q: Your next opponent is either Goody or Nestea. Who would you like to play and why?
I would like to play Goody because my style works very well against him. I'm a tactical player and so is he, but the difference is that my mechanics are 10 times as good as his which is why I have a big edge against him.
Q: You are the only representative from Dignitas in this tournament -- do you feel any extra responsibility? What are your goals for the TSL?
I always want to make my team proud, but they cheer on me and there is no "I have to win or kicked thing", we want to go forward together...The only pressure is what I set myself

. My goals are the same for every tournament, Top 1. I am trying very hard to achieve this "Winner-mentality" because I think thats my biggest weakness.
Q: Anyone to thank? Any words for your fans?
I want to thank Morrow for all the time he put down on helping me prepare, I really appreciate it and I want to thank dignitas of course as well as, wishing Morrow all the best in Korea! I hope he does well

.
Fans?
Haha. I want to thank all the fans I got, (if any) for their support. It always warms my heart when people support me even though I have a dark past

.
Thank you and see you in the RO16!
---
This TSL is sponsored by PokerStrategy.com, the world's largest poker school and community. With hundreds of Poker VODs and an assortment of learning material in 18 different languages, PokerStrategy.com offers the chance for aspiring Poker players to learn from a beginner to a professional level. Sign up using TL's referral link.

By signing up, you can also enter the TSL3 Raffle, where you can win a 5-night trip to South Korea for 2 people to watch StarCraft live in person and tour the oGs-Liquid house.

Discuss with other fans in the TSL3 Forum.