2023 GSL Code S Season 1
Final Day Preview: Cure, ByuN, Bunny, Maru
Start time: Thursday, May 18 9:30am GMT (GMT+00:00)
After three weeks of online play, the GSL returns to its traditional home in the AfreecaTV studio to decide the Code S Season 1 championship. The Code S title will be contested under unique circumstances, with the semifinals and grand finals played on the same day—a first in GSL history. While the vaunted 'GSL preparation' factor will remain valid for the semifinals, the fans and players could be in for a very atypical grand finals experience.
Speaking of atypical, Code S will have an all-Terran final four for the first time since
Code S October of 2011
. In that tournament, three-time GSL champion Mvp ceded the crown to MMA, thus affirming MMA's place as a truly elite player in the StarCraft II scene.
Nearly twelve years later, Maru stands in Mvp's shoes as the greatest GSL player ever, facing down three hungry contenders looking to win glory at his expense. Will Maru's follow in the footsteps of his predecessor? Or will he further his own legend with a record sixth Code S championship?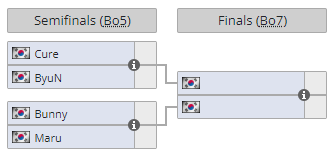 Ahead of the finals, we look back on the paths that led the four semifinalists up to this point, and wonder what winning a Code S championship might mean for their legacies.
Cure: Culmination
by Mizenhauer
As is often the case with Cure, his ascent to the final four evokes ambivalent feelings.
In some ways, it's a surprise. Over the last couple of years, he developed a reputation as a serial underachiever in major events (save one
huge outlier
), and came into this season on the back of a deflating RO24 finish at IEM Katowice 2023. With this season's Code S roster including Korea's elite trio of Maru, herO and Dark, know-how-to-win players like GuMiho and DRG, and returning greats such as Stats, Classic and INnoVation, Cure had seemed to be on the outside looking in.
On the other hand, it feels obvious to see him here. Cure might not be the first name that comes to mind when you think of top Terrans, but his extraordinary raw skill is on display every week in online competitions. And, while his underwhelming major tournament runs hold an outsize place in our memories, the final four is
generally
familiar territory for him. If not for the weight of expectations, we'd say he's quietly pieced together an excellent career.
Cure first broke out in 2014, where he reached the
Code S Season 3 semifinals
(in which he lost to near-peak INnoVation by a heartbreaking 3-4 score) and finished runner-up at
Red Bull Battle Grounds: Washington
in the span of the week. However, Cure took a massive step back in the following year, beginning a peculiar cycle of ups and downs. In 2015, he remained a key contributor in Proleague for the Jin Air Green Wings, but he failed to make it past the opening round of either SSL or GSL Code S.
The turning of the calendar and the release of Legacy of the Void seemed to breathe new life into his career, as he reached the Code S semifinals once more in
Season 1 of 2016
. But, again, that success led directly into a downturn. In fact, from 2017-2019, Cure only managed to qualify for Code S in six out of nine seasons, recording an unimpressive 24-32 record when he did manage to compete. Alongside Jin Air teammate Trap, he was constantly on the receiving end of the dreaded backhanded compliment "good in practice" while failing to achieve much in major tournaments,
Heading into 2020 it seemed that Cure was destined to never play like he did in the fall of 2014 or 2016. The Korean scene had simply surpassed him, leaving him to scrape and claw at the fringes of Code S. But, if there is anything pro StarCraft II has taught us in its nearly 13 year history, it is that you can never count someone out.
In late 2019, following his departure from Jin Air Green Wings, Cure finally began to recapture the form that saw him reach two Code S semifinals in the long ago past. It remains a mystery to the public how leaving the last remaining KeSPA teamhouse improved Cure's fortunes—perhaps he just needed a change, ANY change at all. Whatever the reason, Cure set off on a serious career revival.
In the
first Code S of 2020
, he took down the mighty Stats and TY in the group stages to reach the RO8 playoffs, where he proceeded to take down Dear in a 3-0 sweep. In his semifinal match against INnoVation, he avenged his loss from six years earlier, closing out the series with a two base tank push that punished INnoVation's greedy 3 CC opener. And, while Cure was swept in the finals by TvT virtuoso TY, it was a landmark moment for a player who had weathered so much hardship.
This began a second act to Cure's career, where he became a regular fixture in major events. Before, you had to measure the time between semifinal appearances in months. For the new Cure, this time was sometimes reduced to weeks. He faced a different problem entirely: having the reputation of a silver surfer. For all his high finishes, he couldn't actually win the championship.
But in
Code S Season 3
of 2021, Cure made the ultimate breakthrough. Leveraging his peerless TvP at the time, he ripped through the playoffs with a 3-1 victory against PartinG in the RO8 and 4-1 against Trap in the RO4. His momentum carried him all the way through the finals, where he took a decisive 4-2 over Zest. Upon receiving the final GG, a sigh was the first expression to cross Cure's face. He had finally reached the zenith of Korean StarCraft II and could call himself a Code S champion.
In another odd—if sadly predictable—twist, that championship led to another decline. Fortunately for Cure, that slump was much less drastic than those in the past. Following his Code S championship, he began to gradually fade, putting up mostly middling results in major tournaments (in a stark contrast to his continued online dominance). While he remained a 'top' player by some definitions, he was absolutely underachieving compared to the championship bar he had set for himself.
What are we to make, then, of the Cure we've seen since his discouraging RO24 exit at IEM Katowice? It goes without saying that he's been crushing people online—that's a given at this point. But with the first two rounds of Code S also moving online, Cure's domination has extended to Korea's premier competition. Through the RO16 and RO8, Cure has defeated Solar (2-0), herO (2-0), Classic (2-0), and even Maru (2-1).
If this level of play can carry over to the offline stage, then Cure is surely back in position to win a Code S championship. He is
14-6 in TvT matches
since the beginning of April, and Aligulac.com current rates him as the
#3 TvT player
in the world. While he did say luck played a factor in his recent Code S victory over Maru, it still should have buoyed his confidence headed into this all-Terran final four.
If one rates Cure and ByuN solely as online kings, ByuN is probably the superior TvT player. However, considering Cure's momentum, and ByuN troubles in the deeper rounds of the GSL, Cure has to be considered the favorite in their semifinal clash. And, after that, the door would be wide open for Cure. Maru is looking as vulnerable as ever in TvT, and Cure already beat him last round. Bunny, while a wild card, is still the clear underdog among the semifinalists. It may not be long until Cure updates his resume to three-time Code S finalist and two-time champion.
With a second Code S title to his name, Cure would no longer have to deal with the ignominy of his one championship being treated as an outlier. He would find himself level with giants of the game such as Zest and Dark in terms of Code S title count. Cure may never win as many titles as Maru or reach as many finals as Mvp, but a victory this Thursday would ensure he forever holds a place among the greatest Terrans of all time.
ByuN vs. ByuN
by Wax
After three years of turmoil, the twisting, turning saga of post-military ByuN has reached its most important inflection point.
Back in 2020, ByuN returned to StarCraft II after completing his mandatory military service. While there was much rejoicing and cheering in the community, fans were cautious when it came to having real expectations. Up to that point, history had borne out that military service meant the end of one's time as a true title contender. Greats like TaeJa and MMA topped out as group stage players in Code S; Dream and DRG did better by making surprise runs to the playoffs. Even so, there remained a deep gap between reaching the playoffs and actually threatening the likes of Maru and Dark in the GSL, or Serral and Reynor out in the world.
ByuN was the first player to shatter our notions of what ex-military players could achieve. There were rumblings about his ladder prowess shortly after he was discharged, and he soon proved such talk to be more than justified. Mere months after his return, in the online
ASUS ROG 2020
tournament, ByuN ran through a terrifying line-up of Reynor, Stats, Serral, Solar, and Maru to win the championship. Granted, ASUS ROG wasn't quite an event of 'tier 1' status, but it definitely wasn't small enough to ignore. Given the sheer quality of the opponents ByuN defeated, it seemed inevitable that his success in ASUS ROG would translate to bigger events.
Alas, just as soon as ByuN gave us reason to hope that he could make history and become the first returnee to win Code S, he gave us just as much reason to doubt that he could ever recreate the magic of his 2016 championship run.
Wrist issues, long the bane of star Terran players, came for ByuN as well. Nearly every single one of his outings in the AfreecaTV studio was marred by an in-game pause due to wrist pain/numbness, and those pauses could only go on for so long due to the GSL rules. It seemed that ByuN's journey to a historic Code S championship might end before it even got started.
The story took a most unexpected turn in the middle of 2021, when we learned more about ByuN's wrist condition. In a
post-match interview
, ByuN revealed that an examination showed nothing was physically wrong with his wrists, that he wasn't afflicted with the Terran curse that had brought down Mvp and TaeJa in the end. Instead, the pain was said to be mentally induced, which implied it might be overcome with a different kind of treatment.
That revelation made it tempting to boil down all of ByuN's problems to a binary equation: if ByuN is in a good place mentally, he plays well. If he's not, he plays poorly. But in reality, it was hard to disentangle the in-game and out-of-game factors in his play. It was telling that for a long time after ASUS ROG Online, he didn't come close to performing as well in online events—theoretically the setting where he should have felt most comfortable and played at his best. He spent a large stretch of 2021-2022 as a mid/high-tier player, cracking the playoffs of major tournaments but never going deeper than top eight. During that slump, herO returned from the military, made a recovery to full pre-military form, and pulled off the miracle Code S run that once seemed to be ByuN's destiny.
In the second half of 2022, ByuN's story took a turn for the better. His performance in smaller online cups—which had always been 'very good' at worst—jumped back into 'monstrous' territory. As has often been the case, this proved to be a predictor of success in bigger events as well. In
Super Tournament 2
, ByuN secured the best offline result in his post-military career, defeating his nemesis Maru to reach the semifinals (where he lost to Solar 1-3). A week later, he got an equally momentous offline win at
HomeStory Cup
, beating Serral 3-2 en route to a third place finish (losing to Astrea in the losers' final). The key detail here was that not only was ByuN playing at a championship-level, but that he didn't need to ask for those dreaded pauses. Perhaps the mental issues had never gone away fully, but at least he had gotten them under enough control to play normally in an offline setting.
After ByuN's IEM Katowice ended in the RO12 with a 1-3 loss to Serral (nothing interesting here, just Serral being Serral), everything still seemed to be in place for him to have a great Code S. He had conquered his mental issues for the most part, and he was playing at an extremely high level online. On top of that, Maru was faltering in TvT, and ByuN had taken a few series off of his once unbeatable foe in smaller competitions.
Of course, a story with so many twists would give us one final swerve. True to his fine form, ByuN fought his way through a tough RO8 group in second place, taking down Solar and Dark in consecutive 2-0 series. However, a scintillating win over a Hive-tech Solar with almost pure Marines was revealed to not be a swaggering show of confidence, but a last-ditch measure due to weakness. In his post-match interview, ByuN said that he had started to feel pain in his wrist, and had rushed to finish the game as he was not certain he could take it late.
That's a somber note to enter the final day of Code S on, even if one can never be 100% certain about ByuN's circumstances. It's definitely possible that I'm reading too deeply into that single interview from 2021 about psychosomatic issues with his wrist. But even if we ignore that, it's clear that for SOME reason, consistency and big-match performance have been huge problems for ByuN since his return to StarCraft II.
It's too late for ByuN to become the first military returnee to win a Code S championship. However, over these last three years, the saga of ByuN vs. ByuN has become just as compelling as that of StarCraft II vs. the Ministry of National Defense. If ByuN were to become the second post-military player to win a Code S championship, it wouldn't be anywhere near as historic as herO's championship run. But ByuN beating ByuN to win his second Code S championship might be the greater personal accomplishment. I hope ByuN can lift the trophy, and tell us what he's had to overcome.
Bunny: Final Validation
by Mizenhauer
Perhaps it is naive, but is there anything more human than chasing one's dreams at the expense of all else? To push oneself beyond common limits in pursuit of glory. To endure failure and disappointment in the name of something greater. To finally reach that moment that validates every sacrifice and makes the dream a reality. For Bunny, who began his progaming career more than a decade ago, he finds himself on the precipice of that moment of glory. Only two matches lie between him and ultimate validation. Only two matches until Bunny can finally call himself a Code S Champion.
Bunny is far and away the least accomplished player in the Round of 4. While Maru, Cure and ByuN have already won Code S, Bunny, who transitioned to StarCraft II from BW in 2013, needed three years just to reach the Code S Round of 16. After that, it took him another three years to reach the RO8 in 2019. In fact, from 2013 to 2019, Bunny's record in Korea's most prestigious individual competition was a pedestrian 36-47. However, Bunny never deviated from his course. And, despite more subpar results in 2020, he finally started to see his patience pay off in 2021.
After reaching the RO8 in 2021's
Code S Season 1
, Bunny posted a career best finish in
Season 2
by making it all the way to the Round of 4. Combined with another top four finish in the online DreamHack Masters Fall, it seemed like his career was finally trending in the right direction.
It would be putting it mildly to say Bunny's 2022 was equal parts horror show and fairy tale. He continued his ascent to start the year, achieving a fantastic top 8 finish at
IEM Katowice
. But in a case of comically bad reverse-karma, he was 'rewarded' with a pair of setbacks completely outside of the game. Ahead of
Code S Season 1
, he broke his wrist in a freak accident. Forced to play his RO20 matches after his wrist had barely healed, it was no surprise to see Bunny get eliminated early.
Then, in the middle of
Code S Season 2
, Bunny found himself trapped in Spanish quarantine after contracting COVID at DreamHack: Valencia. However, this time, even such a dire pitfall couldn't stop Bunny. Despite being unable to practice properly for around 10 days, he returned to Korea to finish his RO10 group with a 3-1 record and advance to the RO6 playoffs. There, he scored a shocking 3-1 upset against Maru, earning his first ever semifinal berth in Code S. While he lost to eventual champion herO in the semis, it signaled that those two extreme setbacks hadn't derailed him from his previous path.
At
DreamHack Masters: Atlanta
, Bunny got off to a slow start by going 1-2 in a group containing Serral, Cure, and Lambo. However, Bunny caught fire in the elimination portion of the event. After knocking out trigger, Clem, and NightMare by a combined 9-1 score, Bunny pulled off what was likely the biggest win of his life. He defeated the tournament favorite Serral 3-1 in the semifinals, advancing to the grand finals of a premier event for the first time in his career. And, while it did end in a disappointing 3-4 loss to herO (with Bunny blowing a 3-1 lead), there was no doubting that Bunny had finally proven himself capable of competing with the best in the world.
Nothing has ever come easy for Bunny, and it almost seemed fated that things would go horribly wrong to start 2023. He entered IEM Katowice 2023 as a sleeper pick to go deep in the playoffs, but ended up finishing last place in his RO24 group. When the hamstrung Korean StarCraft II scene was given an unexpected lifeline by the $400,000 Gamers8 event, Bunny somehow missed out on qualification in what looked like an exceedingly forgiving preliminary.
And still, having faced yet more trials that must have tempted him to think
'f*** it, I quit'
, Bunny rallied once more. He qualified for this season of Code S without dropping a match, and proceeded to make short work of Classic and INnoVation in the group stages. Placed in a RO8 'group of death', Bunny defied the odds to take first place in his group with wins over Solar and Dark.
Still the underdog, still fighting uphill, Bunny might feel right at home in the semifinals. His opening match against Maru will be an incredible test, but Bunny has taken down the G5L winner in similarly high pressure environments before. With Maru looking the most frail he's been since 2019, there's no reason to doubt that Bunny could shock him again.
Should he clear the first hurdle, Bunny would face off against Cure or ByuN, both of whom are worthy adversaries and champions in their own right. But, for those who bet against Bunny in the group stages, they might want to reconsider doubting him again. Unlike Maru, Cure, and ByuN who have participated in a variety of competitions over the past few months, Bunny has minimized his presence in minor tournaments and saved himself for major events. If he keeps playing the same way he has all tournament, his chances of being the last man standing on Thursday night are as good as any of the other Terrans.
Winning Code S would be validation not just for the years spent as a B-Teamer for CJ Entus but for all the struggles he has had to endure for nearly a decade. For those who would marginalize such a victory on the grounds that Code S no longer holds the prestige it once did, Bunny would not. After a decade of pursuing his dream and persevering through the hardships that came with it, Bunny finally has a chance to make good on his years of tireless effort. A Code S title is only seven wins away. And, with it, a place in history. After ten years chasing greatness at the expense of all else, this is his moment. Doubt him at your own risk. Bunny's time is now.
Maru: What do You Get the Man Who Has Everything?
by Wax
After three years of writing about Maru's G5L chase, I'm at a bit of a loss for words now that he's finally achieved it. What ARE the stakes for a player who has—almost literally—done it all in Code S? Go for championships six, seven, and eight? Try to win a title without a map loss? Win a championship with his allegedly amazing off-race Protoss? Whatever arbitrary goal Maru may set for himself, or we may set for him as a fandom, it will never come remotely close to feeling as urgent as the G5L once was.
To be very frank, and perhaps at the risk of de-hyping this upcoming day of games, Code S hasn't felt like Maru's #1 goal for a while. Prior to winning the G5L, Maru himself joked during a GSL video package that he'd rather win IEM Katowice over his fifth Code S title. While that was played for laughs at the time, I always felt there was more than a grain of truth to it, if not quite a whole Gwangalli beach.
After all, winning four Code S titles in a row in 2018-2019 had long-since established Maru as the greatest GSL player ever, putting his domestic legacy beyond reproach. The G5L was the gold-encrusted peacock feather in Maru's cap, the artisanally grown $500 Japanese cherry on top of his ice cream sundae. Don't get me wrong—the G5L chase was extremely
fun
to follow, and something GSL fans cared deeply about. However, it ultimately felt like the B-plot to the main story of the Maru-verse—the ongoing quest for a World Championship.
Still, even with everything taking a backseat to winning a world title, some points of interest can be found in Maru's journey to Code S championship number six. I already brought up jokes that are more serious than they seem—well, there's another one Maru is cracking these days. With runner-up finishes in 2022 Code S Season 2, DreamHack Valencia, TSL9, and IEM Katowice 2023, Maru is becoming a bit of a
kong.
Now, this is abjectly ridiculous given that he won the G5L in the midst of that 'losing streak,' and considering that he has won 10+ premier tournaments in his career. But what matters is that these runner-up finishes are clearly on Maru's mind and he keeps bringing them up. He took severe mental damage from Oliveira in the IEM Katowice finals, and from his interviews, it feels like he's still on the way to recovery.
Bad mentality has hamstrung many players who were otherwise championship quality—a couple of examples are in this very final four! Maru is a long way off from falling to those depths, but any mental weakness is still a weakness. Winning Code S #6—in extremely convincing and dominating fashion if possible—would go a long way toward cleansing that self-doubt.
This final four is also a chance for Maru to restore his aura of dominance in TvT. The
5.0.11 balance patch
and the subsequent decline of the mass-Raven meta was a huge blow to Maru, taking away his ace in the hole. Previously, he had a magical ability to turn around games that would have been 100% lost for any other player by turtling up and massing his favorite spellcaster. While that late-game state is still achievable for Maru, he's definitely become more vulnerable to losing in the early-mid/game.
To some extent, Maru has no choice but to follow the meta—he can't force late-game turtling through sheer willpower. But he
can
get back to his roots as the ultimate Marine-Medivac player, who combined lightning fast handspeed with equally speedy decision-making to rip opponents to shreds. With a week of dedicated TvT practice, there's a chance that Maru shows up on Thursday and destroys his opponents in every phase of the game, making me feel silly for saying his TvT was ever diminished.
Finally, there's just the sheer absurdity of winning six Code S championships. Sure, I downplayed the importance of Code S to Maru at the start, but that's partially because I was taking Maru's greatness for granted. Most players don't even have six championships in their entire careers, much less in the oldest and most prestigious tournament in Korea. Go reread the previews for the other three players in the semifinals—winning Code S is the struggle of a
lifetime
for most pros. It's a testament to Maru's greatness that he can make winning Code S seem almost boring.
Here's how I'll sum up my feelings on Maru going into the final day: I won't be on the edge of my seat waiting to see if Maru can win championship #6, but I'll definitely be shaking my head in utter awe when he does.
Predictions
ByuN 3
- 2 Cure
Maru 3
- 1 Bunny
Maru 4
- 2 ByuN
---