World Team League - 2022 Summer Season
by: Wax
The stacked Week 8 match list really lived up to the hype, delivering two ace match thrillers and one notable upset.
KaiZi's Reynor and the Freecs' soO were the heroes of the week, going 3-0 for their teams and leading them to wins over Shopify and Alpha X. Those results have made things extremely tight at the top of the table, with DPG standing in first place with 20 points while three other teams are tied behind them at 19.
The big upset of the week came from PSISTORM Gaming, who made Team NV pay for their questionable decision to rest Creator. Once MaxPax took the 2-0 against ace player Bunny, it was all over for Team NV.
Week 9 will be the last cycle of games before a one week break for DreamHack Valencia, and we sure have a great slate of matches coming up. DPG and Shopify will collide with the #1 spot on the line, while Team NV will look to jump back in the top four with a win against Alpha X. Toward the middle of the table, this could be the week where the Freecs all but lock in a playoff spot with a win, as they have the most favorable schedule the rest of the way.
Week 8 Results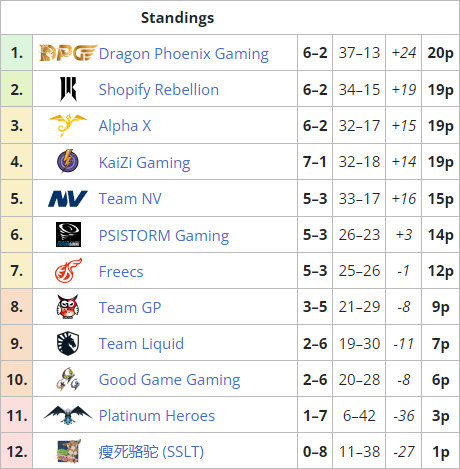 Top 7 teams qualify for the playoffs.
Points are awarded as follows:

3 points for a victory in a series that does not require an ace match

2 points for a victory in a series that requires an ace-match

1 point for a loss in a series that requires an ace-match

0 points for a loss in a series that does not require an ace match
Good Game Gaming 5 - 1 Platinum Heroes
Watch VOD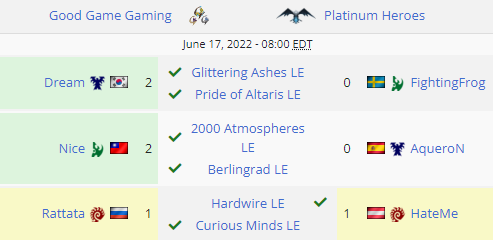 The opening match between
GGG.Dream
and
PH.FightingFrog
was rather straight-forward for the GGG ace, as he began with a successful mine drop and battered his opponent into submission with continued drop harassment afterward. Dream got off to another great start in game two with a devastating proxy-Starport mine drop, and he rode his early economy advantage to a quick victory against the troublesome tongue-lasher.
PH.Aqueron
made his WTL debut in the following series and almost made an immediate impact against
GGG.Nice
. The two players got embroiled in a very scrappy late-game fight on 2000 Atmospheres that saw both of them lose most of their bases and infrastructure. Aqueron seemed to have the edge as they started to rebuild, but he couldn't preserve his precious Liberators and had to GG out to a Colossus-led army. Nice was able to get an easier victory in game two, dealing heavy damage with a one-base Gateway units + Oracle strike and following up with Stalkers for the victory.
While the series was already lost,
PH.HateMe
managed to save his team from the indignity of suffering a sweep. Going up against
GGG.Rattata
, he punished his opponent's fast tech with Roaches to avoid the shutout. Rattata was able to get revenge on the final map, winning in an old-fashioned Roach War to conclude the series 5-1.
PSISTORM Gaming 4 - 2 Team NV
Watch VOD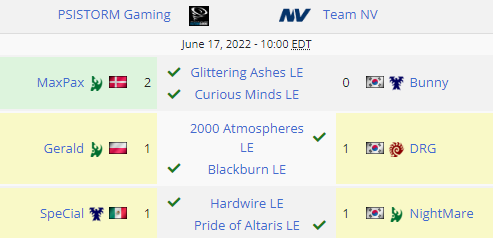 Two of this season's best players in
PSISTORM.MaxPax
and
NV.Bunny
collided in the very first bout of this match, which ended with the mysterious Dane giving his team a crucial 2-0 lead. MaxPax played an almost perfect early game in game one, holding off his opponent's Mine-drop without any losses (killing all four mines and a Medivac) while killing SCVs with an Adept on the other end of the map. After such a horrendous start, Bunny decided he had to risk it all on a desperate 2-base Marine-Tank-SCV all-in. However, MaxPax was more than ready for the attack, and completely crushed it to force the first GG. MaxPax then showed he didn't need any favors from his opponent to win in game two, playing a dominant all-around macro game to win in under 13 minutes.
The batons were then passed off to
PSISTORM.Gerald
and
NV.DongRaeGu
who dived into a blood fight on 2000 Atmospheres. DRG managed to get the ball rolling with his signature Mutalisk-Zergling style in the mid-game, constantly attacking Gerald and pinning him inside a tiny corner of the map. While Gerald showed admirable resolve on defense, he was worn down in the end. However, Gerald was able to take the next map of Blackburn with a clever strategy, taking a secret third base at the 'island' expansion at the 6 o'clock position. The lack of a traditional third base seemed to confuse DRG into playing less greedily than he should have, and combined with some good Archon-drop harassment, Gerald ended up with a significant mid-game economy lead. This allowed the Polish Protoss to assemble a mighty Stalker-Disruptor force which was enough to end the game.
PSISTORM.SpeCial
then sealed the deal against
NV.NightMare
on Hardwire. SpeCial took an early lead by killing Probes with Reaper-Hellion harassment, and then blew the gap wide open with an explosive Mine-drop follow-up. NightMare didn't have any way to come back from such a deficit and had to GG out to SpeCial's first major attack. Team NV wrung out one more map win in the end, with NightMare holding off a 2-Barracks proxy from SpeCial to win on Pride of Altaris.
Team GP 4 - 2 SSLT (瘦死骆驼)

Watch VOD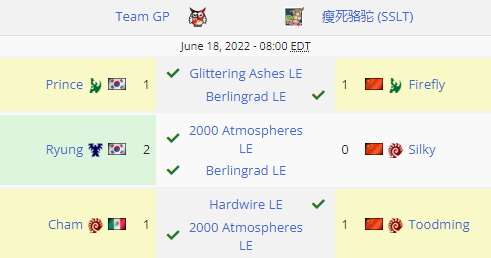 GP.Prince
got his team out to a lead against
SSLT.Firefly
, with his 2-base Stalkers shooting down Firefly's greedier 3-base play on Glittering Ashes. Game two on Berlingrad saw Firefly jump ahead after winning some early Blink Stalkers fights, but he couldn't quite finish Prince off. Firefly nearly allowed Prince to come back thanks to the power of Disruptors, but his long-standing resource advantage helped him scrape out a win in the end.
GP.Ryung
then broke the tie and put the Gon Pack back in the lead.
SSLT.Silky's
early/mid-game Ling-Baneling attack on 2000 Atmospheres was all too predictable, and Ryung held it off while inflicting heavy Drone damage with Banshees on the other side of the map. Ryung took it slow from there, eventually finishing Silky off with an overwhelming infantry army. Ryung then took his second victory on Berlingrad, splitting the map in half and winning with a Thor-Ghost force.
SSLT.Toodming
managed to give his team one final lifeline on Hardwire, getting a fast victory over
GP.Cham
with a Zergling flood. However, Cham was still able to successfully close the series out for his team on 2000 Atmospheres, decisively defeating his opponent in the early Zergling-Baneling knife fight.
Kwangdong Freecs 4 - 3 Shopify Rebellion
Watch VOD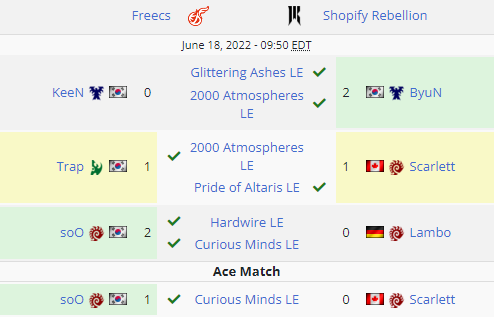 This match got off to a fantastic start as
KDF.KeeN
and
SR.ByuN
delivered the most entertaining series of the week. Game one on Glittering Ashes saw the two players engage in almost non-stop Marine-Tank combat across the entire breadth of the map. ByuN managed to perform just slightly better in the chaotic environment, preserving enough of his economy to take a resource-based win. The two Terrans then one-upped their previous performance on 2000 Atmospheres, delivering a tremendous macro game for the viewers. This time it had a different flavor as KeeN decided to play mech, while ByuN responded with Marauder-heavy bio. This game felt nearly 50/50 from start to finish, with neither player able to take a significant advantage. However, as the game neared its end, the mobility of bio started to favor ByuN as KeeN needed to defend multiple positions at opposite ends of the map, and ByuN was able to leverage this advantage into a 33-minute win (it also helped that he finally got some Ravens).
KDF.Trap
gave the Freecs their first point of the night, using a Glaive-Adept + Immortal push to beat
SR.Scarlett
on 2000 Atmospheres. However, a similar strategy didn't work nearly as well on Pride of Altaris, and Scarlett successfully held off the attack to put her team on match point.
The Freecs were on the ropes, but they got a timely save from
KDF.soO
. The rapidly improving military veteran had already put in a clutch performance for his team in Week 6 when he took a series-winning 2-0 against PSISTORM.MaxPax. When called upon to save his team once more, soO delivered with another vital 2-0 against
SR.Lambo
. The king of Roach-Ravager ZvZ lived up to his reputation in game one, overpowering Lambo in the mid-game. soO then pulled out a 12 pool cheese in game two, putting himself ahead after forcing down Lambo's Hatchery. He was able to play out his lead without any complications from there, beating Lambo with a superior Roach count to force the ace match.
In a somewhat surprising move for the Freecs, soO was selected ahead of Trap for the ace match. While soO has been improving very quickly, it didn't seem 100% clear that he had already reached a level where he'd be picked ahead of Trap as the ace. Meanwhile, Shopify decided to go with Scarlett as their final player—a totally understandable decision given the Rebellion's ace-by-committee approach to the WTL.
As it turned out, changing up the foreigner Zerg wouldn't change the outcome for Shopify. While soO stuck to his favored Roach-based style, Scarlett decided to throw him a curveball by going for the double-Evo Zerglings + Ravager style that's seen from time to time. However, some wasteful Zergling use by Scarlett meant she couldn't get the crucial surrounds needed to land her Corrosive Biles, which let soO kite his way to victory with Roaches.
Dragon Phoenix Gaming 6 - 0 Team Liquid
Watch VOD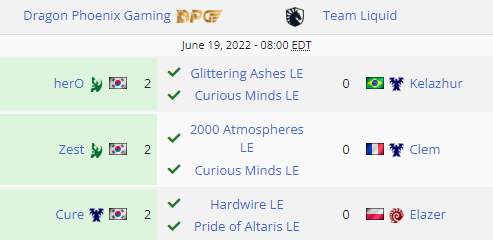 Liquid`Kelazhur
started off with a 2-base Marine-Tank-SCV all-in attempt on Glittering Ashes, but a well-placed Stasis Trap from
DPG.herO
stalled Kelazhur's critical first tank. This basically spelled the end of the game for Kelazhur, with herO able to use the extra time to snuff out the all-in and stroll to victory. Things went miserably for Kelazhur in game two as well, as a slightly late Bunker led to him losing several early SCVs to light Zealot-Adept harass. herO got very aggressive off two bases to close out the game, using his micro to pick apart the weakened Kelazhur.
Next up was
DPG.Zest
, who turned out to be competing in his
abruptly announced retirement match
. Fortunately for Protoss fans everywhere (and unfortunately for TL), Zest managed to go out on a positive note by 2-0'ing
Liquid`Clem
. Game one on 2000 Atmospheres saw Zest navigate his way through the early game with defensive Phoenixes before overwhelming his opponent with a swarm of Zealots and Archons. Both sides went for trickery in game two, with Clem going for a proxy-Starport Hellion drop while Zest went for a hidden Dark Shrine. Zest came out with a huge advantage in this exchange, defending reasonably well on his end of the map while being able to strike Clem when he didn't have scan energy. He continued to press Clem with frontal attacks, eventually forcing another GG out of the Liquid ace.
The series was already decided, but that didn't stop
DPG.Cure
and
Liquid`Elazer
from playing a pair of lengthy games to close things out. First up was a half-map split game on Hardwire, with Cure prevailing thanks to some unusually slow tech from Elazer. Pride of Altaris went much better for Elazer at first as he used Muta-Ling-Bane to control the game, but he lost a key fight against 3/3 bio and had to GG out.
KaiZi Gaming 4 - 3 Alpha X
Watch VOD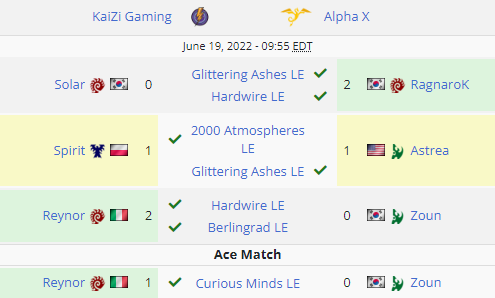 αX.RagnaroK
gave his team a great boost to open the match, taking down strong ZvZ player
KZ.Solar
2-0. The first game on Glittering Ashes featured a contrast of styles, with RagnaroK's mobile Mutalisks going up against the defensive Lurker-Hydra of Solar. RagnaroK did a great job of killing Drones and limiting expansions, which allowed him to transition to Lurkers of his own and win with his resource advantage. RagnaroK went for Muta-ling again on Hardwire, while Solar countered by going for Roach-Corruptor. It might have been a fair fight if Solar didn't allow Baneling backdoor attacks to hamper his economy once more, and RagnaroK again prevailed thanks to his more powerful economy.
KZ.Spirit
kept his team in the series by taking a 1-1 tie against
αX.Astrea
. Spirit got the early advantage on 2000 Atmospheres by using his 3-Barracks attack to kill Astrea's third base, and from there he was able to snowball his way to a victory. Spirit then got super cheesy on Glittering Ashes, proxying all of his production facilities for a series of extra-fast mine drops. However, Astrea was able to defend himself with relatively few losses, and this time he was the one snowballing an early lead into a win.
KZ.Reynor
proved to be a worthy successor to INnoVation as KaiZi's ace, clutching out a series tying 2-0 against
αX.Zoun
. The first game on Hardwire looked like it might be headed to a late-game showdown, but Reynor turned up the heat before the game could stall. He bounced back and forth between the Zoun's third and fourth bases with his motley swarm (which included almost every Zerg ground unit), and Zoun simply could not keep up with the Zerg movements. Worn down and impoverished, Zoun GG'd out after a failed desperation attack. Zoun then used fast Dark Templars to surprise Reynor on Berlingrad, but didn't really do enough damage to make it worth his investment. In fact, it actually set his tech back severely, leaving him with no splash units to defend against Reynor's deadly Roach-Bane-Ravager counterattack.
Of course, Reynor was called upon again in the ace match, while Alpha X decided to give Zoun one more shot at taking down the Italian. Zoun changed his strategy into a fast Disruptor drop this time, followed by Stalker + Disruptor attacks. However, Reynor handled the situation beautifully, deftly dodging the Purification Novas and immediately enveloping the Protoss units with Zergling-Roach. Zoun was helpless once the Disruptors went on cooldown, and he was left with no choice but to GG out.
Week 8 might have been my hardest MVP decision yet, with both
KZ.Reynor
and
KDF.soO
leading their teams to victory with 3-0 performances.
The decider then, had to be the strength of opponents defeated. In the case of soO, he defeated Lambo 2-0 and then went 1-0 against Scarlett. As for Reynor, he took all three of his wins against Zoun. In the end, I had to give Reynor the slight edge. Zoun's PvZ might have looked flat against Reynor, but that's only because Reynor is an absolute monster in the match-up. Zoun is actually a very solid PvZ player all around, and he even defeated Dark 2-1 in Code S prior to facing Reynor.
Weekly MVP's:
Week 8: KZ.Reynor

Week 7: KDF.Trap

Week 6: NV.Bunny

Week 5: DPG.Rogue

Week 4: KDF.Armani

Week 3: GP.Ryung

Week 2: KZ.TIME

Week 1: SR.Harstem
Week 9 Preview
Friday, Jun 24 12:00pm GMT (GMT+00:00) Matches
Dragon Phoenix Gaming vs Shopify Rebellion

Rogue < Blackburn > Lambo
herO < Hardwire > ByuN
Cure < Berlingrad > Harstem

Ace Match: < 2000 Atmospheres >
I don't know what to make of DPG's 6-0 of Liquid after their two week swoon. Does it mean they're focused and back in shape? Or could they fall back into maddening inconsistency?
On paper, all the match-ups are favorable for DPG, and there's even potential for another 6-0. This is really DPG's series to lose, and knowing how they are in the regular season, they just might do that.
Prediction: Dragon Phoenix Gaming 4
- 2 Shopify Rebellion
KaiZi Gaming vs Platinum Heroes

Reynor < Blackburn > ArT
TIME < Hardwire > AqueroN
Spirit < Berlingrad > HateMe

Ace Match: < 2000 Atmospheres >
KaiZi Gaming's next two matches are against Platinum Heroes and SSLT before they close the season out with the traditional match against DPG.
Unlike some other teams, KaiZi won't be pulling any punches against the Heroes, bringing a full strength side. Still, after seeing how much resistance AqueroN and HateMe put up last week, I'm not going to pick a sweep here.
Prediction: KaiZi Gaming 5
- 1 Platinum Heroes
Saturday, Jun 25 12:00pm GMT (GMT+00:00) Matches
Alpha X vs Team NV

Zoun < Blackburn > Creator
RagnaroK < Hardwire > DongRaeGu
Astrea < Berlingrad > Bunny

Ace Match: < 2000 Atmospheres >
After cruising at #1 during the first half of the season, a difficult back-half schedule (and questionable roster decisions) has dropped Team NV to #5. However, with a win here, they can still hope to reclaim the #1 spot before the end of the regular season.
This match feels dead even all the way, even if it goes to the ace match. Aligulac rates all three of these initial match-ups as being fairly close, with RagnaroK being the only player who might have a moderate edge. But given DRG's penchant for stepping up in big matches, I don't think there's much separating him from RagnaroK. All of the ace-match combinations seem pretty even as well, assuming it's going to be [Zoun/RagnaroK] vs [Creator/Bunny].
This match-up was a rare, true 50/50 for me, so I actually flipped a physical coin to make my prediction.
Prediction: Team NV 4
- 3 Alpha X
Team Liquid vs SSLT

Elazer < Blackburn > KingSlayeR
Kelazhur < Hardwire > Firefly
Clem < Berlingrad > Toodming

Ace Match: < 2000 Atmospheres >
Team Liquid are now a team that really doesn't have much to play for other than pride, since both the playoffs and relegation seem unlikely. On the other hand, SSLT are basically locked into the relegation zone, making this one of those unfortunate 'meaningless' matches you get in the latter phases of the season.
While it's interesting to see a new player in KingSlayeR get a chance to play, there's not much else that stands out. I guess I'd laugh if Toodming somehow managed to steal a map from Clem with his predictable cheeses?
Prediction: Team Liquid 5
- 1 SSLT
Sunday, Jun 26 12:00pm GMT (GMT+00:00) Matches
Kwangdong Freecs vs Good Game Gaming

KeeN < Blackburn > Dream
Trap < Hardwire > Cyan
soO < Berlingrad > Rattata

Ace Match: < 2000 Atmospheres >
I've indulged in some KeeN slander in past WTL previews, but I was really impressed with his TvT's against ByuN last week despite him going 0-2 in the end. It's enough that I won't write off his match against Dream as a 0-2, with 1-1 being a more likely outcome.
Of course, Trap and soO are quite favored in the remaining two match-ups, even though there's the volatility factor of mirror match-ups involved. Overall, this feels like a match that the Kwangdong Freecs should win, all but assuring their passage into the playoffs.
Prediction: Kwangdong Freecs 4
- 2 Good Game Gaming
PSISTORM Gaming vs Team GP

Gerald < Blackburn > Ryung
MaxPax < Hardwire > Cham
SpeCial < Berlingrad > Prince

Ace Match: < 2000 Atmospheres >
However, if the Freecs somehow get upset by GGG and Team GP pull off a win here, we may yet get a battle for the #7 spot that goes down to the final week of games.
Ryung vs Gerald is a great starting match for Team GP, as TvP has clearly been Ryung's best match-up in the past few months. However, I don't want to sell Gerald short, as he's quietly improved a lot in 2022 as well. He could very well pick up the 1-1 and set his team up for victory.
Unfortunately for Team GP, MaxPax vs Cham feels like a backbreaker. We may never see MaxPax at an offline event, but in terms of online competition, he's a tremendous PvZ player. As for Cham, his match-up imbalance is still a concern, and his ZvP is by far his worst according to Aligulac.
Finally, I think SpeCial should 2-0 Prince. The Team GP Protoss has gotten away from the cheeses and tricks that made him so dangerous last season, and he's currently 4-12 for the season.
Prediction: PSISTORM Gaming 4
- 2 Team GP
---
Credits and acknowledgements

Writer: Wax
Stats: Aligulac.com & Liquipedia
Images: SCBoy