Fait Accompli: Rogue Wins Fourth Code S Championship
by Mizenhauer
Rogue
has done it. With his 4-2 victory over
Creator
in the 37th season of Code S, he has become the second player with four Code S championships to his name—placing him in rarified air alongside the only other man to do so, Maru. Unlike the winningest Terran of StarCraft II, who won his first premier event only three years after his GSL debut, Rogue had to wait more than half a decade to lift his first trophy.
He has certainly made up for lost time, however. When one thinks of the defining players of Legacy of the Void they often mention Dark, Maru, Serral, and maybe even Reynor. But unlike those players who made their mark by constantly making deep tournament runs (Dark and Reynor) or via jaw dropping periods of dominance in their respective regions (Serral's 2018 WCS campaign and Maru's four consecutive Code S victories during a similar stretch of time), only one player has managed to retain an air of inevitability, nay, invincibility for the last five years running.
That player is Rogue, who did not lift a trophy until
IEM Shanghai
in late July of 2017, despite being one of the more reliable players in Proleague since 2015. Since defeating herO to claim his first trophy, Rogue has reached another 11 individual finals in Liquipedia premier-tier events. He has lost only once, to Maru in the online 2021 DH Masters Winter Finals, and is a perfect ten-for-ten in offline finals. He's lifted the championship trophy in almost every possible tournament series, including the WCS Global Finals, the IEM World Championship (twice), GSL Super Tournament, and of course, GSL Code S.
But what is even more impressive than his number of tournament victories is the sheer dominance he displays once he reaches the last hurdle. In the past five odd years Rogue has amassed a nigh unbelievable 46-19 map score in title bouts, good for a 71% game win rate. By comparison, Maru has a 55-40 game record in finals since he won his first major championship against Rain in the 2012 OnGameNet Starleague, giving him a respectable but not exactly jaw dropping 58% win rate. Outside of Korea, Serral has only managed to win 60 of the 118 maps he has played when in finals, a figure which is frankly staggering considering he has been Europe's best player since Legacy of the Void was released. The fact that players as decorated as Maru or Serral cannot even approach Rogue when it comes to their performances on the grandest stage against truly elite opposition only affirms what Creator said after Rogue claimed his most recent title, "his preparation was on a different level."
In 2017, when Rogue went on an absolute tear by winning IEM Shanghai and the second
Super Tournament
of the year just to qualify for the
WCS Global Finals
. He left Anaheim as the fifth WCS World Champion in StarCraft II history, joining PartinG, ByuN, sOs, and Life (Life was technically stripped of his tite). Rogue's run was unprecedented in StarCraft II history at the time, as he achieved a three month stretch of excellence where he was unquestionably the best player in the world.
Despite that tremendous run, it was understandable to question where Rogue's career would go from there. At the time it seemed possible that he might follow sOs' path, whose first BlizzCon win opened the road to multiple world championships. He also could have mirrored ByuN, who was a veritable monster during his road to BlizzCon in the latter half of 2016 but was never able to equal that quality in later years. Not that anyone would have faulted Rogue if he went the way of ByuN (or ironically, future-sOs whose
second
BlizzCon victory in 2015 turned out to be his last trophy in any event)—world championships last forever, and ByuN and sOs were celebrated long after their primes.
But Rogue actually did go down the brightest path, winning his second world championship at
IEM Katowice 2018
not long after BlizzCon. A relatively fallow period from mid-2018 to mid-2019 followed (at least by Rogue's now impeccable standard) in which he only reached the quarterfinals of the 2018 WCS Global Finals and never advanced past the round of 8 in four seasons of Code S. But that dry spell ended in the Autumn of 2019 when Rogue finally claimed his first Code S title against Trap in
Code S Season 3
.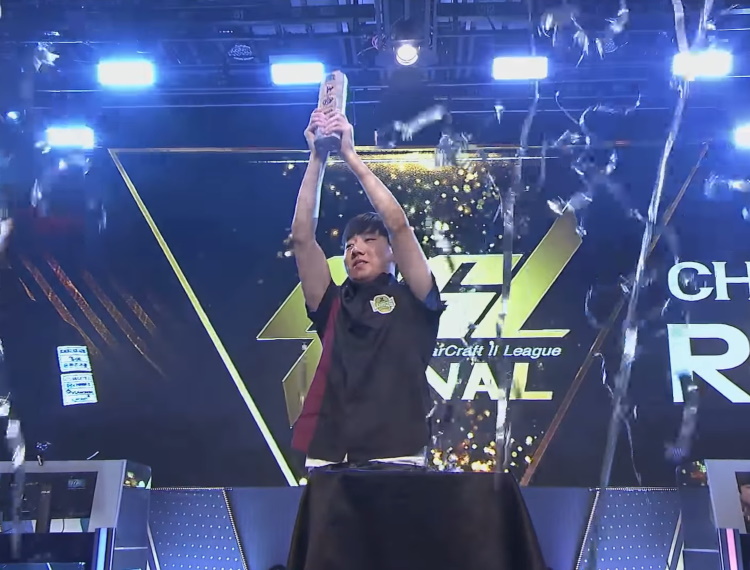 Rogue won his first Code S championship in the final season of 2019.
At the time I waxed poetic that Rogue had evolved from being Code S quarterfinal fodder into a champion (it's easy to forget Rogue was once 0-8 in Code S quarterfinal matches), he still maintained the same ingenuity, creativity, and flexibility from the days when he was more of a Proleague-first player for Jin Air. Even as he freely admitted that the 2019 version of Zerg was overpowered in the wake of his championship, one could not help remembering that the Nydus Worms he 'abused' against Trap had been a weapon of choice long before they came into vogue (a
Proleague match
against herO in 2015 is particularly memorable). In the same vein, he had frequently utilized 2019's popular ZvP Zerging-Baneling composition long ago during Heart of the Swarm when Roaches were the primary tool in ZvP. He had never altered the way he viewed StarCraft II, losing none of his aggressiveness or his ability to sense blood in the water. He was the same Rogue he had always been; just even more so.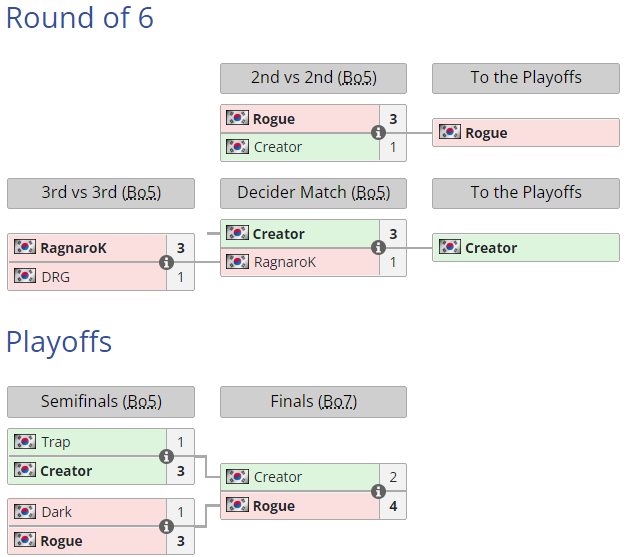 Approximately 36 months later, Rogue entered the 2022 Code S season finals as a three time champion of the competition. After all that time, he was just as daring, innovative, and decisive as ever, making him a massive favorite to defeat a surprise finalist in Creator.
Creator's story was certainly the more heartwarming of the two heading into the finals. After all, it was hard not to get behind someone playing in their first Code S final, and hadn't advanced a single round in Code S in nearly ten years (an especially poor stretch from 2013 to 2018 saw him only qualify for Code S in six out of 17 attempts, posting a 1-12 record when he DID qualify). A Team NV interview before the finals revealed he was even on the verge of getting another job and going part-time to stay in competitive StarCraft II, with only the combination of streaming and later Team NV's support helping him stay full-time. Creator was the loveable, plucky underdog that everyone wanted to root for—especially in a game that has become increasingly stagnant over time, with new champions far and few between. But even as Creator was playing the tournament of his life—even winning in major upsets over players like Trap and Maru—one could never deny who the true endboss was.
In contrast to Creator's nearly empty resume from 2013 onward, Rogue had been Korea's best Zerg for much of Legacy of the Void. He certainly had more trophies than rivals like Dark (seven) or soO (two from 2016 to 2020). Where Creator's was a feel good story of emerging from the darkness into the light, Rogue was the stone-cold killer who made his riches dismantling every foe in his path. Where Creator had not won an individual championship since 2012, Rogue only needed to look back six months to his 4-1 victory over Serral in the finals of the most recent TeamLiquid StarLeague (ironically, the first tournament Creator had ever won). Where Creator was emotional, buoyed by the elation of a renaissance no one could have anticipated, Rogue was simply there to take care of business, just as he had on so many prior occasions.
Arguably, Creator's story had been better than his actual performance. He had defeated Solar, GuMiho, DRG, herO, Ragnarok, Trap and Maru—a fantastic result relative to his previous standing. But now that Creator had entered the realm of GSL finalists, the standards were different. Maru was the only legit top-tier title favorite among them, with even Trap being closer to a fringe contender.
Even worse for Creator, he had already lost to Rogue earlier in the tournament. Rogue had 2-0'd his Ro20 Group, then went 3-1 in the Round of 10, with his only loss coming against Trap when both players had already locked up spots in the Round of 6. This paired Rogue and Creator in a Best of 5 to determine who would find themselves in the Round of 4 alongside group winners Trap and Dark. The result was what one would expect: Rogue won handily in a 3-1 series. A clever timing-attack from Creator nearly let him steal game one, but he blew his chance after losing his key Disruptors in a moment of poor micro. Rogue repaid the favor somewhat in game two, failing to consolidate his lead after thwarting an all-in and letting Creator win with Stalker-Robo play. Unfortunately for Creator, the close-out two games were extremely one-sided, and he lost in about 20 minutes of combined game time.
Creator had kept his cool after losing that RO6 match, something he had often failed to do in the past, and defeated RagnaroK and Trap to reach the finals and earn a rematch with Rogue. But even with two high-stakes best of five wins under his belt, the overwhelmingly likely result of their second meeting was Rogue making Creator look silly and dashing his ambitions of becoming the first Protoss Code S champion since Stats in 2017.
Map one on Golden Wall was a perfect example of why Rogue was the logical pick to win. He opened with a proxy Hatchery at the enemy gold base, prompting Creator to try and tear it down with 2-Gate Zealots. A first time Code S finalists' jitters came into play, as Creator miscalculated his damage and failed to take down the Hatchery by a sliver of health. While Creator managed to destroy the Hatchery a bit later, Rogue had already caused enough disruption to win with a follow-up Nydus in Creator's main. Game 2 was even more one-sided. This time Rogue's proxy Hatchery went up completely undetected and a flood of Zerglings along with four Spine Crawlers put him ahead 2-0. Rogue expanded to a gold base once more in game 3, though this time it was the nearby gold base on Blackburn. Creator tried his luck with a 2-base all-in, but it only led to Rogue going up to a 3-0 score.
With Rogue only one game from closing out the series, Creator fought back on Glittering Ashes. Both players seemed comfortable playing a macro game on such a large map, but Creator withstood Rogue's Nydus-Lurker attack to successfully assemble a Carrier-Disruptor force. Creator's army was perfectly tailored to defeating Rogue's Hydralisk-Lurker composition, and he finally put a point on the board. Rogue showed early aggression again in game five, but his early Zerglings accomplished little and Creator capitalized on the situation, going for a Glaive Adept timing that further stunted Rogue's economy and set up a push with Colossi and Blink Stalkers to which Rogue had no answer.
With the score at 3-2, momentum seemed to be in Creator's favor. But if there is anything for which Rogue has become known for it is the dispassionate manner in which he approaches StarCraft IIf Every game is a new chance to win. Every game is a fresh opportunity to tie the opponent in knots. Every game is just another win to be claimed on the way to another trophy.
Creator opened with two Stargates in the sixth game, but beyond killing a few Overlords, his Void Rays accomplished nothing and were ultimately rebuffed by Rogue's queens. Creator doubled down on skytoss, adding a third Stargate, a Fleet Beacon, and researching +1 for his air units. Rogue, meanwhile, responded with a Spire, but also an eight queen drop in Creator's natural that whittled away at Creator's Void Ray count. Sensing a chance to overtake Creator in the air, Rogue made around 20 Mutalisks once his Spire finished. While Creator scouted the composition switch and immediately began to produce Phoenixes, he could not prevent Rogue from killing 15 workers with the ever growing flock, nor could he react in time to prevent a Roach squad from taking down his crucial fourth base. While Creator was able to whittle the Mutalisk count down somewhat with good Phoenix micro, his ailing economy eventually forced him to consolidate his forces and push across the map in a last ditch effort. He won the initial encounter, but Rogue's reinforcements left Creator with nothing alive but 15 phoenixes and 52 workers.
With complete control of the ground, Rogue continued to disrupt Creator's mining with runbys and Mutalisks. Creator did his best to salvage the situation, including recalling his entire army back to his main, but it was a no-win situation as it merely gave Rogue time to max out on Corruptors, Queens, Infestors and Vipers. Creator remained in the game a little bit longer, but the player camera showed he was fully aware of the writing on the wall. Once Creator came to terms with his fate, he typed out the final GG to bring the series to a close and give Rogue his fourth Code S title.
The final game was the perfect example of what has made Rogue so dominant since his emergence in Shanghai. The eight Queen drop as a mid-game harassment maneuver was a mark of Rogue's creative, almost whimsical approach to StarCraft II. The following Mutalisk switch displayed Rogue's desire to take the initiative whenever possible, while the constant runbys and backdoor attacks were a demonstration of his top-tier multitasking. Finally, the game-ending attack of Corruptors backed by spell-casters and Spore Crawlers illustrated Rogue's ruthlessness and clinical execution once he identifies a path to victory.
So how are we to view Rogue five years removed from his coronation as WCS World Champion? He's definitely running out of rivals in Korea. Dark matched him in 2019 by winning a BlizzCon title and even won two Code S titles after that, but is still found wanting when judged against Rogue' gleaming record. Fellow 'Greatest of All Time' candidate Maru—who doesn't even have a World Championship of his own—has lost ground to Rogue in the domestic arena where he was supposed to be unassailable (his last Code S victory coming way back in 2019).
Halfway through 2022, it's safe to say that Rogue has created a legacy that stands out on its own. He has done so on the back of championship after championship, beating every kind of challenger in high pressure situations. Where others wax and wane with time, Rogue is immutable. Where others go years without winning a title, Rogue is inevitable. Where others win and lose finals in equal measure, Rogue hasn't even had to play a game seven. The simple fact is that there will never be another like him. And, while you can call him a legend, the GOAT, the king of Best of 7s or any other moniker under the sun, none of them adequately describe what he has become. For Rogue is the greatest champion StarCraft II has ever known. And he will never be anything less.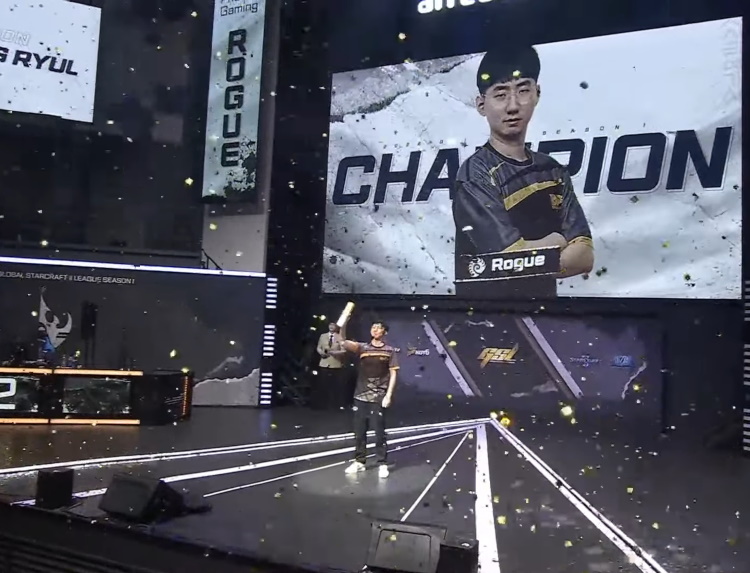 ---