World Team League - 2022 Summer Season
by: Wax
Three months after Dragon Phoenix Gaming triumphed as champions of the 2021 Winter Season, the World Team League is back for the first tournament of 2022.
While the core of the twelve team competition has remained largely the same, there have been a few major changes around the top and bottom of the table. Notably, previous runners-up Team NV have
lost ace player Maru
, leaving them severely weakened in their attempt to regain the championship. On the other hand, KaiZi Gaming made the biggest signing of the WTL off-season by
acquiring Reynor
, instantly propelling themselves back into the top tier.
Toward the bottom of the table, the relegation/promotion system of WTL saw significant churn as both PREP eSPORTS and Invictus Gaming were unable to requalify. Taking their places are two upstart squads in China's
SSLT
(瘦死骆驼, or the 'Starved Camels') and Europe's
Platinum Heroes
.
Also, the strength of many teams has changed simply because players have improved or declined significantly in the three months since the previous WTL. How much can Creator's ascent cancel out Maru's departure for Team NV? Is the surging herO an adequate replacement for the slumping Zest? Has GuMiho reached a level where he can carry PSISTORM to their first ever playoffs? All these questions and more will be answered over the course of the 11 week regular season.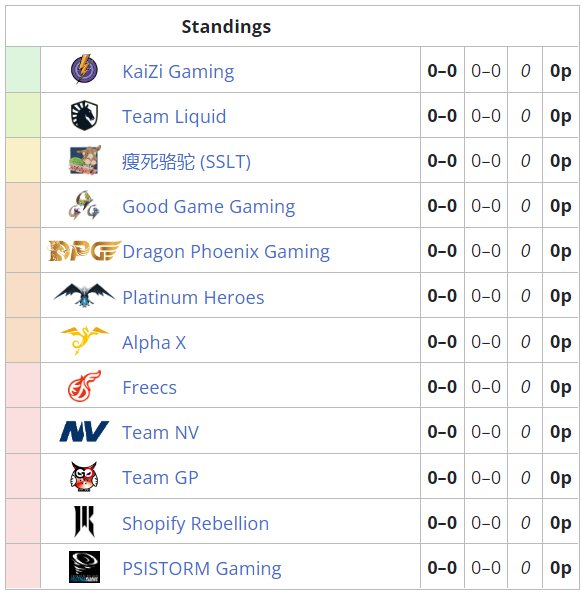 Top 7 teams qualify for the playoffs.
Points are awarded as follows:

3 points for a victory in a series that does not require an ace match

2 points for a victory in a series that requires an ace-match

1 point for a loss in a series that requires an ace-match

0 points for a loss in a series that does not require an ace match
Opening Week Power Rank
The WTL Power Rank has returned! While my predecessor TheOneAboveU abandoned true power ranks in favor of
cowardly tier lists
, I will not engage in such despicable deeds. Still, I find tiers somewhat useful for classification, so I've included them alongside the number rankings to help clarify where the teams stand.
Take this receipt, stash it, and pull it back out at the end of the regular season

Tier 4 (#12 - #11): Non-playoff teams
Alas, I don't see a realistic path to the playoffs for these two teams—avoiding last place is the goal here. Still, it's becoming a WTL tradition for one of the bottom ranked teams to completely ruin someone else's playoff ambitions with a gutsy performance in the last two weeks, and I'm looking forward to seeing who pulls that off this time around.
#12: Platinum Heroes
-
First time competing

FightingFrog, Rodzyn, MariK, PAPI, Rhoust


Narra


HateMe, iba
*
Only FightingFrog, HateMe, and Rodzyn played during the qualifiers
The Platinum Heroes were the most surprising team to come out of the qualifiers, advancing from the half of the bracket where the Has-led Prep eSPORTS seemed favored. But with PREP falling to the Alpha X Drakes, it was instead the Platinum Heroes who seized a main event spot by defeating Starlight Twinkle (ReWhite, hyperion, JoliwaLoves), Juggernauts (MeomaikA, Enderr, GogojOey), and the Alpha X Drakes (Vindica, arrogfire, Future).
While the Heroes (or do they prefer to be called 'the Plats?') certainly deserve applause for fighting their way through a tough qualifier, there's no sugar coating the fact that they'll face an entirely different dimension of competition in the main event. With their three players who actually played in the qualifiers—HateMe, Rodzyn, and FightingFrog—being ranked #85, #113, and #117 ranked players on
Aligulac.com
, the outlook is looking very bleak indeed.
Unfortunately, I fear an Invictus Gaming-esque season for the Heroes where they'll be looking to steal as many maps as possible while trying to avoid finishing in last place.
#11: 瘦死骆驼 (SSLT)
-
First time competing

Firefly, Jieshi


n/a


Sakya, Silky, Toodming
Team SSLT is the ultimate Chinese comeback squad, featuring players who showed promise in previous seasons of the SCBOY Team Leagues but found themselves teamless and unable to compete for a variety of reasons.
Jieshi, Toodming, and Silky just couldn't find places on a team once the League dropped its 'one Chinese player' quota, effectively being told they weren't good enough to compete with the world's best. Firefly's situation was murkier, as the famed Chinese sniper was cut from Dragon Phoenix Gaming due to a
Chinese community controversy.
In any case, this scrappy band of underdogs has already earned some redemption in the qualifiers, defeating Invictus Gaming 4-3 in a tight qualifying match to effectively replace them as the WTL's resident all-Chinese squad (even without a regulation in place, it seems the League is destined to always have one team like this).
Unfortunately, being a slightly better iG doesn't really bode well for your prospects in the WTL, as iG were the league's designated punching bag during most of their seasons. Also, it would probably be more accurate to say that Firefly earned redemption rather than the entire team, as he did a lot of heavy lifting during the qualifiers (which used the WTL playoff format where players can multi-kill, not the regular season format).
Still, I have to rate SSLT over the Platinum Heroes due to the players with experience in the WTL, and in the case of Firefly, experience at
winning
in clutch situations.
Tier 3 (#10 - #9): Longshot playoff contenders
These are teams that weren't good enough to make the playoffs last season, but have some limited potential to make a leap and get into the postseason race. This could be due to old stalwarts recovering their form (#10), or a new acquisition playing better than expected (#9).
#10: Good Game Gaming
-
Last season: 10th place

Cyan, Nice


Dream


Rattata
For the third straight season, GGG are stuck in purgatory: they're too good to be in danger of being sent back down to the qualifiers, but they're not good enough to seriously make a playoff push.
GGG's ace player Dream was once a one-man army who could make any team a playoff threat in the SCBOY Team Leagues. However, the rising level of competition in the WTL and Dream's own decline have turned him into a more of a solid mid-tier player, and it's shown up in GGG's results: they've yet to finish higher than 9th place in two seasons of WTL.
While Rattata, Cyan, and Nice are useful players who can steal maps off aces when they're playing at their peak level, they're not consistent enough to elevate this team into playoff contention.
Barring an unexpected leap from one of the players on the roster or Dream finding his 2021 form again, I expect GGG to finish in the bottom four once more.
#9: Team GP
-
Last season: 9th place

SKillous, Prince, Dandy, Sandcastle, StephenCurry


Ryung, control, Origin


Cham
The Gon Pack was last season's fairy tale team, upsetting DPG, KaiZi, and Team NV on their way to an unexpected 9th place finish. Months later, it's still hard to say how much of that was real and how much of that was just sheer luck.
At this point, I do believe that Ryung's previous contribution (13-9 record) should be somewhat recreateable. After he helped Team GP go on their shocking WTL run, he pulled off yet more miracles at IEM Katowice and in GSL Code S by reaching the RO12 and RO10. It also helps that WTL line-ups are generally light on Zergs, which will let him play his stronger two match-ups of TvT and TvP more often.
On the other hand, I don't think Team GP can count on ridiculous results like Cham beating Dark and Rogue, Prince beating Maru, and Percival beating Solar again (Percival isn't even on the team anymore).
The X-factor for Team GP is newly acquired player SKillous, who has been a beast in online competitions over the last few months. If he can bring that level of play to the WTL, Team GP could make the playoff race quite heated.
Tier 2 (#8 - #3) The mid-tier morass
While I feel pretty confident about predicting which teams will finish at the bottom and the top of the table, I'm much less certain about where these six mid-table teams will end up. I reordered this tier multiple times as I thought things through, and I get the feeling I'll want to reorder it again the moment I hit the publish button. There's just not much separating these teams in terms of ability, and there are so many variables that could either swing these teams down and out of the playoffs or up into almost-championship contention.
#8: Team Liquid
-
Last season: 5th place (7th place regular season)

MaNa


Clem, Kelazhur


n/a
TL was one of the teams that suffered the most during the off-season as they lost both Harstem and uThermal. The two players played the 2nd and 3rd most games for TL during the regular season, with Harstem going 12-8 (actually a higher win-percentage than Clem) and uThermal putting up a 6-6 record. I think it will be very difficult for Kelazhur and MaNa to have the same kind of output over the course of eleven matches, having gone 3-3 and 2-8 in the previous season.
Another point of concern is the form of Clem. He suffered a mild-slump in the second half of 2021, which carried over into the WTL. In WTL Winter 2021, he barely recorded a 50%+ win-rate in the regular season with a 12-10 record. While he did significantly up his game in the playoffs by leading Liquid to victories over the Freecs and KaiZi, he might not even reach the postseason this time around if he can't hard-carry Liquid during the round-robin.
Of course, there's always the chance that Clem surges back to his peak form and makes Liquid a near-championship threat all by himself. At the time of writing, he was in the midst of a deep run in King of Battles 3, and he would certainly make this prediction look dumb if he ended up winning it all.
#7: Kwangdong Freecs
-
Last season: 7th place (6th place regular season)

Trap


KeeN, aLive


Armani, soO
Kwangdong Freecs (previously the Afreeca Freecs) went into WTL Winter 2021 as the team that had fallen the most in terms of power level, losing both TY and Stats to military service AND having ace player Trap go through an extended slump on top of that. While the Freecs managed to drag their way into the playoffs in sixth place during the regular season, they lost their only playoff match to TeamLiquid to end the season in seventh place.
Despite Trap's all-around struggles since the new map pool was introduced in October of 2021, he still managed to grind his way to a 16-8 record in the WTL while having one of the more difficult match-up slates in the league. Even without a single teammate with a 50%+ win-rate, this was enough for Afreeca to limp into the playoffs as mentioned above.
That's a decent baseline to start from—what happens when you add soO to the mix? Casual comments from commentators and players suggest he's making a relatively quick return to form after military service, with his ZvZ receiving particular praise. Still, just going by his
match results
since his return, it's hard to get excited just yet.
While my personal hopes for soO are sky high, it's definitely not a good sign that he couldn't earn a start over Armani or KeeN in week 1 (matches below). I'll stay conservative here and say Afreeca ends up in a similar position as last season.
#6: PSISTORM Gaming
-
Last season: 8th

MaxPax, Gerald


SpeCial, GuMiho, Nicoract


n/a
PSISTORM Gaming came agonizingly close to reaching the playoffs last season, just barely losing out to Liquid on a map-score tiebreaker (a 3 map differential).
If everything had stayed the same for PSISTORM, I would have picked them to make the playoffs this time around simply because Liquid took such a huge blow to their depth. But far from staying the same, PSISTORM has come back even stronger due to player improvement during the off-season.
MaxPax may have missed out on IEM Katowice due to personal reasons, but his continued growth has been on display where he's gotten a chance. He's absolutely dominated the ESL Open NA server cups, winning eight out of the last ten weeks while defeating many Code S-tier opponents. GuMiho is another player who has been playing very well in the ESL Opens, and he no longer looks like the rusty returnee he was during most of WTL Winter 2021. There's also the unrealized potential of SpeCial to consider. For whatever reason, Juanito has never really brought his solo tournament strength to the WTL, but there's always the chance it finally starts clicking for him…
I was actually tempted to place PSISTORM as high as #4, but I found it impossible to justify such optimism until their players prove they can live up to their individual league reputations in the WTL. For now, I'll just predict they'll reach the playoffs.
#5: Shopify Rebellion
-
Last season: 3rd place (2nd place regular season)

Harstem


ByuN


Lambo, Scarlett, TLO
The Shopify Rebellion were by far the hardest team to rank. Last season, they played leaps and bounds better than most fans projected, achieving a second place finish in the regular season. Similarly to Team GP, it's tricky to parse how much of this was real and how much of it was due to sheer luck.
None of the Rebels played particularly well in subsequent individual events, making the WTL run look somewhat flukey. Yet, time and time again we've written that team competition is different from individual events, and there's a real, format-specific strength to the teams and players that consistently outperform expectations in teamleagues.
Previously, it was just Alpha X that received this kind of benefit of the doubt. But now, with two consecutive seasons where they've surpassed my expectations, I feel like the Rebellion is deserving of that kind of credit as well.
Yet, even after a 3rd place finish in WTL Winter, and even with the addition of Harstem to further bolster the roster, I can't bring myself to place Shopify above this next team…
#4: Alpha X
-
Last season: 4th place (4th place regular season)

Zoun, Classic, Astrea


n/a


RagnaroK
Sure, Shopify might be pulling off 'the whole is greater than the sum of its parts' shtick pretty well lately. But do you know who's been doing that for almost the
entire
history of the SCBOY teamleague? The mf'ing golden dragons, Alpha X.
While Alpha X have never had the luxury of a super-ace, they've found a formula for success in fielding a roster of entirely good-to-very-good players. Almost inevitably,
someone
on the roster pops off and has an unexpectedly great campaign, like RagnaroK did in the most recent WTL Winter season (he won our best Zerg award for the regular season).
There's reason to believe Alpha X could be even better in WTL Summer: RagnaroK is playing fantastic StarCraft and recently achieved a career-best top six finish in the GSL, while Classic is inching slowly upward in his post-military career.
It felt like there was an upper bound to Alpha X's success in previous seasons when super-teams reigned supreme, but this season could be an opportunity for them as the field is the most even it's been in several seasons. I'm predicting easy playoff qualification for Alpha X, and possibly a deep run to the grand finals if they work their teamleague magic.
#3: Team NV
-
Last season: 2nd place (1st place regular season)

Creator, NightMare


Bunny


DongRaeGu
Okay, maybe I was wrong about Shopify—Team NV might be the real hardest team to rank.
An enormous portion of Team NV's strength was tied up in Maru, with the super-super-ace recording a ludicrous 17-3 record during the previous regular season. In trying to predict how far Team NV would fall off without him, I looked at the combined record of the other players last season. They were a solid if unspectacular supporting staff, going a combined 25-20 for a 55% map win-rate. Looking at the map win-rates of the other teams last season, that would have projected to around a 5th~6th place finish (admittedly a flawed way to look at it, but it's a start).
So, here's the million dollar question: how much credit do you reassess BACK to Team NV when you factor in Creator's massive improvement and dream run to the Code S finals? (Also, the one-hundred-thousand-dollar question: what do we make of DongRaeGu's run to the Code S top 6?)
If this run from Creator is sadly just a one-time fluke, then Team NV would be just another team in the mid-tier pack. However, if there's really some lasting substance to his breakthrough, then Team NV might be able to stay in championship contention. As you might have guessed from this high ranking, I'm leaning toward Creator remaining a much improved player for months to come.
Tier 1 (#2 - #1): The championship contenders
Even though the WTL has implemented measures to limit the influence of a single player, a strong ace is still the most important asset any team can have in the WTL. Due to the temporary departure of Maru (ONSYDE Gaming have expressed their desire to join the WTL once they put a full roster together) and the decline of players like Clem and Trap, there are only two teams with truly dominant ace-class players at the moment. It also happens to be that both teams have provided these aces with more than adequate support (MUCH more than adequate in the case of our #1 ranked team), which places them a tier above all others in terms of championship contention.
#2: KaiZi Gaming
-
Last season: 6th place (5th place regular season)

n/a


TIME, Spirit


Reynor, Solar, Xiaose
After settling for a 6th place finish after losing as ace player INnoVation, KaiZi Gaming have come roaring back after enjoying a fantastic off-season.
By acquiring Reynor—the runner-up to Serral at IEM Katowice 2022—KaiZi Gaming may now have the single best player in the entire WTL on their roster. There's some risk here as Reynor's effort level has waned from time to time, but even at his floor he rates as one of the best ace players in the league. And at his best, he could absolutely carry a team to a championship.
KaiZi also get the luxury of getting to deploy Solar as their #2 player. Though he was unusually poor last season with a 13-11 record as KaiZi's ace, many teams would be elated to get that kind of production from their #2 player over such a high volume of games. As with Reynor, the upside for Solar is considerable as well: prior to last season's blip, he regularly clocked in some of the best win percentages in the entire league.
Moving down to the #3 spot, TIME and Spirit both seem overqualified for the job. TIME is coming off a great season where he put up a 15-7 record (against a somewhat soft opponent list, but he rarely dropped games to weaker players), while Spirit made a solid debut for KaiZi with a 10-12 record. Spirit's career-best run at IEM Katowice may have unlocked a new level of play for him yet, though his poor record in the recent Caster Civil War teamleague is a bit concerning.
Overall, this team is a strong title contender with a high floor and an even higher ceiling above it. I see them as the primary—if not only—threat to our championship favorite.
#1: Dragon Phoenix Gaming
-
Last season: 1st place (3rd place regular season)

herO, Zest, EnChant


Cure


Rogue, Dark, F91
What's better than having one super-ace? Having TWO super-aces. That's Rogue and Dark. On top of that, what if you had three 'regular' ace players behind them? That's herO, Zest, and Cure. Truly, the defending champions are spoiled with an absurd abundance of talent, and they've been our obvious championship favorite team for several seasons straight.
Yet, DPG has only managed to actually win the championship twice in four seasons, which is a disappointment for a team that has stacked the odds so heavily in their favor. The team's performance was frankly embarrassing up until week 8 in the previous season, when they barely clung on to 4th place in the standings with a 4-4 record. Still, DPG did find a way to rally from there, going on a 3 match win-streak to end the regular season and then blazing through the playoffs with 3 more wins to take the championship.
The fact that DPG played so lackadaisical for 8 weeks is why I decided not to place them in their own separate tier above everyone else. The fact that DPG found a way to flip the switch and dominate in the playoffs is why they're still my clear, undisputed pick as the #1 team in the WTL.
Week 1 Preview
Tuesday, May 02 4:00am GMT (GMT+00:00) Matches
The first two matches seem like a wash in terms of advantages/disadvantages: Kelazhur has a small chance of stealing a map against TIME due to the latter's relatively weak TvT, but the same goes for Spirit as he goes up against Liquid's Clem (though his TvT does seem much improved in recent months). However, KaiZi still have a clear advantage in the third match, where Reynor is very likely to take the 2-0 against MaNa.
While I can envision a scenario where Clem can carry Liquid to a 4-3 win, or at least force an ace match, I think it's more likely the series will end before then.
Prediction:
KaiZi Gaming 4
- 2 Team Liquid
While Firefly proved his worth in the WTL qualifiers, the rest of the SSLT squad still need to prove themselves again. Considering that this team needed a Firefly triple-kill to barely defeat iG, I'm going to predict they don't have much of a chance against GGG in the normal WTL format.
Prediction:
SSLT 1 -
5 Good Game Gaming
Tuesday, May 03 12:00pm GMT (GMT+00:00) Matches
It seems like SCBOY want to subject Platinum Heroes to some kind of cruel hazing ritual by throwing them against reigning champions DPG for their debut match. Still, given Zest and herO's erratic form and DPG's tendency to coast along until the stakes are raised, I think the Platinum Heroes will be able to steal a map.
Prediction: Dragon Phoenix Gaming 5
- 1 Platinum Heroes
Alpha X got a great draw here: Zoun and RagnaroK have the advantage in the first two matches, while for the third match they've managed to force the Freecs' ace player Trap to play his worst match-up of PvP. With Aligulac saying Classic vs Trap is basically a 50/50 coin flip, this is looking like a win for Alpha X.
Prediction: Alpha X 4
- 2 Kwangdong Freecs
Wednesday, May 04 12:00pm GMT (GMT+00:00) Matches
A few key factors have broken in Team GP's favor. First, Ryung gets to play his best match-up of TvP against Creator. Second, Ryung gets to play Creator when he'll be primarily focused on practice for his upcoming PvZ finals against Rogue in the GSL.
Still, that might not be enough to get the win, as Cham and Prince are heavy underdogs against their opponents. Unless there's some lingering Team GP magic from last season, I don't think GP will be able to pull an upset off.
Prediction:
Team NV 4
- 2 Team GP
This is the most unpredictable match of the week, where I can't really tell who's favored in any of the matches. Aligulac favors ByuN, SpeCial, and GuMiho in the three matches, but not by a particularly large margin. I'm going to pick Shopify to win just because they've historically prepared better and played better in the WTL, but I wouldn't be shocked at all to see a new and improved PSISTORM Gaming get a convincing win.
Prediction: Shopify Rebellion 4
- 3 PSISTORM Gaming
---
Credits and acknowledgements

Writer: Wax
Stats: Aligulac.com & Liquipedia
Images: SCBoy