The Six Survivors
by Wax
After a deluge of upsets and surprises, we finally saw normalcy—or whatever passes for it—restored to TeamLiquid Starleague 5 in the third week of matches. Zest and INnoVation clawed their way up from the lower bracket, and now appear to be on a collision course toward the lower bracket finals. In the upper bracket, we're greeted by the familiar sight of two Koreans making it all the way to the end, even if soO and Trap may not have been the ones we initially predicted to make it.
Still, we can't just dismiss the underdogs out of hand. Elazer and uThermal more than deserve their spots in the final six, having defeated title contenders in the previous round. While it will be extraordinarily tough for them to win the four consecutive matches needed to win the championship, they have a fighting chance against anyone in a single series.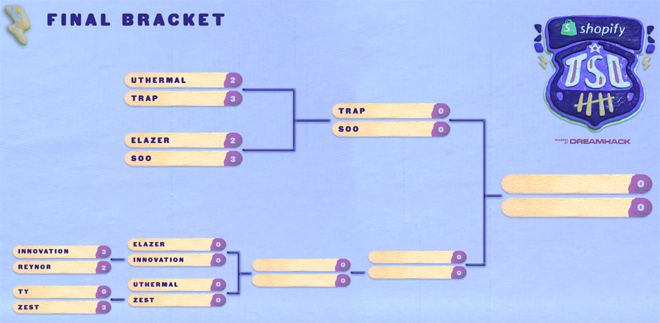 Shopify TeamLiquid Starleague 5 on Liquipedia
The Lower Bracket of Death, Final Chapter
Start time: Saturday, Jun 06 1:00pm GMT (GMT+00:00)
Elazer
(3-1 Harstem, 3-2 Serral, 3-1 HeroMarine, 2-3 soO)
In a tournament that featured both Serral and Reynor, it's Elazer who's the last man standing for the European Zerg clique. While some fans might be disappointed that Serral won't be representing the foreign scene in the final week, there's not much grounds for anyone to complain or make excuses. Elazer got here by beating Serral and HeroMarine, which makes him a more than deserving representative of international StarCraft II.
On the other hand, some hipster fans might actually say they saw this coming. There was a period in 2018-2019 when Elazer seemed like a European version of Cure or Trap, where despite his middling results, his peers continued to speak highly of him and praise his skills. And, like that Jin Air duo, Elazer was able to break the wheel of mediocrity and show us what he was
really
capable of. In the summer of 2019, he placed second at
GSL vs. The World
after beating Dark in the semifinals. While he laid fallow for the rest of 2019, he surged back in 2020 by being one of the few non-Koreans to make it to the group stage of IEM Katowice and making a top four run at
Stay At HomeStory Cup
(where he defeated Serral in the group stage).
Elazer is a good example of how the foreign scene has really closed the gap in terms of
peak
skill. 2019 didn't just see Elazer beat Dark—we also saw Neeb beat Stats at GSL vs. The World, while TIME upset Maru and HeroMarine beat Classic in the
Global Finals
. In this TSL5 tournament alone, we saw uThermal take down Zest while SpeCial was able to defeat Cure.
The issue for foreigners, however, is consistency and ability to perform in the clutch. Those aforementioned BlizzCon upsets from TIME and HeroMarine? They occured in the initial group stage matches. In later rematches with playoff spots on the line, Maru and Classic crushed them in revenge.
If Elazer plays at his absolute peak level, he's got a chance against anyone left in the tournament. Unfortunately, for as well as he played against Serral, he had an extremely un-clutch moment against soO in the previous round, botching the execution on an unorthodox
anti-12-pool wall
in a crucial game. It reminded me of one of his prior comments on Lambo's stream, where he said he once got so nervous while executing a 12-pool Drone rush that he got supply blocked on one of his initial Overlords (
it's okay Elazer, Maru does that too
).
If the very best version of Elazer shows up this weekend, fans of foreign StarCraft II could conclude their TSL5 viewing experience in peace, without disappointment or regret. But if Elazer can't play up to that level… well, it's not like we'd say we were disappointed that he lost to INnoVation, would we?
INnoVation
(2-3 soO, 3-1 Solar, 3-1 Cure, 3-1 MaNa, 3-2 Reynor)
It's been quite the tumultuous ride on the INnoVation hype-train in 2020. After cruising along at a ho-hum speed for the first quarter of the year, rocket boosters got strapped on to the sides of the train when INnoVation crushed Zest and Maru in the Code S group of death. And as we screamed along at dangerously high speeds, Cure violently slammed on the breaks by defeating INnoVation 4-3 in the semifinals, sending all of us hurtling from our seats. This is a chance to collect yourself, shake off that head trauma, and get off Mr. INnoVation's wild ride. Or, you could stay on board, and see where this train goes next.
Thanks for sticking with us through that tortured analogy. Nothing can fully make up for blowing one's best chance at winning Code S in nearly three years, but winning TSL5 and its $8,000 first place prize would be about as good a consolation prize as INnoVation could hope for. And it so happens to be that INnoVation is in a great position to go all the way. Having lost to Cure by the narrowest of margins, INnoVation has preserved much of the hype and momentum from his GSL run. When you look at INnoVation's reverse-sweep of Reynor in the previous round, you can easily see why TL.net users are
picking him as the heavy favorite to win TSL5
, despite his losers bracket disadvantage.
After getting thoroughly beaten after playing bio against Reynor in the first two games, INnoVation completely changed his approach on the following three maps. In the process, he highlighted what has made the "new and improved" INnoVation so entertaining to watch in the GSL. First off, he exhumed a mostly abandoned strategy in battle-mech (Cyclone-Hellion) for all three games. Like the one-base all-ins or double-proxy Battlecruisers he showed us in the GSL, we're not 100% sure if these are good strategies in theory. But who cares? INnoVation won with them anyway, and that's
cool.
Second, he pulled off the cheekiest mind-game in all of TSL5. After priming Reynor with a proxy-Barracks Bunker-rush in game three, INnoVation followed up with a fake Bunker-rush in game four. From his rent-free penthouse inside Reynor's head, INnoVation got a great view of the
panicked train of Drones
that came out to defend, which belatedly realized there were no actual proxy-Barracks behind it. It was a justifiable move from Reynor, given INnoVation's prior Bunker-rush and general tendency to fall back on Bunker-rushes in tough spots. Unfortunately for Reynor, in this particular match, INnoVation used his own reputation to his advantage.
For any other player, I'd say this switch to battle-mech and the use of proxy-Barracks openers was the result of meticulous planning. In the case of INnoVation, it just feels like he's doing whatever he wants and is getting away with it because he's that damn good.
I can't believe I'm saying this: it seems like the worst thing INnoVation could do over TSL5's championship weekend is to play textbook macro. He's been so successful at disorienting opponents with his whimsical and creative plays that it should be his new norm. If it's jarring to the fans, then just imagine how his opponents must feel.
uThermal
(3-1 Lambo, 3-0 Zest, 3-1 Clem, 2-3 Trap)
GSL-style, preparation-heavy tournaments are a rarity for non-Korean players, so it's always interesting to see who benefits when they get the chance. ThorZaiN's TSL3 run is one of the most memorable historic examples of a player thriving in such a setting. In Legacy of the Void, SpeCial has been the most notable beneficiary when playing with sufficient prep time. In TSL5, it's another foreign Terran who's best taken advantage of the situation: the cunning, proxy-loving uThermal.
I think StarCraft II fans have long-since moved on from their once contemptuous view of cheese, instead taking on a more 'all's fair in love and war' viewpoint (the cult followings of Has and Bly support this notion). When I call a player "devious" these days, it's basically a compliment. In that regard, there's a lot to appreciate about uThermal's run. In the first two weeks, hard-hitting early-game attacks powered him to one-sided victories against both Zest and Clem. In the previous round, uThermal's
barrage of proxies
just narrowly failed to get him a win over Trap. Sure, some Terran fans might say it was more impressive to see HeroMarine defeat Reynor with the sheer enormity of his macro. But that kind of thing, you can see in the ESL Open Cups almost every other week. Nearly beating a championship-caliber Korean Protoss by proxying in almost every game? Now that's a special event.
Unfortunately for uThermal, the format has now shifted to his disadvantage. There are five potential opponents he may have to play in the final week of TSL5, with all three factions represented between them. That's a drastic change in preparation workload compared to the past two rounds, where he could focus on a single match against a single player each week (a huge benefit of staying in the upper bracket). While uThermal's 'weekender' skills have been enough to win him a couple of ESL Open Cups (where players tend to rely on their fundamentals) in 2020, one has to think his history of mediocre WCS Circuit results are more representative of his abilities in such a setting.
Still, uThermal might have enough creative juice left in him for another upset or two. There's at least one match-up that's set in stone: his imminent rematch against Zest. Things could be tougher this time around, now that Zest knows to expect early attacks. But perhaps that's actually an opportunity. We saw INnoVation defeat Zest in Code S by subverting the expectation that he would go for two-base timing attacks (set up via their clash in a previous online tournament) —uThermal could just as easily play similar mind games. At the very least, uThermal should be able to put up a fight that reminds Zest that for a GSL-paced tournament, you better bring some GSL-style preparation.
Zest
(0-3 uThermal, 3-1 DongRaeGu, 3-0 HeroMarine, 3-0 TY)
First off, I apologize to Zest for jinxing him in week one by
picking him as the player
who would rescue Protoss during this dark and disheartening age. Second off, was I right anyway?
After codifying PvZ Glaive-Adept openers and its many branches in the first quarter of 2020, Zest might have also presented Protoss players with a new way to play PvT as well. I speak, of course, of his seemingly absurd use of mass, +2 attack, Shadow Stride-upgraded Dark Templars against TY in the previous week.
In clumsier hands, mass Dark Templars can be the easiest way to throw away a ton of resources—if not the entire game—in the blink of an eye. Managed by Zest, the Dark Templars proved to be an effective way to tear down expansions before the Terran player could react, and also pick off isolated fragments of the Terran army.
Now, lest anyone think it was a one-off strategy for one map, or blame TY's sloppy play for its success: TY also
alluded to Zest going for mass blink-DT
in practice games ahead of the Code S semifinals. While this might end up being more of a momentary fad compared to the paradigm shift of Glaive openers in PvZ, it was still a testament to Zest's creativity and ability to think outside the box.
Now, maybe it's asking too much of Zest for him to bring meta-breaking strategies in consecutive weeks of TSL5 (what's next? PvP?). But, when you consider the fact that TSL5 is the biggest tournament he has left to play for, we might maybe, just maaaybe end up seeing something just as wild.
The Upper Bracket Finals: Trap vs soO
Trap
(3-2 TY, 3-0 MaNa, 3-2 uThermal)
Looking at the six surviving players and where they're located in the bracket, Trap might be the only one standing where he's "supposed" to be. Together with Stats and Zest, he's one of the top three Protoss players from Korea, and some might argue he's the most consistent one among them. Top four
Super Tournament
, top eight
Code S
, and now at least top three TSL5—these are the kind of results we've come to expect from Trap since his breakout year in 2019. That was when he finally unlocked his potential after years of being stuck in mediocrity, and placed runner-up in two consecutive Code S finals.
One thing keeping Trap from definitively supplanting Stats as the best all-around, standard player in Korea is his relatively weak PvZ. In 2019, you could have blamed the state of balance, as he was crushed by both Rogue and Dark in the finals. But his PvZ woes have continued well after the release of the 4.11.0 patch, where he's recording a mere
58.06% match win-rate (54.55% map win-rate)
. Indeed, it was Zergs who caused his elimination in two major tournaments this year: Elazer and Solar beat him in the
IEM Katowice
group stage, while Dark eliminated him from the Super Tournament semis. In contrast, Trap's skills against the other two factions are beyond reproach. Since 4.11.0, he's right around a 70% match win-rate in both match-ups.
While Trap's PvZ is a weakness, he's fortunate that Elazer and soO don't present the same threat-level as players like Rogue or Dark. Against the other top-contenders left in the bracket, Trap has an even or better chance. After all, Trap lost by a razor-thin margin to INnoVation in the GSL (
in an interview with Crank
, he snipped at his former STX teammate by saying he had won in terms of skill, but INnoVation won in terms of luck). Against Zest, Trap is currently on a six match winning streak. As for uThermal, Trap already survived his cheeses in the previous week.
If Trap can up his ZvP game—or at least get some good bracket luck for once—he could very well win his first
premier-tier
tournament since
MLG Anaheim
back in 2014. Having held down the fort for Protoss in some of its darkest times, major validation of Trap's skills is long overdue.
soO
(3-0 PtitDrogo, 3-2 INnoVation, 3-1 Special, 3-2 Elazer)
Maybe this is just me reading too deeply into what I've seen, but soO really seems to be enjoying life after winning that career-affirming championship at
IEM Katowice 2019
. There's a carefree aura to everything he does, whether it's the casual group-viewings of GSL with other pros, the way he conducts himself in the group selections, or just pictures from
hikes with his pals
. Perhaps, it stems from finally having the luxury of being able to compete at StarCraft II without any of the expectations and baggage that comes with it.
Some might say lifting the curse has adversely affected soO's play. Since winning IEM Katowice, the best result he's managed is top four at
Super Tournament 2
in 2019. Aside from that, he's been a solid mid-tier player in the GSL. Not that anyone could blame him for taking it easy—he earned it after bringing an end to his agonizing, six year pursuit of a championship. On the other hand, a glance at
soO's tournament results
reveals that IEM Katowice is a singular beacon of gold amid a sea of mediocre results. Maybe, soO has been at the same, unremarkable level for the past two years, and IEM Katowice was simply the greatest miracle in the history of competitive StarCraft II.
Whatever the case may be, it's surprising all the same to see soO in the winners final of TSL5. Few pegged him as a championship contender when he got booted from the Code S RO16 (losses to Trap and Parting), but he's managed to come this far through a combination of bracket luck and one truly impressive win against INnoVation. While his run hasn't been as impressive as some of the lower bracket survivors, it's not soO's fault that Cure lost to SpeCial, or that Serral failed to come out of his quadrant of the bracket. One week at a time, soO did all he could do from his position, beating everyone that TSL5 put in front of him. As the Korean fans are so fond of saying, class really does seem to be eternal.
The silver-surfer curse was broken in 2019, but TSL5 is a great opportunity for soO to shove it even deeper into the dirt. soO's recent head-to-head records against title favorites
Zest
,
INnoVation
, and
Trap
suggest they're all beatable opponents. Maybe, with one streak over, he could start a different one—this time, one where he
wins
every final he reaches.
On the other hand, it would be perfectly acceptable to soO to reach the finals and lose (alright, he'd miss the $4,000 prize money difference). He might find it amusing to lose in a grand finals, and for the first time in his career, be able to laugh it off.
---