TeamLiquid Starleague 5: Opening Week Preview
by TheOneAboveU and Wax
Opening week of TeamLiquid Starleague 5 is set to deliver an abundance of exciting StarCraft II with sixteen matches being played from the first two rounds of the upper bracket.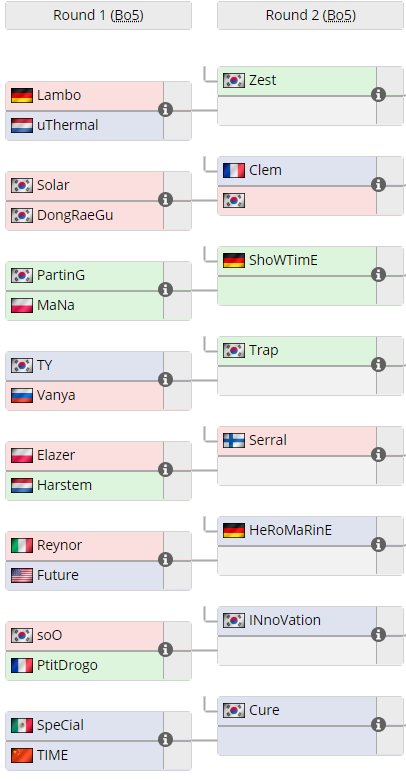 Shopify TeamLiquid Starleague 5 on Liquipedia
Upper bracket round 1 matches begin on Saturday, May 16 12:00pm GMT (GMT+00:00)

Upper bracket round 2 matches begin on Sunday, May 17 12:00pm GMT (GMT+00:00)
As the tournament progresses and players begin to face elimination, we'll start taking a deeper look at the individual match-ups. But to start things off, we've decided to spotlight the players, match-ups and stories that we find to be the most interesting as we head into the tournament.
An End to Protoss Suffering
A glance at the
Liquipedia premier tournaments chart
tells us that Protoss are going through a lean stretch at the very top level of StarCraft II. In fact, it's been nine months since we've crowned a Protoss champion in a premier tournament—that was last achieved by Stats at
ASUS ROG Summer
, who handed Serral one of his rare best-of-five defeats along the way. While Code S is still underway, there's a real chance that the StarCraft II scene will go an entire year without a Protoss champion if a Protoss doesn't win TSL5.
What player could save us from that grim future full of balance whining? What player fits the same profile as Stats? A top three all-time Protoss player, someone who's defeated Serral in a BO5 series, a player who has mastered both the honorable art of macro and the sinister secrets of cheese...
Oh, that would be
Zest
!
It's a shame there was no live audience at
IEM Katowice 2020
, because Zest would have been fully deserving of "Zest is best" chants from the crowd. He set forth a new vision for PvZ, defeated three elite Zergs in Reynor, Serral, and Rogue, and reaffirmed that his class in PvP transcends eras. Things soured at the end when he lost to Rogue in a finals rematch, but we're ready to excuse that since Rogue had the advantage of having 15+ previous Zest PvZ games to analyze—Zest is still the best in many of our hearts.
It's odd to see Zest's resurgence not receive more attention from the fans: usually when a popular, old-school player gets back in the championship picture, fans rush to refurbish the bandwagon, attach rocket boosters to it, and launch it toward the moon. Maybe it's indicative of just how many storylines are are playing out in StarCraft II that Zest's finals run at IEM Katowice has become so quickly overshadowed. INnoVation is crushing people online and confidently declaring that he'll win Code S. RagnaroK lost his mind and created a Code S group of death. HeroMarine, Reynor, and Clem are leading a weekly cup renaissance. ESL reworked the entire professional StarCraft II system,
AGAIN.
Zest might not have the gaudy online stats of a Cure or INnoVation, but he
is
this tournament's top-seeded player. The other Korean players may have hype behind them, but Zest has earned the best actual result. Protoss fans, put your faith in Zest.
The Road Paved With ESL Open Gold
One of the most beloved additions to the StarCraft II scene have been the weekly NA and EU
ESL Open Cups
. The community gathers every Sunday (now changing to Monday) to watch the very best players from the foreign scene duke it out—Serral is the only player who's truly conspicuous in his absence. It's no surprise that the players who excelled in these online cups also made it through the TSL5 qualifiers.
The player who stands out most prominently from the ESL Opens is
HeroMarine
, who has been so dominant that fans, casters, and even his fellow progamers have taken to calling the competition the 'Big Gabe Weekly.' Over the course of 17 EU server cups, HeroMarine has recorded nine first place finishes and three second place finishes, netting him $900 in prize money and as many EPT points as a top four finish in TSL5.
Aside from Serral, every European pro of note has participated in these cups. Reynor? Beat him. Clem? Beat him. ShoWTimE? Beat him. Elazer, Harstem, Lambo? Beat them. souL, MaNa, uThermal, PtitDrogo? Beat them all. Cure wants to come over and show the Europeans who's the boss? Nope, not on Big Gabe's watch—get back on the Korean server.
HeroMarine's style is not as flashy as Clem's—you won't see him being aggressive for an entire game, microing three drops at the same time. Nor is he as cunning and brainy as uThermal—it's a very rare occasion that you will see Gabe play a proxy or any other non-standard early game attack. He's a macro player through and through, rolling over his opponents with the reliable "have more stuff" approach. Even INnoVation, known for his very similarly macro-oriented gameplay, has been trending more cheesy as of late (more on him later).
And so, it will be interesting to see how HeroMarine decides to approach TSL5. A tournament with preparation time demands that you prepare hidden builds, play against your reputation, and bring a variety of styles to the table. Well, unless you're INnoVation, who just plays his anytime builds that his opponents already know. Is HeroMarine good enough that he can succeed in TSL5 by simply treating it like a deluxe-size version of the ESL Open? If he is, we might as well start calling him the INnoVation of Europe.
In a serendipitous twist of fate, seeding has made it so
Reynor
is directly below HeroMarine in the bracket. The Italian Zerg is another dominant force in online play, and was the very player who stopped HeroMarine's first streak of three wins in the ESL Opens and reeled off a three win streak of his own. One has to think it's very likely that Reynor will end up facing HeroMarine in a match that could be the best one from opening week.
If you had matched these two up at any point last year, you'd have to give Reynor the upper hand. But the gap between the two
has closed greatly
in 2020, to the degree where you could say there's no gap at all. Reynor's style of endless counterattacks is as frustrating and effective as always, though it's probably fair to say that people have been getting better at dealing with them on the whole. The maps, too, have done their part in making it easier for his opponents to get up close and personal, and overrunning Reynor with Marines and Tanks before his economy and tech get out of control. Their head-to-head record in 2020 stands at 3-3 in matches and 7-7 in maps. That is the score of a proper, evenly matched rivalry, which has been fought out all over the ESL Open Cups, Red Bull's Xel'Naga Finest, and the TSL5 qualifiers. It would be fitting if this war spilled over into an event with even greater stakes.
Unfortunate for
Future
, all this assumes that he's going to get crushed by Reynor in the first round. While Future's single victory in the ESL Open Cup AM may pale in comparison to that of Reynor of HeroMarine of others, it does have a unique twist: it's the only win in the American Cup by an American player. In a sea of Europeans and Koreans coming over week after week to claim the prize, his gold medal is the only one with the US flag next to it, just like how in TSL5 he is the lone representative of his country.
Oddly enough, Future is not exactly a representative of what we like to call 'NA StarCraft'—the chaotic, cheesy side of the game embraced by many players of the NA server. Future earned his TSL5 spot by playing largely straight-up games in the final rounds of his qualifier, defeating Namshar and Denver to win the last spot in the main event. While that's hardly evidence that he's going to beat Reynor, one hopes that he'll be able to put up a respectable fight.
The Realness Test
In accordance with StarCraft II tradition,
IEM Katowice 2020
ended up being a reckoning for non-Korean players with the vast majority of foreigners performing below expectations. New Liquid signee and wunderkind
Clem
wasn't spared, and he fell woefully short of the hype by getting eliminated from the open bracket with losses to Hurricane and Nice.
That experience must have lit a fire under his butt, as he's been putting up extraordinary numbers ever since. In the three odd months since Katowice, Clem is recording a jaw-dropping
76% map win-rate
while winning six ESL Open Cups across the AM and EU servers.
This is where we get to ask one of our favorite questions:
"Is he for real?"
Exhibit 1, in support of realness: He beat mother-fungaling
Serral
in the Xel'Naga Finest Cup finals, winning 3-2 in basically straight-up games (
VOD
).
Exhibit 2, in support of fraudulence: Clem flopped in April's
StayAtHomeStory Cup
, one of the more significant online events between IEM Katowice and TSL5. He was eliminated without a single map win in the second group stage, losing to Korean Terrans Dream and INnoVation. Yeah, they're tough opponents who can beat anyone on a given day. But Clem isn't supposed to be a mere 'anyone'—he's supposed to be the best Terran prospect the SC2 scene has uncovered in
years.
Let's cool the comparisons to Reynor or HeroMarine for now—Clem might have shown that he's on their level in ESL Opens, but those two have won BO5 series at the WCS Global Finals. We won't ask that much from Clem yet: let's start by beating some Code S players in TSL5.
Oh, what luck! Clem is guaranteed to be face either
Solar
or
DongRaeGu
, both of whom are solid Code S representatives. Beating Koreans in major tournaments is an important litmus test for any potential foreign hope, and it was about time we got to see Clem give it another shot.
The Terran Quadrant
As TSL5 looks like it could be a great tournament for Terrans on the whole, fans should be both delighted and terrified for their favorites grouped into the bottom quadrant of the bracket. Delighted, because the heavy concentration of top Terrans almost guarantees that one will survive to the later rounds.Terrified, because that also means it's likely a couple of them are going to face early elimination.
Since 2019, Mexico's
SpeCial
and China's
TIME
have fought more frequently than you'd expect from their nationalities alone. But, through the power of the Chinese team leagues and Nation Wars, these two have been in frequent battle. TIME is actually leading quite significantly in head-to-head records, having established a
6-3 lead
in maps over the last year (if you add their only 2020 clash so far, TIME goes up to 8-3).
Now, Juanito still enjoys a narrow lead in multi-game series, and perhaps this is where his advantage still lies: his ability to plan for longer series. SpeCial has consistently said he plays best when he has time to prepare for an opponent, which he's proven to us with numerous upsets. His specially tailored builds have been enough to topple the likes of TY, Stats, and Classic at the WCS Global Finals.
That said, TIME has been
on fire in TvT recently
, dominating not only all his domestic rivals, but scoring big victories against the best Korean Terrans as well: he took down

Cure
in convincing fashion in the NeXT 2020 Spring Grand Finals, he beat SpeCial's good friend and practice partner

TY
in a nail biter of a series to qualify for TSL5, and he defeated both his teammates

INnoVation
and

Bunny
in a Kung Fu Cup three weeks ago. Also, if we're talking about playing well in BO5's you have time to prepare for... well, TIME did happen to beat Maru in group stage of the 2019 Global Finals.
Waiting in upper bracket round 2 are two, even more fearsome Terrans. When the invited players were first announced,
INnoVation
might have looked liked a fourth-best choice after Rogue, Dark, and Maru declined. But after a few weeks of torrid online performances and uncharacteristic confidence in the GSL (declaring himself the inevitable future champion), it's starting to feel like INnoVation is actually the player who brings the most hype with him. If he's actually advanced from the Code S group of death by the time you read this, then INnoVation hype-levels will be at a three-year high.
On the other hand,
Cure
has been the best pure online player for the entire 2020 season, with his map win-percentage in online games being
up in the 80's
. If online-Clem has a 3-2 victory over Serral in Xel'Naga Finest as his display-case win, then online-Cure has an even more impressive 2-3
loss
to Serral he recorded while
playing on the Europe server
during the IEM Katowice qualifiers. Among the Korean players, Cure looks like the one who's custom built to thrive in the environment of TSL5.
Curiously enough, TIME actually holds good head-to-head records against a number of his possible opponents: he's tied
2-2
against Cure, and leads
2-1
over INnoVation. Now, of course the picture looks very different if you add in the historical record, because that obviously has TIME at a big disadvantage. But if you only care for recent results (and let's be honest, what do results from two years ago really tell us?), TIME has the upper hand against two of his potential opponents, and is equal with the other, and he's trending upward in general.
Still, when you put it all together, you still have to think our two Korean Terrans are the favorites to advance (shocking, we know). They're both on incredible hot streaks in 2020. INnoVation has the unique advantage of having played far more significant BO5+ matches than anyone else in his quadrant (except perhaps soO). Cure has the advantage of not giving a damn about what server his matches are played on as long as they take place in his Battle.net sanctuary.
While this following statement could be rash without the results of the Code S group of death in the books, INnoVation looks as scary nowadays as he did during his peak. His macro-based playstyle with an endless stream of units aged like fine wine, because it's a core part of StarCraft. INnoVation knows that he is strong at the moment, which means he is motivated to actually put in the hours to maximize his chances of success. A motivated and confident INnoVation is likely one of the scariest things you can face in StarCraft 2, and I would expect him to clash with Serral at the end of this bracket, and indeed in the Grand Finals of TSL5.
Hey Serral, What Have You Been Up To?
Looking at the
GSL Group of Death
(which might have been played by the time you read this), one has to marvel at how much respect Maru commands despite not having played a broadcast game in over a month. Of course, he's earned that aura of greatness: he's the winner of four-straight Code S tournaments, and the winner of the prior GSL competition in the Super Tournament. But a part of why we revere Maru so much is because absence, does indeed, make the heart fonder. When we can't actually see Maru play for weeks, the Maru we imagine in our heads grows more and more majestic.
So, what's that got to do with
Serral
?
Well, if he had gone about his usual ways and not played in any weekly cups, then he'd have entered TSL5 as our equivalent of Maru. Not only does he have a monstrous body of past work, but our last memory of him would have been his 4-1 victory over INnoVation in the
StayAt HomeStory Cup finals.
He'd come in as someone we'd look at as the almost
inevitable
champion.
Instead, on a whim, Serral decided to compete in
Red Bull Xel'Naga Finest #3
, where he gave up a stunning 2-3 loss to Clem in the finals. Now, one might say "what's the big deal?" or "everyone loses a game here and there." The thing is, Serral is hardly a part of 'everyone'—the entire mythos around him is based on the fact that he rarely loses matches. 'Here and there?' That describes where a diamond Protoss places his third Pylon, not how frequently Serral loses matches.
What usually happens after Serral gives people a reason to doubt him for a second is that he stomps a mudhole into his next opponent. However, the thing about doubt is that until it's dispelled, it keeps building on itself. As long as this small doubt about Serral is there, we're tempted to think about ways the losing could continue. Look at this!
Elazer
is directly below Serral in the bracket. While I doubt Elazer relishes his seeding, he happens to be one of the players who handed Serral a loss in the past few months during the StayAt HomeStory Cup group stage. That was a 2-0 loss in a best of three. Not that far off from a 3-x win in a best of five!
Will Serral make us feel dumb for questioning his form and completely smash whoever advances to face him? Was this preview just a cynical ploy to make you more interested in watching Serral's matches? Find out in the opening week of Shopify™ TeamLiquid Starleague 5!
---