China Team Championship: Season 2
Opening Week Recap & Week 2 Preview
by TheOneAboveU
What's that feeling of joy and love in the air? Why, it's StarCraft II's version of Christmas in August: The China Team Championship, Season 2. The new season kicked off last week, bringing with it upsets, beatdowns, and bizarrely cheesy games—basically everything you missed about team competition.
One thing we didn't get was the thrill of an ace match, but there are a couple of week two matches which look like they might go the distance. Anyway, enjoy our recap of the first week of games, and join us as we look forward to the matches that are coming up!
Group A, Week 1: Wings Clipped
Newbee 4 - 2 Jin Air Green Wings
Watch VOD
On paper, Jin Air's star-studded roster makes them the heavy favorites to win CTC Season 2. However, with JAGW's reluctance to field Maru and their requirement to play Taiwanese player Rex, you might be tempted to crumple that paper up and throw it out the window. Of course, Newbee is also due credit for defeating Jin Air—we said their success depends on how well the inconsistent Scarlett and Dear perform, and they certainly delivered in the season opener. With Scarlett and Cure both winning their matches as expected, Dear's victory over former teammate Trap ended up being the clutch performance of the series. It's still early in the season, but another loss in week two could pressure Jin Air to bring out the big guns (read our week two preview below to see their line-up).
Team LP 2 - 4 Invictus Gaming
Watch VOD
This week's biggest surprise was Invictus Gaming upending expectations and upsetting Season 1 runner-up Team LP. After iG's all-Chinese roster finished last place in Season 1, Chinese fans must have been delighted to see Chinese players go 3-1 over Korean pros in this unexpected win. The series began with iG.Coffee managing to steal a map off LP.Impact in a very messy, very exciting
TvZ game on Winter's Gate
. After Chinese players XY and Jieshi also tied their match, it fell on last season's top Chinese player iG.iAsonu to lead his team to victory. iAsonu managed to rise to the occasion, taking out LP.Patience in a clean 2-0 series to close out the win for iG (more on this series below in our weekly spotlight). While you don't want to read too deeply into a single result, perhaps this is a sign that iG won't be nailed to the bottom of the standings this time around.
Brave Star Gaming 1 - 5 KaiZi Gaming
Watch VOD
The duel of newcomers BSG and KaiZi didn't pan out to be as close as the line-ups suggested beforehand, especially due to KZ.Misaki's surprising map win over Hurricane. Unfortunately for BSG, BSG.Cyan couldn't pull the same sort of upset against KZ.Bunny, leaving the fate of his team to BSG.Dream. The Korean Terran did not look very good in his series against fellow military veteran KZ.Super though, with Dream's harassment proving to be quite ineffective against Super's defensive, solid macro style. With INnoVation set to join KZ in week two (more on that below), they look primed for great results this season. One shouldn't write off BSG just yet, but this certainly wasn't a good start.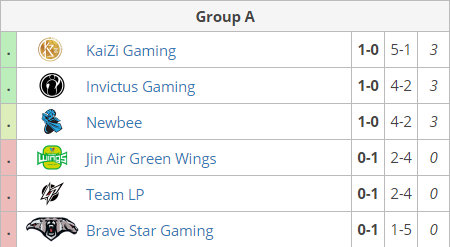 Group B: Championship Class
Triumphant Song Gaming 5 - 1 Black Night
Watch VOD
The champions of Season 1 are off to a solid start, handily defeating newcomers Black Night as expected. TSG.herO and TSG.Solar are looking as sharp as ever after carrying TSG to the championship in season 1, continuing their winning ways by taking 2-0 victories against their less illustrious opponents. Solar wasn't entirely untroubled, however. For the lovers of
'When Cheese fails'
we recommend
watching his first map against BN.Daydreamer
. It's a true classic of the genre, involving a LITERAL base trade among other kinds of hilarity.
Pixel 1. 4 - 2 PSISTORM
Watch VOD
Pixel 1 vs PSISTORM ended in a closer-than-it-looks win for P1, with the window for victory opening up once PartinG managed to fight GuMiho to a draw. After that, P1.FanTaSy's victory over comrade-in-clownery PSI.TRUE was crucial in sealing an eventual 4-2 victory. For the lovers of the '
FanTaSy vs. TRUE
' type of weird/scrappy games, those two clashes are worth a watch as both fell back into their old habits of brawling in the dirt. Firefly then closed out the series for his team with a split against Sakura—unfortunately for his squad, the PSISTORM Protoss couldn't quite bring out a performance of the sort he brought against Dear last season.
Ocean Gaming 4 - 2 Chivo SC
Watch VOD
After drawing favorable line-ups beforehand, Ocean Gaming's players were able to follow through with a win. SpeCial won a dominant victory over a floundering soO (his ZvT woes continue), and Zest clocked in with an expected win against ExpecT to seal quick win for Ocean. RagnaroK did recover some points against TooDming, however, which might come in handy for future tiebreakers (one assumes that's why every match is being played, anyway). It's a good start for Ocean Gaming—if the Zest that dominated the 1v1 portion of the
NeXT Spring team league
keeps showing up, Ocean could be a real championship threat.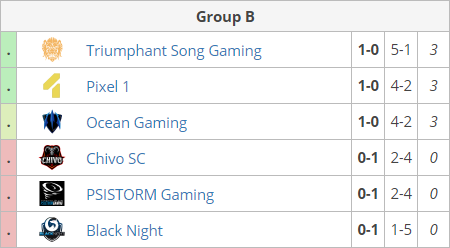 Weekly MVP award: iG.iAsonu
The week one MVP Award goes to Invictus Gaming's

iAsonu
for
taking down LP.Patience 2-0
, clinching an important first victory for his team. iAsonu showed solid defensive play against the oft-cheesy Korean in both games, flipping to attack-mode at the perfect timing to finish him off (using Ravagers-Baneling in game 1 and a Speedling/Nydus flood in game 2).
TIME might be the Chinese player of the moment, but iAsonu's strong performance reminded us that he was the player carrying the banner of Chinese hope for many years, and the one
responsible for
many of China's biggest upsets against the Korean juggernaut.
Chinese Player Spotlight - Misaki: A key player for KaiZi?
If you've only watched the English stream this week you might rightly ask why KaiZi Gaming's

Misaki
would be singled out for distinction. After all, the only map he was shown playing was a quick and disastrous loss to

Hurricane
. But due to some technical issues on Wardi's side he unfortunately couldn't stream the first match between the two players on Disco Bloodbath, which turned out to be much more entertaining.

Fortunately, Polish caster/player Ziggy was there to pick up the slack.
It all started with a mind game from Misaki's side, as he cancelled the Baneling Nest he was building at his natural expansion after Hurricane had scouted it. Instead, Misaki changed his plan on the fly to go for two-base Nydus and Swarm Host play.
Surviving the loss of a few Nexuses, Hurricane was finally able to stabilize and move across the map. Unfortunately, he ran into an unconventional force of Speedlings, Mutalisks, and Swarm Hosts, as Misaki had gone for a Spire tech-switch in the meanwhile. Though the Mutas couldn't do any damage on the counter-attack and were quickly hunted down by Phoenixes, they had done their job in letting Misaki survive Hurricane's attack.
The Chinese Zerg then went for
another
tech switch, using his Swarm Hosts to buy time to build up an army of Banelings, Hydralisks, and Corrupters. Hurricane couldn't quiet complete his transition to Skytoss, and he GG'd out after losing a series of scrappy battles against Misaki's unorthodox swarm.
While Misaki hasn't made a big impact in the Chinese scene up to now—most of his WCS Challenger runs ended in the Top 12 so far—he certainly delivered in his CTC debut with a 1-1 against former Code S semifinalist Hurricane. It's going to be interesting to see if he can keep surprising us with creative play over the course of the season. He's guaranteed to play in every one of KaiZi's matches as their only Chinese player, and his success could very well decide the fate of INnoVation's new team.
Week 2 Preview: Enter INnoVationGroup A
Group A's matches will be played at 11:30 GMT (+00:00) on Sunday (1. Sept.), Monday (2. Sept.), and Tuesday (3. Sept.). Wardi will broadcast in English.

Team LP vs. Jin Air Green Wings (1. Sept.)
Jieshi < Acropolis > Cure
Impact < Ephemeron > Rex
Patience < Triton > sOs
Ace map: < Thunderbird >

While Jin Air didn't have the best start into the season with their loss to Newbee last week, this upcoming match against Team LP sure looks like a good opportunity to bounce back. Cure is a massive favorite over Jieshi, as he's been eating Protoss players left and right this past month (with the exception of online Zest). Impact is the safest bet for LP when it comes to bringing home some points since Rex is still waiting for his first win against a non-Chinese player, not to mention he lost in rather one-sided fashion against against Scarlett last week.

The swing match will likely be the PvP between Patience and sOs. Both of these players are in a really awkward place right now where they are flying under the radar (sOs is literally flagged inactive on Aligulac at the moment for his lack of games) during the August Code S break. While Patience is historically in the lead against sOs by a hair's length, his form against Protoss is also historically bad, winning only about a fourth of his mirror matches over the last weeks. Both players are notoriously hard to predict anyways, so between a magical sweep by Patience, a one-sided stomp by sOs, and a friendly draw, everything is possible here. If this ends up going to an ace match, surely Jin Air will decide it's time to bring in Maru?

Prediction: Team LP 3-4 Jin Air


Invictus Gaming vs. KaiZi Gaming (2. Sept.)
Coffee < Acropolis > Misaki
iAsonu < Ephemeron > INnoVation
XY < Triton > Bunny
Ace < Thunderbird >

One can't help but feel a bit bad for iG in this one. Their surprisingly good start last week might be followed with a hard crash down to earth this week, as KaiZi is now able to field one of the powerful weapons of destruction in StarCraft II: INnoVation. Not all hope is lost, however. Coffee split maps last week with Impact and recently won a 2-0 victory over Misaki in the GPC #3, a Chinese online tournament series. iAsonu stepped up to be his team's hero last week against Patience, but his chances against INnoVation look much slimmer—he's never taken a series off the Terran Machine. Still, iAsonu doesn't need to go 2-0, as even a 1-1 tie would be a job very well done.

Assuming we go into XY against Bunny with even scores, the outlook for iG is bad, but not terrible, as both players really aren't in good shape in TvT. Bunny's last TvT win comes from May over INnoVation, XY's from February over his countryman Hickok. Naturally, the advantage here goes to the Code S veteran.

Prediction: Invictus Gaming 2-4 KaiZi Gaming


Newbee vs. Brave Star Gaming (3. Sept.)
Dear < Acropolis > Dream
TIME < Ephemeron > Hurricane
Scarlett < Triton > Cyan
Ace < Thunderbird >

These pairings look good for Newbee across the board. After last week, one shouldn't expect too much from Dream's TvP. On the other hand, Dear has been a dominant PvT player throughout the year. TIME against Hurricane looks like the closest duel we are going to get. The Korean Protoss has the historical head-to-head advantage, but TIME won their last clash over a year ago—well before his rise to fame. Amusingly, TIME's lost to some lower level Chinese Protoss players in GPC recently due to off-racing in the tournament. But as his main race of Terran, he has a slew of wins over his Chinese peers, as well as over Germany's ShoWTimE at ASUS ROG.

For the third match-up, Scarlett versus Cyan, a map-split isn't out of the question. Scarlett's ZvP form doesn't look that great on paper, but losing to the likes of Neeb, ShoWTimE, and PtitDrogo isn't exactly a shameful display. That said, Cyan's PvZ isn't all too shabby, and he has recently traded series with China's best Zerg players in iAsonu and XiGua.

Prediction: Newbee 4-2 Brave Star Gaming


Group B
Group B's matches will be played at 13:00 GMT (+00:00) on Sunday (1. Sept.), Monday (2. Sept.), and Tuesday (3. Sept.). Wardi will broadcast in English.

Triumphant Song Gaming vs. PSISTORM Gaming (1. Sept.)
Solar < Acropolis > TRUE
herO < Ephemeron > Sakura
Nice < Triton > GuMiho
Ace < Thunderbird >

TSG should be able to further their lead in Group B with this match as they look primed for another victory. Both Solar and herO have drawn favorable match-ups, though mirrors matches always bring an element of unpredictability to the table. Unfortunately for PSISTORM, TRUE hasn't been a credible threat to any top-tier Korean for some time now (his last ZvZ win one could consider impressive was a 2-0 over Rogue online back in 2018). And though Sakura did upset Dear last season, he hasn't equaled that feat ever since. Once again, only GuMiho is the only player on his side who isn't the underdog. Even if GuMiho goes 2-0, the defending champions simply look too solid to be upset this week.

Prediction: Triumphant Song Gaming 4-2 PSISTORM


Black Night vs. Chivo SC (2. Sept.)
Daydreamer < Acropolis > soO
Armani < Ephemeron > RagnaroK
DynaMite < Triton > ExpecT
Ace < Thunderbird >

The prospects for Black Night are dark, while Chivo should enjoy a day in the sun. As much as we enjoyed Daydreamer's unusual and cheesy game against Solar last week, it didn't net him a win. soO's unlikely to fall for such shenanigans either, even in his recent slump. Armani had the occasional good match against Zerg last month (even trading series with Solar). It's Korean ZvZ, and a lot can happen in the aggressive games they like to play, but one can't help but feel there's a slight advantage for RagnaroK here after his solid ZvZ showing last week.

That leaves us with DynaMite and ExpecT, two players who've never faced each other so far in a tournament, and who could end up being the heroes of this match. Though none of them looks like a specialist TvT player, with both sporting very average records in recent times, there's some games that stand out on DynaMite's side, namely a 2-0 win over aLive, and a 1-2 loss to KeeN (taking a game off KeeN in TvT isn't a small feat at all).

Prediction: Black Night 2-4 Chivo SC


Pixel 1 vs. Ocean Gaming (3. Sept.)
PartinG < Acropolis > TooDming
Firefly < Ephemeron > SpeCial
FanTaSy < Triton > Zest
Ace < Thunderbird >

The last match of the week is also one of the best: 1-0 teams P1 and OG battle it out for the position of TSG's rival in Group B. Though one gets the feeling this is going to be a close match, the first two pairings do look rather clear cut with PartinG and SpeCial having the advantage over their Chinese opponents. Though, perhaps, PartinG's margin of error is smaller than the Mexican Terran's, as his PvZ is characterized by consistent inconsistency and weakness, and three months ago he actually lost a Bo1 to TooDming. The thing is, the Chinese Zerg suffers the same way in his ZvP, looking great in one tournament and like an easy target in the next one. A tie here wouldn't actually be that surprising, and would be disastrous for Pixel 1's chances, because SpeCial look like the overwhelming favorite against Firefly—he never lost a series to him, and of course we all remember SpeCial's good showing against Classic at GSL vs. the World.

It will probably fall on FanTaSy to secure valuable points and perhaps even close out the series with a second win for his team. However, he's fighting an uphill battle against Zest. The two only recently met in the AfreecaTV World Invitational, with Zest coming out ahead 3-2, continuing his winning streak over the Terran starting back in April and now counting four series. If you're not TY or Cure, you simply do not win a TvP series against Zest at the moment, though FanTaSy certainly has the creativity to cause an upset.

Prediction: Pixel 1 2-4 Ocean Gaming



---



Credits and acknowledgements
Written by:
TheOneAboveU
Editor: Wax
Stats: Aligulac.com
Images: SCBoy