Do I Have Your Attention Now?
Trap in the Code S Season 2 Finals
by GGemini19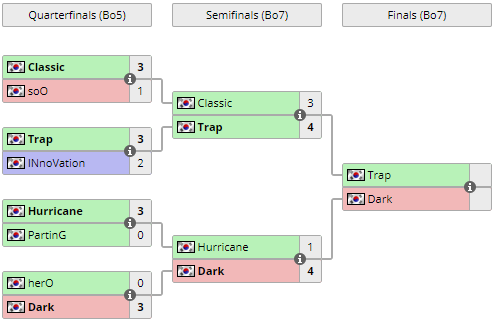 2019 Global StarCraft II League - Code S Season 2
Underrated.
Of all the words I could use to describe

Trap
over these last few years, there's nothing more fitting. Being hard-locked into the Code S Ro16 decider match for the entirety of 2018 and with no Ro8 appearances since 2013, one could see why StarCraft II fans were familiar with him, but still didn't think much of him. Prior to Trap's Season 2 Ro32 match against

aLive
in 2018,
community sentiment
seemed to be that it would be a tough match to call. A 700+ MMR difference in skill and a fresh IEM Katowice Ro8 finish prompted a certain commentator to respond,
"Is it tho?"
Trap's more recent
quarterfinal match against INnoVation
was a similar scenario, where the community expected a
complete, machine-powered destruction
despite the two players being
9-7 in games and 3-2 in matches in 2019
, including a match from the previous GSL season (Trap won both matches, by the way).
People seem to either forget (or don't know) that Trap has won six
Olimoleague
cups and has earned 2nd place in another six, always showing excellent performances over players like TY, soO, Dark, ByuN, GuMiho, Zest, INnoVation and more. Not only is Olimoleague one of Trap's playgrounds, he also has wins in KungFu Cups, Onpoong showmatches, and other online tournaments. This isn't a player who's new to highest tier of Korean StarCraft. This isn't a player who can only beat up on Ro32 gatekeepers. Trap is a player that can go toe-to-toe with all the best players that Korea has to offer. Now, in 2019, we're finally starting to see that skill be unlocked and wielded on the one stage that matters most in the public eye: GSL Code S.
While Trap excelled in online tournaments and was praised by more successful teammates such as Maru and Rogue, there was a factor preventing him from making the deep runs we've been seeing so far this year. Much like another previous favorite of mine,

HerO
, Trap has suffered from a painfully restrictive mental block—something he often stated was what had kept him from breaking into the upper echelon of the GSL. Perhaps it's not a coincidence that I feel a connection with these types of players. I don't know what it feels like to compete in GSL Code S—but I do know what it feels like to outplay my opponent and still lose because of a mental lapse. I've felt the nerve wracking pressure of playing in a huge MLG open bracket against someone I know I should beat and lose because I can't focus on what I've spent hours practicing at home. The frustration makes you question reality.
Oh, how I lament, re-watching this poor Protoss soul take a nearly four-minute break to overthink his plan as he went into the final game of his
Code S Ro16 decider match
last August, only to get proxy-hatched and lose to

Leenock
because he misjudged the threat and was
slightly too greedy with his wall-in
. I can only imagine the scene from Spongebob, where
inside of Trap's brain
there were a bunch of mini-Traps running around, trying to extinguish a burning practice room as he wrestled with every possible outcome that would prevent him from reaching his first Code S Ro8 in years. Alas, it would not come that day: his shaky mentality got the best of him once again.
When we saw Trap in the GSL for the first time in 2019, it would have been easy to assume that he was doomed to another year of the Ro16 decider-match curse. But he was able to best none other than his own teammate,

sOs
, to finally break loose from the chains. As much as one would love some incredible, dramatic story of a player beating all odds to break through their obstacles, sometimes it really is as simple as changing one's attitude. As Trap tells it, stepping back from tunnel-visioning on the game to
focusing on having an accompanying positive mentality
was the long lost key under the mat. Trap had overcome the mental block.
Ever since that barrier was broken, we've seen increasingly impressive play from Trap during the GSL: An impressive and
tense victory
vs

TY
in Code S Season 1, first place finishes in both his Ro32 and Ro16 groups this season, another incredibly
tight and entertaining 3-2
win vs INnoVation, and an
unbelievable comeback
against the overwhelming favorite in Classic in the semifinals. His only major misstep was lapsing back into overthinking while playing his teammate Maru in the previous season of Code S. Otherwise, Trap has been on a tear this year in Code S, seemingly getting better with each step. All of this has culminated in the first Code S finals appearance of his career.
"...there were a lot of times when I was hurting inside because [my skill] didn't come out [in tournament games]. But because things are going well lately, I feel a lot better and at ease."
said Trap, shortly after securing his grand final spot.
After years of being overshadowed by sOs, Rogue, Maru and his other Jin Air teammates, Trap is the lone Jin Air player who has survived the Ro16 to try and keep the team's championship tradition alive. That tradition now encompasses six consecutive Code S tournaments with a Jin Air representative in the finals. Trap has already defeated the top Terran and top Protoss players in Korea. The top Zerg is all that's left waiting.
Surprisingly, we haven't seen too much of Trap's PvZ leading up to his showdown with

Dark
. Last year, it was arguably his strongest match-up, and he was second only to

Stats
in his ability to take control and outlast the endless Zerg swarms preventing him from gathering the Golden Armada. This year, most of the recent PvZs Trap has played are small Bo1 or Bo3 matches from the various online team leagues. It's hard to get a good read on what his performance will be like and what builds he will prepare. Regardless, Trap is the full package. He can do early all-ins, sharp mid-game timings, or full-on macro games, and look good doing them. The countless hours of VOD and replay review of his games and the personal discussions I've had with him makes me confident in making such a claim. Some might see him as a defensive macro player in the line of Stats or Zest in their primes—but in reality, he's a player who can use the entire Protoss arsenal (except for going full Has). He's not a one-trick, passive, macro pony who will be easily abused by a reckless Zerg. Trap will be looking to pull out all the stops to fit into the glass slipper for this Cinderella story.
Despite all of this, there are still people counting him out. We return to that same word we started with. Underrated. No matter how much Trap proves himself, there are still people who dismiss him as a
"Patchtoss"
and think he will get
dumpstered like Hurricane.
While Dark and Trap haven't played each other in official matches in quite some time, I still want to point everyone to their fierce, closely-matched
match history
. There was a point in time when they met in nearly every event they played from 2017 going into 2018, and it was dead even the entire time. Only at the start of this year did Dark take a brief advantage. Nonetheless, he still hasn't evened up the overall score. Trap and Dark know each other inside and out. They know what has resulted in the wins and losses of the past, and they will each have a plan to tip the scales in their favor again on Saturday.
Trap has slowly been shattering viewer's expectations and showing he's not to be underrated any longer. There's one more hurdle left in his way. Dark will be the final test to see if the community was right in saying that Trap isn't quite ready for a GSL trophy yet.
Trap has shown the world that he is ready for our recognition. Now let's pay attention.
Prediction: Trap 4
- 3 Dark
---