IEM Katowice 2019:
Imagining the Round of 76
Twelve players have earned seeds in the IEM round of 24, including the
crème de la crème
of StarCraft II such as Serral, Maru, Rogue, and INnoVation. However, we'll have to wait just a tiny bit to see them as the round of 76 awaits.
The open bracket allows competitors from all around the world a final chance at making it to the round of 24, and once again a fearsome group of challengers has gathered in Katowice.
Instead of a 'standard' preview, we decided to let our imaginations wander as we pondered the open bracket. It's not about what we think
will
happen—it's more about what we
want
to happen. Or at least, it's about the scenarios that would entertain us the most. Enjoy!
Bracket #1
by Destructicon
• Double Elimination: Three players advance to round of 24
• Start time: Monday, Feb 25 10:00am GMT (GMT+00:00)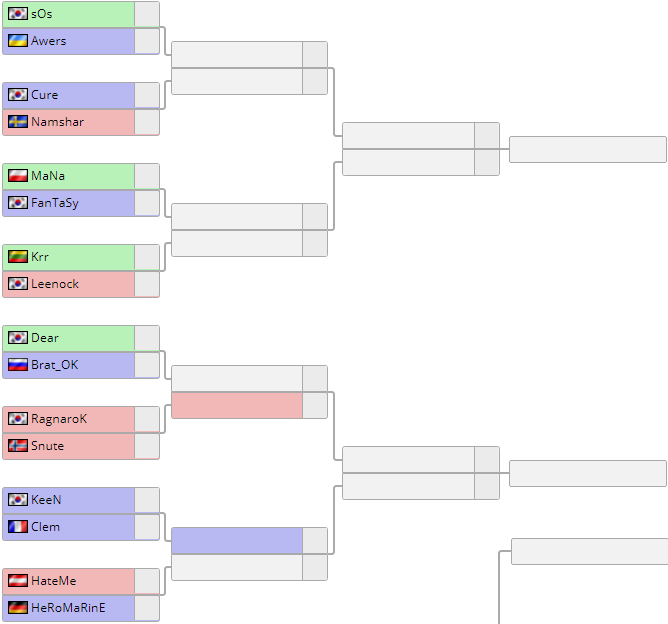 Scenario #1: The KeSPA Menace
-

sOs
,

Cure
, and

FanTaSy
advance.
Jin Air Green Wings is quite fortunate to be the last remnant of the KeSPA empire. While fans have long debated the merits of team houses and their impact, Jin Air is making a strong case in their favor. The team is producing incredible results overall, with Rogue and Maru reaching their peaks after the other KeSPA squads disbanded. Five out of six Jin Air players are currently in the Code S RO16, and even the less successful members must be feared at this stage of the tournament.
Former IEM World Champion

sOs
is the clear favorite to advance—he's competed in many international tournaments and they're where he's enjoyed his greatest success. While he's had a few 'rough' years—his last major title came at BlizzCon 2015—they're only rough when you compare them to the apex of his career. Given his top four finish at BlizzCon 2018 and dual runner-ups in Super Tournament II and IEM PyeongChang, it's pretty clear that sOs is still a master of the 'weekender' format.
While he frequently flies under the radar,

Cure
is still a very dangerous player to have on your side of the bracket. Last year, he was knocked out IEM Katowice early, losing to Hurricane and soO in the RO76. However, this version of Cure is quite different, reaching the Code S RO16 for the first time in years (even defeating Stats in the process).
KeSPA might have faded out of relevance in SC2, but its legacy lives on in its players.

FanTaSy
is one of the oddest KeSPA-Brood War pros, choosing to return to SC2 after his military service instead of pursuing a lucrative life of BW streaming. But he's always been an odd one, leaving the security of SKT T1 before it even disbanded its SC2 squad to experience the
joy of stomping foreigners
freedom of the international scene. On that front, FanTaSy was making solid progress before enlisting in the military, with multiple top 16 and top 8 finishes at IEM and DreamHack events. Notably, he even made it the top four at IEM Gamescom 2015. By now, this old soldier may have recovered just enough of his form to make it through the bracket.
Scenario #2: The ESF Strikes Back:
-

Leenock
,

RagnaroK
, and

KeeN
advance.
Speaking of KeSPA, anyone remember the
ESF
? You know, that defunct organization of early-adopters who competed in StarCraft II during Wings of Liberty, who were then nearly wiped out by the KeSPA invasion. Only its toughest, wiliest players have survived to fight in 2019, and many of them are at IEM Katowice.

Leenock
in particular was a
dominant
player in WoL, winning MLG and IPL when they were the biggest foreign tournaments around. His abuse of Brood Lord-Infestor was infamous, but he was also a cutthroat cheeser (and early Nydus innovator) who was willing to take games into weird and uncharted waters. After a long stretch of mediocrity, we thought Leenock's glory days were long behind him. However, he had a surprise resurgence in the final Code S of 2018 where he reached the top eight, and may even have reached the semifinals if not for a medical emergency close to his match-day. Look out for a darkhorse run from Leenock this tournament.

KeeN
also knows a thing or two about resilience as he's managed to qualify to the last seven Code S tournaments. Though he doesn't exactly have a glorious international tournament resume, the biggest tournament win of his career did come in the UK's
Gfinity Summer Masters II
back in 2015.
Finally,

RagnaroK
isn't a player many associate with old-school StarCraft II, but he was actually once considered a very talented prospect when he was playing for the legendary Incredible Miracle. Unfortunately, strong GSTL performances and a top six finish at MLG Anaheim 2014 didn't lead to much more success, leaving fans to wonder what could have been.
Over a large enough sample of games, the best players tend to win the most games. Unfortunately, these three players aren't the best players in this bracket. But on the positive side, there won't be a large sample of games. Even with double-elimination, we know that anything can happen in a crazy best-of-three. Remember, Stats was eliminated by souL last year! Even the best players can get blindsided by unexpected strategies. Unpredictability, quick thinking and just a small(ish) dose of cheese could see these veterans strike a blow for old-school pros and nostalgia-drunk fans everywhere.
Scenario #3: The Return of the Retired
-

Snute
and any two players advance.
Snute may have
retired from full-time StarCraft II
, but that doesn't mean he's stopped competing entirely. He made a respectable run in the
EU qualifier for IEM
, even defeating Lambo before being eliminated. Now he's back for more at the offline stage of the event.
Snute is a long-shot to make it through, but if he does get it done, we know it's fated to go down in one, bittersweet, cursed way: A final TeamLiquid team-kill against

MaNa
for all the marbles.
Bracket #2
by Mizenhauer
• Double Elimination: Three players advance to round of 24
• Start time: Monday, Feb 25 2:40pm GMT (GMT+00:00)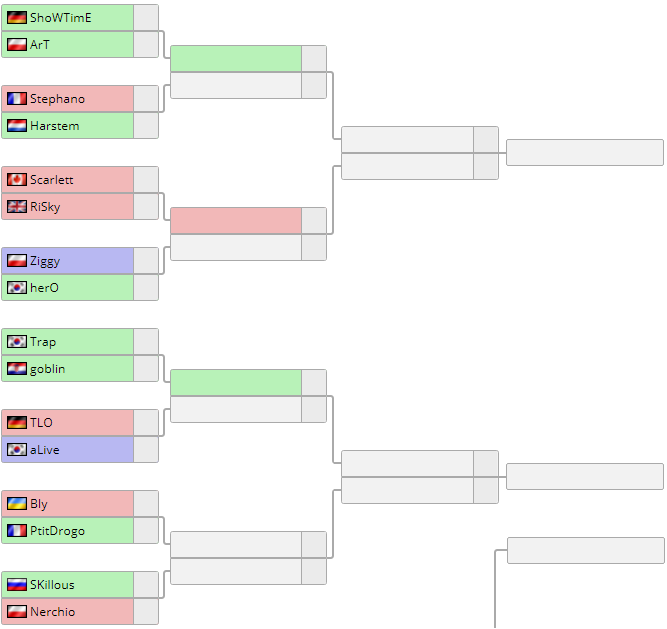 Scenario #1: Terran Has Half the RO24 Seeds but Let's Complain About Protoss
-

ShoWTimE
,

Trap
and

herO
advance
The flight from Incheon to Katowice is a grueling one, but

Trap
and

herO
will undertake the journey comforted by the knowledge that they've been placed into what is unquestionably the easiest of the four brackets.
Two of the six remaining Protoss in Code S, Trap and herO will comfortably settle into the role of favorites to earn themselves a spot in the main event. Trap stands head and shoulders above the rest of the bottom portion of the bracket, and it's not outside the realm of possibility that he makes it to the next stage without dropping a map.
Back in the top bracket, herO will be forced to share the spotlight with

ShoWTimE
. The German has been an excellent PvPer for years, rattling off wins against the best the foreign and Korean scenes have to offer. Such is ShoWTimE's his prowess in the mirror matchup that it's quite possible he survives his tilt with herO. Though, if that were to happen, it seems almost certain the smiling assassin would recover and take the third qualification slot from whoever survived the losers' bracket.
Scenario #2: Liquid Bias
-

Ziggy
,

Nerchio
and

TLO
advance
TLnet writers have a long and fruitful history of playing favorites. Whether it's picking EG-TL as the team to beat in the
Proleague power rankings
or trying to sell the story that TaeJa is an era-transcending GOAT who is greater than INnoVation, we clearly know who butters our bread. Though Serral might be the clear meal-ticket at the moment, what about a little throwback to the days of supporting the boys in blue?
These days Team Liquid doesn't loom as large as it once did in StarCraft II, but the writing crew has a few dogs in the race when it comes to the second open bracket.
Known mostly for really outdated reaper builds,

Ziggy
also moonlights as a Teamliquid writer. His prowess with the pen won't do him much good here, but we're predicting his rather eccentric playstyle will give him the leg up against the competition. Also,
something something
home country advantage
something something
.
Speaking of the comforts of home, Ziggy is joined by another Pole and
long-time Teamliquid.net forum troll

Nerchio
. Nerchio is more accomplished than his countryman, but he's falling on hard times as of late. It would be unwise to completely count him out, however, especially with dreams of playing in a packed Spodek arena buzzing through his head.
And what would Liquid Bias be without Teamliquid's very own

TLO
brashly marauding through the bracket and earning himself a IEM Katowice group stage appearance. TLO made the move to America last fall, and didn't fare too well in his North American debut, falling out of WCS Winter in the Round of 32. His fans and the writers will be hoping he regains his footing now that he's returned to European soil. May his gameplay be more creative than this preview.
Scenario #3: Saving* StarCraft II Esports
-

Scarlett
and anyone else advances

Scarlett
's fans are some of the most passionate in the business. They've vocally supported their Queen of Blades over the years, celebrating her victories, encouraging her after losses, and even spawning a meme to express how much they like when she plays. For her part she's rewarded them with entertaining games, wry wit and an immeasurable amount of patience when it comes to her
fan club
.
Scarlett struggled in WCS last year, falling far shy off making it to BlizzCon, but such failings are easily forgiven in light of her IEM Pyeongchang victory and GSL Round of 8 appearance. Approximately one year removed from slapping INnoVation into oblivion, she's impressing in WCS Winter, while showing respectable form in GSL.
Of course it's important to remember that Scarlett's fans aren't the most particular or reasonable bunch. They just want Scarlett to do well. As long as she makes it, that's all that matter, does anyone even cares who joins her on the big stage?
Bracket #3
by Mizenhauer
• Double Elimination: Three players advance to round of 24
• Start time: Tuesday, Feb 26 10:00am GMT (GMT+00:00)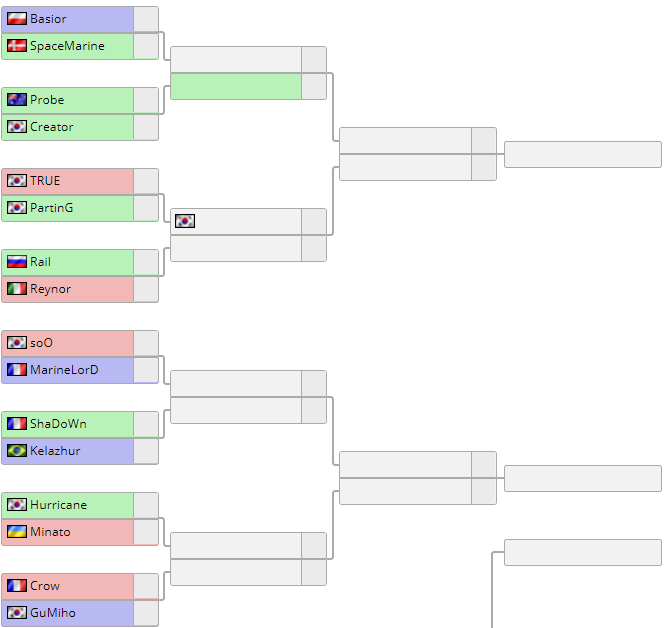 Scenario #1: Your Average Code S Finals
-

PartinG
,

soO
and

GuMiho
advance.
4940 miles (7950 km for the finicky) is a long way to travel to play the same people you play on ladder everyday, but such is

soO
and

GuMiho
's reality. Despite having played a mere nine times before 2017, soO and GuMiho have settled into a bit of a rivalry the past few years, largely fueled by their GSL finals showdown. Given the relative paucity of talent in the lower portion of the bracket it seems extremely likely that the pair will face off with qualification on the line.
Meanwhile in the top bracket, another GSL finalist,

PartinG
, will look to recapture his former glory. He would have torn through this bracket a few years ago, but time away from the game makes the result anything but a foregone conclusion. Still, everyone loves a comeback story, and this seems like the perfect opportunity for Parting to channel his old form and make waves.
Once PartinG's through it will be a simple it will be a simple matter for the loser of soO/GuMiho to sweep through those silly non-GSL finalists and claim the third, and final spot in the big dance.
Scenario #2: WarCraft in Space
-

SpaceMarine
,

Probe
and

MarineLorD
advance
Let's be honest, when it comes to storytelling StarCraft has always been working with less than a full deck. The Koprulu Sector is cute and all, but it will never be as rich, vast, developed or colorful as Azeroth and all its trimmings. Still, Brood War's campaign and the universe in which it occurred was widely lauded, even if a few details were creatively borrowed from Games Workshop and Robert A. Heinlein.
StarCraft II's representation of life in space was, in comparison, less appreciated, especially by those who saw it as a souring of the original games legacy. By the end of the third expansion we'd gone from plucky ghost to alien hybrid Queen of Blades to something that looked like a flaming chicken shooting lasers at a massive space octopus monster who for some reason has taken up occupancy on a ladder map.
Anyway, the point in all this rambling is that for all of my complaining, the story and lore of the StarCraft universe is still captivating to plenty of people. That includes these players in Bracket #3 who really got into the StarCraft spirit when choosing their names. One would have a hard time making the case that

SpaceMarine
,

Probe
, and

MarineLorD
are "best" players in the groups, but at least in terms of loyalty to StarCraft, they have the best names. And wouldn't it be nice if love of the game could be the most important factor for just a day?
Scenario #3: Terran Has Half the RO24 Seeds but Let's Complain About Protoss Zerg
-

Reynor
,

Crow
and

TRUE
advance
What would it take for you to admit Zerg is a problem? Terran players have been trying to sell you on this very topic for years. They've been crying out for queen nerfs, creep nerfs, hydra nerfs—you get the idea. They've been so good at it lately that even Protoss players are wondering if they need to step up their complaining game. As a Zerg player I'll readily admit there's something to those complaints, but the fact that a mere quartet of Zergs managing to reach the Round of 16 in Code S proves the race isn't as overpowered as some would contend.
At the same time Zergs occupy half the slots in Group Stage 3 of WCS Winter Europe. Even the biggest upset came from Zerg claws, with Cham managing to knock SpeCial out of the Americas portion of the event. There's definitely some smoke. But is there fire?
In Bracket #3, two of the top four players (soO and Reynor) represent the Swarm. After that, however, there's a fairly steep drop off, as

TRUE
is the only other Zerg with any real accolades. But for arguments sake, let's say

Reynor
beats whoever to claim the first spot. Then

Crow
pulls the upset of the century and sends GuMiho, Hurricane and soO to the lower bracket.
Still reeling, the pair of GSL finalists find themselves mere fodder for a rampaging TRUE who makes nothing but Queens en route to becoming the final player to qualify for the main event. If that's how it played out, I think it would be time for a serious discussion. Maybe those Terran players were right all along...
Bracket #4
by Wax
• Double Elimination: Three players advance to round of 24
• Start time: Monday, Feb 25 2:40pm GMT (GMT+00:00)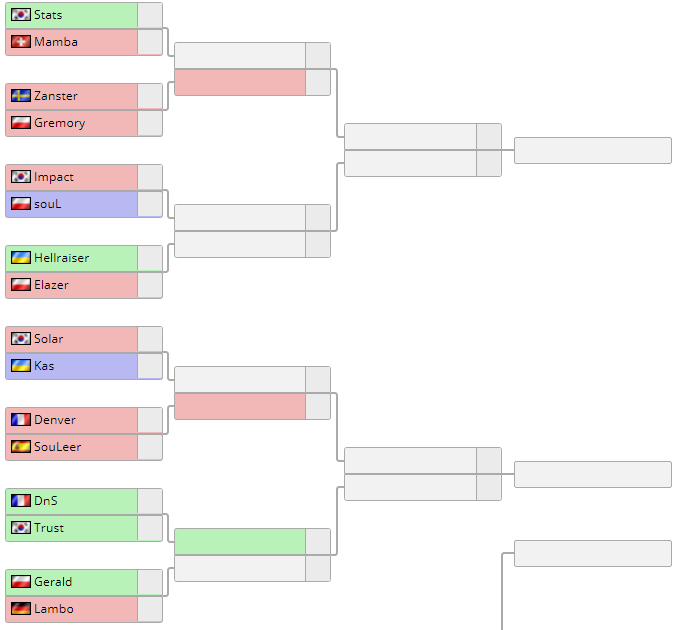 Scenario #1: Poland Can Into RO24:

Elazer
,

souL
, and

Gerald
advance
Polish fans are some of the best in the world.
*Pause for cheers*
You know it because they always bring their white-and-red hot passion to IEM Katowice, no matter the performance of their countrymen.
*Pause for more cheers*
They're at Spodek to cheer for the best StarCraft II players in the world, regardless of nationality.
Still, they bring a little extra oomph for Polish players. Last year's IEM Katowice was pretty brutal on that front, with both Nerchio and Elazer finishing last place in their RO24 groups. But hey, at least they made it to the RO24 through the online qualifiers, guaranteeing they'd be playing in front of the live audience. This year, we run the risk of having no Polish players in the live-spectator portion of the event for the first time since 2015, which would really suck.
That's why I'm cheering for as many Polish players as possible to navigate this bracket and make it to the stage, and maybe even to the biggest stage afterward.

Elazer
clearly has the best competitive resume among the Polish pros in Bracket #4, with a WCS Circuit championship and top four finish at BlizzCon listed at the top. However, let's not count out

souL
, who scored the biggest upset of IEM Katowice 2018 by eliminating returning finalist Stats in the RO76. As for

Gerald
, uhhh, he probably helps old ladies cross the street and always votes in local elections. Let's go Gerald!
Scenario #2: Create False Hope
-

Trust
and

Impact
advance
Fans of foreigner StarCraft II live in a landscape that's been forever changed by Serral, but none of the joy has been taken out of watching foreigners beat Koreans. Everyone knows that Serral could be a once-in-a-lifetime outlier, so any victory—no matter how lowly or unheralded the Korean pro—is still something to relish. From that point of view, it's clear who you need to cheer for in Bracket #4: Koreans, but just not the BEST Koreans.
Like

Impact
, who's actually pretty good, but single-handedly makes the term "practice bonjwa" more reality than meme. It must be noted that Impact got over an important hump last year by making it out of the Code S RO32, but it's clear that he still doesn't have full control over the beast known as "online-Impact." C'mon, Impact. We really need you to get to Group D so we can write "uThermal has shown he can beat RO16 Koreans" in our next WCS preview (yeah, we know he beat INnoVation last year).

Trust
is a more tempting target as Code S RO32 eliminations are sprinkled all over his competitive history. Quite often, he fails to make it to Code S at all. You have to imagine he'll get pummeled by the likes of Stats and Solar, but if he can somehow navigate the bracket, foreigner fans will be in for a delightful treat.
Of course, this could also backfire horribly when Trust bulldozes the best players in the West. Considering our readership, I'm sure plenty of you are cheering for that outcome instead.
#3: Best for Business:

TIME and anyone advances

When China hasn't been busy saving competitive WarCraft III, they've spared some time and money to help StarCraft II out as well. WESG, Hangzhou StarCraft Carnival, team sponsorships for SC2 players, the rumored Chinese Teamleague... Sure, they're no Cheeseadelphia, but we'll take it.

Unfortunately, the Chinese fans have received very infrequent rewards for their interest in StarCraft II. Jim and iAsonu have created unforgettable moments for Chinese fans in the past, but 2018 was a mostly uneventful year. However, TIME could change all that. The young Terran is starting to live up to some of the hype, and is even helping fill the Terran-sized hole in the entire foreigner scene, regardless of hemisphere.

WCS Winter was confirmation that WCS Montreal was no fluke and that there's some substance to TIME's rising-star story. And you know what, we can look past some of his, uhhh, youthful indiscretions for the greater good. Because once the Blizzard money dries up, we better pray that the Chinese scene still gives a damn about SC2 esports. For the future of StarCraft II, cheer for TIME!

Knowing our luck, TIME will be scratched from the tournament due to Visa issues an hour after this preview comes out.
Whoops, jinxed myself.
---