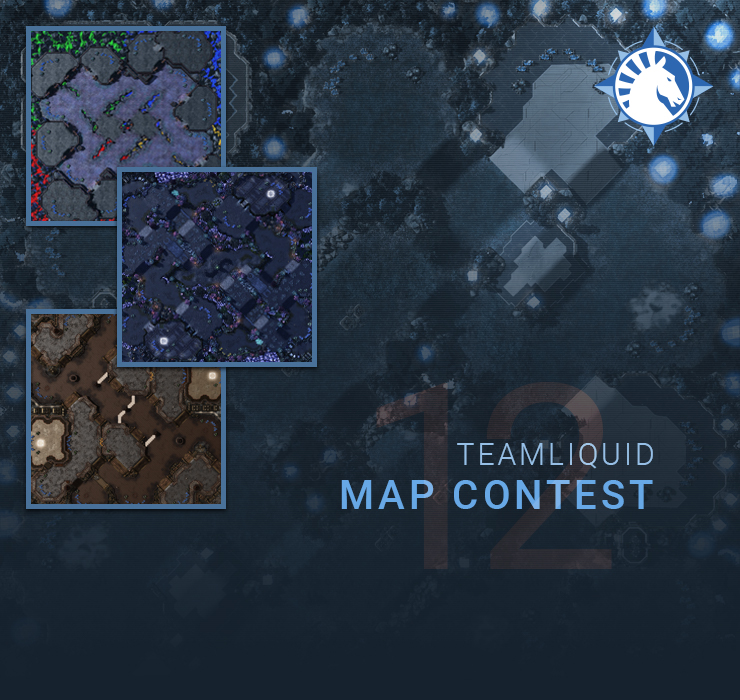 So, the time has come! Our judges have gone through all 166(!) maps submitted to the competition and has weeded out, what they considered, the 16 best maps.
Before we move on to the announcement, we — the organisers — want to take a moment to thank the mappers first and foremost. While we feel like Team Liquid Map Contest has always been a good idea, it's you — the map makers community — whom elevates a good idea to something truely special. Your commitment to making maps is inspiring and we look forward to see what you come up with in the next TLMC. Even if your map didn't make the top 16 you've still contributed to making SC2 a better place by forcing others to push their skills to the limit.
We would also like to thank our fantastic judges. While it's great to have a few mapmakers helping us out behind the scenes, having pro's give their opinons means a lot to the competitive integrity of the event. Even with WCS Winter raging on, our judges managed to find the time to give us their opinions and for that we will be forever grateful. So if you can take a minute out of your day, please send a "Thank you" message to
Puck, PtitDrogo, PengWin, and Winter!
Last, but definitely not least, I want to thank
Kantu and AVEX
. They've represented the map makers community behind the scenes, helping out with countless administrative tasks that — if not completed — would've made it impossible for the competition to continue. These two have been invaluable for this competition and deserves some recognition.
Before presenting the maps, we want to provide you with two pieces of information:
The order of the maps, below, has been randomized and does not always accurately represent their individual placement after voting.

The voting process is blind. That means that the judges don't know who's map they're judging.
The standard category was, surprise-surprise, the most popular category in this iteration of TLMC. To enter a map into this category map makers had to design a medium sized map with a rush distance of roughly 40-45 seconds.


Bandwidth

By: themusic246
Operation Lockdown

By: IeZaeL
Triton

By: themusic246
Ephemeron

By: -NegativeZero-
The macro category was made to bring out maps that play a bit slower than those in the "Standard" category. These maps are generally a bit larger and the recommended rush time is 40-55 seconds.


Disco Bloodbath

By: Marras
Acropolis

By: RQM
Black Baroque

By: Zweck
Heatwave

By: themusic246
In the first challenge of TLMC 12, we asked map makers to design a map utilizing mineral nodes to alter or affect the pathing of units. A bit of a throwback to StarCraft: Brood War.


Thunderbird

By: RQM
Collision Course

By: IeZaeL
Rest Calm

By: Marras
Loss Aversion

By: -NegativeZero-
Here we challenged the community to create a map utilizing the new structure "Inhibitor Zone Generator", a neutral and invulnerable structures that slows in an AoE, in clever ways.


Neo-Tokyo Turbo Cruise '84

By: Superouman
Mungyeong Saejae

By: RQM
Break Out

By: ATTx
Winter's Gate

By: Marras
Before we head in to the final vote for TLMC #12 we need these maps to be tested. And for that we need a few pro's and a tournament. Luckily we already have all that set up. The tournament will begin tomorrow, Monday, and you can find all the
details in this thread
.
Once the tournament has completed we'll also give the top 16 one more chance to refine their maps before the final vote. The final vote is scheduled to start on the
26th of February
!