Back to back Finals for both ASL and GSL will be held at Seoul Children's Grand Park on September 10th, 2:30PM Seoul Time.

Starcraft Day allows anyone to come and watch the games for free. The following directions have been provided for our viewers.

■ Event Details
- 2016 AfreecaTV StarLeague Season 1 Finals (ASL) / Bo.5
Sharp

vs Eyewater (Shuttle)


- 2016 GSL Season 2 Code S Finals / Bo7
sOs

vs ByuN



■ Start Time
ASL: Saturday, Sep 10th 14:30 (KST)
GSL: Saturday, Sep 10th 17:30 (KST)

■ Location
Public Transportation: Subway Line 7, Children's grand park station, Exit 1
More Info: http://www.sisul.or.kr/open_content/childrenpark/introduce/location.jsp

■ Venue Map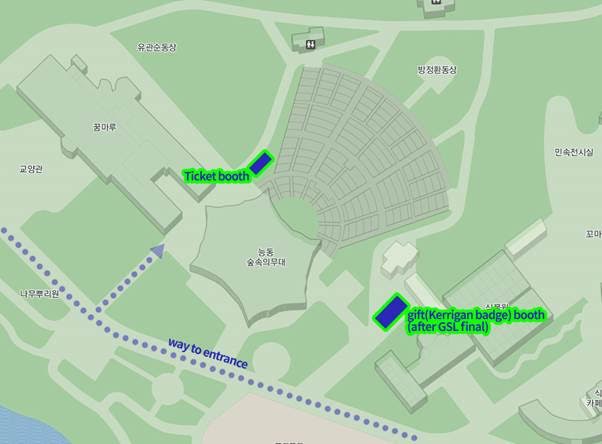 ■ Admission Guide
- Opening Hours: 2:00 PM (for ASL)
- Enter the event area at any time. Please feel free to sit at vacant public seats.
*GSL audiences are allowed to freely enter the event area and watch games while the ASL Final is ongoing.
- "Kerrigan badge" will be given to the people who wins a raffle after the GSL Final. Hold your ticket until the end of event!