Against all odds, Soulkey wins Code S
by Waxangel
Hardly anyone gave
Woongjin_Soulkey
a chance headed into the finals of Code S. His opponent,
STX_INnoVation
, had racked up a 21 - 3 record against Zerg in HotS, the wins collected mostly against cream of the crop players including RorO, Symbol, and Life. Not even a week before the finals, Innovation had administered a savage beatdown on Soulkey in the Proleague, overwhelming him with the endless waves of marines, medivacs, and widow mines that were the hallmark of his style. With the fans, the experts, and the bookies all calling it in Innovation's favor—one had to think it was more marketing than truth when GomTV's Korean casters
gave Soulkey the nod
in the finals.
Soulkey
<
Star Station
>
INnoVation
Soulkey
<
Bel'Shir Vestige
>
INnoVation
Soulkey
<
Whirlwind
>
INnoVation
Soulkey
<
Atlas
>
INnoVation
Soulkey
<
Red City
>
INnoVation
Soulkey
<
Akilon Wastes
>
INnoVation
Soulkey
<
Daybreak
>
INnoVation
The first three games played out like most had expected, with Innovation
destroying
Soulkey. Within an hour, it looked like it was all but over for the Woongin Zerg. Only a handful of players had ever come back from a 0 - 2 deficit in the old Bo5 Brood War finals, and no one had ever come back from 0 - 3 in the GSL's best of sevens.
As it turns out, Soulkey is made of tougher stuff that anyone ever knew. Though it had been almost six years since
GGPlay
came back from a 0 - 2 deficit and won Woongjin Stars their
last major title,
Soulkey was able to assume the poise of his great predecessor. While it would have been easy to submit to despair, Soulkey found his resolve as his teammates cheered him on. He lived up his Korean billing as the "iron wall," though more in terms of mental fortitude than actual gameplay. Going on the offensive, Soulkey hit back with consecutive all-in attacks to tie up the series at 3 - 3 before Innovation even knew what hit him.
Even though Soulkey and Innovation went into the final game tied, the score was the only thing that was even. Innovation had been driven into the same corner Soulkey had been in just an hour ago, but instead of showing Soulkey's steely resolve, he showed that he was shaken. After both players set up for a standard macro game, a fatal, suicide-medivac drop mistake swung the game irrevocably in Soulkey's favor. The Woongjin Zerg didn't overreact to the unexpected windfall; he just calmly using his advantage to pick Innovation apart and force the final GG.
After Soulkey kept his composure over the course of seven games, winning the championship was like opening a pressure release valve. At the end of a long journey, the nearly five year veteran achieved the goal all pro-gamers aspire to. Compared to the many stoic GSL champions of the past, Soulkey allowed his emotions to flow freely, turning on the waterworks and expressing his love for his teammates, his family, and everyone who had supported him.
On the other hand, Innovation was as stoic in defeat as he had been in victory. Already, he seemed to be looking ahead to redemption at the Season Finals. After coming down from the stage, Soulkey also started looking to the future. In the post match
press conference,
winning the very first GSL-Proleague double crown seemed to be on his mind, as well as the impending season finals. The GSL, Proleague, and even the world? For the best player in StarCraft II, that's no dream.
Games Recap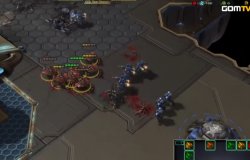 Soulkey deals with one of life's harsh realities: Terrans bunker rush in finals.
Innovation decided to send a message in the first game of the night, opening up with one of Terran's most classic weapons: the proxy-barracks bunker rush. Even though Soulkey expected something of the sort and sent out a scouting overlord to potential proxy locations, he was unable to stop Innovation's clinically executed attack. After a failed defense, Soulkey quickly conceded the first set.
Since he had punished Soulkey with some old school cheese in game one, Innovation decided to show him one of Terran's new tricks in game two by opening with hellbat drops. However, this time Soulkey lived up to his reputation of being one of the most solid defenders in StarCraft, holding off the drops without any significant losses. On the back of a good economy, Soulkey also decided to play a distinctly HotS-ish game, going for a roach-hydra composition. While the composition seemed to catch Innovation off-guard at first, some over-aggressive attacks from Soulkey allowed Innovation to find his bearings again. Once Innovation got his endless-waves style of infantry attacks going, Soulkey was unable to keep up with the low mobility of roach-hydra and GG'd out as he crumbled across multiple fronts.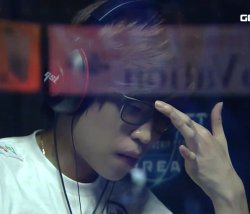 Soulkey feels the pressure after going down 0-3.
Game three was when the Zerg all-ins began to roll in. Innovation had shown some distinct weaknesses to good all-in play during his semi-final series with Symbol, and it was not something Soulkey could leave unexploited. However, things did not go as well as Soulkey would have hoped the first time around, as his speedling-baneling bust on Whirlwind was expertly thwarted thanks to excellent hellion-SCV micro from Innovation and some poor baneling hits on his own behalf. Though Soulkey attempted a follow-up all-in with roaches and banelings, it was entirely a desperation maneuver as Innovation just rode his advantage to an easy 3 – 0.
Facing elimination, Soulkey decided to stick to the gameplan and went a second all-in. This time he pulled out a mid-game speed-roach + speed-bane timing in on Atlas. By successfully hiding his strategy until the last possible moment, Soulkey was finally able to catch a break, barreling down Innovation's front door with overwhelming force and recovering a point. Soulkey also won a few bonus points for sheer style, contaminating Innovation's factory to prevent the production of defensive widow mines.
With the
third
consecutive all-in from Soulkey, it started to look like it might be a series. Roach-bane was the key to success once more, except this time at a more 'normal' early timing before lair. Innovation's greedy triple orbital style was punished yet again, and he sustained massive damage before finally holding off the attack. Not wanting to give Innovation even a chance of recovering and playing a macro game, Soulkey followed up with an even bigger bust to make the series 2 - 3.
In order to cut off his opponent's momentum, Innovation returned to that most venerable strategy, the proxy two-barracks rush. As in game one, Soulkey instinctively sniffed out Innovation's intent and scouted the barracks. But unlike in game one, Soulkey decided to cancel his building hatchery on the low ground, instead of committing himself to a drones vs. marines defense. It could not yet be called a failure for Innovation, who had defeated RorO in the exact same situation by setting up a bunker containment below the Zerg ramp and playing the game out normally.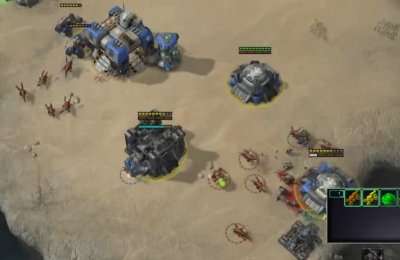 Innovation's failed cheese rush is punished by Soulkey.
Unfortunately for Innovation, Soulkey was no RorO, and had definitely studied the Samsung Zerg's loss. He played decisively, going for banelings off one base to bust through the containment outside his base, and immediately counter all-ined his opponent. By a slim margin, Innovation was unable to hold, and he was forced to surrender a third GG just as easily as he forced them from Soulkey in the beginning.
The oldest Terran weapon having failed him in game six, Innovation decided that new technology would be the key to Terran salvation as he went for hellbat drops in the final game. On the other hand, Soulkey deemed that baneling busts could only take him so far, and that Daybreak was the perfect ground to show that he could take on Innovation in a standard game. After deflecting the hellbat drops with some defensive roaches, he transitioned into muta-ling-bane for the first time in the series. Innovation obliged the invitation to a standard game, taking his third and setting up to begin his endless aggression.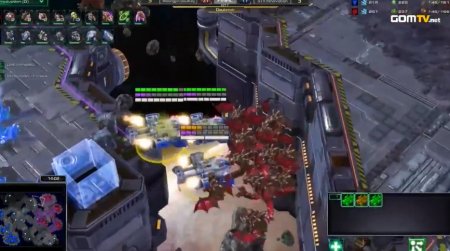 Innovation's every nightmare for the next ten years.
Was it nerves getting to Innovation, or was it just incredible foresight from Soulkey? It was hard to tell in the series' deciding moment. After using a viking to clear out overlords and confirm where Soulkey's mutalisks were, Innovation sent three medivacs on a bee line to Soulkey's main. There was just one important complication: the mutalisks that killed the probing viking were
still there.
Having already used afterburners earlier in the flight, Innovation was helpless as he watched three medivacs worth of troops get knocked from the skies.
After that, the game was just a formality for Soulkey. With a sudden gift of thirty supply, there was no way he was letting the game go. He gave Innovation a taste of his own medicine, using the mobility of his army to merciless pick apart an overstretched defense. Bit by bit, Innovation fell apart, until there was no option left but surrender.