Code S Ro8: Day One Recap

By: Fionn
Results from Live Report Thread by SeeKeR.
+ Show Spoiler [Results] +
Seeds of Confidence
– LG-IM's
Seed becomes the fifth player in GSL history to come back from a 0 – 2 deficit in a victory over
TSL_Symbol
It looked over. Symbol and his swarms of hydras were running rampant through the rubble of Seed's base and clearing the path towards the royal road. Up 2 – 0 and exuding confidence of a player that looked ready to take a championship, Symbol was living up to the expectations of many. He had held the fort early, macroed up onto four bases, and crushed the Protoss opposition.
To Seed's credit, the first two games had been close, and could have gone differently had a few more factors gone his way. He had kept up with Symbol for the most part, only losing the games after being defeated in the final, climactic battles. Still, Symbol had been the better player in the end, and was very much living up the hype thrust upon him by the community and insiders alike. He was one game away from moving onto the semifinals and getting to player either his best match-up (vs. Byun) or against a player he seemed to have figured out (Nestea).
Then he danced his overseer.
That little show of cockiness, when he was up two games to none, was the moment when everything turned around. Seed, who had been close in the first two games, looked like he got the extra boost he needed from Symbol's taunting and took it to another level. Seed got a hold of Symbol's hydra centric composition and reduced it to ashes, taking the third game in the series with his own manner Nexus as a personal stamp of confidence.
Symbol went for his trademark overlord drops in the next game, but Seed was perfectly prepared. He stuffed all of Symbol's attacks, took down overlord after overlord, and continued to gain more momentum as the game went on. By the time Symbol finally GG'ed out and conceded that the game would go to a deciding fifth map, the royal road candidate was slumped in his booth, appearing like he had already thrown away the series.
Looking visibly shaken, Symbol fell in the fifth and final game, allowing Seed to become the fifth player of all time to come back from a 0 - 2 hole to win a series. He joins MarineKing (vs. MC), MMA (vs. MarineKing), Byun (vs. Bomber), and DongRaeGu (vs. Gumiho) as the only players to perform this difficult feat. Symbol slumped in his booth, crushed underneath the weight of his world collapsing.
A smile on his face and a honey drink in his hand, Seed proved that while he still might still be the biggest underdog in this GSL, he's a player that should never be written off. For Symbol, the hype will inevitably cool down a notch, while questions about how much of his success is due to his race will certainly emerge.
Experience Prevails
–
MC makes his first Code S semifinal in over a year after a close fought series against Liquid's
TaeJa
For over a year now, we have been asking the same question: Who is going to usurp MC as the Protoss President? Mvp, before magically winning a GSL with damaged wrists, had all but given his throne to MMA. Nestea, even with his amazing Code S consistency, had taken a backseat after DRG's GSL title run and dominance in the international tournament scene. But, with MC, while many Protoss players had tried and even made the finals of the GSL, none had been able to take his seat in the oval office. Now, with a narrow 3 – 2 win over Taeja, MC can start campaigning to extend his stay atop of the Protoss mountain with a third GSL championship.
The series came down to experience and mind games. There were a few long, slugfest games, with Taeja and MC both taking one apiece, but the key was if Taeja would be able to stop MC's wide variety of aggressive builds.
On the third map of Atlantis Spaceship, MC went for a 4 gate and succeeded. Taeja had nothing to stop him after his reaper opener left him painfully low on troops, and put him one game away from getting taken out in the quarterfinals. With Taeja's season on the line, MC dared TaeJa to blink and went for a second straight 4 gate to try and confirm his spot in the semifinals.
Taeja, proving his mettle, was able to deflect the 4 gate the second time around and forced a final game. Things seemed to be going well for TaeJa after he successfully detected MC's warp-prism build, and then sniffed out his colossus follow-up. Forced to move from plan B to plan C, MC appeared to be in a ton of trouble against a Terran opponent who was powering up unopposed. However, an opportunity presented itself to MC when TaeJa decided to sacrifice an army to destroy a Nexus, and MC immediately pounced by committing to fierce counter-attack. MC was able to keep on the pressure until TaeJa cracked for good, and he celebrated his move into the semi-finals with a ceremony in the audience.
It was yet one more statement series for MC, declaring that he was still very much alive while others looked for a successor to the throne. For Taeja, it was his second straight loss in the GSL quarterfinals. With the legends of MarineKing's silver medals, 16Clide, and YuGiOh's reign in Code A preceding him, TaeJa will have to take care that this doesn't become another GSL jinx. He has the talent to make it farther in the GSL, games against veterans like MC will provide valuable experience for the future.
Picture of the Night (Brought to you by KiNGxXx):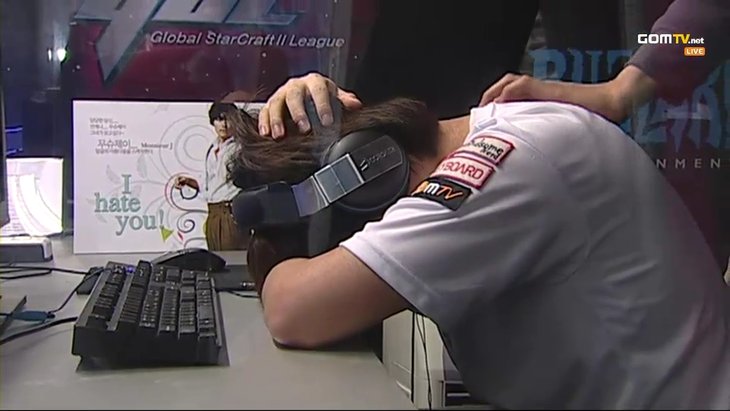 Code S RO8: Byun vs Nestea Preview

By: Fionn
ByunPrime vs
LG-IMNesTea
Metropolis
-
Cloud Kingdom
-
Entombed Valley
-
Atlantis Spaceship
-
Whirlwind
Byun

Strengths
– Shows very intelligent play
– Has MKP to help with builds for the series
– His puppy is really cute

Weaknesses
– He's playing TvZ
– Much less experienced than his opponent

Ideal winning scenario: Plays to his full potential, upsets Nestea and becomes a hero to the Terran race.

Craziest winning scenario: Gets crushed the first two games. Gerrard comes into the booth and promises if Byun wins three straight, he will buy him a second puppy. Byun destroys Nestea on the next three maps and gets another puppy.
NesTea

Strengths:
– The most experienced player in the GSL
– Great series planning and decision making
– Created the universe

Weaknesses
– Not as consistent as he was in the past
– May choose to transcend to another plane of existence mid-game.

Ideal winning scenario: Shows his knowledge of Zerg in an easy 3 - 0 victory.

Craziest winning scenario: In a moment of benevolence, recreates his game five against sC for the benefit of the viewers.
Byun: The Last Terran
The Terran race had prospered for two years. With their commander Mvp at the helm, they ruled over the GSL. Stacks of cash were wheeled in daily for all the Terran players who were in Code S. Trophies were used as paperweights, and tears were used to fill their pools. For the Zerg and Protoss, everything seemed hopeless.

The world has changed. The once prosperous Terran lands have scorched by colossus fire and covered in roaming overlords. The once mighty commander Mvp lost both wrists in battle and fell early in the GSL war. His faithful right-hand man, MarineKing, took an ultralisk to the knee and succumbed to the new dominance of Zerg and Protoss.

Left and right the Terran players continue to fall. Even the most experienced and talented Terran warriors cannot withstand the new, powerful armies of the Zerg and Protoss races. Supernova, Taeja, Jjakji, MMA, Polt, and the rest weren't able to hold on, getting swallowed up by their opponents.

All looked lost. MC had slain Taeja in the quarterfinals and marched his way to the semifinals. DongRaeGu, Nestea and the rest laughed at the now fallen Terran race and thought it was a pity that there none left to prey upon. A new age had started, with the once powerful and all-conquering Terrans all but wiped out.

Except for one.

One Terran left to take on the unconquerable odds. No, he does not have four championships like Mvp. No, he does not have the millions of fans of MarineKing. The man left to represent the Terran race is unfamiliar, a bit eccentric, and just coming off a suspension due to an innocuous mistake. With only his faithful puppy beside him, he faces the task of preventing the worst season in Terran history. This new hero must brave the terrible maps for his race and take down the best players Protoss and Zerg have to offer.

He is Bleach, Excrement, Byun, GhostKing, Byun. He is the Last Terran.
Alright, from the outside, Byun seems to be screwed. Strong against Terran and Protoss, his weakest match-up by far is against Zerg. He has shown great play in the first two rounds, but that was all due to his mastery of the other two match-ups and good all-in play against Protoss.
By just looking at the maps, even without knowing his Zerg opponent, you have to be worried. The final two maps are the biggest in the pool and could mean certain death for Byun if he doesn't miraculously win three straight games in a row. Even worse, Terran's best map against Zerg, Antiga Shipyard, isn't included in the five maps of this series and puts Byun in an even more terrible predicament.
When you throw in that he is going up against the smartest and most experienced player in Starcraft 2, you have to lower his chances even more. Nestea is on a war path to tie his friend Mvp at four titles, and with the current state of the GSL, this could be the best chance he will ever have at getting his fourth golden badge.
Don't take this the wrong way as Byun is certainly one of the best Terrans in the world and someone who has even more untapped potential that has yet to be seen in the GSL, but it's going to be a miracle if he pulls through this series. Terran is having its worst season in history, Zerg is having its best, and Nestea is eagerly anticipating the chance to take on his teammate Seed in the semifinals before maybe meeting up with one of his three biggest rivals in the final.
Byun is an incredibly underrated, smart player and has shown us new ways to play against Protoss. With MarineKing helping him for this series, there is a chance that two could come up with the strategies needed to take Nestea off his game. It's going to be an uphill battle, but Byun is the last hope for Terran. He might not be perfect, but he could be the hero Terran needs right now.
Nestea: Master of the Universe
Hey, Mr. Chae, Nestea wants his trophy.
Ever since Mvp won his fourth, Nestea has fallen behind in the race to be the most successful Starcraft 2 player on the planet. After beating Losira for his third title and having an unbeaten season exactly a year ago, Nestea has gone through his rough patches. He has gotten past the first few rounds of Code S, but hasn't been able to reach the final four again.
With his 100th official win in the GSL coming this season and getting a reward for his 10th straight Code S season, things are looking good for Nestea entering these quarterfinals. His race has never been stronger. Across from him in the brackets are three of his biggest rivals in DongRaeGu, Naniwa and MC. If he can make it past the faltering Terran race in the quarterfinal and his younger teammate Seed in the semifinals, everything is lining up for Nestea to walk into the biggest finals of his career and win his fourth title.
The maps for his series against Byun couldn't be any better for him and with his wealth of experience in the elimination rounds, only the most creative plans from Byun will be able to take Nestea off his game. Nestea winning is not a lock, seeing as Seed was able to come from behind yesterday against Symbol, but everything is in place for the God of Zerg to make his long awaited return back to the semifinals.
Nestea might not be quite as dominating as he was 2011, but he is still firmly one of the best Zergs in the world. Byun is going to give Nestea his best shot, but he will have to do everything in his power to stop Nestea from clawing his way back to the finals. His obsession for winning in the GSL drives him to be great, and if he can perform to the level everyone is accustomed to seeing out of him, it's hard to bet against the three-time champion.
Overall Outlook and Preidction
Nestea
should
win. If you take in account how awful even the best Terrans are fairing against Zerg these days in the GSL and GSTL, add in that the maps aren't good for Byun, and the fact that it's mother******* Nestea in the booth playing against the Terran, it's difficult to see how Byun pulls off the miracle.
For Byun to win, two things have to occur. Either Nestea has to play way below average, or Byun has to put on one of the best one day performances we've ever seen in the Mokdong Studios. He was already able to pull out one miracle last year in July against Bomber, coming back from 0 - 2 after Bomber dominated him in the first two games. If Byun has any dream of changing his ID for the 4,457th to OptimusPrime and holding the GSL championship, he's going to be even better than that.
Can he do it? MarineKing and others believe that Byun can reach those heights, but until we actually see those beliefs become reality, you have to choose the man with the championship badges.
Prediction: Nestea 3
- 1 Byun
Code S RO8: NaNiwa vs DongRaeGu Preview

By: Waxangel
NaNiwa

Strengths
– Prepares meticulously for GSL matches
– Excellent force-field micro

Weaknesses
– Sub 50% win rate against Zerg in 2012
– On a 0 - 6 losing streak against DRG.
– Yet to face a Zerg opponent in Code S

Ideal winning scenario: Actually wins

Craziest winning scenario: Actually wins

DongRaeGu

Strengths
– Best player in the world


Weaknesses
– Doesn't win every game
– Minor chance that Genius will ambush him on the way to the studio.

Ideal winning scenario: Wins 3 - 0 while throwing in manner hatcheries and a BM ceremony

Craziest winning scenario: Nothing would surprise us.


A Colossal Mismatch?
On paper, this looks like it could be one of the most one-sided matches in GSL history. DongRaeGu is the best Zerg player in the world, if not
the
best player in the world, no qualifications needed. His ZvP win rate is nearly 70% in 2012, and he achieved that playing mostly elite opposition, with very little foreigner filler. He's shown that he's excellent at every aspect of ZvP, whether it's defending the all-in, punishing the fast third base, or turtling up and winning at hive.
And then we have NaNiwa, who's just above a 40% win rate in PvZ this year, and that's including a considerable number of games played against international players. The last good result NaNiwa achieved against a Code S class Korean Zerg was when he beat
Leenock
back in February at MLG Arena, and since then he gone on to drop series to
sLivko
,
Nerchio
,
LiveZerg
, and
DIMAGA
. I'm not saying that to disrespect the skill of European Zergs, or suggest that it's a shame to lose to them. I'm just saying that DongRaeGu is better than all those guys, and that it's not a very good sign for NaNiwa heading into this match if he can't beat them. Oh, and here's the gloomy icing on this cake of despair: NaNiwa is 3 – 8 all-time against DongRaeGu, and is presently on a six game losing streak.
Yup, it looks rather glum indeed for NaNiwa and fans of foreign hope. Still, there's no such thing as completely lost cause, and it's worth looking at the few factors that give NaNiwa a chance. After all, even the biggest underdog in GSL history,
uRGGanDoL
(a master leaguer), managed to steal a map against former Code S player
BBoongBBoong
, proving that nothing is completely impossible.
An All-in for Every Occasion
One of the main reasons DongRaeGu has been the best TvZ player in the world for most of his career is because he is by far the best defender. Luckily for NaNiwa and many other Protoss players, the same does not apply when DongRaeGu plays PvZ. While he's still a very good defender – and he had to be to become the best player in the world – he just doesn't have the air of total impenetrability like he does in ZvT. I might have seen DongRaeGu lose to a marauder-hellion all-in once or twice in my dreams, but I've definitely seen him go down to two-stargate, seven-gate, two-immortal push, and the gamut of other Protoss all-ins in major tournaments.
This is great for NaNiwa, and probably his best chance at taking some maps. NaNiwa is a meticulous preparer who can hone builds with the best of players in Code S, and he also has excellent force field micro, a key component to many Protoss timing attacks.
Home Field Advantage
Since I brought up preparation, here's a strange, possibly crazy thought I had: DongRaeGu is better suited to international tournaments, and NaNiwa is better suited to the GSL. Some players hate to be pigeon-holed into being a certain type of player, but it's something you can definitely notice when you look at tournament results. For instance, Mvp won a record-breaking fourth GSL championship, then he went and sucked at HomeStory Cup.
DongRaeGu is great in both the GSL and foreign tournaments as his collection of trophies from around the globe shows, but I think he looks his very strongest when he's at a tournament like MLG. That's where you'll see opponent lining up to get curb-stomped by DRG's transcendent fundamentals - and a lot of the time, fundamentals are all you can rely on in those tournaments.
NaNiwa has also had success in a variety of tournaments, but if you look at how he's done in 2012, he's made the GSL look like his home field. He prepared meticulously for each round, one opponent at a time, didn't let his nerves get the best of him (at least not until he faced Mvp), and it led him to the Ro8 in his first try. Then, he proved it was no fluke by reaching the Ro8 for the second season in a row. Facing entirely Protoss and Terran opponents in the GSL, NaNiwa has looked great. Though he's only had a short time to prepare (just over a week), I still believe that NaNiwa's PvZ will look a lot better after a week of GSL preparation than it has abroad. Though NaNiwa might prefer to play DongRaeGu in front of a crowd of roaring Swedes at DreamHack, he actually has the best chance in DRG's own home country.
Media Watch: DRG's Potential Overconfidence
When you read enough interviews and see enough tweets, you get a feel for how to interpret each player's public comments.
Mvp
and
NesTea
: Take with a grain of salt, as they know how to play the media. MC: He's trying to keep everyone entertained. EG players: Wait, billboards can talk?
Anyway, everyone will have heard the "Whatever I do, I will win" quote from DRG's Ro16 interview. He continued to bluster on twitter after last night's games, tweeting "The semi-final match against MC will be fun!" (he then followed that by asking Genius if he wanted to practice - a double-diss for those familiar with DRG's opinion of Genius' skill).
So far, it's hard to get a good read on what this could mean. Part of me thinks that DRG would know better than to be overconfident, especially after getting eliminated at the speed of light from GSL Season Two, right after he won the Season One championship. Then again, he is 6 - 0 against NaNiwa in recent matches, and it wouldn't be be unreasonable for him to feel the temptation of vanity at this point in his career. Still, if DRG doesn't come with his A game, and shows up in the form that saw him go 1 - 4 to
TheStC
and
TaeJa
last season, then there's hope yet for NaNiwa.
Alright, maybe that one was a stretch.
But seriously, DongRaeGu will win
So it's not as bleak as it might appear on paper, but it's still pretty damn bleak. All of the positives points for NaNiwa are based on things that he
might
be able to do, while DongRaeGu has
shown
us on multiple occasions that he is a total boss. I don't think anyone rneeds my help predicting this one.
Prediction: DongRaeGu 3
- 1 NaNiwa
Bañe-ata by shiroiusagi.
---
Writers: Waxangel
Graphics and Art: Meko
Editor: Waxangel