Banner by pachi. Screenshots from the GSL Round of 8 and Round of 4.



"Yes, Executor"
GSL Season 3 Round of 8 Recap
By Xxio

and

"All Good Things..."
GSL Season 3 Round of 4 Recap
By True Redemption

The quarter finals and semi finals are over. In only a few short days the finals will be starting in Incheon. To get both hyped and informed on the finalists, read their recaps and grades - you might be surprised by how they got there! Of course, in addition to TSL-Rain and oGsMC's there are 11 other top level games from the round of 16 for you to check out. Happy reading

---
Links and Resources:
http://wiki.teamliquid.net/starcraft2/2010_Sony_Ericsson_Starcraft_II_Open_Season_3
GSL Game/Series Rating Scale
- The kind of game that'll still be referenced in a year. Incredible play from both players in all aspects of the game. Must watch now.

- Excellent play demonstrated by at least one of the players, and very likely both. A must watch.

- A good game, but nothing truly special. Often not competitive, or with some mistakes. Worth watching if you have the time.

- A below-average game. Not worth watching unless you're a fan of the winning player.

- Not an entertaining or instructive game. Even if you're a fan of the winner, your time is probably better spent.
No stars - The losing player played so poorly, we presume he's been banned from all future GSL events.

Recommended Series Short List
+ Show Spoiler [Recommended Series] +

All ratings out of 5 stars.

Round of 8
TSL-Rain
IMNesTea
-
HongUnPrime.WE
TSL-FruitDealer
-
oGsMC
vs.
MarineKingPrime.WE
-
TLAF-Liquid`Jinro
vs.
ChoyafOu
-
Round of 4
oGsMC
vs.
TLAF-Liquid`Jinro
-
TSL-Rain
vs.
HongUnPrime.WE
-
---
Round of 8
TSL-Rain < 3-2>
IMNesTea -

"Bring The Scvs! Bring Them All!"

Z8 Game 1 - Lost Temple T6
+ Show Spoiler [Show Recap] +
NesTea 14 hatched; Rain built his barracks at 12 food, his refinery at 13. Rain followed up with a 1-1-1 build, starting his starport at 22 food. Rain immediately began upgrading siege and went for a Brood War style contain on NesTea's natural, bunker included. NesTea had just started his spire. NesTea took out the bunker but hardly any units as Rain lifted 3 marines and 2 tanks to the cliff. Mutalisks popped and NesTea took out everything on his cliff before any damage was done. NesTea took his gold base at 50 food while harassing with mutalisks. Rain took his expansion with only 3 production facilities while upgrading stim. NesTea continued to harass with his mutalisks, getting +1 air attack and baneling speed. With his natural up and running Rain pushed out, winning the battle in the middle of the map and dropping his surviving units on NesTea's cliff, taking out the hatchery at the natural. 40 supply ahead of his opponent NesTea took another expansion, massed banelings, and went back to harassing with his mutalisks, taking out a couple depots and a factory as Rain took his gold base. Rain pushed out for another attack, but a wave of banelings crushed his marine based army and forced him to type out.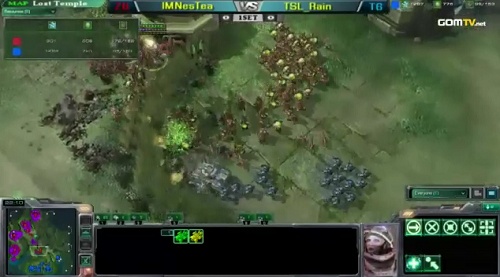 Z1 Game 2 - Steppes of War T7
+ Show Spoiler [Show Recap] +
NesTea 14 hatched again while Rain built his first barracks at 12 food and his second at 14. With 2 marines and 12 scvs Rain attacked. NesTea tried tried to hold but 8 zerglings, his drones, and 1 queen were not enough. NesTea gg'd.

Z5 Game 3 - Shakuras Plateau T11
+ Show Spoiler [Show Recap] +
For the third time in a row NesTea 14 hatched. Rain opened with a tech lab on his first barracks, upgrading stim as soon as it finished. Rain expanded at 24 food and tried to attack with a handful of marines but a group of speedlings easily cleaned it up. NesTea counterattacked, shutting down mining at Rain's natural and killing many scvs before being pushed out. NesTea kept up the pressure with a huge baneling attack, but little damage was done thanks to great micro from Rain. With a marine ball Rain kept map control and caught a large group of zerglings by a xel'naga watchtower. Banelings flanked in from behind and by the end of the battle only 6 marines were left. With a group of marines and a tank Rain broke down the rocks behind NesTea's 4th, but NesTea responded in time and held the ramp with mutalisks and banelings. NesTea counterattacked at Rain's natural, killing a train of scvs with banelings, putting NesTea ahead by 50 workers. Rain tried to attack NesTea's fourth and expand but he was easily repelled. Rain gg'd as soon as he saw banelings rolling toward his 3rd.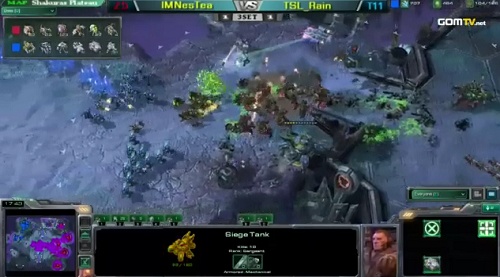 Z1 Game 4 - Blistering Sands T7
+ Show Spoiler [Show Recap] +
NesTea opened 14 hatchery 13 pool, Rain double barracks. 2 more barracks started at 25 food as Rain poked into NesTea's natural with 3 marines and 2 scvs. A spine crawler kept Rain at bay but pulling all but 2 scvs Rain pushed right back in. The scvs protected Rain's marines and NesTea had no choice but to gg.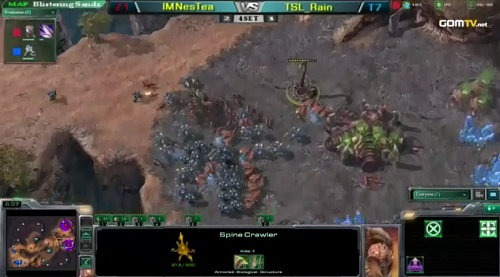 Z7 Game 5 - Xel'Naga Caverns T1
+ Show Spoiler [Show Recap] +
Rain opened double barracks, NesTea 14 hatchery, 13 pool. Rain built a bunker just outside of the hatchery's vision, but NesTea scouted it and started a spine crawler and zerglings. Rain bunker hopped forward with 6 marines. The spine crawler brought the forward bunker down to under 50 health but an scv began repairing it and NesTea's spine crawler, in range of the bunker, went down. NesTea held on a bit longer by massing zerglings, even re-expanding and building a banelings nest. As soon as siege finished Rain, on 2 bases, was able to bulldog his way into NesTea's natural and win the game.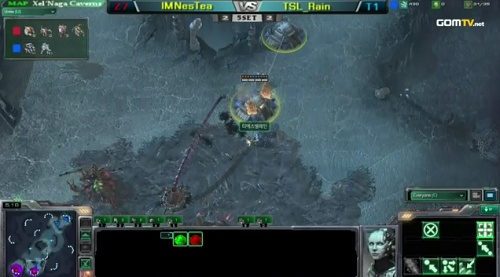 Player Grades:
+ Show Spoiler [Show Player Grades] +
TSL-Rain
-
C-
Rain tried to play straight up twice, and failed miserably both times. On Lost Temple his micro was not the greatest and his timings were horrible. On Shakuras he got totally dominated. Knowing he couldn't win a standard game he resorted to cheese. And that's how he won. However, NesTea probably enticed him to do it at least a little by going 14 hatch every single game. Rain even gave NesTea the chance to come back in game 5 attacking NesTea's natural over and over again with small groups of units.
IMNesTea
-
B
This series shows that NesTea is clearly better than Rain in decision making, timings, and macro. On Lost Temple Rain made so many mistakes that NesTea only had to capitalize on them to win it. On Shakuras his skill was highlighted a bit more. I was surprised watching him 14 hatch like clockwork after being cheesed so much - not sure what the idea was behind that. If he had just burrowed his spine crawler out of range of the bunker in game 5 he could have won the series
HongUnPrime.WE < 3-2 >
TSL-FruitDealer -

"Zerg Rush Kekeke"

Z1 Game 1 - Steppes of War P7
+ Show Spoiler [Show Recap] +
HongUn started with a forge at 13; FruitDealer gas followed by 13 pool. HongUn walled in the bottom of FruitDealer's ramp with 2 pylons and immediately warped in a cannon. At 18 food HongUn built his gateway and FruitDealer, at 21 food, built a 2nd hatchery in his main. HongUn hid 2 stargates at FruitDealer's 3rd at 28 food as FruitDealer started his roach warren around 30. FruitDealer quickly scouted the stargates and started a hydralisk den while taking out the pylons at his ramp with a spine crawler. HongUn attacked with 3 void rays and a phoenix but 3 queens and 9 hydralisks made him turn them back. As FruitDealer killed the pylon powering HongUn's stargates, void rays forced a cancel on the hatchery at FruitDealer's natural just before it finished. At close to 50 food HongUn, still with no expansion, transitioned into 4 gate. 4 void rays forced another cancel on FruitDealer's expansion. Then, with a group of stalkers, sentries, and void rays, HongUn attacked. FruitDealer held his wide ramp with zerglings, drones, and hydralisks and counterattacked, getting the gg.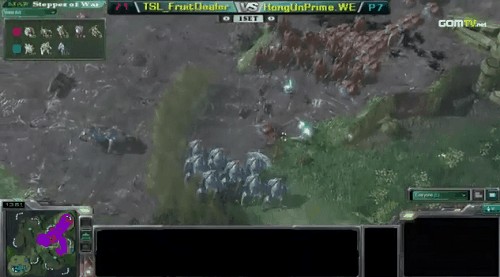 Z12 Game 2 - Scrap Station P2
+ Show Spoiler [Show Recap] +
FruitDealer took his gas, then pool at 13 food. HongUn went nexus first at 15. FruitDealer expanded at 18 food while HongUn finished off his wall with a gateway and warped in cannon. FruitDealer started a baneling nest at 35 food and attacked HongUn's rocks with zerglings, forcing a cannon. FruitDealer busted HongUn's wall with 14 banelings and a group of speedlings, but the banelings only destroyed the forge and cannon and zealots killed the zerglings before they could do much damage. HongUn broke through the rocks with a mass of stalkers, zealots, and sentries. FruitDealer's only gambit was to burrow 14 banelings, but even when they exploded directly under HongUn's troops it wasn't enough. FruitDealer gg'd.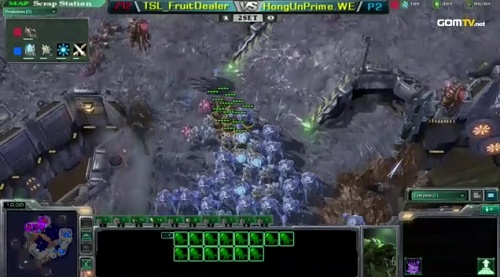 Z11 Game 3 - Shakuras Plateau P1
+ Show Spoiler [Show Recap] +
FruitDealer 13 gas, 13 pooled. HongUn opened nexus first followed by a forge. FruitDealer started a roach warren close to 19 food and began attacking the rocks between his and HongUn's base. FruitDealer broke through HongUn's rocks with 7 roaches and a few zerglings before HongUn's cannons could finish. With nothing to defend HongUn gg'd.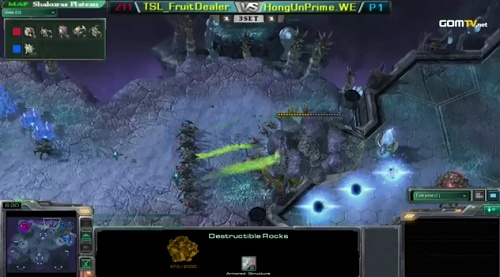 Z12 Game 4 - Lost Temple P2
+ Show Spoiler [Show Recap] +
FruitDealer opened 13 pool 12 gas. At 15 food HongUn opened forge first, followed by 2 pylons at the bottom of FruitDealer's ramp. HongUn built 1 cannon behind his proxy pylons then expanded. HongUn pylon jumped a probe into FruitDealer's main, scouting the lair. After killing the probe FruitDealer cancelled it and broke out of his base with 3 roaches. HongUn completed his wall with a cybernetics core, warped in more cannons to hold off FruitDealer's roaches, and began a stargate at 35 food. FruitDealer destroyed HongUn's forge and, with no expansion, attacked HongUn's wall with roaches and zerglings. As FruitDealer slowly broke through the wall, HongUn warped in more buildings to keep his base sealed, relying on his void ray to kill all of FruitDealer's units. HongUn kept pushing back his wall and FruitDealer was unable to break through before all but a couple zerglings were dead. HongUn immediately counterattacked with 3 void rays and won the game.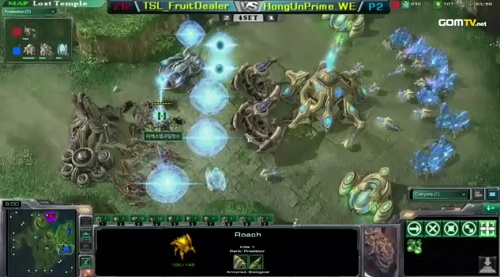 Z7 Game 5 - Blistering Sands P1
+ Show Spoiler [Show Recap] +
FruitDealer went 13 gas 13 pool. HongUn opened gateway followed by 14 gas, 15 cybernetics core, 17 gas. FruitDealer expanded at 18 food and HongUn warped in a dark shrine at 26 food. FruitDealer sacrificed 23 zerglings to delay the dark templar from entering his main, but the dark templar still reached FruitDealer's one spore crawler just before it finished. With no detection, FruitDealer gg'd.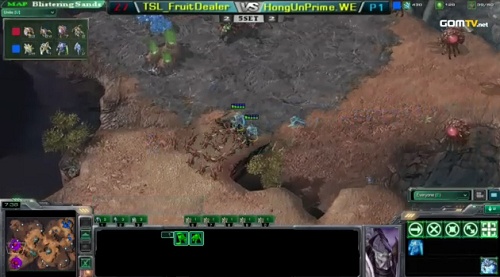 Player Grades:
+ Show Spoiler [Show Player Grades] +
HongUnPrime.WE
-
B
It's hard to give HongUn a grade because he won most of the games by defending against all-ins and counterattacking. That said, he twice aptly held off FruitDealer's cheese, the only exception being on Shakuras, where his build simply did not work. His pylon wall-in FE build was very interesting to see and his defense on Lost Temple was genius.
TSL-FruitDealer
-
C+
I don't think anyone knows why FruitDealer played the way he did. In game 1 he responded perfectly to both the wall-in and proxy stargates and straight up killed HongUn. After that great performance he decided to all-in every game. It was dumbfounding and frustrating to watch.
oGsMC < 3-1 >
MarineKingPrime.WE -

"Force Field...Marauder Die Die"

T12 Game 1 - Lost Temple P6
+ Show Spoiler [Show Recap] +
MarineKing walled off the bottom of his ramp with his first barracks and depot. MarineKing then expanded at 20 food before taking his first gas. Around 28 food MC made a Stargate. With his first voidray giving sight, MC warped 3 zealots into MC's main while MarineKing's army was in the middle of the map chasing a single stalker. It took MarineKing's units 37 seconds to get back to the main base. By then a 2nd void ray had arrived and, in combination with the rounds of zealots being warped in, MarineKing's marines were unable to cope. MC kept reinforcing with voidrays, zealots, and stalkers as he chipped away at MarineKing. MC's forces became too many to deal with and MarineKing gg'd.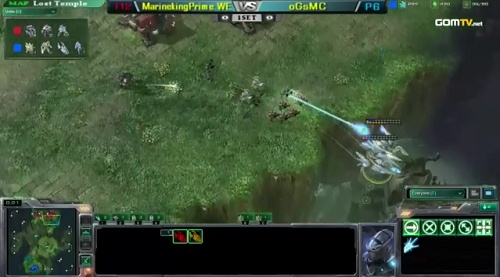 T1 Game 2 - Delta Quadrant P5
+ Show Spoiler [Show Recap] +
At 10 food MarineKing built a proxy barracks at the xel'naga watchtower, then took his gas. MC went 1 gate into cybernetics core and scouted MarineKing on his first try. MarineKing began researching concussive shell as soon as his tech lab finished and started pumping out marauders. MarineKing planted a bunker at the bottom of MC's ramp but with 4 probes, 1 zealot, and 1 stalker MC was able to easily delay the bunker from finishing and kill the first 3 marauders. MC moved out to the middle of the map and destroyed the proxy barracks while MarineKing retreated to the 3 barracks in his main. MC followed up with a 2 pronged attack but he was repelled by 2 bunkers. MC returned to his side of the map and took his natural while teching to colossus. MarineKing continued to mass bio and with 2 medivacs he attack into MC's natural. Despite good force fields, MC was unable to hold. MC retreated up to his main with 1 immortal, 1 colossus, 2 zealots, 4 sentries, and 1 stalker. As soon as 2 vikings reached his bio ball, MarineKing stimmed up the ramp. With hardly any units, MC gg'd.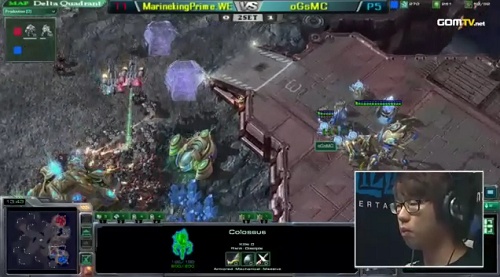 T1 Game 3 - Blistering Sands P7
+ Show Spoiler [Show Recap] +
MC built a proxy gateway at 9 food behind the minerals at MarineKings' natural. Marine king opened 12 barracks. With 2 zealots and a probe MC whittled MarineKing down to 2 scvs and 1 mule. As soon as his next marine died, MarineKing typed out.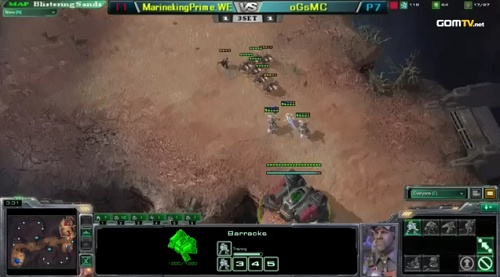 T5 Game 4 - Jungle Basin P11
+ Show Spoiler [Show Recap] +
MarineKing built his barracks at 12 supply, MC his first assimilator at 15 supply. Like in game 1, MarineKing followed up with a command center then refinery at 20 supply. At 23 supply MarineKing made his 2nd barracks. MC scouted thoroughly for proxies before warping in 3 additional warpgates at 30 food. With 7 stalkers and 4 sentries MC broke down the rocks behind MarineKing's natural and forced the Terran to lift off and retreat to his main. With no tech lab upgrades, MarineKing barely held his position at the top of the ramp. MC pulled back to his base and took his natural. After building up a group of infantry MarineKing re-took his expansion. MC scouted it and tried to harass with dark templar, but besides forcing scans they hardly did any damage.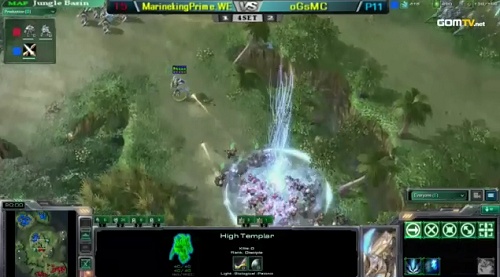 Storm and blink finished for MC around 118 food, MarineKing's ghost academy at 112. MC managed to avoid emps on his high templar and defend his 3rd base in the middle of the map with chargelots and storms. MarineKing was forced back to his base 10 food behind. MC used his blink stalkers and high templars guerilla warfare style to pick away at MarineKing's army, deny him a 3rd, and push him back to his base. When 2 colossus joined his army MC moved up MarineKing's ramp and won the game.
Player Grades:
+ Show Spoiler [Show Player Grades] +
oGsMC
-
A
MC is amazing - what else is there to say? He is undisputedly the best Protoss in the world, and perhaps the best player. His transitioning into and use of high templars is fantastic. The game on Jungle Basin showcases this, as well as his trade mark aggression, which is almost always successful. Who else feedbacks a whole group of ghosts? Game 1 should also be noted for MC's insanely good build and execution.
MarineKingPrime.WE
-
C+
MarineKing crumbled under MC's pressure. In game 1 he probably could have held off MC's attack but he was caught way out of position and made turrets too late. The only game he won was through massing units for a 1 base all-in, after failing at a proxy rax strategy. The only drawn out game was on Jungle Basin, in which he never threatened MC and only managed to stay alive until storm finished.
TLAF-Liquid`Jinro < 3-2 >
ChoyafOu -
"A Real Terran"
Check out our in depth coverage and a post game interview in the foreigner special!
Player Grades:
+ Show Spoiler [Show Player Grades] +
TLAF-Liquid`Jinro
-
A-
Jinro played exceptionally well the entire series; in my opinion it was one of, if not the, most entertaining series in GSL history. This series demonstrates that Jinro is one of the few Terrans successful at both all-ins, and late game management. The latter is what really stands out. Jinro's transitions and decision making are right on point against Choya. It is really a treat to watch. His army positioning on Metalopolis and Delta Quadrant cost him those games, but besides that, there really isn't anything to critique.
ChoyafOu
-
B+
Choya played a great series. His build on Xel'Naga Caverns was excellent and came very close to catching Jinro, and in the late game his skill made for some great battles. He also played a great game on Blistering Sands, a game which he could have won with the thermal lance upgrade. I find it odd that Choya preferred colossus over templar as much as he did, but either way, he played well and made for a very entertaining series.
---
Round of 4
TSL-Rain < 4-2>
HongUnPrime.WE -

"Ray Fish Can't Handle the Rain"

T8 Game 1 - Metalopolis P2
+ Show Spoiler [Show Recap] +
In far positions Rain goes for a 1 rax fast expand and HongUn matches with a 1 gate nexus. Rain follows through with 5 rax and a ghost academy, HongUn opting for a 3 gate robo and double forge. Rain attempts a timing push just as his first ghost had the energy for an EMP. HongUn was prepared however, a good spread of his sentries with great guardian shields and forcefields allowed the gateway army to crush the bio push. Rain responded by trying to quickly make up for his tech, working up to starport while getting infantry 1-1, HongUn added a couple gateways while chronoboosting out 2-2 and zealot charge. Both players set up thirds while the armies engage in the open field, a simultaneous drop doing mild damage to HongUn's main as his gateway army pushed all the way to Rain's natural before reinforcements eventually overwhelmed HongUn's still gateway army.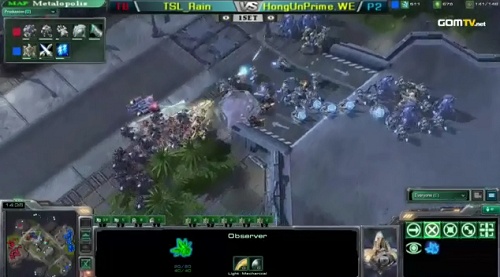 With high templar tech done the protoss force pushed once again, the kiting bio ball slowly able to whittle down the chargelot heavy force, allowing HongUn to safely take the gold expansion. Aware that he was falling further behind Rain waited for a couple production cycles to further grow his MMM ball before making a final push. In an attempt to flank the protoss front Rain moved his force along the far lane, splitting between HongUn's main and gold expansion, but a flurry of well placed storms found Rain to be the one out of position. With half his army killed almost instantly, Rain quickly surrendered in order to move on to the next game.


T1 Game 2 - Xel'Naga Caverns P7
+ Show Spoiler [Show Recap] +
HongUn manages to scout the reactor and second barracks opening by Rain, opting for a one base stargate play. The two rax bio force attacked as Rain's expansion began building, HongUn's void ray finishing right on time to trap Rain's army inside the protoss base and get wiped out with ease. A pause later revealed Rain's monitor had been flickering, but interestingly the players continued with the game. HongUn having scouted the building command center knew he was under pressure, moving out with a 2 gateway force and 2 void rays, but a timely bunker allows Rain to hold. HongUn continued trying to poke around the terran base, at one point trapping most of the marines in the main while his army moved in on the natural, but despite his all in rallying of troops to the front HongUn was unable to do much before being chased off again, and the 2 base economy of Rain eventually overwhelming the protoss force with ease and clinching a somewhat surprising game two.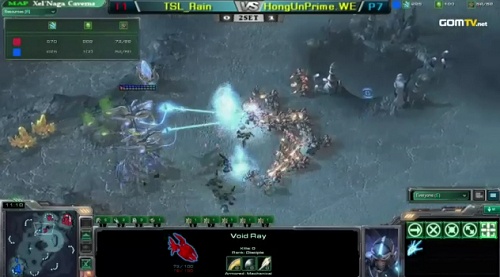 T12 Game 3 - Lost Temple P6
+ Show Spoiler [Show Recap] +
Far positions, Rain opens with a siege tank and fast medivac against HongUn's blink stalkers and hallucination, using a hallucinated void ray to try and blink and warp into Rain's main. However the marine tank medivac force was in position and wiped out the protoss push with ease. Now far ahead Rain both expanded and pushed, but some brilliant tactical blinks allow HongUn to barely hold off after using the watch tower to reach the high ground, followed up by a blink from his main onto some siege tanks left undefended as his marine force was pushing the ramp.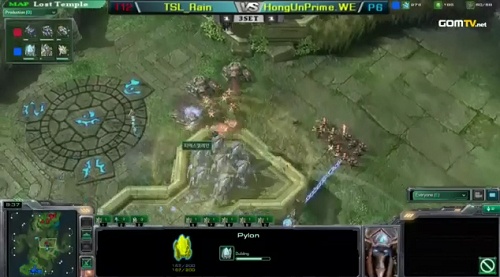 Rain retreated to his new expansion, HongUn tried dark templar tech while expanding. Just as the first DT reached Rain's natural a raven poped, but using a phoenix and blink for some clever harass caught the terran army out of position, HongUn managing to snipe a couple tech labs and the raven with minimal stalker casualties before retreating to safety. With a substantially larger army Rain moved out, but without a raven HongUn cleverly forced scans, Rain interestingly turning around just before crushing the protoss force conceivably afraid of running out of scans and losing to DTs. HongUn pushes his luck, teching to colossi and starting a 3rd at his gold, but as a raven finishes for Rain he again pushed out, this time continuing on and crushing the protoss army for a game 3 win.


T1 Game 4 - Delta Quadrant P5
+ Show Spoiler [Show Recap] +
In close positions Rain opts for a 3 rax no gas marine SCV play, Rain opening with a 4 gate aggressive opening of his own. With no sentries however the SCV marine force was able to simply walk up the protoss ramp, and a quick bunker in range of the majority of HongUn's buildings put Rain in an incredibly favorable position. HongUn attempted to micro for his life, but the never ending stream of marines was eventually too much, slowly wearing the protoss down until he grudgingly typed out and Rain was suddenly only 1 win away from a spot in the finals.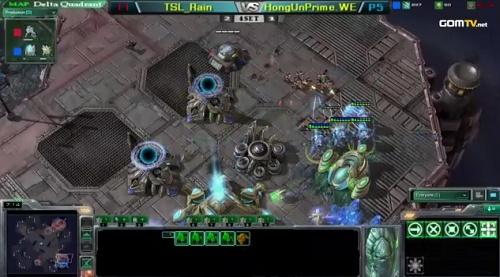 T2 Game 5 - Scrap Station P12
+ Show Spoiler [Show Recap] +
HongUn attempts a 4 gate, but Rain's scouting factory not only sees the 4 gate, but he had already begun an expansion and marauder heavy play. HongUn's stalker heavy force caught Rain with only a single bunker and minimal army, the rest of the game was mostly cleanup for the proxy pylon reinforcements, HongUn beginning his comeback with a quick win.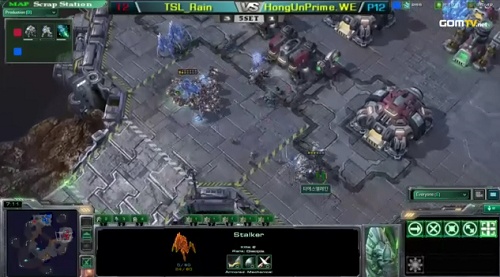 T7 Game 6 - Blistering Sands P1
+ Show Spoiler [Show Recap] +
Rain gets fast concussive shells, looking to put early scv marauder pressure on the protoss, but HongUn caught wind of it and Rain intelligently pulled back. HongUn continued on into 4 warp gate play while hiding a twilight council. As the council finished HongUn pulled all his probes from gas and begun chronoboosting out zealot charge. Rain meanwhile had expanded, working his way up to 5 rax and putting a couple bunkers in the main. HongUn broke down the back rocks and committed however, despite Rain's incredibly favorable army positioning dramatically limiting the number of zealots that could attack. Rain's defenses held, but aware of how far behind he was HongUn committed to another attack, managing to force the expansion to lift but the damage had been done, Rain moved out and counter attacked through HongUn's back rocks, easily overwhelming the protoss forces, sealing TSL Rain's spot in the GSL season 3 finals.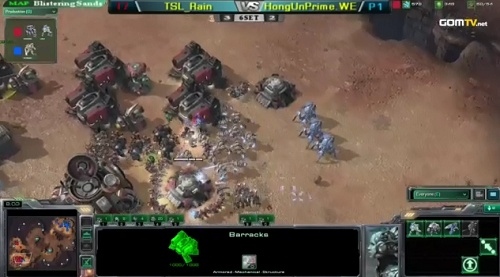 Player Grades:
+ Show Spoiler [Show Player Grades] +
TSL-Rain
-
B+
Rain started off quite shaky on Metalopolis, although some of that credit goes to HongUn's strong play there. Starting as soon as he typed out that game however Rain took over the series. His play was by no means perfect, but his decision making, strategies, and execution were always a step ahead of HongUn, even his loss on Scrap more an effect of a potentially too strategic build than anything else. His strength may be exaggerated if you raised questions about HongUn's performance, but ultimately Rain has now managed to overcome 5 straight opponents since he qualified, and demonstrated a wide array of play styles in the process, and he has set himself up to do the only thing that really matters, win it all.
HongUnPrime.WE
-
B-
If you did not watch this semifinal live nor have a season ticket, odds are a B- is a very surprising grade for HongUn given his game 1 play. Unfortunately his incredibly strong play on metalopolis turned out to be the exception instead of the norm, or the monitor issue pause truly shook him up. After losing with a distinct advantage and being caught trying to be overly cute game 3, the series had seemingly slipped form his control, DQ looking more like a player desperate to hold on instead of one primed to flip the momentum of match. The 4 gate on scrap may have been as much luck as anything else, and then a very interesting build order was squandered by attacking into an obviously poor position, perhaps HongUn was simply relying on poor building placement and had given up upon seeing Rain's base. Either way HongUn was outmatched this series, and the sparks of brilliance game 1 and sprinked elsewhere through the series was not near enough.
oGsMC < 4-0 >
TLAF-Liquid`Jinro -
"Jane Goodall Watch Out, MC Tames Gorilla Terran"
Check out our in depth coverage and post game interview in the foreigner special!
Player Grades:
+ Show Spoiler [Show Player Grades] +
oGsMC
-
A
There is simply no denying that MC dominated this match, he made use of every detail he knew of Jinro's play in extrodinary fashion. His execution was great, his strategies specialized for this match, and his result was well earned. A great example of both his level of play and Jinro's heart and skill are manifest in the last game. Jinro was managing to overcome a DT build with his thor rush, despite DTs often being considered a direct counter to the build, but in the ensuing base trade MC had the presence of mind to use his small remaining gateway army that could not directly confrot the terran forces to catch the floating command center Jinro just happened to be floating across the middle of the map. Whether you want to consider it luck, experience, or skill, MC had a lot of it, and with one series to go he looked near untouchable.
TLAF-Liquid`Jinro
-
B
I'm not sure how much of what we got to see was what Jinro had planned for us unfortunately; MC invested quite a bit into disrupting Jinro's play. Jinro lost to early pressure on steppes, and was caught somewhat helpless to a great timing push that was well controlled game 2, and an equally well controlled one base play on Shakuras. The game on Jungle Basin was a rollercoaster of a game, Jinro finally executing what seemed like a full game plan and almost overcame fast DTs with his Thor push, nearly breaking the accepted paradigm if only his command center could've made it safely across the map. So why a B in a series our hero was simply out played in every way? Because we haven't really seen a protoss play to this level in the GSL yet. Yes Jinro was outplayed but more because MC was on a different level than Jinro necessarily played poorly. Plus with so little to critique this series, and Jinro's valiant attempts when caught in rough situations, it's a tough call. Or maybe I'm biased, but I see a B.
---

Next: Finals Preview

TeamLiquid's got you covered if you can't watch the finals live. Keep an eye out for our GSL Season 3 Finals coverage. Does the TL staff think MC will make Rain's marauders die die? Or will Rain continue his underdog run?