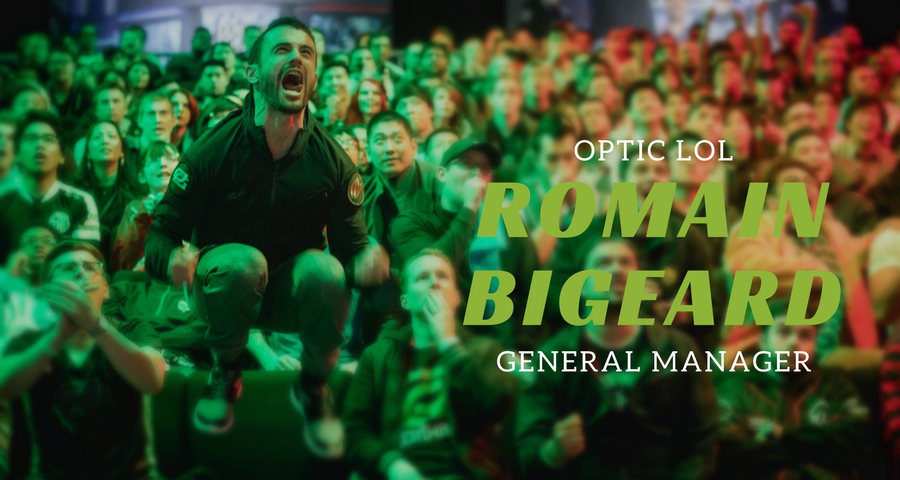 After a successful stint at the Unicorns of Love, Romain Bigeard took the trip across the Atlantic to spearhead OpTic Gaming's new League of Legends division as general manager. We interviewed Romain to find out about his role within OpTic, his transition over to NA, his opinion on franchising and more!

Editor's Note: This interview has been lightly edited and condensed for clarity.
OpTic Gaming's LoL General Manager - Romain Bigeard
People are familiar with coaches now but general managers, for the most part, fly under the radar. What exactly is your role for the team, besides being the man behind the hype?
My role is to make sure everyone is doing their jobs. Being a general manager requires me to have a macro idea of all tasks involving the team, an overview of all the players' needs, and trust in my people when it comes down to micro-execution.
You have to coordinate a bunch of humans towards a common direction: making sure everyone trusts each other and making sure they never rest on their laurels. Complacency is the worst enemy of a competitive mindset.
The overall focus is not on "winning," but on "identifying a winning process." So the day you stop winning, you just go back to the process. If you don't know how to win, and you leave it to "luck," then the day you lose, you are doomed.
To achieve that, you need to identify your strengths and work hard on them. I don't care about weaknesses as long as you are able to tell me where or what you're good at, and why you're good at it. For example, are you bad at building stuff? Great! I know who NOT to call if I need to construct something. I would rather know that you're awesome at driving cars so that I can plan some races with you.
The overall focus is not on winning, but on identifying a winning process.
You will also have to explain to me why you're good at driving. Do you like the speed? The car? The gratitude you get from people? Why are you so good? Do you anticipate trajectories? Are you are sitting differently? Do you look at the road differently than other drivers? Let's break it down to make you an even better driver.
In one sentence: My job is to know my humans, so I can synchronize them together in the best way possible, making sure they always improve and keeping in mind how they are all different.
OpTic are one of the new teams in the league. How early were you brought on and what kind of role did you have in building the LoL division of the team, from the roster to the background staff?
I was brought on for the first stage of the team creation, around last September. OpTic flew me in from Europe to sit around the negotiation table with Riot. Then, once OpTic got the slot, I hired a coach, Zaboutine. We packed our stuff, took a plane, and landed in Dallas. From there, I met a lot of really cool people who offered me the position, their trust and a lot of energy. If I needed help, I had help. If I needed advice, I had advice.

We started everything from scratch: getting players, training facilities, apartments, visas, creating a schedule, gathering the players together, etc. It was a really cool experience to have the freedom to think and do everything, surrounded by clever people and backed up by OpTic. I learned a lot; I barely slept, I had to push my limits in terms of multi-tasking and on-the-fly decision making… it was amazing.

Of course, we could have done a million things better, and it could have been smoother. Creating everything while OpTic was transitioning its infrastructures to Dallas and its management to Infinite was a challenge. I think we did a really good job, and we will soon start to harvest our crops. Having a rough start to the season will make our long-term success feel even better.
You've come from managing a team from the ground up in Unicorns of Love, and now you're coming to OpTic, a team that obviously has a rich history outside of League Of Legends. How has that transition been and how different is OpTic from UoL?
It's totally different and exactly the same.
On the one hand, I have to be really careful not to copy what I was doing with UOL, because the way we managed UOL was a specific answer to specific situations, with specific challenges to face. I am not in Europe anymore --a market I know-- with an exotic brand's name and in a family environment with a low budget. So I have to relearn everything and adapt to a lot of new things.
If I needed help, I had help. If I needed advice, I had advice.
On the other hand, I also have to mimic how I was behaving with UOL: tackling problems with a creative approach and an open mind and focusing on my players' happiness and well-being. Being half-naked on stage was 5% of my job and a fraction of my time, even if at the end of the day, that's how most people heard my name in the first place. My main skill is to make people happy by helping them to perform while doing what they love. A lovely challenge in a cool environment. Hurray for esports!
How do you plan on leveraging OpTic's history in other games to develop the team's League of Legends fanbase?
By creating content around the team's daily life. League of Legends possesses a really unique competitive environment, with a 2 x 3 month league system with playoffs. The way you train and live together on a daily basis is crucial to the team's success. It's a marathon with several weeks of competition, and a solid mindset is the main key to performance. I want to find the best way to show our core fanbase how we create this specific environment, and I hope they will follow our journey. I can't force them to like our game, as it is really different from OpTic's usual FPS titles, but we can give them an opportunity to like and follow the humans playing it.
You were very vocal when it came to the revenue system in Europe. Now that you've had first-hand experience in North America with franchising, do you believe that is the way forward for Europe and other regions or is there room for other methods?
I believe franchising was a key step for the overall NALCS growth. The average player salary was bumped up from $150k/year in 2017 to $327k/year in 2018 (a concerning trend for teams), and the amount of cash invested by organizations into their infrastructure greatly increased as well. It is becoming a full industry, with long-term sponsorship deals happening and a lot of visibility on the line.

Franchising was definitely the right move for NA LCS, and it will probably be the right move for EULCS. I hope Riot can find ten solid EU names/brand able to offer the necessary finance/reach/infrastructure for 2019.
With franchising in play, the long-term becomes far more important. Where do you see League of Legends in 5 years?
I do not know where LoL will be in 5 years. Maybe still #1, or maybe another game will be. If the game is still around, it will definitely be a totally different version than the one we are playing right now. I trust Riot to make the right calls and make the right moves.


Esports will be bigger, that is for sure, and OpTic will continue to be a major player in this industry.
"The average player salary went from 150k/year in 2017 to 327k/year in 2018."
What are your expectations for the team in-game, both short-term for this split and long-term?
I want to go to playoffs and face the NA crowd. Long term, I would like to go to Worlds, of course, and experience from the inside an international event organized by Riot.
Finally, do you have a message for your old fans from Unicorns of Love and any new fans that are interested in supporting OpTic?
Thank you to my old fans. UOL was an awesome adventure, and I loved every piece of it.

To the new fans, stay tuned, watch us improve, and smile at the end because you made the right choice.
Enjoy These Interviews?
We will continue to bring exclusive coverage so why don't you register on LiquidLegends.net and keep up-to-date with the discussion on our forums!