loose collection of material that might be relevant as of Feb 2014

Q: Which race should I pick?
A: Race determines your starting point in space, a bunch of starting skills and affects how your character looks (via offering different options in the character creator). The choice of race has no impact on actual gameplay. You can train to fly any ship and you can join any faction for Faction Warfare (FW). If you are worried about the starting skills: don't be, those don't amount to anything that can't be trained in under one day.
Just choose whatever you like the most based on how they look/sound/lore/whatever.

Q: Anything mining related
A: You should only mine if you like the activity itself. For actual ISK generation mining isn't good. If you want to stick to mining, KwarK could provide you with a place to do so in null sec.

Q: Can I be useful in PvP as a new player and what would I need for that?
A: You can be useful with following skills, which should only take a few hours to train:
Racial Frigate 3
Afterburner 3
High Speed Maneuvering 1
Propulsion Jamming 1
Hull Upgrades 1
Shield Upgrades 1

Your main job will be stopping enemies from getting away, thus securing juicy and pricey kills, while flying something that is highly affordable.

Q: And what should I train after that?
A: If you want to get into pvp more I recommend looking at the "basic new player skill plan pvp" by KwarK. You can find this in the post below.

Q: How do I set up my overview?
A: You can use the EvE Uni Overview Guide as a guideline and refine that setup as you go along. There are also Overview Packs which you can import and use, but most Packs are currently outdated because of recent changes by CCP. If you are still interested in using Overview Packs as a baseline, you can find some at the bottom of the guide I just linked.

Q: Faction Warfare?
A: General information about Faction Warfare: Link
Outdated guide to Faction Warfare mission running by KwarK: Link
Strongly recommended Video guide to Faction Warfare mission running: Link


+ Show Spoiler [Third party programs] +

This link (

https://community.eveonline.com/

) will bring you to Eve's website. Login with your eve login information (account name, not character name). Mouse over the "support" tab, and select API MANAGEMENT. An API is a code that 3rd party software (EFT and EVEMON) can use to access your account information. Create an Api for yourself with all of your information checked, this api is for you alone. You can always create new api's or delete the ones you've created, and they can no longer be accessed.

Now you can download EFT and EVEMON, and input the API code you made on the eve api management page. EFT will allow you to play with fittings without spending any money or aggravation in game. You can load up your character into eft using the api, and see if you have enough power grid and cpu, and play with fits to make them work. See every stat of the ship with your skills or with perfect skills ect. Also, you can setup your dream fit and mouse over the red bar at the top of eft and it will tell you what required skills you are lacking to use that fit/ship. You can right click on any module in eft and change the skills that affect that module and see if they are worth training. This program will save you a lot of headaches, and is a must have!

EFT DOWNLOAD LINK:

https://forums.eveonline.com/default.aspx?g=posts&t=24359

Evemon helps with planning skill trains, if you have lot of skills you need to train up to fly that dream ship, or become a market tycoon, this program can make life much easier. After you input your api info, you can setup skill plans and optimize them. You can see exactly how long a plan will take to complete and even see the difference in train time with different implants. The interface is pretty simple and self explanatory.

There are different attributes that affect how long skills take to train. They are Intelligence, memory, willpower, wisdom, and charisma. In eve you can distribute the points in these attributes by using a "remap" in your character sheet's attribute tab. (WARNING: You will only get a remap every 6 months, use them wisely and be sure you understand what you are doing or consult with someone before using them!)

In evemon you can organize your train so all of the skills that use Int/Mem are grouped, followed by Perc/willp skills. Then place the remaps in at the right place on the train and get an optimized plan. This can save days or weeks of time on a long skill plan. You can also see how much time attribute implants will save on the train time. Implants give +1 to +5 bonus's on attributes, for example a "Memory Augmentation - Standard" will give you +4 to memory. Thus speeding the train time on any skill that has Memory as a primary or secondary attribute.

EVEMON LINK:

https://forums.eveonline.com/default.aspx?g=posts&t=6765

2 last tips: Don't fly what you can't afford to lose, and if your pod gets killed and you wake up in a station update your clone immediately, or the next time your pod dies you'll lose skillpoints!

FLY SAFE

- Harreeb Alls



+ Show Spoiler [basic new player skill plan pvp] +

Skill plan for Haste Breaker

***Remapping (active) : i27 p21 c17 w17 m17***
Cybernetics I
Minmatar Frigate III
Small Projectile Turret IV
Gunnery III
Motion Prediction I
Rapid Firing I
Rapid Firing II
Sharpshooter I
Sharpshooter II
Motion Prediction II
Gunnery IV
Surgical Strike I
Surgical Strike II
Motion Prediction III
Rapid Firing III
Rapid Firing IV
Sharpshooter III
Surgical Strike III
Minmatar Frigate IV
Small Projectile Turret V
Small Autocannon Specialization I
Trajectory Analysis I
Trajectory Analysis II
Trajectory Analysis III
Acceleration Control I
Acceleration Control II
Acceleration Control III
Afterburner I
Afterburner II
Afterburner III
Evasive Maneuvering I
Evasive Maneuvering II
Evasive Maneuvering III
Power Grid Management IV
Capacitor Management I
Capacitor Management II
Capacitor Management III
Science IV
Thermodynamics I
Propulsion Jamming I
Propulsion Jamming II
Mechanics III
Hull Upgrades I
Hull Upgrades II
Hull Upgrades III
Shield Management I
Shield Management II
Shield Management III
Shield Operation II
Shield Operation III
Shield Upgrades I
Shield Upgrades II
High Speed Maneuvering I
High Speed Maneuvering II
Navigation IV
Navigation V
Minmatar Frigate V
Evasive Maneuvering IV
Evasive Maneuvering V
Trajectory Analysis IV
Interceptors I
Interceptors II
Interceptors III
Minmatar Destroyer I
Minmatar Destroyer II
Minmatar Destroyer III
Capacitor Systems Operation I
Motion Prediction IV
Sharpshooter IV
Surgical Strike IV
Capacitor Systems Operation II
Capacitor Systems Operation III
Capacitor Systems Operation IV
Capacitor Systems Operation V
Capacitor Management IV
Energy Grid Upgrades I
Energy Grid Upgrades II
Energy Grid Upgrades III
Energy Grid Upgrades IV
Power Grid Management V
Thermodynamics II
Thermodynamics III
Weapon Upgrades I
Weapon Upgrades II
Weapon Upgrades III
Weapon Upgrades IV
Weapon Upgrades V
Advanced Weapon Upgrades I
Advanced Weapon Upgrades II
Advanced Weapon Upgrades III
Advanced Weapon Upgrades IV
Propulsion Jamming III
Propulsion Jamming IV
Armor Layering I
Armor Layering II
Armor Layering III
Armor Layering IV
Hull Upgrades IV
Mechanics IV
Mechanics V
Shield Management IV
Shield Operation IV
Shield Operation V
Shield Upgrades III
Shield Upgrades IV
Acceleration Control IV
Afterburner IV
Fuel Conservation I
Fuel Conservation II
Fuel Conservation III
High Speed Maneuvering III
High Speed Maneuvering IV
Long Range Targeting I
Long Range Targeting II
Long Range Targeting III
Long Range Targeting IV
Long Range Targeting V
Electronic Attack Ships I
Electronic Attack Ships II
Electronic Attack Ships III
Electronic Attack Ships IV
Interceptors IV



+ Show Spoiler [old out of date OP] +
Currently, the TL presence in EVE is a rag tag group of infamous elite pvp bitter veterans, spread about in various corporations and alliances. We spend our time brutally annihilating our clueless enemies. It isn't uncommon to see us engage 10 vs 80+ and come out on top. We also have branch corps and individuals that specialize in advanced aspects of the game such ramming legions, not turning on links, and are experts in hunting down oblivious carebears and ruining their day. We are open to mentoring any TL member of any skill or experience.
+ Show Spoiler [What Is EVE Online?] +
EVE Online is an internet spaceships game. Unlike other games, you do not have to grind to "level up". Rather, your skills train continuously whether you're logged in or not. Everyone is together on one server, one instance, one shard, with thousands of systems to explore. The economy is entirely player based (minus a few seed blueprints and skill books), with every ship and item having been built or salvaged by some player. EVE rewards strategy, planning, intelligence, and teamwork. There is no perfect win scenario; the metagame is always constantly changing.

You are in the far distant future, where mankind has colonized all the milky way, traveled to another galaxy through a wormhole, only to get stuck on the other side. The colonies that survived the apocalypse formed five major factions. Within each faction there are the super-elite, the richest of the richest, the 1% of the 1% of the … you know what I mean. You are one of these, a Capsuleer.

You are immortal, with your soul re-awakening in a clone if you were to die. While a regular ship requires thousands to operate, you can do it mostly by yourself (with some disposable crewmen to do the dirty work). The drinks you spill are worth the GDP of nations. The ships you can fly are the size of small cities. The weapons and modules you use are devastatingly powerful.

But you are not alone. There are a lot of capsuleers out there just like you. Some want to mine asteroids and build space sim cities. Others want to hunt you down and blow you up just for fun. Now the question is, what do you want to do?

Your options are only limited by the initiative you take.

How to Join Us
Please follow these instructions very closely. If you apply to us in any other way you will likely be trolled or ignored.
If you are a brand new player:
- Create a free 14 day trial account, found on the EVE website. Name it whatever you want, you won't be playing on this one for long.
- Join the in game channel
HATCHERY PUB
and ask for a Shield Battery recruiter.
- A mentor will contact you
(see below for details)
, tell him your Team Liquid name and he will send you the promotional 21 day trial offer.
- Create a new 21 day account using the mentor's link. This will be your main account.
- Apply to the corporation.
If you already have an eve account and are interested in joining the Shield Battery:
- Join channel
HATCHERY PUB
and ask for a Shield Battery recruiter.
- Tell him your story.
People who already have accounts include those who bought it for $5 on Steam, those who bought it in a store, those who used to play and have resubscribed an old account, basically anyone who isn't a brand new player.
Non-TL members who are interested in joining us but are not TL community members prior to this are free to come into HATCHERY PUB and talk to a recruiter, but please be aware that we are primarily a community corp and as such your application may be rejected.
Mentoring
EVE is a complicated game with no single player and massive amounts of depth. You're gonna need help. Equally we want you to stick around and get good at the game so we're gonna help you.
If confused, do NOT ask in local, other random channels, or even HATCHERY PUB (trolls and griefers are everywhere). Your mentor (the guy who sent you the 21 day trial) is your go-to guy whenever you have questions. Your mentor should also send you some money to help you with your early purchases, such as skillbooks.
If your mentor is offline, feel free to ask any of your corpmates for help - we have lots of people who will ridicule you a little (if the answer is obvious) but will help you anyway.
Why We Mentor
There is a buddy invite system in eve in which you get a 21 day free trial (instead of the usual 14) and if you subscribe the guy who invites you gets a free month of game time. We use this system to hook up brand new players with an experienced player who has an incentive to make the new guy have fun and subscribe. It's a win win situation. You'll get at least 7 days more free game time, some money for skillbooks, some help earning money, some valuable tips, and Shield Battery membership.
What To Do When You're Brand New
Be on TS. We use the teamliquid TS3 server and have our own channels, both public and private, within it. We generally use a password protected private channel and the password for that will be made available upon joining corp.
You need to be on TS whenever you're active in eve because that's where shit goes down. Instead of deciding "it's time to PvP, everyone get on comms" people will be doing their own things and will call out potential targets on teamspeak. That's when it all happens and if you're not on then you won't know what's going on and you'll miss out on all the fun.
Feel free to do the tutorial missions while you're waiting to be accepted into corp. The tutorials gives a basic explanation of the game interface and the various walks of PvE.
Getting Started in PvP
+ Show Spoiler [PvP] +
Unlike other games where you won't be useful until you're high level, in EVE, you can play a vital role in fleets almost immediately. For the start of your PvP career you will be in the main Shield Battery warship, the Merlin. Your role is simple but important: keep big expensive enemy ships in place long enough for big allied ships to arrive and take over.

Here are the skills that you will need:
Caldari Frigate 3
Afterburner 3
High Speed Maneuvering 1
Propulsion Jamming 1
Hull Upgrades 1
Shield Upgrades 1

These skills take about 16 hours to complete, and once done you can be very useful in a PvP roaming fleet and we will make use of you. Even while you're waiting for these skills to train you can still be useful as a forward or rear scout letting us know when enemy reinforcements come. You'll learn quickly that intel is the mightiest weapon.

This isn't a useless role. If we don't have any Merlins in our fleets then one our older players will have to get out of their big expensive ship and hop into one. A fleet in EVE needs to be balanced and a Merlin combines fast movement, a quick locking speed and an awful lot of expendability into one hull. From the moment you can get into a Merlin you'll be running down ships worth thousands of times more than you which we could never catch otherwise and high fiving the rest of the fleet as we pile on to secure the target you caught us.
Getting Started in PvE
+ Show Spoiler [PvE] +
I'm going to treat PvE as just making isk because that's pretty much the goal of it. Virtually everything in the game can be bought with isk, including game time ("PLEX"). Though as a PvP corp, our involvement in anything PvE is largely just to pay for the ships we use and PLEX.
A PLEX is an item you buy with game money which gives you a month of game time, most TL EVE players have several EVE accounts and keep them subscribed using game money. However this requires some wealth creation.
You've got a number of options here because eve is a massive sandbox. This picture gives a decent description:
http://swiftandbitter.com/eve/wtd/eve-wtd.jpg
Faction Warfare has become the most efficient method of making isk. Other methods include running regular missions, salvaging the missions of corpmates, exploration, trading, sleeper sites, and social pvp (scamming, stealing, etc.). The giant isk faucet that is Faction Warfare is a closely guarded secret that we will only disclose to you upon joining our TL EVE community.
+ Show Spoiler [Rely Sekret] +
Just kidding, it's no secret. But seriously, join us and we'll explain it to you so you can do it better than everyone else.
For a new guy making a lot of isk can seem very hard. However, isk creates isk, and if you are smart with your money it will grow exponentially. At first, ten million isk will seem like a lot. But before long you'll reach that, and a hundred million will seem like a lot. But then you'll reach that too, and so on, until you're calling multi-billionaires poor. Speak to your mentor or other corp members to learn more about how we make isk. There is no one correct method to get rich, however, there are many many horribly incorrect ones.
It is very possible to play for free from the first 21 day trial onwards. However, it requires analytical skills, game knowledge, and a passion to become the 1% … all of which we can teach you.
Planning Your Character
by Belgo
+ Show Spoiler [Planning Your Character] +
Original content by Belgo. Updated by Not Orious.
Before you read this, make sure you have 100% read and understood the bulletins in the Corp tab. If not, go read all of them right now. And make sure you can use all the variations of corp Merlin fittings, regardless of starting race!
(this part requires you to have been accepted to corp already
)
Planning your character
Hey there! So you're going to subscribe and play some eve with us? Great! But before you can go off lollygagging around in space, you need to fly something worthwhile! But, what can you fly? What skills do you need? There are so many!
Well, don't freak out, because this will help you plan out an entire year worth of training!
"A year you say? Why is that?" Because EVE allows you to rearrange your core attributes and optimize your training to get the most sp/hr (skill points per hour) so can fly the stuff you want quicker and better! You start off with 2 free "remaps", but after that you have to wait a YEAR to get another -- this is to encourage players to specialize.
There are a few programs that are super handy to have for this: EVEMon
This is the "lite" version of character planning. It allows you to look up a lot of important in-game info and plan your character out without having to login EVE to do so. Of course since it's a 3rd-party program you can't make any actual changes to your character.
Pyfa
The "lite" version of out of game shipbuilding. Very handy to make sure your fit works before you spend a lot of money buying the parts. It also allows you to check important statistics like dps, tank, and seeing the impact of effects and skills.
EFT
The alternative to Pyfa, also very "lite". Arguably more user-friendly (though some disagree), EFT is the most widely used virtual shipbuilder program. You can also import your EFT fittings into EVEMon and it will tell you what you need to train to fly it!
EVEHQ
The heavy version of EVEMon and EFT combined. It also has modules that let you track your character's assets, market tools, POS builder, wormhole stuff, and more! The closest thing to playing EVE without playing EVE.
EVEHQ development has been discontinued
. Also note that it is quite resource intensive and can run very poorly on older computers.
Eve Wiki
Pretty good wiki of everything EVE related (not as good as Liquipedia).
So, you have the tools now, but now you need to actually do stuff. But, there are a few questions you should keep in mind:
What PvP style do I like? What ships will I fly? How are you going to make money?
Ships by Faction
Each faction has a common "theme" regarding the way their ships fly.
Click Me For Ships
. The types of fleets we fly require speed, the ability to dictate range, and the ability to project damage at various distances. Essentially this combination allows us to control the battlefield. The following is a short summary of the races and their respective ships.
Minmatar:
Uses primarily Projectile Turrets and sometimes Missiles. Projectiles are divided into short range, rapid firing Autocannons, and long range, slow firing, extreme high volley damage Artillery. Minmatar ships are fast, and can be either shield or armor tanked. They are the most difficult ships to fly properly, but arguably have the best line up. Fantastic PvP ships, moderate PvE ships. Their electronic warfare specializes in Stasis Webifying (make you go slower) and Target Painting (make you easier to hit).
Caldari
: Uses primarily Missiles and sometimes Railguns. Missiles are divided into short range, rapid firing missiles (Rockets, Heavy Assault and Torpedoes), and long range (Standard, Heavy, Cruise). Railguns are divided into medium and super long range. Caldari ships are slow and have strong shield tanks. They are the easiest ships to get into, but the most difficult to expand upon. As Missiles do not rely on tracking, they are easy to use for a new player. Before the Retribution heavy missile nerfs, some of the best PvP ships in the game were Caldari ships. However, the PvP Caldari line up is rather lacking at the time of this writing. Their ewar specializes in the dishonorable rage-inducing ECM (% chance to break the lock of an enemy ship and prevent it from relocking anyone) and instead of a second bonus (as all other races have) they instead just have extra good rage-inducing ECM bonuses.
Amarr:
Pew Pew lasers. Lasers are divided into medium range, high damage Pulse lasers, and long range, slow firing Beam lasers. They are somewhat slow, and mostly armor tanked. They are quite difficult to fly properly, but have the best potential offensive capability if used correctly. Their electronic warfare specializes in Tracking Disruptors (make you miss) and Energy Neutralizers (turns off your active modules).
Gallente
: Uses primarily Blasters and sometimes Drones. Blasters are the weapon of choice for 'in-your-face-melting-your-ship' dps. Fantastic for close-quarter combat they normally require you to be hugging your opponent, but there are a handful of specialized ships that let you project this enormous damage at medium ranges. Gallente ships are the fastest when shield tanked, although they are usually armor tanked which make them a lot slower. Their ewar specializes in Sensor Dampening (make you target slower or at a significantly reduced range) and long range Warp Disruption (prevent you from running away).
PvP
The above should have given you some sort of idea of pvp with us. Use the ships link above to peruse what is out there or ask in corp if you are not sure. You are free to fly whatever you want on your own, but for our fleets we run specific ship setups. Although a random assortment of agile ships can be pretty useful in our nano fleets, just remember what you can bring is 100% up to the FC running the fleet. Always ask!
PvE
There are many ways to make isk. The easiest and brainless way is to do missions, particularly Faction Warfare missions. Missions are kind of like randomized repeatable dungeon quests in other MMOs. You'll want to aim for Level 4 Missions as anything lower isn't worth it and level 5's have high requirements and are not available in FW. You'll need about 400 dps to do level 4 missions and have a tank of about the same. (Again use EFT to find out these numbers!) The more dps you have, the faster you can 'blitz' the mission and make more isk/hour. The less tank you have, the more you need to reduce incoming dps by going faster (velocity) or killing mission NPCs faster.
What ships should I start with? For regular missions I recommend:
Minmatar: Level 1-2 (Talwar/Rupture), Level 3 (Cyclone/Hurricane), Level 4 (Maelstrom).
Amarr: Level 1-2 (Dragoon/Maller), Level 3 (Harbinger), Level 4 (Armageddon/Abaddon)
Caldari: Level 1-2 (Corax/Caracal), Level 3 (Drake), Level 4 (Raven/Raven Navy Issue)
Gallente: Level 1-2 (Algos/Vexor), Level 3 (Myrmidon), Level 4 (Dominix)
For Faction Warfare missions, the ships and setups you'll be using are similar but a bit more complicated, so it's better to just ask us in game.
Remember that higher level missions may be more difficult when you have low skills. Just because you can fly the Armageddon doesn't mean you won't die horribly to Level 4 NPCs. For Gallente you'll be missioning using drones and railguns. You could use blasters but you'll be pulling your hair trying to fly towards each one of the dozens of NPC rats.
So, now that we have our race picked out and some idea what ships we want, now it is time to plan!
Now, you can just go in to Evemon and add your Hurricane to the skill plan (for example), maybe a Maelstrom too while you're at it, but that only takes a few weeks at the most. I thought we are making an entire year's worth of training?
Well, we are! A large majority of the training you'd do are in Support skills. These are not as super flashy as jumping into a new ship, but are equally, or even more, important than those.
(Important! After you add all these skills, make sure you order them intelligently! You don't want to train up to something you won't be using for months when you can get something else you will use quicker! But use your brain, if you are flying a turret ship, no need to get missile skills even though they are listed, etc.)
These skills are 100% "holy crap you will always use them get them now"
Drone Skills!
+ Show Spoiler +
Drones V (1 drone per level. You will never not use drones in some fashion. Get it! It is free dps you're not using)

Scout Drone V (Lets you access t2 drones which you *need* for level 4s)

Minmatar and Gallente Drone Specialization (Get as much as you see fit, both of these races drones are the best for PvE/PvP)

Drone Interfacing (Get at least level 3 of this, just makes your drones that much better, V won't kill you if you have the time)

Combat Drone Operation (Smallish train for free damage, IV is pretty good to get at least)

Electronic Warfare Drone Operation (Adds control range to all drones and allows you to use dishonorable ECM Drones)
Electronics!
+ Show Spoiler +
Electronics V (It may seem like a long train at first, but you NEED to V this in order to fit the better fittings out there; V it as quickly as you can. Pretty good idea to V it before you are out of a cruiser)

Long Range Targeting (Having problems with things getting to far away? Do your guns/missiles shoot further then you can lock? Get this!)

Propulsion Jamming (Stop things from leaving when you try and hurt them, pretty important)

Signature Analysis (Pretty handy when you are in Big ships, trying to lock smaller ones, or as BB/falcon pilot)

Targeting (Being able to lock stuff is important. 4 is absolute minimum, though you should 5 it and then afterwards get the skill Multitasking to 3)
Engineering!
+ Show Spoiler +
Engineering V (Same as electronics V. GET IT)

Energy Management (More cap is always better, Amarr pilots will want to V this!)

Energy Systems Operation (Same as energy management!)

Shield Management (Free boost in shield cap, Pretty good for Caldari Pilots)

Shield Operation (Same as Shield management)

Shield Upgrades (IV is pretty good for LSE 2 or other shield buffing modules)

Tactical Shield Manipulation (NEED IV to use t2 hardeners, pretty important. But DON'T get this skill to 5, hard to explain but just don't do it)
Gunnery!
+ Show Spoiler +
Weapon Upgrades (good to get to V, as it will let you fit almost everything)
Advanced Weapons Upgrades (if you have Weapons Upgrades V, you should get this one to at least IV, as it will really let you fit almost everything)

(Kind of silly to just list them all out, as this is where the majority of the dps will come from for turret ships. Use Evemon and EFT to go through them and help you plan them out. The more you have the more damage you do!)

Missile Launcher Operation
+ Show Spoiler +
(Same as gunnery but for missiles, read the descriptions and train what is relevant)
(Some missile skills, such as Defender Missiles and FoF Missiles, are very rarely used)
Navigation
+ Show Spoiler +

High Speed Maneuvering (Lets you go fast. Essential PvP skill, second thing you train after Prop Jamming)

Acceleration Control (Makes you go faster, pretty huge)

Navigation (Makes you go faster)
Science
+ Show Spoiler +
Cybernetics (Need this for plugging in implants and hardwirings, only need 1 for +3 implants which your mentor should give you. V it when you can afford +5s)

Thermodynamics (Allows you to overheat your mods, great for pvp)

Biology (Fast train to 5, allows you to use boosters/drugs)
Social
+ Show Spoiler +
Connections III (Gives you a giant bump when you start missioning, lets you get into 2s and 3s much quicker. Get it if you are!)

Security Connections (gives you more LP per mission, pretty important when doing Faction Warfare as it could increase your income by up to 50%)
Spaceship Command
+ Show Spoiler +
(Pretty much all of these you'll get on your way up anyway, although it's a good idea to V what you can, especially Cruiser and Battlecruiser if you're going to be using those ships. Same goes for all of them really, use your judgment or ask in corp)
When you have an entire year planned out, click Optimize attributes and select the second option, then remap to what that says in game.
Again, these are just the necessary skills you'd mostly likely want/need if you're going to pvp and pve for money. So if you are doing something else, ask someone else! : D
Be sure you play around with Evemon and EFT to see what skills and ships setups are out there!
Any questions, just ask in corp.
PvP Basics
by Chessur
+ Show Spoiler [PvP Basics] +
PvP in EVE is like no other game. It's going to take a long time for you to learn and to perfect so don't get discouraged when you can't figure everything out all in one week -- or in one month for that matter. PvP in eve is based heavily around knowledge (ship fits, ship modules) multi-tasking, and some element of APM keyboard inputs. Because most of you are going to be coming from a RTS background, you at least have the APM element. However the others are going to be areas of improvement for you.
This guide is meant to give you an extremely basic idea of PvP. It is in no way all encompassing. This is simply a primer to get you started for the first 1-2 months in game when it comes to PvP. Many aspects of PvP will be left out of this guide for simplicities sake.
Lets start with the basics, ship modules. Every ship in the game has 3 different module slots, and rig slots. Module slots are grouped into three categories. They are high slots, middle slots, and low slots. Lastly ships have rig slots.
HIGH SLOTS
+ Show Spoiler [High Slot Weapons] +
All weapon modules go into the high slots of the ship. There are many different weapon systems in eve so here is a short list by faction:

Minmatar
Short Range: Autocannons. Uses projectile ammo, has good tracking and good dps. However it has trouble hitting far targets. This weapon system does not require energy to fire.
Long Range: Artillery. Uses projectile ammo and gives good alpha strike (each shot does a ton of damage, but the guns cycle very slowly). This weapon system is good for long range, however because it has poor tracking when compared to auto cannons, can struggle hitting ships at closer ranges. This weapon system does not require energy to fire.

Amarr
Short Range: Pulse Lasers. Uses frequency crystals, has adequate tracking and can project damage very well. It has great dps. Currently, Pulse lasers are some of the strongest weapon systems in the game.
Long Range: Beam Laser. Uses frequency crystals and has astounding range. However this weapon system is never used by TL pilots because the guns require a large amount of power to use and have poor tracking.

Gallente
Short Range: Blasters. Uses hybrid ammo and is like a shot gun. It gives an extreme amount of DPS at very close ranges, and has good tracking. It struggles hitting targets at med-long to long range.
Long Range: Railguns. Uses hybrid ammo and has a very long range. However it struggles with tracking like other long range weapons and can have difficulty hitting targets at closer ranges.

Caldari
Short Range: Unguided Missile systems (Rockets, Heavy Assault Missile, Torpedos). This weapon system gives high dps for relatively close range missiles. With the new changes in retribution, Heavy Assault Missiles are the primary weapon choice for Caldari ships. This weapon system does not require energy to fire.
Long Range: Guided Missile systems (Light missile, Heavy Missile, Cruise Missile). This weapon system was at one time extremely strong. However with the latest retribution patch, they are now much worse. I suggest not training for this system, unless you are looking at light missiles. This weapon system does not require energy to fire.


As you can see there is a trend in weapons systems by racial/faction ship.
Minmatar generally use projectile weapons. However some of their ships also use missiles.
Gallente use mainly hybrid weapons. However some of their ships specialize in drones.
Caldari use a split weapon system, which are hybrid and missile.
Amarr use lasers, with a small amount of missiles.

Each weapon system is classed by size. Small weapons are used by frigates and destroyers There are small lasers, small projectile weapons, small hybrid weapons, and for missiles there are rockets and light missiles. Medium weapons are used on cruisers and battlecruisers. There are medium lasers, medium projectile weapons, medium hybrid weapons, and for missiles: heavy missile, heavy assault missile, and rapid light missile. Large weapons are used by battleships, as well as the highest tier battlecruisers. Like the other weapons, there are large lasers, large projectile, large hybrid weapons. Missile systems are torpedoes, and cruise missiles.

+ Show Spoiler [Offensive Utility Modules] +
There are two other offensive types of modules that a pilot can place in high slots.

Energy Neutralizers (Neut) and Energy Vampire Nosferatu (Nos). Like the weapon systems, Neuts and Nos come in small, medium, and large sizes. Neuts are modules that drain other ships capacitor. If your out of capacitor your ship cannot use modules. And in the case of hybrid and laser weapons, cannot fire. Neuts use a portion of your capacitor to drain more of the targets, until there is nothing left to drain. Nos on the other hand, will only drain capacitor from an enemy ship when your capacitor is lower. However Nos well drain an enemy ship, and place that stolen capacitor back into your ship. Think of it like a mosquito suctioning off blood from a host. Here is a quick example. Lets say your capacitor is at 80% and you turn your Nos on to another ship. That ship has a capacitor level of 60%. You will not drain energy. However if the situation were reversed, and your ship was at 60% you would start to siphon off capacitor to help power your ship.

Smart Bomb. A smart bomb is a device that emits and omni-directional pulse from the centre of the ship. This pulse does damage to anything in a very short distance inside the diameter of the explosion. Like other weapon systems, there are small, medium and large smart bombs. However smart bombs are most commonly fitted on battleships.

There are other weapons such as bomb launchers, interdiction, doomsdays and capital guns, but you'll know what they are when you get there.

MEDIUM SLOTS
+ Show Spoiler [Core Medium Slots] +
These medium slots are critical for a ships versatility and utility.
Propulsion: In your medium slots you will ALWAYS want to have some type of propulsion module (prop mod). There are two types of propulsion modules in the game, afterburners and micro warp drives. (AB and MWD). Both give you a speed boost, however a micro warp drive will make your ship go much faster. Like other modules, propulsion modules have small (1 MN) medium (10 MN) and large (100 MN) sizes. AB's require less capacitor use than MWD. They also don't cause signature bloom. When you turn on an MWD, your ships signature (or size) blooms to 500% of normal. This makes your ship easier to hit, and easier for other ships to apply damage. The last big difference between AB, and MWD, is that an MWD is turned off when a warp scrambler is used on it.

Propulsion Jamming: The next item that will ALWAYS be on your ship is a propulsion jamming module. These come in one size (so a battle ship uses the same type as a frigate). There are two different types of tackle. The first is called a scrambler (or Scram). A scram is a short range module that when activated on an enemy ship stops it from warping away. A scram will also shut down any active MWD, however AB's are un effected. The other type of tackle is a warp disruptor. A warp disruptor has a very long range. When applied to an enemy ship, it will stop it from warping away. However unlike the warp scrambler, it will not shut off a MWD.

Stasis Webifier: Another type of tackling module fitted in middle slots is a stasis web. (Web for short). A web is a short range module that slows ships down (making them easier to hit, and to stop them from running away.) Unlike a propulsion jamming module, a web will not stop a ship from warping away. However a web will always slow the target, regardless if they are using an AB or MWD. Some pilots like to fit their ships with a combination of tackling mods. A scram and a web give you the best lock down. Because you are stopping an MWD, and if they have an AB the web will bring them to a crawl. Other pilots like a disruptor (long point) and a web. Others just use a scram, or long point. Either way all decisions are based on the type of ship your flying, and your play style.

Cap Booster: This module uses batteries to (inject) your ship with large boosts of capacitor. This allows your ship to continue running for a longer time, and can help you if you are being neuted or in a prolonged battle.

+ Show Spoiler [Electronic Warfare Medium Slots] +
Target Painter: This module places an electronic tag on a target making its signature larger. A large sig means that the target is much easier to hit and apply damage too.
Tracking Disruptor: This module disrupts turret based weapons only. When applied this module hampers turret range and turret tracking.
ECM: This module can jam an opposing ship. The jammed ship cannot lock, or active any offensive modules on another ship while jammed. There are 5 different types of jammers. One specific for each race, and a last 'multi frequency' jammer that poorly jams all 4 races.
Sensor Dampening: This module will increase the targeting time of a selected ship, or it will decrease its targeting range.
Sensor Booster: Increases targeting range and targeting speed
ECCM: Boosts ships sensor strength, and makes it more difficult for ECM modules to jam target.
Tracking Computer: Helps to increase the range and tracking speed of ALL turret based weapons.

Midslots also have another important use -- shield tanking. See the TANKING section below for more on that.
LOWSLOTS
+ Show Spoiler [Utility] +

Nanofiber: When equipped, it decreases your structure HP (making your ship less tanky) however it increases your speed and agility. This module is EXTREMELY useful and is used on many ships flown in TL.
Reactor Control Unit: this module increases maximum power output, allowing you to fit more high power modules on your ship. (MWD, NEUT)
Power Diagnostic System: This helps your capacitor produce more energy, allowing you to run modules for a longer amount of time, before running out of cap.
Signal Amplifier: Gives a bonus to targeting speed and range. Useful only in specific situations or for specific set ups.

+ Show Spoiler [Weapons Upgrades] +

Gyrostabilizers: increase damage and rate of fire for projectile weapons (autocannon, and artillery)
Magnetic Field Stabilizers: increase damage and rate of fire for hybrid weapons (blaster and railgun)
Heat Sinks: increase damage and rate of fire for energy weapons (pulse laser and beam laser)
Ballistic Control System: increase damage and rate of fire for missile platforms (guided and unguided)
Tracking Enhancers: increases the range and tracking speed of ALL turret based weapons (these are not weapon specific) (not to be confused with tracking computers which are midslot)

NOTE: Damage mods are specific to their weapon system. For example, a gyrostabilizer will not increase hybrid weapon damage. If you make this mistake and die, I will laugh at you.

Lowslots also have another important use -- armor tanking. See the TANKING section below for more on that.
RIGS
+ Show Spoiler [Really Intricate Guide Spoiler] +
Basically give bonuses to ship attributes like some medium and low slot modules do, but are permanent and destroyed if removed from the ship.
TANKING
In EVE Online there are two types of tanking: Shield or Armor. Generally a ship will pick one type of tank and stick to it. It is generally a bad idea to try and dual tank a ship (ie. Use shield and armor tanking mods together.) Shield tanking takes up mid slots (as shield modules are always placed there) and armor tanking takes up low slots (as armor modules are always placed there). To some extent the type of ship you fly will help you to determine your tank. Now both types of taking systems have their pros and cons.
There are two main strategies to tank your ship: Active or Buffer.
Active Tanking
+ Show Spoiler [Active Tanking] +
An active tank (regardless of shield or armor) is a type of tanking strategy where you use shield boosters / armor repair modules to give your ship health. Active tanking has amazing sustained tank for prolonged battles, however, it requires a TON of capacitor. So if you are being neuted, it can be difficult to sustain your active tank, while using all of your other modules. Pilots try and get around this problem by using capacitor boosters (cap boosters) to help inject their ships with more capacitor as needed.

Here is an example. Lets say that you fight a group of ships in a 10 minute battle, and combined this group of ships can put out 500 DPS (damage per second) before the victor is decided. If you can tank 600 DPS (or your repair modules can heal your shield / armor at 600 DPS) for the full 10 minutes, then that gang will never be able to kill you because you can heal 100 DPS more than they can apply to your ship.

There is also a specific shield module used for active tanking called an ancillary shield booster (it comes in small, medium, large, and XL) size that works on a unique principal. This booster is loaded with charges (think of a gun loaded with ammunition) The booster then uses a charge to boost the shield, and it costs 0 capacitor. However there is a problem. Eventually the booster will run out of charges, and when that happens you need to reload it. During this time, the shield booster cannot function, so you can no longer active tank and are vulnerable.

Buffer Tanking
+ Show Spoiler [Buffer Tanking] +
The other type of tanking is called buffer tanking. This type of tank is strongly preferred among most PvP pilots as it requires little to no capacitor to use. Buffer tanking (either shield or armor) is placing large amounts of Hp on your ship. So if you can make your ship have 60,000HP than its going to take some time for another ship to kill you, because they have to grind through 60,000HP. However because you don't have any way heal yourself, even a small frigate with 100dps will kill you eventually. For shield tanks there are Shield extenders. Shield extenders come in ship sizes (Like weapons), and provide an increase in shield HP. Their draw back is that shield extenders increase your signature size, making you easier to hit and easier for other ships to apply damage on you. Armor ships use armor plating (called plates) These provide an increase to the maximum armor HP, and do not increase your signature size- however they do slow your ship down, and make it less agile.

Resistances
+ Show Spoiler [Resistance Amplifiers & Hardeners] +
In EVE there are 4 types of damage: EM, Thermal, Kinetic and Explosive. Each type of ship has a different resist profile, and each weapon system (Projectile, Laser, Hybrid, Missile) deals a different type of damage. There are specific hardeners, which provide a greater increase to one of the four resistance types, and there are resistance modules that increase all 4 resistance types but to a lesser degree.

Here is an example: Lets say that you are flying a shield tank ship. Your default Thermal resistance is 20%. This means that if someone is shooting EM damage at you, 20% of that damage will be decreased. So 100 Therm damage will only be 80. Now lets say that you have a specific Therm hardener. When you activate it, your Therm resistance increases to 64%. Now that 100 Therm damage will only be 36. This resulting true value of your HP after including resists is called effective HP (EHP) and is a far more useful number to know. Like shield armor resistance works in the same way.

Passive Hardeners increase the resistance of your shield/armor passively, without the use of capacitor. (Known as Resistance Amplifiers for shield and Energized Plating for armor)
Active Hardeners require some capacitor, however when activated increase your resistance to damage better than passive hardeners.

Resistances are just as important as bonuses to raw hp, especially when working with logistics (remote repairing) ships. You don't even have to do the math to see that.

+ Show Spoiler [DCU aka The Briefcase] +
The damage control unit is also a special low slot tanking module. It is special because it you can only fit one per ship. The reason why a damage control is so powerful is because of this: Equipping one increases your resistance in all three tanks: Shield HP, Armor HP, and Structure HP. The damage control is also the only module that increases your structure HP, and it does so immensely. Your base structure resistance to damage is ZERO but with a damage control (DCU) activated it can go up to 60% against all damage types. And of course the DCU will also increase your armor and shield resistances across the board. The best part? It costs almost 0 capitor to use. Frigates and Gallente ships take note, because these ships have proportionally the most structure HP.

PvP Concepts
Alright lets talk about ship fitting ideas, and PvP concepts.
+ Show Spoiler [PvP Concepts] +

There are two conflicting problems with fitting a ship. Some of you may have picked up on it already. Depending on how you tank your ships, radically defines how you are going to fly. If you decide to armor tank- then you are using up low slots. As you may have noticed, you also need low slots for damage mods to make your guns better, and tracking enhances to make them shoot farther. However by tanking in your low slots you leave more room in the med slots for scrams, webs, cap boosters, and other versatility modules.

Shield tanking has its own problems as well. If you take up your med slots for shield mods then you are taking away much need space for webs, scams/ points cap boosters. However unlike armor ships- you can fil your low slots with tracking enhancers, damage mods, and nanofibers.

It is at this cross roads where a lot of pilots come to a disagreement. Do you fly a ship that can shield tank? You have a large sig so your easier to hit, and you don't necessarily have the option to use webs or cap boosters. However because your low slots are free, nanofibers and damage mods can be placed. Your ship can apply more damage, and project damage much more strongly than a similar ship that is armor tanked. It is because of this reason that many ships are preferred shield tanked, and why shield tanking is so strong.

The other option is of course armor tanking. Armor slows your ship down, and takes low slots. Your not going to be projecting as far, or applying as much damage as a shield tanked ship. However it is much easier to mitigate damage in armor tank ships. Some of the strongest tanks in the game can come from armor ships. Also armor ships offer a ton of control. With med slots totally open, ships can fit a point / scram, webs, cap boosters and other mods that will help versatility on the battle field. A perfect example of this is the following: An armor tanked ship could place tracking disruptors or sensor damps in its midslots to hamper other ships from projecting damage.

Because hatchery has few pilots, we normally favor small gang pvp, and in particular (nano style flying). The reason for this is simple- it allows for us to disengage at will. You see people are risk averse in EVE. People like to win, and they will do so at all costs. A fair fight does not exist in eve. If people see you with three ships, they will bring 6. If you are out solo, people will bring 3 or more. Now I am not saying that you will never get a 1v1 fight, but doing so is extremely rare.
It is because of all these reasons that Hatchery prefers Nano style flying. What that means is we try and keep our ships out of scram and web range. We use long points to tackle our targets, and use fast shield tank ships. The reason for this is simple. If we are getting scrammed and webs, our ships can't run away when the enemy fleet we are fighting brings 2-3 times our numbers.

Nano is a brilliant way to fly because it allows you to fight out numbered. An ideal ship for us has the following strengths:
- Speed
- Agility
- Damage projection (out to about 30km or more)
- Ability to fit a buffer shield tank, or a speed focused armor tank.

Having the ability to fight outnumbered allows you to fight more targets you run across, and have more chances to PvP and get kills. Which is always more fun.

Now nano is not the only way to fly, and the Hatchery certainly participates in other types of flying on occasion, but for the vast majority of the time shield nano fleets are what we do. Luckily for new pilots, the new T1 cruisers lend themselves perfectly to this style of play! T1 cruisers are a great hull to skill into for a number of reasons. First off- they have low skill training requirements. Secondly, they are fast, hit hard, and can project damage. Lastly T1 cruisers are EXTREMELY cheap, so flying them often and losing them is no big deal.

I feel that most players should start training for these ships asap. Personally I don't feel that any of the destroyer hulls are worthwhile. They lack the speed, damage projection, tank and dps of cruisers for about the same price. I also feel that new players should not skill for T2 frigates. The training time is longer, and the prices are higher.

For this next part I am going to outline some ships (in all 4 races) that excel at nano style flying. I am not going to cover all ships, just easy to skill into hulls that a new player may find interesting. I highly suggest you spend some time reading about all of ships. Ask questions, and get some advice from other players than myself. Don't take my opinion as gospel.
PvP Styles by Faction
+ Show Spoiler [PvP Styles by Faction] +

Minmatar cruisers are great. The positive of training projectile (and minmatar in general) is that you have a ton of great options when you have a high skill point character in the future.
Rupture: This ship is very versatile you can shield or armor tank it. The Rupture is very fast, and generally works better as a brawling ship inside scram web range. While the rupture is a great ship, it falls a bit short in the nano playstyle, and the ship can sometimes struggle projecting damage past 30 km. But this ship should not be over looked, it is very strong and I highly recommend it.
Stabber: This is far and away the fastest of the cruisers and has great damage projection. Properly shield tanked, as it always should be, this is the quintessential kiting ship and can easily project damage out to 40 km. What this ship lacks in brute force (compared to the Rupture) it makes up for it in speed and disengage ability.

The Caldari cruisers are as follows.
Moa: This is the tankiest shield T1 cruiser. This ship is a brawling ship, and as such is quite slow and lives inside scram web range. It puts out respectable damage with its hybrid weapons system. While the Moa is a great shield brawler, it is usually outclassed by the other Caldari cruiser...
Caracal: This is my baby. I love this to death. It's the second fastest cruiser, has great agility and is overall quite versatile. The Caracal can put forth tremendous damage from range when fitted with heavy assault missile launchers. Or it can snipe frigs and other small ships with ease when loaded with rapid light missiles. Like all Caldari ships, this is a shield tank only. My only word of warning when training for this ship -- it's a dead end. Currently the Caracal is the best Caldari ship, and there really is no improvement for growth. The missile based weapon system has been hit with a serious nerf, and now many Caldari hulls are unusable. If you are thinking of training missiles, talk to a mentor first so you can be given a realistic expectation of what your in for.

The Amarr cruisers are VERY strong after the new patch. Another great point about Amarr, like Minmatar, is that they have excellent ships when you have SP and get an older character. Pulse lasers are one of the strongest weapon systems currently.
Maller: This is a slow brawler and has the strongest armor tank. It gets up close in scram web range and can do very respectable DPS. Because it can use lasers, the Maller also has some decent projection. This ship is almost entirely an armor tank. While an amazing armor brawler, and bait too, it is often outclassed by the other Amarr cruiser...
Omen: Currently another favorite cruiser of mine, this ship is fast, and hits HARD while also having great projection. This ship can either be shield or armor fit. The omens only flaw is its capacitor, which can be a slight pain with lower skills. When compared to the stabber and caracal, it easily punches with the best of them.

Last but certainly not least, Gallente. Like Amarr and Minmatar, the Gallente have a ton of options later on for more skilled pilots.
Thorax: This ship when fitted with blasters, is a power house at close range. Its fast, and it hits hard- really hard. It's a great ship and should not be under estimated. It is versatile, and can shield or armor tank. It's a great ship.
Vexor: Like the Thorax, it is versatile and can shield or armor tank. And like the Thorax, the Vexor has problems with projecting damage. Another flaw with the Vexor (in my opinion) is the fact that it deeply relies on drones for damage. I don't like using drones for damage in PvP as drones can be killed, require extra micromanagement and drone AI sucks (think Reaver scarabs). However do not let this deter you as the Vexor is still quite strong and should not be over looked.

Alright that about covers it. Check corporation fittings to see some corp fittings for these ships, and don't forget to ask some questions. As I have said before this is the most basic examples of ships and ship roles. I implore you to do some reading on your own and see what is out there.
Important PvP Tips
+ Show Spoiler [General Tips] +

Autopilot = Bad Unless you are in a NPC corp while carrying very little in your cargo hold high security systems aren't 100% safe. In a tactic known as "suicide ganking" you can still be killed, and your cargo/modules will 50% drop, meanwhile your assailant will lose his ship to CONCORD police . To mitigate this, never carry more than 100 million isk worth of stuff and manually warp by selecting the gate you wish to warp to and hitting Warp to 0.

Saving Your Pod Your pod is ejected after your ship explodes and usually you're going to want to save your pod before someone blows it up. So as your ship is dying select a celestial that you're not on (such as a random planet or moon) in the overview and spam click the warp button in the selected items. (See guide to overview) That way as your ship explodes your pod will escape. Doing it through the right click menu takes longer and if there is a tiny delay as your ship makes pretty graphics then you'll get killed. You want to spam click it, use the selected item window.

Aggression Anyone who has been involved in any aggressive activity is subject to Crimewatch. There will be a giant timer at the top left of your screen that will tell you how long your aggression is. This is very useful to know because you can plan around it. For example, if you are sitting on a gate at 0 and a hostile warps to you you know that if he tries to kill you he cannot jump but you can so long as you do not return fire. Therefore unless he gets some friends to cover the other side you are safe. However, if he does not aggress and you jump through and he follows, you will no longer be hugging the gate and he could kill you before you escape.

Session changes Open up the general settings window and click show session change timer. That'll show a session change timer in the top left which you can mouse over to see more details. Basically after taking a session change you must wait ten seconds before doing another action which requires a session change. Such actions are joining/leaving/moving fleets, docking, undocking, jumping gates, leaving corps, leaving ships, entering ships. What this means is that if you jump into a gatecamp and think "holy fucking shit RUN" and immediately burn back to the gate and spam jump you will not be able to jump right away. Instead wait for a few seconds so you can jump through the gate instead of dying on top of it.

You are generally invulnerable for a session change under certain conditions. Upon jumping a gate you are cloaked, either for 60 seconds or until you move. This allows you to allow your session change to complete before burning back to gate if necessary. On a fleet op you will hold cloak when entering a system; aka do not touch anything until told otherwise. When you undock from a station you are visible but cannot be interacted with in any way for 30 seconds. If you activate any module, launch drones, fight, move, try to warp out or anything else then the invulnerability will be broken. The ONLY thing you are allowed to do is stopping your ship by holding on Ctrl and pressing space [Ctrl+Space]. Thus doing this will prevent you from drifting away from the station and will let you re-dock immediately once your 30 second timer is up.

Local. It's basically maphack. The local window should be open at all times. It tells you who is in the same system as you. If it is clear (aka empty), you're relatively safe. Suddenly 10+ people enter the system in a second then there's a gang coming through. It gives you early warning on everyone moving in the area and if people start GCCing then they get flagged in the local window. If you watch local then you will never be taken by surprise. The only exception to this is when you are in a wormhole. So if you decide to join up with the wormhole group then local is not so important as it does not function in wormholes.

Safespots People can warp to celestials (things in space) such as moons, asteroid belts, planets, stations, stars. They cannot warp to pilots, except fleet members. That means that if you are sitting on a planet you can be found and attacked but if you are in the middle of nowhere then you cannot (not entirely true but will be explained later). If you drop a bookmark in warp between two places then that will be a safespot, a unique spot you can warp to and nobody else can. However, people with probes can find you using combat scanner probes and warp to you. If you are at a safespot you should keep your directional scanner running to ensure you see combat scanner probes before they have your location probed down.

Directional scanner This tells you what's in space around you. At max range it has approximately 14 AU range and can be set to a full 360 degree field around you. It will list everything in space within that sphere around you. You can filter it by overview settings to see what you're looking for, such as combat scanner probes, ships, mission wrecks, possible nearby celestials, POS towers and the like. You can narrow it by range and direction (taken as a degree arc of your camera, from the centre of your screen, wherever that is facing... NOT the direction your ship is facing). For example you can pick up a ship with some belt rats on a 360 and quickly narrow it down to just a single belt where you can probably find it. The dscanner will reveal if a potential target is worth probing down in space or is at a POS where it will be invulnerable. It can also be used to get a rough idea of the location of a target in space relative to known celestials so a prober can more rapidly place his probes around it. For more about this, see the Directional Scanner section.

Rename your ships. Ships are by default self named. The directional scanner shows ship name, type and direction. Local shows who is in local. By combining these they can identify who is in what ship, where they are and who they are with. You can name it whatever you want.
PvP Mechanics
+ Show Spoiler [Crimewatch & Aggression Mechanics] +
The Retribution expansion made some changes to the way aggression and session timers work.
This short article gives a good summary of the changes.
OverviewLog-Off Timer
-- When involved in combat, whether aggressor or defender, your ship will stay vulnerable in space if you log off for 15 minutes. This timer can be prolonged with further aggression.

Weapons Flag
-- Also known as aggressing/aggro/red box. For the duration of the 60 second timer from the last offensive module use, you cannot dock a station, use a stargate, eject or board a ship.
Limited Engagement
-- Those that also have a limited engagement status with you can attack you without penalty for 5 minutes since the last offensive action. There are unique timers for each pilot involved in the limited engagement.
Suspect
-- Everyone in system may attack you without penalty for a 15 minute timer on you from the last offensive action. Gate guns will attack you, although if you leave the grid and come back they will not resume. Happens when you activate an offensive module on a player ship in low security systems. Also happens when you activate a remote support module on a Suspect or Criminal.
Criminal
-- Previously known as "GCC". Everyone everywhere may attack you without penalty. In high security you cannot use stargates or warp away and CONCORD will spawn to destroy you. Happens when you activate an offensive module on a ship/pod in high security or on a pod in low security systems. Attacking in nullsec or wormholes will not give Criminal. Attacking a Criminal will not give any penalty.
Kill Rights
-- These are rights to kill you once, legally, everywhere, for the duration of the kill rights. Happens when you attack a 'neutral' ship/pod in high or low security systems the defender gets kill rights. As of Retribution, Kill Rights can be sold.
War
-- If two corporations or alliances are at war then all their members have kill rights on each other everywhere without penalty.
Outlaw/Pirate
-- If you are -5 security or worse then everyone has kill rights on you everywhere without penalty.
Strategies and Further Info
Prolonging Limited Engagement/Suspect
These flags are renewed each time an offensive action that is justified by them is committed. Griefers will keep them going for hours in an attempt for a highsec gank by attacking a wreck owned by you.
Security Status
If your security status is above -5 then you are a neutral. What this means is that random people cannot
legally
attack you. If they attack you anyway then they will be subject to penalties, based upon the security status of the system. These penalties are as follows:
In 1.0-0.5 systems there will be an immediate CONCORD response which will blow them up. In addition to this the security status of the aggressor will be reduced for his crimes. This isn't a perfect deterrent but makes high security pretty safe.
In 0.4-0.1 systems the aggressor will be flagged Criminal. The aggressor will lose security status based on the crime and the security class of the system. The Criminal flag lasts 15 minutes from the last criminal act. They can legally be attacked by anyone, regardless of their security status. For example, if neutral A attacks another neutral B illegally, then a third neutral C could attack neutral A legally. However if A were to run away and come back 15 minutes later then C could not attack him legally. A Criminal flagged pilot will also be attacked by station guns and gate guns which are very dangerous to anything smaller than a well tanked battlecruiser.
In 0.0 and wormhole systems there is no police response or security status reduction.
Outlaw/Pirate Status
If your security status is below -5 then you are a pirate. This means that everyone in eve has kill rights on you everywhere. This does not mean that you are GCCed. People can legally attack you, regardless of the system, and will not be subject to any of the penalties above. You cannot attack them without taking them. However, remember if someone attacks you first they give you kill rights on them through self defence.
NPC Faction Police Aggression
Faction police and Faction Warfare. If you are in an opposing faction warfare corporation or your standings for a certain faction is below a certain threshold, the police of that faction will attack you whenever you use their regional gates. This is separate from CONCORD and will happen even if you are simply passing through. For example if you are Tribal Liberation Force, the minmatar militia, you will be attacked by Amarr and Caldari NPC ships guarding their respective system stargates. These NPCs respond rather slow, so you should never get killed as long as you're in something fast and you pay attention. You can still dock in any highsec station regardless of faction.
If any NPC faction attacks you because of Suspect or Criminal, they then create a separate 15 minute aggression timer for them. For example if you are 10 minutes into a 15 minute GCC and get shot at by a brutor tribe station then that will give you a separate 15 minute timer on Brutor Tribe. 10 minutes later you could warp to a Republic Fleet station (5 minutes after your GCC expired) and not be shot at, but would still be shot at by the Brutor Tribe station. Gate guns count as the navy for whichever faction owns the space and CONCORD stations will renew your flag. There are some concord controlled systems as well, where getting shot by a gate will renew the flag.
Insta-Undocks and Safespots
+ Show Spoiler [Insta-Undocks and Safespots] +
Insta-undocks:
Consider two things. Whenever you warp to a location, you have to align to it then be at 75% of your max speed. Also, whenever you undock from a station, you exit from and always are facing in ALMOST the exact same position.

Imagine you are being station camped by a bunch of angry people, and you want to escape the station. How do you get out?

The answer: an insta-undock. These are bookmarks about 200km and 600km away from station that are in an exact straight line out from the station, allowing you to get out of station safely in a station-camp.

Creating these are simple. Get in a fast ship with an MWD fitted. Dock up at the station you want to create insta-undocks for. Undock, and do NOT change your direction. Simply leave your ship flying out into space. Keep your MWD turned on as much as possible. When you are 200km out, add a bookmark, saving it something like 'Station 1 Insta 200km'. Continue flying until you are 600km out, then add a second bookmark. Voila, you have just created an insta-undock for that station.

Next time you undock from that station, you will be already aligned to those two bookmarks, making it very quick for you to warp to the bookmark without getting pointed, and then you can warp to your next destination safely.

---

Safe spots:
Say you are hiding in a system from a bunch of bad guys, and for some reason you are unable to jump into a neighbouring system (maybe you're GCC? Or there might be a gatecamp on the other side?) The best way to hide are safe spots. If you don't have safe spots, you might just keep warping between celestials and hope that you never run into the enemy, which is risky. Also, if you stay at a celestial for a longer period of time, they might be able to dscan you and warp to you.

A safe spot is simply a bookmark in the middle of space, not next to any celestials, making it a lot harder for people to warp to you. To make this, warp from random celestial x to random celestial y, and drop a bookmark midwarp. Tada, that bookmark is now a safe spot.

However, make sure you are constantly dscanning while you are at the Safe spot, as probes can still find you and will let them warp to you. Once you see a combat scanner probe of some form on dscan, it is advisable to warp to another safe spot.
The Directional Scanner
+ Show Spoiler [The Directional Scanner] +
Right click pictures -> view image to see the whole image.
The dscan (directional scanner) is your best friend in space, and plays a large part in many situations. If you look to the left of your Hud, you will see five buttons, one being the Scanner. Click on that, then select the Directional Scan tab. This is the Dscan.
Make sure the 'use active overview settings' is checked, then type in 99999999999999999 (a lot of 9's) into Range and press enter. You should see it change to 2,147,483,647. This is the maximum range of the dscan. You should also set the angle to 360 degrees for starters.
The Dscan has a very simple principle. It will scan everything within range in the angle you have selected, from YOUR CAMERA's view.
NOT the direction your ship is facing, but your CAMERA'S view. Remember this.
So how do you use it? Well, a lot of the time, ships will be at a celestial or station or asteroid belt of some sort. You can use the dscan to narrow down WHICH celestial/whatever they're currently at. Imagine I spot a target harbinger on dscan.
I change my angle to 180 and scan again.
He's not there. So I turn my camera around a full 180 degrees, and scan again.
Got him again! I narrow it down to 90, and check the stations in front.
Nope, nothing. I check the stations at the back.
Found him. As there are NO other celestials aside from these within 90 degrees of my scan, I jump a few levels and narrow it down straight to 5.
I know now that he is almost certainly at either the planet Ammold VI, or the asteroid belt. I take an educated guess and figure he must be at the belt (there is no reason for someone to be at a planet, whereas someone might be ratting at a belt............also I had told him to find a belt for this exercise) and warp to the belt.
Tada!
If you manage to narrow them down but they are not at the celestial you expected them to be at, they are probably at a safespot between you and that celestial. If you narrow them down and they are not next to any celestials, they are at a safespot in the middle of nowhere. For both of these situations, you will need probes to find their exact location. If they are next to a moon in lowsec, the are MOST LIKELY in a POS (even more likely if you see random guns and towers on dscan where they are) and you should NOT go for them.
After you've got a ship seemingly in the middle of space, turn off your 'Use active overview settings'. This will show everything that the dscan can pick up in that direction. If wrecks suddenly appear on dscan with it, it is likely the ship is missioning. If a bunch of gun batteries and towers appear, it is pos'd up.
This whole process may scare you into thinking it's difficult. It's not, it all just comes with some practice. If you have nothing else to do, ask in corp chat if anyone can come into your system and play a few hide and seek games with you so you get some practice with the dscanner.
How to Set Up your Overview
by Firebolt145
+ Show Spoiler [Overview] +
Original content by Firebolt145. Updated by Not Orious.
Overview Settings Basics
The default overview set up you are using right now is missing a lot of important information. You can create multiple overview settings (and have multiple open in tabs).
Columns
The important columns to take note are:
Icon, lets you know basic stuff, represented by various icons
Distance, very important as it lets you know how close your enemy (or friends) are to you
Velocity, very important, as it lets you know how fast everyone is going. For a given signature radius, a higher velocity reduces missile damage taken.
Name, important so you know who to and who not to shoot
Type, important as this tells you what you're up against
The lesser important, but still very useful columns are:
Angular, the tracking of guns is based upon distance and angular. The higher your angular velocity to a ship, the harder it is for that ship's turrets to hit you. Does not affect missiles.
Transversal, a combination of Angular and Radial, essentially gives you more information regarding turret tracking, but can be a bit more difficult to interpret.
Radial, this lets you know if something is coming towards or away from you. In a completely 3D environment it can be sometimes difficult to tell visually, this helps you with that.
Tag, useful in big fleets where target calling can get messy. We generally don't use this though.
Militia, not that useful to us
Corporation, not that useful to us
Alliance, not that useful to us
Faction, not that useful to us
Size, not that useful to us
Appearance
The order of these rows determine how they appear on your overview. Tags should be bad first, backgrounds should be good first.
i.e. colortags should go wars, outlaw, bad, corp/alliance, good, fleet, neutrals
background should go fleet, wars, corp/alliance, good, bad, outlaw, neutrals
Use a background color for neutrals and no standing so ships stand out in space, and use the colortag for neutrals so you can see who's in your address book by looking at space or local.
Outlaw and wars should be red, terrible should be orange, and bad should be yellow so you can immediately tell apart aggression from standings. Outlaw should be a flashing colortag with a solid background, and wars should be a solid colortag with a flashing background.
If you set it like this, you can immediately pick out the most important features of pilots in local, while still being able to distinguish reds with personal blue standings in space (that is, someone with both good and bad standings). You will also be able to tell all important features of a pilot's standings even if they are in fleet, in case you need to start killing fleet members.
Overview Settings Advanced
I suspect a lot of the newer guys have sub-standard overview settings.
(URL TO DOWNLOAD OVERVIEW SETTINGS TEMPLATE)
These are my overview settings. I'm not saying they are the best settings ever, but they are certainly ideal for what we do and I like them. Feel free to edit them as you see fit. Download file, put it in Documents\Eve\Overview (create this folder if you don't have it already). Import it as follows:
In that same menu, click on 'open overview settings'. Copy these pictures:
Uncheck the 'use small colortags' option
It may not be clear but for the background tab, I have set 'at war with corp/alliance/militia' to blinky red but set 'outlaw' to not blink. This helps me differentiate between people that will get GCC'd if they attack and people that are able to attack me at will without risking anything. Obviously, this doesn't affect you once you are a pirate, since at that point anything will be able to attack you.
Quick rundown of each of my overview settings:
Default+: default eve settings with suns and probes
Travelling: only stargates (don't use this in lowsec/nullsec)
Drones: only drones and fighters
Pvproam: standard pvp settings, and does show fleet members. Use in small fleets (1-4 allies ish)
Pvpfleet: standard pvp settings, but does NOT show fleet members. Use in fleet fights with more than 3-4 allies (unless you're logi, herp derp)
Mission: similar to default, but without wrecks. Obviously for missioning.
Mission+: default + wrecks + large colloidable objects, needed for some missions
For fast switching between overviews, you can have multiple overview tabs open.
You should definitely have the Velocity column open, and the
Transverse
Angular velocity column if possible. When using the angular velocity column, you should compare it to the tracking of your guns (right click your mod -> show info -> attributes -> tracking speed). I'm not 100% sure how this relationship works but it's something like that. If you only fly missiles, then fuck you because angular velocity doesn't matter for you.
Few extra tidbits. When dscanning, I generally use my Pvp tabs to find ships. Once I find them and have narrowed them down somewhat, I switch to my Default tab. This will then show any wrecks (signifying that they have been missioning) or any POS modules (showing that they are pos'd).
Hope this helps.
Module Basics
by Kwark
+ Show Spoiler [Module Basics] +

Original content by Kwark. Updated by Not Orious
Ok, I'm bored of doing this lesson so I'll put it here so I don't have to ever do it again.

Items come in many classes and their goodness is measured in meta while their skill requirements are measured in tech.

Tech 1 meta 0
e.g. "Small Shield Extender I"
These can be manufactured by players as well as dropped as npc loot. They are the basic module with the lowest skill requirements and the standard fitting requirements.

Tech 1 meta 1-4
e.g. "Small F-S9 Regoliath Shield Induction"
These are also known as named. This is because they are named with names like that rather than the generic ones. Their skill requirements are the same as the original t1 version because they are still t1. However they have a higher meta, lower fitting requirements and usually do more in some way. They cannot be manufactured, only dropped. As such some of them are rare. Because of the temptation to pimp ships to the max the best named items are very much in demand because they make fitting easier for people who want to make their ships absurdly expensive.

Tech 2
e.g. "Small Shield Extender II"
These can be manufactured by players. They are as good or better than the highest meta t1. However they are harder to fit and require higher skills. Using these is pretty optimal for most players because they offer massive increases over the meta 0 versions without the rarity. While you can still fit more with high meta named items the excessive cost would make any PvP horribly inefficient. To give an example, the meta 4 ballistic control unit costs 30m while the t2 which has better bonuses costs 700k. Only if you were incredibly impatient to get a bonus and couldn't wait a few days for training time would you use that.
As a rule PvP ships will be fitted with t2 (if you can use) and then you use named items when you're just a little bit short of having the fitting requirements and need to save a bit somewhere.

Tech 1 Faction
e.g. "Republic Fleet Small Shield Extender"
Basically superhigh named. Cannot be manufactured. Same skill requirements as all other t1. Usually more decreases in fitting requirements and even better bonuses. Accessible only as drops from special rare faction npcs and from LP stores using LP points from missions.

Tech 1 Deadspace
e.g. "Gistii B-Type 1MN Microwarpdrive"
Faction times two. Take faction and add another zero to the price. Same skill requirements as all other t1. Usually more decreases in fitting requirements and even better bonuses. Accessible only as drops from special rare faction npcs in deadspace complexes.

Tech 1 Officer
e.g. "Estamel's Modified Adaptive Invulnerability Field"
Faction squared. Take faction or deadspace and add many zeroes to the price. Out of the price range of even the most OCD carebears with a credit card full of PLEX. If you wear this people will suicide gank you in highsec to take it from you. Pretty much never justifiable in any PvP any of you will be in.

Salvaging
by TurpinOS
+ Show Spoiler [Salvaging] +
After a lot of demands of newer players about salvaging, heres a little post explaining what you need and how to do it.

Appart from the skills that are listed on the first page (mechanic 3 - survey 3 - salvaging 1), you will need to get the skill ''Targeting'' and level it at least to 2.

You will then need to get into a destroyer (requires ''Destroyers'' level 1). Eventually you'll want to get into the ORE salvaging ship called the Noctis, but that can happen later.

Amarr : Coercer
Caldari : Cormorant
Gallente : Catalyst
Minmatar : Thrasher

You will need to fit it with
- 4x Small Tractor Beam I (they are a bit expensive for newer players, ask your mentor to give
you the necessary isk)
- 4x Salvager I
- 1mn Afterburner

The rest of the slots you will with what ever you want, I would personnally suggest :
- Expanded Cargohold I
- Cap Recharger I
- Capacitor Power Relay I

Fit as many as you want/can in mid/low slots I personnally love having at least 2x expanded cargo. and the rest in Cap.

You can also fit rigs (salvage tackle I) once you start getting some money, if you salvage A LOT, i would recommend them, but if not its really not necessary

Once that is done, you will kindly ask if anyone is running level 4s, because level 3 and under are not worth to salvage.

If someone is indeed running level 4s and has room for a salvager, he will link you the system he is in. Once you are in the same system, invite said person to form a fleet (or ask him to fleet you). You will then use the ''warp to fleet member'' option'' and ''leave fleet'' during warp. Once you arrive at the destination, you will ''add bookmark'' under the Peoples and Places tab. That way if anything happens, you can warp back to the location and keep on salvaging.

Now, you will need to pay attention while you are salvaging, if you ever get attacked (or even locked) by a NPC, you will have to warp out immediately and then come back. The guy you are following might also inform you that there will be a respawn, or to warp out for a certain reason. If he does so, warp out, and warp back in when he tells you he has all the aggro.

Now on to the main topic itself : How does salvaging work ??

A lot of people do it in different ways, and after a couple of time you will find your own way of doing it.

A general guideline though is to use the Afterburner to close the distance between wrecks, you will then lock 4 targets and put a Tractor beam on everyone of them. You will then proceed to loot the wrecks when they are close to you (Open Cargo) and transfer the valuable items/items you feel like keeping. You are free to keep/sell the items, but donations to the corp hangars are always welcome since this is the one of the best way to refill it. Once the wrecks have been looted, you will use your ''Salvager I'' to salvage the wrecks.

Rinse and Repeat

Now for the salvage parts. You should always try to sell them at a major trade hub Jita, Amarr, Rens, Dodixie, Hek). If the price you are given for your salvage is low (under regional average), you will need to put up a sell order, which is made through clicking on ''advanced'' and putting the price that you want to sell them at. You can sometimes get a lot more money by simply being patient and selling for higher than the asking buy orders.

Try to keep the salvage parts that are not worth much money and contract them to ViceorVirtue since he is able to make expensive items with these pieces.

Have fun getting rich.
Tackling
by Not Orious
+ Show Spoiler [Tackling] +

Tackling and tackle ships limit the mobility of enemy ships and are what gives your fleet control of the field. The tackler prevents the tackled target from running away and slows their movement significantly to the point they're sitting ducks for allied weapons. As velocity is factored in damage equations, significantly reducing the velocity of a target significantly increases the damage it takes.

Tackling relies on two modules: the Warp Scrambler and the Stasis Webifier. The former prevents the use of the warpdrive (for warping off) and the microwarpdrive (for going very fast) and the latter reduces the effectiveness of propulsion modules such as the afterburner. However, using these modules require you to be within lethal range (<10km) of your target so real piloting skill and some APM come into play here.

Standing Orders & Defensive Tackle
When not given any orders you are to orbit friendly ships at all times (or the FC). This is so that when enemy tackle approaches you can tackle the enemy tackle so that your dps can pull range and pop the guy you caught.

Spiraling
If you simply hit approach on a target with big guns you'll most likely get one shotted. In this situation a tackler can reduce oncoming dps by approaching at an angle and going at a high speed. This requires manual piloting in the form of double-clicking into empty space around the target. The wider the angle your ship approaches the less damage it takes but the longer it takes to tackle the opponent giving it a chance to escape. It takes practice to find the balance, so the first time you try this you'll most likely die in a fire.

Orbiting
It isn't recommended to use the Orbit function built in the game but for new players it means a lot less multi-tasking. In general you'll want to orbit the closest possible to your target ship, which would raise your angular velocity to its maximum. Thus hit "Orbit at 500m" once you're within point range of your ship.
WARNING: Doing this too early will make you approach the ship, reducing your angular and make you easy to hit.

There are some situations where you do NOT want to orbit at 500, such as when up against ships with special bonuses to tracking and webs. Your FC should tell you what to do in these scenarios, and if he doesn't and you die in a fire, it's his fault.

Overshooting
You'll be going quite fast when you reach your opponent and it is highly probable you'll overshoot. Doing so will give your target one last chance to warp away or to get one last good shot at you, which could be lethal if you are in low health. Thus as you approach your target, press Ctrl+Space (which tells your ship to stop) then settle into orbit when in a comfortable range and speed.

Slingshotting
A tactic that your target will use to avoid being tackled or to escape once tackled. The tackled ship will move away from its align destination at full speed, and as you begin to follow, it will quickly do a 180º and prepare to warp as you fly off in the wrong direction. Additionally, when a target sees you coming straight at it, it will also fly straight at you in hopes of warping off as you fly past and leave tackle range. The only way to prevent this is to prepare beforehand, pay attention and adjust accordingly via manual piloting.

Pulsing MWD
The MWD is a double-edged sword, allowing you to go ridiculously fast but also increasing your signature radius making you easier to hit by turrets, missiles and drones. By timing your MWD on and off you can outrun drones as they take a couple seconds to accelerate and decelerate. Drones will never truly catch up to you if done correctly with good skills.

Pulsing Tackle Modules
Target ships may have a defensive module called the Energy Neutralizer ("neuts"), which drains the energy from your ship required to activate tackle modules. If you are unable to activate your tackle module, just keep mashing the button until it activates. *shrugs*

Advanced Tackling
There may be times where we know ahead of time that point-blank tackling isn't ideal. A "long point" refers to the Warp Disruptor II module and its variants. These have a base point range of 24km unheated, 28.8km overheated, and up to a ridiculous 46+km when linked. This is used when you can vastly out maneuver brawling ships and can allow you to hold down a target that would otherwise destroy you at close ranges.

When you're up against neuts, you can use a Nosferatu energy vampire ("nos") and its variants and drain the energy of your target ship and use this energy to power your tackle modules.

Electronic warfare ("ewar") can also help you in your tackling endeavors. For example, Tracking Disruptors with the tracking disruption script make it extra hard for guns to hit you.

Things to Watch Out For
Ships that scram and/or web:
Rapier, Huginn, Loki, Arazu, Lachesis, Vigilant, etc.
Anti-frigate Ships:
Zealot, Vagabond, Cynabal, Stabber Fleet Issue (SFI), Sabre, Dramiel, Daredevil, etc.

Regardless of the above, if the FC tells you to tackle it, then tackle it. Otherwise if the FC doesn't give you orders, ask.

Scouting For Dummies
by pahndah
+ Show Spoiler [Scouting] +
A scout is a vital role in any fleet. Primarily, your job as a scout is to make sure your fleet isn't running into an enemy fleet's trap, and vice versa, letting your FC know when there's an enemy fleet you'll be able to bait out and fight. It'll be your responsibility to quickly point or give chase to ships that you happen to run into, as well as finding ratters that don't pay attention to their intel channel.
Any subcapital ship in the game can be a scout. However, it is generally accepted that small fast ships, such as interceptors, frigates, and fast cruisers, make good scouts because they all have the following traits:
► Working Microphone
► Overheated MWD speed of > 4km/s (Vital for gate crashing/burning off a gate/catching people burning away)
► Quick align time/quick warp speed (critical for giving chase)
► Decent tank to hold a point or fast enough to speed tank
► Quick lock time
That being the case, a regular BC or even a BS can be a scout, but due to their slow nature and slow lock time, they won't be chasing down any target cruiser and smaller, nor will they be able to find a ratter as easily.
What your FC will expect you to be able to do:
• Know how to use a microphone and how to give status updates (e.g. "local spike, +8")
• Know where your end destination is and what your out gate is
• Know how to use your Directional Scanner (This is vital, see the separate guide for this)
• Know what ships you can/cannot tackle/engage, and how to approach them
• Know how to properly fit your scouting ship
• Know how to count the number of hostiles in system when you jump in quickly. This number will be the number in local minus 1 (you).
• If possible, to count how many in local are relevant. For example if you are in goonswarm space, and there is 100 in local, but 80 are goons and 20 is another alliance on their own roam, this will be useful information.
If you find yourself amidst a hostile fleet, here's a guide to counting:
1-6 There is X amount of hostiles here, consisting of 'these' ships
6+ There's a small gang, of X amount of hostiles, consisting of 'these' ships
10+ There is a gang of roughly X amount of hostiles, mostly 'this' ships with some 'that' ships
20+ There is a large gang of roughly X to Y hostiles, a fleet of 'these' ships with some 'that' ships
50+ There's a huge fleet of roughly X to Y hostiles, a fleet of 'these' ships with some 'that' ships
100+ 'xxx system is hot' - I cant be bothered to count cause I'm shitting my pants
------
If you can do all of the above/know how to do all of the above than you are a good scout already. If you want to be a pro scout though read on!
Escape General Settings Show Session change timer (Check it)
When you jump into a system you are cloaked for 30 seconds, and you will be unable to activate any mods but you will be able to use your Directional scanner. If you are going to gate crash, please make sure when you get to the gate your session timer is up, otherwise you won't be able to jump through.
It always helps to know what you can and cannot tackle. If you are in a frigate or interceptor, try not to bother/tackle to following ships unless your fleet is very close behind you, rapier, huginn, saber, curse, pilgrim, caracal, rook, falcon, daredevil/dramiel (unless you're in one yourself), any mothership/titan, cruor. If these ships are properly flown and fitted, they will most likely get away and/or kill you.
Know that flying straight at a BS that's 50km or farther away from you is a bad idea.
If you see a bomber uncloak 40km or closer to you, please overheat your MWD and burn towards him for the tackle if you are in a frig or inty.
T3 ships have all types of random fittings, but tackling a loki is probably not a good idea by yourself, but the other three you should be able to hold long enough for your fleet to get to you.
Know how to uncloak ships that cloaked up.
Know your rat wrecks. If you scan wrecks, be able to know immediately whether they are anomaly/plex rats, or the usual belt rats.
Have a scanning tab that works well for you. I personally have 2 scanning tabs. One that shows rat wrecks along with all my other goodies (no pos mods), and one that shows no rat wrecks, but with pos mods and everything else. Everything else being: All ships, moons, planets, stations, sun, TCU.
Read this:
http://eve.grismar.net/wikka.php?wakka=ScanningGuide
TS Etiquette
by Weken
+ Show Spoiler [TS Etiquette] +
Updated by Not Orious
This is about talking on ts (teamspeak)
The topics are:
1.
What to say and when
2.
What not to say and when
3.
Never spam coms(in an op)
4.
You use push to talk and which key to use
5.
You should never 100% trust it
With that out the way the guide will follow, if you don't want to read all of this then I recommend you read 2 and 3 possibly 1 (which is 80% of the post btw) because these are the most important part of this post.
1. What to say and when
(
warning
: wall of text)
+ Show Spoiler +
There are several "states", as I like to say, that ts can be in and I will give an outline of each of them. But above all else, don't be a dick.

1st State: completely dead Basically when there are generally less than 5 people on. Feel free to say whatever but remember that most people won't be listening.

2nd State: casual with infrequent intel In this state its people talking about the current situation and what to do about it. Therefore if you see "get on ts" in corp chat then do it, because orders like "dock up" are likely to be given and I have seen expensive ships die needlessly because they haven't been listening/following orders on ts. You should be engaged by discussing what to do and reporting info (e.g. location of hostiles/targets, their numbers, their fleet composition). If there is nothing really going on and we are just fooling around don't spam TS - you can still say whatever but remember that people are trying to do something so use ur brain (durrrr).

3rd State: active This is when a roam or something is going on. If you're not involved in the roam then the ONLY time you should speak is if the enemy fleet just so happens to pass by you. Pretty much everything else goes into chat. However the chances are that most people are looking at fleet chat in this state so you might be a bit lonely if you're not involved in the op.

If you're in the fleet then the scout should be reporting to the FC in ts and the FC should be giving orders in ts. I won't go over this because but the scout(s) and FC take priority over all else. Clear coms are very important for a fleet to work effectively. If you are in the fleet and are not scout or FC then you should mention in ts the following things if you know he is unaware of them: (1) anything that is on your dscan, (2) local spikes, (3) if you being "red boxed" attacked, (4) if an order was unclear and you would like it to be repeated.
DONT SAY ANYTHING ELSE. Only one person needs to say these things, so pay attention or you'll repeat someone else's intel.

4th State: battle This is basically when the fleet is in the attacking another fleet. Coms usually get hazy here when everyone is excited. The FC will be giving out orders based upon information fed to him from his own perspective and from the fleet.
In this situation, be sure to voice up important things such as: (1) I have point on xxxxxx, (2) I lost point on xxxxxx, (3) I need to warp off and will lose point on xxxxxx, and (4) other important things like there is a massive hostile fleet on short range dscan.
Knowing what's important and what isn't will take practice and observation. Unless otherwise told by the FC newer players in Merlins should just warp out if you going to die as logis will prolly be repping more important ships -- but remember to say you have lost point. Coms at this stage will never be perfect but that is to be expected.

5th State: intermission Though there isn't action at the moment, there is still the potential that something might happen -- be aware that orders may be given and then you need to shut up. If you need to take a bio break but we're still in hostile space let others know so we know to watch your ship and not leave you behind.

6th State: cooldown This last state is when there are people in ts but nothing is happening, normally happens after a roam or something like that. You can say whatever but just don't be a dick.

You have got to remember not to be an idiot – use your common sense as this is just a vague guide and not everything will fall neatly into different categories. Most of the stuff here is just common sense and not being a complete idiot. If you're an idiot, you will get yelled at, and you should feel bad and ashamed and guilty and quietly think about what you did wrong, then pick yourself up, know that you've learned your lesson, and come back with precision and fury.
2. What not to say
+ Show Spoiler +
What not to say: i'm under attack, HELP ME!!
What you should have said: Weken is in Vard and is a Rupture, being attacked by 2 amarr militia in an incursus and a blackbird and 1 neutral scythe. I need help.
It takes 5 more seconds to say but is infinitely more useful. You should also say where you are in that system (mission pocket, complex, sun, gate, belt) This way people know what to expect and can help you better.

What not to say: I'm coming
What to say: I will come with a Thorax and am 3 jumps out, where are you in emol?
Make sure you can help and tell them what kind of help you are going to have, names aren't really important here but you might want to say it anyway.

What not to say: Should I dock up?
What to say: Weken in a Rupture needs to dock and repair.
Pretty obvious here, how does the FC know you in a rupture when you say "I". He won't know how important your ship is if you don't say what you're in.

These examples are just a general guide. Always assume people don't know who you are, where you are and what ship your in - so tell them!
In a fleet op only ask questions that are relevant and you need to know the answers to them immediately. Otherwise type in chat.
3. Never EVER EVER spam coms (during an op)
+ Show Spoiler +
Because the FC needs to know what is going on and the scout doesn't want to have to repeat himself, this mostly applies to ts in fleets, but it is so important what you don't spam up the coms with stuff people don't need to know, as you play more you will get used to what to say and what not to, but as a general rule: if it affects the entire fleet, say it on ts.
4. Use Push to Talk...
+ Show Spoiler +
It's annoying when I keep hearing peoples keyboards/random voices.
The buttons things to use from best to worst
-Extra mouse buttons
-0 key on num pad
-right ctl/alt
-F12 or F11
-any other key you don't use.
OK thx for reading this is quite long, but I think that organisation is a very good way to improve fleets, and it comes at no extra isk cost! Improvement are most welcomed because there are probably lots that could be put in there. HF and Fly Safe everyone.
Glossary for Layman Readers
+ Show Spoiler [Glossary] +

Point = Activate a module (equipment for your ship) which prevents the enemy from warping out
Tackle = Similar to point but also limits their mobility on the grid
Grid = The space directly around you
Warping out = Leaving the fight/grid
Nano = As a noun, a module that gives you increased speed and agility. As a verb, to manually micro your ship exploiting the increased speed and agility.
Station = A safe harbour where you can dock up
System = A solar system, you will always be in one of these but there are hundreds
Gate = An object in space which allows you to jump from one system to another
FC = Fleet Commander
Links = Passive fleet bonuses of various types
Fleet = A formal collection of pilots working together in the short term
Roam = A fleet on the move looking for fights
Corp = A group of pilots who are affiliated, have shared chat channels, stations, wars
Alliance = A group of corporations who have the above
Space = The final frontier

If you have any questions regarding jargon in order to follow the topic just ask and I'll add.

EVE Videos:
CCP Youtube Channel
Alliance Tournament and other videos.
PvP Movies - Edited & Narrated
+ Show Spoiler [PvP Movies] +

R&K Clarion Call 3

R&K Iron Clad

LO vs Noir.


Recent Trailers
+ Show Spoiler [Other Recent Trailers] +

Inferno

Crucible

I Was There

Incursion

Causality

The Butterfly Effect


Clear Skies
(amazingly well done fan-made movie series)
+ Show Spoiler [Clear Skies Series] +

Clear Skies 1:

Clear Skies 2:

Clear Skies 3:


+ Show Spoiler [RIP Liquid Inc.] +
Liquid Inc.
How to get started:
Go to:
http://www.eveonline.com/
for the 14 day trial (upper right hand corner).
In-Game Channel:
HATCHERY PUB
This is the best place to go once you get in game. Not only is it a nice place to talk to people while you are doing the tutorials, but there are also plenty of people who can help you out as well!
Team Liquid [TLNET] Killboard:
http://teamliquid.killmail.org/?a=home
+ Show Spoiler [Tribute to Kwark] +
To KwarK uK, our great leader from July 2010 to November 2012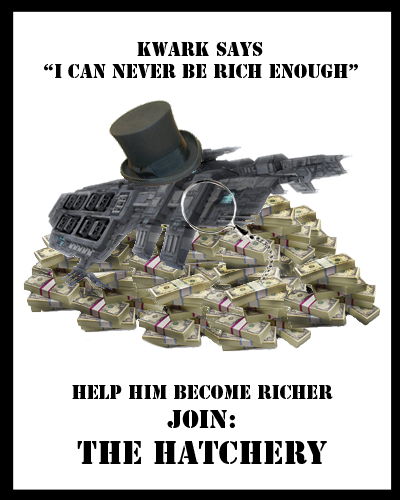 Actually, you ditched us in July 2012, but you came back again for a little bit.
Links:
Alliance Sovereignty Map
:
http://go-dl1.eve-files.com/media/corp/Verite/influence.png
Metagaming in EVE thread
Why you should play EVE:
http://www.teamliquid.net/forum/viewmessage.php?topic_id=88359&currentpage=12#231
http://www.teamliquid.net/blogs/viewblog.php?topic_id=361966
And finally, our glorious killboards:
http://teamliquid.killmail.org/
http://shieldbattery.killmail.org/