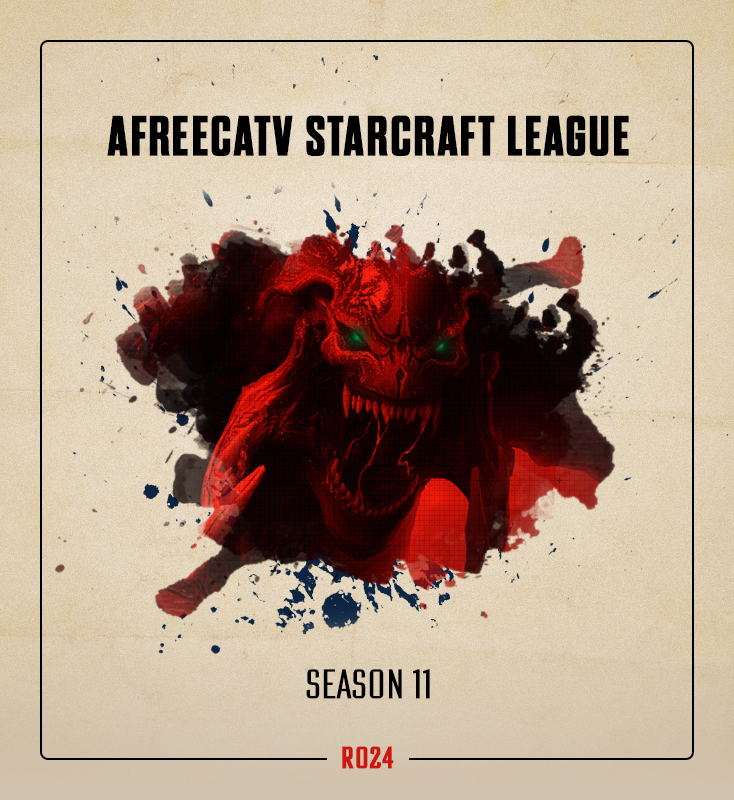 The ASL Ro24 Continues with Group C and Group D action.

Group C featuring returning fan favorites BeSt and Action along with terran hopefuls JyJ and Jaedong's former Hwaseung OZ practice partner Sexy.

After seasons of trying and finally succeeding, one of our very own community members Scan has qualified into the ASL Ro24, but luck of the draw has placed him in one of the hardest groups going up against Former(and First) ASL Champion Shuttle, one of the harder TvT fights against sSak and one of the best protosses who also happens the be one of the favorites to win this season of ASL, Snow.
Since the introduction of the Tier system based on ASL points the group selection for Ro24 usually creates groups with obvious favorites, Group C is much like that with BeSt and Action being the clear favorites with JyJ being the potential spoiler and Sexy the underdog but not really a rookie.
Ahh BeSt
half man, half horse
, BeSt's PvT has may have taken the backseat on his route to improve his PvZ skills but when you're that good in a matchup you don't actually fall behind by much, certainly not to the level where BeSt would see Sexy as a threat in the opening game, Sexy's TvP record looks good in sponbbang, but his wins are against lower tiered protoss and his losses come from the more well known names, BeSt will look to just add to that metric.
Action has yet to win a sponmatch this month, granted its only been a couple of days into the month but one of those losses is against his opening opponent today JyJ and its not like it was a fluke for JyJ either sitting at a 5:5 head-to-head against the reigning ASL champion ZerO in the last month, while Action on the other hand has played a lot of the upper crust of terrans, but he doesn't hold a winning record against any of them other than Flash, whom he has only played against once in the last month.
As you can see with the Terran vs Zerg record on Eclipse it might be a tough one for Action against JyJ
If BeSt were to face JyJ in the winner's game BeSt's path to getting out first in the group is all but set, not only does JyJ not have the best TvP he also has a losing record against BeSt and I'm not just talking about the one from their days practicing against each other in SK Telecom.
Sexy's better matchup is TvZ, well it has to be, considering his history being that the was one of the practice partners in hwaseung OZ whos helped Jaedong prepare for all his biggest matches over the years, that being said he doesn't seem to do well against other zergs at the moment, Action should be able to win this one.
Final game would pit Action vs JyJ again, with nothing to fall back on, this is where the more experienced veteran usually does better than the inexperienced one and with the benefit of map selection I'm going to go with Action to take the game and advance in 2nd place.
Best
>
Sexy
JyJ
>
Action
Best
>
JyJ
Action
>
Sexy
Action
>
JyJ
Best and
Action Advance To The Ro16!
What is it with ASL always making Group D the most interesting group in their Ro24s? Scan has finally made it to the Ro24 of the ASL after so many seasons of trying to qualify and his reward? Be put in the hardest possible group they could give him, with Scan going up against Snow, sSak and Shuttle.
Snow has always been in the cusp of championship victory and for months has relatively stayed in the top 5 of the sponbbang ranking, currently holding 4th place firmly entrenching himself in that group of players we all ask "how has he not won a starleague yet?" with his PvT right now sitting at a whopping(45-24 or 65.2%) holding winning records against every one of the best terrans right now, needless to say Scan has his work cut out for him in his opening match.
Shuttle vs sSak is a matchup with one of those rare occasions where both opponents don't really care that they're facing each other in the ASL and continue to play a lot of games against each other, in the month of march they've played against each other 14 times with the head to head strongly in the favor of sSak at 10-4 making him the clear favorite in the match unless we see shuttle cook up something interesting on Eclipse.
sSak vs Snow would work out much like the opening game, while sSak has done really well against Shuttle he can't say the same about his odds against other protoss at the highest level, Snow should easily be able to get that 2-0.
If there was ever a game to root for Scan to and believe he can win, Scan has practiced and played a lot of TvP in preparation against snow, he has winning records against almost every protoss hes matched against and its against Shuttle whose overall PvT is not has him with losing records with almost all terran players hes faced up against, except Mong and Sexy, with a good map pick and strategy he can take the game off Shuttle, unlikely but hey, the odds are not as unfavorable as it would be against Snow or even sSak.
sSak would still take the final game regardless of if he faced Scan or Shuttle, sSak's TvT has always been one of his better matchups.
Snow
>
Scan
sSak
>
Shuttle
Snow
>
sSak
Shuttle
>
Scan
sSak
>
Shuttle
Snow and
sSak Advance To The Ro16!
---
Writers: BLinD-RawR
Graphics: v1
Editors: BLinD-RawR