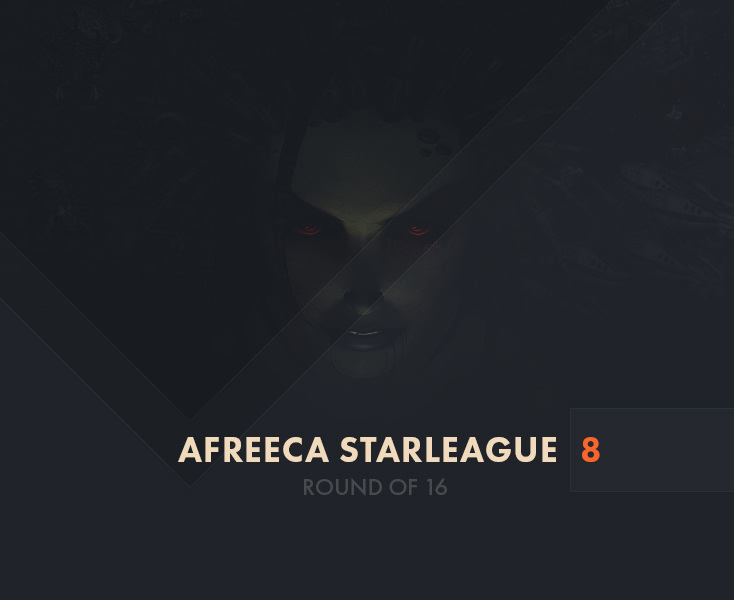 With the wild Ro24 coming to a close, the ASL Season 8 has only just begun! To quickly recap, Sacsri took a game off Flash, Jaedong was knocked out by ZeLoT, Action went full god mode, Stork is actually back, and Light is still struggling. If you missed last week's games or any of the banter from our latest casters (Creighton and CadenZie) filling in for Tastetosis, check out
Frudgey
's highlight videos!
This week we have some solid groups with fairly solid players across the board, and it's anyone's guess who will make it out alive into the final bracket stage. With a change in format to include Bo3s from the Winners Match onwards, the Ro16 will be both more intense and more reliant on skill and preparation. Expect to see some looooooong TvTs in Group A and some tight-knit frenetic ZvZ action in Group B. It's going to be an exciting week, and with the addition of Bo3s, we're basically getting twice the amount of content from now on! If you're done with Stranger Things, time to binge some Brood War.
Let's get to the predictions!
Table of contents

Positional Advantage
Let's get something out in the open: if you're partial to TvT, you're my kind of person. The matchup just feels right. Everything about it feels right. It doesn't have the arcade feel of ZvZ, nor is it a PvP-esque build roulette. There's very little trickery taking place in a typical TvT game, and as such, the matchup leaves little to no room for upsets. While some might point to the entertainment value of underdogs beating worthwhile contenders, I say we've had enough for now.
Pinpointing the turning moment in a player's career is often debatable since people's criteria for success vary widely. One could say Last's rise to esports godhood has to be attributed to his second place finish in the penultimate SonicTV BJ Starleague. Others will argue that Last only started coming into his own in the latter half of 2018 while pointing to the first season of KSL.
Last's record in the AfreecaTV StarLeague is quite a storied affair. He's one of the few players to have competed in all seasons of the ASL series so far and is the reigning champion after demolishing Mini in a 3-1 grand final last March. He's reached the Top 4 on two other occasions. And yet, there's one other result that has stuck in my mind and is yet to be superseded as far as Last's performances are concerned. Remember when Flash came back to Brood War and the Internet literally (let me be dramatic!) exploded with over 100k viewers tuning in to his first AfreecaTV stream? ASL1 saw record-breaking viewership that was in no small part thanks to the return of Flash to the scene. However, his run was cut short without precedent by a swift 3-0 at the hands of Last in the Ro8. That series (in my book) defined Last as a professional. And while Flash did end up taking revenge on AlphaGo in ASL3 with a 3-0 of his own, Last has since only solidified his position as the Terran to look out for.
The volatile nature of ASL group stages is now being rectified with Afreeca opting to change the format of the Ro16 to tone down the upset factor. While we'd best hold off any opinionated ramblings about said change, I think the TO deserves some praise for trying out new things. The viewership ratings have fallen off since the ASL1/ASL2 peak and are very likely to continue on their downward trend. The addition of Bo3 matches in the second group stage will undoubtedly end up benefiting the solid players who don't rely on a cheeky sucker-punch to carry them to the next round. And I dare chance a guess Sharp is one of those guys. I did praise him in one of the Ro24 previews for his consistency, and I stand by my impression that the ASL's format has been holding Sharp back. I hope I'm proven right.
Sponbbang is down. And that makes writing a paragraph about Rush rather challenging. Let's face the music. The fact he's even made it to the Ro16 is because of sheer luck in group drawings. This is Rush's 7th ASL appearance, though only the third time he's made it past the opening round of the tournament, and he's also yet to qualify for the KSL. His best result to date is a first place finish in one of the online leagues held by Korean streamers (the CasterMuse StarLeague). Sure, taking down the likes of Rain, ZerO, Action, and Mini to claim the title doesn't sound all too bad. But it was an online league. Who gives a toss about those?
Finally, there's ZeLoT. Seeing ZeLoT in the Ro16 of a premier class event feels somewhat mal apropos to say the least. Even being as active as he is in foreign online cups, ZeLoT seems to have a less-than-reliable track record against other Korean amateurs. And, while taking advantage of the Bo1 format of the ASL is all fine and dandy, there's no way ZeLoT is getting through to the next round. His cheesy and in-your-face style just won't cut it in a longer series against any of the three Terrans in his group. Nonetheless, I feel ZeLoT (and the other 'newcomers' to the ASL, while I'm at it) is a much needed breath of fresh air. He's shown he has what it takes.
Hone your skills and come back stronger, ZeLoT.
Prediction:
Last
1-0 ZeLoT
Rush
1-0 Sharp
Last
2-0 Rush
ZeLoT 1-2
Sharp
Rush 0-2
Sharp
Last and
Sharp advance to the Ro8!

Four-Way Fight
After the considerable upset potential of the Round of 24 group stage, we're in slightly more familiar territory with Group B in the Ro16...which does not at all mean predictable at all. Anyone can still beat anyone, but the names are bigger and so is the hype.
Mini has certainly made a name for himself after achieving runner-up in both ASL and KSL. Notorious for his emotional instability on stage, he seems to have taken measures in that regard. Despite tilting when something goes horribly wrong (Effort's scourge intercepting his shuttle in game 4 of their ASL7 match and him almost having a seizure), he manages to collect himself and eventually win the match with his trademark aggressive style. Truly, nobody plays Protoss as abusively as Mini does. His probe/zealot micro is one of the best in the world, and he handles reavers like a maestro. He may have been considered perhaps the best Protoss versus Zerg player at the time.
Unfortunately, he now appears to be in what suspiciously looks like a slump. He lost his last two tournament matches in the CMSL, including a 0-3 loss to Sharp, and has negative online win percentages across the board in July, including his strongest matchup PvZ.
Larva, on the other hand, has returned to the ASL eager to at least repeat his Season 4 Top 4 finish. Larva has historically been strong versus Protoss, and his online results confirm that he has a consistent winning record against everyone except Best. To add insult to injury, the new map Tripod appears to favor Zerg versus Protoss. The peculiar circular nature of Tripod can make for more specialized strategies where mobility is king. Larva could very well opt for the mutalisk style he often uses while Mini will surely try to find a way to abuse his opponent early on. Both players are playing their strongest matchup, but Larva appears to be in better shape. This, added to his natural defensive ability, should be enough for him to weather Mini's assaults and navigate the game for the win.
Another Zerg player who might make headlines is Action. He's gained significant acclaim since his ASL debut in Season 5 and his enormous sponmatch volume. He's played 95 games just in July at the time of this writing with win percentages of 70% and above in non-mirrors. In June, his total game count reached 240 and more than a thousand for 2019.
All this immensely hard work seemed to have paid off when he defeated Mini 3-0 in their first KSL3 match, even though he was narrowly eliminated 2-3 in the rematch. Action made short work of PianO in the Ro24 this season and then defeated Soulkey with a clever mind game to top the group. He certainly appears more and more comfortable on the big stage, too, and calmly incorporates funky builds in his arsenal, including proxy hatchery and other mind games.
Light is not one to be easily intimidated and even less so by a Zerg but should definitely be wary. After a series of unfortunate early exits from tournaments in his historically strongest matchup versus Zerg and a short stint playing Protoss, Light has returned rejuvenated. He made short work of an admittedly very underperforming Miso and then ultimately advanced second in his Ro24 group after losing to Best and defeating JyJ. Despite looking fresh and being active as ever online, Light still looks a bit oblivious to his opponents' stratagems, a trait that has cost him way too many games throughout his career.
He does have numbers on his side, though. He has a fairly respectable win rate of above 65% versus Zerg, including a 4-2 against Action. Additionally, Tripod does seem to favor Terran versus Zerg so far in the few games played. Nevertheless, in a Bo1 with Action's penchant for tailored strategies, Light's tendency to miss nuanced play, and momentum on the Zerg's side, I'd give the advantage to Action.
A Zerg versus Zerg winners match between Larva and Action in the new Bo3 format would be the epitome of trickery, deviousness and cunning. Both players are known for their tactical ability in the matchup and have tended to advance in the ASL on the back of their ZvZ. Online statistics are notoriously unhelpful for mirror matches and especially Zerg mirrors because sample sizes are way too small, but one thing Larva has on his side is offline experience. This match is hell to predict, but I'll again go with momentum and expect Action to outwit Larva and advance first to the Ro8.
The losers match between Mini and Light would also be a Bo3. With Mini's chronic problems versus Terran in mind which are exacerbated by his apparent decline in form lately, things are not looking too brightly for him. Light has a great online record versus Protoss in July and should be considered the favorite in a Bo3. Mini's abusive play can be dangerous depending on maps picked, but assuming Light brings his best game on Tuesday, he should take the win and advance to the final match.
Larva's improvement from decent practice partner to an actual tournament contender is partly because of his unrelenting desire to submit to the humiliation of facing the top players. He's played innumerable Zerg versus Terran games against Flash and Last, most of them losses, and it's paid off in skill level.
However, his most recent tournament game versus Rush found us wanting. Larva skillfully navigated himself out of early aggression, as he usually does, only to seem somewhat clueless later on. He cannot be expected to defeat Terran versus Zerg veteran Light with that sort of play. Light has positive win percentages against everyone he's played—except Terran destroyer SoMa—and appears prepared equally well with mechanical openings like the 1-1-1 and more traditional bio-based strategies. Prediction: Light 2:1 Larva to advance to the Ro8.
Prediction:
Mini 0-1
LarvaAction
1-0 Light
Action
2-1 Larva
Mini 0-2
Light
Larva 1-2
Light
Action and
Light advance to the Ro8!
---